If you're reading this, you probably need travel insurance that covers COVID. However, there are all kinds of questions related to COVID-19 travel insurance, and it can get quite confusing.
Does all travel insurance cover the coronavirus? How can I be sure I'm covered for trip cancellations due to COVID-19? What exactly does coronavirus travel insurance cover? What happens if I get the coronavirus while overseas? What if I can't travel at all due to the pandemic?
COVID-19 has been plaguing the world since the WHO declared it a global pandemic on March 11, 2020. At first, most travel insurance companies halted medical expenses coverage for travelers who were affected by coronavirus. This was due to a unanimous clause in the policies that excluded pandemic coverage.
At the same time that some countries reopened to tourism, some insurance companies, such as Heymondo, rewrote their policy terms to better serve thousands of travelers who want coronavirus coverage while traveling domestically and internationally.
Heymondo is one of the few travel insurance companies offering COVID-19 coverage. In addition to coronavirus testing and treatment abroad, Heymondo also offers trip cancellation insurance due to COVID-19. This includes cancellation due to the illness of a traveler or relative, among other scenarios, which we'll discuss in this guide.
In this guide, I will answer all your questions about COVID-19 travel insurance and include the latest updates related to the pandemic and coverage. I've also analyzed the different COVID travel insurance policies to help you choose the one with the domestic and international coronavirus coverage you need.

5% OFF your travel insurance
Best travel insurance for COVID-19
Although Heymondo was the first COVID-19 travel insurance that emerged after the pandemic, other insurance companies have begun to include clauses in their policies to cover COVID testing. This covers customers in case they present symptoms at the destination, as well as any expenses, medical or otherwise, related to the coronavirus.
Luckily, today we have more options than ever when it comes to buying COVID-19 travel insurance policies, so I have created a comparison of the best travel insurance policies with coronavirus coverage.
To compare, I have analyzed the best travel insurance with COVID-19 coverage for a Canadian traveling worldwide for a week and these are the results:
Price

USD 32.33

USD 18.55

USD 13.16

USD 18.27

Deductible

-

-

USD 250

USD 250

Covid-19 Coverage

✔️

✔️*

✔️*

✔️**

Medical Assistance

USD 3,500,000

USD 100,000

USD 100,000

USD 250,000

Covid Testing

Included

-

-

Included

Early return

Included

-

-

-

Trip cancellation

Included

-

-

-

BEST TRAVEL INSURANCE FOR COVID-19
* You may be eligible for benefits related to COVID-19 depending on the Travel Warning Level of your destination country

** Only if contracted at your destination
I have compared the cheapest travel insurance with COVID coverage of each company and Heymondo is the best one, since it's the only one that covers medical assistance related to COVID-19 with no exclusions. Besides, it not only covers medical expenses, but also COVID testing abroad, early return and repatriation related to the coronavirus, and trip cancellation (in case you or a relative gets sick before the trip).
Furthermore, it has no deductibles and it's the only travel insurance that takes care of all medical expenses upfront. With IMG Global, Tokio Marine and Safety Wing, you will need to pay any medical bills and fill a claim to get a reimbursement once you're back home. So for peace of mind, I always recommend going for Heymondo so you don't have to deal with any out-of-pocket expenses in case you need any medical assistance.
Sounds good, right? Well, also, for being a Capture the Atlas reader, you are entitled to a 5% discount on all Heymondo COVID travel insurance if you buy it here.
COVID-19 travel insurance – Testing and treatment
Coronavirus treatment abroad is one of the fundamental aspects that a good COVID travel insurance policy must cover.
It's important to read the fine print of a coronavirus travel insurance policy since many companies that claim to have COVID coverage only cover you if you can prove that you contracted the virus while abroad. In other words, you likely won't be covered if you start showing symptoms within 14 days after leaving your home country.
I have personally traveled many times with Heymondo travel insurance, and right now, I'm covered by their annual multi-trip insurance for frequent travelers. In the past, I've had to use their insured medical assistance several times (never because of COVID-19, luckily). Until now, they've always provided exceptional service and have done their best to help me.
To calm your doubts, keep in mind that Heymondo covers coronavirus and treats it like any other disease. So, if you need medical assistance due to an accident, injury, or illness (including COVID symptoms), you'll be covered by Heymondo.
Speaking from experience, I can say that Heymondo is your best option if you're looking for reputable travel insurance with COVID coverage. All of Heymondo's travel insurance policies cover medical assistance for coronavirus, including COVID testing.
While other COVID-19 travel insurance plans make you pay for medical expenses upfront and request reimbursement, Heymondo doesn't. If you do require medical assistance, simply contact Heymondo and they'll find a covered health center nearby. The company will take care of managing the medical expenses and payments, so you don't have to worry about out-of-pocket expenses.
Trip cancellation insurance for COVID-19
Travel has never been this uncertain, so purchasing COVID-19 travel insurance is a must. Coronavirus cases have grown exponentially, so most of us will be exposed to an infected relative, or even get the virus at some point.
What happens if the pandemic causes me to lose my job and therefore, I'm no longer able to afford my trip? Or, what if I'm asymptomatic, but I've tested positive for COVID?
There are hundreds of potential scenarios, so I highly suggest travel insurance with COVID coverage in case you need to cancel your trip.
If you want your Heymondo International COVID-19 travel insurance to also cover trip cancellation due to the virus, I recommend purchasing the insurance no later than 7 days after you buy your flight tickets. That way you will be reimbursed for your trip expenses in case you need to cancel for different reasons, for example, if the government makes an official announcement that advises against traveling to your destination.
This Heymondo trip cancellation policy also covers illness or death of the traveler, partner, or a family member, caused by coronavirus.
When purchasing your trip cancellation insurance, you must include the cost of the trip per person, which will determine the price of the policy and how much coverage you get in case you have to cancel your trip due to COVID (or for any other reason stated in the policy).
You can calculate the price of COVID-19 trip cancellation insurance here.
Now, let's look at what COVID-19 trip cancellation insurance covers, as there are a few exceptions you should know about. Just so you know, the exceptions that Heymondo's COVID-19 trip cancellation insurance doesn't cover aren't covered by the other coronavirus travel insurance policies either.
Trip cancellation for testing positive for coronavirus before the trip
Unlike other insurance policies, Heymondo's trip cancellation insurance will cover the costs of cancellation if you contract the virus before your trip.
But what if I have coronavirus and haven't yet travelled? Well, you'll have to self-quarantine for at least 14 days or until you test negative. This rule applies even if you're not showing symptoms, or if you've had close contact with someone who tested positive. After the quarantine period, you'll have to take the coronavirus test again and if you test negative, you can travel.
If you end up having to self-quarantine during the days you had planned to travel, you'll be out of luck. However, if you have purchased trip cancellation insurance for COVID-19, you can contact Heymondo to receive reimbursement. You'll have to present documentation proving you were ordered by a doctor to quarantine.

This same process applies if you need to cancel your trip because your partner or relative has tested positive or died from the virus.
COVID-19 travel insurance covering flights cancelled by the airline
Another great question is, what happens if the airline cancelled my trip because of the coronavirus? Unfortunately, there isn't travel insurance that covers cancelled flights due to COVID-19.
In this case, the airline is obligated to refund the ticket amount to you, or to let you change your dates of travel. If they don't do this, I suggest filing a claim with the airline. While most airlines comply with covering coronavirus-related claims and are obliged to refund your ticket, you aren't entitled to additional financial compensation because a pandemic is not within the airline's control.
We've personally had two flights cancelled due to COVID-19, and fortunately, both airlines let us change our travel dates. I recommend changing your travel dates if possible, especially if you'd like to continue supporting the tourism industry. Requesting a refund will hurt these struggling companies a lot more than a date change.
Trip cancellation due to COVID travel restrictions
No insurance company, including Heymondo, will cover the expenses related to trip cancellation due to coronavirus. There is no travel insurance for COVID that includes coverage for trip cancellations due to pandemic or coronavirus-related issues like border closures and travel restrictions.
After the WHO's declaration, travel during the COVID-19 pandemic became very difficult, and many restrictions were put in place. For example, many countries stopped accepting U.S. travelers. However, if you are a U.S. citizen and manage to get to a country where you're not supposed to travel to via a different connecting flight, and the border officials don't let you in, no COVID-19 travel insurance will cover you.
And, what if the airline refused boarding my flight home because of the coronavirus? In all these scenarios, there is no coronavirus travel insurance that will cover the trip cancellation.
That said, if you're from Canada and the Canadian government issues an official statement advising against travel to your destination, and you've purchased the Heymondo travel insurance no later than 7 days after you booked your trip, they will reimburse your travel expenses. Right now, Heymondo is the only company that offers coronavirus-related claims like this one. I highly recommend getting this cancellation policy with your COVID-19 travel insurance coverage.
Regardless of whether the insurance policy covers this, my experience is that airlines, transportation companies, and hotels are quite gracious to travelers who need to cancel their trips. If you find that you're not covered by travel insurance, my advice is to get in touch with different providers and file a claim that will allow you to get a refund or at least change your travel dates.
If you don't have success with this, get in touch with a Heymondo representative who can walk you through the steps to get a refund. Just remember that, in this case, Heymondo is simply an advisor and will not be responsible for reimbursing cancellation fees. It must be the airline, transportation company, or hotel that reimburses you (or lets you change your travel dates).
International travel insurance that covers early return due to COVID
Heymondo's international travel insurance for COVID covers the cost of early return to your home country.
If a relative is admitted to the hospital for COVID-19, or dies from the virus, you may return home early and have the costs covered by Heymondo. Moreover, if you must cut your trip short due to border closures, you can request an early return flight.
You should not manage an early return on your own. Rather, contact Heymondo and have them take care of it.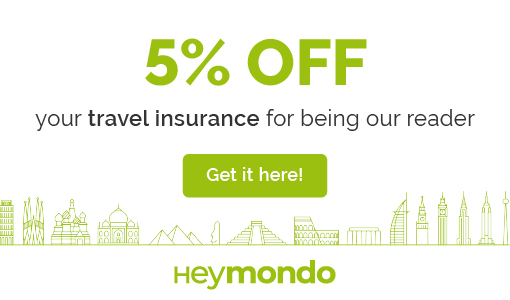 What to do if you get COVID-19 during an international trip
You may wonder which travel insurance covers a COVID-19 diagnosis abroad. If you contract coronavirus during an international trip, and you're insured with Heymondo, you'll have all related medical expenses covered, including coronavirus testing.
If you start to show any symptoms or you feel unwell, you can use Heymondo's 24-hour customer support app. It'll connect you with medical specialists and doctors who can offer expert advice. Keep in mind that this is simply a consultation service, so if you need to go to the hospital or see a doctor in person, you should use the free telephone service to call the doctor. They will direct you to the nearest hospital.
I advise against going to a hospital or health center without calling in first, as this can exacerbate the spread of COVID-19. Hospitals around the world are taking special precautions to avoid unnecessary visits and to keep patients as safe as possible. Therefore, you should pay attention to the health protocol at your destination.
If you have mild or moderate COVID symptoms that don't require hospitalization, you must self-quarantine for at least 14 days or until your test negative for the virus.
Travel insurance and coronavirus coverage FAQs
Regarding travel insurance for COVID-19, there are many possible scenarios, including ones that we haven't addressed in this guide. Below are the most common questions we've received about travel insurance covering COVID, as well as trip cancellation insurance.
If your specific question isn't here, feel free to leave me a comment and I'll be happy to answer you.
After considering all the possible scenarios involving coronavirus and travel insurance, I highly recommend purchasing travel insurance for any trip.
You need travel insurance with COVID-19 coverage, such as a policy from Heymondo, which applies to any emergency situation. In fact, pre-pandemic, I had already compared the best travel insurance, and Heymondo was my top pick. I've personally been using it for the past three years with no problems, even after running into medical expenses on several occasions.
You're probably wondering if and when it will be safe to travel during the coronavirus pandemic. If you purchase travel insurance and take the necessary precautions, you should be fine to enjoy a trip.
That said, you shouldn't travel to countries that the government advises against (Canada & USA). Also, if you have COVID symptoms or you've recently been in contact with someone who has symptoms, don't travel.
Finally, don't travel without travel insurance that covers COVID-19, no exceptions!