2022 Maine Photography Workshop
The Milky Way in Acadia National Park
Join us for a Maine photography workshop in Acadia National Park where we'll capture our Milky Way over some of the most spectacular landscapes in the Atlantic Coast of the United States.
We are running this tour from September 23rd – 27th, 2022, which is a beautiful time of year to explore Acadia's scenic overlooks, photograph the coastline, and capture the Milky Way.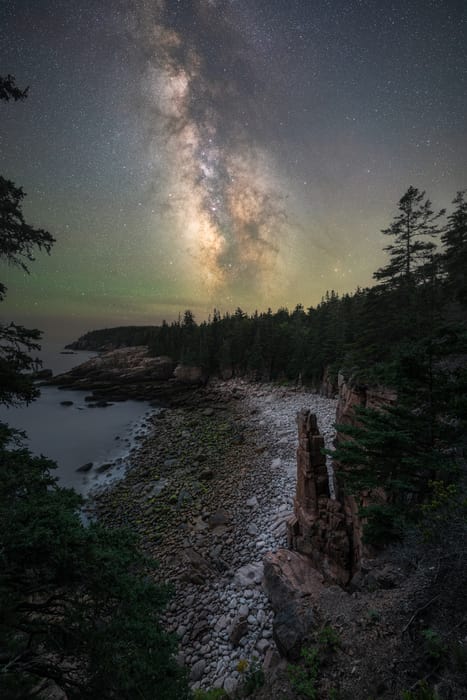 Overview
During this Maine photography workshop, we will focus specifically on landscapes and nightscapes shooting the Milky Way over the most photogenic landscapes Acadia National Park has to offer.
Also known as "The Crown Jewel of the North Atlantic Coast", in Acadia National Park you'll see and photograph some of the most beautiful rocky shorelines, coves, and scenic overlooks in Maine.  Since we will be photographing towards the ocean, the light pollution is almost nonexistent in this particular area, making it ideal for astrophotography.
Michael Ver Sprill and Joseph Cole will personally help you capture the best possible images during this Acadia National Park photography workshop. They will show you the best techniques to shoot the Milky Way, from the basics to the most advanced techniques like star-tracking, and they will also run post-processing sessions so you can bring your captured images to life.
While this workshop is primarily focused on Astro shooting at night, we will also have time to capture the sunrises, sunsets, and daytime images during the trip.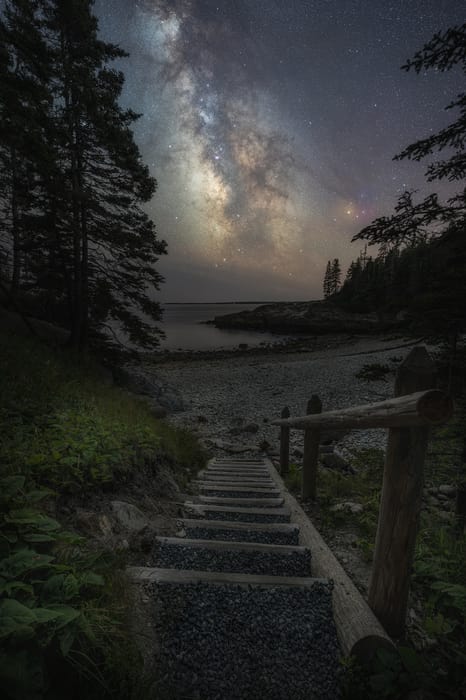 MAINE ASTROPHOTOGRAPHY TOURS HIGHLIGHTS
Photo tour from Sept 23

rd

-27

th

, 2022
Group size: 10 participants + 2 instructors.
Main topics: Landscape astrophotography.
Main areas: Acadia National Park.
Best time to capture the Milky Way from various scenic locations.
Dedicated post-processing sessions.
Accommodation included in Bar Harbor close to the best locations.
2022 Maine Astrophotography Workshop Itinerary
Our Maine astrophotography workshop itinerary is flexible, and it will be adjusted according to the weather conditions so you can make the most of this trip.
Our workshop will be during the best time of year to capture a south-facing Milky Way over Maine's rocky coastline, when our galaxy is visible from around 8 PM to 11 PM.
Depending on the conditions, we might also have the opportunity to photograph the fall colors over some of the most iconic landscapes in Acadia NP. 
DAY 1: Acadia Photography Workshop – September 23rd 
Our Maine milky way photography workshop begins at the "Acadia inn" at 2:00 PM. This hotel is situated in an ideal spot at one of the shortest drives from the main shooting locations, and it'll be our base camp during the entire trip. It also puts us in close proximity to the beautiful and quaint town of Bar Harbor, where there are plenty of amenities and restaurants.
After a meet and greet with the rest of the group and a welcome speech, we will prepare for our first night session at South Bubble Overlook, which offers amazing views of Jordan Pond and Bubble Rock.  This location offers fantastic photo opportunities to capture an unobstructed view of the Milky Way over some of the most renowned Acadia National Park's landscapes.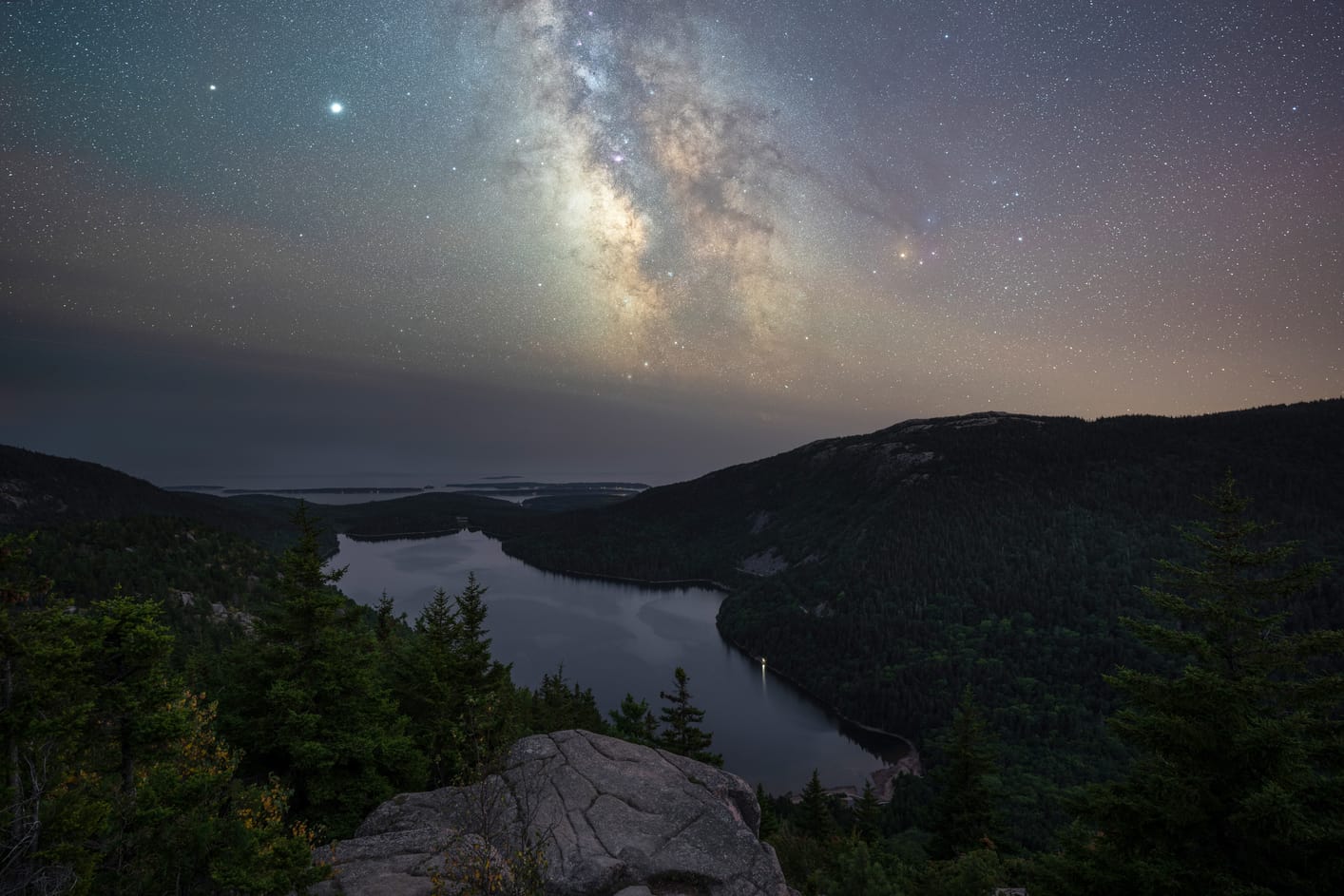 DAY 2:

 Maine

Photography workshop – Sept 24th

We will start the day with an epic sunrise from Boulder Beach. Here we will capture the ball-sized boulder rocks and ocean views with the iconic cliffs and pines of Acadia National Park in the background. 
After that, we will get some grub, recharge some batteries, and rest up.  Since Saturday is the busiest day for the park, we will take you to more secluded locations starting with an optional afternoon hike at Great Head Trail which overlooks Sand Beach.
Before sunset, we will head over to another secluded location called Hunters Beach which is a short half-mile flat walk to the beach.  We will get there to capture the sunset and stay for our Milky Way photography session.
DAY 3:

Maine

Astrophotography Workshop – Sept 25th

On day three, we will visit Thunder Hole for a beautiful sunrise and then walk along the impressive Ocean path. This is a flat and easy trail that follows one of the most dramatic stretches of coastline in Maine. We will stop at the numerous vantage points from which you can photograph this visual feast.
We will scout out compositions from Monument Cove, where you'll enjoy the views of some rugged granite walls and spectacular pillars shaped by centuries of waves and storms, to Otter Point, another popular spot with amazing views of the coastline.
After this morning session, we can get food, rest up and recharge.  Later in the afternoon, we will have our first post-processing session where we will work on the images that you have captured during the trip with a special focus on your night images. We'll show you the best techniques according to your skills, from the basics to some top-notch post-editing techniques.
In the evening and, after our editing session, we'll visit Monument Cove again to photograph this location at sunset till' the Milky Way emerges over the Acadia's southern skies.
From there, it is a 1-minute drive to Otter Point, where we can capture additional milky way images.
DAY 4:

 

Acadia Astrophotography Workshop – Sept 26th
Depending on the clouds and night conditions, we'll reserve the morning to do any of the morning shooting plans that we couldn't do in the previous days. Later that afternoon, we will head on over to Beech Mountain Trail, which is a 1.2-mile hike to the peak.  Here we will capture the stunning views that overlook Long Pond. We'll also offer a second optional post-processing session in case you want to skip this hike, where we'll continue with the editing instruction helping you with your images of the trip. In the evening, we will head south to Bass Harbor Head Lighthouse. This lighthouse dates back to 1858 and it's one of the most historical and photogenic spots in Acadia National Park. We'll arrive in time to grab a good spot to enjoy a beautiful sunset and starry night sky if conditions allow. From this location, we will teach you how to mitigate some of the harsh red light that is emitted from the lighthouse.  This will be a great location to practice and nightscape panorama as well!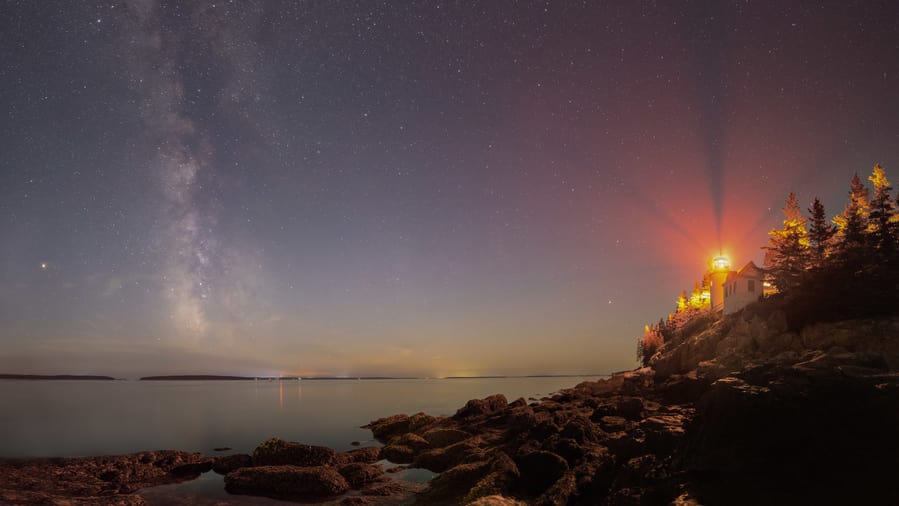 DAY 5:
Acadia Astrophotography Workshop – Sept 27th
For the final day, we'll do a final
sunrise shooting along the Acadia coastline
to photograph the cliffs and waves under the beautiful morning light. After a breakfast in our hotel, we will conclude our
Maine photography workshop.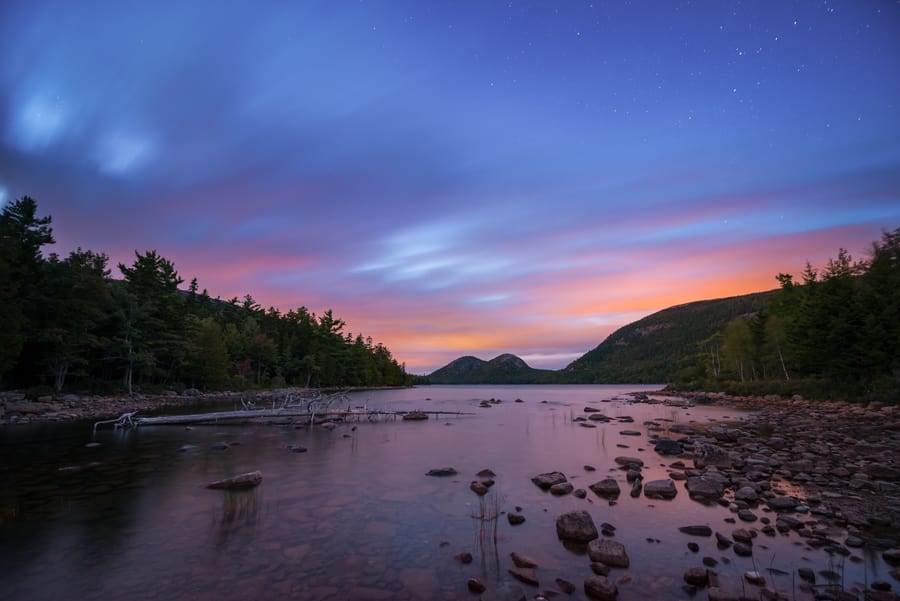 PRICE: USD 2,390
Deposit: USD 1,000
A $1,000 non-refundable deposit is required to reserve your spot for this workshop. You can also pay in full at any time. The remaining balance is due on July 23rd, 2022. If the remaining balance is not paid in full by the due date, you will lose your spot.
A 100% refund is guaranteed if we have to cancel the tour because of COVID-19.
What does the price include?
INCLUDED
Accommodation in shared double rooms with queen beds at the Acadia Inn in Bar Harbor for 4 nights, including breakfast.
5 days of photo guide services by professional photographers Michael Ver Sprill and Joseph Cole
Instruction in a small group of 10 participants with a 5:1 ratio (5 students per instructor).
Dedicated post-processing astrophotography sessions.
100% refund if the workshop is cancelled because of COVID-19.
*BONUSES
NOT INCLUDED
Transportation (including flights) to Acadia National Park. 
Transportation during the trip (we will arrange carpools when traveling to different locations).
Private room – Extra $480 (*Subject to availability)
Acadia National Parks entrance fee.
Meals except breakfast.
Health/travel insurance (We can help you purchase the best travel insurance according to your needs).
Personal expenses, tips, and any other service not mentioned in the "INCLUDED" section.
*Note: All participants must be fully vaccinated against COVID-19 to join any Capture the Atlas workshop or Photo Tour.
*Capture the Atlas operates under a CUA (Commercial Use Authorization) with the National Park Service to run photography workshops in the park premises.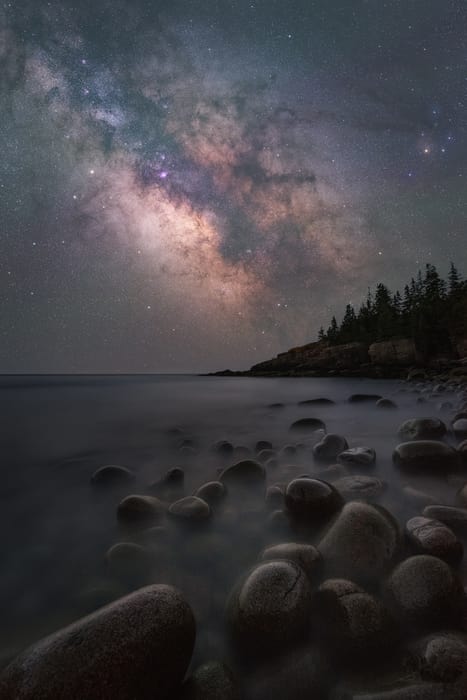 What will I learn during this Maine photo workshop?
This workshop is mainly focused on night and Milky Way photography. However, we will also photograph landscapes during the blue and golden hours, so you'll have plenty of opportunities to learn about landscape astrophotography.
What you learn during the workshop will vary according to your goals and skills. Your instructors are professional photographers with extensive experience who will help you take your photography to the next level.
Some of the photography basics you can learn during the workshop are:
Getting comfortable shooting different types of landscapes and photos in manual mode
Adjusting the best camera settings in each situation
Familiarizing yourself with the basics of night and Milky Way photography
Enhancing your compositions with the best techniques 
Designing your own shooting workflow to be more effective in the field 
Photographing daytime and night panoramas
Some of the advanced photography techniques you can learn during the workshop are:
Creating powerful compositions that tell a story and engage the viewer.
Building a connection between your photography and your vision.
Becoming a master of light: learn how to enhance it and keep it under control.
Advanced night & Milky Way photography techniques like stacking and panoramas.
Advanced bracketing and exposure blending to capture the best dynamic range.
Using wide-angle distortion and focal length blending to create powerful images.
Focus stacking to capture tack-sharp images with interesting foregrounds.
Advanced Milky Way shooting using a star-tracker
Some of the post-processing techniques that you can learn with are:
How to start using Lightroom and Photoshop (all the basics).
Preparing your images in Lightroom/Adobe Camera Raw to start on the right foot.
Stitching panoramas using different software like Lightroom, Photoshop, or PTGui Pro.
Stacking night images using Starry Landscape Stacker or Sequator.
Reducing the noise in your night images using Topaz Denoise AI.
All types of Blendings (exposure, focal length, focus, etc.).
Light shaping and Dodge & Burn in your landscape images.
Advanced Milky Way techniques like star reduction, structure, natural colors, etc.
*Note: As soon as you sign up for this workshop, you will have access to Dan's full Capture the Milky Way course, which will give you the perfect editing knowledge base before you join this astrophotography workshop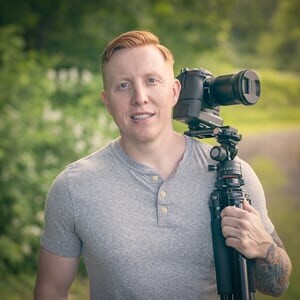 Your instructors on this Acadia Astrophoto Tour
Michael Ver Sprill will be the tour leader throughout this Maine Astrophotography workshop and he will help you achieve the best results possible during this tour. 
Michael has traveled all across America in search of dark skies and beautiful landscapes. Being based in New Jersey, he has extensive knowledge of amazing photography locations along the East Coast. Acadia National Park is one of his main areas of expertise where he travels every year to photograph nightscapes.
Over the past decade, Michael has been honing his craft to develop the best techniques to create sharper and cleaner night images. During the workshop, he will teach you composition, various photography techniques, and how to post-process your Milky Way images. 
For his love and passion for the night sky, he has been dubbed "Milky Way Mike", however his photography portfolio extends far beyond that. Michael enjoys sharing his knowledge with others at photography lectures and creating tutorials on his popular youtube channel.  His work has been featured in New Jersey's Travel Guide for 2014 and 2016, National Geographic, Weather.com, and Stargazer.
You've probably seen Mike in…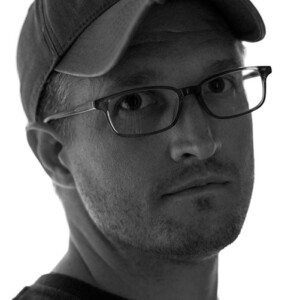 Joseph James will be the co-leader of this Acadia workshop and will help you with your photography throughout the entire trip. Joseph has a background in arts and painting, specializes in landscape and night images, and has a unique vision and style.
He will show you not only the best techniques, but also how to be more creative with your camera gear so you can learn to see new compositions and perspectives that go unnoticed by most photographers. He will also help you with your tracker and Milky Way editing during this trip to elevate the quality of your night images. 
What to bring to an Acadia photo tour
Below, you can find a summary of things you might need:
PHOTOGRAPHY GEAR
A mirrorless or DSLR camera.
A sturdy tripod and a remote shutter.
A wide-angle lens, such as 14-24 mm.
A medium zoom lens, such as 24-70 mm.
A telephoto lens, like a 70-200 mm lens.
A camera bag to transport all your equipment.
A headlamp for the night shoots.
A lens warmer to prevent humidity from fogging up your lens.
Glow-in-the-dark tape for your tripod.
A laptop for the post-processing sessions
Some optional items if you are focused on advanced MW photography are:
A star-tracker.
A laser for doing the polar alignment.
*While zoom lenses are acceptable for this workshop, prime lenses are recommended for Milky Way photography. Some of the best lenses in this range are:
-20 mm f/1.8, 24 mm f/1.4, 28 mm f/1.4, 35 mm f/1.8, 40 mm f/1.4, 50 mm f/1.8
You can get them either from your camera brand or from third-party manufacturers like Rokinon or Sigma.
*This Maine astrophotography workshop focuses on Milky Way nightscapes and not on deep-sky imaging. However, you can bring a telephoto/telescope and take your own deep-sky photos if you like.
You may be interested in this guide, where you can dive deeper into photography equipment for traveling.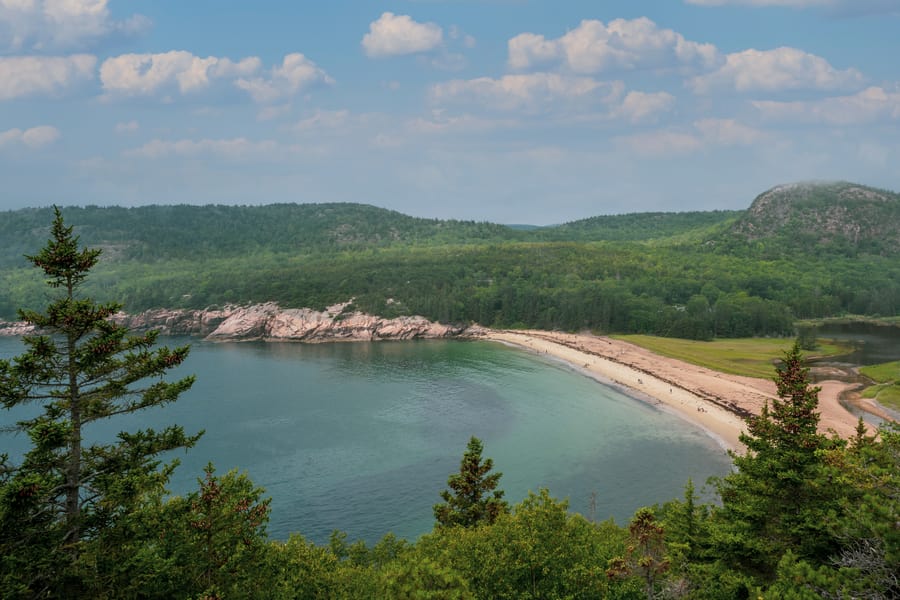 CLOTHING
Even though the sun makes temperatures warm during the day, nights can be chilly after sunset in late September, with temperatures around the 50s in the evening and night.
For this reason, we recommend bringing the following clothing:
A system of layers to wear at night (base layer, windproof layer).
A good pair of breathable boots (to protect your feet and ankles while hiking over rocks and uneven terrain).
A light hat and gloves for the night photography sessions in case it gets cold.
DOCUMENTATION
If you are traveling from outside the US, you may need a specific travel visa or an electronic travel authorization ("ESTA") depending on your country of origin. We can help you with this process.
What expenses should you consider for this Acadia Photography Workshop?
FLIGHTS
There are different airports within a relatively short drive from Acadia. The nearest airport to Acadia National Park is Bar Harbor Airport (BHB), which is 8.8 miles away. Other nearby airports include Bangor (BGR) (42.6 miles), Rockland (RKD) (46.8 miles), and Portland (PWM) (114.3 miles).
Airline ticket prices will depend on the airport you are flying from. We recommend reading this article if you want to find the best flights from your current location.
TRANSPORTATION
Transportation will not be included, and all the driving will be on paved, easy roads, so any type of vehicle is fine for this Maine photo workshop.
When traveling to different locations on the tour, we will try to carpool as often as possible. Some parking areas are small, and we would like to minimize our impact on the land and ecosystem as much as possible.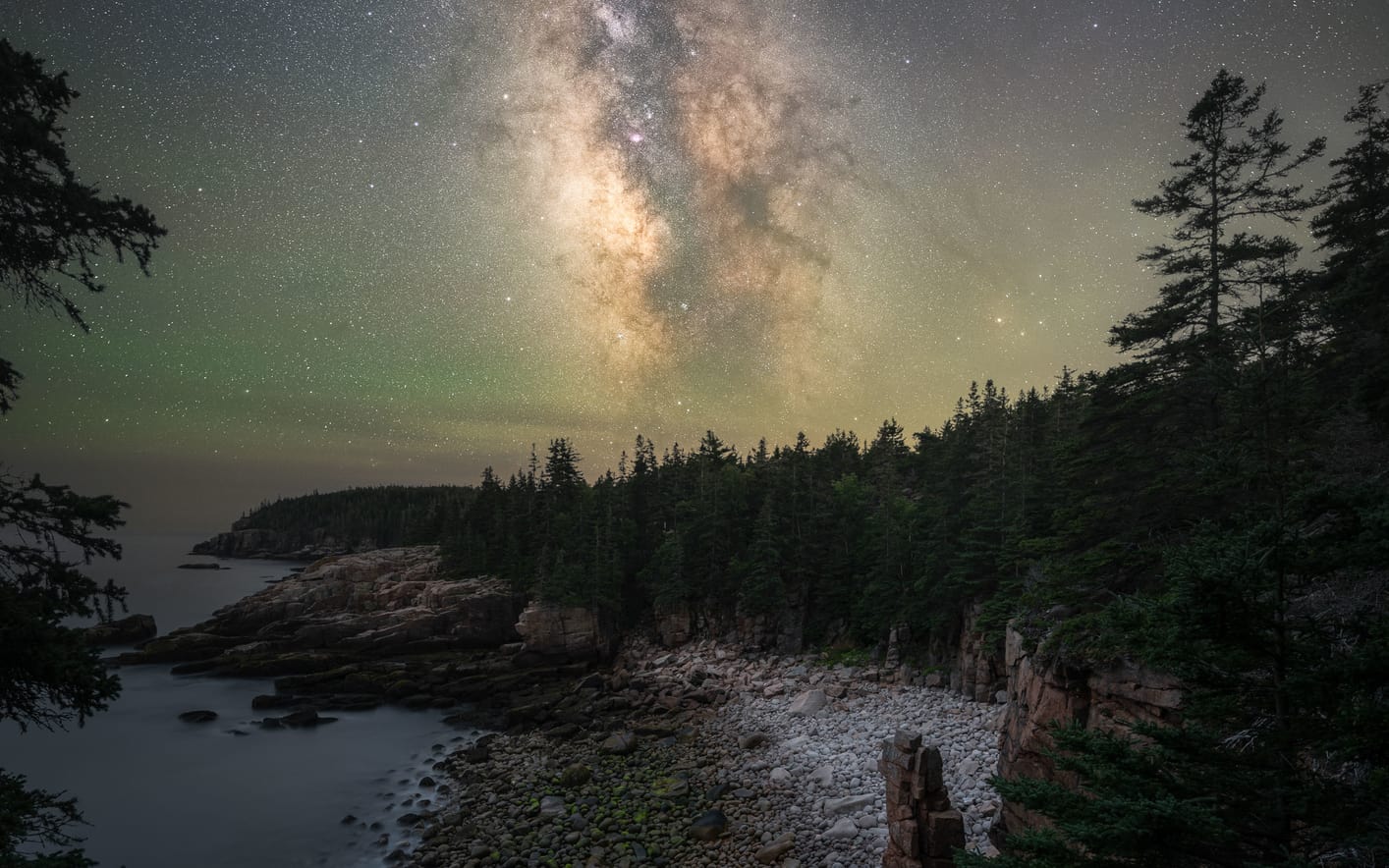 MEALS
Meals are not included, except for breakfast in our hotel.
Bass Harbor has grocery stores where you can buy food, drinks, and snacks. We recommend buying some groceries and snacks before the start of the tour, since our schedule will completely depend on the shooting conditions, and some days, we might not make it to any of the local restaurants for lunch/dinner.
ENTRANCE FEE
The Acadia Narional Park pass cost $30 per vehicle and is valid for a week. You can get your pass online or in person at the kiosk before entering the park.
If you plan to visit more national parks within the following year after the workshop, we recommend getting the "America the Beautiful" annual pass, which gives you unlimited access to all national parks and some state parks in the country for only $80. You can get it online here.
What makes this Maine astrophoto tour unique?
Frequent questions about our astro workshops
The Maine coastline is the most impressive place where I have photographed the Milky Way on the US East Coast. Rugged coastline, steep cliffs, wild beaches, and endless pines create a dreamy scenery to photograph our home galaxy. The seascapes also offer majestic views during the golden moments of light like the sunrise or sunset.
Acadia is known as "The Crown Jewel of the North Atlantic Coast" for good reason, and on this trip, you'll have the opportunity to capture it with your eyes and camera forever.
Let's capture the Milky Way!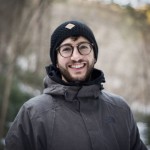 I've had the opportunity to work with and help countless photographers over the last few years. Sharing and teaching photography is my passion, and I love doing this both online and in the field.

I recently spent 3 weeks with Dan in Iceland. It was a wonderful experience that surpassed my expectations. Dan is an energetic guide who is passionate about what he does. The trip was well organized and Dan made sure we were able to see everything that was planned. Dan worked with everyone on the tour to understand their skill level, and provide his insights on ways to improve their photography. It was a wonderful adventure. I hope I have the opportunity to tour with Capture the Atlas again.
South & North Iceland Photo Tours

If I had to join a photo tour again, I wouldn't hesitate to repeat this trip with capturetheatlas! In addition to the organization, the accommodations, the places...you have the feeling of traveling with friends, where we all learn from each other and the guides are very close and familiar creating a small family. We were a group of different ages and levels and none of that prevented the coordination from being excellent. In addition, Dan adapted and made the necessary changes in the schedule if the weather wasn't the best, and thanks to that we could see and photograph the Northern Lights! Thanks again to Ascen and Dani. Highly recommended!
1 on 1 Post-Processing Training

When I started editing my star-tracked photos. I wasn't able to get the most from the raw files. Dan has shown me how to enhance the original details and recover the amazing colors of the night skies. Although these advanced techniques can be quite daunting, Dan makes them really easy to follow.
1 on 1 Post-Processing Training

We had a fantastic workshop with Dan working on shooting techniques. Dan is a wonderful guide, patient, funny and helpful. I have been waiting to invest in filters to understand what I really needed and Dan let me borrow his to get a feel of what I would need to invest in. We grabbed some fantastic shots.
Ricketts Glen Photography Workshop

On my recent photo tour to Iceland, not only was I able to see the Northern Lights, but I also was able to photograph them thanks to Dan's tutelage and patience! I returned home with not only amazing pictures but also renewed enthusiasm for photography. Dan's passion for photography and landscapes is unequivocal.

If you really want to learn how to improve your photography, I highly recommend Capture the Atlas. l had a private class with Dan, and he was very detailed explaining everything about my camera settings, lenses, and post-processing. His skills are superb and he's always eager to share all his knowledge.
Ricketts Glen Photography Workshop

Excellent trip. I highly recommend it to anyone looking for a "different" vacation and photography learning experience. The views of waterfalls, volcanos, geysers, glaciers, etc. are superb. Dan helped me get my images to another level. Iceland should be on your bucket list, especially with Capture the Atlas. The guys are very knowledgeable about photography and how to organize the trip.
South & North Iceland Photo tours