A Lofoten Islands photo tour is no longer just a photographer's dream. It has become a favourite destination for thousands of tourists seeking supernatural landscapes above the Arctic Circle.
Within this archipelago in the northern Norway, you will find otherworldly vertical fjords, turquoise seabeds that teleport you to the Caribbean, a congregation of diverse species of cetaceans, and a simple lifestyle that will steal your heart. year.Paticularly, you will find light, whether it is the eternal dawn-dusk of winter, the midnight sun of June, or the Northern Lights throughout most of the year – you will find such magical lights that beg you to be captured and immortalized.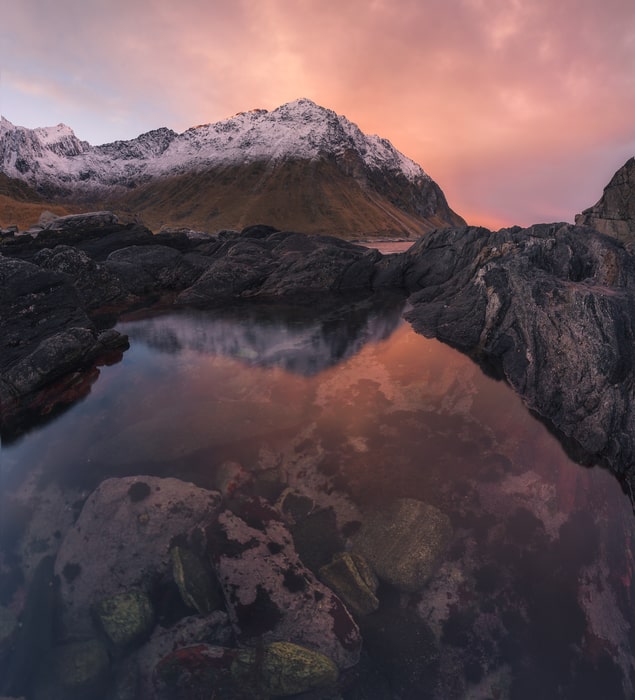 Taking a 10-day Roadtrip through Lofoten Islands wasa unique experience for us. We traveled in November in search of The Green Lady and we had success seven nights out of eight, seven nights in which we saw the Aurora Borealis painting the skies of Lofoten. Without a doubt, this magical experience may have been impossible had we not traveled the archipelago by Camper Van.
LOFOTEN ISLANDS PHOTO TOUR 
The archipelago of Lofoten is formed by a group of islands located in the province of Nordland , just above the Arctic Circle. The main islands (Austvågøya, Gimsøya, Vestvågøya, Flakstadøya and Moskenesøya) are connected by the popularly known as King Olav V route, road E10. This 300-kilometer road links the archipelago with the mainland. However, there are still other smaller islands that are only accesible by ferry.
This road is probably one of the most photogenic places of the Earth, with sceneries like old fishermen wood cabins anchored to the rock and fjords that challenge the peace of its turquoise waters. It is no surprise that more and more people  are deciding to take a photo tour to the Lofoten Islands, with some hiring an organized trip while others traveling on their own.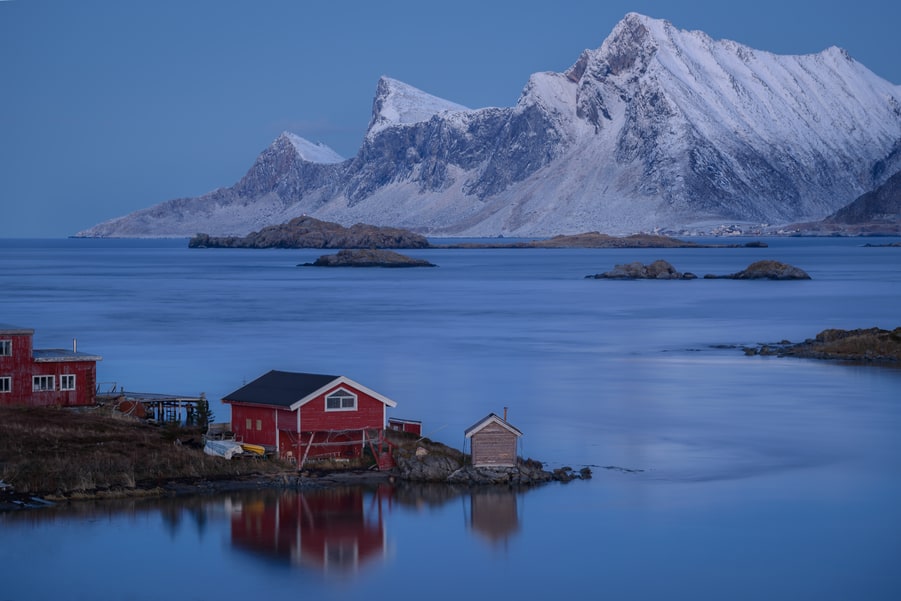 Most of these organized photo tours are centered around the interest in photographing the Aurora Borealis; a natural phenomenon that in order to capture you should have some previous photography knowledge (or hire an expert guide to advise you).
There are countless places to enjoy these magical lights. However, none of the conditions we have on these islands are given.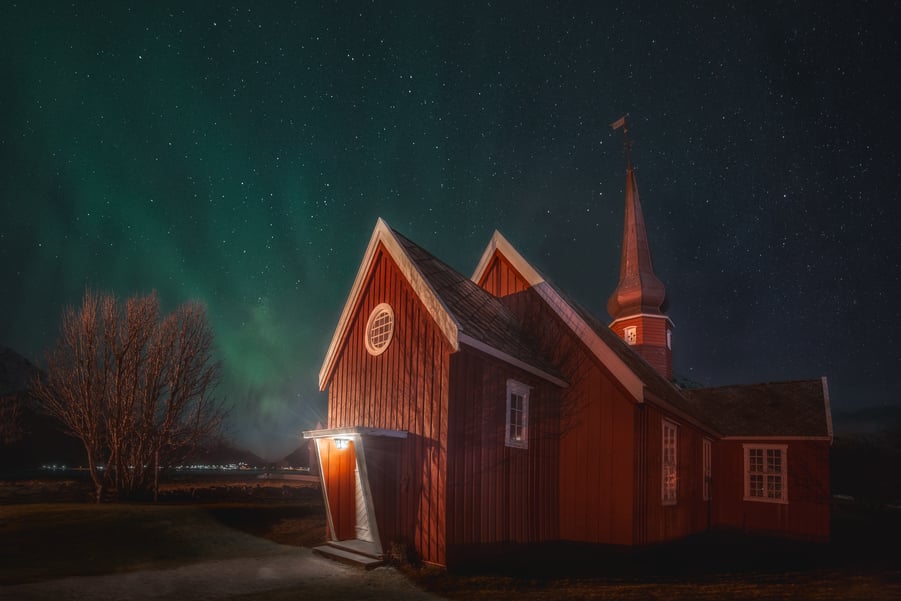 During winter time, we can get up to 20 hours of total darkness, which is essential for enjoying the auroras. However, what makes Lofoten totally unique is a climatic anomaly that turns out to be one of the most pronounced in the world. At similar latitudes, temperatures can drop to -30ºC in some areas during winter, while Lofoten stay just above -5ºC. This is due to the currents that bring heat from the Gulf of Mexico to the coast of Lofoten, thus creating a microclimate.
With all this, we can assure you that a photography trip to the Lofoten Islands is the best way to enjoy the Arctic Circle and its drastic landscapes.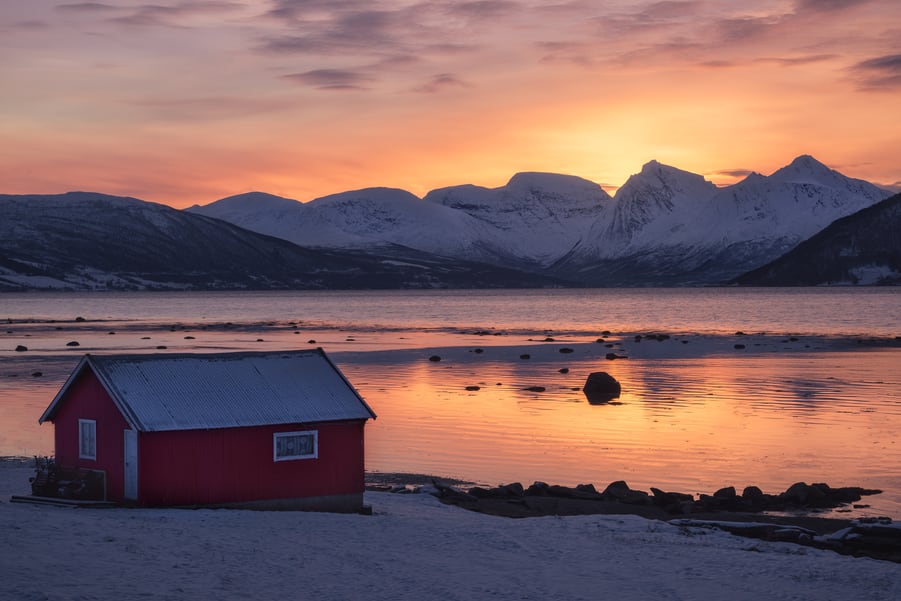 Scroll comfortably through this guide to Lofoten photo tours using this index:
HOW TO GET TO THE LOFOTEN ISLANDS
There are several options to get to the Lofoten Islands. Generally, they all start in Oslo and from there we have the following main options.
GETting TO LOFOTEN FROM TROMSØ
Tromso is considered the Arctic Capital. Its airport, although small, is the largest airports in the north with most affordable and frequent flight options
It is, however, the furthest city from Lofoten, so you will lose practically one day on the way there and another on the way back to get to the archipelago by road if you travel during the winter.
We used this option as it helped with our budget, and with landscape was so beautiful and different from what we saw in Lofoten, the extra time spent in transport did not matter to us.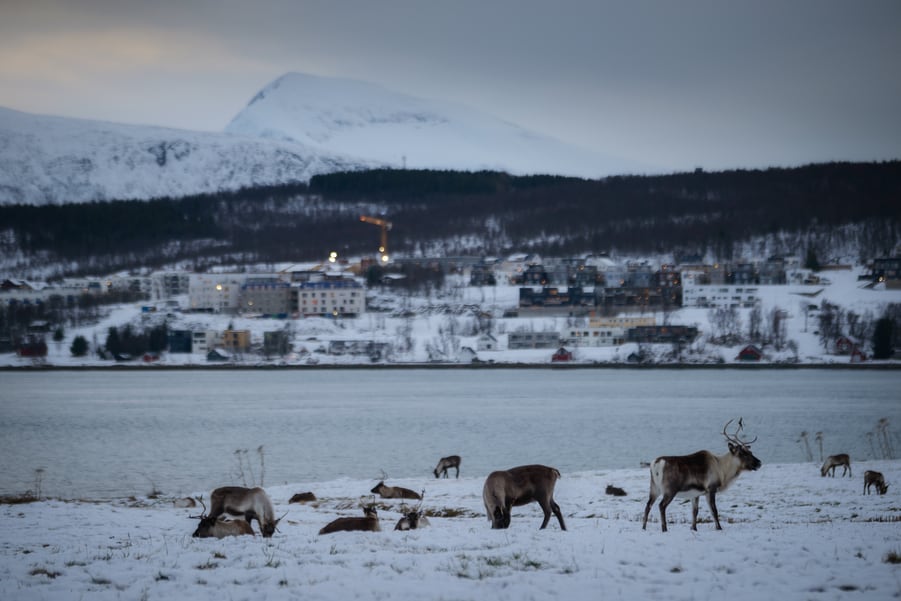 Another advantage of flying to Tromso is the large availability of companies that rent caravans and camper vans. This makes the cost much cheaper compared to renting caravans directly in Lofoten. For us, it was a turning point to find the Norwagon company, which rents campers prepared for the cold winter and accommodation at a great price.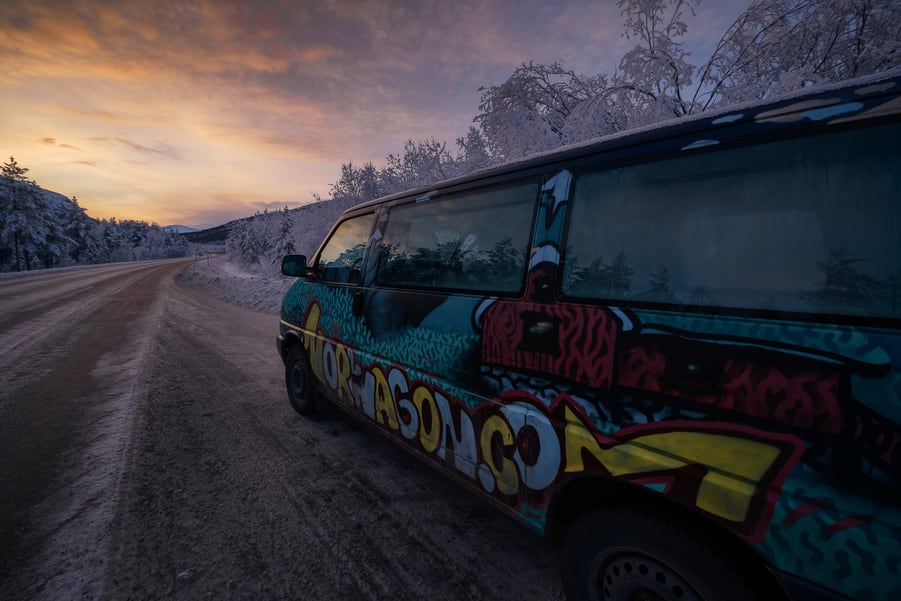 Getting to Lofoten from LEKNES
Leknes is the fastest option to reach the epicenter of the Lofoten Islands. This airport is located just a few minutes from the most famous beaches and only one hour from the most classic location in the Lofoten Islands; the fishing village of Reine.
If you are flying in high season and want to focus on the most famous and classic area of the Lofoten Islands, we recommend you check flights to this airport in the first place.
Getting to Lofoten from Svolvær
Svolvær airport, in the capital of the Lofoten Islands, is another option that you can use to get to the islands. We could not find any flight during our visit, but it is another good option to consider if you want to get fast to the most important points of the Lofoten Islands.
GETTING TO LOFOTEN FROM HARSTAD/NaRVIK-EVENES
Harstad / Narvik-Evenes Airport is one of the easiest ways to get to the Lofoten Islands. Although territorially it is located in the Ofoten region, it is one of the closest airports to the Lofoten Islands, only two or three hours away. However, the prices are higher than flying to the Tromso airport and the availability of companies that rented caravans was very scarce and expensive during our visit in November. If you travel during the high season, it may be a good option to consider.
GETTING TO LOFOTEN FROM BODØ
To get to Lofoten from Bodo airport, you must take a ferry that takes about 4 hours. It not only saves time compared to driving from Tromso, caravan rental prices were also lower.
The frequency of flights is higher than to Evenes but lower than to Tromso, and therefore prices are also somewhere in between.
BEST TIME TO VISIT THE LOFOTEN ISLANDS
You cannot explore Lofoten completely in one visit. If you want to enjoy everything that the archipelago has to offer, you will have to visit at least twice – once during the winter and once in the summer.
Visit in the winter to enjoy the aurora borealis and beautiful ephemeral light that this time of year offers at this latitude. Then, visit in the summer to enjoy the many hiking trails between fjords, learn the history of the Sami people, and live the midnight sun.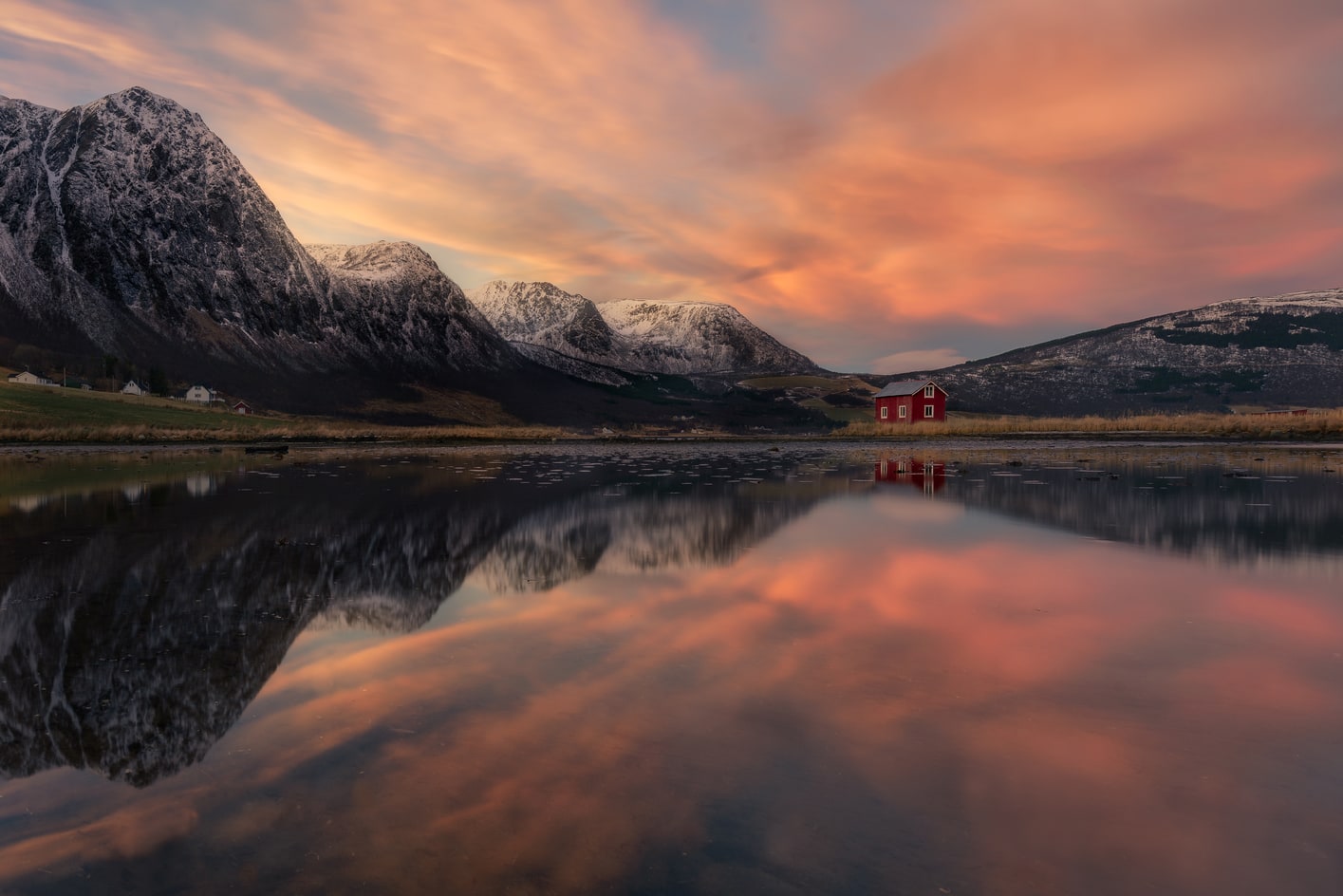 BEst TIME TO visit THE LOFOTEN ISLANDS IN WINTER
We consider winter from November to February. In theory, the worst month of the year to visit Lofoten is in November, as during this time there is still no snow and a lot of rainfall. In addition, the skies are covered by clouds most of the time which prevent viewing of the aurora or sunset lights. Furthermore, with so few daylight hours and icy roads, it is not possible to make use of the hiking trails.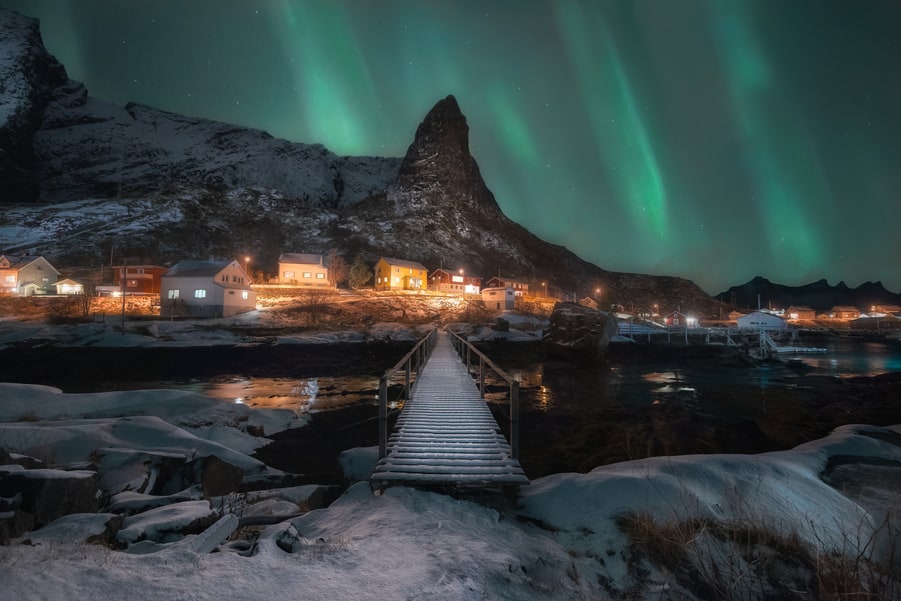 Our experience was very different. We were lucky that 2017 was an atypical year, and during our 10-day photographic trip to the Lofoten Islands in November, we enjoyed 7 nights of auroras, as well as sunrise and sunset lights that we had not seen anywhere else.
The climate records state that the best time to travel to the Lofoten Islands in winter is during the second half of February. Everything is covered in snow, which will be perfect for your winter photos. There are few precipitations and many nights of clear skies to see the auroras. With more daylight hours than earlier months, you can enjoy long hours of crepuscular lights.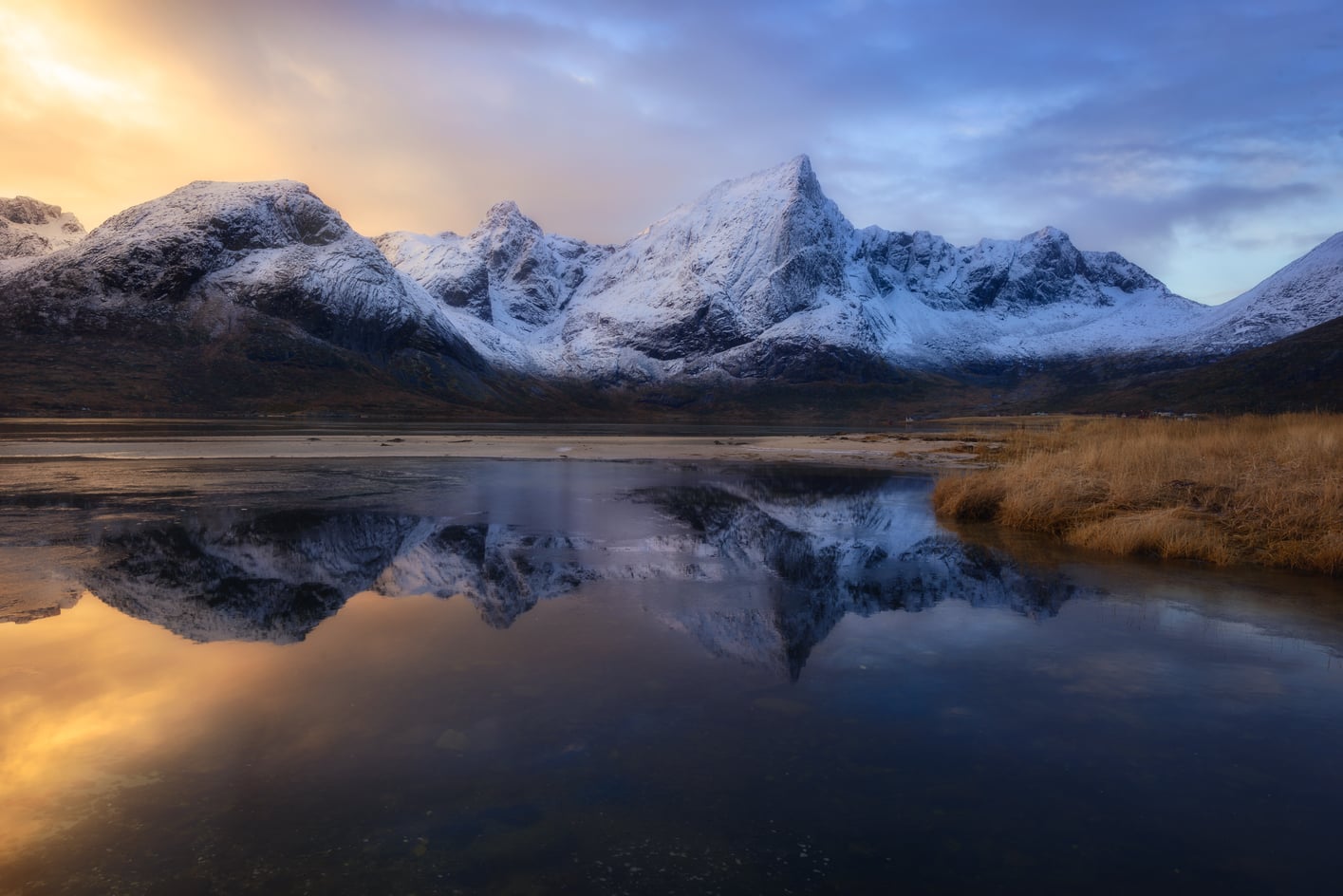 best TIME TO visit LOFOTEN IN SUMMER
From May to September is the best time to enjoy Lofoten in the warm months.
You can enjoy long daylight hours, especially as we approach June. When the summer solstice occurs, you can see up to 21 hours of light per day. That's plenty of time to enjoy long treks that take you to secluded beaches and to visit tiny villages of Viking origin.
The temperatures are pleasant considering that it is located above the Arctic Circle. With a high of 15 ºC, you can enjoy a cool day at the beach.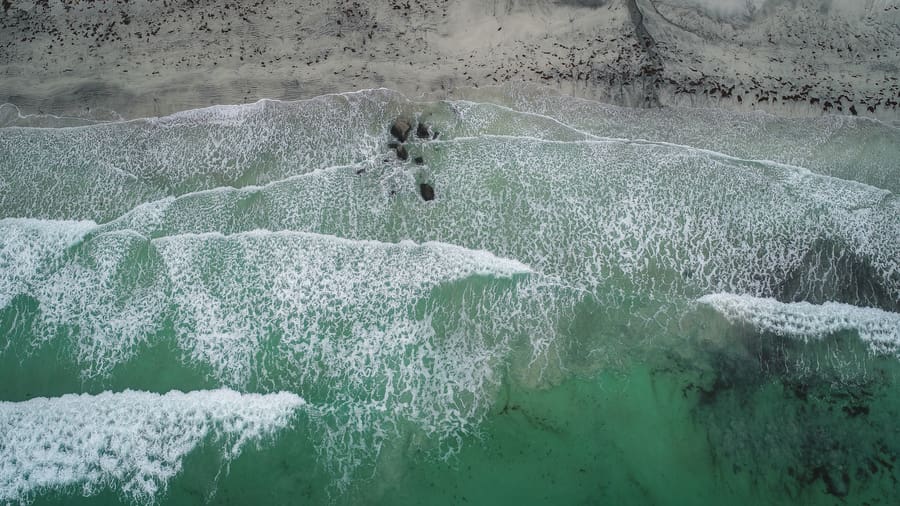 Even in summer months, it is essential to wear warm clothes as it can reach a low of 7 ºC with frequent rainfall and wind.
Top things TO DO IN THE LOFOTEN ISLANDS
Depending on the time of year when you travel, the best things to do in the Lofoten Islands change radically.
In the few hours of daylight that you can enjoy during the winter months, you will want to spend them sightseeing paradisiacal beaches, deep fjords and other important places of interest. For us, other activities such as going to museums and visiting villages to get to know the Sami culture took a back seat.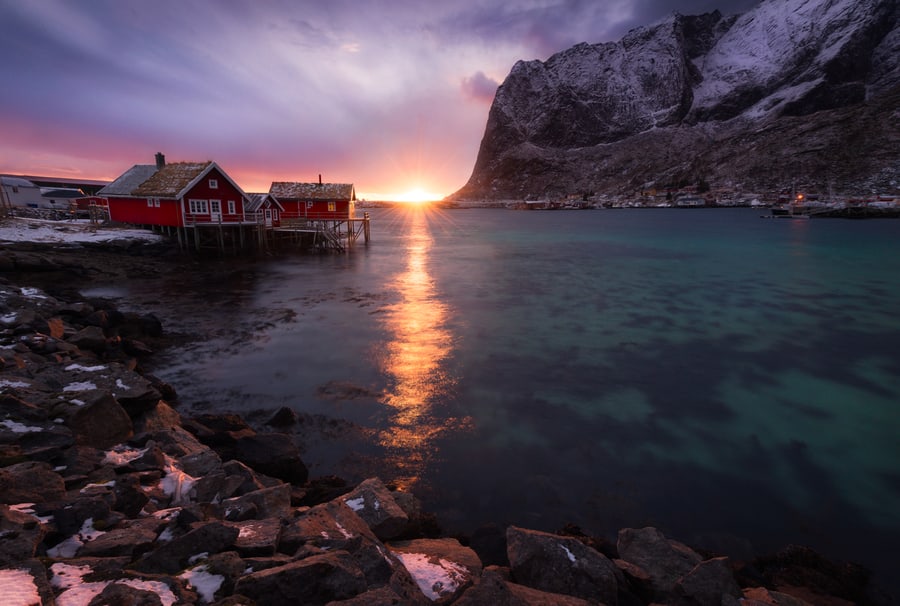 When we return in summer, we will not only take advantage of that, but also to trek to the most secluded beaches that we could not reach when the trails are covered in ice or without adequate daylight hours to make the journey.
THINGS TO DO IN LOFOTEN IN WINTER
Since you have very few hours of light in the winter, you should know in advance what sites you cannot miss. The islands that interested us most were those located further south – Moskenesøya, Flakstadøya and Vestvågøya. In this section we tell you our favorite places.
HAMNØY
If you could enjoy only one sunrise in Lofoten, I would ask you to spend it in the picturesque village of Hamnoy on the island of Moskenesøya. The winter sun rises almost to the south, illuminating the Reinefjord. The most representative photograph of this place is taken from the bridge that goes from Hamnoy to Toppoya, in which old fishermen's huts called Rorbuers (now converted into luxurious accommodations) appear at the foot of the rock.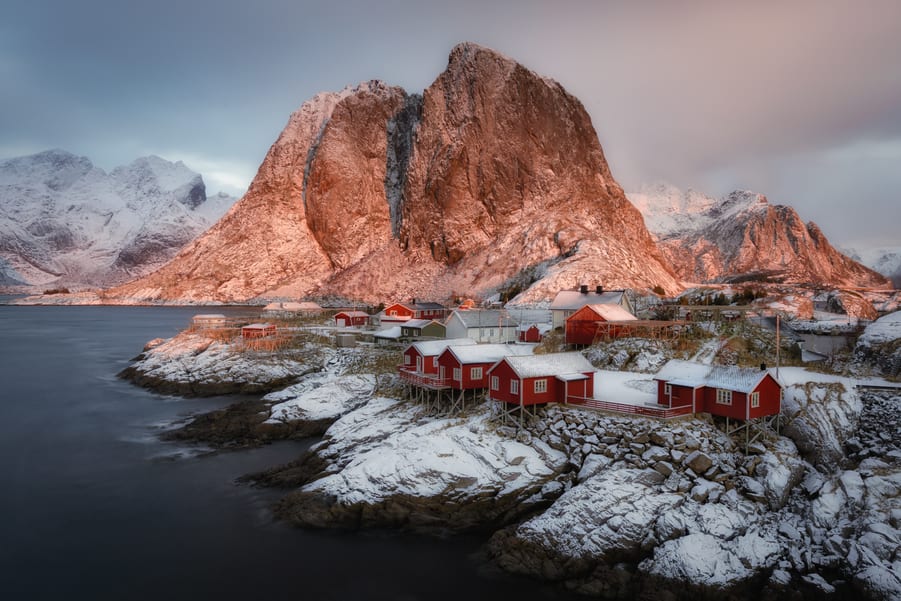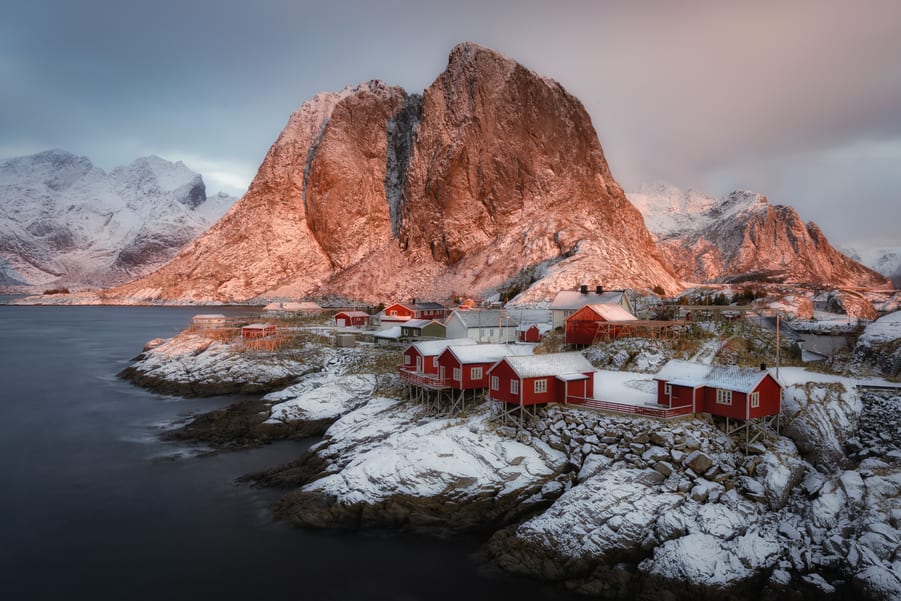 These particular huts are called Eliassen Rorbuer. They were so highly recommended that we did not hesitate to leave our Camper Van for one night to check if they were really worth it. The price was not bad at 120€ per night, I suppose that was due to available of vacant huts as we visited during low season.
Note, the price does not include sheets, towels, or cleaning. You will be charged if you do not leave the cabin as you found it.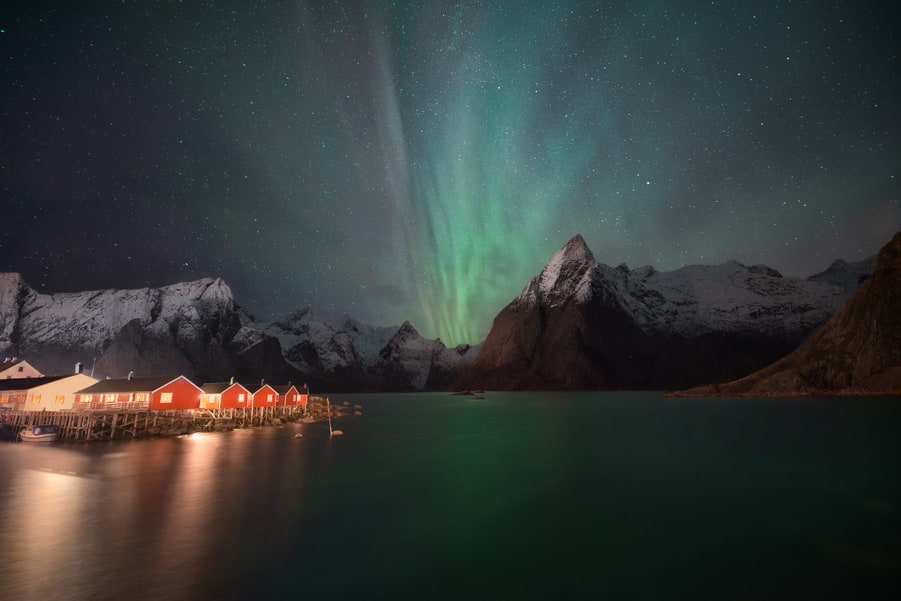 We were also lucky enough to see the northern lights in this area, considering it is much easier in the north where there are more open areas.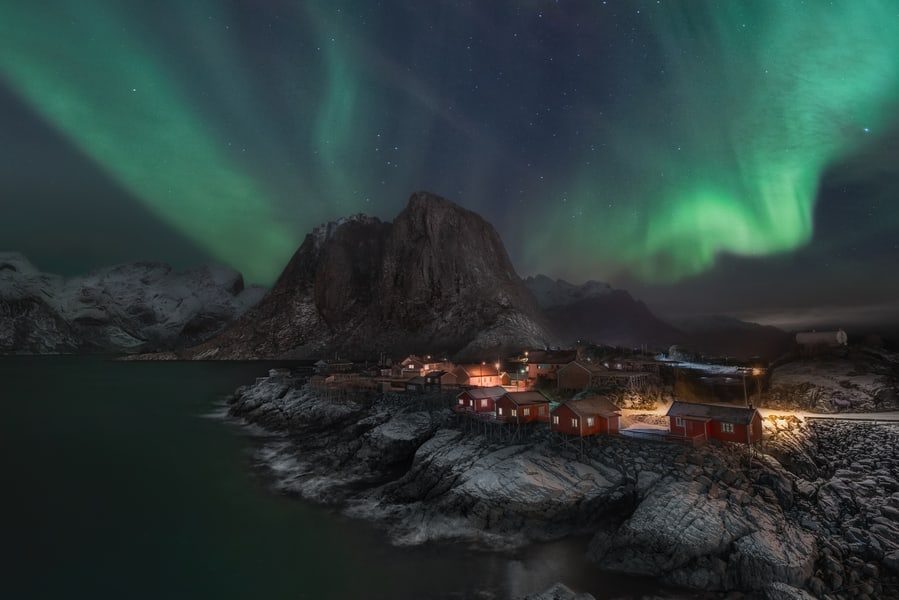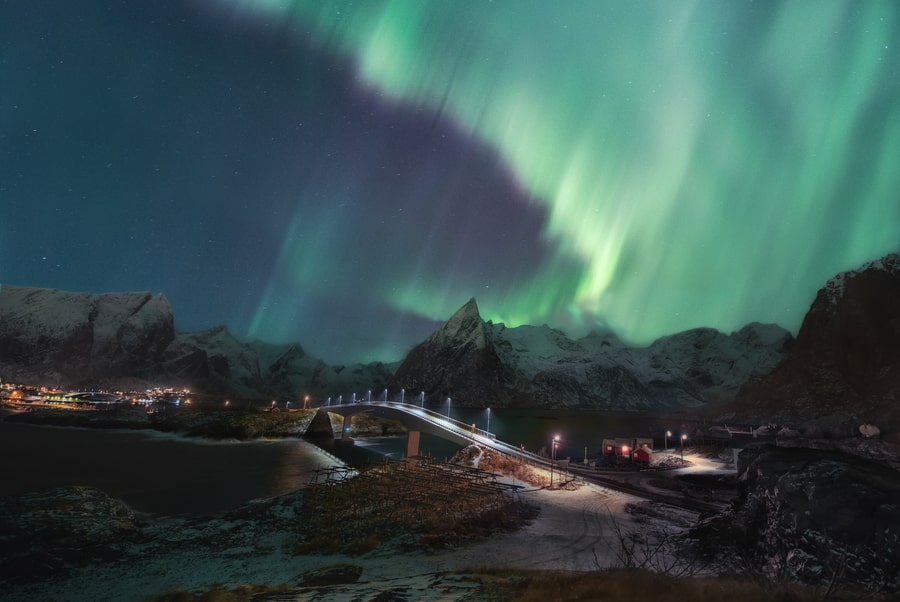 REINE
Follow the King Road for another 3 minutes, you will reach Reine, where you can find a gas station, supermarket and some shops.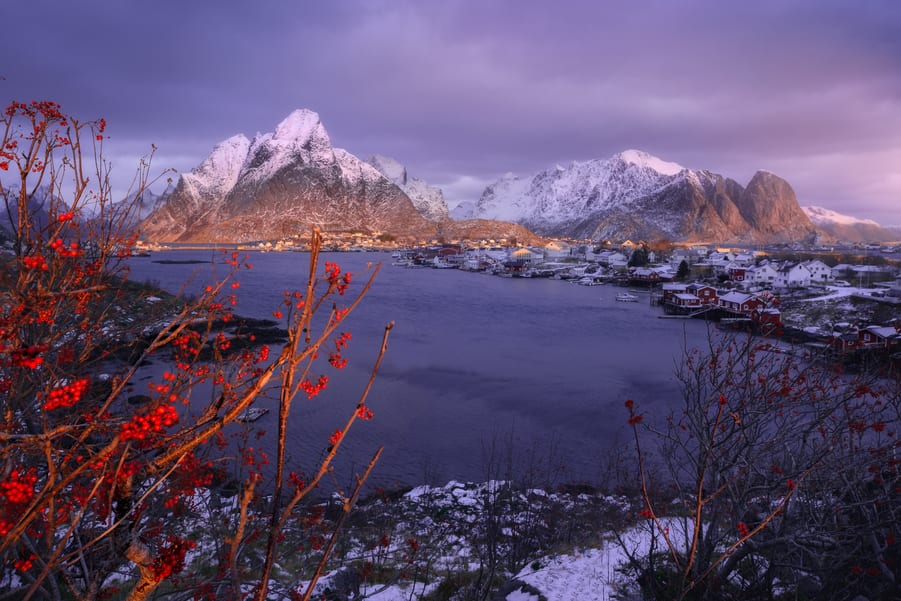 Here, you will find a slightly larger fishing village than the previous one, with strikingly colored Rorbuer located next to flakes – wooden structures that can be found all over which are used for drying cod during the months of January to April.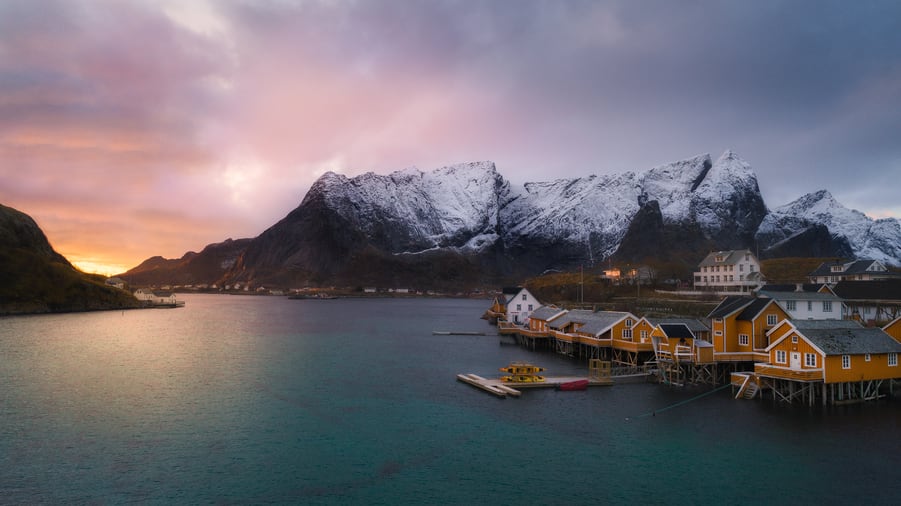 If you follow the King route for another 15 minutes, you will arrive at the village with the shortest name in the world, Å, where the E10 road ends.
SKAGSANDEN BEACH
The first time we went to Skagsanden beach was during our first night of auroras in the Lofoten Islands. The beach is located in the northwest of the Flakstadøya island, in the village of Flakstad, a good location to enjoy this phenomenon. It is also the closest beach from Reine.
It is a very flat beach, so depending on the tide, you might find a lot of wet sand which shows a reflection of The Green Lady.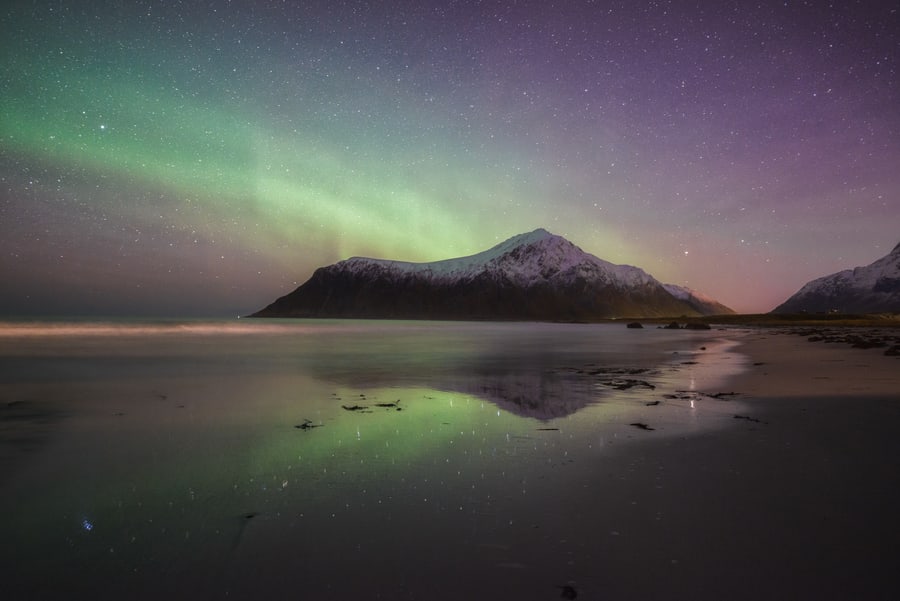 After a lot of rain, dark sand from the mountains reach the white sand of the coast, sometimes forming patterns that show the displacement of the gravel towards the sea. While we could not find these patterns,  our visit during the ephemeral hours of light was still well worth it.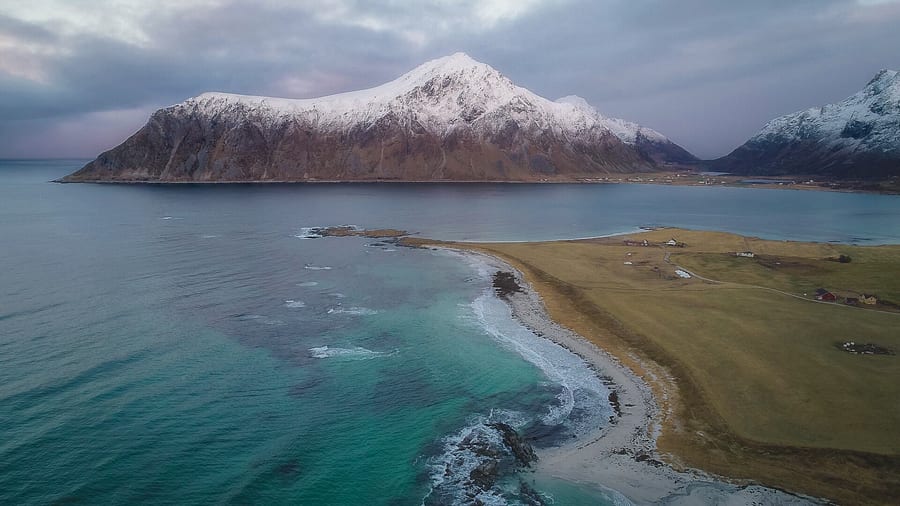 Very close to the beach you will also find the amazing church of Flakstad, the Flakstad Kirke. Its peculiar red façade looks as if it's taken from a fairy tale, we needed to place it at the beginning of this article.
STORSANDNES BEACH
The beach of Storsandnes is perfect for seeing the northern lights as it also faces north. Although the ones we saw here were not too strong due to low kp that day, we were able to take a picture of photograph the Northern Lights next to the Milky Way.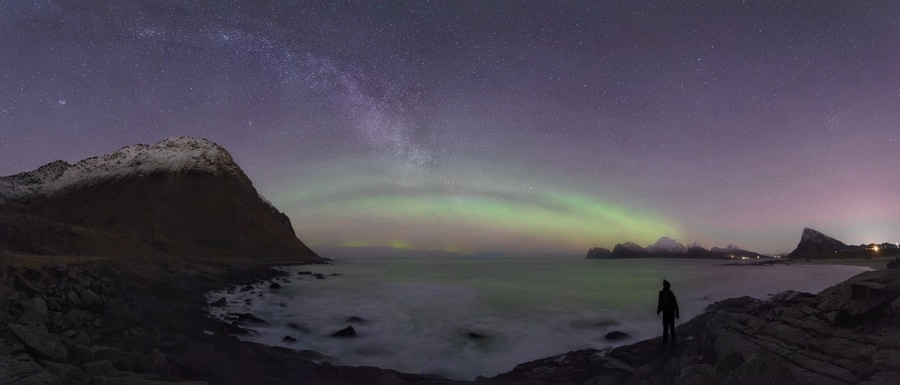 We stayed here after a session of auroras that ended very late. The next morning, we witnessed an epic sunrise that caught us totally by surprise. Remember that it is a north facing beach, and in winter the sun rises steeply to the south. When we opened the doors of our Norwagon, we could not believe the pinkish sky we saw – winter light and colours can surprise you in the most unexpected horizons.

UTTAKLEIV BEACH
The beach of Uttakleiv, or beach of the heart is our favorite beach to see auroras.
The rocky coast allows some very interesting shots integrating reflections of the Arctic lights over the static water filtered between the multiple nooks and crannies of the stones.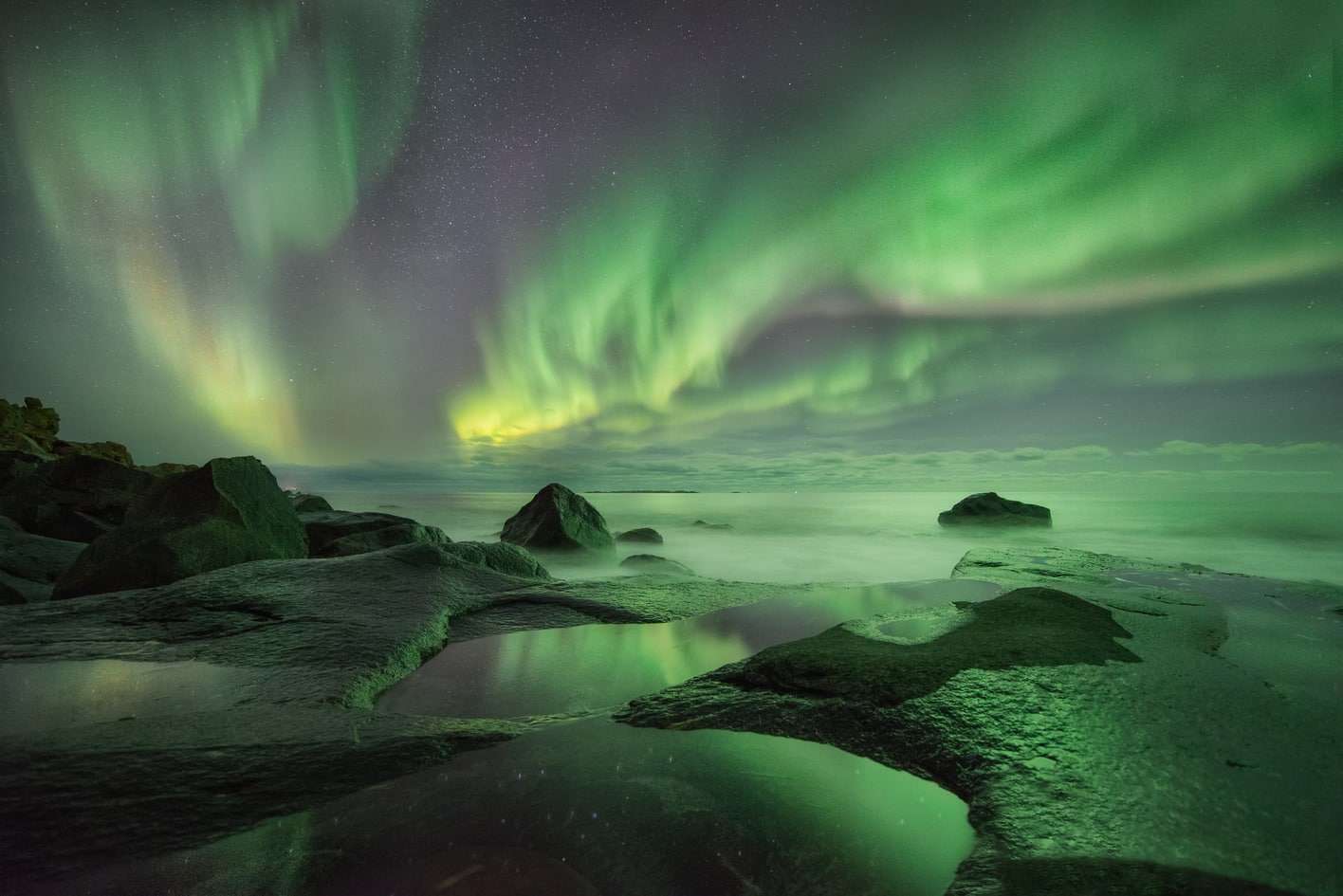 It is also a very wide and extensive beach to the north, making it ideal for enjoying this phenomenon. The compositions for photography are endless – in the western parts we can find rocky areas, and northern parts we can find fine white sand covered with the first snowflakes of the year.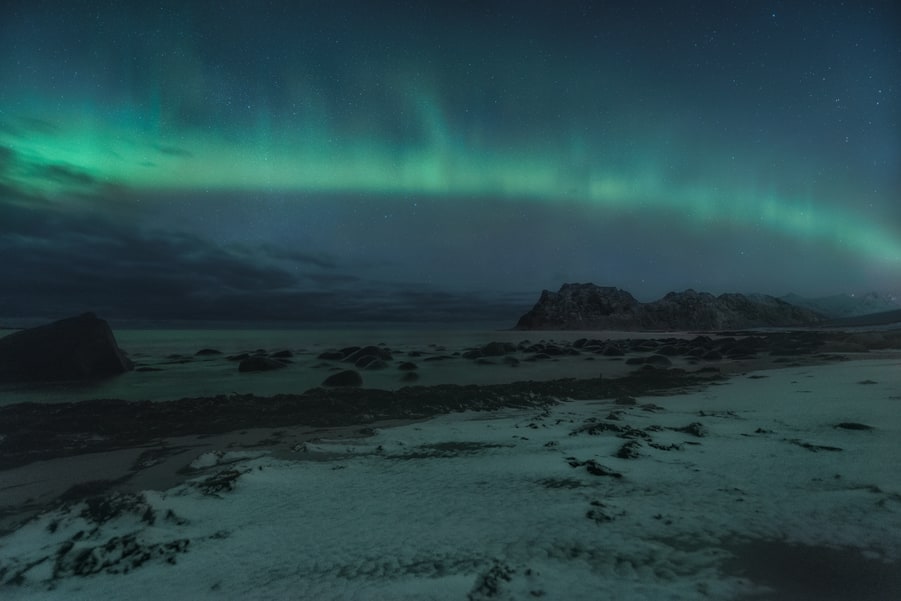 Visiting this beach during the day did not meet our expectations due to the strong gusts of wind that occurred on this shore. Even so, we found the curious heart-shaped stone that is distinctive to this beach.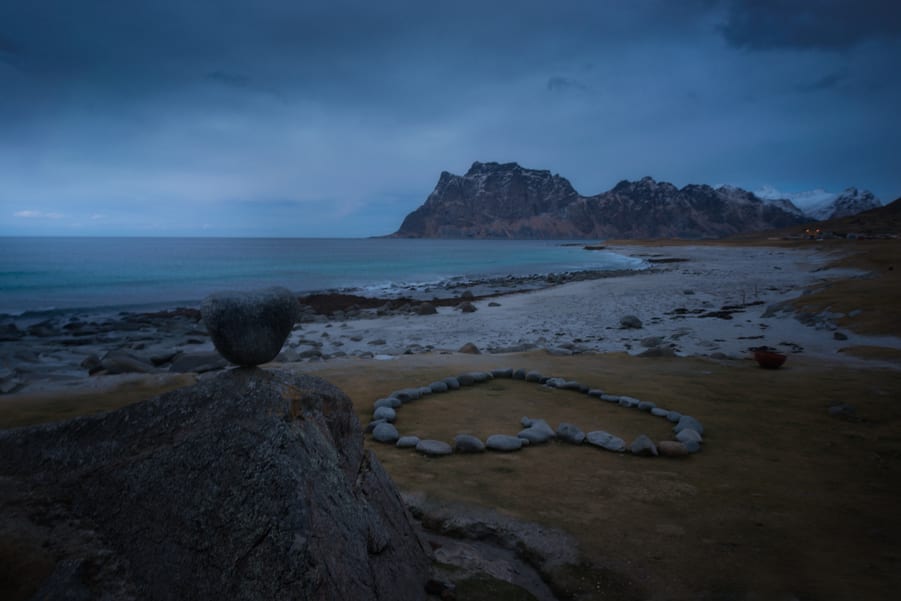 HAUKLAND BEACH
The beach of Haukland is the Caribbean of the Arctic. Its calm, turquoise waters and fine white sand invite you to immerse yourself within, if only it isn't at polar temperatures of the winter months. From this beach, we saw a spectacular sunset hiding the sun between the vertical rock walls.
We could also see the northern lights from here. However, it is not the best location since it is oriented more to the west than to the north.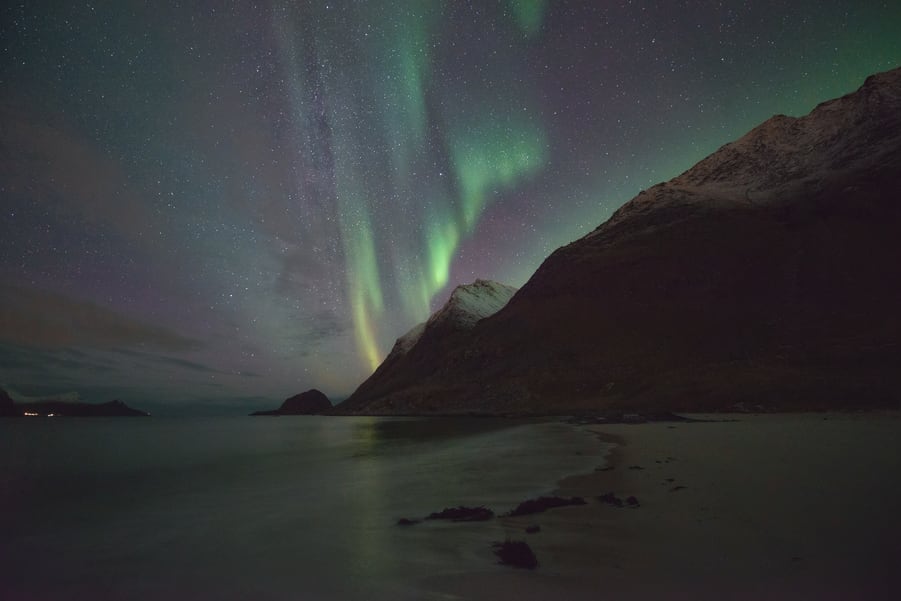 VIK BEACH
As an extension of Haukland, the small cove of Vik is also an amazing place. The waters are equally tempting but the extension of the white sand beach is much smaller.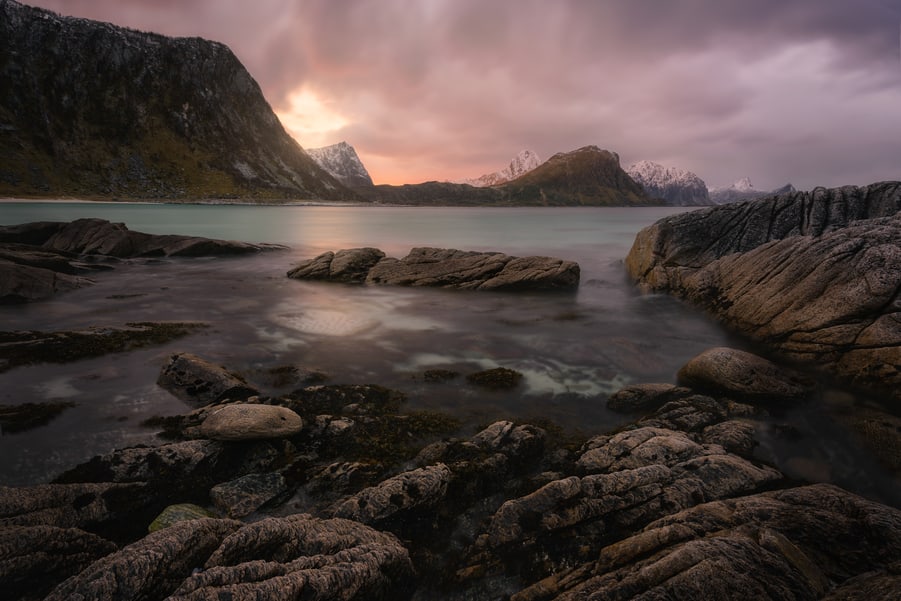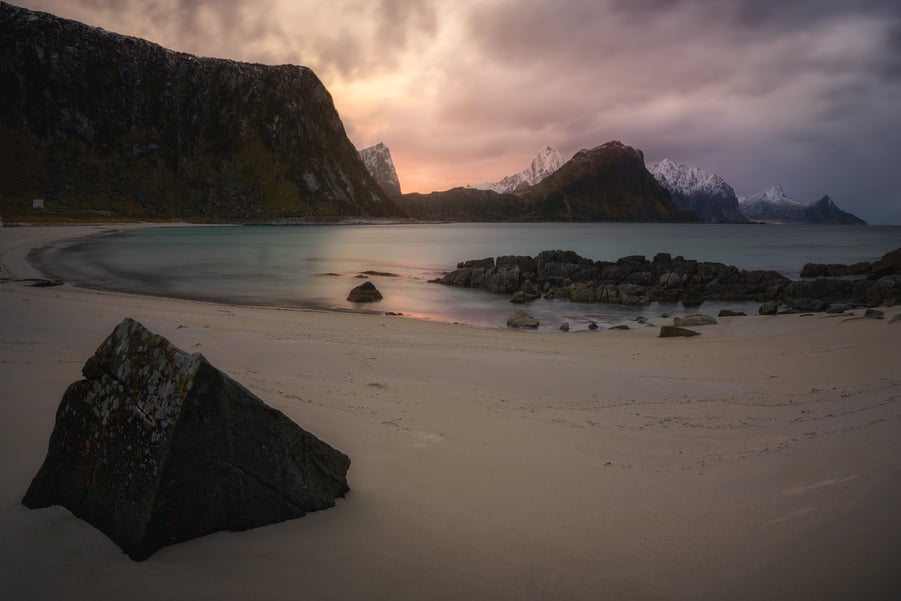 MYRLAND
To get to the beach of Myrland, you must follow the path that takes you to Storsandnes until the end. It was a shame not having the time to go, because it looks like an amazing beach in photos. look like an amazing beach. Even a 10-day photography trip to the Lofoten Islands felt short.
UNSTAD
This incredible beach with blue waters and extensive white sand was further away from most points of interest in Lofoten.
Due to the few hours of daylight we had, it was impossible to get there as every time we set course for Unstad, we came across a landscape that stopped us and the camper to admire and capture it. It is in the lofoten bucket list for our next Arctic adventure.
whale watching IN VESTERÅLEN
From November to March, killer whales, humpback whales, fin whales and sperm whales are seen off the coast of Vesterålen following the herring migratory routes. This archipelago is located on the Lofoten archipelago itself, therefore, even though it does not belong to the Lofoten district, it is often considered so.
It is undoubtedly the best place to see cetaceans in freedom and even swim with them, as many companies, in addition to offering boat safaris to see whales, also offer the activity of snorkeling with killer whales. This was a dream that I could not fulfill in November – even though the whales are already there, companies do not start offering services until the beginning of high season in December.
Some of the companies that organize whale safaris in Vesterålen are Sea Safari and Whale Safari. Almost all are found in the area of Andenes.
WHALES IN TROMSO AND SURROUNDINGS

Keep in mind that whales sail from the north to the south during the winter, so if the season is early and you happen to be traveling from Tromso, you will have more opportunities to see them here than in Lofoten. In fact, you may even see them from land. The best area for this is Tromvik, which we have indicated in the map below.

During our visit, we were not able to see them. After talking to the locals, we found out that herrings migration had been late this year and the whales were still further up north. However, during the same time last year in the Tromvik fjord, hundreds of all kinds of whales were seen, so do not stop trying!
THINGS TO DO IN LOFOTEN IN SUMMER
Although there are not enough hours of darkness to view the aurora borealis, all places recommended in the previous section are great places to visit year round.
In this section we will tell you about things to do in the Lofoten Islands during the summer.
REINEBRINGEN
Reinebringen is undoubtedly the most beautiful viewpoint within all of the Lofoten Islands, however getting there is still risky even in the summer. The road is a little trite and the false steps here do not give you a second chance. Take a wrong step, you've lost. In fact, there are few who have died trying to reach the top. After seeing this  photo, do you think it's still worth it?
Fortunately, after an attempt to ban the route, they have decided to make it safe for hikers instead. Currently, they are in the construction process to do so.
Thanks to our drone, we were able to capture part of the views!

VIKING MUSEUM
The Viking Museum is the ideal place to get to know the life of Viking societies. The museum itself is within the largest Viking building found to date, at 83 meters long.
We missed our chance to visit the museum during the winter because of limited daylight hours and enticed by the entertainment qualities of aurora nights, but, we have plans for a future trip in the summer to do so! What is fascinating is that the Viking Museum is a living museum, completely decorated in the Viking era. There, you can enjoy dance exhibitions, a market, typical Viking food, and Viking festival activities. You can check the schedule here.
KVALVIKA
The beach of Kvalvika is quite accessible but not so during the winter. The trek is a 2-kilometer route that lasts about 45 minutes. This small beach is well known for the scenic views from one of the mountains that surround it, Ryten, at 500 meters high. Here we leave a photograph that was taken from there.
There are also areas where you can camp, which makes it a favorite beach destination to enjoy the midnight sun.
BUNES
The beach of Bunes is one of the most remote and spectacular beaches, surrounded by cliffs that were sculpted by ancient glaciers. Getting there requires a ferry trip from Reine to the village of Vindstad, then it's a simple  2.5 km trek that lasts about an hour. It is one of the most popular places to visit as a day trip in the summer and not many people choose to camp here. After seeing  this picture though, we would not mind an overnight stay!
HORSEID
The least visited of the three, to reach here you will also need to take a ferry and then a 4.5 km trek from Kjerkfjørd that takes a little over two hours. It is an ideal excursion to sleep camping at the beach at least one night, and then catching the ferry back the next day.
KAYAK AMONG FJORDS
Another activity that you can do in the summer is kayaking among fjords, as there are many companies that rent kayaks in Lofoten. We even saw some brave people who did it in the middle of November. We were not able to do it due to the limited daylight hours.
VISIT THE PICTURESQUE FISHING TOWNS OF LOFOTEN
Although visiting the fishing villages of Lofoten is a year-round activity, it's best during the summer months for the avid landscape photographers as you are limited by daylight hours during the summer.
The main towns you should visit are Svolvær, capital of Lofoten, Sund where you can enjoy bird watching tours, Nusfjord with its peculiar Lake, and Storvatnet or Kabelvåg where you will find the second largest wooden church in Norway, the Vågan Kirke.
PHOTOGRAPHy EQUIPMENT for THE LOFOTEN ISLANDS
For those who have not read it, we already have an article where we recommend the best photography equipment to travel.
In this section we will only mention the photography equipment most essential for traveling in Lofoten.
REFLEX / MIRRORLESS CAMERA
A reflex or mirrorless camera with interchangeable lenses is a basic tool for photographing the Lofoten Islands.
A mobile or compact cameras have little to no capabilities for capturing the Aurora Borealis or other night photography.
For those traveling during winter, a sealed reflex camera would be ideal to prevent ice, snow, or wind damage from adverse weather conditions.
Lenses
We recommend a wide-angle lens to capture a variety of sceneries from the evocative fjords and wild beaches to aurora borealis. We prefer a sealed lens, but above all, a luminous face in order to immortalize the auroras.
It is also advisable to use longer focal lengths to photograph the fishermen's huts. In addition, it is always a good idea to carry a 50mm for panoramic photographs.
As far as telephoto lenses are concerned, they are recommended for photographing details of fjords and mountains, remote fishermen's huts, and wildlife if we go on a whale safari or bird watching.
TRIPOD
A sturdy tripod will be essential for a trip to Lofoten.
On the beaches, the ocean currents and wind can become extreme, so we need to have the stability of a good tripod and ball head. Do not forget your leveling base / L-plate if you like panoramic photography.
FILTERS
They are fundamental for capturing the movement of waves on the beaches and clouds when it is windy. Since light in winter is not going to be strong, a neutral density filter of 3 stops and another of 6 stops should be enough unless we plan to take very long exposures. We always use those of Lucroit, with whom we collaborate. Use the code CAPTURETHEATLAS at checkout for a 10% discount!

OTHERS
Taking into account how adverse the weather can be in the Arctic during winter, some useful items that we can carry in our backpack would be:
Batteries – Winter temperatures will normally drop below 0 ° C, so the life of the batteries is drastically reduced, especially at night while shooting northern lights and time-lapse photos. We recommend carrying at least 3 batteries with additional charging capabilities.
Remote trigger –  Indispensable for avoiding vibrations in the camera. Also very useful if we want to do aurora time-lapse.
Rain cover – for the photography backpack.
Headlamp – Essential when we are photographing auroras on dark beaches and other remote places.
PHOTO TOURs to THE LOFOTEN ISLANDS – IS IT NECESSARY?
It is a question that we have been asked many times since we returned from our adventure. Is it necessary to hire a photographic tour in the Lofoten Islands?
If you have the necessary equipment to photograph the elusive aurora borealis, experience in long exposure photography and you are able to plan the best locations in the archipelago, then it is not mandatory.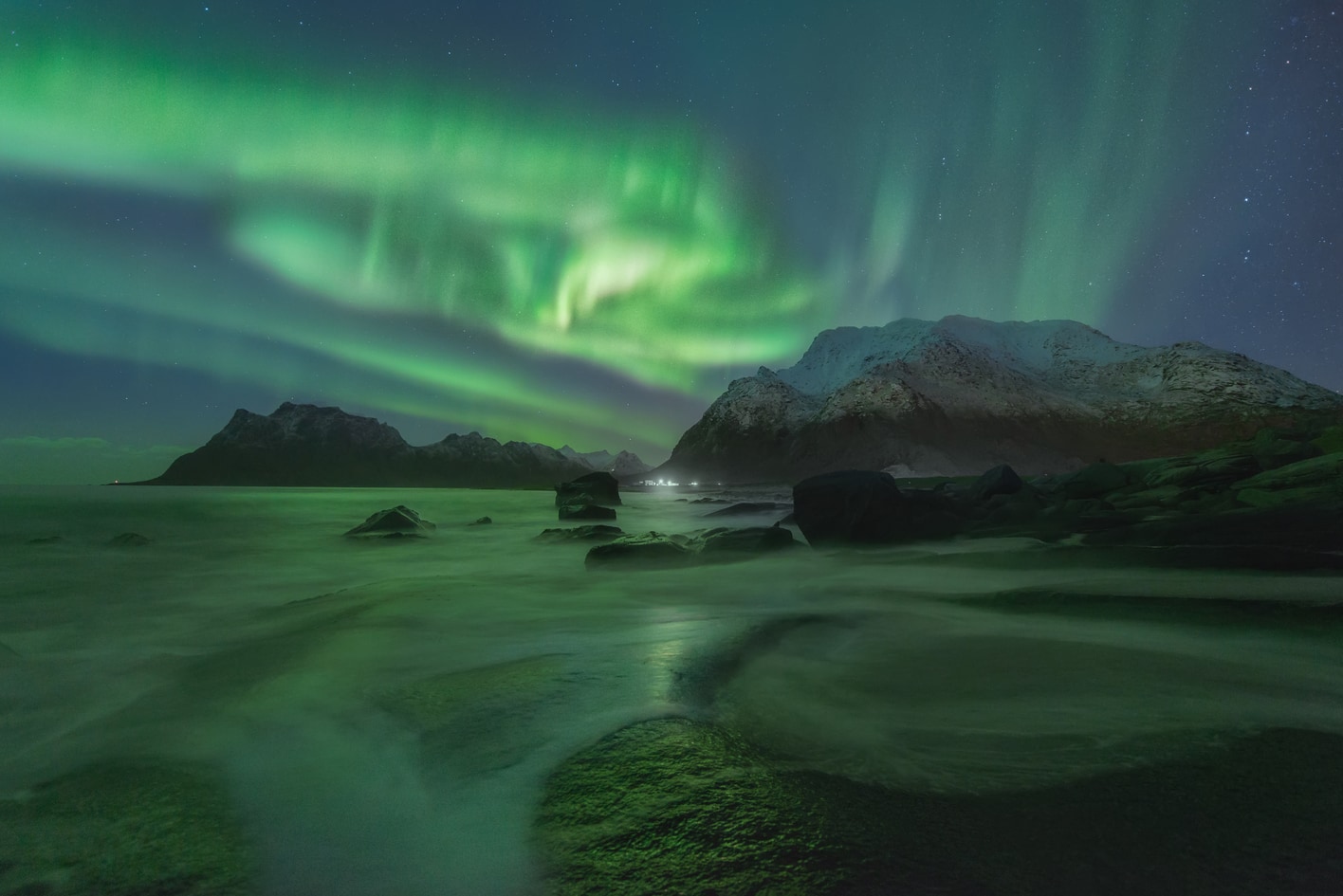 If one of the three previous requirements are not met, it is highly recommended to have the support of an expert who can guide you in the task of capturing the beauty of these islands.
HOW TO CHOOSE A GOOD LOFOTEN ISLANDS photo tour
These are some tips that we want to give you when choosing a good photo tour for the Lofoten Islands:
Do not do the tour with an agency, but with a photographer or team of photographers whose name(s) you have access to before hiring. In Lofoten, many young people with no experience in photography find temporary work in the winter as guides for photographic tours. They give them a camera, a couple of lessons and send them off to make money for the company. If you really want the tour to give you added value, as in, more than telling you the four parameters that you need for shooting, your guide should be a photographer with experience.
Linking with the above, there are many lesser known photographers with amazing galleries that offer these photo tours at very competitive prices. Never hire a photographer without first being able to see his or her gallery for that particular destination. Write us if you want us to recommend our favorite photographers for Lofoten.
Choose a tour that includes accommodation to increase your Northern Lights nights. The expert may alert you in the middle of the night if a clear or a very high KP occurs suddenly. This way, you will also have the expert photographer at your disposal all day and you can resolve your photography doubts before the trip.
Hire a tour that also includes editing lessons. With northern lights especially, it is not only important to know how to capture them, but also how to process them.
The winter light in Lofoten is spectacular. Choose a tour that does not neglect photography sessions during daylight hours. The aurora borealis is only 50% of what the archipelago has prepared for you in the winter.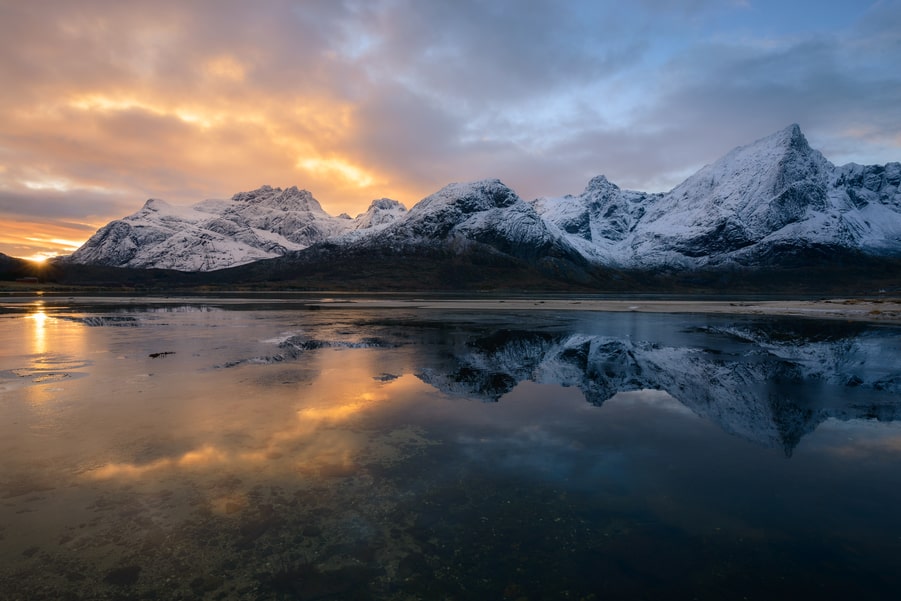 WHERE TO TAKE THE 5 BEST LOFOTEN PICS
Eliassen Rorbuer from the Hamnoy bridge in Reine at sunrise
Northern Lights on the beach of Uttakliev playing with the hollows of the stones
Rorbuer in Reine at sunset
Bridge in Reine with auroras or blue hour
Rorbuer in Fredvang fjord in blue hour
This slideshow requires JavaScript.
If you want to have the exact coordinates in the mobile and without internet:
Download the  Mapswithme application on your mobile.
Download and save the following KML file in your dropbox:
Open the file through dropbox from your mobile. You will get a dialog box where you have to select open with the Mapswithme application (Maps.me)
You also have our best pictures of Lofoten in this gallery that we have prepared.
TRAVELING LOFOTEN BY CAMPER VAN 
Most tours call themselves Aurora Hunters. However, it is just a marketing name that has managed to attract many customers. The reality is that they are not hunters of auroras, but of clear skies without clouds.
If you are going to take a photography trip to Lofoten without a tour guide, there is no better option than traveling in a Camper Van. The clouds are predictable but they change with little margin, so if you want to ensure a good rate of boreal nights, there is no better option than to make it happen in your means of transport.
We enjoyed Aurora Borealis 7 out of the 8 nights we spent in Lofoten. In another post we will explain how to photograph the Northern Lights in Lofoten, emphasizing the tools we used to predict the best location according to the clouds each day. However, sometimes the forecasted location would change just an hour before the show started and we would have to move quickly. Therefore, there is no better option than taking a photo road trip through Lofoten in caravan or Camper van.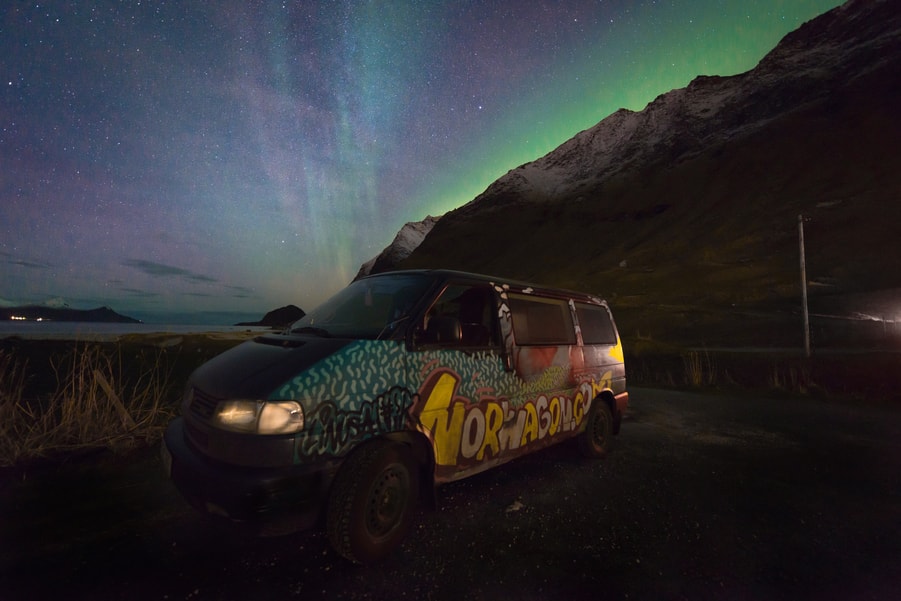 Also, after an intense night dancing with Aurora, who wants to drive again to the accommodation? Lofoten is a paradise for caravan trip lovers. Any place is ideal for parking and sleeping. Most nights we ended up sleeping in the last photographed location and the next morning we would wake up to amazing places.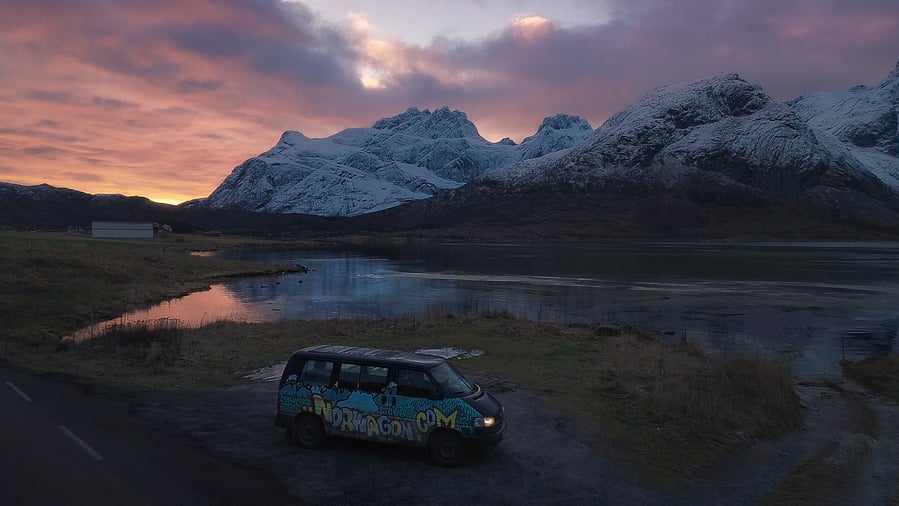 Traveling in Camper through Lofoten was undoubtedly the option that saved us a lot of money. We rented a Norwagon that cost 150 € per day, a bargain compared to other prices you'll find in Norway. The van included everything you need: gas cooker, kitchen utensils, cutlery, bed, table, trunks to store your belongings, curtains, heating, winter wheels indispensable for these months and insurance. The only thing you had to take is a winter sleeping bag like the one we told you in this post to pack in your backpack.
Lofoten Islands Map
We also leave you the KML file of the map of the Lofoten Islands that we have created in case you want to have it offline. Simply click on this icon to download and follow the steps mentioned above.
And if we still have not convinced you to take a Lofoten photo tour play the video. See you soon!

---
– other posts of the lofoten collection –
Don't miss out...