What the best travel insurance companies are and if buying international travel insurance is worth it or not are some of the most common questions related to travel we receive.
Should I get travel insurance? To answer this million-dollar question, I would say, generally, yes.
Even if you are a careful traveler, you could still miss a flight, fall unexpectedly, or experience a physical assault.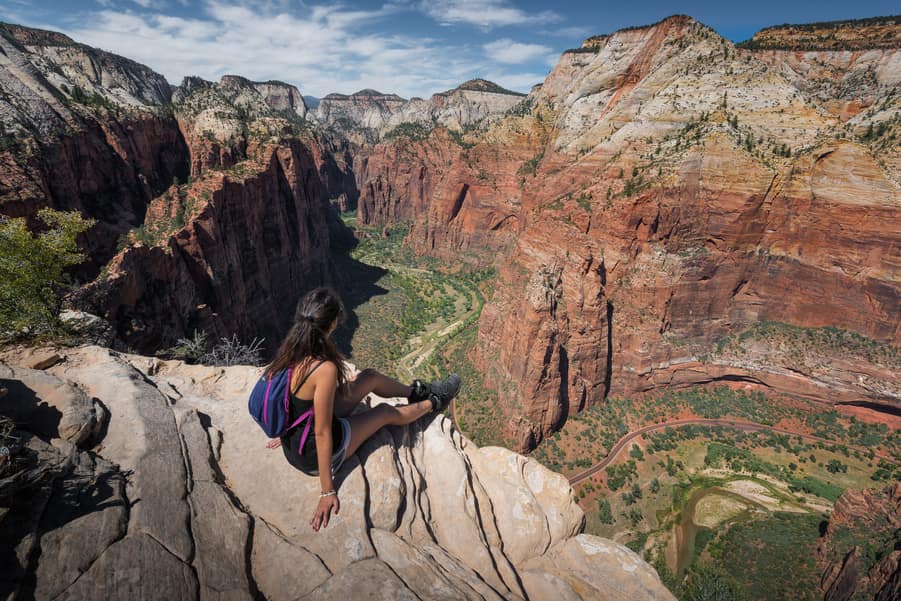 You could hope for the best, and most of the times nothing will happen…until something happens! In that case, you definitely won't regret having purchased travel insurance.
Throughout this article, we will cover many topics related to travel insurance. Also, we will dive deeper into the question of which is the best travel insurance company of 2020.
The 10 best travel Insurance Companies of 2020
In a nutshell, these are the top travel insurance companies in 2020:
If you are in a hurry, use the list above to choose the best travel insurance plans for you, but if you want to learn a little more, you should keep reading because in this article you will find:
Top Travel Insurance providers
Before we jump to the quote comparison section, we have detailed analyses of the top 5 best travel insurance companies:
We will also review other top travel insurance providers for high-risk countries and for travelers with pre-existing medical conditions.
Insuremytrip
Insuremytrip compares and provides the best travel insurance quote from one of its 30+ providers.

They work with top insurance companies like AIG, Generali, AXA, Allianz, etc. and provide extra services like the "Anytime Advocates," who provide support if you think that your claim has been unfairly denied.
The travel insurance plans they offer are Accidental Death, Schengen Visa Insurance, Evacuation, Medical, and Comprehensive.
Below is a chart with the coverage and cost of all plans.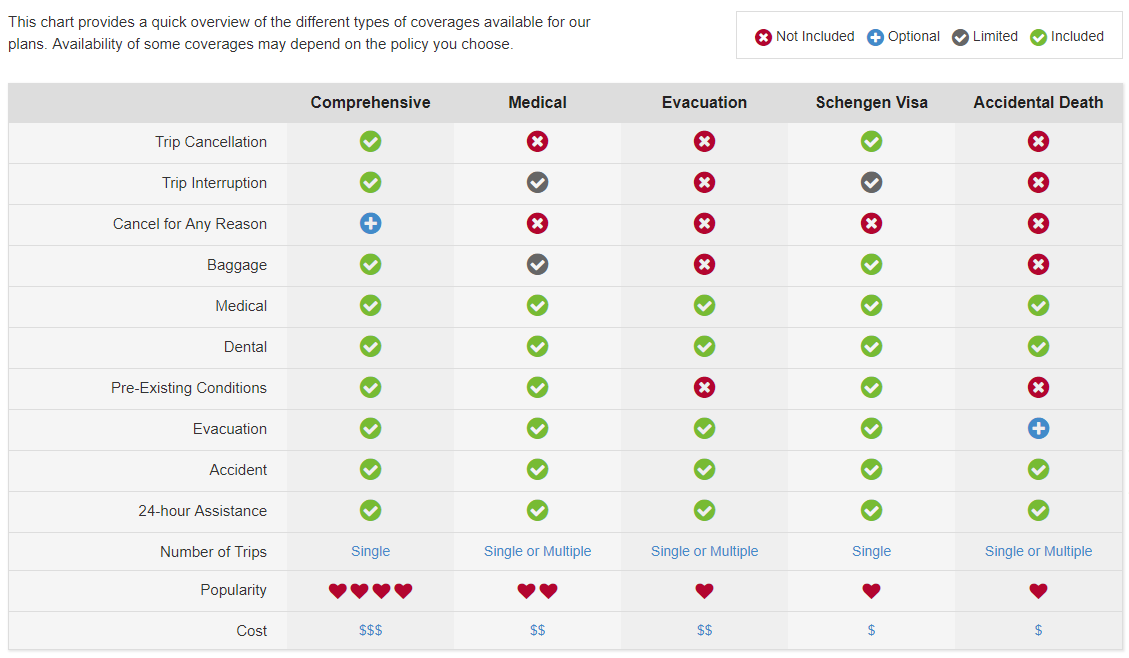 Comparing different travel insurance plans and policies can be a real uphill struggle, and Insuremytrip makes everything easier with their quick interface.
With a few details about your trip and your age/residency, they can provide the best travel insurance quotes for you in a matter of seconds. You can also add or increase the coverage in specific areas, such as medical insurance or evacuation.
I strongly suggest that you check it out to know which is the best travel insurance for you.
Find the Best Travel Insurance
World Nomads
World Nomads is a travel insurance company renowned for its longevity in the industry and for providing a wide range of coverage in multiple countries.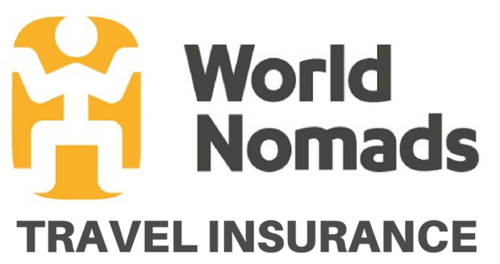 I had been using World Nomads since I took my first extended trip a long time ago. I was a Nat-Geo Traveler magazine freak, and they endorsed World Nomads insurance, so after comparing different travel insurance companies, I decided to give them a try, and I've always been happy with their service. Right now, I am buying both World Nomads and Insuremytrip depend on the trip.
World Nomads offers probably the best quality for price travel insurance for most travelers, covering everything from common medical emergencies and cancellations to extreme sports like bungee jumping or rafting
World Nomads travel insurance plans
World Nomads travel insurance plans are very straightforward and easy to understand, something I really appreciate, considering many travel insurance websites that you find online can be really vague.
Their travel insurance plans are divided into two main plans:
World Nomads Standard plan covers all the basics like medical expenses, flight delays, medical evacuation, trip cancellation, repatriation, lost luggage, personal items, etc. In addition, they cover a long series of outdoor activities not covered by most travel insurance companies, like canoeing, scooter riding, scuba diving, and even curling and cheerleading.
World Nomads Explorer plan covers all the things included in the basic plan, plus more personal loss coverage and a wider range of activities; this plan includes some extreme sports like free soloing (climbing), ice climbing, and snowboarding.
You can check the list of activities & sports covered by the Standard and the Explorer plans here.

The price of both plans will depend on your home country, age, destination, length of your trip, and type of trip you are taking.
You can get a quote in seconds here:
IMG GLOBAL (IMG)
IMG Global has been providing international insurance for over 20 years, and it is renowned for its international health insurance for expats and people living/working internationally.

IMG travel insurance plans
The main IMG Global Travel insurance plans are:
International health insurance: The closest plan to ordinary health insurance; It is aimed at expats, individuals with dual residencies, and multinational employers. You can choose among different options depending on the deductible and coverage that you are seeking.
Travel medical insurance: They provide coverage of medical expenses or emergency evacuation up to a very high amount. They divide their policies between:
♦ Patriot International: For people traveling outside their own country, excluding the US.
♦ Patriot America: For people traveling outside their own country to the U.S. It is one of the best travel insurance for the USA.
Travel insurance: This is the classic travel insurance that covers trip cancellation/interruption, baggage and personal effects, and travel delays. It also includes medical expenses and emergency evacuation but with a lower limit compared to the travel medical insurance.
IMG Global is a good option for those seeking long-term health care while living abroad, but in terms of travel insurance, the coverage is very limited for the price.
If you just need basic travel insurance for a short trip, I would suggest using World Nomads instead of IMG Global.
TOKIO MARINE HCC
Tokio Marine HCC is a travel insurance provider for U.S and non-US citizens traveling abroad to anywhere in the world except the U.S.

They offer different medical expenses limits that you can customize according to your needs, from $50,000 to $2,000,000.
They also provide travel insurance for seniors, with coverage of $250,000 for travelers between 70 and 79 years old, and $10,000 for travelers over 80 years old.
Travel insurance companies usually don't cover seniors or just offer a very low coverage limit, so we consider Tokio Marine HCC the best travel insurance for seniors.
Their travel insurance also covers repatriation in many situations, baggage protection up to $500, and protections against natural disasters and strikes.
Tokio Marine HCC divides its travel insurance plans into two main plans: Atlas Travel and Atlas Premium.
Both plans cover the same situations but with different limits and deductibles.
ALLIANZ TRAVEL INSURANCE
Allianz Travel Insurance has been one of the top travel insurance providers for a long time and offers plans for different types of travelers and trips.

Allianz travel insurance plans
Below, you will find the most common Allianz travel insurance plans:
Allianz Essential plan: Aimed at covering the essentials, such as cancellations or delays in domestic trips. But it doesn't cover post-departure benefits, such as medical expenses or emergency evacuation.
Allianz Basic plan: The most basic travel insurance plan if you're looking for the best bang for your buck.
Allianz Classic plan: Offers a wider coverage than the basic plan. It's also available for international trips and with no additional cost for kids under 18. A very useful option if you are looking for family travel insurance.
Allianz Classic with trip+ plan: The top travel insurance provided by Allianz, covering a vast number of things for a higher premium.
Other Allianz travel insurance plans
These are the most common Allianz travel insurance plans, but there are other policies you can buy according to your specific needs:
Annual deluxe: This is a multi-trip insurance that covers the essentials of any trip, such as medical expenses, emergency evacuation, or flight cancellation.
Medical evacuation: Provides up to $1,000,000 coverage for medical evacuation
Rental Car damage protector: Other travel insurance companies usually do not offer this kind of coverage. You can buy this plan on its own or add it to another plan.
Just as with World Nomads, you can easily get a quote once you enter your trip details, age, and country/state of residence. The interface is user-friendly and navigation is very straightforward.
Allianz Travel Insurance also offers 24-hour emergency assistance and a mobile app called "Travelsmart" to get information and file claims easily.
As with any travel insurance company, make sure you check the fine print and pre-existing conditions policy with Allianz, so you can buy the policy that's best for you.
Other Top travel insurance companies for special needs
If you have a pre-existing medical condition or are traveling to high-risk countries, then you should definitely check out the following travel insurance providers.
FIRST ALLIED
First Allied has travel insurance specifically designed for travelers visiting potentially dangerous and high-risk countries, such as Iraq, Egypt, South Sudan, Libya, Somalia, etc.

These types of countries are not usually covered by standard travel insurance companies, so First Allied is the best travel insurance company for medical emergencies and medical evacuation in high-risk countries. They offer up to $500,000 per claim in those situations and up to $1 Million in case of accidental death or disablement.
First Allied also provides an optional Kidnap and Ransom insurance when traveling to potentially dangerous countries.
Compared to other travel insurance companies, First Allied doesn't provide much coverage for ordinary things like delays, cancellations or lost luggage, but if you are traveling to a high-risk country and want peace of mind, this is the travel insurance for you.
WORLD FIRST INSURANCE
Budget can sometimes be the key factor in choosing one travel insurance plan over another, and some insurance companies include so many unnecessary things that don't justify the higher price.
World First insurance provides quality travel insurance with not too many extras at a very affordable price, which makes it the best cheap travel insurance company on the market.

They are also well-known for providing policies for travelers with medical conditions like high cholesterol, HIV, and cancer, offering a coverage list of more than 20 medical conditions.
If you are on a budget or you have any pre-existing medical condition, World First will very likely be your best choice.
Compare Travel insurance quotes
Comparing travel insurance quotes can be quite an ordeal, so, to make things easier for you, we have compared the travel insurance providers we reviewed above.
There are many different options, so to compare the best travel insurance companies, I have selected a 12-day trip to Bali, for a 30-year old U.S. resident living in Pennsylvania:
Insuremytrip travel insurance cost
Insuratemytrip compares insurance quotes and coverage from its 33+ providers, so the quotes and coverage vary depending on your trip, as they will show you the best options for you according to the information you provide to their system.
Just as a reference, below are the best options for our test trip to Bali right now.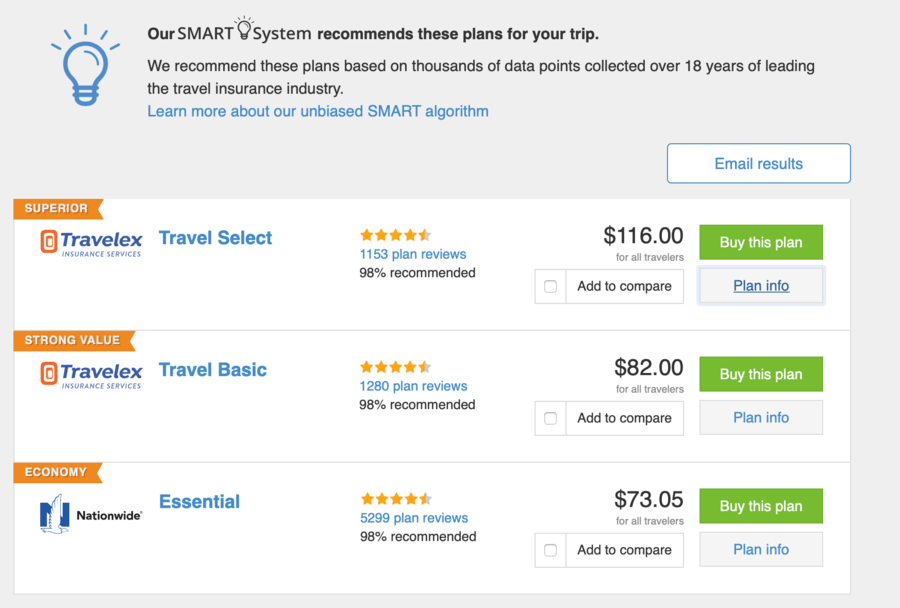 To see any travel insurance company's coverage, simply click on Plan Info. There, you will see all the details in addition to potential add-ons for your trip.
World Nomads travel insurance cost
World Nomads provides travelers with comprehensive and affordable travel insurance and covers a high amount of medical expenses compared to other providers.
With the Standard plan alone, you can rest easy about almost any situation that might occur during your trip.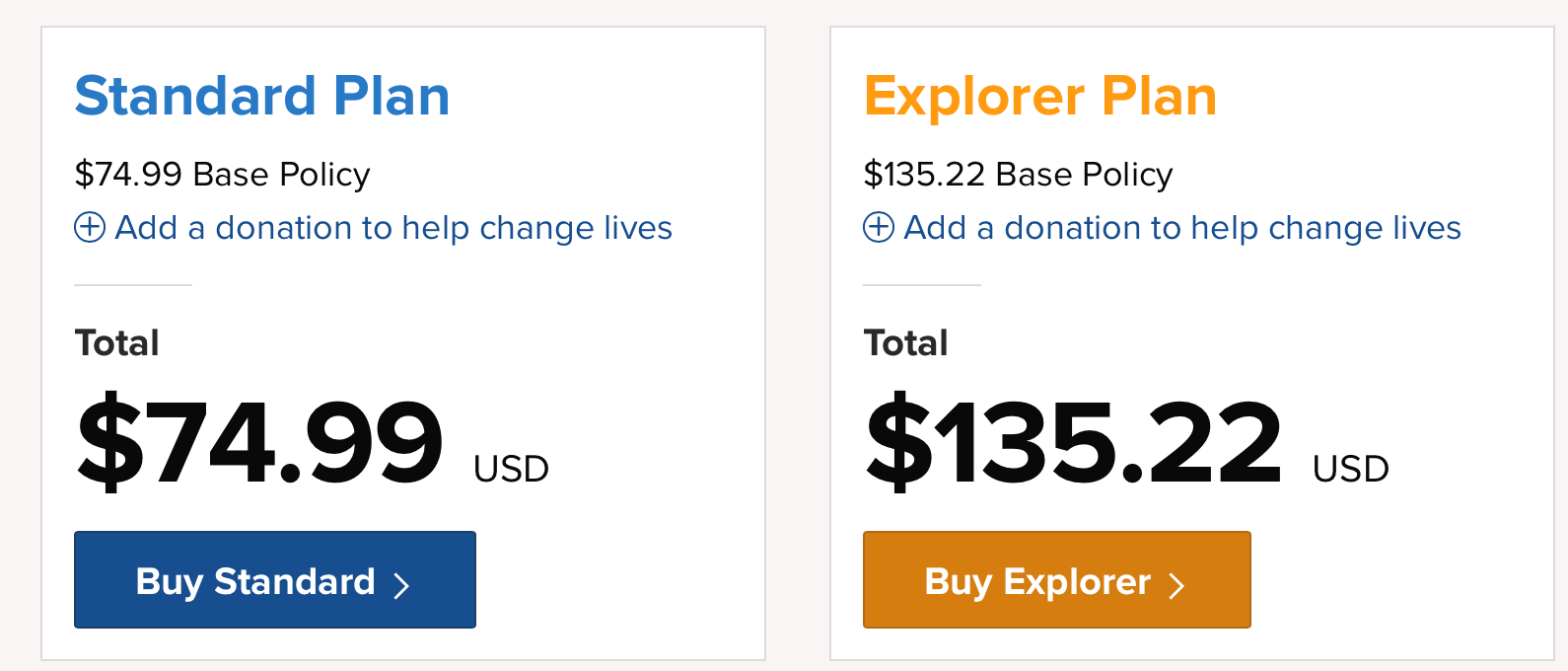 If you want extra coverage in terms of trip cancellation/interruption/delay and more baggage and personal effects coverage, or are considering doing any extreme sport, the Explorer plan is also a very good option.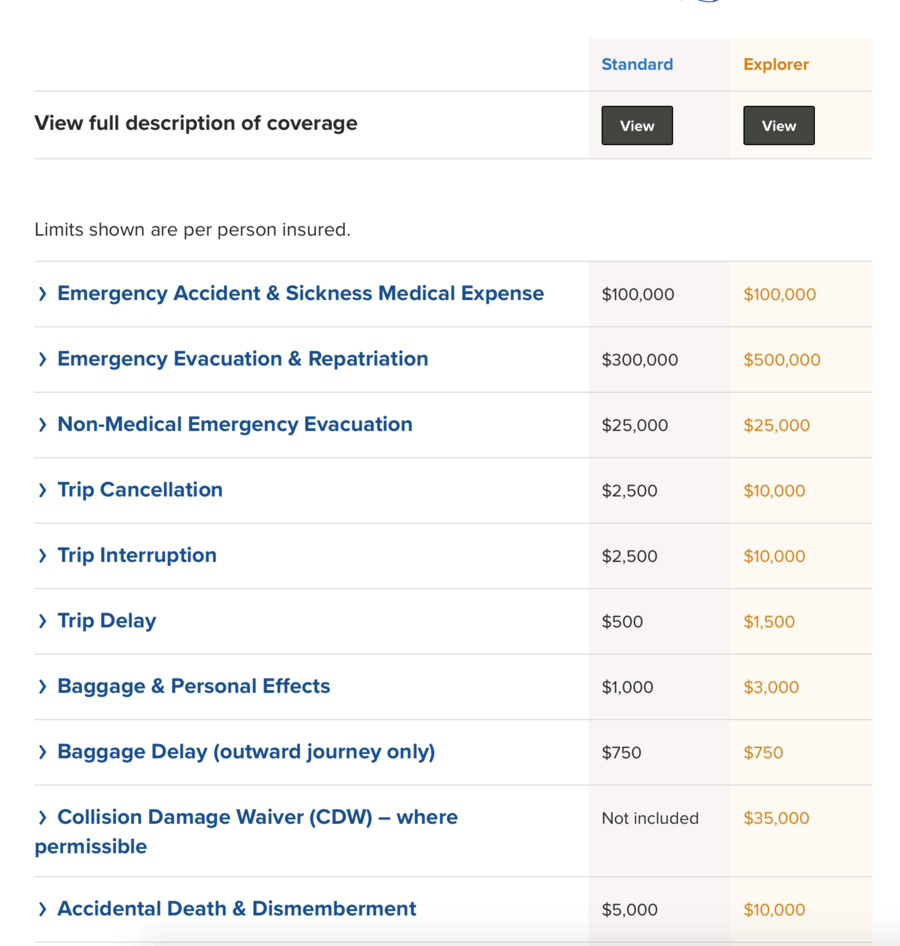 If you are looking for more specific coverage, such as for electronics or just health care, there are better options. However, for a standard trip, World Nomads offers the best quality for price.
IMG Global travel insurance cost
IMG Global offers the best coverage at an affordable price for health travel insurance, with coverage from $2,000,000 to $8,000,000 depending on the plan. It also offers one of the best international travel insurance on the market. Albeit with lower medical coverage, it does have other benefits related to trip cancellation, evacuation, and trip protection.
For our comparison, we have used the iTravelInsured Travel SE Insurance: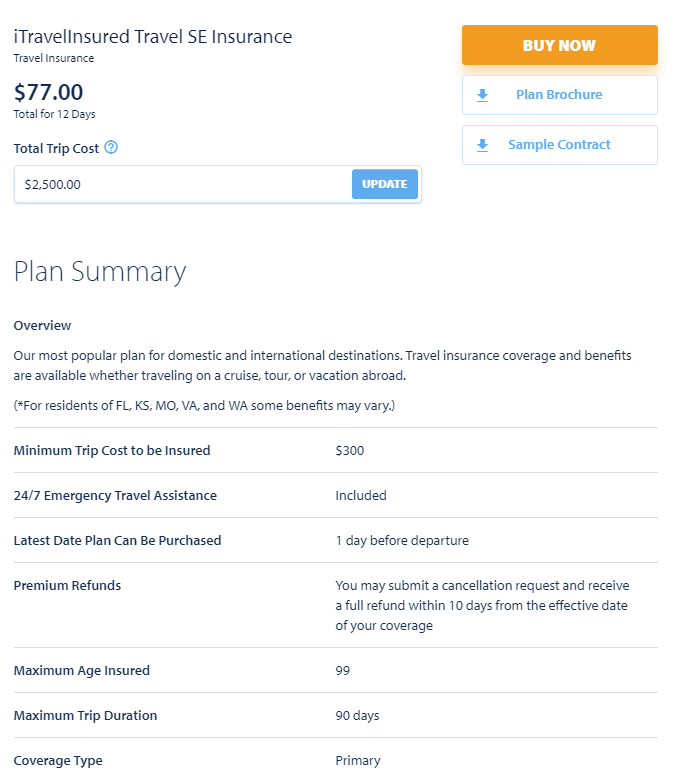 If you don't need protection against trip delay, cancellation, baggage loss, etc, and you are just looking for health travel insurance, then IMG Global is your best choice, but if you're seeking travel insurance that also offers trip protection, you need to be aware of IMG's loopholes.
Tokio Marine Hcc travel insurance cost
Tokio Marine HCC offers a comprehensive emergency medical insurance, in addition to some extras, such as Trip Interruption or Crisis Response, at a very affordable price.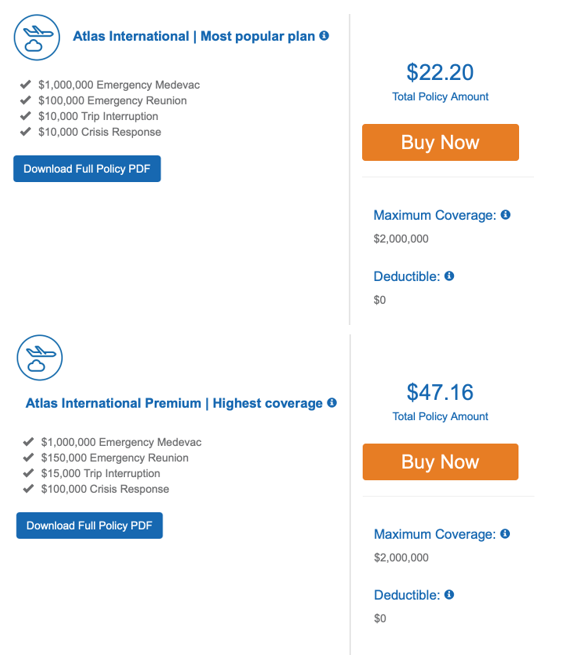 If you are looking for cheap health travel insurance that also provides a quality policy, Tokio Marine HCC could be a good option. However, always check the fine print and make sure that everything you want covered is covered.
Allianz travel insurance cost
Allianz travel insurance prices are significantly higher than the prices offered by other providers, and their coverage in the important areas like medical emergencies is not as good as in other policies.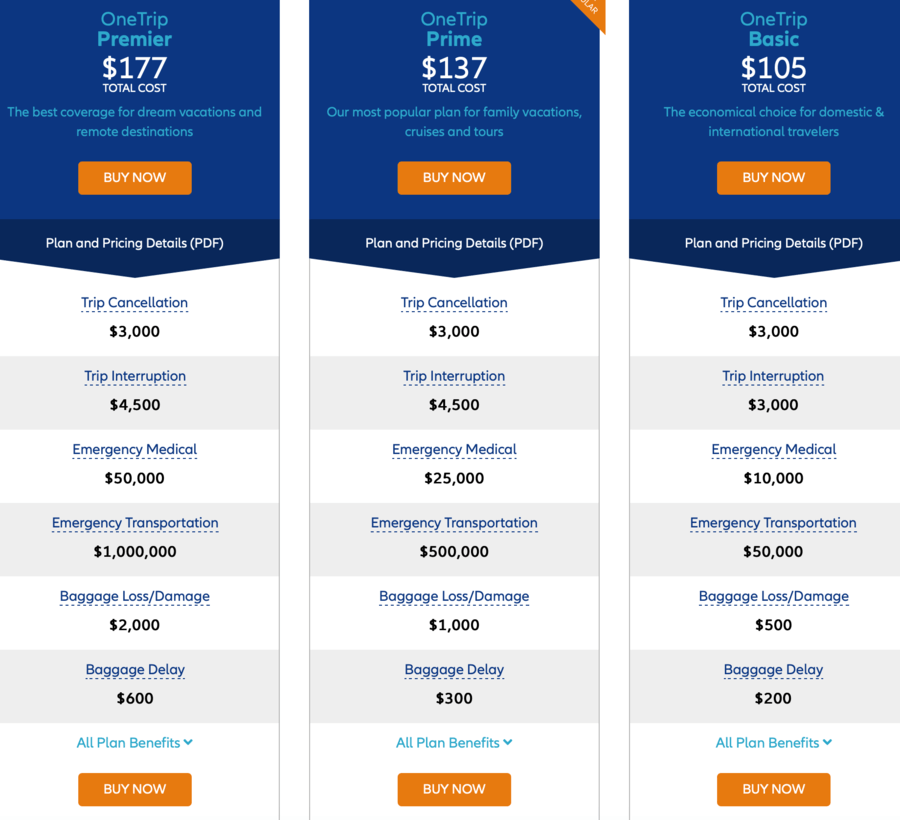 There are some significant advantages to using Allianz if, for example, you are a family traveling with kids, but just at a glance and compared to World Nomads, you can see that the price is higher for lower coverage.
To sum up and compare the best travel insurance companies, below is a chart with the different policies and prices of the last four providers. Insuratemytrip is not included in the chart because they are providing the best travel insurance in real time, and it may vary from what you find now.
In any case, it's the best travel insurance company you should check before looking for a quote from other travel insurance companies.
COMPARE THE BEST TRAVEL INSURANCE COMPANIES FOR 2019

Price

$74.99

$77

$22.20

$105

Emergency Medical

$100,000

$150,000

$1,000,000

$10,000

Evacuation & Repatriation

$300,000

$500,000

$150,000

$50,000

Trip Cancellation

$2,500

$50,000

-

$3,000

Trip Interruption

$2,500

$3,000

$10,000

$3,000

Trip Delay

$500

$500

Reimbursement

$300

Baggage Loss

$1,000

$1,500

Max $50 per item

$500

Baggage Delay

$750

$250

-

$200

Accidental Death

$5,000

$25,000

$250,000

-

Loopholes

Customer Service is sometimes overloaded

Customer Service sometimes is overloaded

No 24/7 support. You need to mail the claims to be covered

Insurance doesn't pay up front. You need to make a claim to be reimburse
At this point in the article, you already know the best travel insurance companies, but you might still have some questions, such as: What kind of coverage is best for me?, Do I just need medical insurance or should I get more comprehensive travel insurance? You might even have other questions related to travel insurance.
In the next section, we will talk about some basics you need to know before buying international travel insurance.
What is travel insurance?
Broadly speaking, travel insurance provides financial protection against a potential, unexpected event during a national/international trip.
The most common events are medical emergency and evacuation, trip delay, trip cancellation & trip interruption, accidents with your baggage and personal effects, and accidental death.
Travel insurance vs Health insurance
Many people ask: Do I need travel insurance if I have health insurance? Travel insurance is by no means a substitute for standard health insurance.
It is aimed at covering you when you need medical attention due to an emergency/unlikely event during a trip.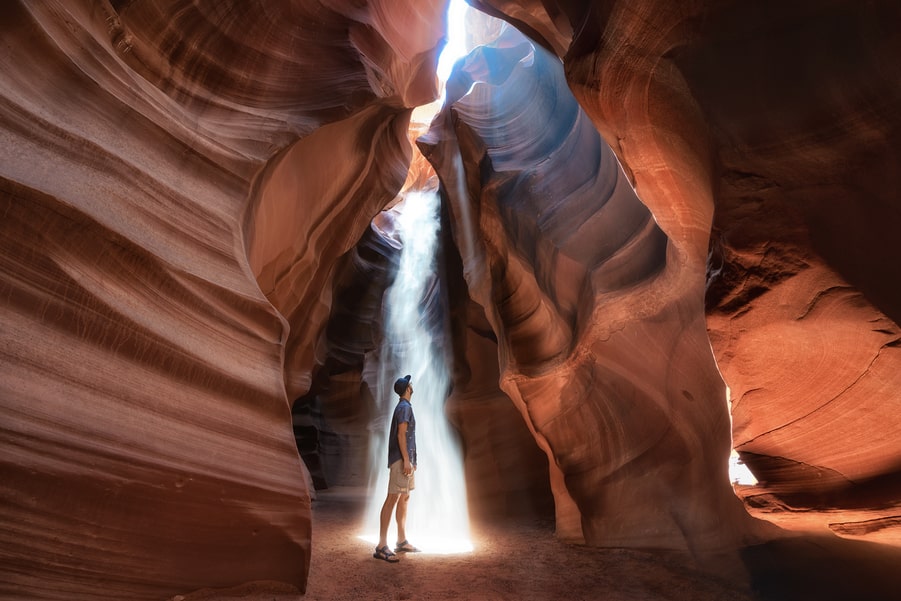 You should always have your ordinary health insurance in your home country where you live and take travel insurance when you travel.
If you are an expat or live/work around the world, there are some special travel health insurance plans, such as the one offered by IMG Global (International Health Insurance), where you can have the same medical & physical examinations you get with standard health insurance.
What is travel medical insurance?
Travel medical insurance will protect you whenever you need emergency treatment following an accidental injury during your trip.
This usually involves hospital expenses, intensive care, emergency ambulances, and other medical expenses that are usually very pricey in other countries. Most travel medical insurance companies also provide trip protection. This combination is usually called Travel Insurance.
On our trip to Cuba, where I was treated for food poisoning, the bill for spending a day in the hospital receiving intensive care was $600. My advice is not to skimp on travel medical insurance, even though it might be tempting to save a few bucks.
Medical only travel insurance
Some travelers don't bother with trip cancellation, delay, or baggage protection and just want travel medical protection. Because of this, it is common to find travel insurance companies and plans that focus on medical only travel insurance.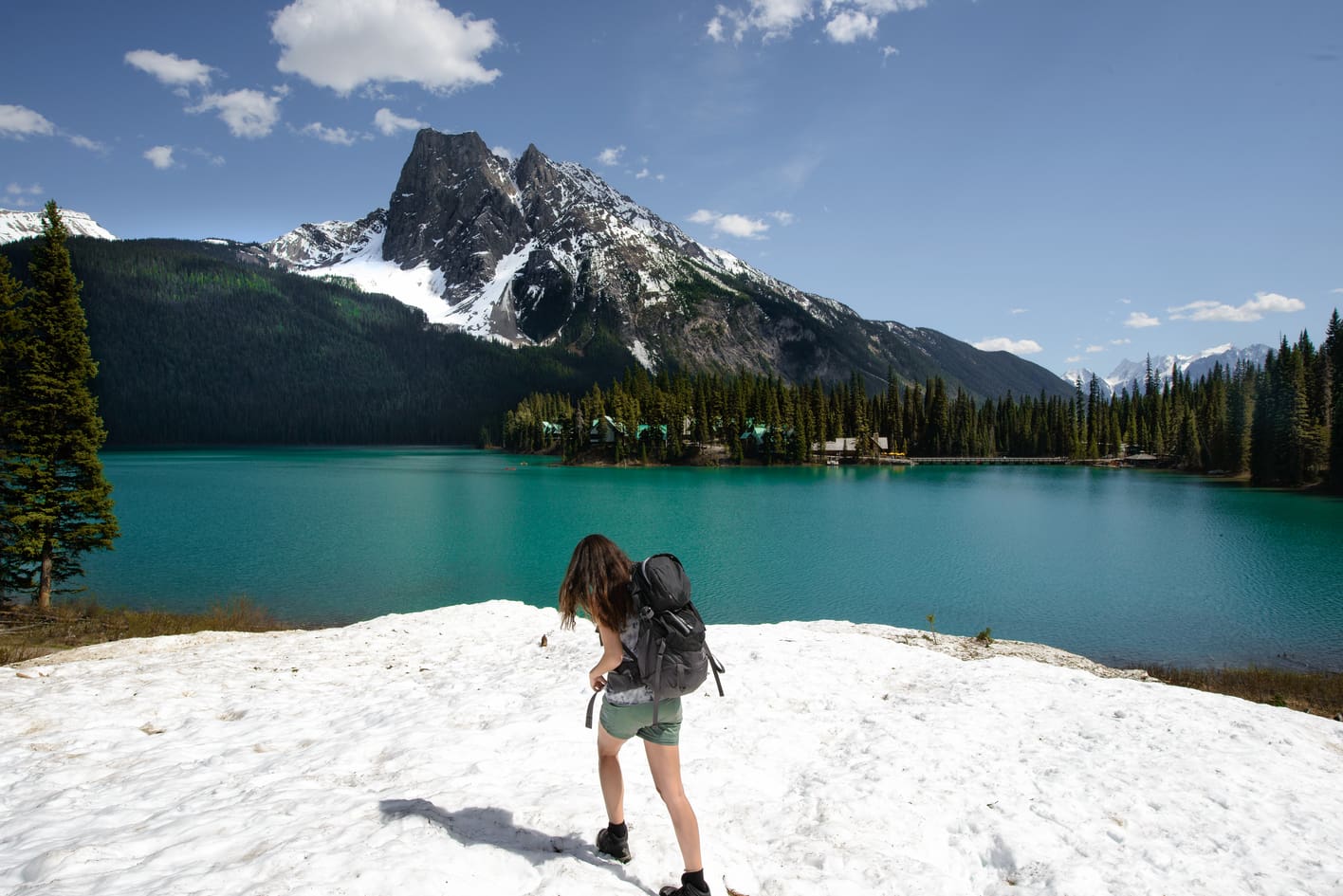 This way, companies can reduce the general cost of travel insurance and increase the protection and coverage of medical expenses. To buy medical only travel insurance, check out IMG Global (Travel Medical Insurance Patriot) and Insuremytrip.
What is emergency medical evacuation travel insurance?
Emergency medical evacuation travel insurance covers you when you need emergency evacuation after an accidental injury or sickness during your trip.
The emergency medical evacuation must be approved by a physician who believes your injury or sickness is serious enough to warrant your emergency evacuation.
This coverage is included in most of the common travel insurance plans but if you want to purchase it on its own check Allianz.
What is cancel for any reason travel insurance?
In all travel insurance policies, trip cancellation coverage is only possible when any of a short list of circumstances happens. Some of them are the death of a relative or an evacuation after a natural disaster.
Generally, you can't cancel for any reason, so if you arrive at your destination and you simply don't like it and want to return home, this won't be covered by your travel insurance.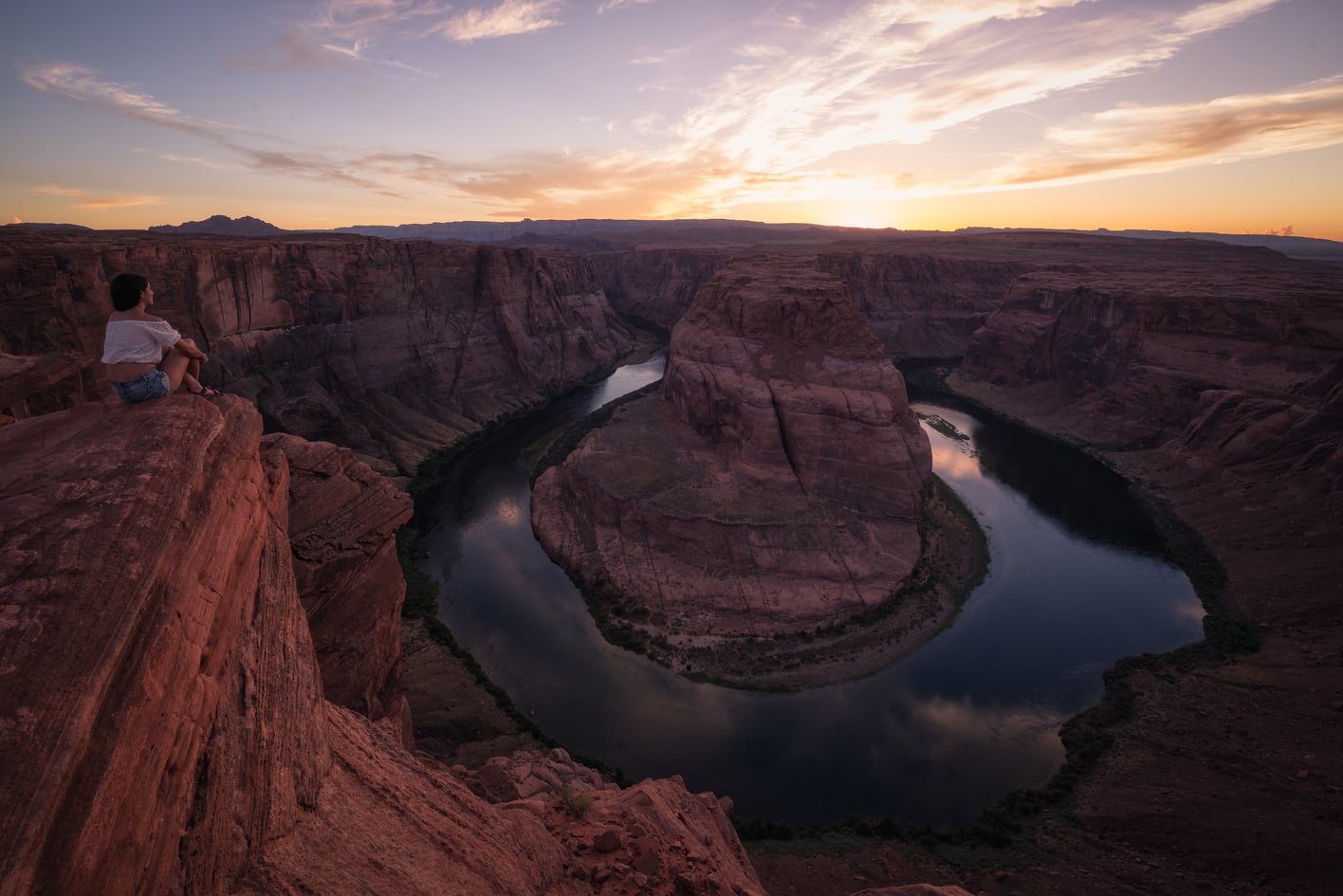 However, some travel insurance companies offer cancel for any reason travel insurance policy at a premium (usually costly), in case you want to cancel your trip at any point for whatever reason you might think of. If you are interested in this option, please check Insuremytrip's comprehensive plan.
Do I need International Travel Insurance?
Many people think it's pointless to buy travel insurance, but after an unexpected event of any kind, everyone without insurance instantly regrets not having bought it. In the following section, I'll tell you about some of my friends' experiences, as well as my own personal experiences.
Is travel insurance necessary?
Our answer, after so many years of traveling and talking to hundreds of travelers on the way, is an absolute YES.
Travel insurance was there to cover Ascen when she was hospitalized in Cuba after an amebiasis infection. She saved $800. Check our experience with travel insurance for Cuba here.
In Bali, 3 monkeys bit her and caused wounds on her shoulders. Thanks to quick and helpful travel insurance online assistance, a doctor determined that she could keep traveling.
On a trip to Turkey, I hit my nose badly and had to visit the emergency room. (A physical examination in Turkey can cost up to $1,500).
Our friend Liam was bitten by a snake in Malawi. Thanks to the quick assistance of his travel insurance, he was informed of the nearest hospital and received appropriate treatment.
Some years ago, I had a trip planned to Ukraine. For family reasons, I had to cancel it, and since I didn't have travel insurance, I lost the money for the flights.
My mom's bag was stolen in a bar in London. She didn't have travel insurance and lost her cell phone, wallet (with ID and credit cards inside), and camera.
As you can see, there are many situations where travel insurance can save your trip and your wallet.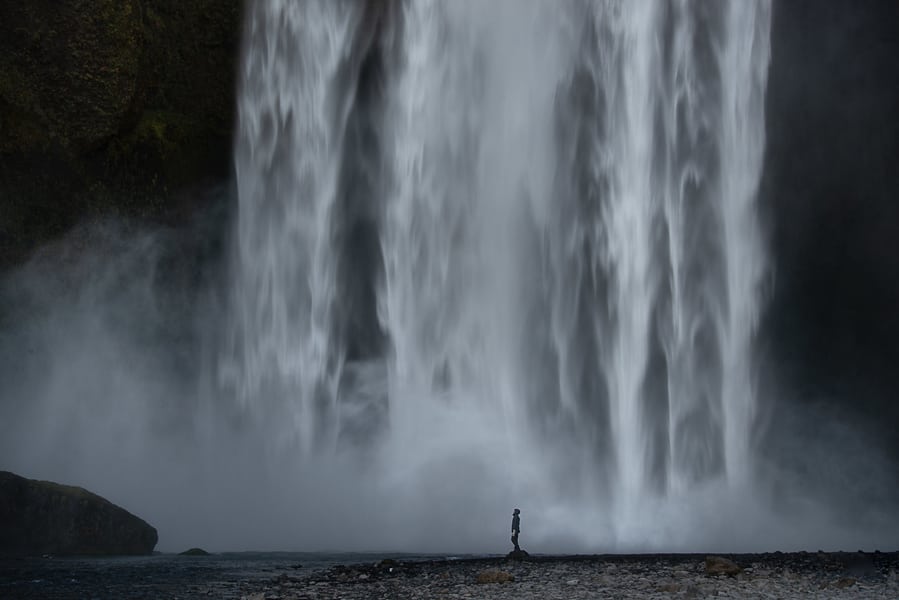 If you don't believe me, just Google travel insurance reviews and you will see a long list of people talking about all kinds of incidents that happened during their trips.
Do I need travel insurance if I have Credit card travel insurance?
This is another of the most common questions we receive, and the most likely answer is again, YES.
It's true that some credit cards offer travel insurance, but surprisingly, their policies don't cover much. When an accident happens, the cost is usually much higher than the low amount covered by credit card travel insurance.
In any case, check your credit card travel insurance first.
If you are lucky enough to have a Platinum American Express credit card, you will be covered under most circumstances when you purchase your travel tickets with your American Express credit card.
The American Express travel insurance credit card is an exception, as most credit cards don't offer that level of coverage.
What Does Travel Insurance Cover?
Years ago, most travel insurance coverage was very basic; but with the rising popularity of traveling overseas and tourism, travel insurance companies have become more and more specialized. Nowadays, they offer tailored coverages and policies depending on your needs.
To sum it up, the best travel insurance plans cover:
Emergency medical treatment
Medical evacuation
Trip cancellation
Trip interruption
Flight delays
Lost luggage & theft
24/7 worldwide online assistance
Travel health insurance coverage
As seen above, medical coverage is the key to any good international travel insurance.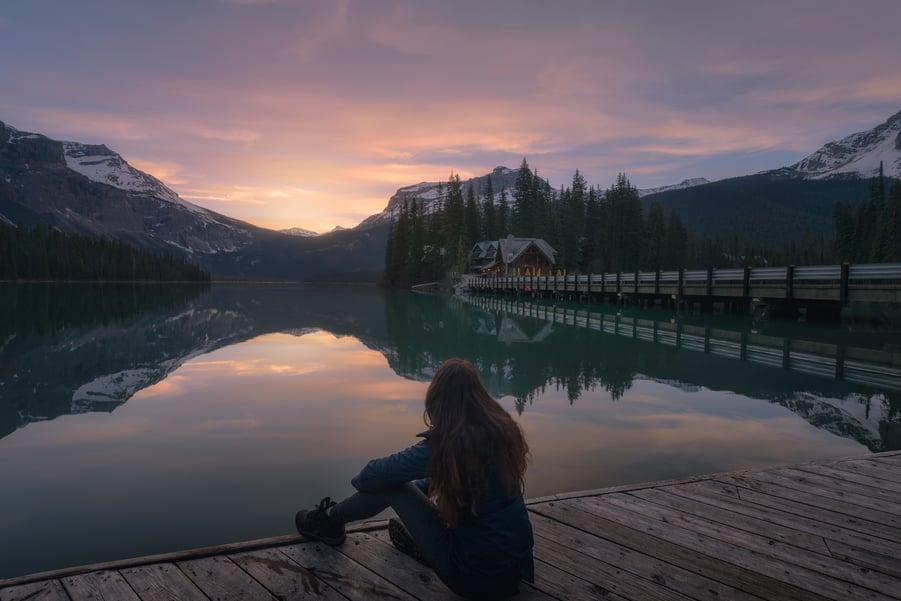 You can risk flight delays, baggage, and other stuff, but never risk your health and your wallet in other countries.
Medical evacuation coverage
Medical evacuation coverage is crucial when the injury/illness is so severe that you need evacuation to your home country.
Travel insurance repatriation is one of the most expensive things that can happen to you when traveling, and it is usually included in most of the international travel insurance packages.
Trip cancellation, interruption, and flight delays
There are so many circumstances that can cause a trip cancellation, interruption or delay.
If you want to avoid being stressed out, make sure you buy travel insurance coverage for missed flights. Also, get coverage for weather delays as well as hurricane travel insurance if you are traveling to places like the Caribbean during the hurricane season.
Cancel for any reason coverage
There is a wide variety of travel insurance trip cancellation coverage, but not many companies offer "Cancel for any reason" coverage.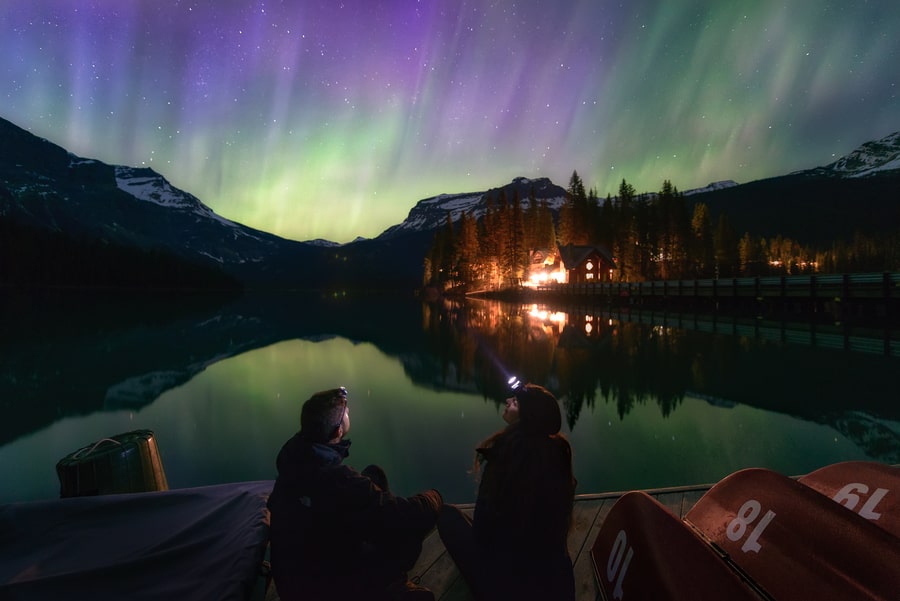 It's going to cost you a few extra bucks, but it might be worth it if you think that there could be some circumstances that prevent you from traveling. If this is the case, I recommend you check out Insuremytrip.
Lost luggage, theft
Luckily, it has never happened to me, but I know many travelers who have had issues with lost luggage and theft during their trips.
This kind of coverage is usually not very high in most of the policies offered by travel insurance companies, so if you are traveling with expensive valuables, I'd suggest choosing specific lost luggage & theft travel insurance coverage to protect your items.
Electronics coverage
These days, it's very common to travel with high-end electronics, like professional cameras, top-notch smartphones, and advanced laptops, so travel electronics coverage is becoming more and more common protection sought by travelers.
Some homeowner's insurance companies, such as State Farm travel insurance, offer worldwide protection for your personal items and electronics.
They will replace personal items, such as cameras, computer equipment, or jewelry, even when you're traveling; they will either completely replace the item or pay the cost of it with no deductible.
If you don't use State Farm or live outside the U.S., you might consider purchasing electronics travel insurance.
One of the best options for covering your high-end electronics and camera gear is Insuremyequipment.

Insuremyequipment provides different coverage options for both rented and owned equipment. For owned equipment, there is a limit up to $750,000.
To buy coverage, if your equipment is worth less than $2,000, you don't have to itemize your gear and it's automatically covered. For equipment over $2,000 (which can be an easy limit to reach if you are taking high-end electronics), you have to itemize your pieces of gear.
Insuremyequipment doesn't offer any other coverage, but it is a very good option to combine with standard travel insurance that covers medical and travel expenses.
Insuremyequipment is also, without a doubt, the best travel insurance for photographers traveling with expensive gear.
How to buy travel insurance?
Now that you've decided to buy international travel insurance, there are other things to consider, like how travel insurance works, all the travel insurance loopholes, and understanding travel insurance conditions to successfully make a claim.
deductible
A deductible is an amount of money that you take responsibility for before your travel insurance company pays out on a claim. If your travel insurance deductible is $500, and you find yourself hospitalized for ten days with a total bill of $50,000, you would be responsible for paying $500 and your insurance company would pay $49,500.
However, if your travel insurance deductible is $2,000 and your claim is only worth $500, you will have to pay the entire thing. Your insurance company will only pay once the damages are more than the deductible.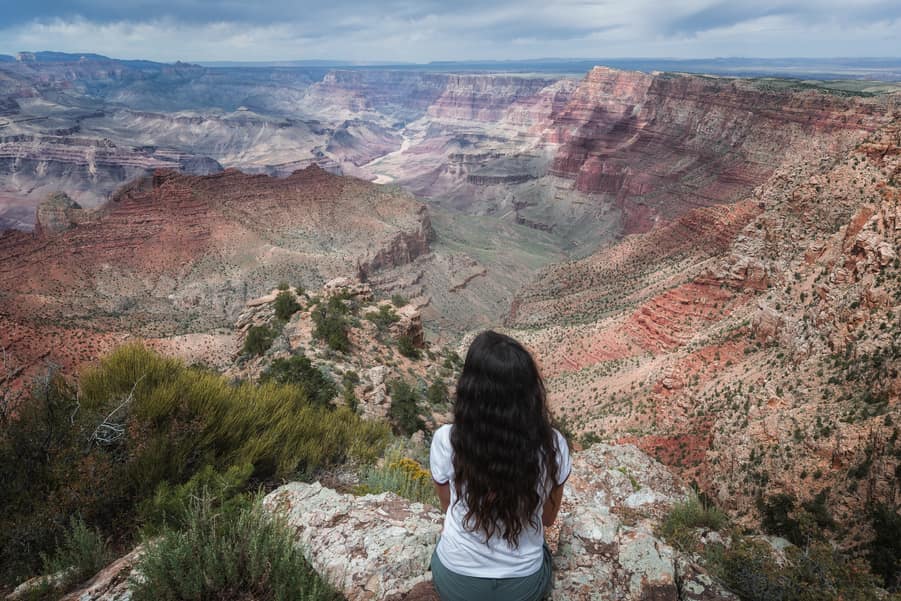 As with any other insurance, the higher the deductible, the cheaper the policy will be. So, the insurance you choose will depend on the level of responsibility you are willing to assume.
In any case, it is way better to have travel insurance with a high deductible than to not have travel insurance at all.
Overseas travel insurance
On the travel insurance market, you will find providers who only cover domestic trips or trips overseas, as well as some companies that cover both types of trips. This is an important thing to consider when looking for the best travel insurance company.
multiple countries
Some companies offer special coverage for multiple countries and long trips. So if you are visiting multiple countries during your journey, make sure your insurance covers you in all the countries you are planning to visit.
Travel insurance policy
Here are two common facts about travel insurance:
You will never regret buying travel insurance if something bad happens.
You will regret not having thoroughly read and understood the fine print.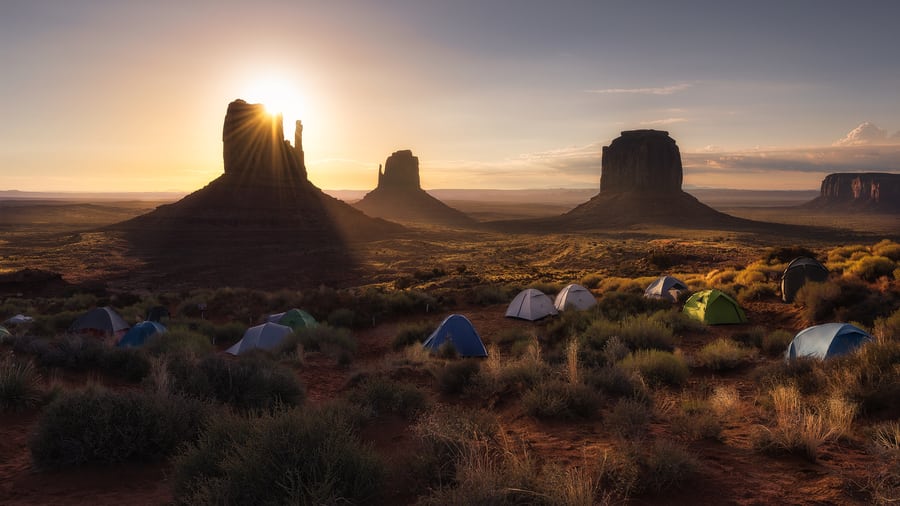 Regardless of the travel insurance company and coverage you buy, please take your time to read the fine print carefully, as sometimes there are many special circumstances, exclusions, and exceptions that can leave you uncovered.
Loopholes in travel insurance
As with fine print in all policies, travel insurance companies can often find loopholes to avoid providing compensation for an accident or event.
Pre-existing medical conditions: This is the most popular loophole and excuse found by travel insurance companies to avoid any compensation. They will research and look into your medical history to see if you have any previous condition that might have triggered your accident/medical intervention. Most travel insurance companies define pre-existing conditions as having existed up to two years before the trip.
Important note: Any accident under the influence of alcohol and/or drugs won't be covered by your travel insurance company.
Medical Tourism: Medical travel insurance is aimed at covering emergencies while traveling, so using your travel insurance to have surgery or medical attention in another country (popularly known as medical tourism) won't be covered. Check out IMG Global if you are looking for a more comprehensive health care insurance for living abroad.
Pregnancy: Another of the most common loopholes in travel insurance is pregnancy. It is not covered by most travel insurance plans.
Flights purchased with airline miles: As these flights are a reward and you don't effectively pay for them, they won't be covered by any travel insurance company.
Other common loopholes
High-risk countries: Countries considered dangerous because of natural disasters, epidemics, or conflict/war zones are not usually covered. If you are planning a trip to one of these countries, check First Allied, as it is the main provider for these destinations.
Dangerous driving: Drive with care, as dangerous driving might be a clause that waives your travel insurance company's responsibility.
Extreme sports: Most companies don't cover extreme sports, so if you are planning to hike at a high altitude, bungee jump or do any similar sports, always check if this is covered. World Nomads is the best travel insurance company that provides coverage for extreme sports.
Cruise liners: Just like extreme sports, some companies don't cover this type of trip, so make sure you are covered by cruise liner travel insurance before your trip.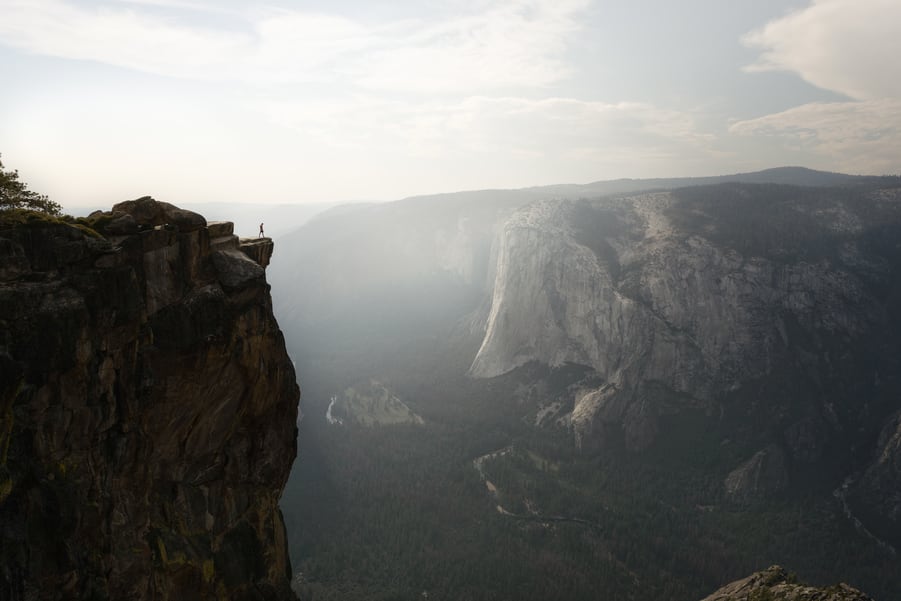 Top tips for buying travel insurance
To sum up all this article's information into some advice, these are the best tips for buying travel insurance:
Think about the type of trip you are taking: Are you spending a week in a hotel resort, a month trekking across the Himalayas, or 10 days exploring Bali by motorbike? The type of trip will determine the type of insurance you need.
Decide what your budget and level of responsibility are. The less responsibility and the higher the coverage you want, the higher the price will be.
Compare all the best travel insurance companies based on your destination, type of trip and budget.
ALWAYS read the fine print carefully to make sure everything is in order.
Take note of the insurance company's 24-hr assistance phone/app (if they have one) in case you need assistance during your trip.
Get all the paperwork ready before filing your claim, such as medical and police reports, proof of property, etc.
Be patient when filing a claim. Travel insurance companies always take a long time to check if everything is in order and to make sure there are no pre-existing conditions. The important thing is that you'll receive your refund in the end.
If you are filing a claim for theft, make sure you attach the police report. If you are claiming lost items, save and send all documents related to the items to prove they were yours.
Travel insurance reviews
It's true that people more often complain and take all their anger out in the reviews section than they write a positive review after a good experience.
In any case, it can be a good reference point to see previous customers' general perceptions.
Some websites offer travel insurance ratings, but from my experience, these are not unbiased, so it is better to search trip insurance reviews on well-established sites like Tripadvisor.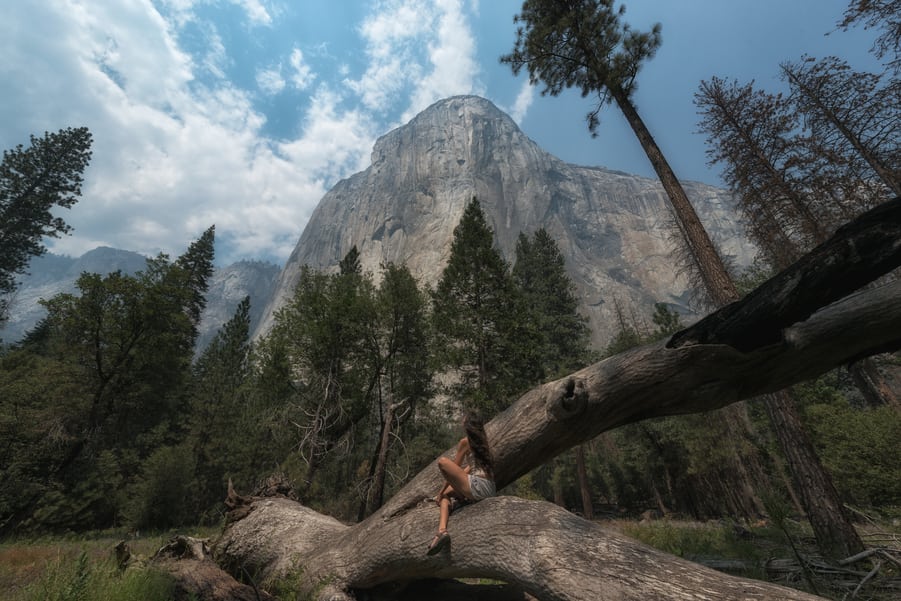 As you can see, the travel insurance industry is very complex and full of many different options. This is why choosing the best travel insurance is always a difficult task.
In order to buy the best travel insurance, just follow the tips we provided in this article. And don't stress out; enjoy your trip!
HOPE YOU FIND THIS GUIDE helpful WHEN CHOOSING YOUR TRAVEL INSURANCE COMPANY AND PLAN. PLEASE LEAVE ANY QUESTIONS IN THE COMMENT SECTION 😉

Don't miss out...