2023 PATAGONIA PHOTO TOUR
EL CHALTÉN & TORRES DEL PAINE IN THE FALL
Join us for a Patagonia Photo Tour where we will capture the most iconic and impressive landscapes in southern Chile and Argentina. From massive glaciers, towering peaks, turquoise lakes, and pristine Andean forests to plenty of wildlife like pumas, guanacos and condors, Patagonia is a photographer's paradise.
We are running this Chilean and Argentine Patagonia photo tour from April 9th to 21st, 2023, during the best time of year to photograph the spectacular Patagonia forests' fall colors and when the parks are less crowded.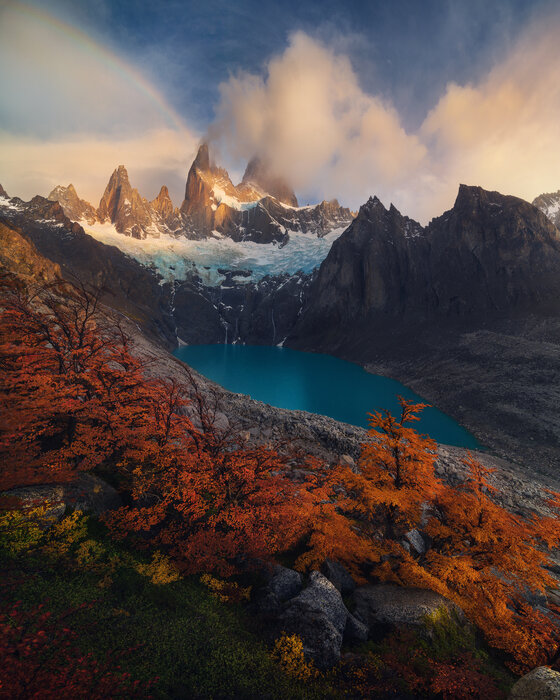 OVERVIEW
During this 13-day Patagonia photo adventure, we will visit the most photogenic locations around the picturesque village of El Chaltén in Argentina, as well as the most iconic spots in Torres del Paine National Park in Chile, including one full day at the famous Perito Moreno Glacier.
This Patagonia photo tour is mainly focused on enjoying and capturing the best moments of light that the Southern Andean range has to offer, from epic sunrises over the base of Mount Fitz Roy to dramatic lenticular clouds and unforgettable Milky Way sessions at Los Cuernos in Torres del Paine. We will stay in nice hotels but also camp and hike on fully outfitted trips to reach the best photography locations in Patagonia.
We will personally help you capture the best possible images during our Patagonia photography workshop and show you the best techniques to shoot any subject in different light conditions: sunrise, sunset, midday, twilight, Milky Way, etc.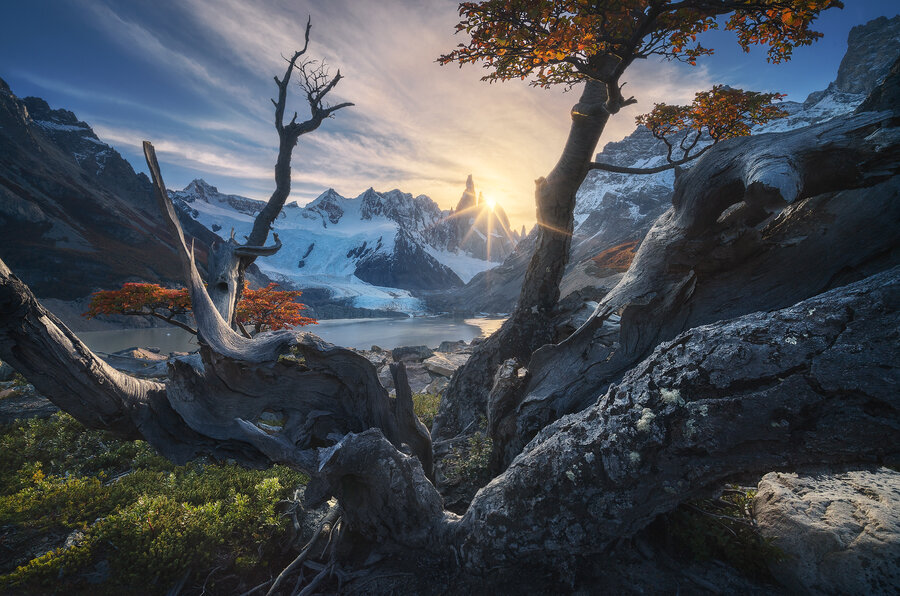 PATAGONIA PHOTO TOUR HIGHLIGHTS
Photo tour from April 9th to 21st, 2023.

(1 LAST SPOT!)

Group size: 10 participants + 2 instructors + 1 local mountain guide.
Main topics: landscape, mountains, forests, wildlife, and Milky Way.
Main areas: El Chaltén, Perito Moreno Glacier, and Torres del Paine.
Accommodation included in top hotels close to the best locations.
Transportation included to travel comfortably with all the luggage/camera bags.
All entrance fees to national parks included.
A 3-night, fully outfitted photo experience with camping in the Patagonian wild.
Puma tracking photo tour in Chilean Patagonia.
Download the official Patagonia Photo Tour brochure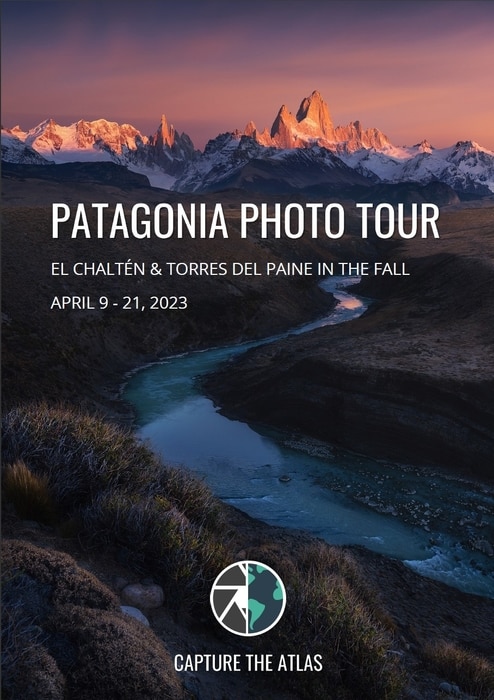 Is this Patagonia Photo Tour the Right Trip for me?
Before you continue reading, it's important to note that this Patagonia photo tour requires a moderate level of fitness. Most days, the shoot will be an easy walk from the parking lot, but over the three camping days, we'll hike an average of 3 to 4 miles per day with an average elevation gain of 1,500 feet.
During this fully outfitted camping experience, we'll have a team of local porters and assistants so you can just hike with your camera gear and focus on shooting and taking in the views. We'll be visiting and photographing many locations, so being in good physical shape is recommended so that you can enjoy the experience.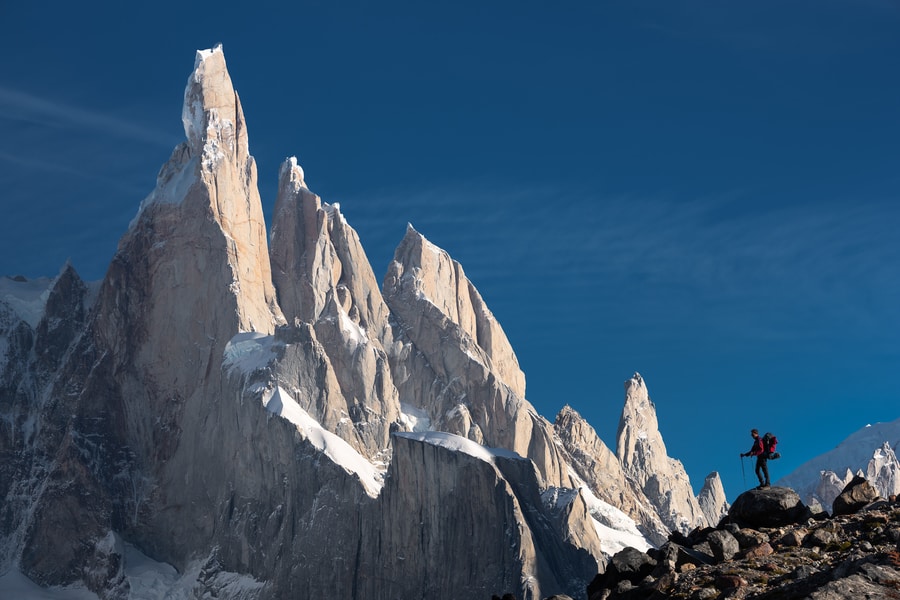 2023 EL CHALTÉN & TORRES DEL PAINE PHOTO TOUR ITINERARY
The itinerary for our Patagonia photo tour can be flexible. Here, the weather is very changeable and we can experience all four seasons in one day. However, the weather is also one of the best things about Patagonia, since it creates the most dramatic conditions you'll ever see in the wilderness.
As we know the area very well, our goal will be to photograph the Patagonian landscapes in the best possible conditions, depending on the weather forecast.
We will try to make the most of the light, especially during the sunrises, when the light creates a feast for the eyes by turning the peaks red and orange.
DAY 1: Argentine Patagonia Photo Tour – April 9th
This Patagonia photo tour will begin at El Calafate Airport (FTE) in Argentina, where we'll pick you up by 12 PM and meet with the rest of the group.
From El Calafate, we will drive about 2.5 hours to the world-famous village of El Chaltén, home of Los Glaciares National Park, a UNESCO World Heritage Site. Just an hour before we arrive in El Chaltén, we'll be able to catch a glimpse of the iconic peaks of Fitz Roy and Cerro Torre in the distance; these two peaks will be our main photography backgrounds for the next five days.
After leaving our luggage at the hotel, we will drive to a nearby lookout and photograph our first sunset in Argentine Patagonia.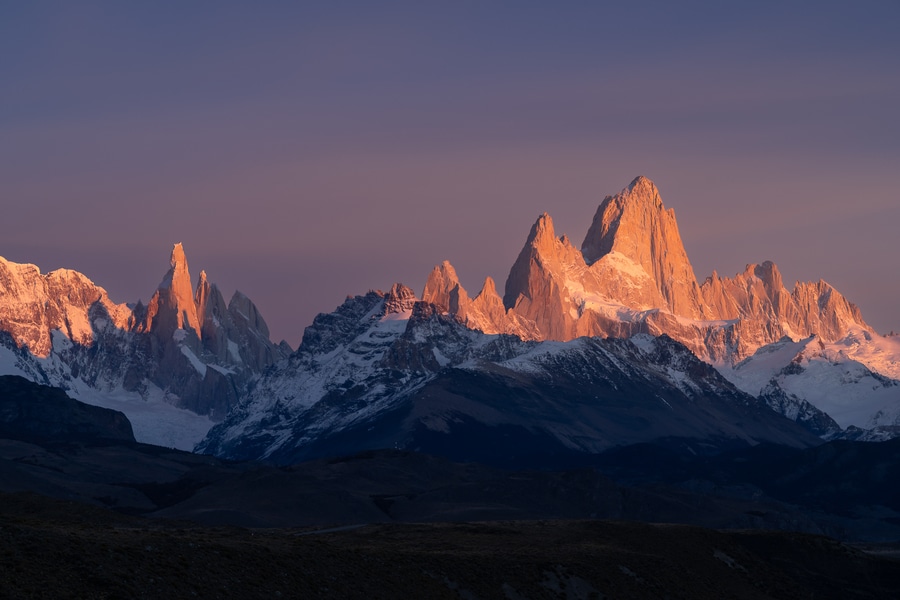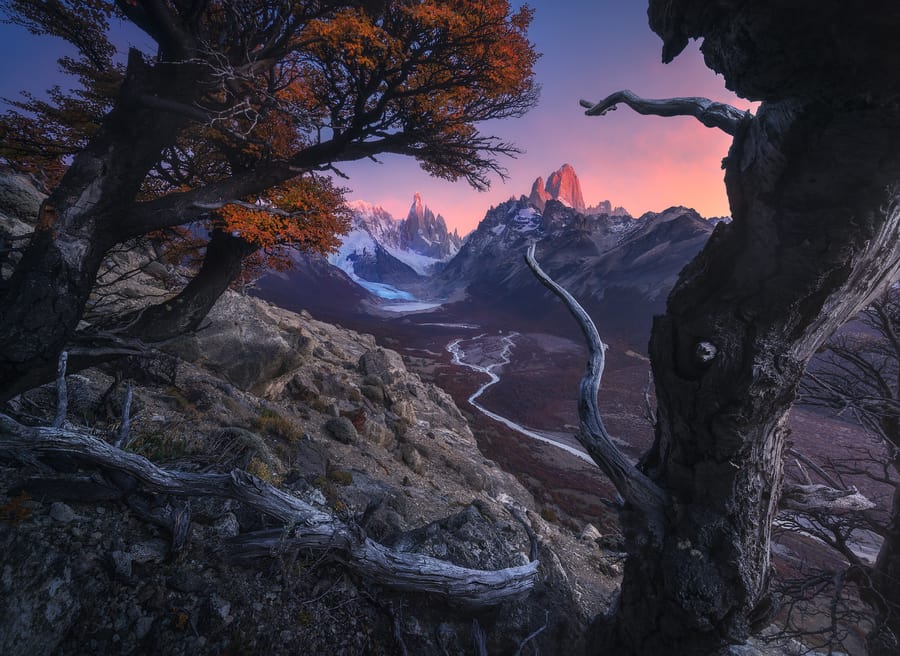 DAY 2: Patagonia Photo Tour with Camping – April 10th
On the second day of our Patagonia photography tour, if the peaks are visible, we will wake up early to capture the sunrise at a location near the village.
After we have breakfast at the hotel, we will leave our laptops, electronics, and other clothing at the hotel before meeting up with the porters, local mountain guides, and assistants to start our Patagonia camping photo adventure. We will do a 2.5-mile (4-kilometer) easy hike (about 2 hours with a 1,300 foot/400 meter elevation gain) to our first campsite, which is next to the beautiful Laguna Capri and has views of the imposing Mount Fitz Roy.
The local team will set up our campsite for us, and, after having lunch, we will scout the area with our cameras and wait for the sunset light by a secret waterfall not too far from our campsite. The foliage in this area is usually at its peak during this time of year. After sunset, we will walk back to the campsite for dinner and some rest.
DAY 3: Patagonia Photo Tour with Camping – April 11th
On the third day of our autumn Patagonia photo tour, we will start the day by capturing the sunrise at another hidden waterfall close to the campsite. After breakfast, our porters will pack up the camping gear and we will continue hiking towards our next campsite, near the base of Fitz Roy. This will be a very easy 2.5-mile (4-kilometer) hike (1.5 hours on mostly flat terrain).
Once we reach our campsite, the team will set up the sleeping tents and a large communal tent where we can gather for lunch.
After this, we will start exploring this spectacular area. We will capture endless outstanding foregrounds, such as reflective ponds, red 'bonsai' trees ("ñires" and "lengas") and lakes, with the impressive Mount Fitz Roy in the background, until the sunset light is gone. Then we will head back to the campsite to enjoy a warm dinner.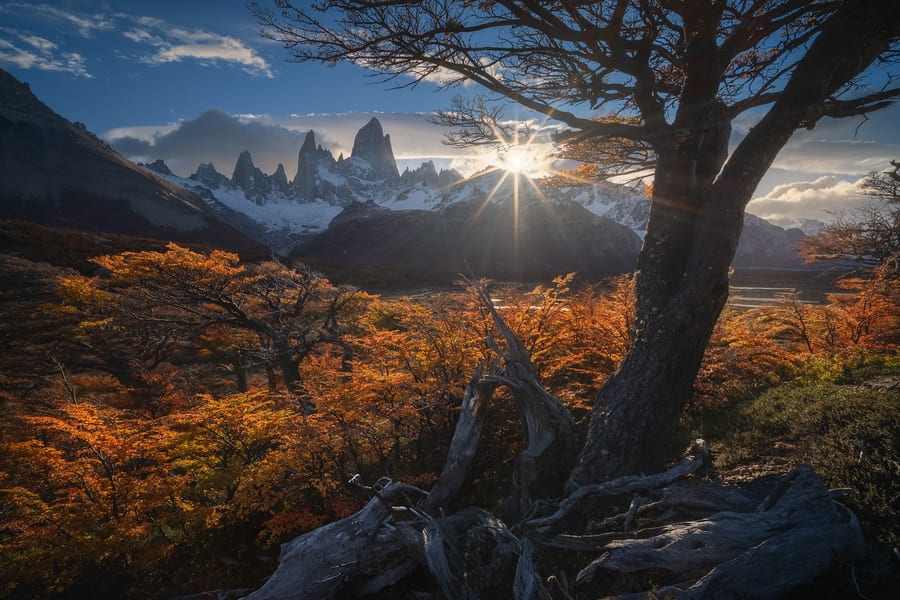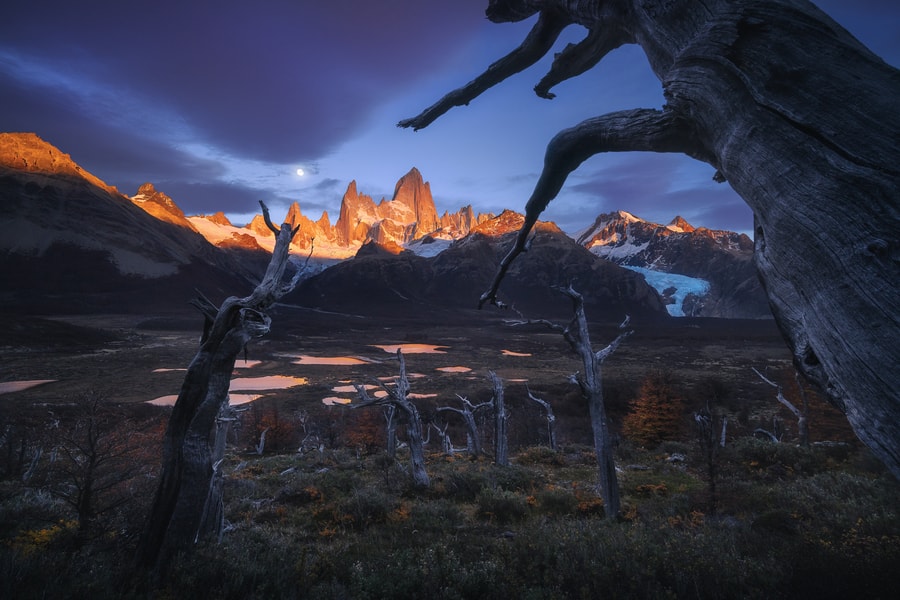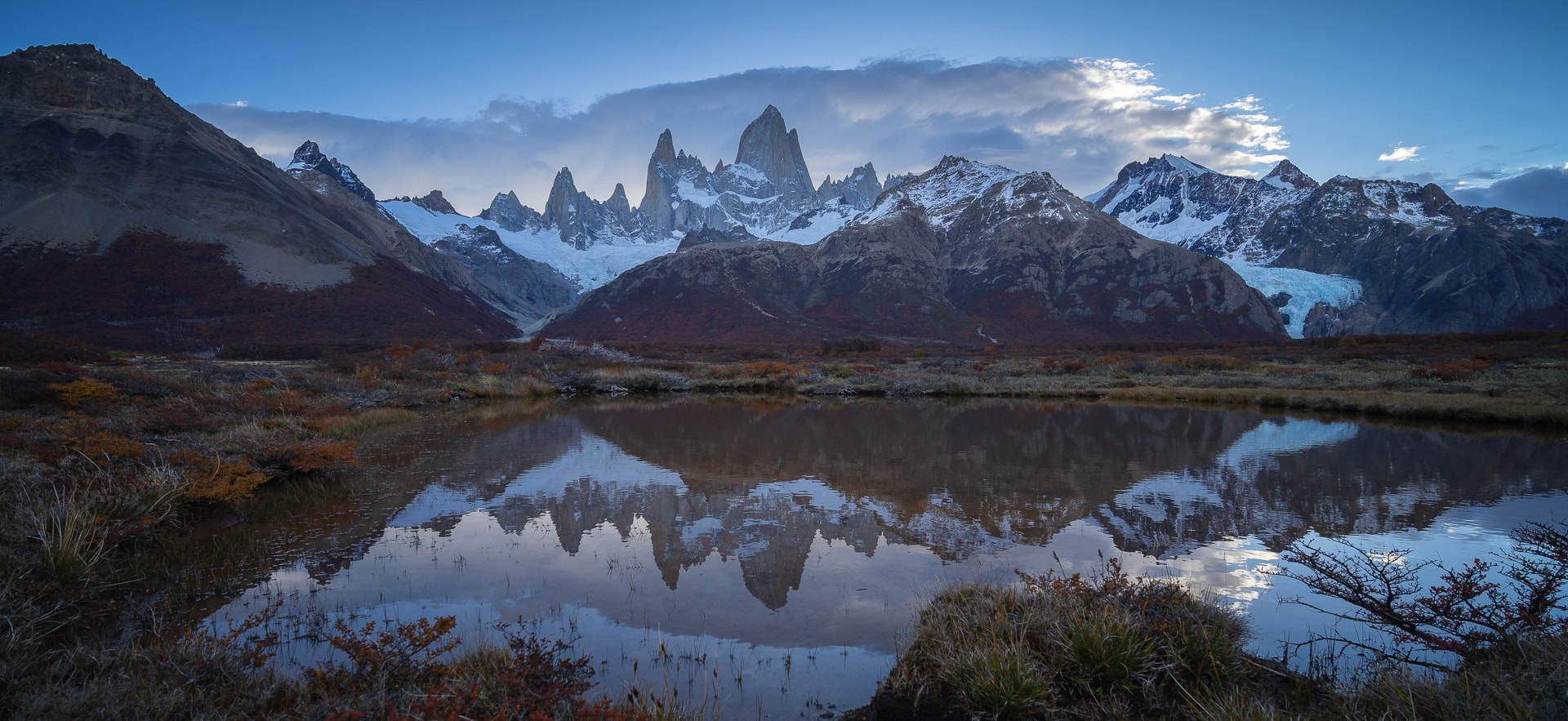 DAY 4: Patagonia Photo Tour with Camping – April 12th
On the next morning of our Patagonia camping photo adventure, we will wake up early to start hiking to our sunrise spot on one of the most famous Argentine landmarks: Laguna de los Tres.
From the campsite, it will take us around 1.5 hours to reach this landmark via a 1.5-mile (2.5-kilomter) uphill path with a 1,300-foot (400-meter) elevation gain. This is the steepest trail of the trip, but you'll be rewarded for your efforts with a picturesque lake that offers unparalleled views of the Patagonian mountains right at the base of Fitz Roy. This is one of those places that you cannot miss if you visit Argentine Patagonia!
After our morning session, we will go back down to the campsite to have some breakfast. Then, our porters will take all the camping gear to the village, and we will start the 5.5-mile (9-kilometer) hike back to El Chaltén (3.5 hours, flat + 1,640 feet (500 meters) downhill).
Back in El Chaltén, we will head to our hotel, where we will have some post-processing lessons before going to our sunset location near the village.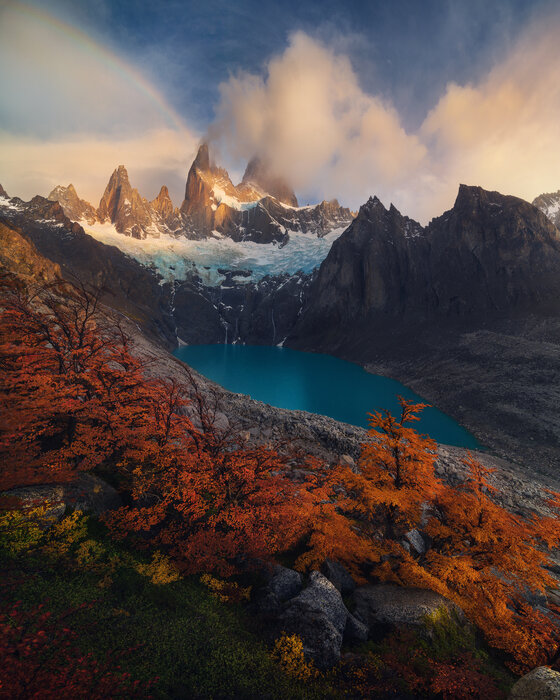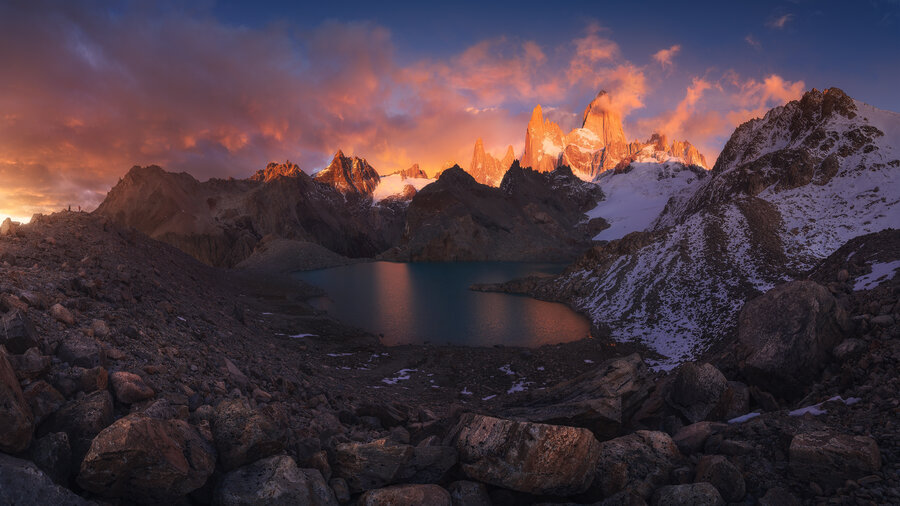 DAY 5: Argentine Patagonia Photo Tour – April 13th
On the fifth day of this Patagonia photo workshop, after our morning session, we will meet up with the porters and guides again to start our last trek, this time towards the Cerro Torre area. This relatively easy 5.5-mile (9-kilometer) hike will take us 3.5 hours and involve a 1,640-foot (500-meter) elevation gain on a trail with continuously breathtaking views.
Once we reach our campsite and the team sets up the tents, we will walk just 10 minutes to Laguna Torre, a pristine glacial lake right below Cerro Torre where you can see chunks of ice floating in the lake.
Here, we will have plenty of compositional elements to photograph, such as rivers, trees, rocks, and ice. We will explore the area around sunset before returning to the campsite for a warm dinner and some rest.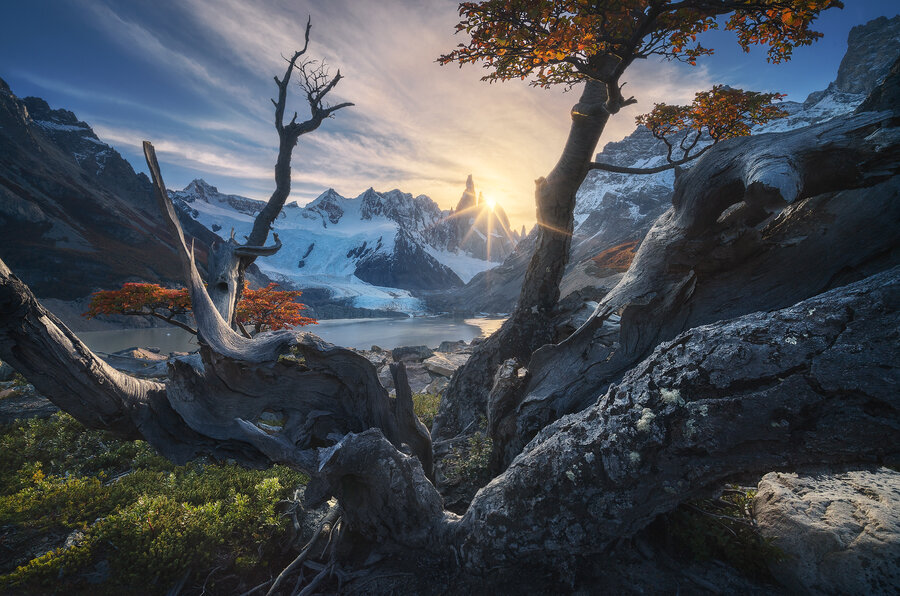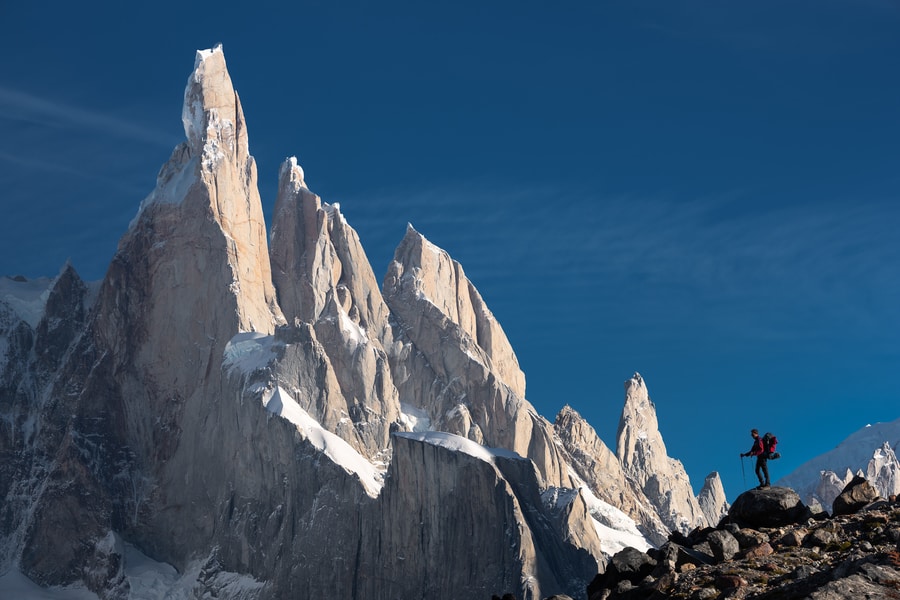 DAY 6: Patagonia Photo Tour with Camping – April 14th
On the next day of this guided Patagonia photo tour, we will shoot the sunrise at Laguna Torre and then, optionally, we will hike up to a stunning lookout with higher views of the lake, which will take us around one hour each way.
Then, the porters will gather up the camping gear and we will start hiking back to El Chaltén, following the same path we took the day before.
In the village, we will have time for some rest at the hotel and, depending on the weather, we may visit a nearby waterfall or have a post-processing class.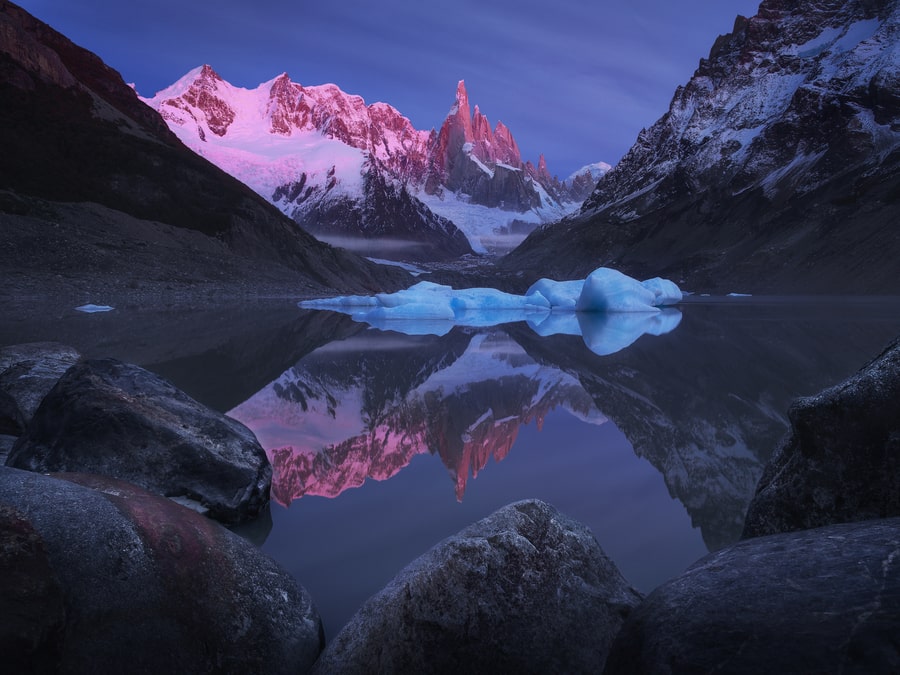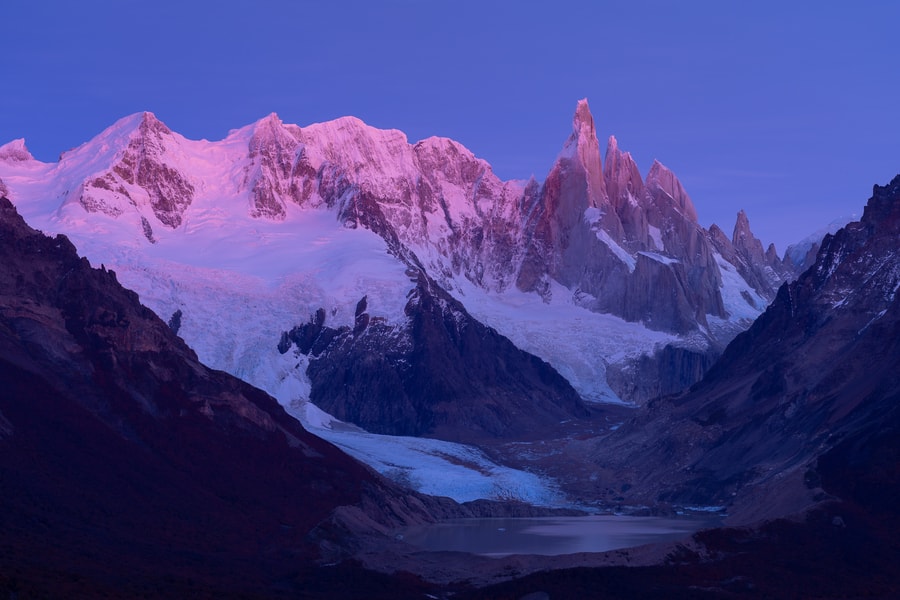 DAY 7: Argentine Patagonia Photo Tour – April 15th
On the seventh day of this Patagonia photography tour, after breakfast, we will say goodbye to El Chaltén and drive to our next destination: Perito Moreno Glacier!
This spectacular mass of ice spreads along 121 square miles and it's one of the few glaciers in the world in a quasi steady state, with no major changes in its size during the last and present centuries. 
This massive glacier towers above the turquoise waters of an enormous lagoon in Los Glaciares National Park, and it's one of the most impressive glaciers in the world. We will spend the day shooting this gigantic sharp icefield under the fall colors from different viewpoints until sunset light.
After our Perito Moreno photo excursion, we will then drive to our hotel in El Calafate.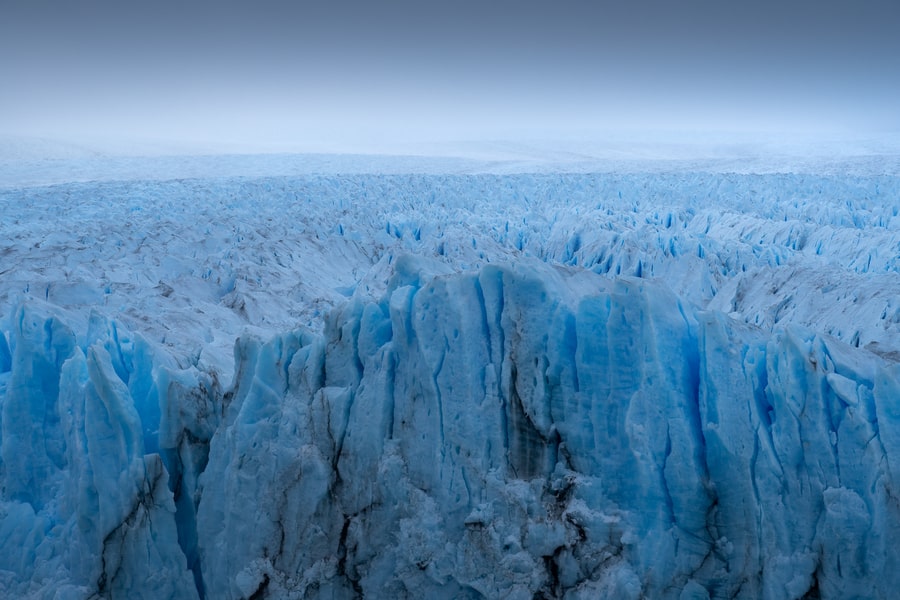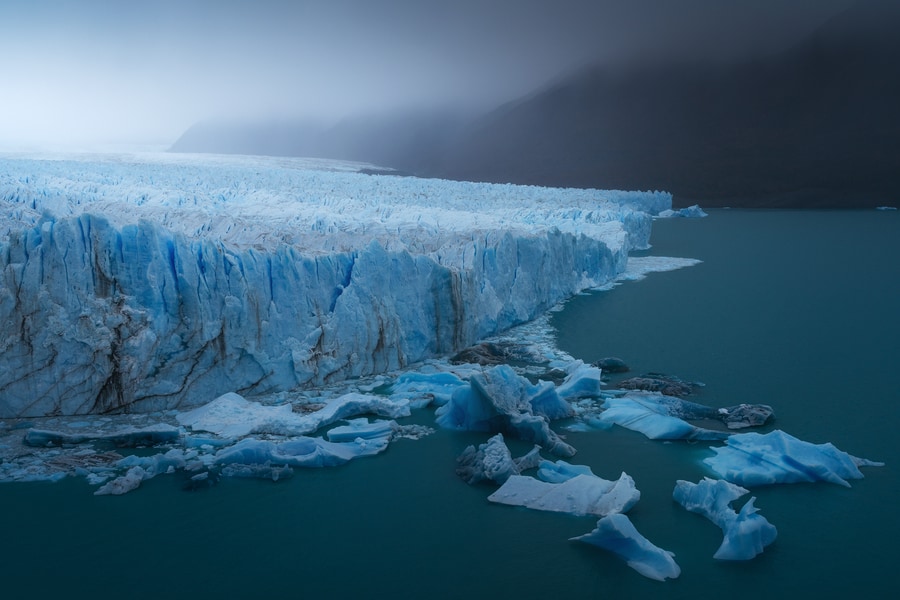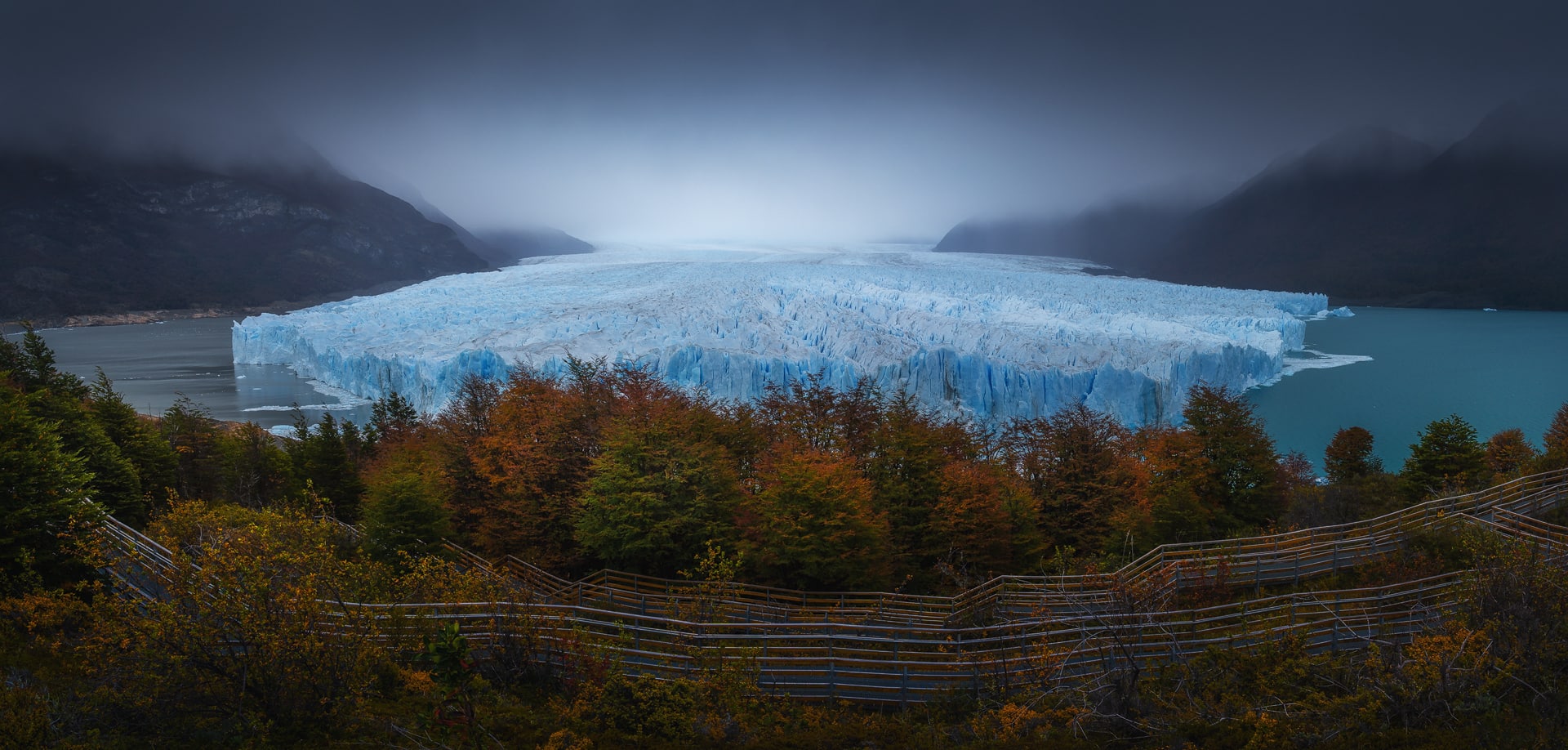 DAYS 8-12: Chilean Patagonia Photo Tour – April 16th – 20th
On the seventh day of our Patagonia photo tour, we will continue our journey and drive towards the amazing Torres del Paine National Park in Chile. It will be a long drive that includes a border crossing, but we'll make stops along the way to see wildlife like guanacos and rheas.
The closer we get to our final destination, the more impressive the scenery will become. We will stay at one of the best hotels in Torres del Paine, with stunning views of the incredible vertical peaks that we will be shooting in the coming days. We can even take amazing pictures from the hotel doorstep! After check-in, we'll head out for our first sunset session in Chile.
During the next 5 days, we'll have the flexibility to shoot in different locations across Torres del Paine National Park during the best light according to the weather forecast, which we will check the day before. We'll access our photo spots via small drives and short hikes.
There are endless possibilities to shoot here: beautiful reflections of Los Cuernos, Laguna Amarga, Glacier Grey, the Dead Forest, turquoise lakes, waterfalls, many panoramic views of the mountains, colorful autumn foliage, and even seascapes.
Also, during this week, there will be a new moon, so we will try one of the highlights of the trip, photographing the Milky Way. The skies are pristine here with no light pollution, so if conditions allow, you'll enjoy a spectacular show of our galaxy from the Southern Hemisphere. We will try to align our Milky Way with some of the main elements in the area, like lagoons or the famous dead trees.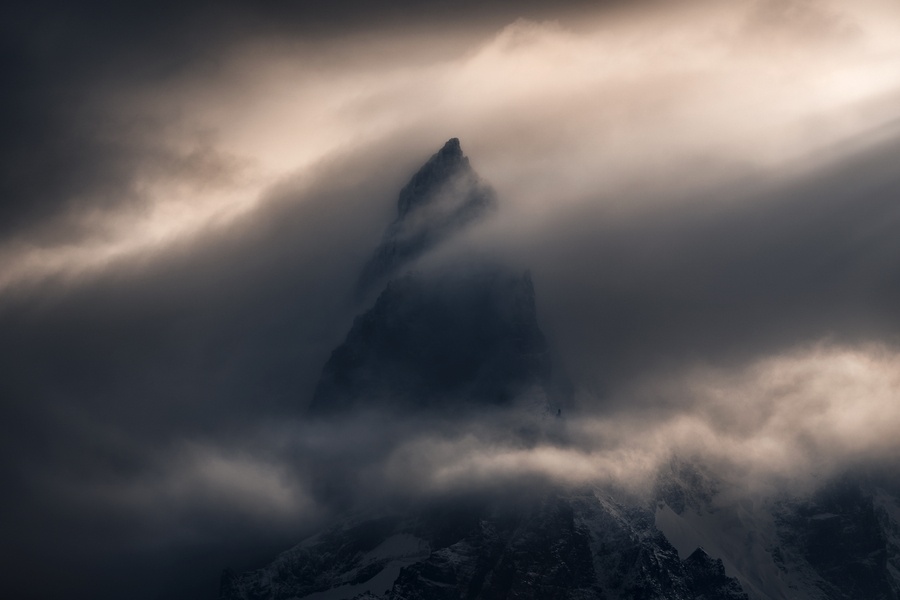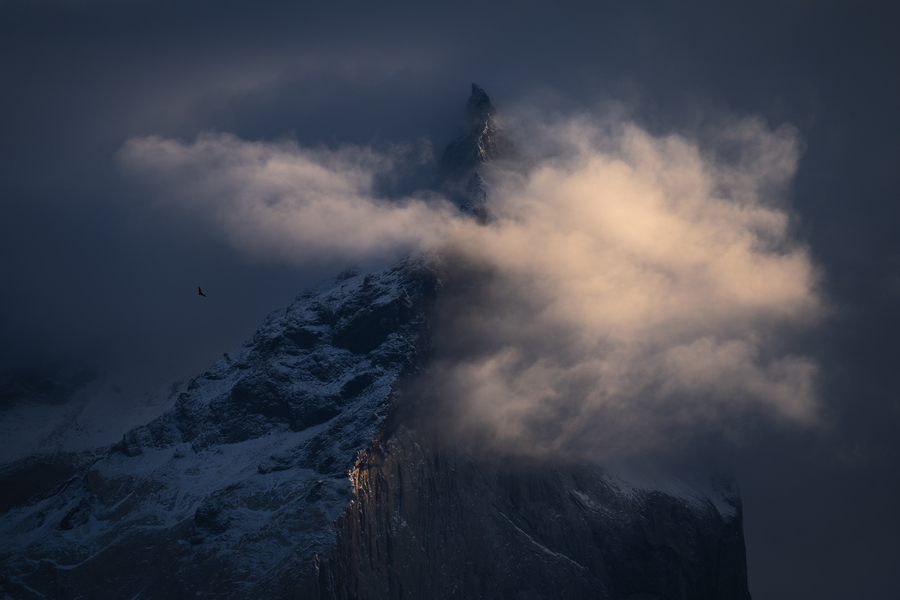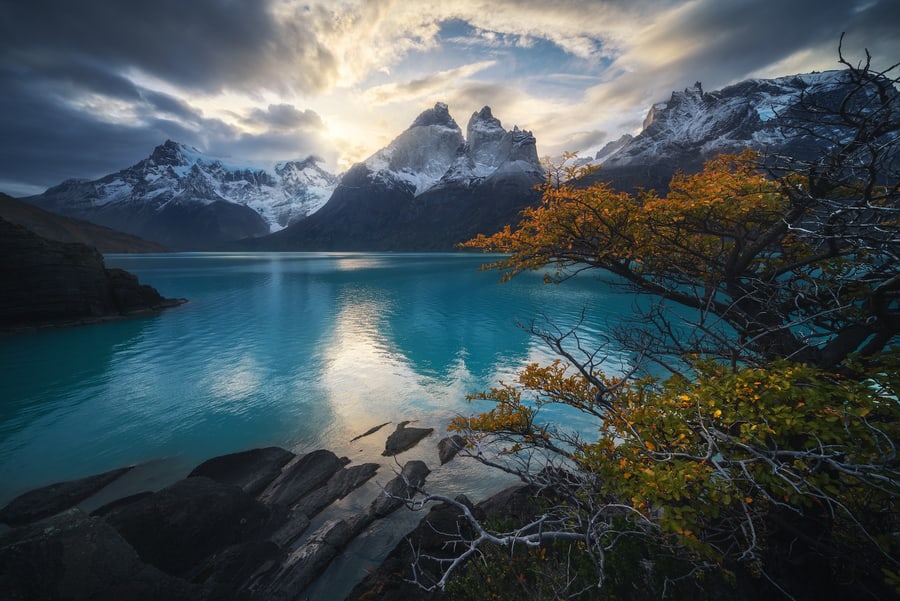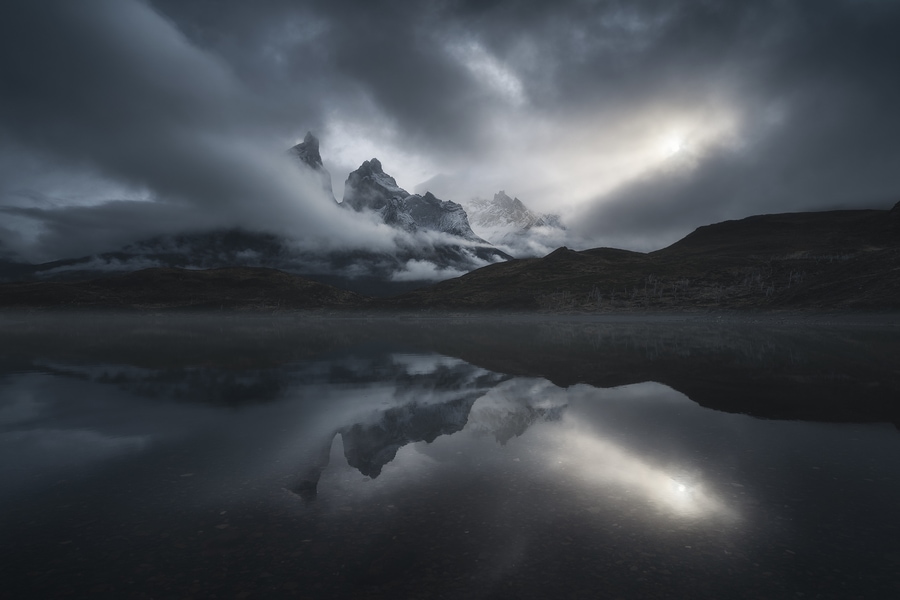 Also, we'll spend one of the days doing a Patagonia Puma tracking Photo Tour. Pumas are elusive animals and it's not guaranteed that we'll see them, but with the help of our professional puma trackers who know their habitat and understand their behavior, we'll have high chances of seeing them. This area in the Patagonia is the best place in the world to witness this beautiful feline. In addition, we'll probably see other animals, such as guanacos, condors, rheas, armadillos, foxes, and many species of birds.
On our 11th day of the trip, after our last sunrise, we'll head back to El Calafate in Argentina, where we'll spend our last night.
DAY 13: Patagonia Photo Tour – April 21st
After breakfast, we will pack up and drive you to El Calafate Airport, where we will wrap up this photo adventure across Patagonia. We can take you to the airport from 06:00 to 10:00 AM, but you can also take a private taxi to the airport if you need to catch your flight earlier or later.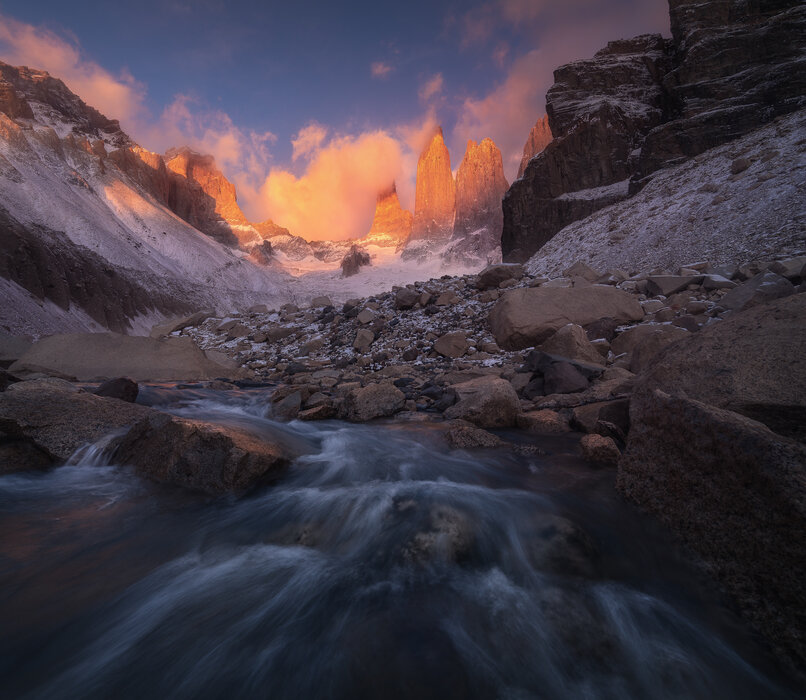 PRICE: $7,290 USD
Deposit: $1,500 USD
A $1,500 USD non-refundable deposit is required to reserve your spot for this workshop. You can also pay in full at any time. The remaining balance is due on January 9th, 2023. If the remaining balance is not paid in full by the due date, you will lose your spot.
You are guaranteed a 100% refund if we have to cancel the tour due to COVID-19 or the current conflict in Ukraine.
WHAT DOES THE PRICE INCLUDE?
INCLUDED
Pick up & drop-off at El Calafate Airport (FTE).

Transportation during the trip in private vehicles.

Fuel and parking fees.

Border crossing fees.

Accommodation in hotels in shared rooms with private bathrooms. (*Private rooms available for an additional fee)

Entrance ticket to Torres del Paine National Park.

Entrance ticket to Glaciar Perito Moreno.

Local mountain guides in Los Glaciares NP and Torres del Paine NP.

Patagonia Puma tracking tour.

Photo guide services from David Aguilar and Prince Berkoh, professional landscape and astrophotographers.

3-day fully outfitted Camping Photo trek, including:

(Click to display)

– Private 4-season tent with sleeping bag and air mats.

– All food and drinks – breakfast, picnic, lunch, dinner.

– Bilingual, accredited professional guide.

– Cook & kitchen services.

–Porters

–Dining tent.

–Satellite phone and first aid kit.
*BONUS
NOT INCLUDED
Flights to/from El Calafate Airport.
Private room – Extra $950 (*Subject to availability).
Meals, except for camping days.
Health/travel insurance (We can help you purchase the best travel insurance according to your needs).
Telephone, personal expenses, tips, etc., and any other service not mentioned in the "INCLUDED" section.
NOTE: Passenger vans are not available for rent in Patagonia, so, for driving, we will need two drivers from our group so that we can travel comfortably in 4 vehicles. We will offer a discount of $250 off the trip price to the driving volunteers. Roads are very straight and easy to drive in both Argentina and Chile. You won't spend much time driving, except for the trip from Argentina to Chile, and the vehicles we will be driving will most likely have manual transmissions.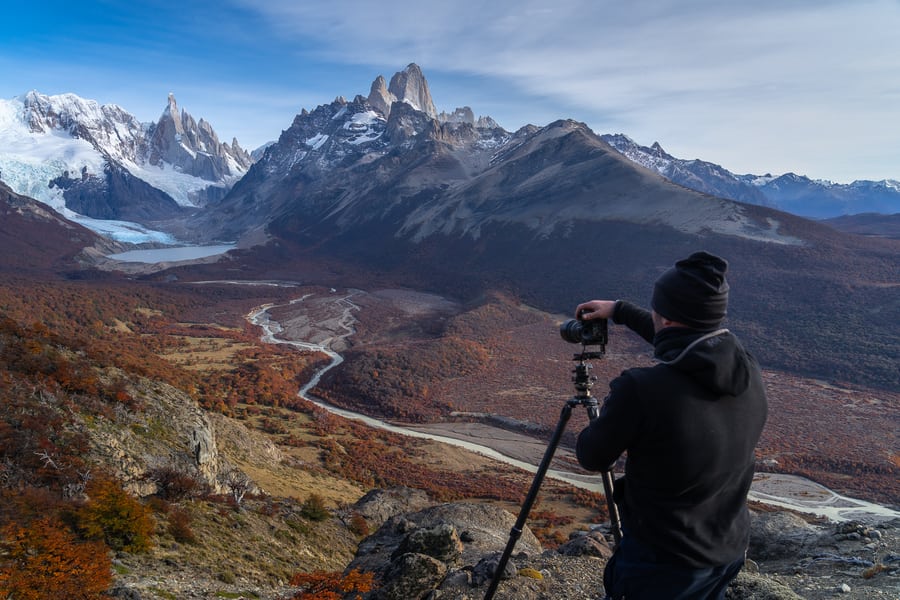 What will I learn during this Patagonia photo Tour?
This trip is focused on landscape & wildlife photography, mainly shooting mountains, forests, and waterfalls. We'll also do some astrophotography when conditions align.
What you learn during the workshop will vary according to your goals and skills. Your instructors are professional photographers with extensive experience who will help you take your photography to the next level.
During the tour you'll have the opportunity to learn:
Getting comfortable shooting different types of landscapes and wildlife in manual mode.
Adjusting to the best camera settings in each situation.
Planning your sunset and landscape images.
Shooting long exposures using ND filters.
Enhancing your composition with the best techniques.
Basics of wildlife photography.
Designing your own shooting workflow to be more efficient in the field.
Creating powerful compositions that tell a story and engage the viewer.
Building a connection between your photography and your vision.
Becoming a master of light: learn how to enhance it and keep it under control.
Advanced landscape techniques like bracketing, focus stacking, or focal length blending.
Advanced night photography techniques like stacking and tracking, if conditions allow.
Advanced wildlife settings and shooting techniques.
Some of the post-processing techniques that you can learn with the included tutorials are:
Basics of Lightroom and Photoshop.
Preparing your images in Lightroom/Adobe Camera Raw.
Stitching of panoramas using different software like Lightroom or PTGui Pro.
Reducing the noise in your images with Denoise AI.
Sharpening your photos with Sharpen AI.
All types of Blendings (exposure, focal length, focus, etc.).
Light shaping and Dodge & Burn in your landscape & night images.
Post-processing of moody and atmospheric landscapes.
Advanced Milky Way post-processing techniques.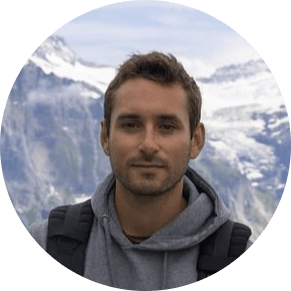 Your instructors on this Patagonia photo tour
David Aguilar will be your photo tour leader throughout this Patagonia photo tour, and he will make sure that you are in the right place at the right time to get the best photography results from this tour. He will help you with your photography, technique, and composition in all your landscape and night images.
David is a real expert on Patagonia after taking many trips throughout the region over the last few years. He's very knowledgeable about the most photogenic locations, the weather patterns, and the best techniques to capture breathtaking landscape images. He has also hiked all around the main landmarks of Patagonia and has discovered many rarely known photo locations that he'll show you on this trip.
David's main passion is traveling and helping others with their craft. He's traveled extensively, not only in Patagonia and South America, but also in Nordic countries like Iceland and Norway and across vast areas in the European Alps.
He's also a skilled post-processing editor and has helped countless photographers over the last few years with his online landscape editing courses.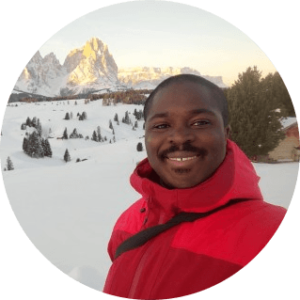 Prince Berkoh will be the co-leader of the tour and he'll make sure that you capture the best possible images during this trip.
Prince is a landscape and night photographer based in Madrid, Spain. His passion for photography has taken him to some of the most spectacular landscapes in Europe, from Spain to the remote Faroe Islands.
He also loves educating and teaching others about photography, having led numerous workshops and presentations on night photography over the years.
Prince will show you how to best capture the Patagonian landscapes, from the basics to advanced techniques like bracketing, focus stacking, panoramas, and other night photography tips.
WHAT TO BRING ON A PATAGONIA PHOTO TOUR?
We will send you a complete list of everything we recommend bringing on this tour before the trip. Below is a summary of things you might need:
PHOTOGRAPHY GEAR
DSLR/mirrorless camera and a sturdy tripod.
A wide-angle lens, such as a 14-24 mm lens.
A medium zoom lens, such as a 24-70 mm lens.
A telephoto lens, like a 100-400 mm lens.
A camera bag to transport all your photography equipment and some other items.
A 3-stop and 6-stop ND filter to shoot waterfalls and rivers.
A CPL (circular polarizer filter).
A headlamp for the night shoots and camping.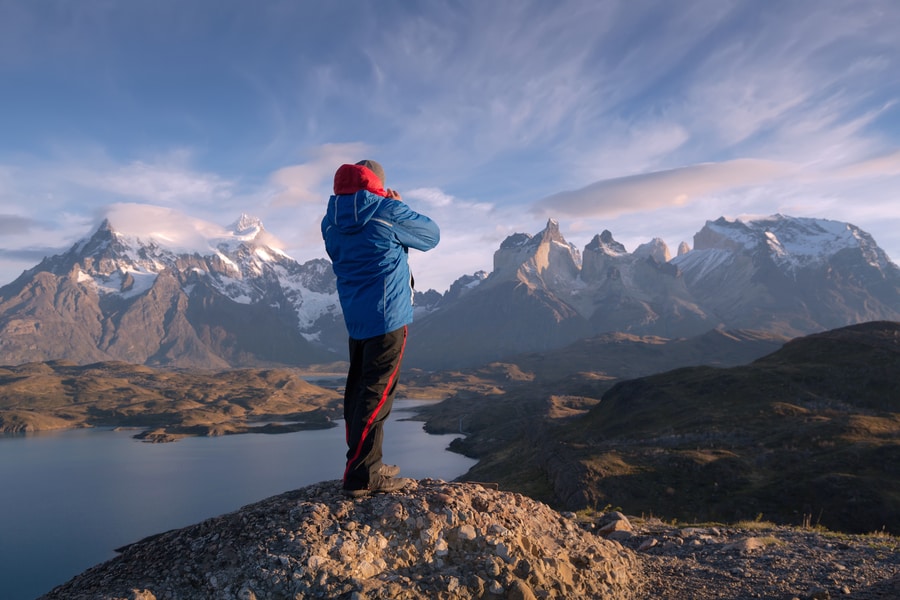 CLOTHING AND HIKING GEAR
The average temperature in Patagonia in April is between 50ºF to 23°F (10° C to -5ºC), and it's especially cold in the mornings. You should come prepared for all kinds of weather and bring warm clothing. Rain and strong winds are very common in Patagonia. Some of the things that we recommend bringing on this fall Patagonia photo tour are:
A system of top layers to wear (base layer, fleece, windproof layer, shell).
A system of bottom layers to wear (hiking pants, fleece pants for cold nights, overpants for rain).
A good pair of breathable boots to keep your feet warm and protect your ankles while hiking.
Warm and breathable socks.
A wool hat, neck gaiter, and gloves.
Light water bottle.
A small, light towel.
A sleeping bag liner
Some optional items that are highly recommended are:
Hiking poles.
A cap or sun hat.
Light sneakers or sandals so you can change your shoes after the trek.
Sunglasses.
Lip balm.
An external power bank.
You will find more items and details on the official list of recommendations that we provide upon registration.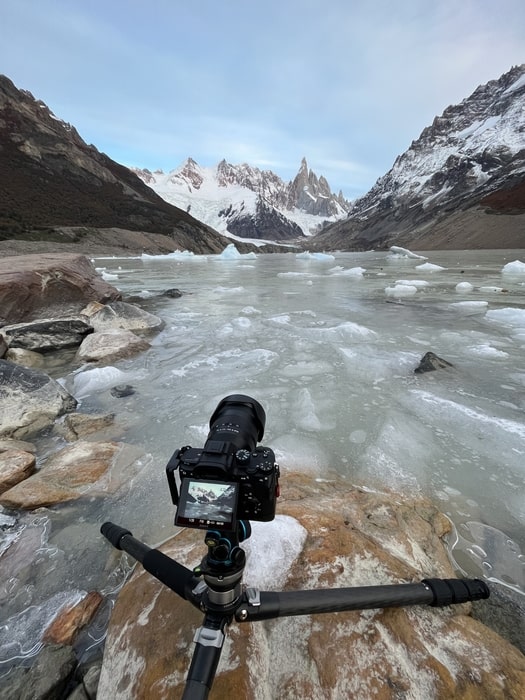 MONEY
The currency in Argentina is the Argentine peso (ARS), and in Chile, it's the Chilean peso (CLP). We highly recommend getting pesos in your home country, although, if that is not possible, you can always purchase some at El Calafate Airport. Credit and debit cards are accepted in most places in Patagonia, but there are still many businesses that only take cash.
DOCUMENTATION
People from most countries, including the Americas, Europe, Eastern Asia, Israel, Australia, and New Zealand, don't need a tourist visa to visit Argentina and Chile for trips that are shorter than 90 days.
Please check if you need a visa to visit Argentina and Chile if you live outside those areas. We can help you with this process.
ACCOMMODATIONS
The accommodation on this Patagonia Photo Tour is double occupancy in shared bedrooms with two individual beds and a private bathroom. We also offer single occupancy rooms in all hotels on the trip for an extra $950. If you are interested in this, please let us know on the signup form below, since the single occupancy rooms are subject to availability.
In Argentina, we are staying in top-rated hotels close to the best locations, where you can see marvelous views of the Patagonian Mountains.
On camping nights, you will sleep in a private, individual tent. Also, during these nights, you can leave the luggage you don't need, like electronics and extra clothing, in a secure room at our hotel in El Chaltén.
In Chile, we are staying at an exclusive hotel, the Pampa Lodge, with unparalleled views of the Serrano River and the Paine Horns in the Chilean Patagonian range. This hotel is located just 4.3 miles from the national park entrance, so we'll be in an excellent location to access the park every day.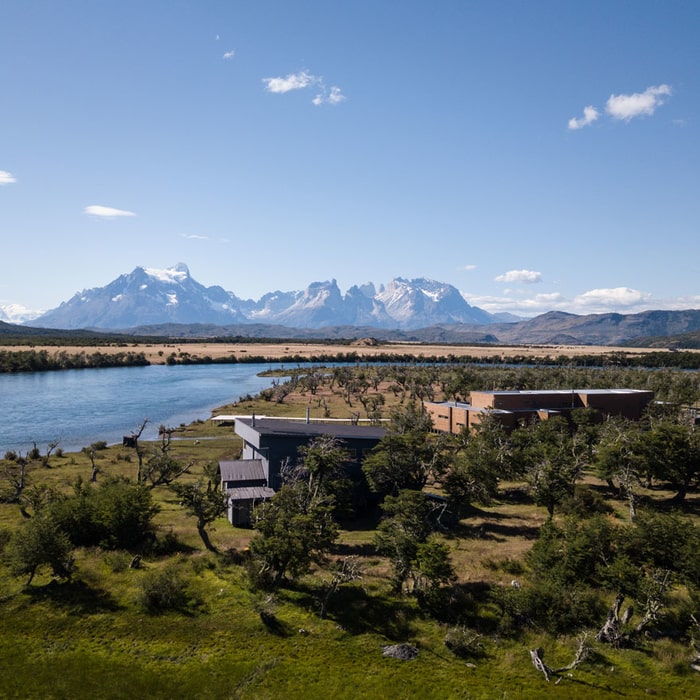 HIKING
Most of the trails are relatively easy, but tour participants should still have a moderate level of fitness.
In El Chaltén, we will be taking longer hikes of approximately 3 to 5 miles (5 to 8 kilometers) with 1,640 feet (500 meters) of elevation gain to reach our campsites. After this, we'll be exploring and scouting the area. We'll spend a total of 3 nights camping during the trip.
During these treks, you just have to carry your camera gear, tripod, and personal items like water, toiletries, a toothbrush, and some extra clothes. Our local team will provide and transport all the camping gear (tents, sleeping bags and mats), set up the campsites, and cook all our food so we can focus on scouting and shooting.
There's also an optional porter service for your camera/personal gear that you can get for an extra fee of $80 USD per day.
In Torres del Paine, we will take short, flat hikes. The longest hike we will do in Torres del Paine will be to Mirador los Cuernos, which takes around 45 minutes each way.
LOCAL GUIDES AND TOURS
All the local guides in both the Argentine and Chilean parts of this Patagonia photo tour are included.
We have also included the entrance fees for Perito Moreno and Torres del Paine National Park, as well as the price of the Puma tracking tour.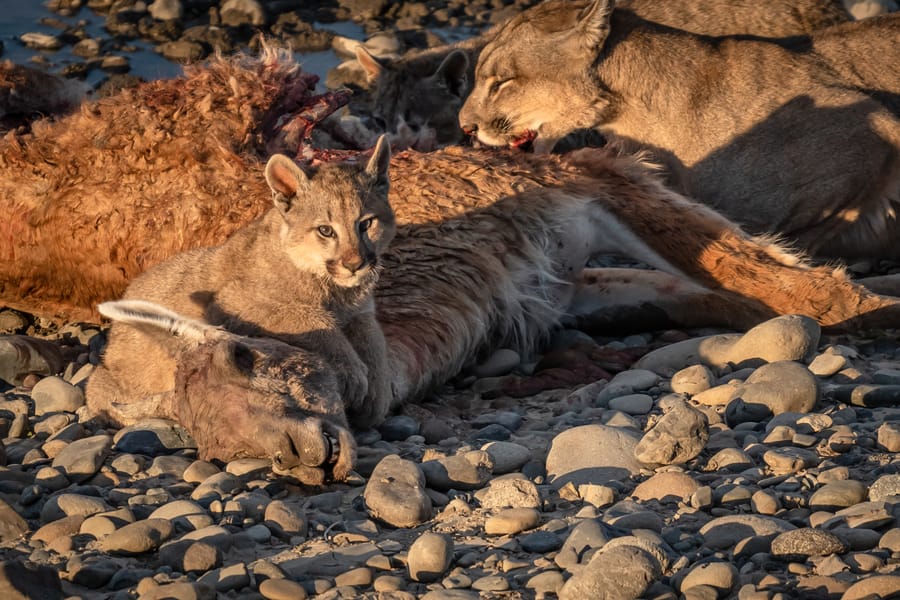 WHAT EXPENSES SHOULD YOU CONSIDER FOR THIS PATAGONIA PHOTO TOUR?
FLIGHTS
You should book your flight to El Calafate International Airport (FTE).
Airline ticket prices will depend on the airport you are flying from, but round-trip flights from the USA cost around $1,400 – $1,800, and ones from Europe cost $1,100 – $1,300.
MEALS
Meals are not included, except for breakfast at the hotels and all the meals on camping days.
Most days, we will have breakfast at our accommodation and a nice dinner in a local restaurant. In Torres del Paine, we will have dinner in the hotel's restaurant, and, during the day, we'll order box lunches.
We recommend preparing to spend about $40-$70 USD on food per day.
TRANSPORTATION
All transportation and fuel are included during the tour. We'll be travelling in four 5-seat vehicles for the whole 12 days with 3 people per car.
For driving, we will need two assistant drivers among our group. We will offer a discount of $250 off the trip price to the driving volunteers. Roads are easy to drive both in Argentina and Chile, and you won't spend much time driving, except for the trip from Argentina to Chile. The vehicles we will be driving will most likely have manual transmissions.
What makes this Patagonia Photo Tour unique?
Frequent questions about our Patagonia Photo tour
I've had the opportunity to work with and help countless photographers over the last years:

I recently spent 3 weeks with Dan in Iceland. It was a wonderful experience that surpassed my expectations. Dan is an energetic guide who is passionate about what he does. The trip was well organized, and Dan made sure we were able to see everything that was planned. Dan worked with everyone on the tour to understand their skill level and provide his insights on ways to improve their photography. It was a wonderful adventure. I hope I have the opportunity to tour with Capture the Atlas again.
South & North Iceland Tours

I joined Capture the Atlas in Iceland in September 2021 for the consecutive North and South tours. It was a trip of a lifetime. Jam-packed days and unbelievable (and otherworldly) sights. Before the trip, I didn't even know how to turn my camera on to manual settings. However, with their expertise and constant patience, I really upped my skill level. I loved how they REALLY knew the area. They were very knowledgeable about the best accommodations and hidden gems that we would never have seen or found if we had selected another company or tried to visit on our own. You will never regret joining any of Dan's trips (I know we don't) and I know that I will once again come home with great memories and amazing photos.
South & North Iceland Tours

If I had to join a photo tour again, I wouldn't hesitate to repeat this trip with Capture the Atlas! In addition to the organization, the accommodations, the places...you have the feeling of traveling with friends, where we all learn from each other and the guides are very close and familiar creating a small family. We were a group of different ages and levels and none of that prevented the coordination from being excellent. In addition, Dan adapted and made the necessary changes in the schedule if the weather wasn't the best, and thanks to that we could see and photograph the Northern Lights! Thanks again to Ascen and Dani. Highly recommended!

Excellent trip. I highly recommend it to anyone looking for a "different" vacation and photography learning experience. The views of waterfalls, volcanos, geysers, glaciers, etc. are superb. Dan helped me get my images to another level. Iceland should be on your bucket list, especially with Capture the Atlas. The guys are very knowledgeable about photography and how to organize the trip.
South & North Iceland Tours

On my recent photo tour to Iceland, not only was I able to see the Northern Lights, but I also was able to photograph them thanks to Dan's tutelage and patience! I returned home with not only amazing pictures but also renewed enthusiasm for photography. Dan's passion for photography and landscapes is unequivocal.

Dan was a great host on my recent Photo tour of Southern Iceland. He is an excellent photographer and was energetic in his effort to get our group to so many great sites to photograph. I had great comrades along, which made the journey even more enjoyable. Would I make this trip with Capture the Atlas again? In a heartbeat!

Traveled with Dan on the South Iceland tour, September 2021. We had six "photographers" on the tour of varying experience and Dan was exceptional at working with us on our level. He was also accommodating by changing the timing of the itinerary due to the weather and the eruption of the volcano. The tour included, as advertised, some hiking to remote places to capture some unique photos. The weathered dictated times to get out to see the Aurora and sunrises which were all impressive.

Dan & Ascen drove almost 2,000 km's to bring us to all the locations for photo shoot's. There was fabulous enthusiasm amongst the group. We witnessed amazing landscapes and seascapes. Dan made it all possible, the "Dancing Northern Lights" would not be missed on this tour. There was a good choice of accommodation & restaurants.

I took the 2019 Iceland trip. Dan, the group leader, has been to Iceland many times and is knowledgeable on the best photo locations on the island. In addition to the well-known, must-see locations, he also took us to some less-visited locations that were also worthwhile. It is also a plus to have a tour guide who is knowledgeable about lodgings, restaurants, grocery stores, etc. in the area. One bucket-list item for all of our group was to see the Northern Lights. After several days of rain and overcast skies, Dan revised the schedule and drove to locations on the island where we were able to get two nights of good Northern Lights viewing. Dan and Ascen were attentive to the needs of the group, whether for photography advice, accommodations, meals, etc. I highly recommend them and would travel with them again.
Patagonia is one of the most spectacular and photogenic mountain regions in the world for good reason; here, you can see everything from towering peaks and enormous glaciers to glittering rivers and waterfalls, and some of the most dramatic light in the Andes.
During the fall, the forests feature a unique display of colors, which adds the perfect touch to any landscape photo. Here, you can also expect to see some of the darkest skies in South America when the wind blows away the clouds.
We have crafted this Patagonia photo tour so you can visit, explore, and photograph all the best locations in this magical region during the best moments of light. All our guides and team will focus on you and your photography during this special trip.
Are you ready for this adventure?!