Horseshoe Bend, in Arizona, can be a very interesting stopover during your American West Coast trip. Located in Page, Horseshoe Bend and Antelope Canyon can be visited on the same day since the distance between these two natural wonders is very short.
As you will find all the information to visit the Antelope Canyon in this post, in this guide, you will find all the important information about Horseshoe Bend Page.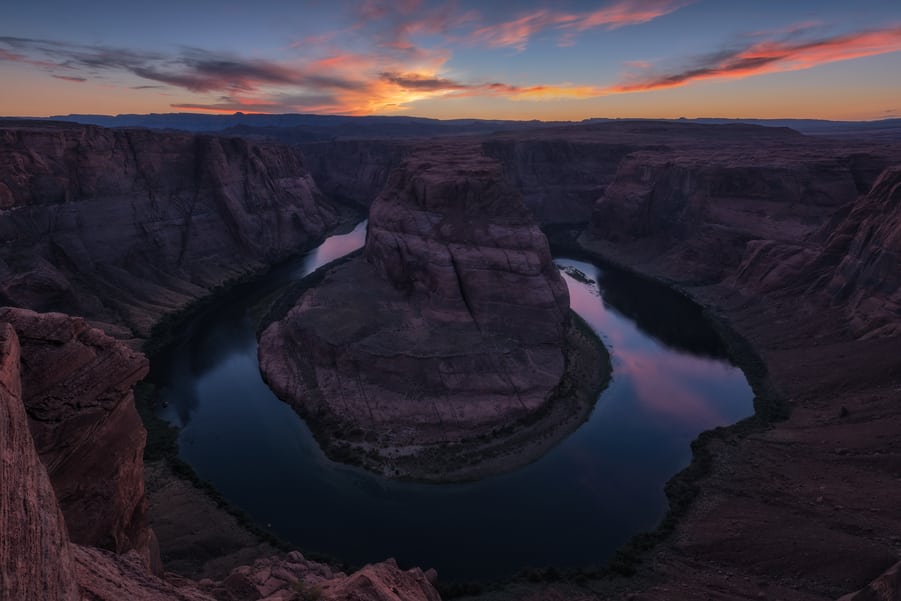 For us, it was one of the most surprising places during our 10-day West Coast USA road trip. You have probably already seen hundreds of images of Horseshoe Bend Canyon, as it is the most popular bend of the Colorado River. However, no picture can do justice to how amazing it is. If I had to define what is Horseshoe Bend with a single word that would be IMPOSING.
The height of Horseshoe Bend on the Colorado River is 300 meters (984 feet). The vertigo that you feel when close to the edge, is something impossible to describe and is perhaps one the reasons why there are victims who die from falling off every year.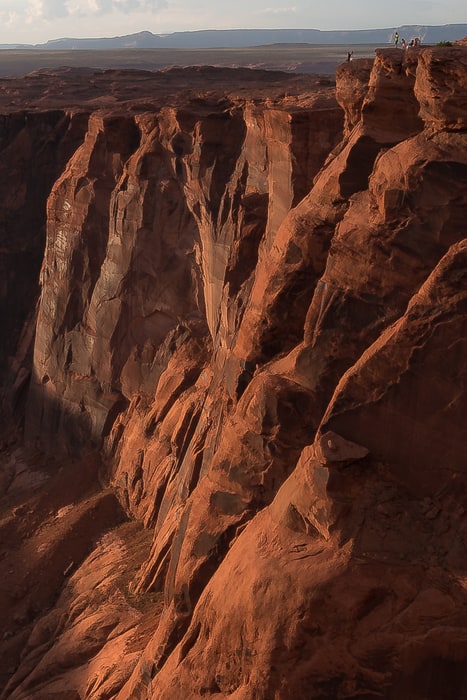 In this guide to visiting Horseshoe Bend you will find:
HOW TO GET TO HORSESHOE BEND
Horseshoe Bend is located next to Page. To get to Horseshoe Bend, simply:
From Page, take the Route 89 towards South
After driving about five miles down the road, you will see a sign that says "Horseshoe Bend Overlook", where you will find the parking lot.
Parking lot at Horseshoe Bend is $10. Although it is quite extensive, you may still have to wait to get a spot if you visit Horseshoe Bend during high season.
HOW far is HORSESHOE BEND FROM THE PARKING LOT?
From the Horseshoe Bend parking lot, you will walk 10 minutes along a 0.6-mile dirt path. Although the path is short, it can be hard, especially during mid-day in the summer. I recommend taking plenty of water with you since there is no way to get water supplies on the trail.
In addition, you probably might be interested to know how to get to Horseshoe Bend if you are traveling from Las Vegas or from the Grand Canyon:
HORSESHOE BEND FROM LAS VEGAS
In addition to there are plenty of things to do in Las Vegas, the closest airport to Horseshoe Bend is here, so almost all travelers pass through this city sooner or later. Besides, you can find one-day Horseshoe Bend tours from Las Vegas like this one. If you are in a hurry and don't want to drive, it is undoubtedly one of the best day trips from Las Vegas.
If you prefer to visit Horseshoe Bend on your own, you can hire a car in Las Vegas (or traveling around the USA by motorhome). The distance between Horseshoe Bend and Las Vegas is a 280 miles drive, which takes about 4 hours and a half to get to. If you are choosing this option, check the best areas to stay in Las Vegas here.
Also, you may find interesting our guide on how to get cheap rental cars.
HORSESHOE BEND FROM THE GRAND CANYON
There is a 130 miles distance between the Grand Canyon and Horseshoe Bend, which takes about two and a half hours. You can visit whichever you prefer first, but I highly recommend including these two wonders in your West Coast trip. If you plan to visit the Grand Canyon, reserve at least two days. You can also check where to stay inside the Grand Canyon here.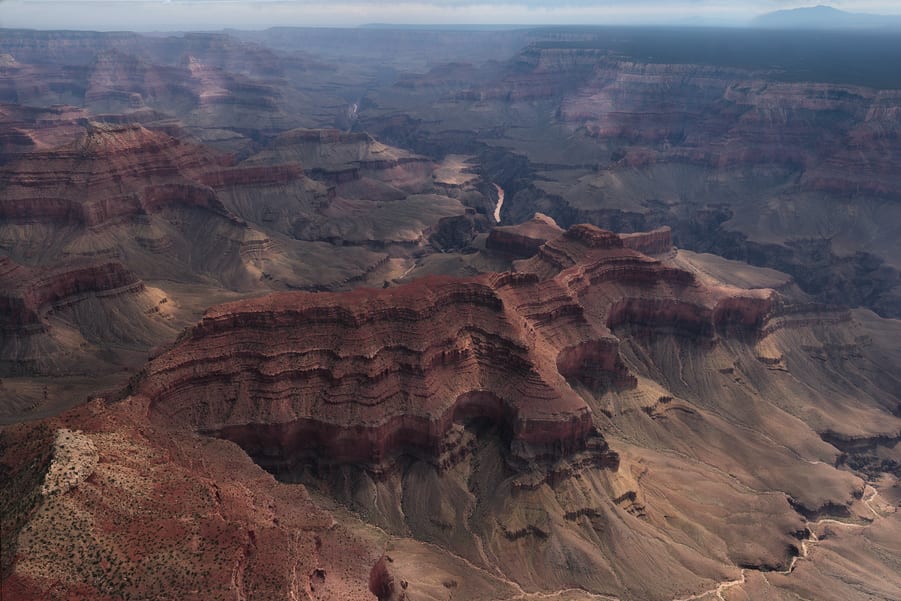 VISITING HORSESHOE BEND 
Many people wonder how much Horseshoe Bend tickets cost. Although visiting Horseshoe Bend is free, you have to pay to park, which for conventional vehicles it costs $10 during the Horseshoe Bend opening hours.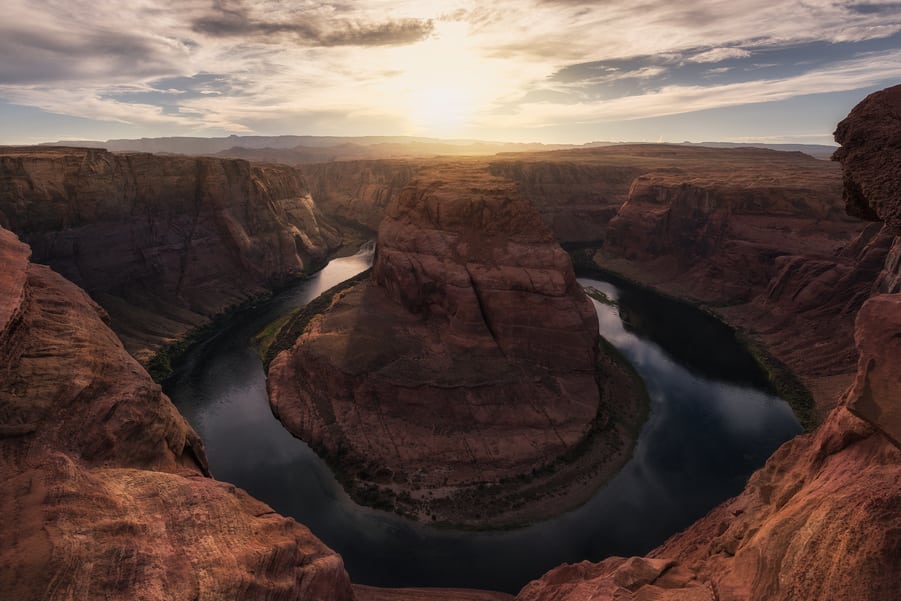 DEATHS IN HORSESHOE BEND AND THE FENCE

Due to many fatal accidents in Horseshoe Bend, the authorities are carrying out a project to fence Horseshoe Bend and prevent other tourists from falling off the cliff when they try to take photos of or an unforgettable selfie with Horseshoe Bend.

Luckily, we did not see any accidents, but it was scary enough to look down the cliff and find different tripods and other photography gear pieces that fell down at some point, not sure if together with their owners.

Our curiosity led us to investigate a little more, and we learned that there are 2 to 3 deaths per year in Horseshoe Bend, mostly by people taking selfies.

Although my recommendation is always to buy the best travel insurance, taking into account the cost of healthcare in the United States, I advise you to carefully review all the coverages.

Horseshoe Bend is amazing, but dying from taking a picture is not worth it anywhere in the world, so please be cautious.
BEST TIME TO PHOTOGRAPH HORSESHOE BEND
After pointing out the security issue, we will now tell you the best time to visit Horseshoe Bend so you can come back with the best pictures in your camera.
If you want to take the best pictures of Horseshoe Bend, sunset will likely give you the most stunning lights. The sun hides behind Horseshoe Bend at sunset, so we can take pictures with the sun setting over the horizon.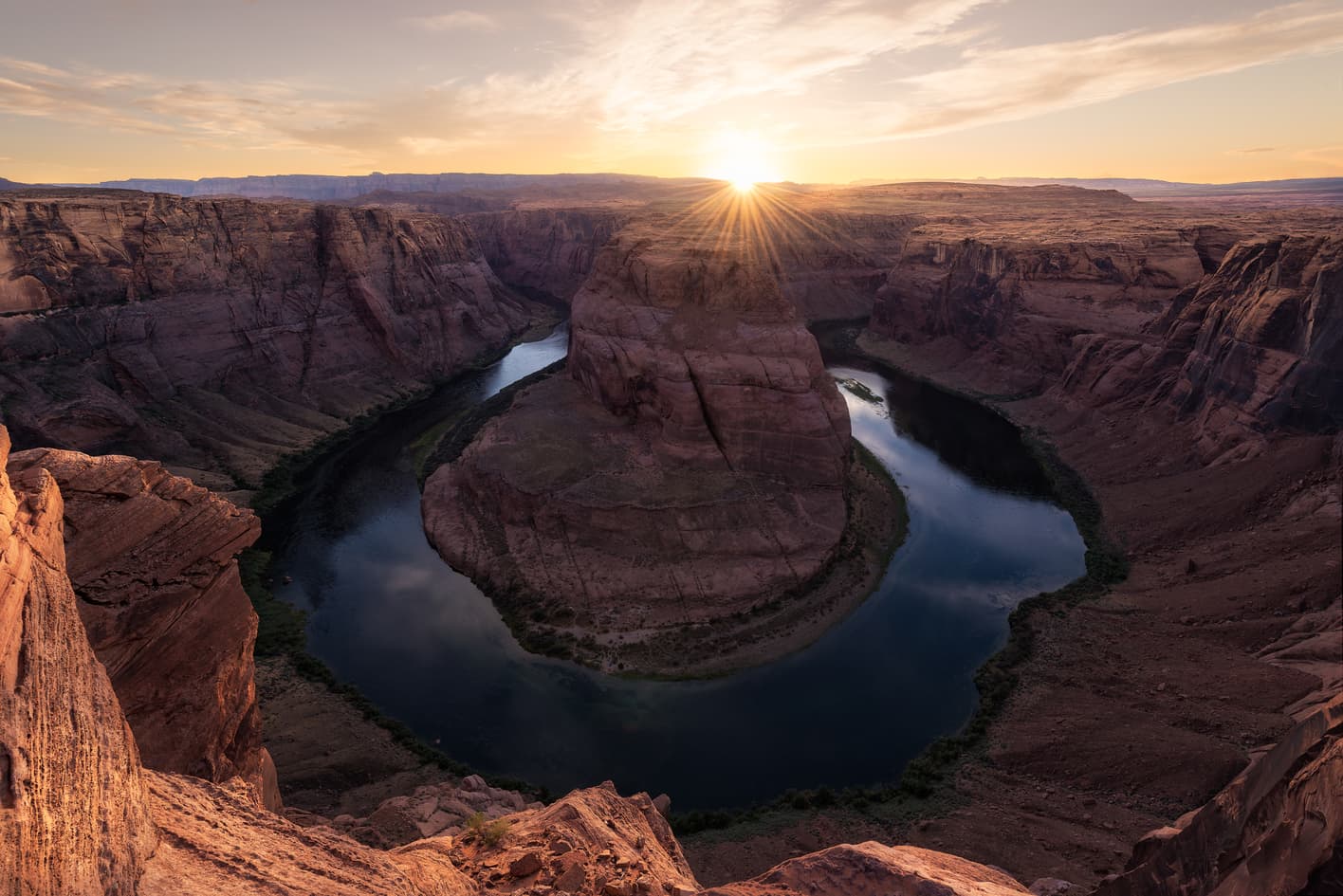 If you visit Horseshoe Bend at dawn, you can also enjoy beautiful lights on the reddish "Colorado Plateau" stone of Horseshoe Bend and it is a very good option if you do not like crowds that are concentrated in this location at the end of the afternoon.
OTHER THINGS TO DO IN HORSESHOE BEND AND SURROUNDINGS
At first, it may seem that there aren't many interesting things to do or visit near Horseshoe Bend. However, there are other more original ways to see Horseshoe Bend, along with other activities in its surroundings.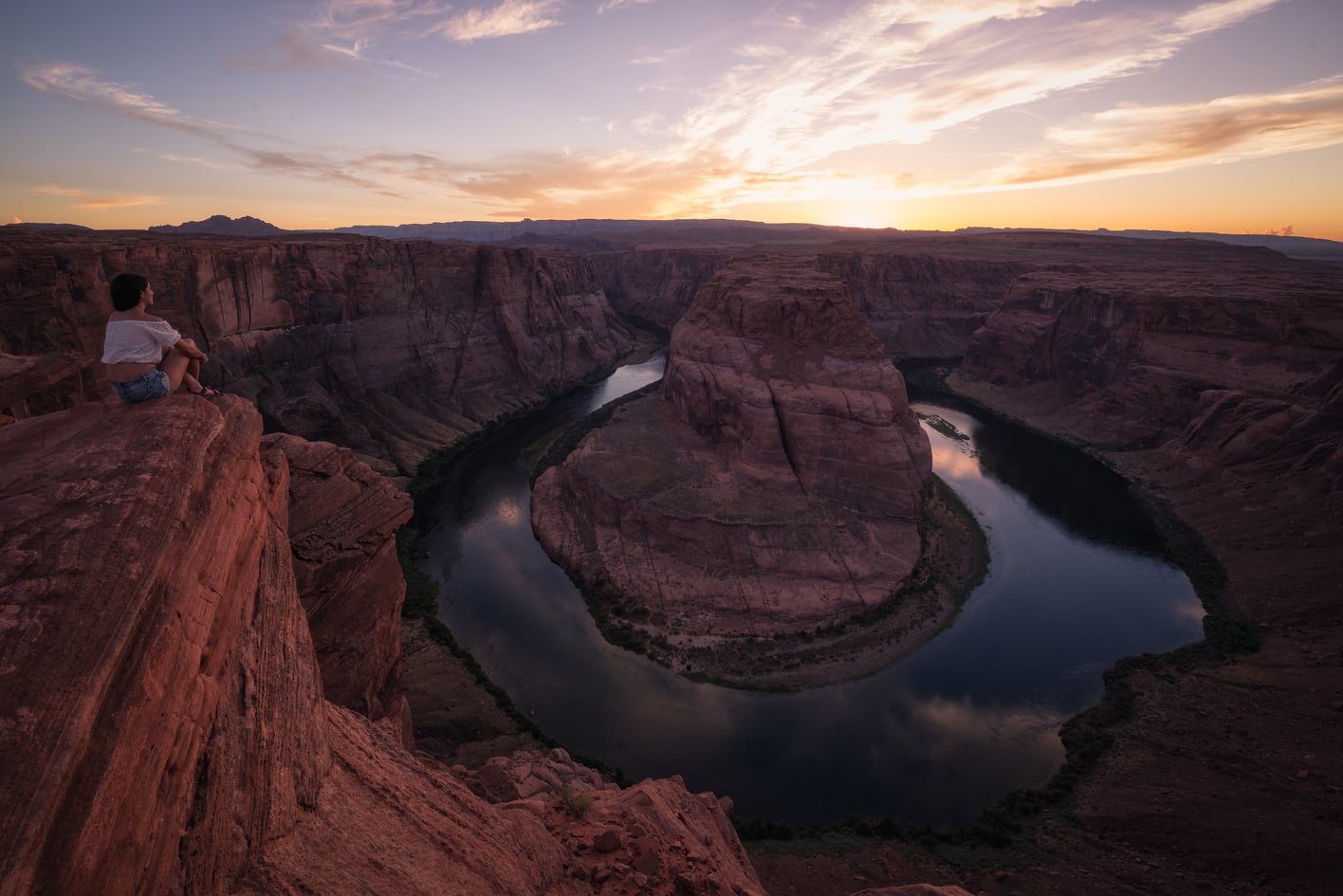 FLYING OVER HORSESHOE BEND AND LAKE POWELL
If you want another perspective, you can book a Horseshoe Bend helicopter tour like this one.
This tour is offered from the heliport located in Lake Powell. In addition to seeing Horseshoe Bend from the air, you will also fly over Lake Powell.
The tour takes about 30-40 minutes and it is necessary to book it in advance with Papillon, the only company that offers this tour.
We haven't flown over Horseshoe Bend yet, but we have taken two helicopter tours with this company, a Grand Canyon helicopter tour and a helicopter tour from Las Vegas to see the Strip at sunset, and both experiences have been overwhelming so I fully recommend you to take a tour with Papillon. We have even written a Papillon Helicopters review that I recommend you to read before you book with them.
RAFTING
Another way to visit Horseshoe Bend is hiring a float boat tour. This tour takes half a day, starting from the Glen Canyon Dam to Lee's Ferry passing through petroglyph beach, Vermillion Cliffs, and of course, Horseshoe Bend.
This tour is offered only by one company, Wilderness River Adventures. As this stretch of the Colorado River is quite calm, the Horseshoe Bend Rafting tour is a good option for families traveling with children over 4 years old.
KAYAK IN HORSESHOE BEND
If you prefer to do it on your own, there are also companies that rent kayaks in Horseshoe Bend. We discovered this option from the Horseshoe Bend overlook, when we saw two kayakers at the bottom of the horseshoe setting up camp and making a bonfire to spend the night. Can you see them in the next photo?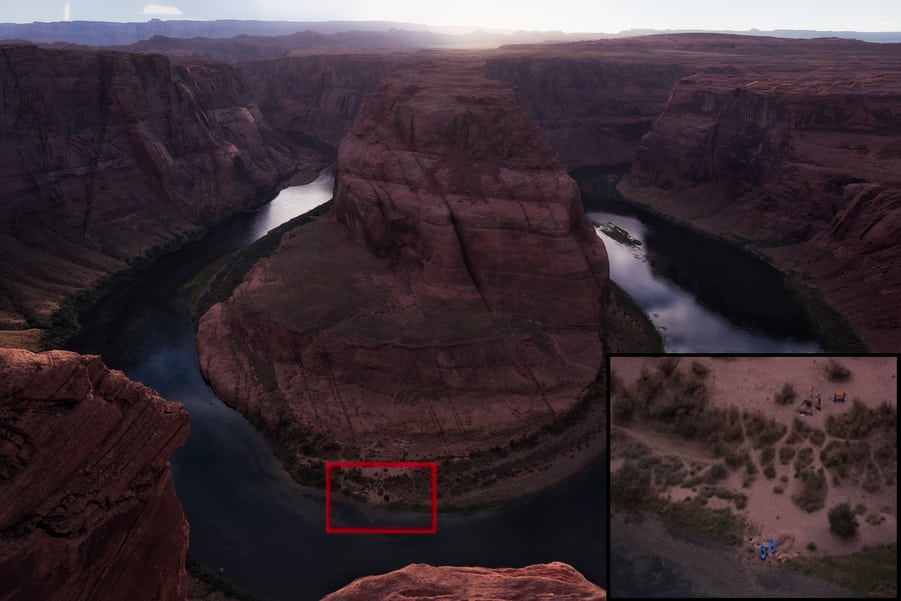 From that moment, we decided that we will navigate the river bed of Colorado on our next visit to Horseshoe Bend.
One of the companies who rent kayaks in Horseshoe Bend is Kayak the Colorado.
HORSESHOE BEND SLOT CANYON
Another thing you can do around Horseshoe Bend is to visit Secret Canyon, better known as Horseshoe Bend Slot Canyon.
This canyon is quite similar to Antelope Canyon but is less well known, so it is a good way to keep from the large concentrations of visitors that fill Antelope Canyon every day.
Although the price is more expensive, if you want to enjoy a canyon with amazing formations in almost total solitude (groups of 6 people maximum) where the guide gives you all the time you need to take pictures, this is the best option.
The canyon is located inside the Navajo Indian Reservation, which we have mentioned in our Monument Valley Guide. In addition, it is placed within the private property of a Navajo Indian family who are the only ones operating this tour. You can find more information about this canyon on their website.
ANTELOPE CANYON
And finally, we could not miss mentioning Antelope Canyon again, as it is something very interesting to see around Horseshoe Bend despite the crowds.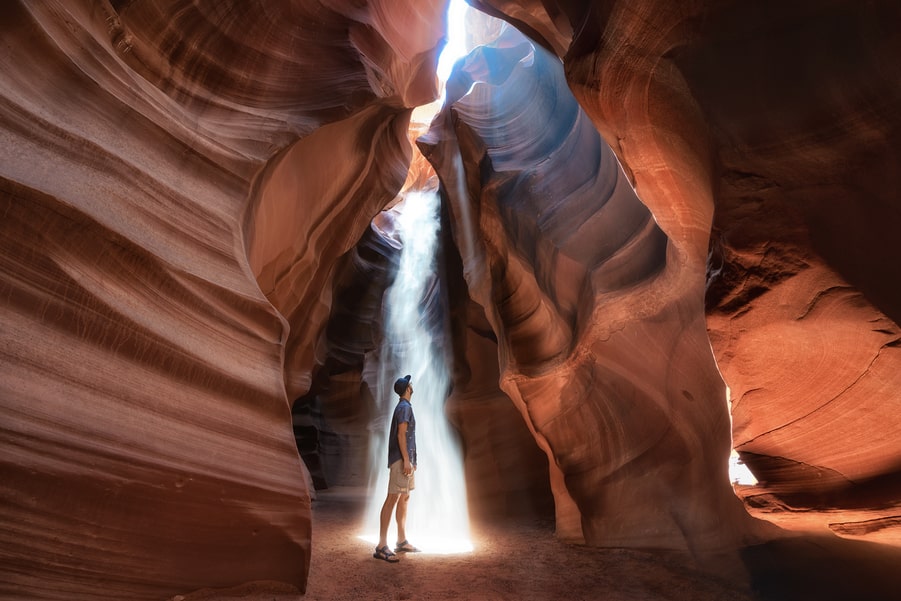 We visited both the Upper Antelope Canyon Tour and the Lower Antelope Canyon Tour, as mentioned in our guide to visit Antelope Canyon.
Although we already wrote a guide to know where to stay in Page, in this section we recommend the best accommodation near Horseshoe Bend.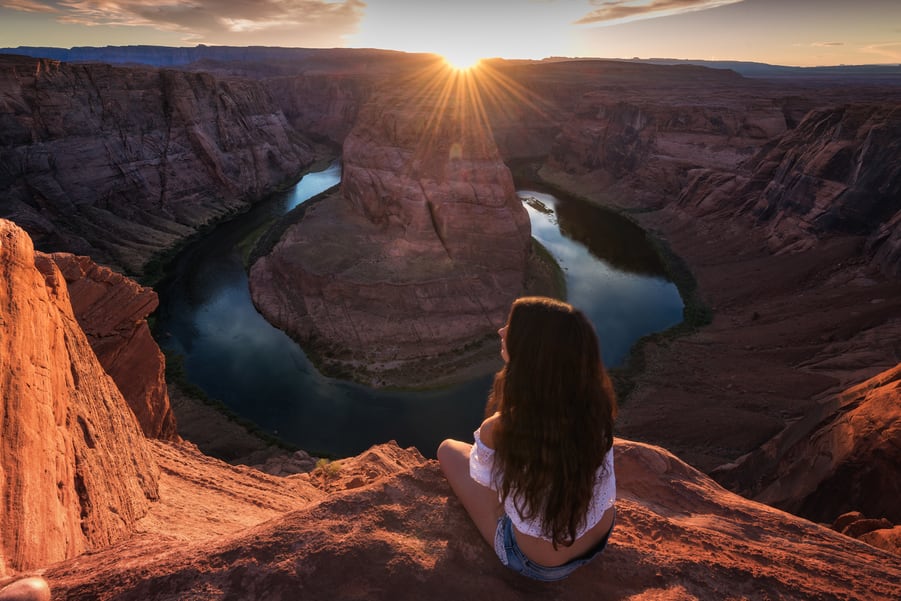 Page Lake Powell Antelope Canyon Campground is the best choice if you want to go camping in Horseshoe Bend. They have both tent camping and motorhome sites.
If camping is not your thing, these are the best hotels near Horseshoe Bend:
Country Inn & Suites by Radisson: This hotel is located on the way to Horseshoe Bend from Page, making it one of the best options. It is also the best rated on Booking.com.
Hyatt Place Page Lake Powell: Located in the center of Page with a very good rating by the guests. You will have to book it well in advance.
HORSESHOE BEND on THE MAP
With this map of Horseshoe Bend and surroundings, we finish this post. We hope you find this article interesting and that it helps to make your Horseshoe Bend visit unforgettable.
DO NOT HESITATE TO LEAVE A COMMENT IF YOU NEED ANY OTHER INFORMATION ABOUT HORSESHOE BEND. WE WILL BE HAPPY TO HELP.