With a Heymondo discount, you can save even more on your travel insurance policy. Heymondo is one of the best travel insurance companies on the market, so if you haven't tried them yet, now is your chance to do so at a discount. And the price can go from 5% off to 15% off depending on if there is a special discount active.

5% OFF your travel insurance
We've been using Heymondo for several years now, and we have only positive things to say about it. Along with its excellent price-to-coverage ratio, the company is the only one that pays all medical expenses upfront; and offers great benefits and wonderful customer service.
Add to that the Heymondo promo code you can get just for being our reader, and it's a no-brainer. Of course, if you need more convincing, keep reading to see how to apply the Heymondo discount code, the types of insurance you can use it on, and other tips for maximizing your savings.
If you're looking for even more insider secrets, check out our article on the best travel deals, which can save you money on flights, hotels, rental cars, and more.
Heymondo discount code for 5% off
If you're already familiar with Heymondo travel insurance and want to cut to the chase, you can get a 5% discount on Heymondo by clicking on this link.
Just sign up for a HeyMondo policy using the link above, and your discount will automatically be applied. As you will see, there will be a banner at the top showing that you have a 5% discount on HeyMondo for being a Capture the Atlas reader. Furthermore, when you have entered all your data and HeyMondo generates the different quotes, you will see the original price crossed out with the discounted price above that, which is what you will pay for your insurance.
Heymondo discount code for 15% off (only active on specific dates)
Throughout the year, our HeyMondo discounts will boost your savings even more. We have special offers for Black Friday, Spring Break, and a summer promotion in July in which you can get 15% off your policy for being our reader when purchasing your travel insurance through our link.
Plus, it doesn't matter when your travel dates are as long as you buy the policy during the promotion period. If the 15% off deal isn't active when you make your purchase, you'll still get 5% off for using our link.
Heymondo promo code – Eligible insurance types and coverages
You can apply the Heymondo coupon code to any of the company's travel insurances, including single-trip, annual multi-trip, and long stay coverage.
Below, you can see the types of travel insurance that you can use the Heymondo promo code on:
Discounted Heymondo single-trip insurance policy
Single-trip travel insurance is the most popular coverage for occasional travelers. It covers emergency medical expenses for injuries or illnesses in your destination country, as well as repatriation, early return, and baggage loss/delay/damage, among other things.
The HeyMondo discount applies to all three tiers of HeyMondo's single-trip insurance: Top, Premium, and Medical.
Again, this is the most common type of coverage for people traveling alone or with a companion, so don't miss your chance to save 5% using this link.
If travel insurance is still out of your budget even after using this Heymondo promo code, take a look at our guide to the best cheap travel insurance.
Discounted Heymondo annual multi-trip insurance policy
Annual multi-trip insurance is designed for frequent travelers, whether they're taking a trip for business or pleasure. This type of insurance covers all trips made over the course of a year, as long as each trip is no longer than 60 days.
You can use our 5% HeyMondo discount code on this annual multi-trip insurance by clicking this link.
If you want more information about the best annual travel insurance before you purchase, we have an article on that specific topic.
Discounted Heymondo long stay insurance policy
Long-stay travel insurance is for people who are going to be outside their home country for more than 90 days but less than a year. It's a good type of coverage for travelers who are working or studying abroad, or those who plan on taking an overseas trip for a few months.
This type of insurance is also eligible for the 5% HeyMondo discount, so if you're interested, be sure to use the link below. And if you want more insight into long-stay travel insurance, check out our detailed guide.
If you'd like more info about the different types of insurance coverage that's available, we have specific guides you can check out. Remember, travel insurance is worth it, always!
How much is the Heymondo travel insurance with and without the promo code
To give you a clearer idea of the price for insurance with and without the Heymondo discount code, I've created a comparison chart for a Canadian tourist traveling around the world. In it, you'll see the prices for single-trip, annual multi-trip, and long-stay insurance with and without the HeyMondo discounts.
Price without discount

Capture the Atlas HeyMondo discount

Capture the Atlas Special HeyMondo discount (special dates only)

Single-trip insurance (1 week)

$29.59

$28.11 (5%)

$25.15 (15%)

Annual multi-trip insurance

$231.81

$220.22 (5%)

$197.03 (15%)

Long-stay travel insurance (3 months)

$257.41

$244.54 (5%)

$218.79 (15%)

HEYMONDO INSURANCE PRICES WITH & WITHOUT DISCOUNT
*Prices are in USD
If you're able to purchase a policy during one of the special promotion dates, you can get up to 15% off your Heymondo travel insurance, which is a pretty great deal.

5% OFF your travel insurance
How to get the Heymondo discount
Remember, to get the Capture the Atlas HeyMondo discount, you must go through this link. When you're on the Heymondo homepage, you should see a banner at the top referencing the Capture the Atlas discount.

Then, click the green "Start a quote" button and follow the prompts, which ask you about your trip, including your country of origin, your destination, and your travel dates. Enter a valid email address and check the box that indicates you have read and accepted the privacy policy.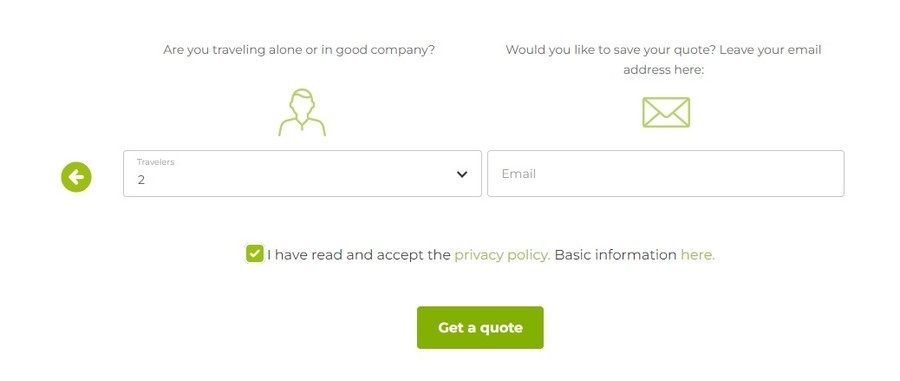 Click "Get a quote" to be redirected to the pricing page. The 5% Heymondo discount is applied automatically, so you'll see the original plan price, which is crossed out and replaced with your price using the Heymondo promo code. If you're traveling with others, you'll see the price per person, as well as the total price, which is the larger number at the top.
If you have any issues, reach out to us so we can help you out and make sure you get your discount on Heymondo insurance.
Check other travel insurance companies before using the Heymondo discount
It's really that easy to apply the HeyMondo coupon code. However, I didn't want to leave you without explaining why I honestly believe that HeyMondo is one of the best companies you can insure your trip with.
I can speak from experience when I say that you'll be in good hands when you purchase a Heymondo policy. We've had to use our travel insurance a few times over the years, which I'll tell you about in a bit. For now, I want to give you a quick overview of HeyMondo compared to other top travel insurance companies on the market right now.
Price

$70.59

$22.54

$84.05

$76.00

$70.09

$85.92

Deductible

$0

$250

$0

$0

$0

$0

Medical Expenses Paid Upfront

✔️

❌

❌

❌

❌

❌

Emergency Medical

$250,000

$250,000

$250,000

$15,000

$50,000

$15,000

Repatriation

$500,000

$100,000

$500,000

$100,000

$200,000

$150,000

Trip Cancellation

$3,500

Not covered

100% of $2,500*

100% of $2,500*

100% of $2,500*

100% of $2,500*

Trip Interruption

$2,500

$5,000

150% of $2,500*

100% of $2,500*

100% of $2,500*

100% of $2,500*

Baggage Loss

$1,700

$3,000

$1,500

$500

$750

$750

Accidental Death

$10,000

$25,000

$25,000

$10,000

$20,000

$30,000

BEST TRAVEL INSURANCE COMPANIES
As you can see, HeyMondo stands out because it's the only travel insurance company that pays all medical bills upfront so there are no out-of-pockets expenses for travelers. It also offers the most coverage for medical expenses, repatriation, baggage, and more. It's also one of the most affordable options, on par with Trawick International. That said, HeyMondo offers more emergency medical and baggage loss coverage, and pays medical expenses upfront. SafetyWing is much cheaper than HeyMondo, but also offers much lower coverage and has a $250 deductible per claim. Besides, if you use our HeyMondo promo code, you'll save even more, so I think it's well worth it.
If you'd like to dig deeper into a comparison of the best insurance policies for travelers, I recommend reading our complete guide.
My experience using HeyMondo travel insurance
Over the years, we've had to rely on our Heymondo insurance, and the company has always made things as easy as possible. As soon as a discount for HeyMondo became available, I knew I had to share it with our readers.
Our insurance coverage became even more important during the last year since we've been traveling full time. We've had to use it more than I anticipated, but fortunately, we were in good hands because Heymondo offers excellent coverage and some of the best customer support we've ever experienced.
These are a few of the most remarkable mishaps we've had while traveling, and how Heymondo helped us out:
We recently had a pretty scary incident, and while it's a difficult story to tell, it's a great example of how our insurance coverage helped us out, big time. We were in Peru doing a 5-day boat tour of the Amazon. Just 10 minutes before arriving back at the port, our boat was caught in some intense rapids, and in a matter of seconds, it capsized, tossing all the passengers and their luggage overboard. Fortunately, we didn't need medical assistance, but we lost two laptops, two professional cameras and a bunch of lenses, a hard drive with all our photos from the past six months of traveling, and our passports. This would have been a devastating loss, if not for our insurance. HeyMondo was there for us right away, helping us connect with the Spanish embassy in Cusco so we could return to Spain. Our policy also included $750 in electronic equipment per person, which was a huge help for us, allowing us to buy all the stuff that our camera equipment insurance didn't cover.
In Alaska, we had a drone accident. It collided with a tree and fell on me, cutting up my hand pretty good. I thought I was going to bleed out right there, so Dan, seeing how scared I was, took me to the nearest medical center. We were both so nervous that it didn't even occur to us to call HeyMondo. However, once we saw the $3,000 medical bill, we contacted HeyMondo, and it took less than two weeks for the company to reimburse us. We learned our lesson: if you want them to pay upfront, call HeyMondo to arrange the payment BEFORE you receive medical assistance.
During a trip through Ecuador, Dan suffered some stomach problems. We contacted HeyMondo through the 24/7 support app and within 10 minutes, we were at the hospital, where Dan was hooked up to an IV and received medication. Since we had contacted HeyMondo ahead of time, they had already taken care of the payment, so we didn't have to pay anything out of pocket.
We had another trip in which our flight was canceled and there were no alternate flights available until the next day. HeyMondo came to the rescue, covering the price for a hotel and a per diem for meals.
We had a client on one of our photography tours who sprained an ankle, and HeyMondo covered all the medical expenses upfront, which was a huge stress reliever.
During the pandemic, we had to cancel two trips because we tested positive for the virus just a week before our departure date. HeyMondo refunded us for the flights we couldn't take and the hotel bookings we couldn't cancel.
These are just some of the times when we've had to use HeyMondo. While I hope you never have to deal with these scenarios, I'm sure that if you do, you'll be treated with kindness and respect. The customer support team has always responded quickly and acted very professionally, making us feel safe and cared for during our trips.

5% OFF your travel insurance
Advantages of HeyMondo that make this insurance company the best option
Given all my experience with using this insurance company, I want to give you an overview of its benefits, which apply no matter which type of coverage you use your Heymondo discount on.
Medical expenses paid upfront
First, one of the main advantages of HeyMondo is that it covers your medical expenses upfront. So, if you do have to go to a hospital or medical center, all you have to do is contact Heymondo, and they'll tell you where to go. By the time you get there, they will already have taken care of arranging the payment of the bill directly with the center.
If you're in a rush and you go to the hospital before contacting Heymondo, you'll have to pay the medical bills out of pocket. That said, you can get a reimbursement from HeyMondo as long as you save all the invoices and medical reports.
24/7 travel assistance
Another awesome perk of traveling with HeyMondo is that you'll have access to its 24/7 customer support service. Regardless of which country you're going to, you'll be able to get in touch with a representative who can help you out, even on holidays.
Telemedicine service
Heymondo's telehealth service operates 24 hours a day and is completely free for customers. Through this service, you can get in touch with doctors and medical specialists via chat. They'll be able to give health advice, consult your test results, offer second opinions, and answer any questions about medication and symptoms.
HeyMondo app
The HeyMondo app is a nifty tool that allows you to manage your policy and access documents with the touch of a button. With the app, you can access the 24/7 medical chat, request assistance, and manage incidents. The app is available through Google Play and the App Store.
Flexibility
Another nice thing about HeyMondo is that it strives to adapt to the needs of each traveler. In other words, you'll find everything from coverage for occasional trips to long-stay travel and multi-trip insurance for several adventures throughout the year. Even if you're already traveling, you can still purchase a discounted Heymondo insurance policy.
Extensive coverage
HeyMondo also has some of the highest coverage limits for medical expenses, so it's ideal for travelers who are going to countries like the United States or Japan, where healthcare is extremely expensive. Moreover, compared to other insurance companies, HeyMondo offers a high level of coverage for other things like repatriation and baggage loss.
Electronic equipment coverage
As I learned during our trip to Peru, most of HeyMondo's insurance policies cover electronic equipment. If you're traveling with a laptop, tablet, or camera, you'll be covered for any damage that occurs during the trip. Some of the policies even give you the option to expand the amount of electronics coverage.
Adventure sports coverage
This is also one of the few travel insurance companies that covers accidents that occur while practicing adventure sports. That said, if you plan on engaging in high-risk activities and sports, I recommend double-checking the conditions of your policy since there may be some exclusions.
COVID coverage
If you come down with COVID-19 during your trip, HeyMondo will cover the costs for testing and medical treatment. Your policy will also cover trip cancellation as a result of contracting the virus. In fact, Heymondo was one of the first travel insurance companies to cover COVID, setting the example for other insurers.
Cruise coverage
Finally, most types of Heymondo insurance cover cruises, which is something that most insurers only offer as an extra. If you want cruise coverage, make sure you purchase the Heymondo Premium plan using our Heymondo discount.
Heymondo reviews from other travelers
I've told you how I feel about HeyMondo, but I think it'll also help to see some reviews from other travelers. Here are a few examples of other customers' experiences and their opinions of the company.
This is a review from a client who got sick in Mexico and had their medical expenses covered by Heymondo. The company also took care of his flight delay, which was caused by his hospital stay.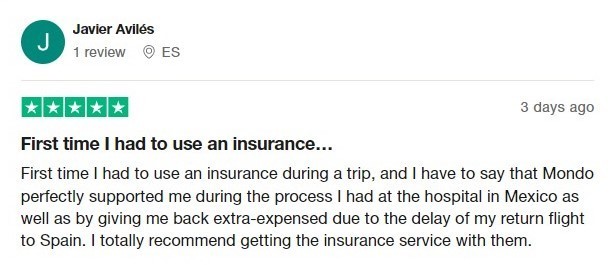 Here is a review from a customer who had to reach out to HeyMondo for a change in her policy. She was pleased with how quick, efficient, and courteous the HeyMondo support team was.

Of course, every company deals with some negative reviews, such as this one: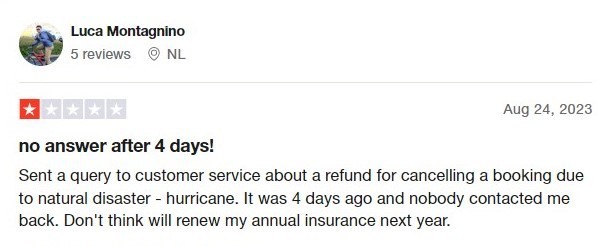 To which Heymondo politely responded: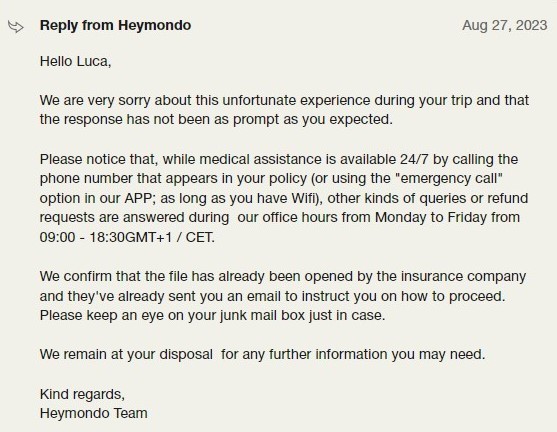 You can find more positive and negative reviews on the Trustpilot website, where HeyMondo has an excellent rating of 4.5 out of 5 stars, based on 1,841 reviews.
Maximize your Heymondo discount with other travel deals
I always recommend purchasing travel insurance since anything could happen while you're on vacation, and it could end up costing you a lot. Don't forget to use our Heymondo discount and to look through our guide on travel discounts, where you can find more deals on flights, hotels, rental cars, and more.
We have other helpful guides with more tips and tricks to save you money while traveling:
FAQs – HeyMondo discount for travel insurance
Now you have all the information you need about the Heymondo discount and why this travel insurance is one of the best on the market. To finish up, here are some common questions that you might have, answered:
That's everything! I hope this guide helps you decide if this is the right insurance for you, and that if it is, you enjoy a sweet discount on Heymondo coverage. Remember to use this link to make sure you automatically get 5% or 15% off your policy.
If you have any questions or you run into any issues while trying to apply the HeyMondo discount code, leave me a comment below so I can help you out.
Stay safe and enjoy your trip with greater peace of mind!