With so many incredible things to do in NYC, many tourists, especially first-time visitors, don't even know where to start. We've been lucky enough to have spent several years living just a couple of hours from the Big Apple, so we can tell you what to do in NYC, no matter your interests.
NYC FIRST-TIME VISITOR TIPS
Save yourself the stress and schedule this

transfer to your hotel

in advance, which you can book no matter which airport you're arriving in.
This free tour

takes you to some of the coolest places in NYC and is a good starting point to discover the city.
In this guide, I'll share 25 fun things to do in New York City, including popular tourist attractions and some hidden secrets that most visitors don't know about. At the end, I'll give you some hotel and food recommendations, as well as some other activities you may want to check out if you have extra time.
So, get ready to take a bite out of the Big Apple!
1. Go across the Brooklyn Bridge, the best thing to do in NYC
You can find the best views in NYC for free by visiting the Brooklyn Bridge. This landmark is a must-see in NYC, whether you walk, jog, drive, or bike across it. This massive attraction is over 130 years old and, at 6,000 feet, was the world's longest suspension bridge from 1883 to 1903.
As you travel across the bridge, you'll get stunning views of the skyline and the Brooklyn Bridge Park below. One of NYC's best parks, Brooklyn Bridge Park overlooks the East River and hosts a variety of events and festivals throughout the year. Each of the park's piers features different attractions, including playgrounds, sports fields, green spaces, and a carousel.
While you're exploring the area, check out the Brooklyn Heights Promenade, a pedestrian walkway that offers a picture-perfect view of the Lower East Side.
2. The Statue of Liberty, a famous place to see in NYC
Another must-see in New York City is the Statue of Liberty, an iconic national symbol of freedom and opportunity. Lady Liberty stands proudly on Liberty Island, surrounded by the New York Harbor.
You can see the Statue of Liberty from Battery Park in Lower Manhattan, although I recommend taking a boat ride to Liberty Island. A cruise to Liberty and Ellis Islands is included in the New York Pass, or you can book this 4-hour tour, which should give you enough time to explore the islands and museums.
3. Central Park, another beautiful place to visit in New York City
If there's one place in New York City that's popular with both locals and tourists, it's Central Park. You could easily spend hours exploring this huge urban park, which is full of forests, lakes, playgrounds, waterfalls, and more.
Visiting the park is one of the best free things to do in NYC, although with so much to see, you should consider renting a bike or taking a Central Park bike tour. Bike rentals in Central Park are included in the New York Pass, too.
Here, you'll find attractions for kids, couples, and adults, making a visit to Central Park one of the best free things to do in NYC. Youngsters will love the playgrounds and the Central Park Carousel, while couples can enjoy a romantic boat ride on The Lake.
Keep your eyes peeled for sculptures throughout the park, too. If you're visiting in the winter, you can go ice skating at Wollman Rink, or, if you're here during the summer, have a picnic in one of the meadows. If it's culture that you crave, Central Park is dotted with museums and famous landmarks like Belvedere Castle and the Bethesda Fountain. No doubt why this is one of the most popular parks in New York City.
4. See the Empire State Building, a cool thing to do in New York City
One of the best attractions in NYC is the Empire State Building, so it's well worth a visit. It held the title of the world's tallest skyscraper from 1931-1970 and, with 102 floors, it's still among the top 10 tallest buildings in New York.
The Empire State Building has observation decks on the 86th and 102nd floors, and admission is included in the New York Pass (you can also book a skip-the-line ticket here). I recommend timing your visit for just before sunset so you can see the orange glow over the skyline. The view makes this one of NYC's best observation decks, as long as you're not afraid of heights!
5. MoMA, The Met, and other must-visit museums in NYC
New York is an iconic place for art, so I recommend visiting at least one art museum in the city. If history is more your thing, there are plenty of great options, and many New York City museums are included in the New York Pass:
The Museum of Modern Art (MoMA) displays works from the 1880s to today, including Van Gogh's Starry Night, Picasso's Young Ladies of Avignon, and The Persistence of Memory by Dalí. You can get a skip-the-line ticket here.
The Metropolitan Museum of Art contains over 2 million works spanning several continents and art movements, although the Roman and Egyptian galleries are very popular. You can get a skip-the-line ticket here.
The 9/11 Memorial & Museum honors the victims of the World Trade Center attacks with bronze inscriptions, two reflecting pools, and poignant exhibits. You can get a skip-the-line ticket here.
The Guggenheim is known for its collection of abstract and contemporary art, as well as its iconic rotunda built by Frank Lloyd Wright. You can get an entry ticket here.
The Whitney Museum of American Art is your go-to museum for 20th and 21st-century art, and you can purchase your admission here.
The American Museum of Natural History's exhibits teach visitors about biology, ecology, and geology. You can find a discounted entry ticket here.
The Intrepid Sea, Air & Space Museum at Pier 86 displays historical watercraft, military flight simulators, and the Space Shuttle Pavilion. You can get an entry ticket here.
Psss Some NYC museums are free some days a week, so don't forget to check out our article on free museums in NYC for more info.
6. Visit Times Square, something to do in NYC at night
If you're looking for something to do in NYC at night, you must check out Times Square. Here, you'll have the city's best entertainment, restaurants, and shops at your disposal.
Your first time here can be a bit overwhelming; the bright lights, billboard ads, and strange street performers are quite a sight. Some of the most popular NYC tourist attractions in Times Square include M&M's World, MTV Studios, Madame Tussauds, and the Red Stairs, where you can snag Broadway tickets for up to 50% off. Times Square also hosts the most famous New Year's celebration, although most people prefer watching it on TV at home, where it's much warmer!
Moreover, Times Square is a hub for all kinds of fun activities in NYC, so spend some time checking out the lively bars, restaurants, shops, and theaters.
7. Walk the High Line and see The Vessel
A fun alternative to the Brooklyn Heights Promenade is the High Line, which stretches 1.5 miles from the Meatpacking District through Chelsea. This elevated park and garden trail is an excellent way to explore New York City, and it's one of my favorite hangout spots in Manhattan.
The walkway sits on former train tracks and travels past several top attractions in NYC, including the Whitney Museum and Chelsea Market. Along the way you'll come across The Vessel, an avant-garde beehive structure overlooking Hudson Yards. I've never seen anything like it, so I recommend checking it out.
A walking tour of the High Line and its public art and gardens is included in the New York Pass, and it's a nice thing to do in NYC with family or friends.
8. Take a New York helicopter tour, the most romantic thing to do in NYC
It's one thing to know the best spots in NYC, but what about seeing them from a birds-eye view? A helicopter ride is one of the best NYC tours to take and something that will make your visit unforgettable.
There are several flight options available, although this basic tour is a good option if it's your first time and you want an overview of the city. It goes past Central Park, New York Harbor, and other famous landmarks.
However, my favorite one of all the tours I have taken is this doors-off helicopter tour which is ideal for photographers.
If you're looking for something special to do for an anniversary or date, this private helicopter tour is perfect for couples.
We have a guide with the top helicopter tours in NYC that I recommend you check out before booking your tour.
9. Go to Grand Central Station & the Chrysler Building, two places you can't miss in NYC
For a free way to experience the hustle and bustle of NYC, check out Grand Central Station. This iconic train terminal is over 100 years old and was built in the Beaux-Arts style, which you can see reflected in the Main Concourse's celestial-painted ceiling.
Around 100,000 people visit Grand Central per day, some of which are travelers and others that are visiting for the novelty of it. Besides serving as a hub for the city's subway and railway systems, the terminal houses dozens of shops, and restaurants, most notably Grand Central Market. It's also worth visiting Vanderbilt Hall, a lavish 1,100ft² event space.
Just a short walk from the terminal is the Chrysler Building, one of the most famous places in New York. Towering nearly 1,050 feet high, it's one of the city's tallest skyscrapers and an excellent example of the Art Deco style.
You can admire the building's architecture from several viewpoints, although my favorite is the Tudor City Bridge. If you can, you should visit during Manhattanhenge (the Manhattan Solstice), when the sun aligns with the city streets' grid pattern, creating an iconic photo opportunity.
10. See a Broadway show, something you must do in New York City
Without a doubt, seeing a Broadway show is one of the best things to do in NYC. With over 40 Broadway theaters in the city, you can find permanent productions as well as limited-time musicals and plays. If you're worried about the price of a Broadway ticket, you can find discounted seats at the TKTS Pavilion at the Red Stairs in Times Square. However, you can't always choose which show you'll see.
I doubt you'll see a Broadway show you don't like, although if you want the best of the best, the New Amsterdam Theatre, Hilton Theatre, Lyceum Theatre, and Belasco Theatre are top-rated venues. Splurging on dinner and show is one of the best things to do in NYC as a couple, or you can find a fun musical or play to see with the kids.
So far, we've seen Aladdin, The Lion King, The Phantom of the Opera, Wicked, and Chicago, and everything from the set design and the costumes to the acting was wonderful. You can find tickets to other shows here.
11. Rockefeller Center & Top of the Rock, a spectacular place to visit in NYC
Visiting the Rockefeller Center is another exciting thing to do in New York City. This famous complex is comprised of over a dozen commercial buildings, NBC Studios, and Radio City Music Hall. Built in the 1930s, the Art Deco-style structure is recognized as one of the greatest projects to come out of the Great Depression.
Moreover, this NYC landmark is known for its variety of indoor and outdoor attractions, including Rockefeller Plaza, which transforms into an ice-skating rink in the winter. Inside the Rockefeller Center, you can go to the underground concourse for all kinds of dining and shopping options.
Perhaps best of all, the Rockefeller Center is home to one of the best observation decks in NYC, the Top of the Rock. This multi-level viewing platform is on the 68th and 69th floors and offers 360° views of the city, including Central Park and the Empire State Building. Visiting this observation deck is a must-do for any tourist in New York City, and you can get admission here or with the New York Pass.
12. Fifth Avenue and St. Patrick's Cathedral, two more extraordinary places to go in NYC
Besides all of the wonderful things to see in NYC, you'll also find lots of luxury shops, especially along Fifth Avenue. This is perhaps the most famous avenue in the city, and while it's known for its glamorous clientele, it's also close to several New York City attractions.
Extending from Washington Square Park in Greenwich Village to 143rd Street in Harlem, Fifth Avenue is full of boutiques, shops, historic homes, and high-end apartments. Enjoy window-shopping and browsing stores like Gucci, Louis Vuitton, and Versace, and walk past the mansions on Millionaire's Row, between 59th and 96th Streets.
As I said, Fifth Avenue trails past several landmarks, including Central Park, Trump Tower, the Rockefeller Center, the Empire State Building, and the Flatiron Building, which I'll mention later in this guide. Fifth Avenue also goes past St. Patrick's Cathedral, the largest Neo-Gothic Catholic church in the U.S. Even if you're not religious, this cathedral is a must-see in NYC.
Dedicated to St. Patrick of Ireland, the church stands nearly 330 feet tall and has large bronze doors with relief sculptures of several patron saints. Inside, the cathedral has a 3,000-person capacity, several altars and shrines, a replica of Michelangelo's Pietà sculpture, and two huge pipe organs. One of the most beautiful parts of the church is its stained-glass windows and rose window, which provide a heavenly glow.
13. Visit the New York Public Library & Bryant Park, a fun thing to do in NYC with kids
If you're looking for things to do in NYC with kids, two popular places you can check out are the New York Public Library and Bryant Park.
The New York Public Library is one of the top libraries in the U.S. and it's free to visit. It has 92 locations throughout the city, with the main branch in Bryant Park, Manhattan. This Neo-Classical building is the third-largest library in the world, with four floors, 20 rooms, and nearly 53 million items. The ground floor is dedicated to children's books, while the first floor contains the reference section and computer lab. The second floor has a study room with a marble fireplace, and the third floor is where you'll find the McGraw Rotunda.
Right outside the library is Bryant Park, a French-style park and garden with all kinds of fun activities in NYC. It includes a large fountain, several sculptures, a carousel, food stalls, and ping-pong, making it one of the best parks in NYC. During Christmastime in NYC, it transforms into a Winter Village, where you can go ice skating and enjoy the holiday lights.
14. Browse Chelsea Market, one of the best things to do in New York City
Another main attraction in NYC that I recommend is Chelsea Market. Occupying a full city block, the market is in a former Nabisco factory. Today, the market boasts dozens of food stalls, as well as shops and office spaces for companies like Google and YouTube.
Starting on the market's underground floor, you can peruse the food market for fresh produce, artisan cheeses, sweets, and ethnic food. You'll also see craft and clothing stalls and the Pearl River Mart, a popular Asian-American retailer.
Along with live music throughout the week, Chelsea Market also hosts ARTECHOUSE, an immersive exhibit that combines art, science, and technology. It's an awesome thing to do in New York City after enjoying some delicious food, and you can get your ticket in advance here.
15. Take a bus tour of Harlem, the Bronx, Queens, and Brooklyn
New York City is made up of five distinct boroughs, so it's worth visiting each one. However, if it's your first time in the city, I recommend this bus tour, which highlights the most popular neighborhoods and covers 4 of the 5 boroughs. It's one of the must-do tours in NYC for first-timers.
First, Harlem (which is part of Manhattan) is one of the coolest places in NYC and is best known for its African American roots. During the Great Migration of the 1920s and 30s, Black culture took center stage, which you can experience today at places like the Apollo Theater, the Jazz Museum, and the Museo del Barrio. Harlem is also known for its strong Christian presence and soulful gospel choirs, so if you want to know more about this neighborhood's culture, you can plan to go to a Harlem gospel service on Sunday.
The Bronx is another must-see in NYC, thanks to its diverse culture and attractions, and will be the second borough you visit during this bus tour. Known as the birthplace of Jennifer Lopez and other famous singers, the Bronx is a hub for hip-hop, graffiti art, and Latin music. Moreover, the borough is home to Yankee Stadium, New York Botanical Garden, the Bronx Museum of the Arts, and the Edgar Allan Poe Cottage.
After that, you will visit Queens, a borough with all kinds of communities and cultures, as well as a love for the arts. Here, you can witness the neighborhood's punk rock and jazz influences and see attractions like MoMA PS1, Socrates Sculpture Park, and the American Museum of the Moving Image. During the tour, you will stop at Flushing Meadows-Corona Park, where you'll find the Mets' Stadium and the USTA Billie Jean King National Tennis Center. You will also visit Roosevelt Avenue, one of the borough's main streets.
The bus tour then goes to Brooklyn, which offers some of the best sightseeing around NYC, with the Brooklyn Bridge, the artsy Bushwick Collective, the DUMBO neighborhood, and the Jewish Quarter in Williamsburg. Finally, you'll cross the Brooklyn Bridge and end up back in Manhattan, in the area of Little Italy and Chinatown, two popular neighborhoods among foodies.
Little Italy is a small hub of Italian culture where you can nosh on delights like Neapolitan pizza and cannoli. Moreover, NYC's Chinatown has one of the largest Asian populations outside of China, as well as hundreds of restaurants and cafes, so it's a place you must visit!
16. One World Observatory & 9/11 Memorial and Museum
Along with the Empire State Building and the Top of the Rock, the One World Observatory is a viewpoint you must see in NYC. This observation deck is between the 100th and 102nd floors of One World Trade Center, the tallest building in the Western Hemisphere.
The structure is 1,776 feet tall, and the observatory's height is 1,268 feet, making it one of the coolest places in NYC. From up there, you'll have sweeping 360° views of Manhattan, including the Statue of Liberty and Brooklyn Bridge. On the 100th floor, you can see the Sky Portal, a 14-foot-wide glass disc that portrays a high-definition video feed of the streets below.
There is also a restaurant, a theater, and the 9/11 Museum, which contains tens of thousands of objects related to the World Trade Center attacks. Outside, you can see the 9/11 Memorial's two reflecting pools, which are where the Twin Towers once stood.
The 9/11 Museum is a worthwhile museum to visit, and One World Observatory is one of NYC's best observation decks, so consider booking a combo ticket to both. Both are included in the New York Pass, but if you'd rather just visit the observatory, you can get a ticket here.
17. Wall Street, a top-rated place to visit in New York City
Among the iconic buildings and landmarks, another popular place to visit in NYC is Wall Street. Situated in Lower Manhattan, Wall Street is the historic financial district that's home to the New York Stock Exchange (NYSE), the largest in the world. Along with the NYSE, there is also Federal Hall, New York's first city hall, and the place where George Washington was elected the first President of the United States.
While you're walking around this area, be sure to stop at Bowling Green, the oldest public park in NYC. Here, you can see the Charging Bull sculpture, one of the top NYC tourist attractions. The 7,100-pound, 11-foot-tall bronze bull is seen by some as a national symbol of prosperity.
In 2017, the Fearless Girl statue made her debut for International Women's Day, originally standing across from the Charging Bull before being moved to the front of the NYSE. You can see the Fearless Girl on this free sightseeing tour that goes past Wall Street, or you can book this Wall Street tour that focuses solely on the Financial District (a must-do if you're into finances).
18. See the Flatiron Building, something interesting to do in NYC
I mentioned earlier that there are all kinds of things to see on NYC's Fifth Avenue, and one of those is the Flatiron Building. Located on the corner of Broadway and Fifth Avenue, this 22-story triangular structure is one of the most unique places to see in NYC.
The building's design was influenced by the Beaux-Arts architectural style and features a rounded apex and double columns. At its narrowest corner, the Flatiron Building is just 6.5 feet wide, creating a 25° angle.
As you walk around the 285-foot-tall building, you might get dizzy or think it's on the verge of collapse. That said, the sturdy steel structure can withstand strong winds, so there's nothing to worry about. Moreover, keep in mind that the building contains office spaces, so you can't go inside. That said, visiting the exterior is a fun, free thing to do in NYC, and it's close to Madison Square Park.
19. The Edge at Hudson Yards, one of the nicest views over New York City
I have another recommendation if you're looking for amazing views of the city. Hovering 1,100 feet in the air, The Edge at Hudson Yards is one of the newest high-rise observatories in Manhattan.
What's especially unique about The Edge is that it juts out at the Eastern Point, where it's large enough for one person to stand and feel on top of the world. Angled glass walls create a more immersive (and somewhat terrifying) feeling.
The observation deck also has a glass floor, so if you're brave enough, you can look down 100 floors to the street below. In addition to the stunning 360° views, there is a covered gazebo and champagne bar, making this one of the best places in New York for couples. The Edge observation deck is included in the New York Pass, or you can reserve your ticket here.
20. Go to Madison Square Garden, an exciting thing to do in NYC
Two of the most popular activities in NYC are shopping and visiting Broadway, although you can also watch a basketball game at Madison Square Garden. Sports fans in the city flock to see the New York Knicks play at this 20,000-person-capacity event space.
The stadium is also home to the New York Rangers, so if hockey is more your thing, reserve tickets to a game in advance.
Along with the stadium, there is the smaller Hulu Theater at Madison Square Garden, which hosts concerts, comedy shows, and other performances. So, whether you prefer sports or a show, you can find an event to suit your interest!
Madison Square Garden is a top attraction in NYC, and you can book an all-access tour here or with the New York Pass.
21. Take a sunset cruise around Manhattan, the best thing to do in NYC for couples
Manhattan can be one of the most romantic places, and one of the best couples things to do in NYC is to take a sunset cruise on the river.
There are several cruise options included in the New York Pass, although I like this Harbor Lights night cruise, which floats past the glittering Manhattan skyline. During the 2-hour ride, you can buy drinks from the bar and snap night photos of popular landmarks like the Statue of Liberty and the Empire State Building.
For an even more romantic thing to do in NYC, I recommend this champagne cruise, which sails past the Manhattan skyline during sunset. The cruise includes a complimentary drink of your choice, which you can sip while admiring the shimmering lights on the New York Harbor. That is why this is one of the best boat tours in New York City.
22. One Vanderbilt, another great place to go in New York City
Another place you should visit in New York as a couple is One Vanderbilt. This luxurious venue is the 4th-tallest building in the city, standing 1,401 feet tall. Most of the lower floors contain offices, but as you ascend past the 73rd floor, you can access The Summit observation deck.
The Summit is unlike any other observatory in the city since it has glass-enclosed balconies jutting out from the façade. From here, you can look out over Midtown Manhattan and see famous NYC attractions like Central Park, the East River, and the Empire State Building. The Summit also has a bar and several restaurants, so you can make a date out of it. Just be sure to purchase your ticket in advance here.
It's also worth noting that One Vanderbilt connects to Grand Central Station via a transit hall, so its location is very convenient.
23. Little Island, a unique place to visit in New York
If you're visiting the city as a family, Little Island at Pier 55 is one of the best places to go in NYC with kids. This artificial island is on the Hudson River and spans 2.4 acres, making it a little oasis and one of the most unique things to do in New York City.
Little Island is a lovely green space amid the urban jungle of NYC, and you can visit morning, afternoon, or night. The entire park has a gorgeous garden landscape full of perennial plants, grasses, shrubs, and trees. Scattered throughout the island are scenic lookouts and plazas where you can relax and enjoy the view. There are also performance spaces, food stalls, and a kids' arts and crafts area, so you could easily spend a couple of hours here.
24. Visit Coney Island, something you must do in New York
A visit to Coney Island is something you must do in NYC, whether you're a local or a tourist. This place offers something for all ages, from exciting amusements to a tranquil beach.
Coney Island is most enjoyable during the summertime, when you can visit Luna Park and Deno's Wonder Wheel Amusement Park, one of the nation's oldest amusement parks. Here, you can ride the legendary Cyclone wooden rollercoaster, the historic B&B Carousell, and the famous Wonder Wheel, which features stationary cabins and several others that travel on tracks to opposite sides of the wheel.
If you prefer something more low-key, you can take a stroll on the beach or boardwalk. Also, the neighborhood has a large Russian-speaking population, which is reflected in the area's bakeries and shops.
25. Go shopping at the outlets, something to do in NYC if it rains
Finally, it's a good idea to have a backup plan of things to do in NYC on a rainy day. Shopping at the Woodbury Common Premium Outlets is something to do if you're looking for high-end items or you want a cheaper alternative to the swanky boutiques on Fifth Avenue.
Here, you can browse 220 stores and grab a bite to eat at over 20 restaurants and cafes. The shops here range from domestic brands to international stores, with discounts of up to 65% off. So, if you're looking for stuff to do in NYC on your day off or if your plans get washed out, you can take a trip to the outlets.
The Woodbury Common Premium Outlets are about an hour outside the city, and you can book a bus to the shops here.
Best day trips from NYC
Thanks to its convenient location, there are lots of great day trips from NYC. If you're going to be in the area for a longer length of time and you're wondering what to visit around NYC, consider renting a car and checking out these places:
Niagara Falls
Niagara Falls is one of the best places in New York state, but it's about 7 hours away, so, if you prefer not to drive, consider this Niagara Falls bus tour from NYC.
During your trip, you'll see the famous Bridal Veil Falls, the American Falls, and the Horseshoe Falls, as well as some breathtaking attractions, which we cover in
our Niagara Falls article
.
Philadelphia
Philly is near and dear to our hearts since we lived in the area for about five years. It's only about 2 hours away from NYC, so you could easily take a day trip to Philly and Amish Country.
The City of Brotherly Love is full of historical landmarks like the Liberty Bell, Independence Hall, and the Philadelphia Museum of Art. Just outside the city, see the Amish way of life in Lancaster County.
Washington D.C.
About 4 hours from NYC, you can see the nation's capital, Washington D.C.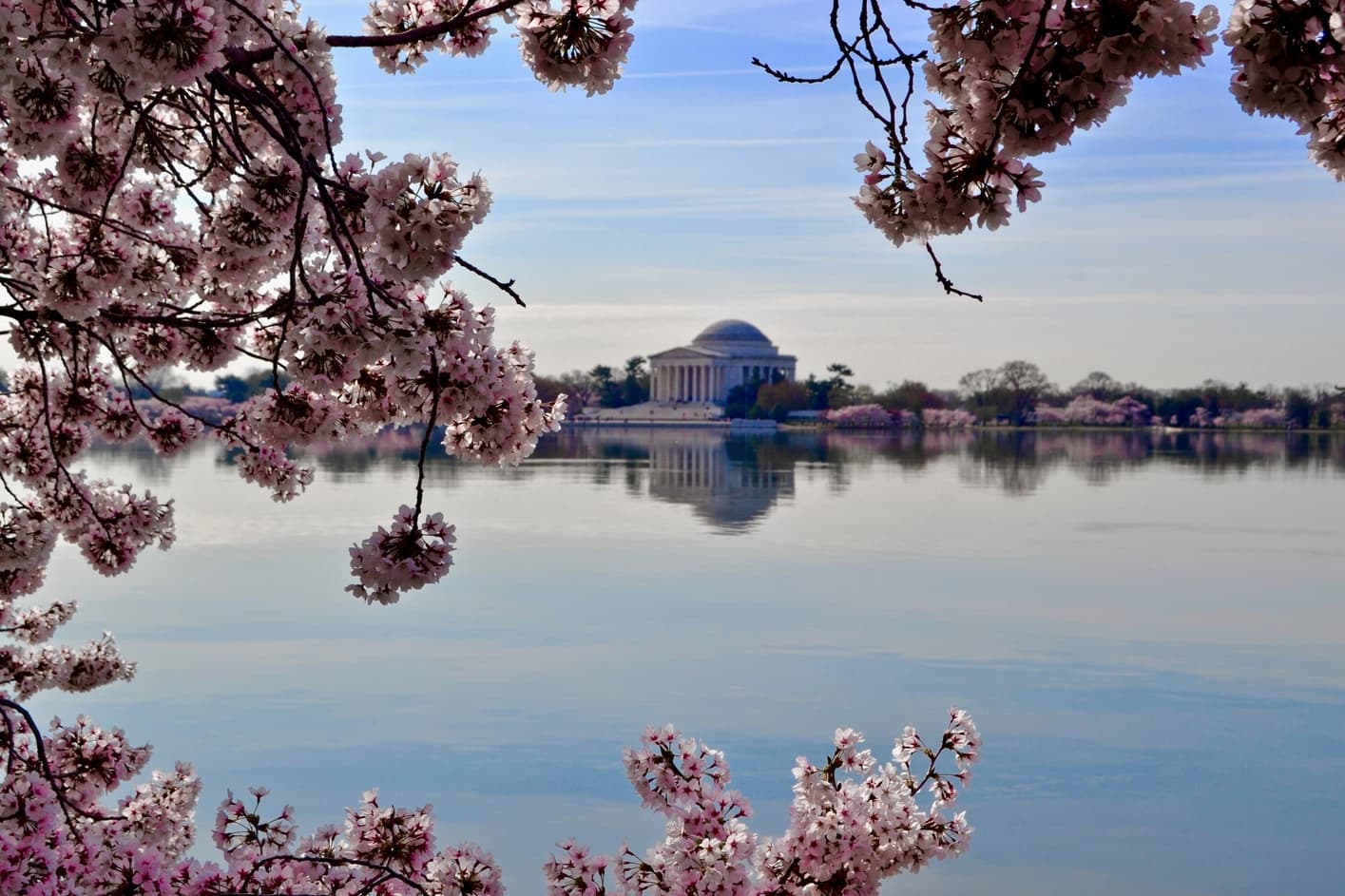 This city is full of world-renown museums, famous landmarks like the Lincoln Memorial, and of course, the White House. This day trip from NYC to Washington DC is the perfect way to learn more about U.S. history while enjoying iconic sights.
Boston
Four hours in the opposite direction, you'll find Boston, another interesting place to go near NYC. Boston's sophistication comes from its historical charm and modern appeal, which you can see on this day trip from NYC to Boston.
The city is home to beautiful plazas, bustling markets, parks, and the Old South Meeting House, where the Boston Tea Party began in 1773.
There are so many things to see and do in NYC, so it's a good idea to spend the night at one of the best hotels in the city. Below are some of our two absolute favorites, although we also have a complete guide on where to stay in New York City.
Pod 51: This is a cheaper alternative that doesn't skimp on quality, plus it has a rooftop garden and it's close to the Rockefeller Center.
Without a doubt, your visit to New York City isn't complete without trying some famous New York foods. Arrive hungry because there are all kinds of delicious options waiting for you!
Pizza: Some say it's the New York water that makes NY-style pizza so good, but it could also be that brick-oven taste. For the best pizza in NYC, head to Lombardi's, John's of Bleecker Street, Patsy's Pizzeria, Grimaldi's Pizzeria, or Juliana's Pizzeria.
Hotdogs: A true New York-style hotdog is an all-beef dog topped with spicy mustard, sauerkraut, and onion relish. For the best hotdogs in NYC, go to Nathan's Famous Hot-Dog Stand, Gray's Papaya, or Papaya King.
Bagels: If you want to feel like a New Yorker, grab a bagel for breakfast, preferably at Leo's Bagels, Absolute Bagels, or Tal Bagels.
Burgers: For a mouth-watering burger, head to Burger Joint or The Happiest Hour.
Cocktails: Finally, you can wash down your delectable meal with a perfect cocktail. I recommend grabbing a drink at one of NYC's best rooftop bars, like 230 Fifth, Jimmy, or Purple.
Last, but not least, I recommend this cupcake tour through Greenwich Village if you have a sweet tooth. It's one of many great food tours in NYC, so be sure to check out our guide.
Map of New York City
I hope you enjoyed reading about all the cool things to do in New York City! Be sure to download this New York City attractions map so you can easily find all the places you want to visit during your trip.
As you can see, there are plenty of awesome places to visit in New York, so if you have any questions or you'd like to share your recommendations, leave me a comment.