Holafly has become an essential tool for us on all our international trips. This eSIM card is the easier and cheapest way of having internet abroad. Thanks to it, we can check our email and access apps like Google Maps, Messenger, and WhatsApp when we are traveling without having to deal with roaming charges and other outrageous fees.
In this guide, I am going to explain everything you need to know about the Holafly eSIM and why it's the best option to have internet during a trip abroad.
Even so, if you are in a hurry and already familiar with the card, and all you're looking for is an Holafly promo code for a 5% discount, here you are!

5% OFF your international eSIM card
Now, I'll share my Holafly review, including what to expect and how to make the most of it.
What is Holafly?
Holafly offers international eSIM cards that provide a 4G connection in more than 130 destinations across Europe, Asia, Africa, Oceania, and North and South America. Since this Holafly SIM card is digital, you can keep your phone's SIM and avoid the headache of finding a SIM card once you're abroad.

This service is a must-have for us to avoid roaming fees and a high phone bill when we return home from a trip. Moreover, some Holafly SIM card data plans are shareable, so it's great for when we travel.
Where to buy an Holafly eSIM card
To buy an Holafly SIM card, visit the Holafly website here, then select your destination. Depending on where you're going, you may want a region plan (Europe, Asia, South America, etc.) or a specific country plan.
Not only are the Holafly card rates excellent, but you can buy your eSIM on the day of your trip or even when you're already abroad. Since the Holafly eSIM is digital, it arrives right in your email inbox, so all you have to do is scan a QR code.
I usually take a screenshot of the QR code on my phone, then send it over to Dan so I can scan the code off his phone. Don't worry if you're traveling alone, as you can print out the code and scan it yourself.
With Holafly Internet for tourists, you don't have to purchase a local SIM at your destination, nor do you need to bring along another phone or buy one abroad, so it's the best option for us.
Your digital Holafly card provides a 4G connection at your destination and 24/7 customer support. You may choose from a 7, 15, 20, or 30-day plan depending on the country.
Besides, even if Holafly already offers great rates, you can get a 5% discount using our promo code "CAPTURETHEATLAS". It's one of the best discounts for travel.
How to activate the Holafly card
Activating your prepaid Holafly SIM card is simple. As I mentioned, I like to scan the Holafly QR code off Dan's phone, but you can also print out the QR code and scan it yourself.
The QR code shows up in your email within minutes, so you can scan it while you're getting on the plane or even if you're already at your destination. This is much easier and more convenient than waiting at home for a physical SIM card to arrive in the mail.
How does the Holafly eSIM card work?
Holafly works like any phone company that includes mobile data. You can simply spend the data of the selected plan during the days that the plan lasts. Many Holafly plans come with unlimited data, so you probably only need to worry about how many days is your trip and where you're traveling to find the right Holafly plan for you.
Thanks to Holafly, you will be able to use all kinds of apps when you're abroad, from requesting an Uber, using the Google Maps browser, communicating with your friends through WhatsApp or Messenger, and keeping up to date on social media or even searching for information on the Internet.
If you need to make calls, it's best to make them through the internet using an application such as WhatsApp, Telegram, Messenger, or Skype. Regarding WhatsApp or Telegram, keep in mind that your number does not change, so your family will have no problem contacting you.
How much does the Holafly eSIM card cost?
The price of an Holafly card depends on where you're going. Most destinations offer 15 and 30-day plans, while others have plans for as little as 5 days or up to 90 days. The more days you buy, the more GBs you'll get, as you'll see in these examples from various countries:
Holafly-compatible mobile phones
Holafly is compatible with most smartphones, including iPhone and Android devices like Google and Samsung phones. You can even get an Holafly data SIM card for your iPad or Huawei phone. Check if your mobile device is compatible on their website.
Also, be aware that your phone must be unlocked so you can connect to the mobile provider in your destination country. You can contact Holafly's 24/7 customer support with any questions, and I recommend doing this before making your final purchase.
Holafly alternatives
We highly recommend Holafly, and it's the only option we rely on. In the past, we've used SimOptions, which is a suitable Holafly alternative, but we only recommend it if your phone isn't compatible with an Holafly eSIM.
Holafly advantages and disadvantages
The Holafly eSIM is the only option we turn to when we're going abroad and need to connect to the Internet on our phones. Of course, we want you to make the best choice for your needs, so before you buy an Holafly SIM card, here are the advantages and disadvantages of this service.
PROS

CONS

Available in over 130 destinations
Cheapest option for short trips (less than a month)
eSIM arrives immediately by email
Get the strongest Internet connection as soon as you arrive at your destination
Most plans include unlimited data
Quick and simple activation
Variety of data rates available
You don't need a dual SIM card or another phone
24/7 customer support

Another device is needed for you to scan the QR code, or you must print it out
Not recommended for working on a laptop or computer
Some mobile devices aren't supported (Check list of compatible mobile devices)
You can't receive local calls (but can still get calls from Messenger, WhatsApp, etc.)
Your phone must be unlocked
If your device is compatible with Holafly, this service is the best choice, based on our experience with trying other alternatives.
Holafly reviews
The Holafly eSIM has been our go-to on many of our international trips, and each time, everything has been super convenient. The rates of Holafly Internet to travel abroad are competitive, and we had the advantage of unlimited data. The only time we haven't been able to get the strongest Internet signal was when we were traveling through remote areas, but this is something that happens with local cards, too.
The truth is, at first, we thought the Holafly eSIM card was going to be difficult to activate, but that couldn't be further from the truth. It doesn't get much easier than scanning a QR code and having mobile Internet overseas. Also, Holafly's customer support is available to chat 24/7, and they'll answer any questions you have.
If you want to check other Holafly reviews, here you have one from a traveler who used the eSIM to connect to the Internet abroad: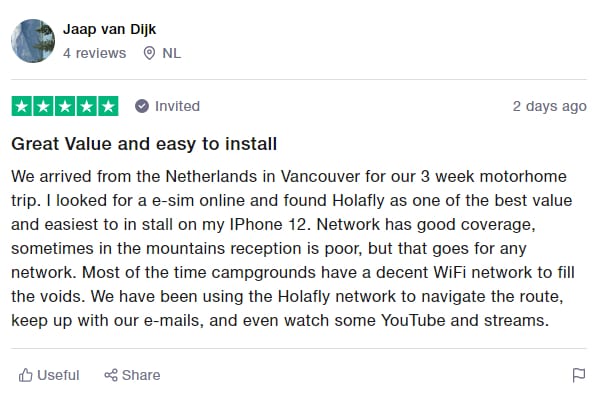 And here is another one: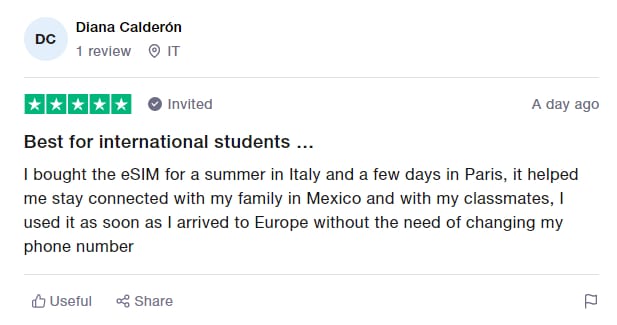 However, there are a few negative Holafly eSIM reviews, like this one:
Holafly was quick to respond appropriately:
There are Holafly reviews on Facebook, Twitter, and Trustpilot, where Holafly has 4.6 stars based on 2,638 reviews. You can read more of them here.
Holafly promo code & discount
If you're ready to buy an Holafly SIM card, don't forget to apply the code "CAPTURETHEATLAS" to get 5% off your order! Just go to their official website here to find your plan, then apply the Holafly promo code at checkout.

5% OFF your international eSIM card
FAQs – Holafly eSIM card
Hopefully, this Holafly eSIM review answered all your questions, but if you have any other concerns, check out these FAQs:
That's it for this Holafly review, but if you have any questions, don't hesitate to leave me a comment below. I'll be happy to help you out! Until then, have a fun trip!