2023 Death Valley & Alabama Hills Photography Workshop
Dramatic Landscapes and Milky Way
Join us for a Death Valley & Eastern Sierra photography workshop to capture some of the most dramatic landscapes in the western US. We are running this tours in March, 2023, during the best time of year to photograph landscapes and nightscapes, both in Death Valley and the impressive Alabama Hills.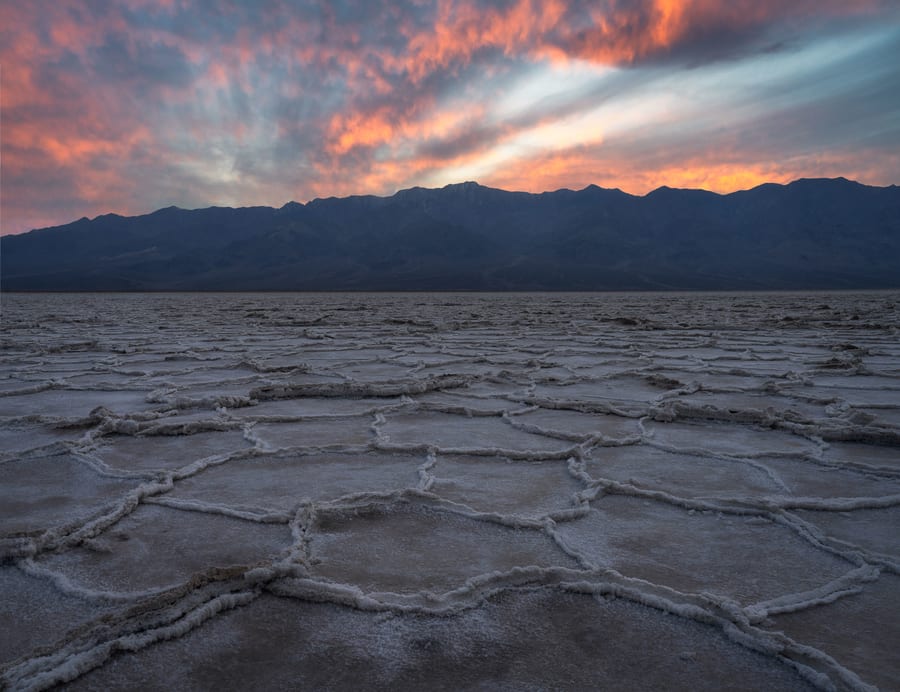 OVERVIEW
Our Death Valley photo workshop will focus on the most photogenic areas of this unique and diverse national park, which range from salt flats where you can shoot spectacular patterns below rugged mountains to colorful badlands and giant sand dunes. We will shoot the most impressive landscapes during the best hours of light, including the stars and the Milky Way at night.
During our Alabama Hills photo tour, we will head to California's Eastern Sierra, where we will enjoy superb views and photo opportunities of Mount Whitney and other dramatic Sierra peaks. These snow-capped mountains will form the perfect background for our landscapes. You will also find a photographer's paradise full of natural arches, spectacular rock formations, barrel cacti, and more.
We will help you capture the best possible images during our photography expedition to Death Valley and the Alabama Hills. We will show you the best techniques to shoot day and night landscapes so you can return home with the best possible photos, a greater knowledge of photography, and, of course, unforgettable memories. It doesn't matter what gear you have or what your skill level is – together, we will make the most of both.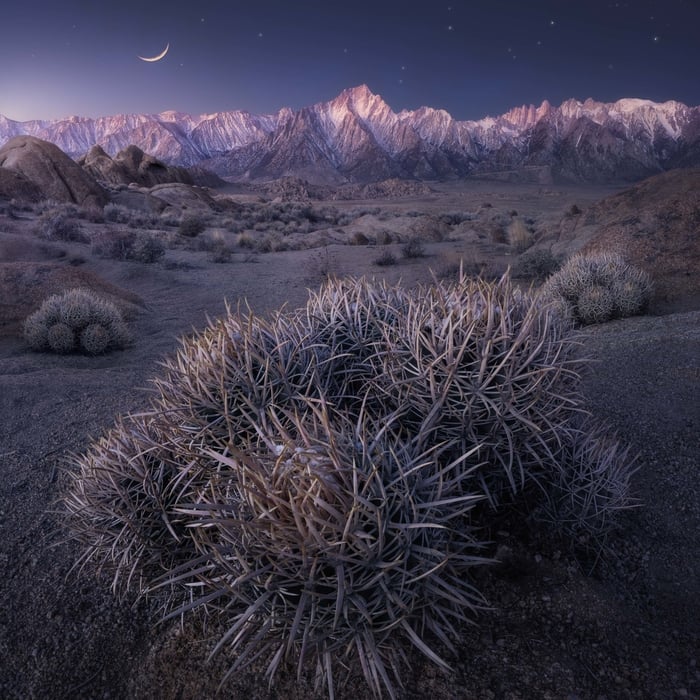 DEATH VALLEY PHOTO TOUR HIGHLIGHTS
Photo tours from March 16th– 22nd and March 23

rd

– 29

th

, 2023
Group size: 10 participants + 2 instructors.
Main topics: Landscape & Night photography (Salt flats, badlands, sand dunes, arches, Milky Way).
Main areas: Death Valley National Park & the Alabama Hills (California Eastern Sierra).
Best time of year to photograph the Milky Way arch at these locations.
Photograph the lowest and highest points in the United States outside Alaska.
Accommodation at The Ranch, the best hotel right in the heart of Death Valley.
Post-processing sessions during the trip.
2022 Death Valley & Alabama Hills Photography Workshop Itinerary
Our Death Valley & Eastern Sierra Photo Tour itinerary is flexible, and it will be adjusted according to the weather conditions so you can make the most of this trip.
This workshop is highly focused on astrophotography and will take place during the best time of year to capture the Milky Way arch over the Death Valley floor when our galaxy is visible from 01:45 AM to sunrise. If the weather conditions are conducive to a productive night photography session, we might adapt the morning sessions so we can have enough hours of sleep.
DAY 1: DEATH VALLEY PHOTO WORKSHOP
Our Death Valley photo tour begins at The Ranch at Furnace Creek at 2 PM. This resort is the best accommodation in Death Valley and is located in the heart of the national park, a short drive from the main shooting locations. This will be our base camp during our stay in Death Valley.
After a meet and greet with the rest of the group and a welcome speech, we will venture on our first sunset photography session to Badwater Basin, the lowest and driest place in North America. This location offers fantastic photo opportunities to capture the most iconic landscape features in Death Valley National Park: the classic polygonal salt formations in the foreground and the rugged Amargosa and Panamint mountain range in the background.
We will hike about a mile into the Badwater Basin to find the best salt polygons before sunset and will return for our first Milky Way photography session if conditions allow.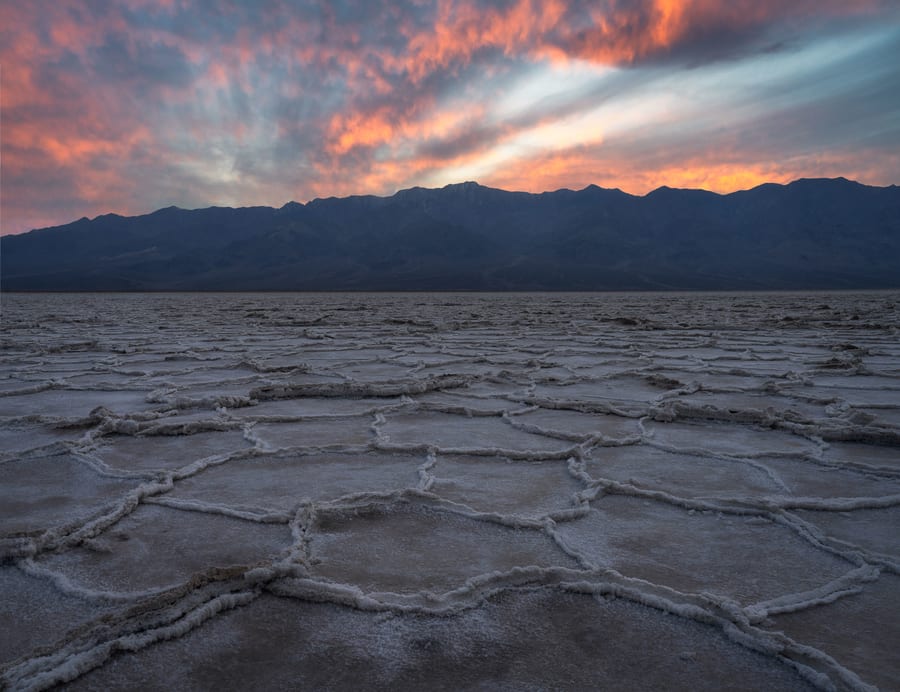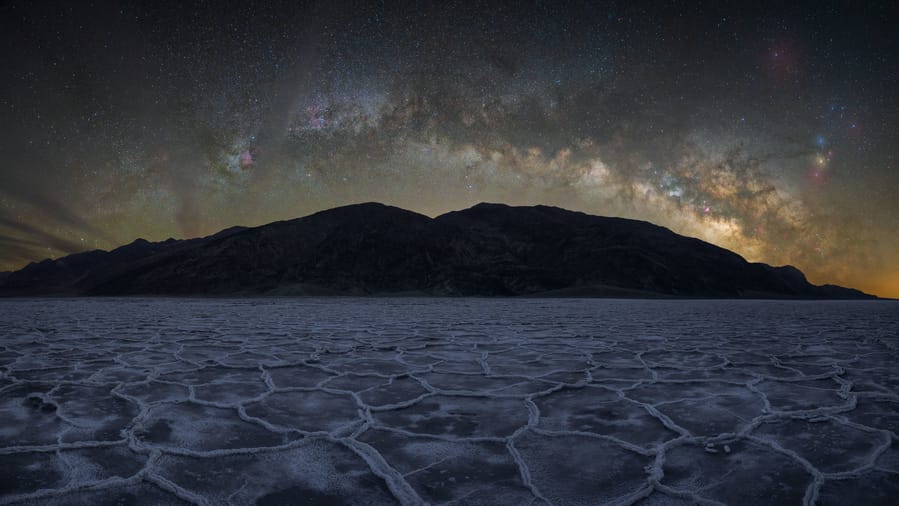 DAY 2:

 

DEATH VALLEY PHOTO WORKSHOP 

On the second day of our Death Valley workshop, we will start the day by photographing the sunrise at Zabriskie Point.
Zabriskie is an expansive area of colorful badlands that will provide you with a fantastic opportunity to photograph some of the most impressive Death Valley geological features. The goal is to be here before sunrise, since the badlands are painted with beautiful colors during the blue hour. We will stay at this location until the sun rises enough to illuminate the badlands and the Panamint mountains in the west. This is a vast area, but Dan will show you where the best shooting spots are as well as the best lenses and techniques to shoot the badlands.
After Zabriskie, our next shoot will be at Artist's Palette, another series of rocks and badlands where you can find unique pastel colors. From here and, depending on the timing, we will visit the Devil's Golf Course, another area of the Death Valley floor that is full of tall, sharp salt formations.
Right before sunset, we will explore and photograph the mud cracks in one of the Death Valley drainage channels. Mud cracks change every year based on the winter precipitation, so we'll scout the best patterns for our sunset session. If conditions allow, we will photograph the Milky Way arch over the Death Valley mud cracks.
DAY 3:

 

DEATH VALLEY PHOTO WORKSHOP

The third day of our Death Valley photo workshop will take us to some of the best hidden locations in the national park.
We will start the day by photographing the sunrise from the mud cracks with the sun rising just above the mountains. After that, we will explore the Cottonball Basin, the northern section of the Death Valley floor where you can find unique patterns with white salty pools surrounded by thick brown borders. These formations change every year depending on the rainfall so we will take the time to scout and find the most photogenic patterns.
Right before sunset, we will move to another location with possibly the best salt polygons on the Death Valley floor. I've spent many days and walked many miles scouting the best formations, and these are, without a doubt, the most photogenic. It's very likely that we will have this location to ourselves to shoot the sunset and Milky Way at night.
DAY 4:

 
DEATH VALLEY PHOTO WORKSHOP
The next morning of our Death Valley tour, we will photograph the sunrise at the location we used the night before with the sun rising over the mountains and illuminating the salt polygons. 
Then we will drive and shoot across Twenty Mule Team Canyon, a short, photogenic drive full of interesting and colorful badlands. If our schedule allows it, we will also drive to Dante's View, where you can enjoy one of the best panoramic views of the Badwater Basin and Death Valley mountain ranges.
In the evening, our goal is to photograph one of the most photogenic areas in Death Valley National Park: The Mesquite Sand Dunes. These are the most iconic dunes in the park for good reason. Here, you'll find infinite sand dunes of different heights surrounded by picturesque mountains. This is a vast area and the shape of the dunes changes every year, but we will head to the area where you can usually find the best dunes to photograph them under the golden sunset light.
DAY 5:

 

DEATH VALLEY & ALABAMA HILLS PHOTO WORKSHOP 
On the last morning of our Death Valley workshop, we will photograph the Mesquite Sand Dunes again during the morning twilight and sunrise. This location offers endless photo opportunities, so we will explore a different section of the dunes where the light can create conditions for excellent photos. After our morning session, we will drive to our next destination, where we will have our Alabama Hills workshop. The drive from the Mesquite Dunes to the town of Lone Pine is relatively short, approximately 80 miles (about 1.5 hours). Lone Pine is a historic town located in the foothills of the California Eastern Sierra, and it will be our base for the next two days. We are staying at The Dow Villa, which is located at the entrance to the Alabama Hills and within walking distance of the best restaurants in town. After checking in and taking a lunch break, we will visit the rugged landscape of the Alabama Hills, where we will photograph the jagged peaks around Mount Whitney (highest point in the contiguous US) with some interesting features in the foreground. If conditions are good for night photography, we will photograph the Milky Way from one of the main arches, such as Mobius, Boot, or Cyclops.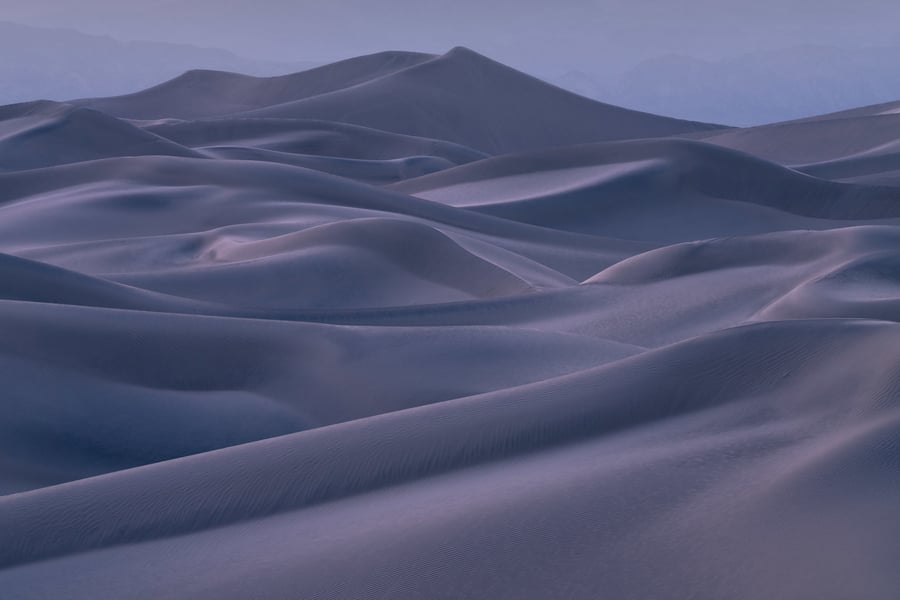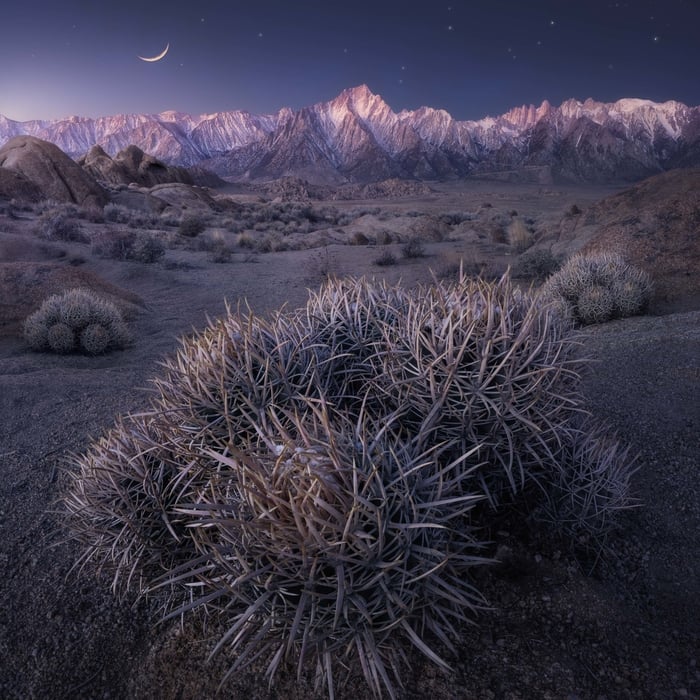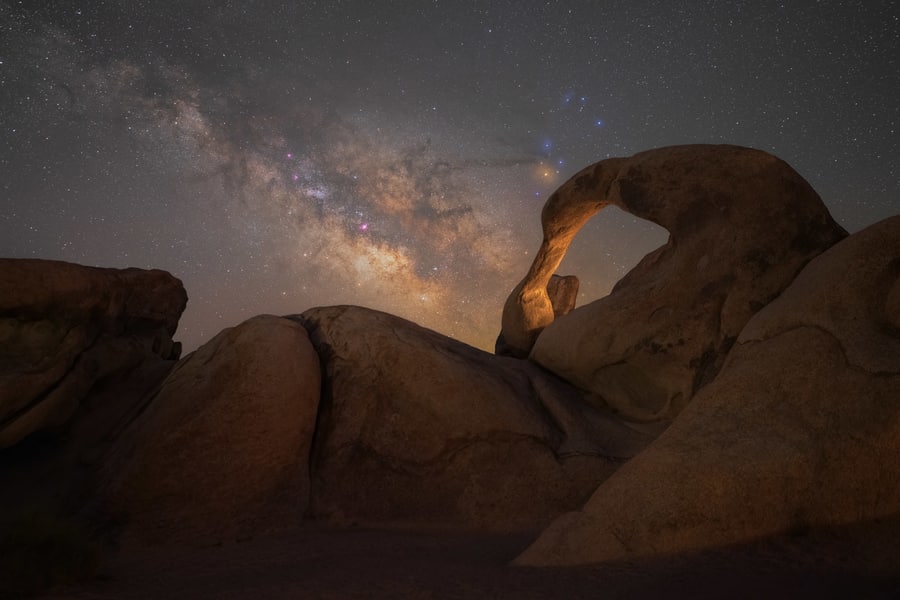 DAY 6: 
ALABAMA HILLS PHOTO WORKSHOP
On the first full day of our Alabama Hills photo tour, we will do a sunrise photoshoot from Cyclops Arch, where we will enjoy an incredible view of the Sierra peaks and a plethora of rocks, arches, and barrel cacti in the foreground. Once we shoot the sunrise, we will move to the Mobius Arch Loop, doing many stops along the way on the Alabama Hills Movie Road to photograph the beauty of the California Sierra Nevada. Once on the loop, we will take a short hike to photograph some of the most famous formations in the area, like Mobius Arch framing Mount Whitney, Lathe Arch, or the Heart Arch. After these shoots, we will have a break in town before returning for our sunset session from a vantage point around the Eye of Alabama Hills Arch. If there are clear skies, we will have a final Milky Way photography session in one of Alabama Hills' spectacular formations.
DA

Y 7: 
ALABAMA HILLS PHOTO WORKSHOP
On the
last day of our photography workshop
, we will have a final morning session where we will photograph the sun illuminating Mt. Whitney and the Sierra Nevada peaks from another of the spectacular Alabama Hills formations. After breakfast in town, we will conclude our
Death Valley and Alabama Hills photography workshop
.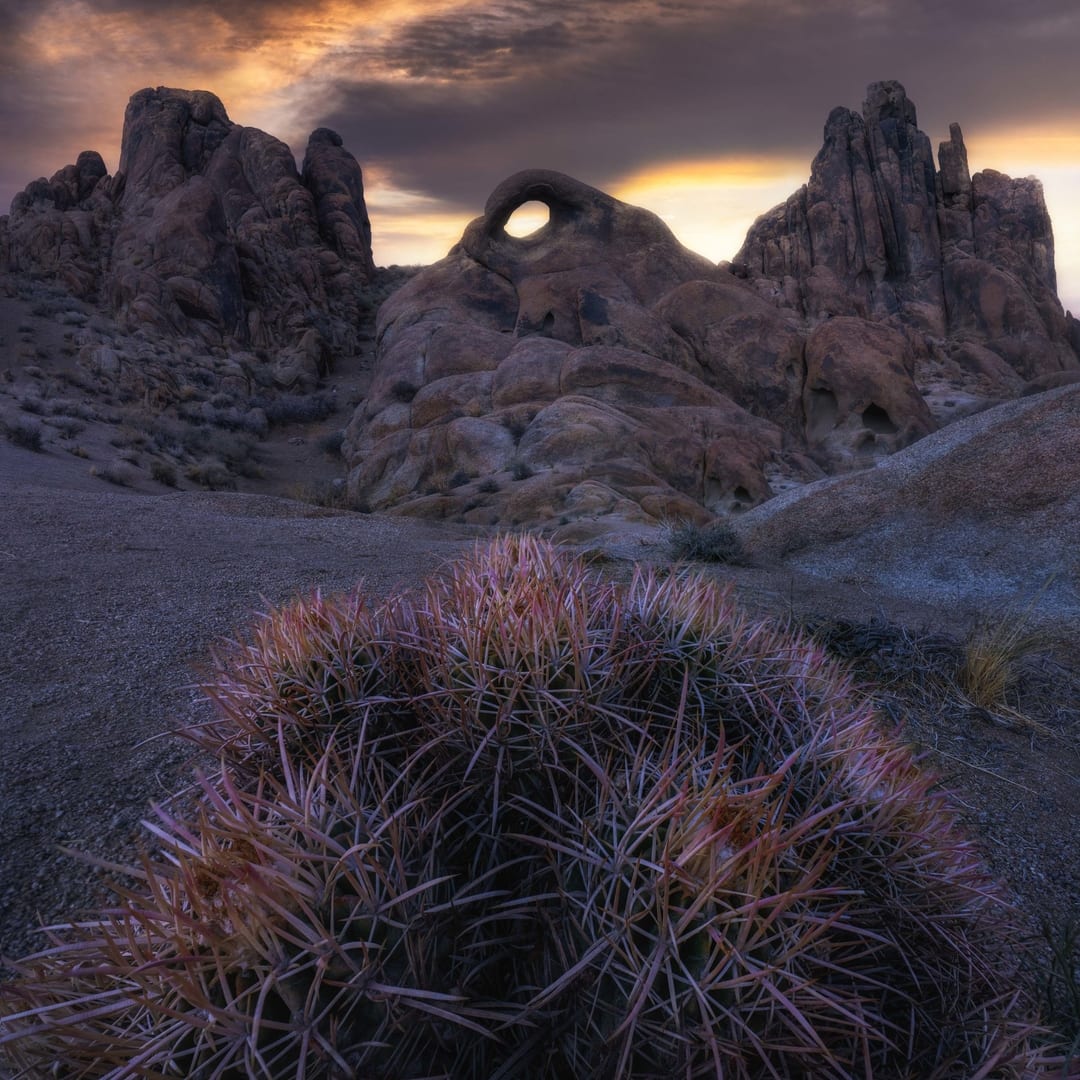 PRICE: USD 3,590
Deposit: USD 1,000
A $1,000 non-refundable deposit is required to reserve your spot for this workshop. You can also pay in full at any time. The remaining balance is due on December 16th, 2022. If the remaining balance is not paid in full by the due date, you will lose your spot.
A 100% refund is guaranteed if we have to cancel the tour because of COVID-19.
What does the price include?
INCLUDED
Accommodation in shared double rooms with queen beds at The Ranch for 4 nights.
Accommodation in shared double rooms with queen beds at The Dow Villa for 2 nights.
7 days of photo guide services from professional photographers Joseph Cole and Daniel Gomez.
Instruction in a small group of 10 participants with a 5:1 ratio (5 students per instructor).
Night photography sessions throughout the entire workshop including star-tracking instruction.
Two editing & post-processing sessions during the workshop.
100% refund if the workshop is cancelled because of COVID-19.
*BONUSES
Access to Dan Zafra's full Capture the Milky Way Course (valued at $299) – includes two complete start-to-finish post-processing tutorials of a Death Valley and an Alabama Hills image.
NOT INCLUDED
Transportation (including flights) to Death Valley National Park.
Transportation during the trip (we will arrange carpools when traveling to different locations).
Single room accommodation – $650 supplement (subject to availability)
Death Valley National Park entrance fee.
Health/travel insurance (We can help you purchase the best travel insurance according to your needs).
Personal expenses, tips, and any other service not mentioned in the "INCLUDED" section.
*Capture the Atlas operates under a CUA (Commercial Use Authorization) with the National Park Service and the Bishop BLM to run photography workshops in these public lands.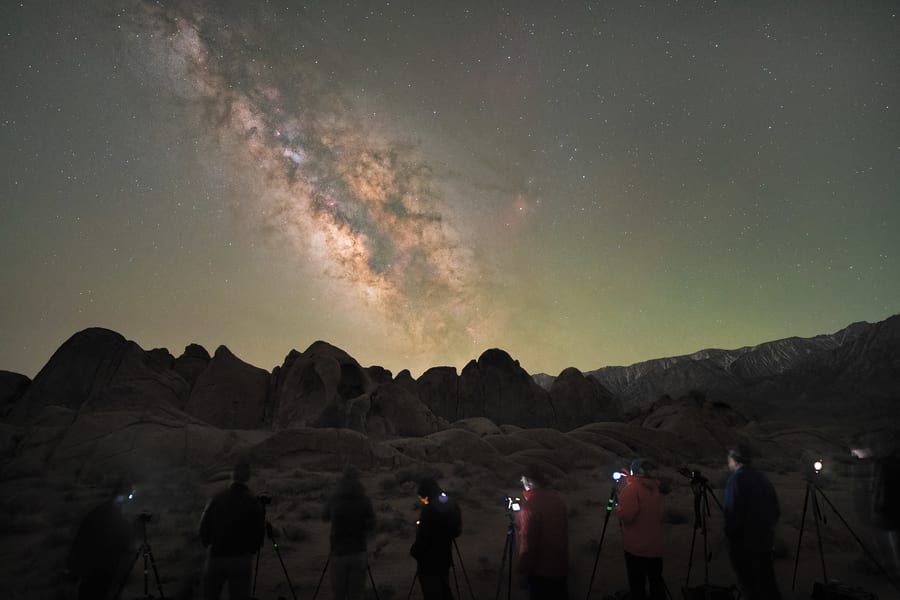 What will I learn during this Death Valley workshop?
What you learn during the workshop will vary according to your goals and skills. Your instructors are professional photographers with extensive experience who will help you take your photography to the next level:
Getting comfortable shooting different types of landscapes and photos in manual mode
Adjusting the best camera settings in each situation
Familiarizing yourself with the basics of night and Milky Way photography
Enhancing your compositions with the best techniques
Designing your own shooting workflow to be more effective in the field
Photographing daytime and night panoramas
Creating powerful compositions that tell a story and engage the viewer.
Building a connection between your photography and your vision.
Becoming a master of light: learn how to enhance it and keep it under control.
Advanced night & Milky Way photography techniques like stacking and Panoramas.
Advanced bracketing and exposure blending to capture the best dynamic range.
Using wide-angle distortion and focal length blending to create powerful images.
Focus stacking to capture tack-sharp images with interesting foregrounds.
Some of the post-processing techniques that you can learn with our included tutorials are:
How to start using Lightroom and Photoshop (all the basics).
Preparing your images in Lightroom/Adobe Camera Raw to start on the right foot.
Stitching panoramas using different software like Lightroom, Photoshop, or PTGui Pro.
Stacking night images using Starry Landscape Stacker or Sequator.
Reducing the noise in your night images using Topaz Denoise AI.
All types of Blendings (exposure, focal length, focus, etc.).
Light shaping and Dodge & Burn in your landscape images.
Advanced Milky Way techniques like star reduction, structure, natural colors, etc.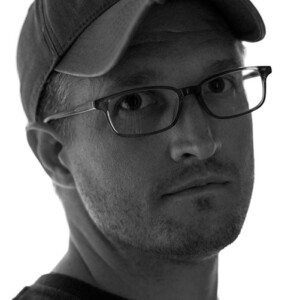 Your instructors on this death valley astrophoto tour
Joseph James will be the tour leader of this Death Valley & Alabama Hills workshop and he will make sure that you get the best photography results and experience out of this tour. He will help you with your photography, technique, and composition for both day and night images.
Joseph has explored and led photography workshops in Death Valley & the Alabama Hills in previous trips. He is very knowledgeable, not only about the most well-known locations but also about the best hidden gems where you most likely won't see other people or photographers.
He will show you not only the best techniques, but also how to be more creative with your camera gear so you can learn to see new compositions and perspectives that go unnoticed by most photographers.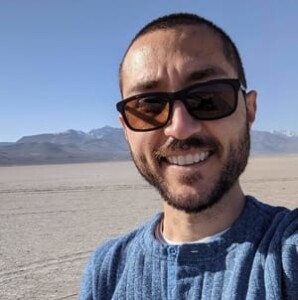 Daniel Gomez will be the co-leader of this workshop. Daniel has a background in photographing many different subjects from big to small, specializes in astrophotography and timelapse films, and focuses on strong compositions.
Daniel is based in Oregon and has been taking photos for the last 9 years.  He has explored and led photo tours in Death Valley & the Alabama Hills, and he's an expert in the main subjects that you'll be photographing on this trip. He will be able to help you find great compositions and help you with your night photography from the basics to advanced techniques like star-tracking.
What to bring to a Death Valley & Alabama Hills Photo Tour
Below, you can find a summary of things we recommend for this trip:
PHOTOGRAPHY GEAR
A mirrorless or DSLR camera.
A sturdy tripod and a remote shutter.
A wide-angle lens, such as 14-24 mm.
A medium zoom lens, such as 24-70 mm.
A telephoto lens, like a 70-200 mm lens.
A camera bag to transport all your equipment.
A headlamp for the night shoots.
Glow-in-the-dark tape for your tripod.
You may be interested in this guide, where you can dive deeper into photography equipment for traveling.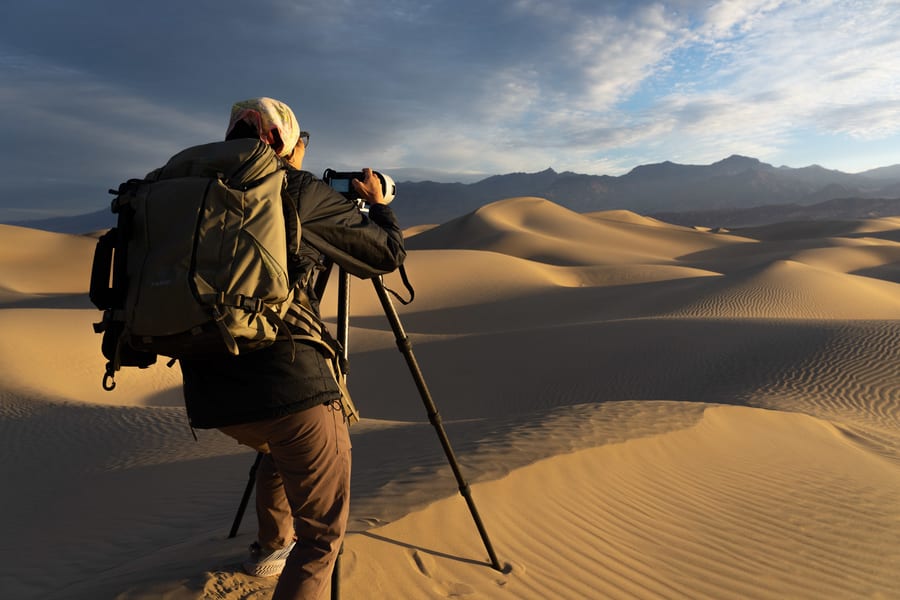 CLOTHING
Even though Death Valley is the hottest place in North America, temperatures are mild and pleasant at the beginning of the spring, so there won't be extreme heat conditions.
However, during this workshop, we will experience many extreme environments. From the lowest point on the continent at Badwater Basin to the highest peaks in the contiguous US around the California Eastern Sierra, we will move through different climates and temperatures. We also have to consider that temperatures drop considerably at night, especially during the Alabama Hills workshop section of this tour.
For this reason, we recommend bringing the following clothing:
A system of layers to wear during the day and night (base layer, insulation layer, windproof layer, and a hard-shell layer).
A good pair of breathable boots (to protect your feet and ankles while hiking in terrain like salt flats or sand dunes).
Thermal pants, gloves, hat, and a neck gaiter/scarf for the night photography sessions.
DOCUMENTATION
If you are traveling from outside the US, you may need a specific travel visa or an electronic travel authorization ("ESTA") depending on your country of origin. We can help you with this process.
What expenses should you consider for this Death Valley Photography Workshop?
FLIGHTS
There are different airports within a relatively short drive to Death Valley. However, the closest airport and our recommendation is Las Vegas International Airport. From there, the drive to Furnace Creek is 118 miles (about two hours).
Airline ticket prices will depend on the airport you are flying from. We recommend this article to find the best flights to Las Vegas from your current location.
TRANSPORTATION
Transportation will not be included, and even though we will not be driving over difficult roads, some of them (like the Alabama Hills Movie Road) will be unpaved, so we recommend at least an SUV with all-wheel drive for this Death Valley workshop.
When traveling to different locations on the tour, we will try to carpool as often as possible. Some parking areas are small, and we would like to minimize our impact on the land and ecosystem as much as possible.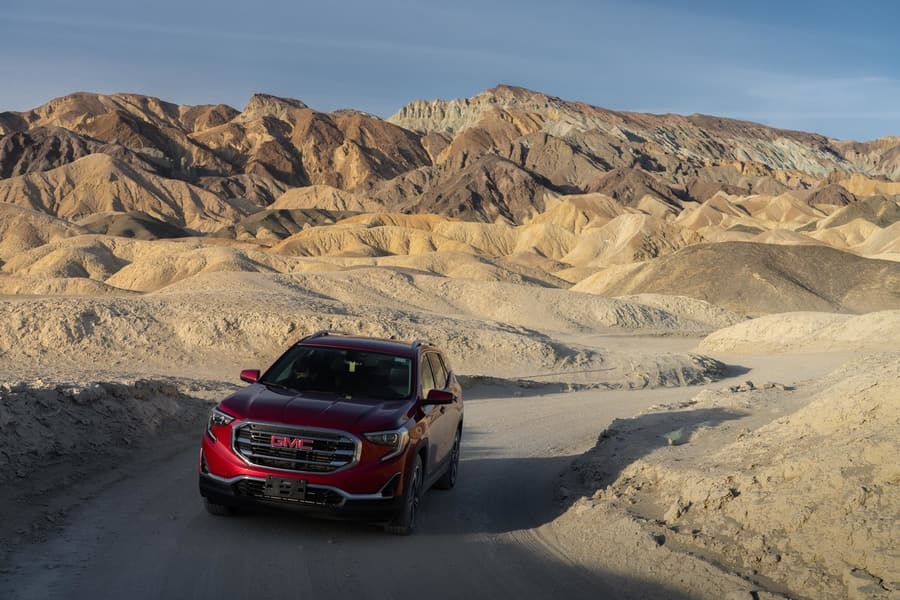 MEALS
Meals are not included. Most of the days, we will try to eat snacks/picnic during lunch to speed up and maximize the photo shoot time.
Even so, Death Valley is a remote national park and there aren't many supermarket or restaurant options. The ones you can find are generally not cheap. We recommend buying any groceries in Las Vegas before the trip (there'll be a small fridge in your room) and budgeting about $50-70 per day for meals.
In Lone Pine, there are plenty of grocery stores and restaurants, so planning the meals will be easier during the Alabama Hills workshop section.
ENTRANCE FEE
The Death Valley National Park Pass costs $30 and is valid for a week. You can get your pass in-person at the Furnace Creek visitor center or online through the official Death Valley NP website.
SINGLE ROOM SUPPLEMENT
If you prefer to have a single room during the workshop, there is a
supplement of $650
. (This is subject to availability)
WHAT MAKES THIS DEATH VALLEY ASTROPHOTO TOUR UNIQUE?
Frequent questions about our astro workshops
From the lowest point in North America on the Death Valley floor to the highest peak in the contiguous United States in the California Eastern Sierra, this trip is going to take you to some of the most diverse, extreme, and dramatic landscapes in the country.
There are no words to describe the feeling of being surrounded by miles of pure wilderness where the landscape is constantly changing according to the forces of nature. No image can express the experience of photographing the full Milky Way arch under an endless sea of stars in the largest Dark Sky National Park in the country.
I instantly fell in love with these landscapes the first time I saw them, and since then, I've been obsessed with photographing them year after year. Today, we are grateful to have the opportunity to take you on this trip and to show you what the Eastern California landscapes have to offer!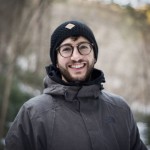 I've had the opportunity to work with and help countless photographers over the last few years. Sharing and teaching photography is my passion, and I love doing this both online and in the field.

I recently spent 3 weeks with Dan in Iceland. It was a wonderful experience that surpassed my expectations. Dan is an energetic guide who is passionate about what he does. The trip was well organized and Dan made sure we were able to see everything that was planned. Dan worked with everyone on the tour to understand their skill level, and provide his insights on ways to improve their photography. It was a wonderful adventure. I hope I have the opportunity to tour with Capture the Atlas again.
South & North Iceland Photo Tours

If I had to join a photo tour again, I wouldn't hesitate to repeat this trip with capturetheatlas! In addition to the organization, the accommodations, the places...you have the feeling of traveling with friends, where we all learn from each other and the guides are very close and familiar creating a small family. We were a group of different ages and levels and none of that prevented the coordination from being excellent. In addition, Dan adapted and made the necessary changes in the schedule if the weather wasn't the best, and thanks to that we could see and photograph the Northern Lights! Thanks again to Ascen and Dani. Highly recommended!

When I started editing my star-tracked photos. I wasn't able to get the most from the raw files. Dan has shown me how to enhance the original details and recover the amazing colors of the night skies. Although these advanced techniques can be quite daunting, Dan makes them really easy to follow.
1 on 1 Post-Processing Training

We had a fantastic workshop with Dan working on shooting techniques. Dan is a wonderful guide, patient, funny and helpful. I have been waiting to invest in filters to understand what I really needed and Dan let me borrow his to get a feel of what I would need to invest in. We grabbed some fantastic shots.
Ricketts Glen Photography Workshop

On my recent photo tour to Iceland, not only was I able to see the Northern Lights, but I also was able to photograph them thanks to Dan's tutelage and patience! I returned home with not only amazing pictures but also renewed enthusiasm for photography. Dan's passion for photography and landscapes is unequivocal.

If you really want to learn how to improve your photography, I highly recommend Capture the Atlas. l had a private class with Dan, and he was very detailed explaining everything about my camera settings, lenses, and post-processing. His skills are superb and he's always eager to share all his knowledge.
Ricketts Glen Photography Workshop

Excellent trip. I highly recommend it to anyone looking for a "different" vacation and photography learning experience. The views of waterfalls, volcanos, geysers, glaciers, etc. are superb. Dan helped me get my images to another level. Iceland should be on your bucket list, especially with Capture the Atlas. The guys are very knowledgeable about photography and how to organize the trip.
South & North Iceland Photo Tours