2023 Iceland Summer Photo Tour
Natural Wonders & the Midnight Sun
From breathtaking mountains, waterfalls, and glaciers to volcanic beaches, colorful wildflowers, and wildlife, Iceland is a photographer's paradise during the summer. Join us for an Iceland Summer Photo Tour where we will capture the natural wonders of the "Land of Ice & Fire", from majestic landscapes lit by the endless midnight sun to the island's summer visitors such as puffins, whales, and lush vegetation.
Our Iceland summer photography workshops will take place in June, when the flowers are in bloom and the days are the longest so you can enjoy the real midnight sun.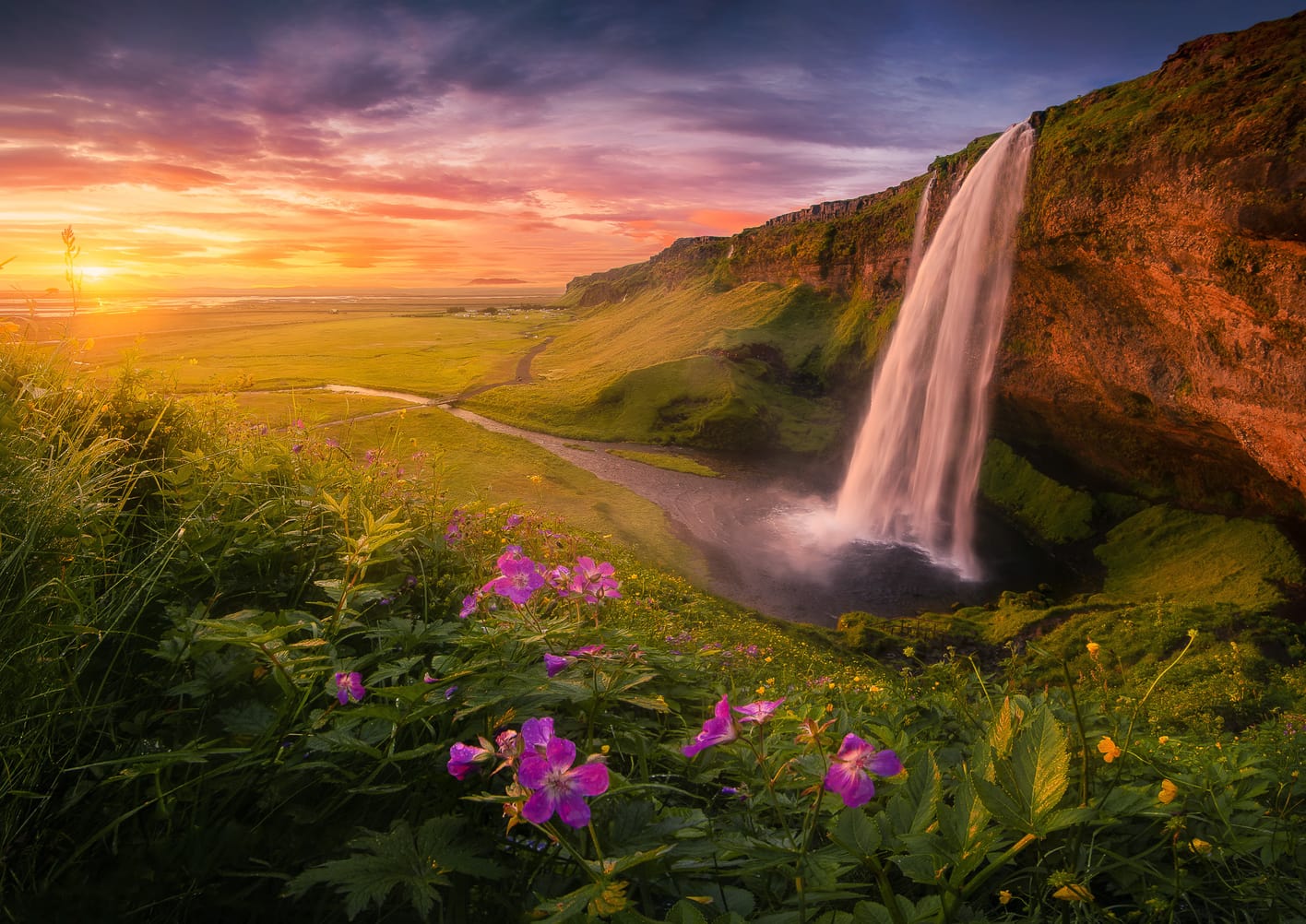 OVERVIEW
During this Iceland summer photo tour, we will mainly focus on shooting landscapes and wildlife in Southern Iceland, where you can find the most photogenic locations Iceland has to offer.
Summer is one of the best seasons of the year to visit Iceland, as the beautiful midnight sun provides up to 6 hours of magical light and enough time to visit different locations. We will visit iconic and popular waterfalls like Seljalandsfoss, Skógafoss, and Gullfoss; photogenic glaciers like Svínafellsjökull; huge glacial lagoons like Jökulsárlón; black sand beaches; majestic mountains such as Vestrahorn in the east and Kirkjufell in the west; and much more. Iceland is our signature photo tour, so apart from the most popular spots, we'll also take you to some of Iceland's best hidden photography gems.
Beyond the landscapes, Iceland offers other natural wonders in June, including summer visitors like puffins, humpback whales, green moss, and colorful wildflowers everywhere.
We will personally help you capture the best possible images during our Iceland summer photo tour and show you the best techniques to shoot any type of subject, including landscapes, wildlife, aerial images, etc.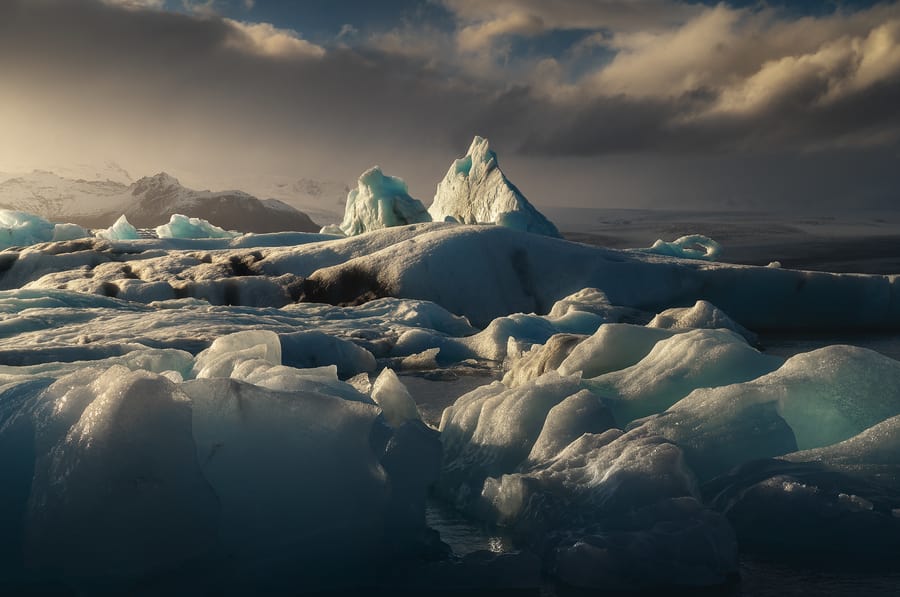 SUMMER ICELAND PHOTO TOUR HIGHLIGHTS
Photo tours from June 18th-26th (

1 SPOT LEFT!

) and

June 9th-17th, 2023

.

Group size: 10 participants + 2 instructors.
Main topics: Landscape, midnight sun, wildflowers, and puffins.
Main areas: Southern Iceland, from west to east.
Accommodation included in top hotels close to the best locations
Transportation included in two vehicles to travel comfortably with all the luggage/camera bags.
Humpback whales photo tour.
Download the Official Iceland Summer Photo Tour Brochure
2023 Iceland Summer Photography Tour Itinerary
Our Iceland summer photo tour itinerary will be flexible. We are experts on Iceland, which is like a second home to us, so we will decide the best locations every day according to the weather conditions. That way, you can make the most of this trip.
During this photo tour, our goal will be to take advantage of the midnight hours so you can capture your photos with the best light. Little by little, we will adapt our sleep schedule depending on the day and weather conditions.
DAY 1: Iceland Summer Photo Tour 
This summer photography workshop to Iceland will begin at Keflavik Airport, where we will meet and take you to our first accommodation.
After a welcome speech and meeting the rest of the group, we will visit our first location: Reykjanes Lighthouse and the beautiful volcanic cliffs of Valahnúkamöl. Reykjanes lighthouse is one of the oldest lighthouses in Iceland and it's surrounded by beautiful volcanic scenery. Once in the area, we will shoot some photogenic sea stacks and our first sunset over the Icelandic coastline before resting in our hotel.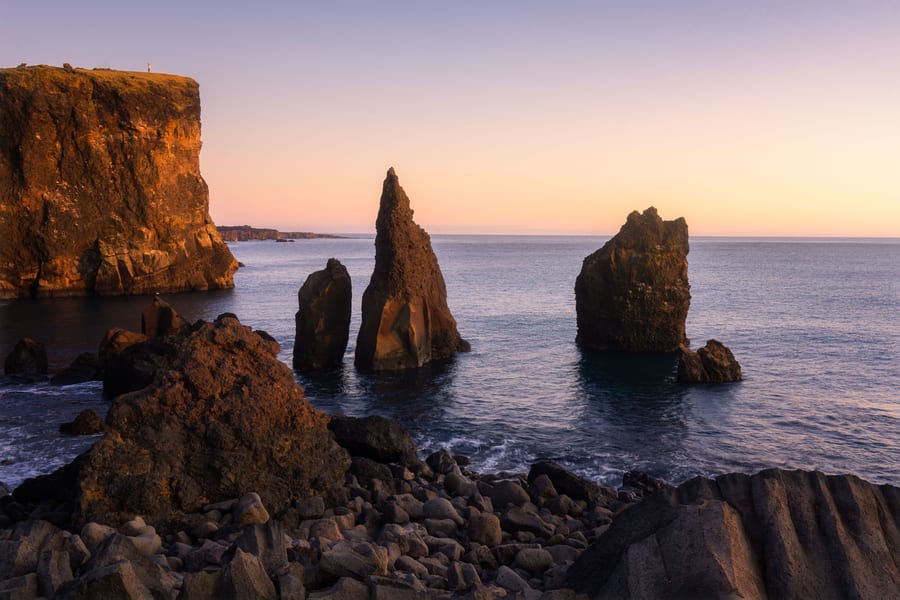 DAY 2: Iceland Summer Photo Tour
On the second day of our Iceland summer photo tour, after our breakfast, we will drive east on the popular "Ring Road", the main road that we will follow for most of the trip.
Our first stop will be Kerid, an old volcanic crater with a gorgeous display of reds, greens, and blues. This crater is famous for the lake that's in the middle and filled with groundwater. Later, we will photograph the most iconic waterfalls in Iceland. The first will be Skógafoss, a famous Icelandic "foss" that is almost 200 feet tall. This location has been featured in popular TV shows, such as Vikings and Game of Thrones, for good reason. We'll plan our shoot for midday when the sun illuminates the waterfall and creates spectacular rainbows.
We will then visit another photogenic waterfall called Kvernufoss, which is located in a magical canyon that looks straight out of a fairy tale. Here, we will focus on capturing the waterfall by using the stream as the perfect leading line.
After dinner, at around 10 PM, the golden hour starts, and the magical light goes on for hours. Our plan is to visit Seljalandsfoss and hopefully experience one of the highlights of the trip: photographing the midnight sun illuminating the waterfall from behind with the wildflowers.
DAY 3: Iceland Summer Photo Tour
On the third day of our Iceland summer photo adventure, we will keep driving east and make several photography stops along the way.
Our first stop will be Fjadrárgljúfur, a beautiful canyon of glacial origin that was created by the progressive water erosion. The vegetation is spectacular around this area, especially during the summer. We will take you to the best viewpoints to capture this fairytale-like canyon.
After this, our next location will be the impressive Lómagnúpur, a glacier-shaped mountain where you can shoot reflections and some wonderful drone images. The third stop will be at the first glacier of the trip: Svínafellsjökull, one of the most impressive glaciers in Iceland where you can literally touch the ice.
Finally, we will end up at the famous Jökulsárlón lagoon, the largest glacial lagoon in Iceland where huge chunks of icebergs fall off the famed Vatnajökull Glacier. This is an astonishing location and the most photogenic glacier in Iceland, so we'll plan plenty of time for you to capture the lagoon from different perspectives under the ethereal light of the midnight sun.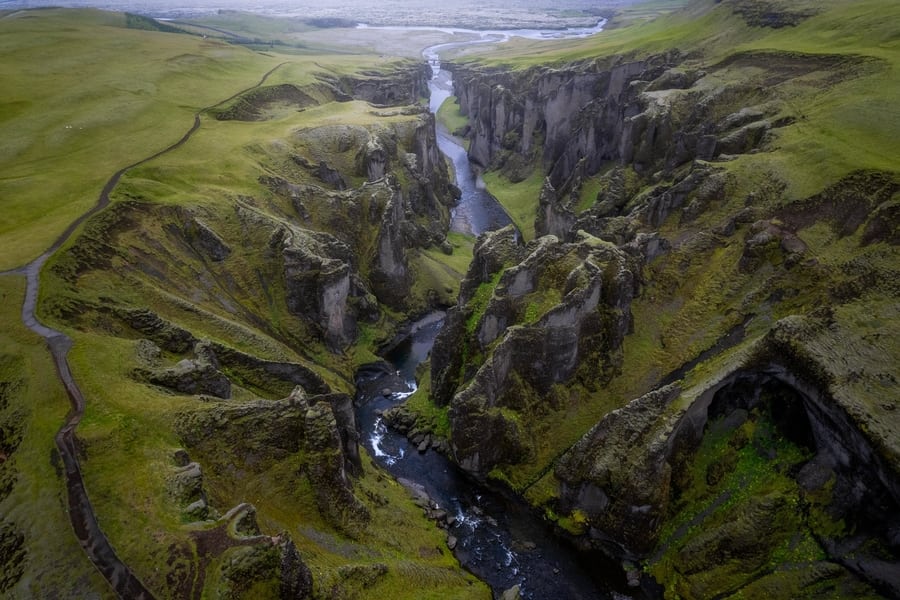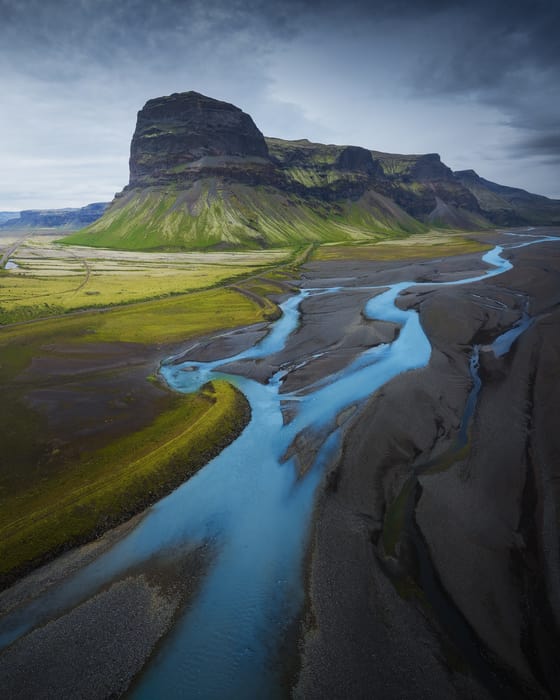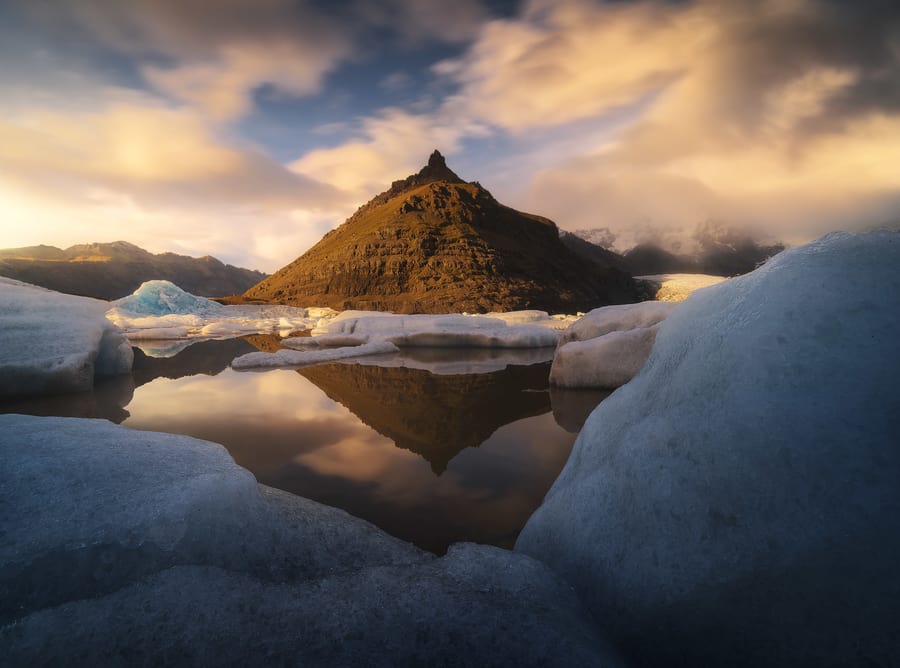 DAY 4: Iceland Summer Photo Tour
After recharging our batteries with a nice breakfast at our hotel, we will do a morning photo shoot at the iconic Diamond Beach. It is a unique black sand beach where you can find the ice chunks from the Jökulsárlón Lagoon that are carried here by the tides and waves and the only place in the world where this phenonemon happens. It's also a place with endless photographic possibilities, and we'll show you how to capture the iconic long exposure shots of the icy diamonds and the water streaks by using lens filters.
After a short 10-minute drive from the beach, we will visit the huge Fjallsárlón glacier, another of the most popular glaciers in the area.
For the rest of the day, we'll continue east on the Ring Road. Here, the landscape changes dramatically and you'll start seeing the first jagged peaks that are characteristic of the Iceland East Fjords.
After settling in and having dinner in the popular fishing town of Höfn, we will drive to the easternmost point of the tour, Hvalnes Lighthouse, to enjoy the midnight sun lighting up the pointed peaks of the imposing Eystrahorn mountain and the marvelous Vestrahorn (Stokksnes), probably the most photogenic mountain in Iceland.
DAY 5: Iceland Summer Photo Tour
On the fifth day of our Iceland summer photo workshop, we will take the Ring Road back, stopping along the way at some spots we missed and photographing some of the previous locations under different light conditions.
We will take a short hike to Svartifoss Waterfall in Vatnajökull National Park. This walk offers plenty of photogenic views of waterfalls, mountains, and glaciers. Once in the final location, we will do a longer stop to shoot this iconic basalt rock waterfall.
If time allows for it, we'll stop at the massive, green, mossy lava field of Eldhraun before arriving in Vík, the southernmost populated area in Iceland and one of the most photogenic towns. Here, we will visit some locations like the most famous black sand beach in Iceland, Reynisfjara, where you can shoot impressive basalt rock formations, caves, and sea stacks.
Also, in this area, we'll photograph Iceland's most celebrated summer visitors: the Atlantic puffins. We will visit some cliffs around Dyrhólaey where the puffins nest during the summer and busy themselves looking for food for their chicks. Photographing puffins is not easy (especially when they're flying), but we'll show you the best techniques to capture them!
After dinner, we will enjoy the midnight sun hours in the Vík area and visit its church, which is surrounded by beautiful lupines. Then we will arrive at our hotel near Skógafoss for a much-needed rest
DAY 6: Iceland Summer Photo Tour
The next day, our destination will be the Iceland Golden Circle, where we will photograph some classics like Geysir, the powerful Gullfoss Waterfall, and Thingvellir National Park. This is the most popular area in Iceland and also the most crowded, so we'll visit the best locations during times when there are fewer visitors.
This day, there's also an optional 1-hour easy hike to Brúarfoss Waterfall. This walk offers great views of the Brúará River and lush vegetation and waterfalls on the way to the main location. This waterfall possesses a unique, vibrant, blue color that comes from a nearby glacier. We'll shoot long exposures with short and long lenses, with plenty of opportunities for drone photography.
In the evening, we'll chill out in the natural hot tub at our accommodation and wait until the golden hour, when we'll photograph some of the previous locations under the midnight sun.
DAY 7: Iceland Summer Photo Tour 
On the seventh day, we will drive directly to the Snaefellsnes Peninsula, in western Iceland.
Our first stop on the peninsula will be the beautiful black church of "Búdir", which is surrounded by wildflowers in the summer.
Later, there will be a feast for the eyes (and our cameras) with plenty of incredible locations to photograph, such as giant volcanic cliffs with sea stacks and arches. During the summer, this is also one of the best places to photograph the iconic lupines with the Snaefellsjökull volcano in the background and countless migratory birds.
We'll finish the day by taking the most iconic midnight sun shot in Iceland: the setting sun behind the majestic Kirkjufell Mountain. We'll show you different perspectives that go beyond the typical waterfall composition and demonstrate different advanced techniques to capture the best possible photos.
DAY 8: Iceland Summer Photo Tour
On the last day of our Iceland summer photography workshop, we will drive to Reykjavik and stop at some scenic roads on the peninsula, where we'll photograph lava fields, craters, and hidden waterfalls.
Once in the capital, we will board a ship to look for humpback whales. This is the perfect time of year to see and photograph the whales around this area in Iceland, and it's one of the best experiences we'll have on the trip.
After the tour, we will take a walk around Reykjavik and visit some locations on the Reykjanes Peninsula before arriving at our hotel in Keflavik, where we will have our last dinner.
Iceland is a country that's full of surprises, and sometimes you get unique photography opportunities. In September 2021, for example, we had the opportunity to visit and shoot an active volcano. If any situation like this arises, we'll adapt the schedule so you can enjoy a similar once-in-a-lifetime experience.
DAY 9: Iceland Summer Photo Tour 
Our Iceland summer photo tour ends at the Keflavik Airport, where we will drop you off to catch your flight back home.
PRICE: $4,190 USD
Deposit: $1,500 USD
A $1,500 USD deposit is required to reserve your spot for this workshop. You can also pay in full at any time. The remaining balance is due on March 18th, 2023. If the remaining balance is not paid in full by the due date, you will lose your spot.
You are guaranteed a 100% refund if we have to cancel the tour due to COVID-19.
What does the price include?
INCLUDED
Pick up & drop-off at the airport.
Transportation during the trip.
Fuel and parking fees.
Accommodation in shared rooms with private bathroom. (*single rooms available for an extra)
Photo guide services from two professional landscape, nature, and travel photographers.
Entrance fees to different attractions such as Kerið crater, Stokksnes, and Thingvellir.
Whale-watching tour in Reykjavik,
100% refund if there is a cancellation due to COVID-19.
*BONUS
Two complete post-processing tutorials

 with images from Iceland (valued at $99)
NOT INCLUDED
Flights to/from Keflavik Airport.
Single room supplement ($850 USD)
Meals.
Health/travel insurance (We can help you purchase the best travel insurance according to your needs).
Telephone, personal expenses, tips etc. and any other service not mentioned in the "INCLUDED" section.
Below, you can watch a video that we filmed in most of the locations that we will visit on the trip.
What will I learn during this summer Iceland photo Tour?
This workshop is mainly focused on landscape photography with possibilities for wildlife and aerial photography.
What you learn during the workshop will vary according to your goals and skills. Your instructors are professional photographers with extensive experience who will help you take your photography to the next level.
During the tour you'll have the opportunity to learn:
Some of the photography basics you can learn during the workshop are:
Getting comfortable shooting different types of landscapes and wildlife in manual mode.
Adjusting to the best camera settings in each situation.
Planning your sunset and landscape images
Shooting long exposures using ND filters.
Enhancing your composition with the best techniques.
Designing your own shooting workflow to be more efficient in the field.
Basics of drone photography.
Creating powerful compositions that tell a story and engage the viewer.
Building a connection between your photography and your vision.
Becoming a master of light: learn how to enhance it and keep it under control.
Advanced landscape techniques like bracketing, focus stacking, or focal length blending.
Advanced wildlife settings and shooting techniques
Advanced drone photography like aerial panoramas, vertoramas, and bracketing.
Some of the post-processing techniques that you can learn with the included tutorials are:
Basics of Lightroom and Photoshop
Preparing your images in Lightroom/Adobe Camera Raw.
Stitching of panoramas using different software like Lightroom or PTGui Pro.
Reducing the noise in your images with Denoise AI.
Sharpening your wildlife photos with Sharpen AI.
All types of Blendings (exposure, focal length, focus, etc.).
Light shaping and Dodge & Burn in your landscape & wildlife images.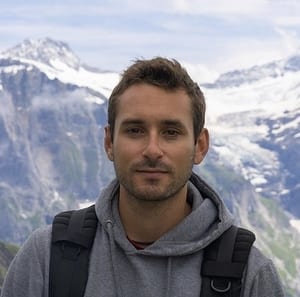 Your instructors on this Iceland Photo Tour
David Aguilar will be the tour leader throughout this Iceland photography workshop, and he will make sure that you get the best photography results and experience out of this tour. He will help you with your photography, technique, and composition in all your landscape, wildlife, and aerial images.
David is a real expert on Iceland after countless trips all around the island over the last decade. He's very knowledgeable about the most photogenic locations, the weather patterns, and the best techniques to capture breathtaking landscape images. He's also a master drone pilot and can help you with your aerial photography on this trip. 
David's main passion is traveling and helping others with their craft. He's traveled extensively, not only in Nordic countries like Iceland and Norway but also across vast areas in European Alps and South America. 
He's also a skilled post-processing editor and has helped countless photographers over the last few years with his online landscape editing courses.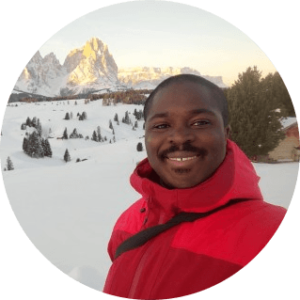 Prince Berkoh will be the co-leader of the tour and he'll make sure that you capture the best possible images during this trip.
Prince is a landscape and night photographer based in Madrid, Spain. His passion for photography has taken him to some of the most spectacular landscapes in Europe, from Spain to the remote Faroe Islands.
He also loves educating and teaching others about photography, having led numerous workshops and presentations on night photography over the years.
Prince will show you how to best capture the Iceland landscapes, from the basics to advanced techniques like bracketing, focus stacking, panoramas, and other long exposure photography tips.
What to bring on an Iceland Photo Tour?
We will send you a complete list of everything that we recommend for this tour upon sign-up. Below, you can find a summary of things you might need:
PHOTOGRAPHY GEAR
DSLR/mirrorless camera and a sturdy tripod
A wide-angle lens, such as a 14-24 mm lens.
A medium zoom lens, such as a 24-70 mm lens.
A telephoto lens, like a 100-400 mm lens.
You may be interested in this guide where you can dive deeper into photography equipment for traveling.
CLOTHING
The average temperature in Iceland in June is 48ºF (9ºC) but the weather is very variable, going from warm and sunny  to windy and rainy in a matter of hours. You should be prepared for all seasons and bring warm clothing. Some of the things that we recommend bringing on this Iceland photography tour are:
A system of layers to wear (base layer, fleece, windproof layer, shell).
A good pair of breathable boots to keep your feet warm and protect your ankles while walking over rocks and uneven terrain.
A wool hat and gloves in case it gets cold.
You will find more items and details in the official list of recommendations that we provide upon registration.
MONEY
The currency in Iceland is the Icelandic Krona (ISK). We recommend getting ISK from in your home country, although, if that is not possible, you can purchase some at Keflavík Airport.
In almost 100% of places in Iceland, you can pay by credit or debit card, no matter how small the amount is, so you  won't need much cash for the trip.
DOCUMENTATION
Please check if you need a visa to visit Iceland. We can help you with this.
What expenses should you consider for this Iceland photo tour?
FLIGHTS
You should book your flight to Keflavik International Airport.
The price of round-trip flights to Iceland from Europe and the US is approximately $300-600 USD. We recommend this article to find the best flights to Keflavik from your current location.
MEALS
Meals are not included. Most of the days, we will have breakfast in our accommodation and have a big meal at dinner in one of the local restaurants (We also know where to find the tastiest local Icelandic food 😉
During the day, we will eat snacks/picnic to speed up and maximize the time for photography.
Neither supermarkets nor restaurants are cheap in Iceland, so we recommend preparing to spend about $60-$80 USD on food per day.
ENTRANCE FEES
All the parking/entrance fees, such as for Kerið and Stokksnes, are included in the price of the tour.
What makes this Iceland Photo Tour unique?
Frequent questions about our Iceland Photo Tours
I've had the opportunity to work with and help countless photographers in Iceland over the last years:

I recently spent 3 weeks with Dan in Iceland. It was a wonderful experience that surpassed my expectations. Dan is an energetic guide who is passionate about what he does. The trip was well organized, and Dan made sure we were able to see everything that was planned. Dan worked with everyone on the tour to understand their skill level and provide his insights on ways to improve their photography. It was a wonderful adventure. I hope I have the opportunity to tour with Capture the Atlas again.
South & North Iceland Tours

I joined Capture the Atlas in Iceland in September 2021 for the consecutive North and South tours. It was a trip of a lifetime. Jam-packed days and unbelievable (and otherworldly) sights. Before the trip, I didn't even know how to turn my camera on to manual settings. However, with their expertise and constant patience, I really upped my skill level. I loved how they REALLY knew the area. They were very knowledgeable about the best accommodations and hidden gems that we would never have seen or found if we had selected another company or tried to visit on our own. You will never regret joining any of Dan's trips (I know we don't) and I know that I will once again come home with great memories and amazing photos.
South & North Iceland Tours

If I had to join a photo tour again, I wouldn't hesitate to repeat this trip with Capture the Atlas! In addition to the organization, the accommodations, the places...you have the feeling of traveling with friends, where we all learn from each other and the guides are very close and familiar creating a small family. We were a group of different ages and levels and none of that prevented the coordination from being excellent. In addition, Dan adapted and made the necessary changes in the schedule if the weather wasn't the best, and thanks to that we could see and photograph the Northern Lights! Thanks again to Ascen and Dani. Highly recommended!

Excellent trip. I highly recommend it to anyone looking for a "different" vacation and photography learning experience. The views of waterfalls, volcanos, geysers, glaciers, etc. are superb. Dan helped me get my images to another level. Iceland should be on your bucket list, especially with Capture the Atlas. The guys are very knowledgeable about photography and how to organize the trip.
South & North Iceland Tours

On my recent photo tour to Iceland, not only was I able to see the Northern Lights, but I also was able to photograph them thanks to Dan's tutelage and patience! I returned home with not only amazing pictures but also renewed enthusiasm for photography. Dan's passion for photography and landscapes is unequivocal.

Dan was a great host on my recent Photo tour of Southern Iceland. He is an excellent photographer and was energetic in his effort to get our group to so many great sites to photograph. I had great comrades along, which made the journey even more enjoyable. Would I make this trip with Capture the Atlas again? In a heartbeat!

Traveled with Dan on the South Iceland tour, September 2021. We had six "photographers" on the tour of varying experience and Dan was exceptional at working with us on our level. He was also accommodating by changing the timing of the itinerary due to the weather and the eruption of the volcano. The tour included, as advertised, some hiking to remote places to capture some unique photos. The weathered dictated times to get out to see the Aurora and sunrises which were all impressive.

Dan & Ascen drove almost 2,000 km's to bring us to all the locations for photo shoot's. There was fabulous enthusiasm amongst the group. We witnessed amazing landscapes and seascapes. Dan made it all possible, the "Dancing Northern Lights" would not be missed on this tour. There was a good choice of accommodation & restaurants.

I took the 2019 Iceland trip. Dan, the group leader, has been to Iceland many times and is knowledgeable on the best photo locations on the island. In addition to the well-known, must-see locations, he also took us to some less-visited locations that were also worthwhile. It is also a plus to have a tour guide who is knowledgeable about lodgings, restaurants, grocery stores, etc. in the area. One bucket-list item for all of our group was to see the Northern Lights. After several days of rain and overcast skies, Dan revised the schedule and drove to locations on the island where we were able to get two nights of good Northern Lights viewing. Dan and Ascen were attentive to the needs of the group, whether for photography advice, accommodations, meals, etc. I highly recommend them and would travel with them again.
Active volcanoes, endless glaciers, wildflowers, black sand beaches, mountains & fjords, puffins, skies colored by the midnight sun…Iceland is a paradise for photographers for good reason. It's very easy to feel like you're in a fantasy world when you see and shoot in all these breathtaking locations, and this trip will help you discover all the spectacular things that Iceland has to offer.
Expect excitement like on no other trip when we prepare to go out and chase the midnight sun. The experience can't be described in images or words; you have to live through it and, believe me, after that, you'll understand why Iceland is such a special country.
Iceland is one of the first places I started shooting when I first picked up a camera many years ago. I fell so profoundly in love with everything on the island that I've traveled there every year since that initial trip. Iceland is our signature photo tour for many reasons, and in this trip, you'll discover the magic of Iceland at its best!