2023 Faroe Islands Photo Tour
Dramatic Atlantic landscapes
Join us for a Faroe Islands photo tour to capture some of the most breathtaking and dramatic landscapes in the North Atlantic Ocean. These islands boast some of the most majestic cliffs, imposing sea stacks, epic fjords, photogenic waterfalls, and raw beauty in the entire world. The Faroe Islands looks like it was pulled out of a fantasy book.
We are running this Faroe Islands photography trip from May 14th to May 20th, 2023. During this time of year, the waterfalls will be flowing, and golden hour lasts forever!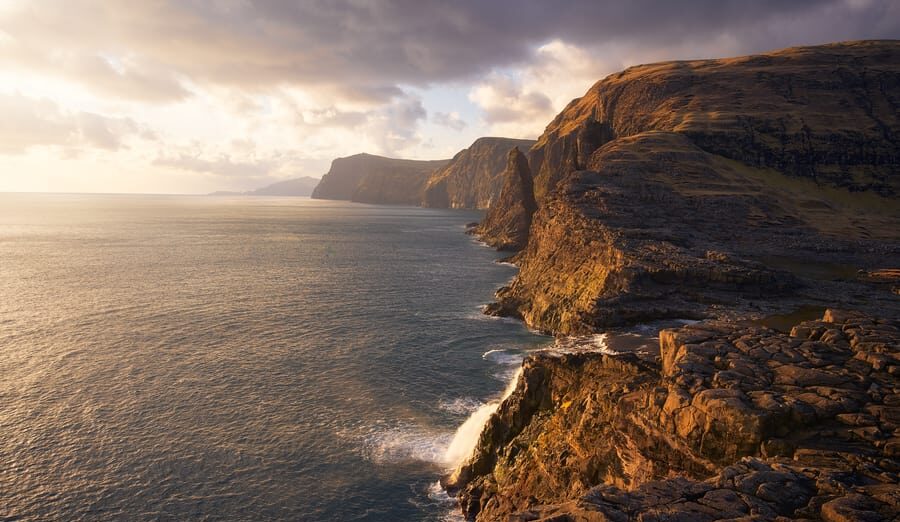 OVERVIEW
Our Faroe Islands photo tour will focus on capturing the most iconic landscapes on the Faroes' main islands. During this time of the year, we'll have most of the locations to ourselves as it won't be peak tourist season yet.
Over 7 days, we will visit the most photogenic locations in the Faroes, including Gásadalur, Drangarnir, and Trælanípa, the "slave cliff"; we'll also visit lesser-known locations we've prepared for this workshop, such as Sornfelli, the Hvíthamar viewpoint, and the village of Norðradalur. We will visit different viewpoints throughout the trip and our main goal will be to capture the locations in the best possible light.
We will personally help you capture the best possible images during our Faroe Islands photography workshop and show you the best techniques to shoot any subject in different light conditions: sunrise, sunset, midday, overcast, etc.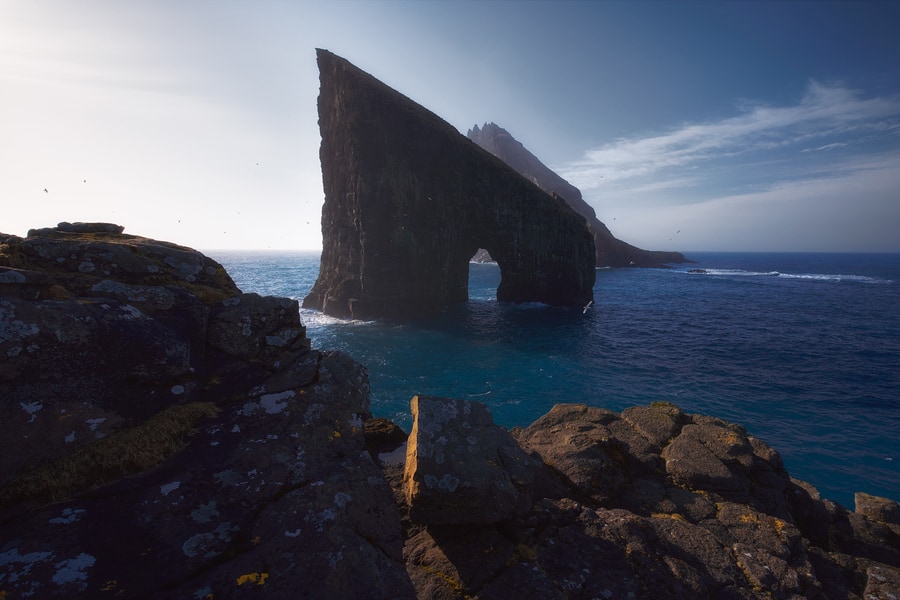 FAROE ISLAND PHOTO TOUR HIGHLIGHTS
Photo Tour from May 14th – 20th, 2023. (1 LAST SPOT!)
Group size: 10 participants + 2 instructors.
Main topics: Landscape photography – Fjords, cliffs, waterfalls, grand vistas.
Main areas: Faroe Islands (the islands of Vágar, Streymoy, Eysturoy, Kalsoy, Borðoy, Viðoy and Mykines).
Accommodation included in top hotels close to the best locations.
Transportation included in two vehicles to travel comfortably with all luggage/camera bags.
All hiking, ferry, and location fees are included.
Download the official Faroe Islands Photo Tour Brochure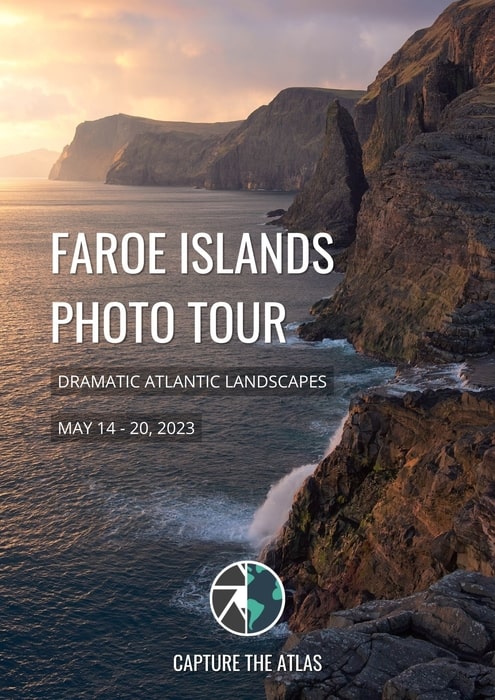 2023 Faroe Islands Photo Tour Itinerary
The itinerary of our Faroe Islands photo tour is flexible. The weather on the Faroes is very dynamic and it's possible to experience all four seasons within a few hours, which offers endless possibilities for capturing different types of images. We will experience moments with beautiful golden light around sunrise and sunset, but we will also enjoy more dramatic lighting conditions with storms, clouds, or fog. The same location can look completely different in a matter of minutes.
We know the Faroe Islands very well, so our goal is to photograph the locations in the best possible conditions, depending on the weather forecast.
DAY 1: Faroe Islands Photo Tour – May 14th
This Faroe Islands photo tour will begin at Vágar Airport, where we'll pick you up in the morning and meet up with the rest of the group. From the airport, we'll drive about an hour to our accommodation, where we'll have a general orientation. After that, we'll head to our first location, Fossá, the tallest waterfall in the Faroe Islands. Here, we'll use wide-angle lenses to capture the immensity of this waterfall.
After the first location, we'll move on to our first sunset shoot at Norðradalur, where we'll see the island of Koltur in the distance. This location is mostly famous for the winding road that leads visually to the island, but there are also some streams of water that can be used to frame different compositions.
Once the light is gone, we'll head back to our accommodation to prepare for the next day.+
DAY 2: Faroe Islands Photo Tour – May 15th
On the second day of our Faroe Islands photography tour, we'll wake up early to capture the sunrise at Trøllkonufingur, or the "witch's finger." Legend has it that this is the actual finger of a giant witch who tried to destroy the Faroe Islands. We'll park very close to the viewpoint, and after a short 10-minute hike, we'll be able to see this massive sea stack. During our session, we'll see the sun rising behind its slender shape, which is absolutely magical.
After breakfast, we'll drive to the little town of Bour, where we'll get a first glimpse of the islet of Tindhólmur and the massive Drangarnir sea stacks, behind some traditional turf-covered houses.
Finally, to end our second day, we'll visit the little town of Gásadalur. This town encapsulates what the Faroe Islands is all about: rugged landscapes full of dramatic cliffs, mountains, and a photogenic waterfall (Mulafossur) in the middle. We will photograph this Game of Thrones-like location in different lighting until sunset.
DAY 3: Faroe Islands Photo Tour – May 16th
On our third day, we'll take a ferry to visit one of the most well-preserved areas in the Faroe Islands: the island of Mykines. Mykines is known for being the nesting area for puffins, one of the cutest and most fascinating birds in the North Atlantic. Puffins come here to mate and lay eggs from late spring throughout the summer and they can be seen on the north face of Mykines. After lunch, we'll take the ferry from Mykines back to Sørvágur.
Our final location for the day will be the magnificent viewpoint of Sornfelli, where we'll be able to see the island of Vágar as well as the "witch's finger" from the other side.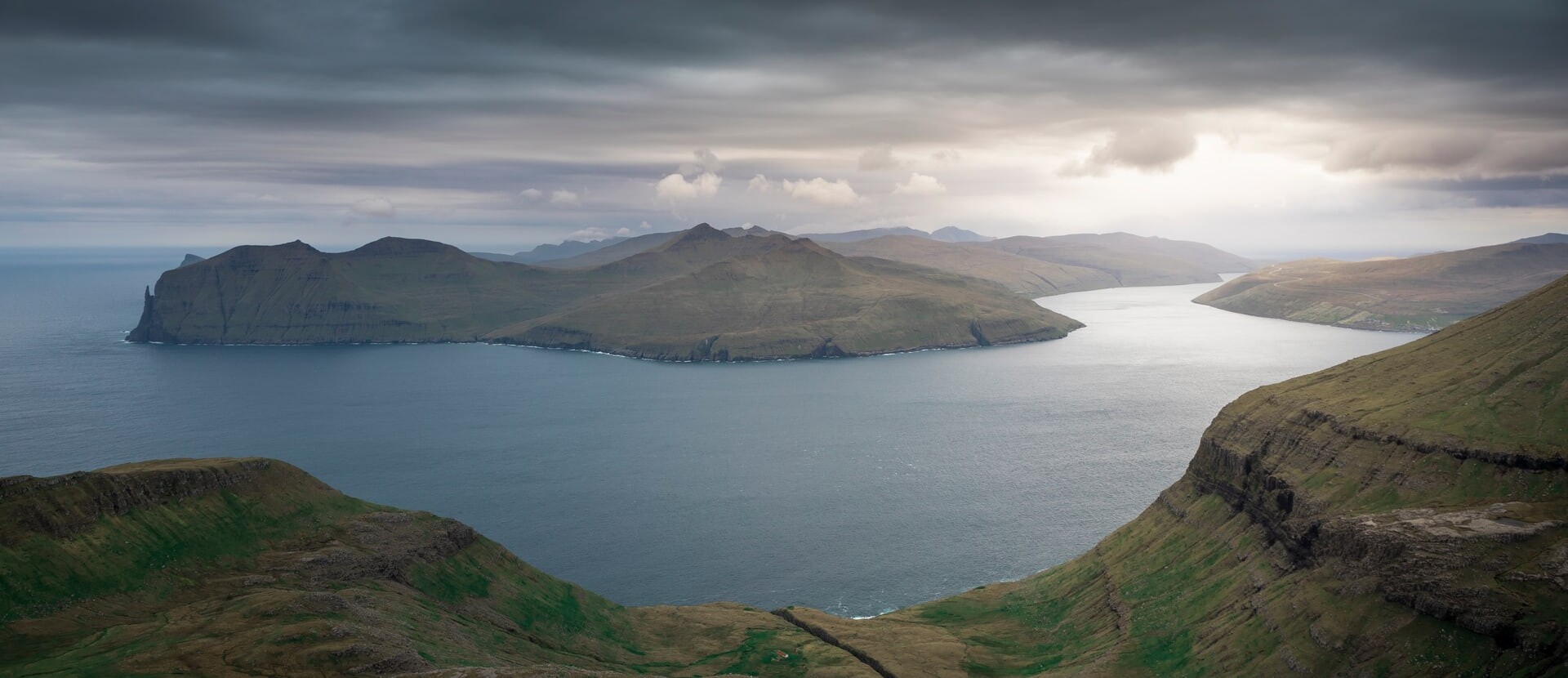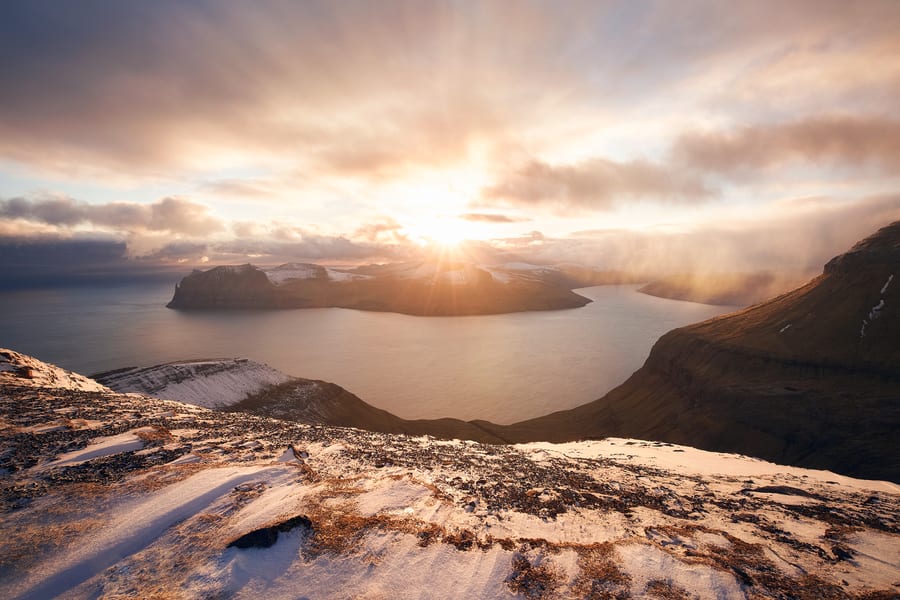 DAY 4: Faroe Islands Photo Tour – May 17th
On the fourth day of our Faroe Islands photo trip, we'll wake up early to catch the sunrise at one of the most impressive viewpoints in the entire Faroe Islands: Hvíthamar. After a short 30-minute hike, we'll arrive at our photography spot. This natural viewpoint overlooks the little town of Funningur and the imposing Funningsfjørður fjord. After this shoot, we can hike up the ridgeline to a higher point of view, where we'll enjoy breathtaking views.
After breakfast, we'll visit the town of Gjógv, which is known for its naturally formed gorge. There, we will have the chance to get closer to the sea and capture some coastal scenes. Also, after a quick 20-minute walk, we'll arrive at a viewpoint, where we'll see views of the town surrounded by mountains.
After lunch, we'll take a boat to visit what will probably be the highlight of our trip: Drangarnir and Tindhólmur. This is one of the most famous locations in the Faroe Islands but getting there is not an easy feat. The hike is long and not meant for the faint-hearted. For this reason, we've booked a boat, which will allow us to avoid a strenuous hike and focus on enjoying the spectacular views.
First, we'll go around the sea stacks and the islet and visit some caves hidden under the cliffs. Then, we'll spend plenty of time photographing the sunset from different spots before heading back to our accommodation.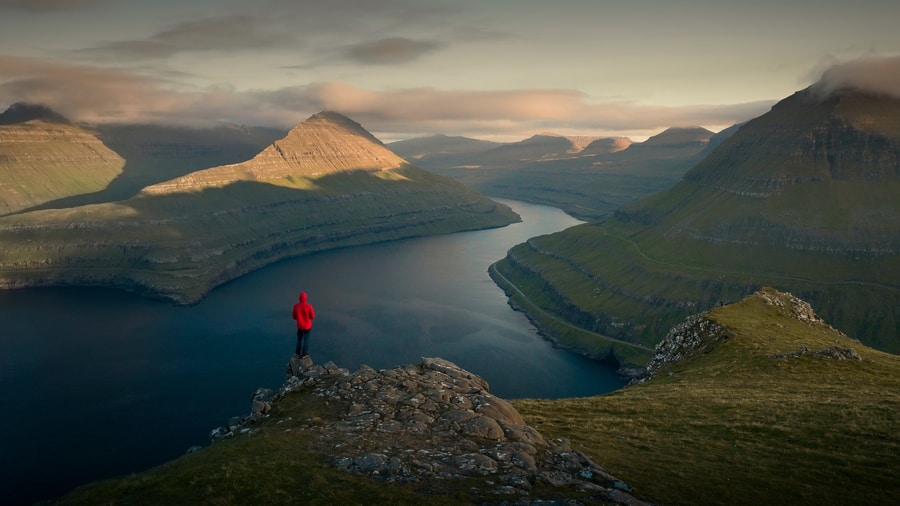 DAY 5: Faroe Islands Photo Tour – May 18th
On the next day of our Faroe Islands photo adventure, we'll visit the town of Tjørnuvik. Here, we will enjoy a calm and relaxing photography session, photographing Risin and Kellingin, two prominent sea stacks off the northern coast called "The Giant and The Witch." We'll show you the best techniques to shoot them and tell you about the fascinating legend behind them.
After Tjørnuvik, we'll visit Saksun, a tiny village on the island of Streymoy. This is one of the oldest villages in the Faroes and it's located on the shore of a marine lagoon that fills up twice a day from the movement of the tides.
Later, we'll leave Saksun to visit the most impressive shoreline in the Faroes: Trælanípa, the "slave cliff." We'll spend the afternoon here while we wait for sunset. There are plenty of possibilities for compositions nearby: Bøsdalafossur waterfall, the gigantic sea stack called Geituskorardrangur, Trælanípa, and Sørvágsvatn lake. This lake is the biggest and most iconic lake in the Faroes. It's also known as "the illusion-causing lake," since it looks like it's hanging over the ocean.
After sunset, we'll drive back to our hotel to get ready for the next day of our Faroe Islands photo tour.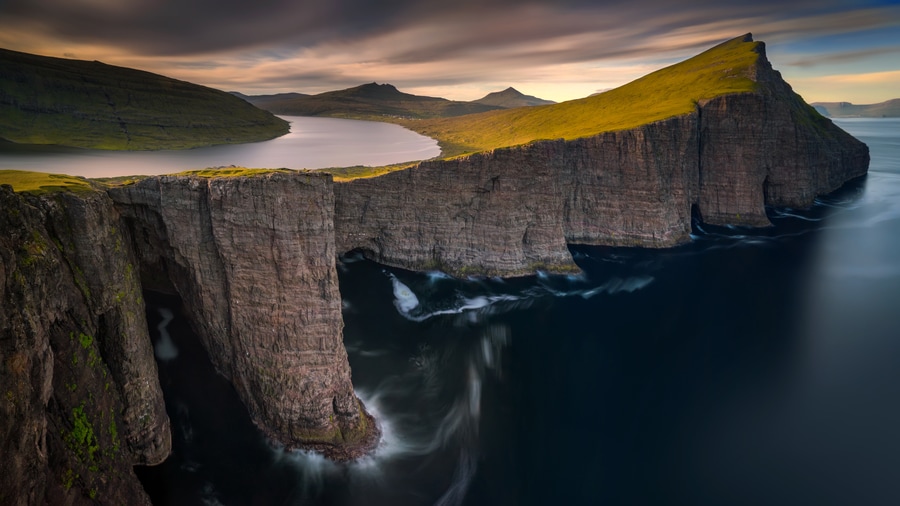 DAY 6: Faroe Islands Photo Tour – May 19th
On the 6th day of our Faroe Islands photography tour, we'll drive about an hour north to Klaksvík, the second-largest city in the Faroe Islands, to take the ferry to the island of Kalsoy, which has a population of just 80 people. Here, we'll visit the tiny village of Trøllanes, where we'll have majestic views of the islands of Kunoy and Viðoy.
At 3 PM, we'll catch the ferry back to Klaksvík and drive to the base of Klakkur, from which we have a steep, 30-minute walk to the most spectacular viewpoint in the Faroe Islands. This is the best sunset view in the entire archipelago. From the viewpoint, we'll be able to see the islands of Eysturoy, Kalsoy, Kunoy, and Borðoy surrounded by the North Atlantic Ocean.
After enjoying the sunset at this incredible viewpoint, we'll head back to our accommodation to pack up and prepare for our last sunrise.

DAY 7: Faroe Islands Photo Tour – May 20th
On our last morning of our Faroe Islands photo tour, we'll drive up to a nearby viewpoint to photograph the Kalbaksbotnur fjord and wrap up our Faroe Islands adventure.
After breakfast, we'll head to the airport no later than 11PM to catch flights departing from 1PM onwards.

Deposit: $1,500 USD
A $1,500 USD non-refundable deposit is required to reserve your spot for this workshop. You can also pay in full at any time. The remaining balance is due on February 14th, 2023. If the remaining balance is not paid in full by the due date, you will lose your spot.
The additional cost for a single room is $600 USD.
You are guaranteed a 100% refund if we have to cancel the tour due to COVID-19 or the current conflict in Ukraine.
What does the price include?
INCLUDED
Pick up & drop-off at Vágar Airport (FAE).
Transportation during the trip in two comfortable passenger vans.
Fuel and subsea tunnel fees.
Accommodation in hotels in shared rooms with private bathrooms.
Photo guide services from Prince Berkoh & David Aguilar, professional landscape and astrophotographers.
Ferry to Kalsoy.
Ferry to Mykines.
Boat tour to Drangarnir and Tindhólmur with local guide.
Hiking and photography location fees.
NOT INCLUDED
Flights to/from 

Vágar Airport (FAE)

.
Private room – Extra $600 (*Subject to availability)
Meals, except breakfast.
Health/travel insurance (We can help you purchase the best travel insurance according to your needs).
Cell phone, personal expenses, tips etc. and any other service not mentioned in the "INCLUDED" section.
What will I learn during this Faroe Islands Photo Tour?
This workshop is focused on landscape photography and shooting coastal scenes, waterfalls, and grand vistas. It's also a unique opportunity to photograph the landscape in dramatic conditions.
What you learn during the workshop will vary according to your goals and skills. Your instructors are professional photographers with extensive experience who will help you take your photography to the next level.
During the tour you'll have an opportunity to learn:
Some of the photography basics you can learn during the workshop are:
Getting comfortable shooting different types of landscapes in manual mode.
Adjusting to the best camera settings in each situation.
Planning your sunset and landscape images.
Shooting long exposures using ND filters.
Improving your coastal and panoramic photography.
Enhancing your composition with the best techniques.
Designing your own shooting workflow to be more efficient in the field.
Basics of drone photography.
Creating powerful compositions that tell a story and engage the viewer.
Building a connection between your photography and your vision.
Becoming a master of light: learn how to enhance it and keep it under control.
Advanced landscape techniques like bracketing, focus stacking, or focal length blending.
Advanced drone photography like aerial panoramas, vertoramas, and bracketing.
Some of the post-processing techniques that you can learn with the included tutorials are:
Basics of Lightroom and Photoshop.
Preparing your images in Lightroom/Adobe Camera Raw.
Stitching panoramas using different software like Lightroom or PTGui Pro.
Reducing the noise in your images with Denoise AI.
Sharpening your photos with Sharpen AI.
All types of Blendings (exposure, focal length, focus, etc.).
Light shaping and Dodge & Burn in your landscape images.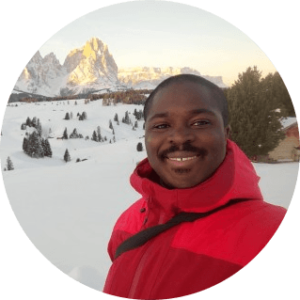 Your instructors on this Faroe Islands Photo Tour
Prince Berkoh will be the tour leader throughout this Faroe Islands photography workshop, and he will make sure that you get the best photography results and experience out of this tour. He will help you with your photography, technique, and composition in all your landscape images.
The Faroe Islands is one of Prince's favorite locations to photograph since this is where he fell in love with landscape photography. He has returned on multiple occasions to get to know the country better from both a photographic and cultural perspective and he'll use the knowledge he's gained to show you the best photography locations, and the legends behind them.
Prince loves teaching others about photography and has led numerous workshops and presentations on night photography over the years.
Prince will show you how to best capture the Faroe Islands landscapes, from the basics to advanced techniques like bracketing, focus stacking, and panoramas.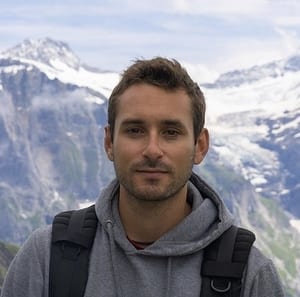 David Aguilar will be the co-leader of the Faroe Islands photography tour and he'll make sure that you capture the best possible images during the trip.
He's very knowledgeable about the most photogenic locations, the weather patterns, and the best techniques to capture breathtaking landscape images. He's also a master drone pilot and can help you with your aerial photography on this trip. 
David's main passion is traveling and helping others with their craft. He's traveled extensively and has taken stunning images all around Europe, in Nordic countries, like Iceland and Norway, and across South America. 
He's also a skilled post-processing editor and has helped countless photographers over the last few years with his online landscape editing courses.
What to bring on a Faroe Islands Photo Tour
We will send you a complete list of everything we recommend bringing on this tour when you sign up. Below is a summary of things you might need:
PHOTOGRAPHY GEAR
DSLR/mirrorless camera and a sturdy tripod.
A wide-angle lens, such as a 14-24 mm lens.
A medium zoom lens, such as a 24-70 mm lens.
A telephoto lens, like a 100-400 mm lens.
A camera bag to transport all your equipment.
A 6-stop ND filter to shoot waterfalls and seascapes.
A CPL (circular polarizer filter) to shoot waterfalls and seascapes.
A rain cover for the camera.
You may be interested in this guide on
photography equipment for traveling
.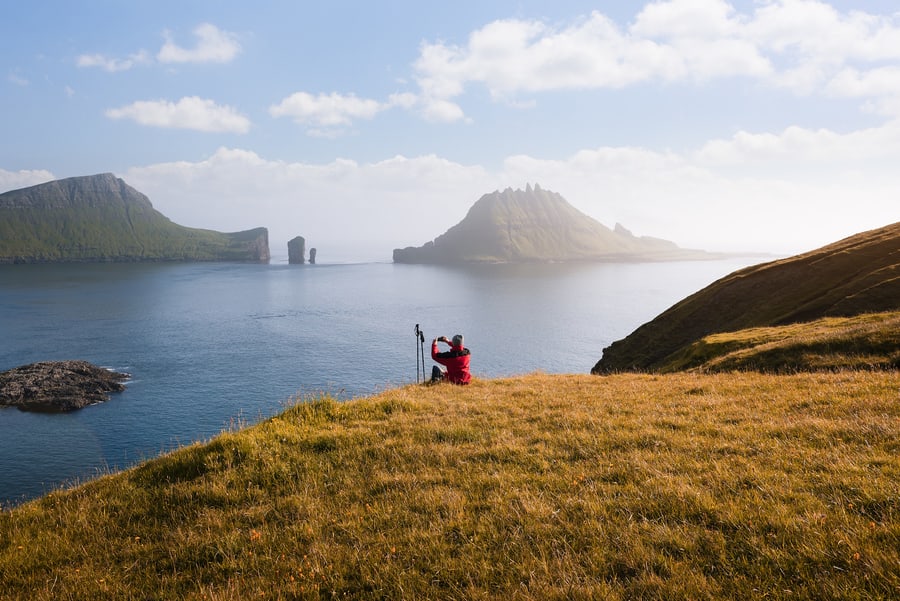 CLOTHING
The average temperature in the Faroe Islands in May is 48ºF (9ºC), but in the mornings, it can drop below 32ºF (0ºC). You should come prepared for all kinds of weather, but definitely bring
warm clothing
 and a
rain jacket
. Rain and storms are very common in the Faroe Islands. Some of the things we recommend bringing on this Faroe Islands photography tour are:
A system of layers to wear (base layer, fleece, windproof layer, shell)
A pair of trusty, warm, and waterproof hiking boots with good grip to prevent you from slipping on muddy terrain and keep your feet safe.
A wool hat, a neck gaiter, and gloves.
You'll find more items and details on the official list of recommendations that we provide upon registration.
MONEY
The
currency in the Faroe Islands
is the
Danish Krone (DKK)
. We recommend purchasing DKK in your home country. If that isn't possible, you can always purchase some at the Vágar Airport. Credit and debit cards are an accepted method of payment in almost 100% of the places in the Faroe Islands, so you likely won't need much cash during the trip.
DOCUMENTATION
Please check if you need a visa to visit the Faroe Islands. The Faroe Islands is a self-governing country that's part of the Kingdom of Denmark; however, it does not belong to the European Union. We can help you with this process.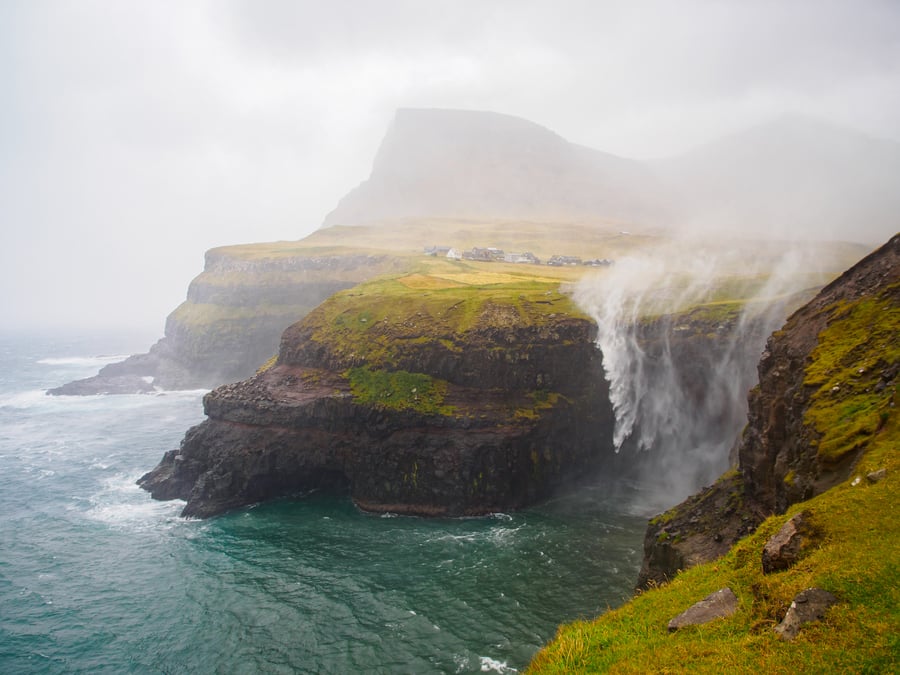 ACCOMMODATION
The accommodation on this Faroe Islands photo tour is
double occupancy in a shared bedroom with two individual beds and a private bathroom
. There is an option to stay in single rooms for an additional $600 USD on this trip. Confirm your need for a single room as soon as possible so we can make the arrangements.
What expenses should you consider for this Faroe Islands photo tour?
FLIGHTS
You should book your flight to
Vágar Airport (FAE)
. The price of round-trip flights to the Faroe Islands from Europe is $300-$400, and from the US, it's approximately $400-$600. The Faroe Islands is still a remote place to visit and only two airlines fly there:
Atlantic Airways
and
Scandinavian Airlines (SAS)
. We personally recommend flying with Atlantic Airways whenever possible. SAS is known to be less reliable in bad weather and might cancel a flight at the last minute. You can take a direct flight to the Faroe Islands from a variety of destinations, such as Copenhagen (Denmark), Paris (France), Reykjavik (Iceland), Edinburgh (Scotland), Oslo (Norway), and Bergen (Norway). There are also seasonal flights from places like Barcelona, the Canary Islands, and Mallorca. If you can find a good flight deal to one of those cities, the flight over to the Faroes will usually only set you back about $120.
MEALS
Meals are not included, except for breakfast at our hotel. Most days, we will have breakfast at a cafe near our photography location, then, during the day, we'll have snacks and picnic food to maximize our time for photography. At night, we'll enjoy a nice dinner at local restaurants. We recommend preparing to spend about $40-$70 USD on food per day.
HIKING, FERRIES AND TOLLS
All the land in the Faroe Islands is privately owned
; therefore, the most popular spots require entry fees. All the hiking, ferry, photography location, undersea tunnels, and transportation fees are included in the tour's price.
What makes this Faroe Islands Photo Tour unique?
Frequent questions about our Faroe Islands Photo tour
I've had the opportunity to work with and help countless photographers over the last years:

I recently spent 3 weeks with Dan in Iceland. It was a wonderful experience that surpassed my expectations. Dan is an energetic guide who is passionate about what he does. The trip was well organized, and Dan made sure we were able to see everything that was planned. Dan worked with everyone on the tour to understand their skill level and provide his insights on ways to improve their photography. It was a wonderful adventure. I hope I have the opportunity to tour with Capture the Atlas again.
South & North Iceland Tours

I joined Capture the Atlas in Iceland in September 2021 for the consecutive North and South tours. It was a trip of a lifetime. Jam-packed days and unbelievable (and otherworldly) sights. Before the trip, I didn't even know how to turn my camera on to manual settings. However, with their expertise and constant patience, I really upped my skill level. I loved how they REALLY knew the area. They were very knowledgeable about the best accommodations and hidden gems that we would never have seen or found if we had selected another company or tried to visit on our own. You will never regret joining any of Dan's trips (I know we don't) and I know that I will once again come home with great memories and amazing photos.
South & North Iceland Tours

If I had to join a photo tour again, I wouldn't hesitate to repeat this trip with Capture the Atlas! In addition to the organization, the accommodations, the places...you have the feeling of traveling with friends, where we all learn from each other and the guides are very close and familiar, creating a small family. We were a group of different ages and levels and none of that prevented the coordination from being excellent. In addition, Dan adapted and made the necessary changes in the schedule if the weather wasn't the best, and thanks to that we could see and photograph the Northern Lights! Thanks again to Ascen and Dani. Highly recommended!

Excellent trip. I highly recommend it to anyone looking for a "different" vacation and photography learning experience. The views of waterfalls, volcanos, geysers, glaciers, etc. are superb. Dan helped me get my images to another level. Iceland should be on your bucket list, especially with Capture the Atlas. The guys are very knowledgeable about photography and how to organize the trip.
South & North Iceland Tours

On my recent photo tour to Iceland, not only was I able to see the Northern Lights, but I also was able to photograph them thanks to Dan's tutelage and patience! I returned home with not only amazing pictures but also renewed enthusiasm for photography. Dan's passion for photography and landscapes is unequivocal.

Dan was a great host on my recent photo tour of Southern Iceland. He is an excellent photographer and was energetic in his effort to get our group to so many great sites to photograph. I had great comrades along, which made the journey even more enjoyable. Would I make this trip with Capture the Atlas again? In a heartbeat!

Traveled with Dan on the South Iceland tour, September 2021. We had six "photographers" on the tour of varying experience and Dan was exceptional at working with us on our level. He was also accommodating by changing the timing of the itinerary due to the weather and the eruption of the volcano. The tour included, as advertised, some hiking to remote places to capture some unique photos. The weathered dictated times to get out to see the Aurora and sunrises which were all impressive.

Dan & Ascen drove almost 2,000 kilometers to bring us to all the locations for photo shoot's. There was fabulous enthusiasm amongst the group. We witnessed amazing landscapes and seascapes. Dan made it all possible; the "Dancing Northern Lights" would not be missed on this tour. There was a good choice of accommodation & restaurants.

I took the 2019 Iceland trip. Dan, the group leader, has been to Iceland many times and is knowledgeable on the best photo locations on the island. In addition to the well-known, must-see locations, he also took us to some less-visited locations that were also worthwhile. It is also a plus to have a tour guide who is knowledgeable about lodgings, restaurants, grocery stores, etc. in the area. One bucket-list item for all of our group was to see the Northern Lights. After several days of rain and overcast skies, Dan revised the schedule and drove to locations on the island where we were able to get two nights of good Northern Lights viewing. Dan and Ascen were attentive to the needs of the group, whether for photography advice, accommodations, meals, etc. I highly recommend them and would travel with them again.
Dramatic cliffs, photogenic waterfalls, massive sea stacks, rugged coastlines… the Faroe Islands contain raw beauty just waiting to be photographed.
Combine all this with dramatic weather, beautiful light, well-preserved landscapes, and epic vistas, and you have the recipe for an unforgettable photo adventure.
The Faroe Islands captivates every person who sets foot there, not only because of the beautiful scenery but also because of its welcoming culture and people.
Are you ready to join us on an unforgettable photography adventure to the remote Faroe Islands?!