Seeing a Las Vegas show is one of the best things you can do in Vegas. Sin City offers just about any kind of show you could want, not to mention some of the most beautiful theaters and venues in the world.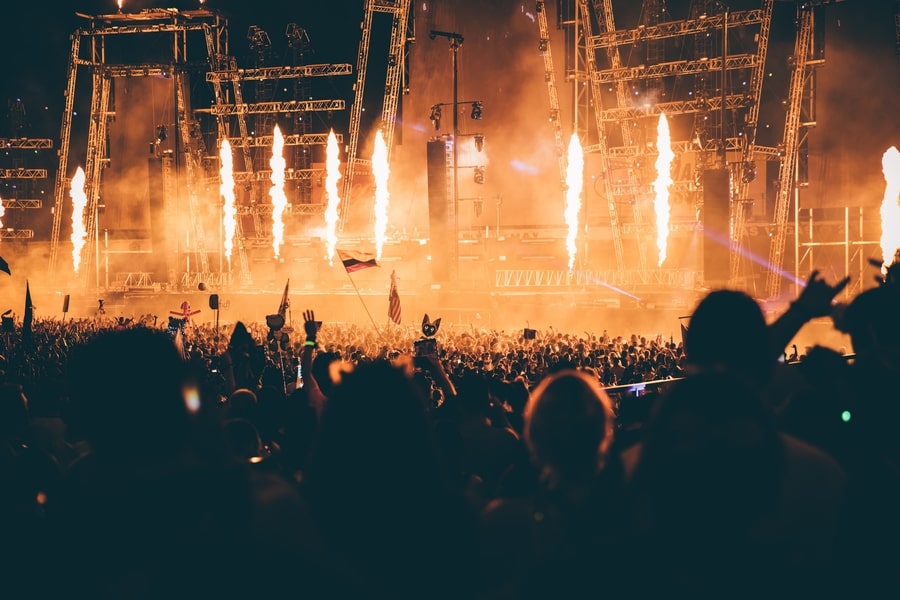 There are so many fun performances to see, from adult shows in Las Vegas to family-friendly comedy and magic shows. You can count on Vegas to host world-class talent, ranging from the sexiest burlesque dancers and award-winning magicians to the best celebrity impersonators and famous comedians. Of course, Sin City hosts acclaimed musicians, singers, and bands, too!
This article rounds up the best Las Vegas shows in the top categories:
Get ready to find your next must-see show in Vegas! Also, check out our tips for finding discount Las Vegas show tickets and more.
Top Las Vegas residency shows
Las Vegas residency shows change every few years, but they're some of the top-selling shows in Sin City. These celebrity shows in Las Vegas often take place at a particular theater or hotel, and in the past, have included artists like Britney Spears, Celine Dion, and Gwen Stefani. Currently, these Las Vegas shows are the most popular:
Santana
Carlos Santana is known for his bluesy, jazzy guitar riffs with a Latin flair. An Intimate Evening with Santana at Mandalay Bay's House of Blues features Santana and his band in a 2-hour exploration of his greatest hits.
Venue: Mandalay Bay
Schedule: Select dates, 7 pm
Tickets: $100 – $270
Barry Manilow
With a career spanning over 50 years, Barry Manilow has some of the most recognizable songs, including "Mandy" and "Copacabana". His Las Vegas residency show, Manilow: Las Vegas, takes place at Westgate Las Vegas Resort & Casino and features several of his chart-topping hits.
Schedule: Thursday-Saturday, 7 pm
Tickets: $55 – $375
Shania Twain
Shania Twain's Let's Go! concert at Planet Hollywood brings a bit of Nashville to the Strip. The best-selling female country artist performs hits like "Man! I Feel Like a Woman" and "You're Still the One" during this Las Vegas residency show.
Usher
Usher's Las Vegas residency show is a multi-sensory display of music and dance. The 8-time Grammy Award winner performs at The Colosseum at Caesars Palace with his sexy backup dancers and special effects.
The most popular Las Vegas shows
Some of the longest-running shows in Vegas are also the most popular. These Las Vegas variety shows feature singing, dancing, comedy, and action, so they're some of the best performances you can see on the Strip.
Blue Man Group
The Blue Man Group has been performing for over 30 years and remains one of the top shows in Vegas. The performance is part music, part comedy, and part theater, as three bald, blue-skinned men interact with each other and the audience to tell a story.
Venue: Luxor
Schedule: Thursday – Tuesday, times vary
Tickets: $76 – $120
Cirque du Soleil
Las Vegas' Cirque du Soleil shows are some of the city's most beloved performances. Each colorful spectacle is an incredible display of acrobatics, theater, circus acts, and storytelling. Kà at MGM Grand is a coming-of-age story; Mystère at Treasure Island is a whimsical exploration of the universe, and O at the Bellagio is a Las Vegas water show. There is also Michael Jackson ONE at Mandalay Bay and The Beatles LOVE at The Mirage.
Jabbawockeez
Jabbawockeez, the acclaimed hip-hop dance group that won MTV's America's Best Dance Crew, has been performing its show in Vegas for years. The Jabbas are known for their intricate break-dancing accompanied by special effects like video screens and lasers.
Venue: MGM Grand
Schedule: Monday, Wednesday-Sunday, 7 pm, 9:30 pm
Tickets: $71 – $110
Tournament of Kings
Tournament of Kings is a dinner show in Las Vegas that takes inspiration from the story of King Arthur. The family-friendly show includes jousting, knights, pyrotechnics, and other special effects.
Venue: Excalibur
Schedule: Sunday – Monday, 5:30 pm, 8 pm
Tickets: $88 – $95
V – The Ultimate Variety Show
V – The Ultimate Variety Show is one of the best family shows in Las Vegas and features daring acrobatics, juggling, comedy, and magic acts.
The best adult shows in Las Vegas
It wouldn't be a trip to Sin City without seeing a racy burlesque performance, campy drag show, or one of the best Las Vegas adult shows.
Absinthe
Absinthe is considered one of the best shows in Las Vegas for adults. It's a modern take on burlesque, circus, and vaudeville acts, bringing the 19th-century cabaret scene into the 21st century.
Venue: Caesars Palace
Schedule: Sunday – Monday, 7 pm, 8 pm, 9 pm, 10 pm, 11 pm
Tickets: $146 – $500
Australia's Thunder from Down Under
Australia's Thunder From Down Under is an adult show in Las Vegas featuring Australian studs dancing, grinding, and teasing the audience. The 18+ show is equal parts lighthearted and lewd.
Venue: Excalibur
Schedule: Wednesday – Monday, 7 pm, 9 pm, 11 pm
Tickets: $73 – $100
Chippendales
Chippendales is one of the most well-known adult shows in Las Vegas, mixing seduction with contemporary dance moves. If the on-stage pelvic thrusting isn't enough for you, there are a few times when the men go into the crowd and flirt with audience members.
Venue: Rio Hotel
Schedule: Wednesday – Sunday, 8 pm, 10:30 pm
Tickets: $50 – $150
Drag Brunch at Señor Frog's
Drag Brunch at Señor Frog's restaurant invites you to weekend brunch with an open bar. This top drag show on the Las Vegas Strip features singing and dancing from several glam queens from RuPaul's Drag Race, so you know it'll be a wild and crazy time.
Venue: Treasure Island
Schedule: Friday – Sunday, 11 am, 2 pm
Tickets: $90 – $120
Fantasy
Las Vegas' Fantasy show is the best way to experience Sin City's captivating showgirls. This highly-rated live show in Vegas includes sexy dance numbers, skimpy clothing, and hit songs performed by Pussycat Dolls lead singer Jamie Lynch.
Venue: Luxor
Schedule: Monday – Saturday 10:30 pm, Sunday 8 pm, 10:30 pm
Tickets: $58-$68
Zombie Burlesque
If you want to see one of the best burlesque shows in Vegas, check out Zombie Burlesque. This unexpected performance includes comedic musical acts reminiscent of the 1950s era…and sexy zombies. It's one of the most unique and fun live shows in Las Vegas!
Top comedy shows in Las Vegas
If you want to share a good laugh, you'll find no shortage of comedy shows in Las Vegas. Check out some of the best Vegas comedy shows performing right now!
Potted Potter – All 7 Harry Potter Books in 70 Minutes
If you're looking for a Las Vegas comedy show for families, Potted Potter has enough jokes for everyone. This hilarious show squeezes all 7 Harry Potter books into a 75-minute show, complete with wizard costumes, props, and a fire-breathing dragon.
Piff the Magic Dragon
Piff the Magic Dragon and his Chihuahua, Mr. Piffles, have one of the top comedy shows in Las Vegas. Their 90-minute performance at Flamingo Hotel includes card tricks, disappearing acts, levitation, sleight-of-hand, and more.
Venue: Flamingo Hotel
Schedule: Monday, Thursday – Sunday, 7 pm
Tickets: $76 – $97
Terry Fator
America's Got Talent winner Terry Fator also has a family-friendly comedy show in Las Vegas. The ventriloquist and his ragtag team of puppets can impersonate just about anyone, from Lady Gaga to Aretha Franklin.
Popular Las Vegas magic shows
The magic shows in Las Vegas are in a league of their own, so they're well worth checking out. Below are some of the best magic shows in Vegas, ranging from death-defying performances to comedic displays of wonder.
Paranormal Mind Reading Magic
Mentalist Frederic Da Silva's Las Vegas magic show, Paranormal Mind Reading Magic, explores hypnosis, magic, and mind-reading. This unforgettable family show in Vegas is your chance to experience one of France's most popular magicians.
Criss Angel
Criss Angel's Mindfreak magic show in Las Vegas is an immersive experience in illusions. With theatrical pyrotechnics, mind-boggling tricks, and even levitation, this Las Vegas performance will make your jaw drop.
David Copperfield
Legendary magician and storyteller David Copperfield has one of the best magic shows in Vegas. The acclaimed illusionist has broken over 10 Guinness World Records, and he brings his expertise to MGM Grand for all to enjoy.
Venue: MGM Grand
Schedule: Sunday – Thursday, 7 pm, 9:30 pm
Tickets: $99 – $230
Mat Franco Magic Reinvented Nightly
Mat Franco Magic Reinvented Nightly is a Las Vegas comedy magic show for all ages. The America's Got Talent winner now has his own Las Vegas residency show featuring magic, improv, and illusions.
Penn & Teller
Iconic comedy duo Penn & Teller combine magic and comedy in one of the best family shows in Las Vegas. The off-the-rails entertainment includes classic sleight of hand and wilder stunts like knife-throwing, so there's something for everyone.
Venue: Rio Hotel
Schedule: Sunday – Monday, 9 pm
Tickets: $70 – $205
Xavier Mortimer's Magical Dream
Xavier Mortimer: The Dream Maker is a Las Vegas performance that combines magic, illusions, music, and dancing. Award-winning Cirque du Soleil magician Xavier Mortimer uses lighting and animated special effects to bring new life to his impressive repertoire of tricks.
Venue: The STRAT
Schedule: Wednesday – Monday, 6 pm
The best Las Vegas tribute shows
Las Vegas tribute shows are the perfect way to re-experience the careers of the world's top musicians and artists. Sin City has paid tribute to Michael Jackson, Prince, Frank Sinatra, Aretha Franklin, and more. Here are some of the top tribute show to see in Vegas right now.
All Shook Up
All Shook Up is Las Vegas' tribute show to Elvis Presley. The King of Rock 'n' Roll gets his due in this energetic concert featuring a talented Elvis impersonator performing hits like "Hound Dog" and "Suspicious Minds."
Legends in Concert
Legends in Concert celebrates country music's top performers – past and present. The Las Vegas tribute show's convincing impersonators pay homage to Dolly Parton, Garth Brooks, Shania Twain, and others.
Purple Reign, The Prince Tribute Show
Purple Reign is a Prince tribute show in Las Vegas featuring one of the top celebrity impersonators. His sexy persona, guitar shreds, and over-the-top costumes will make you do a double-take!
MJ Live
Another legend, Michael Jackson, comes back to life in this Las Vegas tribute show. MJ Live pays homage to the King of Pop's rousing performances, iconic costumes, and fancy footwork, making it a treat for the eyes and ears!
Venue: The STRAT
Schedule: Sunday – Monday, 8 pm
Free Las Vegas shows you can't miss
The only thing better than a Las Vegas show is a free Las Vegas show! You can't miss these no-cost performances and light shows, many of which take place several times a night.
Bellagio Fountains
The Bellagio Fountains is a gorgeous display of choreographed water jets, music, and lighting, and it's a lovely couple's thing to do in Las Vegas.
You can see the show at the Bellagio Resort every 30 minutes from 3 pm – 7 pm Monday through Friday. On weekends and holidays, it's every 15 minutes from 7 pm to midnight.
Circus Circus acts
If you're looking for free things to do in Las Vegas, Circus Circus's acrobats and clowns perform Monday – Thursday starting at 1:30 pm. The free Las Vegas shows run every hour until 8:30 pm.
Lake of Dreams at The Wynn
Lake of Dreams at Wynn Las Vegas is a beautiful performance with whimsical characters and a waterfall curtain.
It features 5,500 LED lights, so it's an awesome thing to do in Las Vegas at night. Also, the free Las Vegas hotel show is open to the public.
Fall of Atlantic at Caesars Palace
The Fall of Atlantis at Caesars Palace is another free Las Vegas hotel show for all ages. It welcomes you to the kingdom of Atlantis via animatronics, special water effects, and fireballs. You can catch the show every day on the hour from 11 am – 10 pm.
Mirage Volcano
The Mirage Volcano is another free show in Las Vegas, right in front of The Mirage resort.
The nightly eruption is synched to music and pyrotechnics and occurs at 7 pm, 8 pm, 9 pm, 10 pm, and 11 pm. Not only is it free, but it's a fun thing to do in Las Vegas with kids.
Essential tips for Las Vegas shows
Finally, here are a few tips to keep in mind when booking any Las Vegas show.
If you purchased a general admission Las Vegas show ticket, check if you have assigned seats. If not, get to the theater early for a good spot.
It's always a good idea to get to the venue early since most casinos and hotels are hard to navigate, especially for first-timers.
Most shows and theaters don't have a dress code, but you should check the show's website to be sure.
If you want discount Las Vegas show tickets, it's about who you know. Talk to the hotel or casino's concierge desk or purchase your ticket in advance online.
It's worth staying until the very end of the performance since some Las Vegas shows do meet-and-greets with the cast.
That's it for this guide to shows in Las Vegas! As you can see, there is a Vegas show for everyone, whether you want something fun, flirty, or free. If you have any questions, don't hesitate to leave me a comment below!