If you're looking for a discount on Holafly eSIM cards, you've come to the right place. This is one of the best ways to get Internet while abroad since Holafly is available in over 130 countries. Plus, with the digital SIM, you can activate it while traveling, making this the easiest option for accessing data overseas.
I explain everything you need to know about the Holafly eSIM in our detailed review, so if you've already read that and you're ready for an Holafly discount code, say no more.
5% Holafly discount code
If you've already heard about Holafly from us and you're familiar with its features and benefits, thanks for reading our review! Just for being a Capture the Atlas reader, you can snag a 5% discount code on Holafly through our link and with the promo code CAPTURETHEATLAS.

5% OFF your international eSIM card
This is one of the best discounts for traveling, especially since you can apply this Holafly promo code to any of the company's eSIM cards, regardless of the destination or validity duration. Of course, you should make sure that your mobile device is compatible with the Holafly eSIM by checking here. The eSIM is compatible with over 200 devices, but if you have a problem, you can opt for the SimOptions SIM card. It's a physical SIM, but it's the next best thing if you can't get the Holafly eSIM.
One more thing: before making the payment to buy the card, make sure your phone is unlocked and compatible with the network frequencies of your destination country. Otherwise, you won't be able to use the Holafly eSIM or any other card. You can check this by contacting Holafly customer support through the website's 24-hour chat service.
How much is the Holafly eSIMs with and without the promo code
Now that you know the details and logistics of the Holafly digital SIM card, I want to show you a comparison between the eSIM's regular price and how much it costs with the Holafly discount.
Holafly is available in over 130 countries, but for this chart, I'll give you an overview of the costs for an eSIM in Europe (multi-country card), Asia (multi-country card), and Mexico. For this example, I chose two duration periods (7 days and 15 days) and included the regular price and the price with the Holafly eSIM discount code. All these cards include unlimited data.
Price without discount

Capture the Atlas Holafly discount

Europe (7 days)

$27

$25.65 (5%)

Europe (15 days)

$47

$44.65 (5%)

Asia (7 days)

$34

$32.30 (5%)

Asia (15 days)

$47

$44.65 (5%)

Mexico (7 days)

$27

$25.65 (5%)

Mexico (15 days)

$47

$44.65 (5%)

HOLAFLY ESIM PRICES WITH & WITHOUT DISCOUNT
These digital SIM cards are already a great deal, but with the Holafly promo code, you can save even more and enjoy a reliable Internet connection and data while traveling abroad.
How to get the Holafly discount code
Getting the Holafly promo code is as simple as accessing the Holafly website through the link below:

5% OFF your international eSIM card
Once you're on the site, just select whichever eSIM you need for your travels, and then add it to your cart. Make sure you apply our Holafly discount code, CAPTURETHEATLAS, at checkout so you save 5% on your purchase.
Remember, you can purchase the eSIM on the same day as your trip or even if you're already abroad. Holafly's data plans have very reasonable prices compared to the physical cards offered by other companies, so it's a great deal.
After making your purchase on the website, you'll automatically receive an email with a QR code. Scan it to download the configuration and complete the activation process. That's it!
Again, it's important to check your phone's compatibility here first. Then, use our promo code for Holafly, CAPTURETHEATLAS, to claim your discount and complete your purchase.
How to buy an eSIM using the Holafly discount code
There aren't any physical or online stores that sell Holafly eSIM cards, so you must buy yours directly through the Holafly website.
On the homepage, select your destination country and the specified number of days you want Internet. Be aware that the validity duration may vary depending on where you're traveling to. Holafly is available in over 130 countries, with most plans offering 5, 7, 15, and 20-day plans, and some destinations have longer-term plans.
After choosing the country and number of days, you're ready to buy. Go to your cart and enter your personal information, shipping address, and payment method. Don't forget to enter our Holafly eSIM discount code, CAPTURETHEATLAS, at checkout!

5% OFF your international eSIM card
How the Holafly discount code is applied
To apply the Holafly discount on an eSIM card purchase, you must access the website through this link and enter the promo code CAPTURETHEATLAS at checkout, as shown.
You should see the discount applied at checkout, saving you 5% on your digital SIM card.
My experience using Holafly eSIMs
Now that you know how the discount code for Holafly works and how to get it, let me tell you why I love Holafly so much. This eSIM has been our go-to on many of our international trips, and we've had a positive experience every time.
Not only are the Holafly data rates very competitive, but the activation process is super quick and convenient since it's a QR code. We've been able to access unlimited data on all our trips, and the only time we weren't able to get the strongest Internet signal was when we were traveling through remote areas. Keep in mind that this sort of thing happens with local SIM cards too, so it's not an issue that's attributed to Holafly.
Again, being able to purchase a SIM card while abroad is one of the coolest things about Holafly. The company's customer service also stands out, as the support team is available to chat 24/7 to answer any of your questions.
Given all these benefits, it's no surprise that I consider Holafly to be one of the best SIM cards for Europe. Of course, you can use Holafly elsewhere, including in Mexico, Egypt, Japan, and beyond.
Advantages of Holafly eSIMs
Below, I'll share more details about the Holafly eSIM and why it stands out from the other digital and physical SIM cards. I'm sure you'll be convinced that it's the best option, so don't forget to take advantage of our Holafly promo code to maximize your savings.
Unlimited data in many countries
As I said, Holafly is available in over 130 destinations, and most of these countries offer unlimited data plans. This is a life-saver for us, as it helps us avoid pesky roaming fees and an astronomically high phone bill when we return home. Plus, some of the data plans are shareable, so it's perfect when we're traveling together.
Fast and reliable signal
Along with unlimited data, Holafly has a solid 4G connection, whether you're traveling across Africa, Asia, Europe, Oceania, or the Americas. The only time you may experience a slower connection is if you're traveling in a remote area.
Easy installation
With the digital SIM, activation is as easy as scanning the QR code that gets sent to your email. I like to scan the code off of Dan's phone, but if you're not traveling with anyone, you can print out the QR code and scan it yourself.
Keep your physical SIM card
Another reason why I recommend the Holafly eSIM is that you don't have to worry about taking out your phone's original SIM card and replacing it with a new one (and risk losing your old one).
Since the Holafly eSIM is digital, you can keep your phone's SIM card installed. You also don't have to wait around at home for a physical SIM to arrive in the mail.
You can buy it even if you're already traveling
If you travel often like us, or you like to take last-minute trips, the Holafly eSIM is perfect. You can buy it while you're abroad, so it's the most convenient option available for digital nomads and tourists.
You can have it ready to go even before reaching your destination
Of course, you can also purchase the eSIM before leaving your home country. You don't even have to wait for a package to arrive in the mail since the eSIM is 100% digital. Immediately after buying it, you'll receive an email with a QR code that activates the eSIM card. So, you can have Internet as soon as you land at your destination.
24/7 Customer support
Another thing to love about Holafly is that its customer support team is available 24/7 to answer questions. There is always someone available to chat on the website, so you can travel worry-free.
Includes calls in European countries
If you're traveling to Europe, you can make up to 60 minutes of international calls in Europe. The cost is included in your plan, as are 60 minutes of receiving calls from anywhere in the world. You can also use the Holafly card to make calls on apps like Messenger, Skype, Telegram, and WhatsApp, using your original phone number.
Holafly reviews from other customers
You've heard about my experience with Holafly, so now I want to share what others are saying about this eSIM card. If you need more convincing before you buy a discounted Holafly card, check out some of the reviews online.
You can find Facebook and Twitter reviews on Holafly's website. On Trustpilot, Holafly has an excellent rating of 4.6 stars based on 24,644 reviews. Below, you'll find some positive feedback from customers.
This traveler enjoyed the quick and easy process of activating the Holafly eSIM, as well as how convenient it was to use Holafly and avoid high phone bills from their provider back home: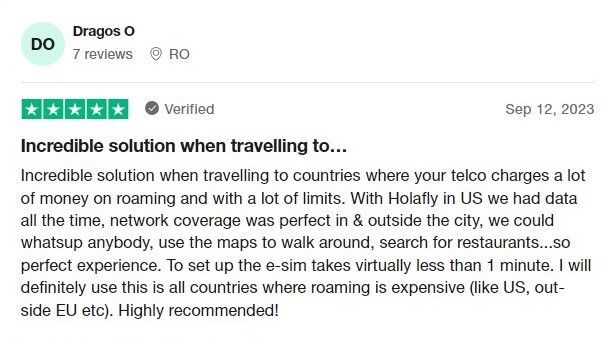 Here is another 5-star review from a tourist who used the eSIM for a trip to Japan and described the experience as seamless: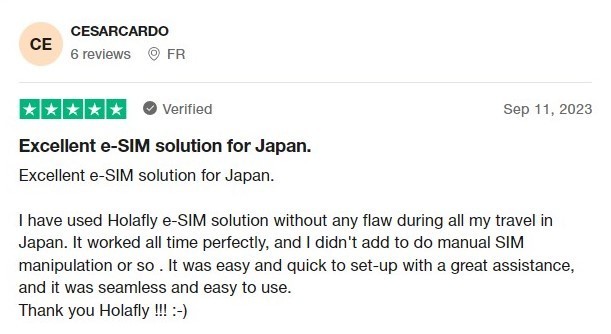 Of course, every company deals with negative reviews from time to time. This customer had trouble getting a connection with their Holafly card, but this was most likely due to user error: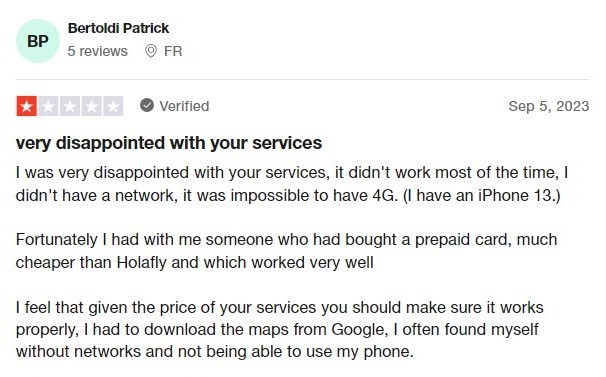 Holafly's customer support team quickly responded to this person and offered a possible solution: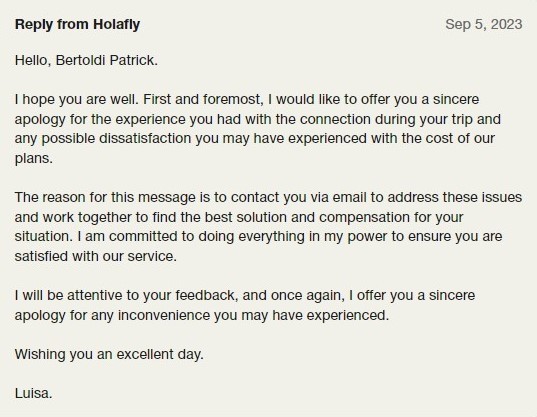 Overall, the majority of customers are super satisfied with their Holafly experience, so if you're ready to buy your eSIM, use our Holafly discount coupon to save 5%.

5% OFF your international eSIM card
Maximize your Holafly discount with other travel deals
Not only can you save on Internet abroad with the Holafly promo code, but we have other guides that will help you save even more money on your trip, whether you need a cheap hotel, flight deals, or an affordable rental car. Check them out and maximize your savings:
FAQs – Holafly eSIM discount
To wrap up, here are the answers to some commonly asked questions about using the Holafly discount code:
That's everything you need to know about the Holafly discount code. Remember, you can use the discount code on an Holafly eSIM even if you're already abroad, so don't miss out on this deal.
Please check out our guide on the Holafly eSIM card if you have questions about how it works, how to activate it, or any other related topic. You can also leave me a comment below so I can help you out.
Have a fantastic trip!