You'll never run out of things to do in this city, so if you want to save money and see as much as possible, consider a New York city pass. Whether you're visiting for a day, a week, or long term, there is an NYC pass for you.
The options range from one-day and multi-day passes that let you see unlimited attractions, to longer-term passes that cover a specified number of activities. There are even shorter-term cards that let you see some of NYC's most popular and expensive attractions at a discounted rate.
This guide will help you find the New York sightseeing pass that best suits your trip and preferences. I'll tell you each card's time limit, included attractions, advantages, and disadvantages so you can easily compare these options:
At the end of this guide, I will also give you some tips to make the most of your NYC pass. But, while each of these NYC attraction passes help you save money, if it's your first time here, we recommend the New York Pass, which includes over 100 activities and validity for 1, 2, 3, 4, 5, 7, or 10 days.
What is a New York City attraction pass?
A New York attraction pass can help you make the most of your time in the Big Apple by saving you money on all kinds of activities, attractions, sites, NYC museums, and tours. Most New York City passes have a digital option or mobile app, so you can quickly scan your pass and skip the ticket line.
An attraction pass is ideal for families, groups, and first-time visitors, and there are several options available. The New York Pass and the NY Sightseeing Day Pass allow you to visit unlimited attractions for several consecutive days. Meanwhile, the GoCity New York Explorer Pass and the NY Sightseeing FLEX Pass are valid for a longer period of time but limit the number of attractions you can visit. Finally, the New York CityPass and NEW YORK C3 Pass are good if you only want to visit a few specific premium attractions.
In this article, I'll review each New York citypass, comparing their pricing and included attractions, so you can choose the best card for your needs.
1. The New York Pass
The New York Pass is a digital pass for over 100 NYC attractions. Not only does it include several New York museum passes, but you'll also have access to all kinds of tours, NYC observation decks, the Big Bus Tour (one of the best hop-on hop-off bus tours in NYC), and more. You can purchase a pass for 1, 2, 3, 4, 5, 7, or 10 days, but you must use it for that specific number of consecutive days. It's the best NY city pass for first-time visitors since it includes lots of touristy activities, so we recommend it if you want to see some of the best attractions in NYC.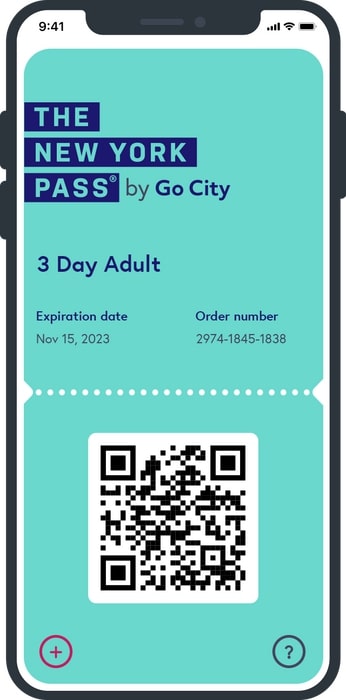 2. GoCity New York Explorer Pass
Another New York city pass you may like is the GoCity New York Explorer Pass. It works at over 100 attractions, and you have 60 days to use it, so it's a good option if you're going to be in the city a few times over the next couple of months or staying long term. Simply download the mobile app and pick the activities you'd like to do as you go. This GoCity New York Explorer pass has a 2, 3, 4, 5, 6, 7, and 10-attraction option, so it's best for people who know specifically what they'd like to see.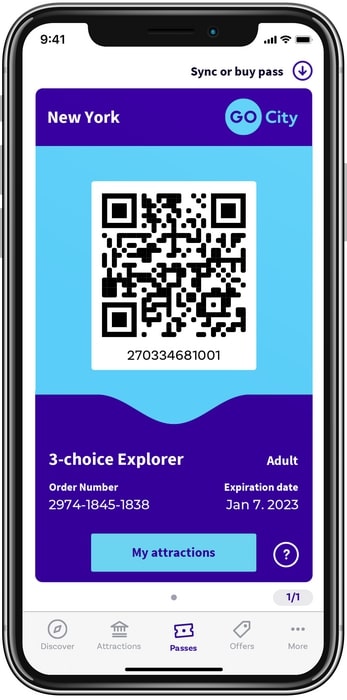 3. New York Sightseeing Day Pass
With a mobile app and access to over 150 attractions, the New York Sightseeing Day Pass is another solid choice. Select a New York sightseeing pass for 1, 2, 3, 4, 5, 6, 7, or 10 days, and do as many activities as you want during that time. You'll get access to popular attractions like observation decks and museums, as well as premium tours. The card has a 1-year money-back guarantee, and you can get a refund for your non-used pass if you purchase Sightseeing Pass insurance.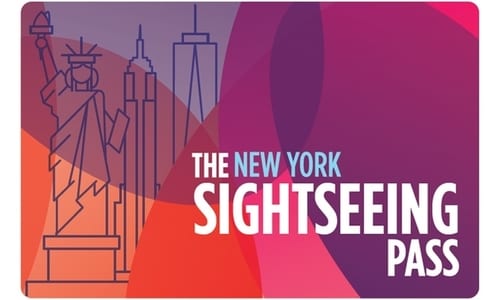 4. New York Sightseeing FLEX Pass
If you have a few top attractions that you'd like to see during your trip, consider the New York Sightseeing FLEX Pass. Choose from over 100 attractions, including bus tours, shows, and meals. Depending on the New York FLEX Pass you select, you'll get access to 2, 3, 4, 5, 6, 7, 10, or 12 activities. Plus, this pass is valid for 60 days, so it's convenient if you're going to be in NYC sporadically over the next couple of months.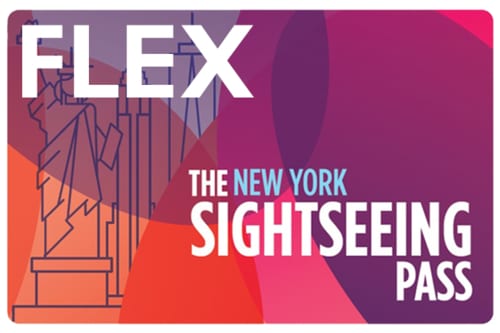 5. New York CityPass
The New York CityPass is valid for nine days and saves you 40% at five of the top NYC attractions. This NYC city pass includes admission to the Empire State Building and the American Museum of Natural History. Then, you can choose between the Top of the Rock or the Guggenheim; a ferry ride to the Statue of Liberty and Ellis Island or a Circle Line Sightseeing Cruise; and the 9/11 Memorial & Museum or the Intrepid Sea, Air & Space Museum.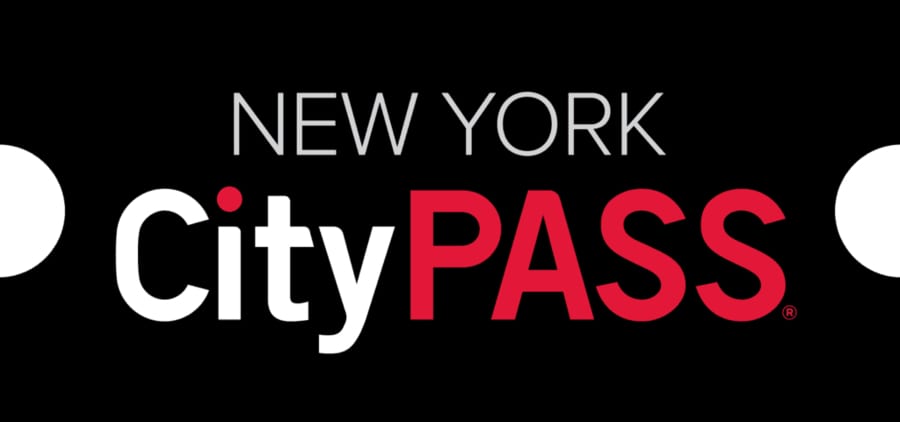 While it's a bit more complicated, it's a good New York attraction pass if you want to see a few of these premium sites and you have a longer stay in the city.
6. New York C3
The New York C3 Pass can help you save up to 34% on some of NYC's most exclusive attractions, and it has a 365-day risk-free return policy for unused cards. The New York C3 city pass is valid for nine days and grants you access to three premium attractions. There is a mobile pass option, which is especially convenient for large groups. On the downside, the C3 card only gives you 11 attractions to choose from.
Best for: Visitors who are short on time or on a budget
Pros: Great savings on some of NYC's most iconic attractions
Cons: You must use the pass within 9 days of activating it, there are only 11 attraction options
Which New York city pass is best?
If you're not sure which card to choose, here is a New York city pass comparison chart so you can see which ones include the activities and attractions you definitely want to see. The prices in parentheses show the regular admission price, so you can calculate your savings with each card.
Looking at all the options, my top recommendation is the New York Pass if it's your first time in the Big Apple or you plan to do a lot of sightseeing. Specifically, the three-day card will give you plenty of time to see the most popular attractions.
If you aren't planning to see that many things, and saving on prime attractions is what you're after, then grab a pen and a piece of paper and run this quick calculation:
Choose which of the starred attractions in the chart you want to visit no matter what.
Add up the ticket prices of those attractions.
Check the price for each of the tourist pass options (take into account the days you want to spend visiting those attractions or the number of attractions you want to see.)
Check if all the passes include the starred attractions you want to visit. If not, add up the prices of those attractions to the cost of that pass to have the total cost per option.
Compare the total cost of visiting your favorite attractions without a pass with the total cost per tourist pass (cost of the passes + cost of attractions not included.)
At this point you should know which is the cheapest option for you, but if you're still unsure and are deciding between two options, repeat the calculation with other non-starred attractions you want to visit, too. If the difference is not that much, I recommend getting an all-inclusive pass, like the New York Pass or the New York Sightseeing Day Pass.
Tips to make the most of your NYC pass
With a bit of planning, your New York city pass will pay for itself. Be sure to take the time to see which attractions are close to each other so you can maximize your time and savings. To help you out, here are some examples of how to use your NYC attraction pass for 2, 3, 4, or 5 days to make the most of your time.
Please, take into account that these aren't the itineraries I recommend for 2, 3, 4, and 5-day trips. It's just an example to show you how much you can save by using a tourist pass. Apart from attractions and tours, I recommend booking some time to just walk around the city by yourself and take in the views; it's one of the best free things to do in NYC.
Are these NYC passes worth it?
As you can see from the New York City pass comparison chart and the sample itineraries, an NYC CityPass is worth it, especially if you want to do a lot of sightseeing or you'd like to experience some of the more expensive attractions. As long as you run the calculation above and make sure you purchase the right pass for your trip, you'll save money while enjoying the best places to visit in Manhattan!
I hope you found an NYC pass you'd like to use during your trip. If you have any questions or are still unsure about which New York city pass is best for you, feel free to leave me a comment below. Have a great time in New York City!