Traveling along the West Coast of the United States had been in my head since the day I found out I'd be moving there for work. Who hasn't dreamed about a road trip across the Western US? For me, the landscapes that automatically come to mind are the Grand Canyon, Yosemite, and Death Valley among others, as we have seen again and again in a bunch of movies.
In addition to nature, the American West Coast also offers you visits to symbolic cities such as San Francisco, Los Angeles, and Las Vegas.
My favorite part of this trip was definitely the National Parks where natural wonders of this incredible country are concentrated within. I had been taking note of them on a Western US map for a long time so that I could visit them as soon as I had the chance.
That's how I started planning the 10-day West Coast USA road trip that we took in August.
THIS WAS OUR 10-DAY WEST COAST USA ITINERARY:
Day 1: Arrival in Las Vegas. Beginning of our 10-day West Coast USA Road Trip.
Day 2: Monument Valley + Antelope Canyon + Horseshoe Bend. The most popular places in the Western USA.
Day 3: Bryce Canyon National Park. One of the less touristic national park in the West Coast USA.
Day 4: Zion Canyon National Park. One of the places we like the most during our 10-day West Coast USA trip.
Day 5: Grand Canyon, a must-visit place on the West Coast.
Day 6: Mojave National Preserve + Death Valley, the best of our 10-day West Coast Itinerary.
Day 7: Yosemite Valley, the best attraction in the Western USA.
Day 8: Upper Yosemite Falls, the best hike of our West Coast America road trip.
Day 9: Tuolumne Grove of Giant Sequoias. You cannot skip this highlight of West Coast USA:
Day 10: Return flight from San Francisco. En of our 10-day Western US trip.
If a Western US road trip is also one of your dreams, you will find everything you need to prepare your trip here:
10-day west coast USA road trip
One of the first things I am sure you will be wondering about is how long a West Coast trip could take. My opinion is that you could be discovering the American West Coast for months and would still have things to do.
When looking at a West Coast USA map, it may initially seem that the best tourist destinations are close to each other. However, distances in this country are huge, and you will spend a lot of time on the road during your trip.
Keep in mind that the US public transportation system is very scarce outside of the big cities, so the only practical option is to rent a car and prepare for a West Coast USA driving holiday.
On our West Coast USA road trip, more than ¼ of the trip was spent driving and still, along with the Canadian Rockies trip, it was one of the best trips of our life.
Another highly recommended option is to take a West Coast RV trip, as this country offers all kind of facilities for those who like to travel with their motorhome. You can check the best RV rental companies in the USA here.
Although it takes a long time to travel across the West Coast in depth, if you don't have too many days or prefer to combine them, I encourage you to spend in West Coast America at least 10 days.
Best places to visit in West Coast America
There are thousands of West Coast USA tours you can take, so the first thing you have to choose is a few must-see places. It may seem complicated to plan this trip at first, especially when you do not have much time.
To help you choose your perfect West Coast America itinerary, you will discover the main tourist attractions in this section. Then, you can design the West Coast USA holiday itinerary that best suits your needs.
I suggest that as you read through this article, write down the things to do in West Coast America that interest you most on a map to help determine the best itinerary.
SAN FRANCISCO
If you like to visit cities, one of the places you cannot miss on the West Coast America is San Francisco. This popular city of California, is characterized by the steep slopes and the well-known Lombard street.
The most popular thing to do in San Francisco is visiting the Golden Gate Bridge, one of the most famous bridges in the US and a classic in many American films, as seen in Godzilla and Superman.
In addition, another interesting activity to do is visiting the Alcatraz Federal Penitentiary whose best-known prisoner was Al Capone. It was said that nobody could escape from this maximum-security prison island since the only way was by swimming almost two kilometers in cold and treacherous waters.
If you are visiting this city, stay in one of the best hotels in San Francisco.
LAS VEGAS
Las Vegas, also known as "Sin City", is one of the American classics famous for its countless casinos, open container laws (aka public drinking), and legalized prostitution in nearby counties.
The largest city in the state of Nevada welcomes both domestic and global tourism, where vice is a right. It is not surprising to hear the old saying: What happens in Las Vegas, stays in Las Vegas.
Whether you like gambling or not, it is a must-see Western American city. It is also a good place to celebrate your (fake) wedding if being married by Elvis is also one of your dreams. Here you can find the ultimate list of things to do in Las Vegas.
If you are visiting this city make sure you know where to stay in Las Vegas, since its hotels are some of the most amazing in the World.
Los Angeles
Los Angeles, also known as LA, is the most populous city on the West Coast of USA. The City of Broken Dreams and Hollywood stars is located in California.
The Walk of Fame and the Hollywood sign are probably the main tourist attractions in Los Angeles, although a visit to Santa Monica, the beach where Baywatch was filmed, is also recommended.
Another place of interest is the Warner Bros. studios, where you can visit the film sets of a lot of movies, as well as Venice, where the canals remind you of those from the Italian city with the same name.
LA is a stop that you cannot miss on your 10-day West Coast US trip if you happen to enjoy both cities and film. You can find where to stay in Los Angeles here.
GRAND CANYON
If we had to choose just a single place to start, visiting the Grand Canyon would probably be the first that we recommend to do in West Coast USA.
The Grand Canyon is in Arizona and was shaped by the Colorado River over millions of years. In some points, the Canyon reaches a depth of more than 5250 feet.
If you don't have much time, taking a Grand Canyon helicopter tour is a good option, as we told you in that article about our experience. However, if you have several days, I advise going down the canyon through one of the many different hikes to discover the Colorado River.
HAVASU FALLS
If you like adventure, visiting the Havasu Falls is an essential of West Coast USA.
The Havasu Falls, along with others in the area, belong to the Havasupai Indian Reservation and are guarded by a tribe of Native Americans. They are inaccessible by car, so you must be in excellent physical condition to visit as you will be hiking in and out.
Plan well in advance for your visit, since you will need a permit that usually runs out shortly after the beginning of the reservation period which starts in February of each year. In addition to the permit, you will have to book a camping spot, as it is mandatory to stay there when visiting the falls.
SANTA BARBARA
Back at the coastal area, Santa Bárbara, located 150 kilometers north of Los Angeles, can be another interesting stop.
The main beach largely resembles Santa Mónica, except Santa Bárbara is not as popular.
However, Santa Bárbara is not just a beach: its architecture with Hispanic colonial roots is an important tourist attraction.
MONUMENT VALLEY
Between Utah and Arizona, Monument Valley is another one of the supernatural landscapes in the American West. It is a huge valley where very interesting geological formations rose with reddish colors. This was also a scene featured in many classic western films.
This desert valley is located within the Navajo Nation, a territory that belongs to the Navajo natives who are responsible for both maintenance of the reserve and collection of entrance fees, which is not included in the US National Parks pass.
The best time to photograph the valley is during sunrise when the sun is behind the monuments, or during sunset when the monuments are illuminated by the last rays of the sun. In addition, there are different hiking trails that bring you closer to the main monuments of the valley, or you can even take a Jeep tour with one of the Navajo guides.
PAGE: ANTELOPE CANYON AND HORSESHOE BEND
Page is a town inside the Navajo Indian Reservation, located in Arizona.
The most interesting attraction here is the Antelope Canyon, a geological feature formed by consecutive floods throughout history, which eroded narrow labyrinths of sandy rock into its terrain.
In addition, if you visit Page, you cannot miss a sunset in Horseshoe Bend, which is named after its shape. It is probably the most famous bend of the Colorado River.
Here we leave you the best guide to know where to stay in Page.
THE WAVE
The Wave in Arizona is another attraction to see in Western America.
To see this solidified wave-shaped dune, you must have a permit issued four months in advance and by lottery (only 20 visitors per day are allowed).
It is one of the few virgin wonders that remain in the United States, so if you missed the date of the draw, it is always a good idea to check if someone has canceled his or her tour on the calendar. Visit this booking website both to participate in the lottery and to check the calendar.
BRYCE CANYON NATIONAL PARK
Bryce Canyon National Park is a reserve located in Utah and is popular for the peculiar rock formations also known as "Hoodoos". This park should be included in any Western US National Parks itinerary.
Due to the reddish color of the terrain, the best time to contemplate the main amphitheater viewpoint is at sunrise and sunset.
There are also several hiking trails that will take you through the formations, where you can discover some with very interesting forms and names like Thor's Hammer or Queen Victoria.
SAN DIEGO
Close to the Mexican border, we will find San Diego, the second largest city in the state south of Los Angeles
This city is a good stop on your 10-day West Coast US road trip if you are more interested in beach areas. La Jolla Cove is the most popular beach and you can find all kinds of wildlife including sea lions there.
In addition to the beach, there are other places of interest, such as Old Town San Diego, where you can find original buildings of the first Spaniards that arrived here, and Balboa Park, where many museums are concentrated, or the Coronado Island, where you can find the best views of the city.
ZION NATIONAL PARK
In Utah, one of the most important landmarks of the state is Zion National Park, where the main interest here is an 800-meter-deep canyon carved into the reddish terrain for 24 kilometers by the Virgin River.
There are different hikes that you can take in this park. One of the most popular is Angels Landing, where you can get a full view of the canyon after three hours of hiking and up the Via Ferrata section.
Another longer route is The Narrows, which can be completed in 8 hours or done over several days. The route goes through the narrow gorges carved in by the virgin river, so you always need to check river flow the day before at the visitor's center, and also to get water shoes.
JOSHUA TREE NATIONAL PARK
Located in a desert area in southern California, Joshua Tree National Park stands out for its unique rocks and mountain shapes.
Although its name comes from the unique Joshua Tree, what makes this park really interesting are the infinite rock-climbing possibilities.
Whether or not you are a climber, if you decide to visit Joshua Tree National Park on your West Coast USA trip over 10 days, you will experience the feeling of finding yourself on another planet.
DEATH VALLEY
On your 10-day West Coast America self-driving tour, you cannot miss the Death Valley that is located in California.
This immense desert is famous for Badwater, a dry area with the highest negative elevation within North America, situated at 262 feet below sea level. In addition, it is one of the hottest places on earth during summer, with a maximum recorded temperature of 58ºC.
If you are going to cross it, be sure to fill the fuel tank and bring plenty of water to survive the extreme desert temperatures during the day.
MOJAVE NATIONAL PRESERVE
The Mojave Desert spreads across Joshua Tree National Park, Death Valley, Lake Mead National Recreation Area (NRA) and the Mojave National Preserve.
While you will find Joshua trees all over in this vast extension of land, the world's highest concentration is located within the Mojave National Preserve.
In addition to the flora, the fauna is abundant and diverse, from reptiles like snakes, lizards, and turtles to mammals like bobcats or hares.
ARCHES NATIONAL PARK
Arches National Park, located in Utah, has the highest concentration of stone arches in the world, however, there is no record of how many arches there are in this extension. This is the reason why it's one of the most beautiful places to visit in Utah.
In addition, we can find another type of geological formations that defy gravity here, such as the Balanced Rock, a rock that seems to be falling at any time, yet has been standing for thousands of years in the same position.
The best way to go across Arches National Park is through a park ranger-guided tour that takes you to the purest and most virgin area of the park, where you cannot access on your own. You can book it here.
This park is one of the most acclaimed by photographers since the impossible shapes of the arches are very easy to use in any composition.
YOSEMITE NATIONAL PARK
An essential stop in West Coast USA is Yosemite National Park, located in the Sierra Nevada mountains in California.
This park is remarkable for two of the most important climbing sites in the United States and the world: the big granite walls of El Capitan and the Half Dome. In addition, we can find the American Giant Sequoia, one of the largest trees in the world, as well as extensive fauna that includes raccoons and black bears in this park.
If you are a lover of nature, outdoor activities, and camping, this is surely going to be one of your favorite places near West Coast of the United States.
SEQUOIA NATIONAL PARK
In Sequoia National Park, you can find the largest concentration of giant sequoias in the world. These are grouped within what is known as the Giant Forest.
The park is located about 10000 feet above sea level, a critical altitude for this type of trees to grow. However, it may be closed during the winter because of the snow.
In addition, here we can find the giant sequoia known as General Sherman standing at 275 feet. While it is the largest single-stem tree, the Hyperion, located in Redwood National Park, California, stands taller at 379 feet as the tallest living tree known in the world.
YELLOWSTONE NATIONAL PARK
Yellowstone National Park in Wyoming is the oldest national park in the United States. It stands out for the incredible volcanic activity in the area and for the abundant fauna that inhabits the park: buffalo, grizzly bears, black bears, moose… If you want to enjoy the authentic American wildlife and landscapes with a smell of sulfur taken from another world, Yellowstone is an essential place to visit on the American West Coast.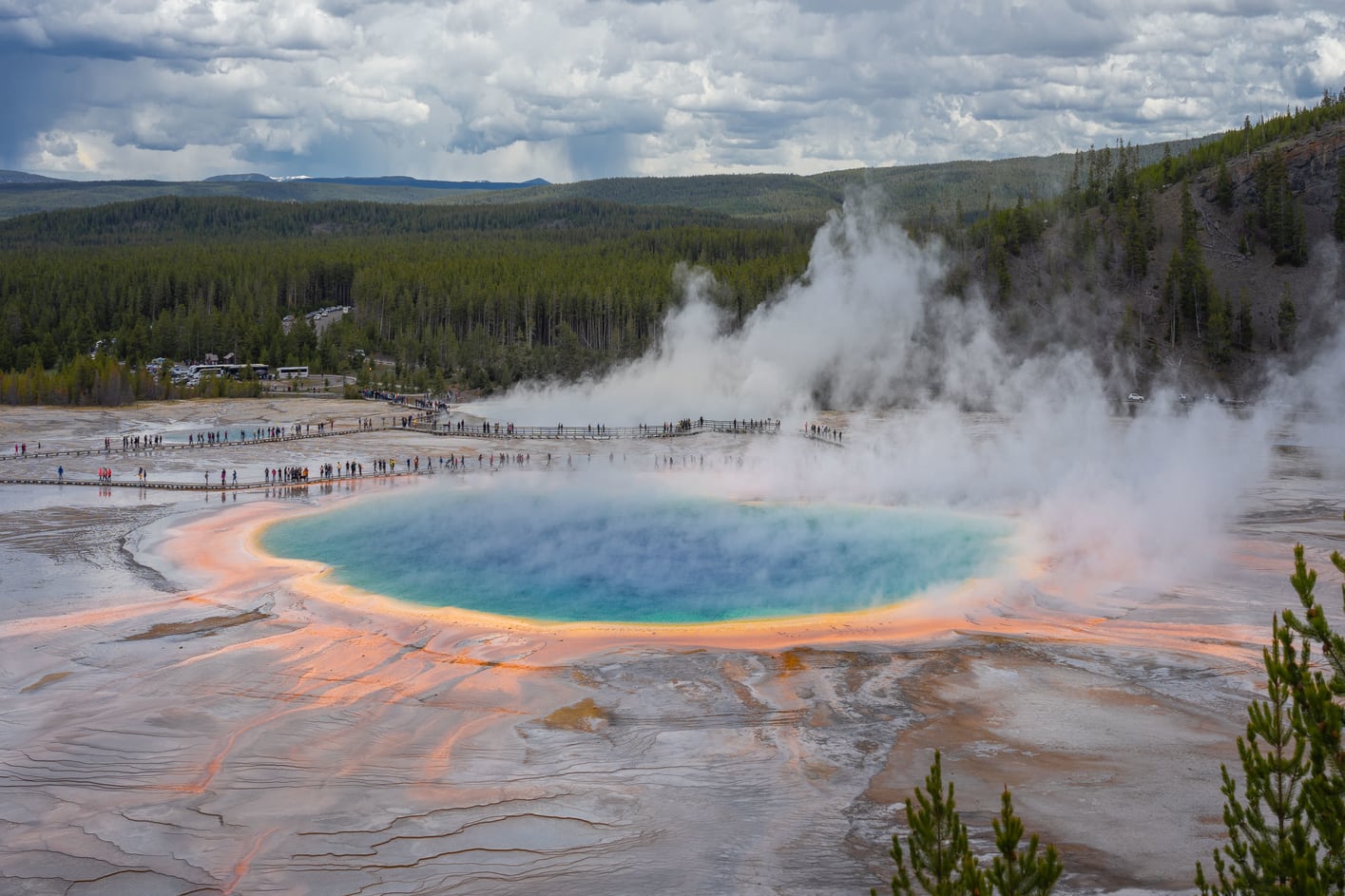 I didn't visit it during my first trip to the West Coast in the United States in 10 days, but during my next trip in which I toured Yellowstone and Grand Teton for 10 days, a great plan if you are looking for an alternative itinerary.
GRAND TETON NATIONAL PARK
The mountains of Grand Teton National Park are one of the most haunted landscapes by photographers on the West Coast. If you like wildlife, hiking, and want to flee the typical 10-day US West Coast itineraries, I recommend visiting this national park that promises a quiet vacation away from the masses even in peak tourist season.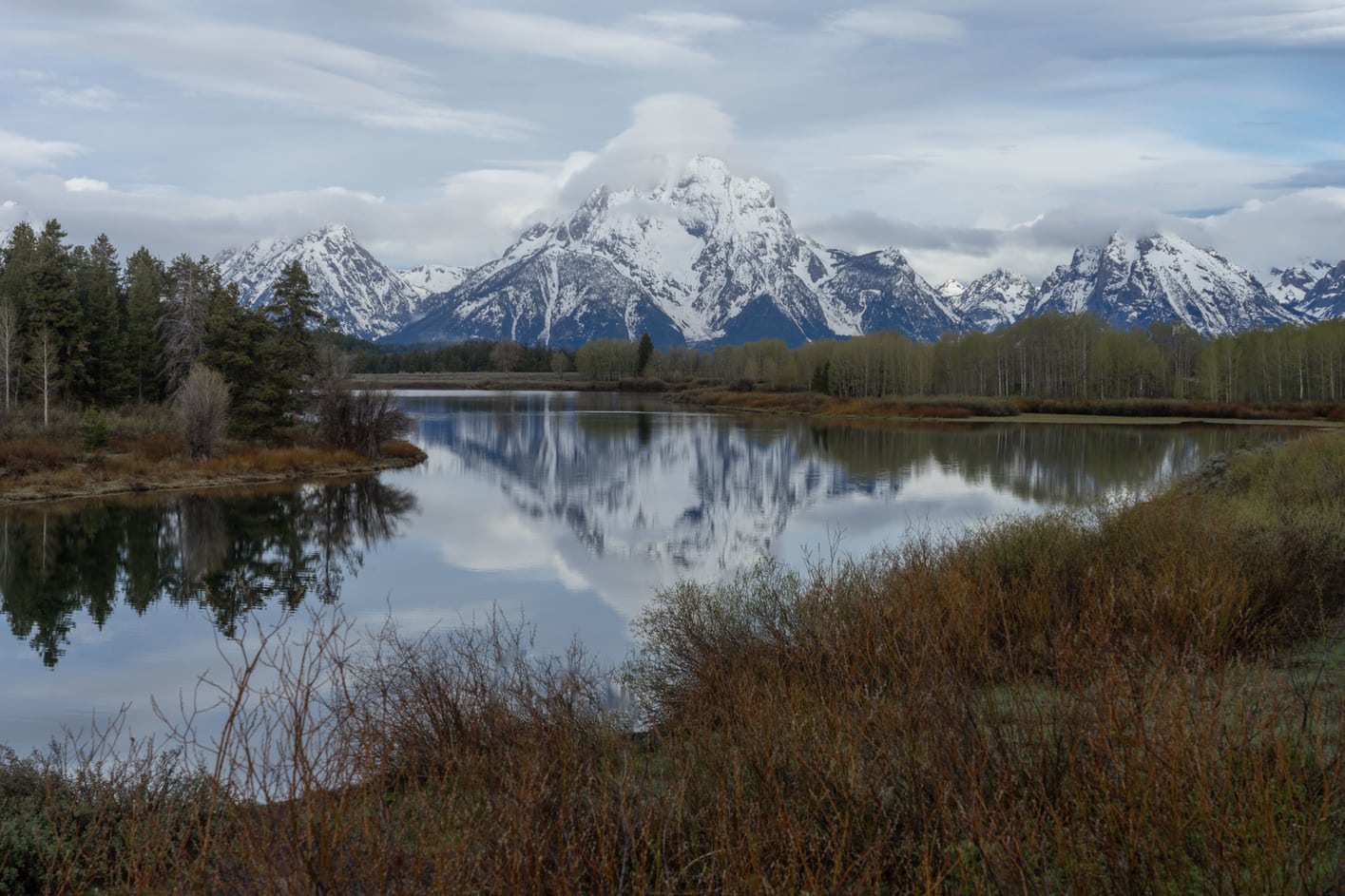 Grand Teton adjoins Yellowstone National Park, so taking a 10-day tour of the US West Coast combining these two parks is quite popular.
Our 10-day West Coast USA itinerary
As we stated above, our West Coast USA trip was focused on national parks and all the natural wonders of this area in North America.
Cities in the west coast are for sure some interesting destinations, but, without a doubt, if we had had more than 10 days to travel the American West Coast, we would have kept exploring the natural places that this country offers, each one so different and full of contrasts.
DAY 1 – West Coast America Trip: FLIGHT TO LAS VEGAS
We arrived in Las Vegas at noon, picked up the rental car and made a quick route to see the highlights of the city.
After a mandatory stop to make the classic photo with the Welcome Las Vegas sign, we headed to Monument Valley (6 hours driving) where we spent our first night.
DAY 2 – West Coast America Trip: DAWN IN MONUMENT VALLEY + ANTELOPE CANYON + HORSESHOE BEND
We photographed the sunrise in Monument Valley to see the incredible geological formations of the Navajo Reservation tinted in beautiful reddish colors.
In the morning we went to Antelope Canyon, in Page (2 hours driving) to take both the Upper and Lower Antelope Canyon tours.
In the afternoon we had a rest at Lake Powell. Then we went to Horseshoe Bend from where we watched and photographed an unforgettable sunset.
We drove 2.5 hours until our next stop on our 10-day route along the West Coast.
DAY 3 – West Coast America Trip: BRYCE canyon NATIONAL PARK
We woke up in Bryce Canyon National Park, where we took pictures of the twilight from Sunrise Point overlooking the amphitheater.
We hiked the Rim Trail, seeing different Hoodoos as Thor's Hammer.
At night, we returned to photograph the amphitheater under the Perseid Meteor Shower, and camped inside the park.
DAY 4 – WEST COAST AMERICA TRIP: ZION NATIONAL PARK
We arrived in Springdale (2 hours driving), parked our car and took the shuttle to Zion National Park.
We did the Angels Landing trail to get the best views of the valley.
In the afternoon, we drove 4 hours to the next stop on our 10-day Western US trip.
DAY 5 – WEST COAST AMERICA TRIP: GRAND CANYON
We watched the sunrise at the Grand Canyon from Mather Point in probably the most epic light display we have ever seen during a sunrise.
In the morning we take this tour, as we tell you in this article about Grand Canyon helicopter rides. Without a doubt, I enjoyed my visit the most.
In the afternoon, we descended the first section of the Bright Angel Trailhead trail.
In the evening we drove to the next stop of our 10-day Western US trip, Mojave National Preserve (4 hours driving), where we spent one of the best nights of our life camping in the wild desert.
DAY 6 – WEST COAST AMERICA TRIP: MOJAVE DESERT + DEATH VALLEY
We photographed the first sun rays of the day through the branches of the Joshua trees in the Mojave National Preserve.
We filled the tank to cross the Death Valley and made stops at the main viewpoints.
We arrived at Yosemite National Park where we set up a bivouac to spend the night in order to get accommodation the next morning at the historic Camp 4.
This day we drove a total of 10 hours, more driving hours than any other day of the entire trip.
DAY 7 – WEST COAST AMERICA TRIP: YOSEMITE NATIONAL PARK
Once settled in Yosemite National Park valley we went to discover the main viewpoints of the valley, from which we would photograph the last sunrises and sunsets of our 10-day trip to the West Coast USA.
We took the opportunity to enjoy the real camp life, cooked on the bonfire at night and raccoon watched with our campmates so they didn't eat our food.
DAY 8 – WEST COAST AMERICA TRIP: YOSEMITE NATIONAL PARK
On the eighth day, we did the most strenuous hike of our 10-day West Coast USA trip. We climbed to the Upper Yosemite Falls, where we had a bath in one of its natural pools.
In the afternoon we took refuge in the tent as a hail storm fell – remember that weather in Yosemite, like any high mountains, is quite unpredictable even during summer season.
DAY 9 – WEST COAST AMERICA TRIP: YOSEMITE NATIONAL PARK
On our 9th day, we decided to try one of the small hiking trails in Yosemite National Park, such as the hike that takes you to Bridal Veil Falls or the Taft Point viewpoint.
In the afternoon we visited Tuolumne Grove of Giant Sequoias, where we could see these giant trees.
DAY 10 – WEST COAST AMERICA TRIP: FLIGHT BACK FROM SAN FRANCISCO
We left Yosemite National Park to head to San Francisco, where we took our return flight home.
Our initial idea was to have the last day to discover the city. However, we liked Yosemite so much that we ended up leaving just enough time to catch the flight back. It took us 4 hours to get to the airport.
How to plan an self-drive trip to the Western US
Although many travel agencies offer West Coast USA holiday packages, this destination seems more appropriate to be planned on your own (unless you are interested in photography and decide to take a photo tour to the West Coast America).
In any case, we will explain step by step how you can plan a trip to the West Coast USA on your own in this section:
HOW TO CHOOSE THE best West Coast USA itinerary
From the previous section where we highlighted the best places to visit in Western US, choose 8 (if taking a 10-day West Coast road trip) or 15 places (if taking a 20-day trip) that interest you most.
Jot them down on a map of West Coast USA (I suggest using Google MyMaps).
Connect the different points and check on our map below to see if there is any tourist attraction that is on your way or that you can easily reach.
Finally, check that the driving hours are compatible with the itinerary or else leave them out of your list.
Do not be frustrated, no matter how long you stay on the West Coast, you will always leave something to explore for the next trip 😉
how to get to the West Coast of USA
In order to define our itinerary, we must know how to get to the Western US.
The best way is by flying to one of the following three airports:
Los Angeles
San Francisco
Las Vegas
If you want to find cheap flights to the West Coast, the best time to book them is 3 months in advance. You can find here the best cheap flights hacks. My favorite search engine is Kiwi.com.
Also, if you want to visit too many places in the West and do not have much time, I suggest that you do a one-way trip, starting at a different airport from where you will return home through. This will increase the travel budget a bit, but you don't get to travel to the Western US every day, do you?
VISA FOR THE UNITED STATES
There are two ways to travel as a tourist to the United States. If you belong to one of these countries you can travel to the US without a visa, but must obtain a travel authorization called "ESTA".
HOW TO PROCESS THE ESTA
The ESTA is very easy to obtain. Simply fill out the application form on iVisa and you will receive the approval in about 6 hours by email.
We have a step-by-step guide on how to apply for the ESTA to the USA.
HOW TO PROCESS TOURIST VISA B2
If you do not have a passport from one of the countries mentioned above, you need a B2 visa to travel as a tourist to the United States.
This type of visa is more difficult to obtain. In addition to preparing the required documentation which proves that you are not going to travel to the United States with the intention of living or working, you will have to go through an interview at the embassy.
A more extensive explanation of how to process this visa can be found on the US Department of State website.
Living in the USA, I know how important is to have good travel insurance for the USA. Since health care cost in this country is very high, hospitalization without insurance can easily make your bill rise above $100,000.
So when we moved here, we bought long-stay travel insurance, although we are currently using annual multi-trip insurance.
Although I always recommend buying the best travel insurance wherever you go, you must have extraordinary coverage for the US (never consider hiring anything that covers below $30,000 if you travel to the United States).
You can get the best quality-price insurance with Heymondo.

5% OFF your travel insurance
western USA car rental
As we have said, the only practical way to travel the Western United States is by renting a car.
If you do not have too much time, consider taking a one-way instead of a round-trip along the West. We picked up the car in Vegas and left it in San Francisco. Although this meant an increase in the budget because of the drop off-fee, we were able to visit more places during our 10-day West Coast trip.
The cheapest way to rent a car is using Rentalcars. However, do not hire the insurance when making your online booking: wait to pick up the car at the counter to hire the insurance.
We hired the rental car in Las Vegas.
ANNUAL NATIONAL PARKS PASS – AMERICA THE BEAUTIFUL
If you are planning a Western US National Parks itinerary, I recommend that you buy an annual America the Beautiful pass.
This pass allows access to all US National Parks, as well as other state parks.
The pass is valid for one year from when it is purchased and covers entry for one vehicle with up to 5 passengers. Display pass by hanging it over the rear-view mirror).
In addition, the pass is issued for two owners who must sign behind the card to use. A very good option is to buy the annual pass, leave one signature blank, and resell it to a second owner at the end of your Western USA tour.
Even if you don't resell the pass, you will get your money's worth just by visiting 3 or 4 National Parks (Grand Canyon, Zion, Bryce, Yosemite …).
The pass can be purchased online from here or directly at the ticket office of the first national park you visit.
ACCOMMODATION ON THE WEST COAST US
It is difficult to find cheap and very good quality hotels at the same time on West Coast America. Therefore we will try to help you by listing the best places to stay, considering different budgets, tastes, and needs.
Keep in mind that accommodation will be one of the major expenses of your trip to West Coast America. On the other hand, sometimes a good hotel can even be one of the best attractions you can enjoy during your trip.
How much does it cost a West Coast USA trip?
To calculate how much a road trip along the West Coast cost, keep in mind that gasoline in the United States is quite cheap compared most European countries, so even though you will drive many kilometers, this is not something you have to worry too much about when planning your itinerary.
Regarding the food, going to restaurants or going out to have a drink is very expensive; especially when you are looking for somewhere that serve healthy and quality food. If you're willing to eat fast food, your West Cost travel budget will decrease since the United States is the paradise for junk food.
Regarding accommodation, while it is more expensive in the US than other countries, there are ways to make it cheaper.
Consider camping during your West Coast America tour. In addition to being cheaper, it is very fun and do not forget that there is no country in the world with such an active camping culture as in the United States. You will enjoy watching all the American accessories that make camping more comfortable, and the amazing motorhomes that are better than many houses. You can check some tips for traveling by rv in the USA here.
If you want to know how much we spent during out trip, you can check our West Coast travel budget for 10 days.
West Coast USA combinations ideas
In case you have more time, you can combine the West Coast of the USA with other destinations. Some of the most popular combinations are the following.
West Coast America and Hawaii holidays
If you love nature, combine West Coast USA and Hawaii to enjoy the most active volcanoes in the United States. These wild islands in the middle of the Pacific, offer a native culture totally different from any other place in the world, in addition to beautiful beaches. The Western US and Hawaii landscapes are an excellent combination for the more adventurous.
RIVIERA MAYA and WEST COAST USA honeymoon
Riviera Maya and West Coast America honeymoon trips are very popular. With this travel itinerary, we can enjoy a mix of the natural American West Coast landscapes with turquoise water beaches and the history of ancient civilizations. This is the best combination for honeymoons or for travelers interested in a mix of all-inclusive vacation packages.
WEST COAST AND ROUTE 66 road trip
If you want to travel the most famous road in the United States, plan a Route 66 – Western US road trip. With this tour, you will have a chance to visit my favorite city in the US: Chicago. I don't recommend this combination if you do not like driving since much time of this trip will be spent inside the car.
West Coast USA tours from New york
Another very popular combination, especially if you are traveling from Europe. A New York & West Coast America fly-drive itinerary mixes the Western US National Parks with the busiest city of the East Coast. This option is perfect for those who also enjoy visiting big cities, since there are plenty of things to do in New York City.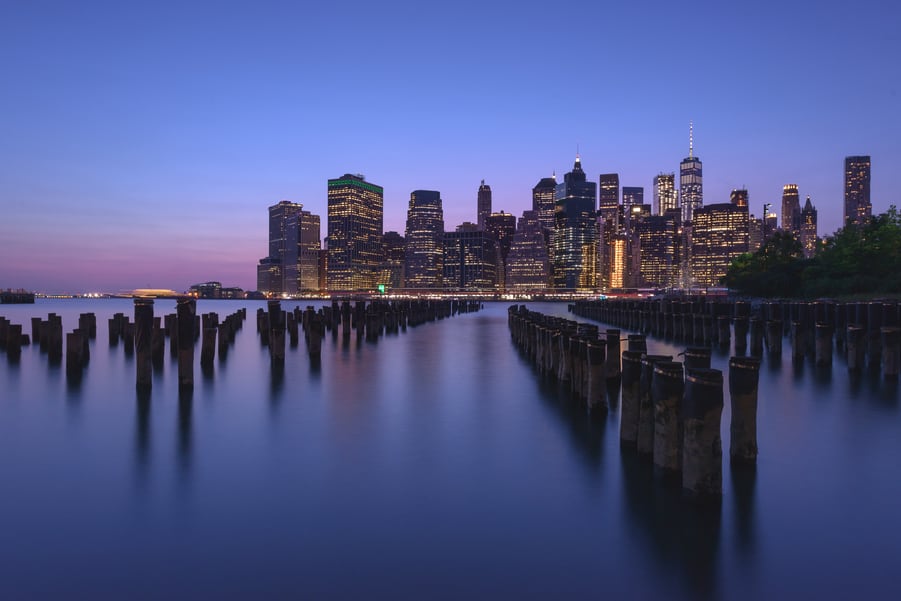 With any of these combinations, I recommend spending at least 10 days in West Coast America.
However, if you only plan to travel to the West Coast and can afford it, I would recommend spending 2 or even 3 weeks.
map of West Coast USA
Finally, it is very useful to plan your trip using a map of Western US, marked with your places of interest. Then check the following map to see if there is any other attraction on the way.
SEE you ON THE WEST COAST and do not hesitate to ask if you need help preparing your itinerary!