Calculating a travel budget for your West Coast USA trip can be quite difficult as prices vary a lot – it largely depends on your accommodation and food allowance: you can take a cheap trip to the West Coast, or on the other hand, you can spend more than expected in your Western US tour.
In this post, we will help you estimate how much your West Coast USA itinerary will cost, whether if you travel for 10 (as we did), 15, or 20 days.
WEST COAST USA TRIP COST BREAKDOWN
HOW MUCH DO FLIGHTS TO THE US WEST COAST COST?
One of the most important expenses to consider is flight cost to get to the West Coast. The three main airports to fly in and out of the West Coast are Los Angeles, San Francisco, and Las Vegas.
These three cities are quite far from each other, so I recommend planning your itinerary per preferences before buying your flights. For this, we have written this guide for planning the best West Coast travel itinerary.
If you don't have too much time, I recommend buying a one-way flight into one city and out another, as this will give you more opportunities to discover interesting places.
In our case, we took an inbound flight from New York to Las Vegas and an outbound flight from San Francisco to New York.
New York – Las Vegas flight cost = €245 per person
San Francisco – New York flight cost = €220 per person
Obviously, flight cost will depend on your starting location. In terms of when to buy your flight, I recommend booking approximately three months in advance. Statistically (and from experience), it is usually the cheapest time to buy a flight.
HOW MUCH DOES RENTING A CAR IN West Coast America COST?
The next expense we have to consider in our west coast US travel budget is a rental car.
Public transportation is not exactly the strength of the United States, especially in the West Coast. Generally, it is almost nonexistent, so the best way to travel to the West Coast is by renting a car.
We hire a rental car in Las Vegas for €380. In addition, we were charged a €45 drop-off fee for returning it at a different airport. And, of course, we bought full coverage insurance for the 10 days for €200. Don't skimp on car insurance even if that means an increase to your US West Coast travel budget.
Total cost for transportation = €725 (rental car for 10 days)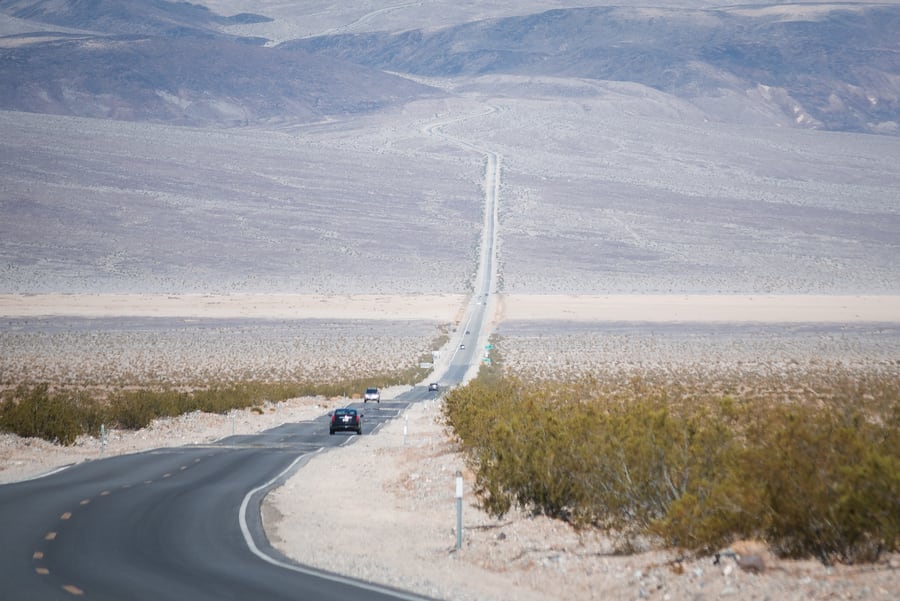 If you want to save money Rent an RV in the USA and you will have accommodation and transportation all in one.
ADVICE FOR SAVING MONEY on CAR RENTAL
Let me use this opportunity to recommend that you NEVER BUY INSURANCE THROUGH THE RENTAL CAR BOOKING WEBSITE. Instead, do so directly with the car rental company at the time of pick up.
Rental car booking sites generally offer considerably better prices than the rental companies themselves, however, the third party insurance brokered through them is not the same and are generally more problematic with claims in case of an accident.
In short: rent the car through the rental booking sites to get the cheapest rental price, and get insurance directly at the counter at the time of pick up.
HOW MUCH DOES GASOLINE COST ON THE WEST COAST of US?
While gasoline is more expensive on the west coast than the rest of the US, it is still considerably cheaper than non-oil producing countries.
On our 10-day West Coast trip, we drove more than 2,400 miles (4,000 km) and spent just $173 (€150) on gasoline.
Total cost for gasoline = €150 (4,000 km)
HOW MUCH DOES THE US VISA COST?
If you are from one of the countries on this list, you do not need a visa to visit the United States, only an electronic travel authorization called "ESTA".
If you want to receive the ESTA directly in your email and within a period of 6 hours I recommend you complete the process on iVisa.
Total cost for the ESTA = €30 / person
It is more important than most other places to have travel insurance for the United States. Although I always recommend purchasing the travel insurance wherever you go, the healthcare cost in this country is very high. In the unfortunate event of having to be hospitalized, your bill can easily exceed $10,000 without insurance. It is recommended to have an insurance policy with extraordinary coverage (never consider anything that covers below $300,000).
You can get the best quality-price insurance with Heymondo.

5% OFF your travel insurance
Total cost for travel insurance = 0.95 x 22.77 = € 22 / person
ACCOMMODATION COST FOR WEST COAST AMERICA – HOTELS AND CAMPGROUNDS
Depending on your preferences, accommodation on the West Coast can be quite cheap or very expensive.
The price of a motel room for two people will be around €150, and approximately €250 if it is a hotel.
Alternatively, camping is very cheap and the West Coast is a paradise for outdoor lovers. For about €20, you can pitch your tent overlooking amazing sites. In addition, there are free campsites around the US, even if you travel in a caravan! This is one of the best ways to travel for cheap.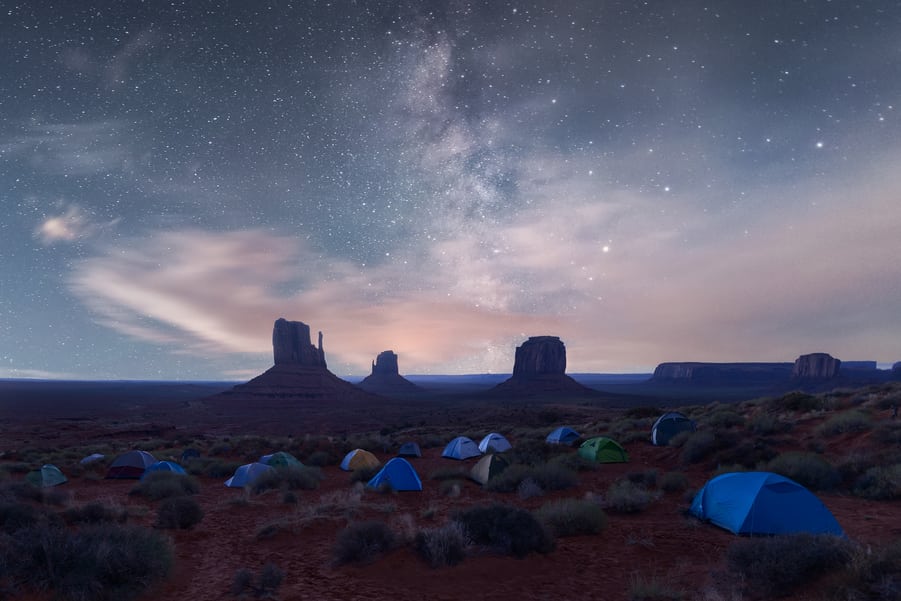 Have a look at this website to find what's around.
We only camped throughout our trip, some paid campsites inside the parks, and others free. In total, we spent $75.
Total cost for accommodation = €32 / person
Here you will find the best accommodations for the West Coast.
HOW MUCH DOES IT COST TO EAT IN THE WEST COAST?
Like accommodation, your choice of sustenance can make your trip cheap or very expensive. It is important to consider this for your West Coast America trip budget.
If you want to eat at nice restaurants, it will be $15 – 20 for breakfast and $20 – 30 for lunch/dinner per person.
Nonetheless, there are two ways to spend much less on food. One is fast food, as it is the cheapest option in the United States. You can easily get breakfast, lunch, and dinner for about $5 each.
The other option that I recommend, would be cooking your own food.
If you are going to camp, I suggest taking a Jetboil like the one we recommended in this post to include with your adventure backpack.
We made a $185 grocery run upon our arrival in Las Vegas and cooked throughout our trip. One of the mornings, we splurged and enjoyed a breakfast buffet at The Majestic Yosemite Hotel for $24 per person.
Total expenses in sustenance = €100 / person
TOURS AND ACTIVITIES
In addition to flights and rental car, tours and activities were the next top expenses of our trip to the West Coast. What you spend on activities along the West Coast will depend entirely on your itinerary.
In our case, the first major expense was buying the America the Beautiful annual pass, so we could get access to all national parks and some state parks for one flat $85 fee. Once you have planned your West Coast itinerary, check if it is cheaper to get independent tickets or the annual pass. Here is a list of all the recreation areas which is included in the pass. This saved us a significant amount of money on entry fees.
Other major expenses include optional tours, such as the ones we took at the Antelope Canyon and Grand Canyon.
We took a tour of both the Upper and Lower Antelope Canyon. Dani paid $130 for a photo tour and I paid $74 for the standard one at the Upper Antelope Canyon. The Lower Antelope Canyon cost us $27 each.
To end, we booked a Grand Canyon helicopter tour that was $150 per person. This tour made the US West Coast trip a bit more expensive, but it was completely worthy. I recommend you to read our experience.
Total activities expenses = €270 / person
Cost for a 10-day West Coast road trip = €880 + FLIGHTS