Deciding where to stay in Bryce Canyon is essential before visiting this national park located in the American Southwest. Accommodation options are scarce there, so at certain times of the year, the few hotels in Bryce Canyon are completely booked, making it impossible to stay within the limits of the national park.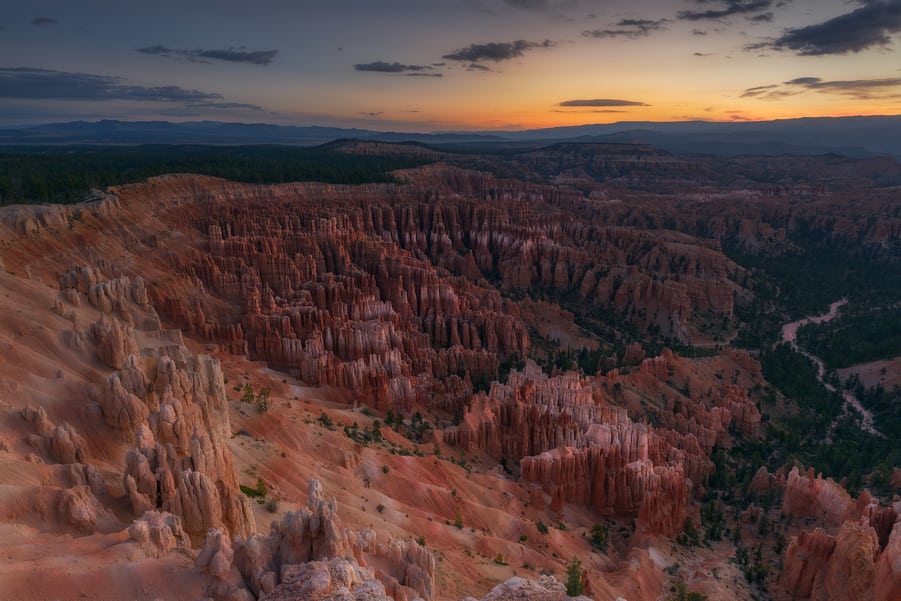 It's advisable to book months in advance, but if that's not possible, don't worry – since we know how difficult it can be to decide where to sleep in Bryce Canyon, in this article, we'll give you all the existing options. We'll help you find the best accommodation in Bryce Canyon with a good location and a budget-friendly price because it's worth it to visit this national park.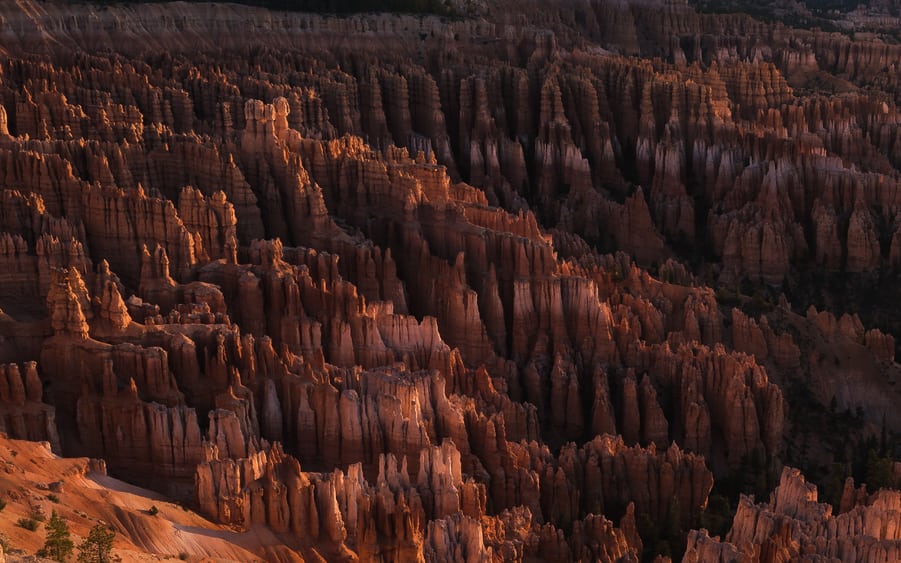 In fact, visiting Bryce Canyon was not part of our plan when we decided to take a West Coast 10-day road trip. However, we couldn't resist after seeing images of this fantastic place, which ended up being one of our favorite places on our trip. In our case, we decided to try the Bryce Canyon campsites, since we visited during the Perseids meteor shower that takes place on August 11-13 every year.
In this guide to accommodation in Bryce Canyon, we'll talk about:
Before we start, I'd like to remind you that it's essential to book in advance if you want to stay at a hotel with a good location and get a reasonable price. In addition, at this specific park, the best accommodation options are not inside, but around this park.
Where to stay in Bryce Canyon National Park
During our West Coast trip, we could see that lodging within the National Parks is always scarce. Visitors who book at the last minute (less than six months in advance) are often forced to stay at nearby locations.
Specifically, staying inside Bryce Canyon National Park is quite difficult since there's only one hotel. However, this is not a problem, as there are better options in the surroundings if you're looking for cheap hotels in Bryce Canyon.
Still, for those who want to stay in Bryce Canyon National Park, the Bryce Canyon Lodge is the only option.
The only hotel in Bryce Canyon National Park has a warm and comfortable style. Its 114 rooms might seem like more than enough to accommodate all visitors. However, being located next to the Bryce Amphitheater, it fills up quite quickly.
From my point of view, the best option to stay in Bryce Canyon is in the town of Bryce (outside the national park and only a few minutes from the entrance to the park). There, you'll find more modern and affordable hotels connected to the main sights of the park by a free shuttle. Even though these accommodations are not inside the park, due to their location, they usually get booked quite quickly, so I recommend you book well in advance.
Where to sleep near Bryce Canyon National Park
As I said, on the outskirts of the national park, there are cheaper accommodations in Bryce Canyon. If you can, stay in Bryce Town (just outside the park). If you don't find any room available, then try to book one in Tropic, Panguitch, or even Kanab.
Hotels in Bryce Town
Bryce Town hotels fill up almost before the Bryce Canyon Lodge, so if you find a free room, don't think twice before booking.
The good thing about the accommodation in Bryce Town is that it's very well connected to the park through a free shuttle service. These buses pick up passengers outside the national park and make stops at the essential sights within Bryce Canyon, saving you the difficult task of looking for parking in high season.
They pass every 15 minutes and operate from April to October. On the following map, you can see the different stops they make and, among them, the first three hotels we'll talk about next.

The Best Western PLUS Ruby's Inn is located 1 mile from the national park and is one of the first options for those looking for a place to stay in Bryce Canyon.
In addition to having comfortable rooms, it has a pool and restaurant. Among its services, they offer free transfer from Bryce Airport to the hotel. Its Western style and the kindness of the staff make it the best option, so advanced booking is essential in order to enjoy the comforts of this place.
Best Western PLUS Bryce Canyon Grand Hotel is considered one of the most luxurious and modern hotels in the area. It also stands out for the incredible complimentary breakfast offered to its guests.
The services included depend on the type of room selected and the price, but even the cheapest ones have TVs, private bathrooms, air conditioning, and toiletries. Also, the hotel has a large restaurant, gym, and swimming pool.
For those looking to stay in Bryce Canyon, this is one of the popular options. Because of this, you must book ahead before traveling to Bryce National Park.
Bryce View Lodge is another of the best options for where to stay in Bryce Canyon. Its rooms are very well equipped and quite spacious. The breakfast is one of the best in the area.
Bryce Canyon Resort is the best option if you're looking for cheap accommodation in Bryce Canyon, and it's just 5 minutes from the airport.
Its rooms are simpler, but they have the essentials: TV, private bathroom, living room, furniture, and large beds. The hotel has a restaurant that serves Western food and has a swimming pool.
Bryce Canyon Resort is an 8-minute drive from the Bryce Canyon National Park entrance.
In Tropic, there are a wide variety of hotels where you can stay in Bryce Canyon without being far from the national park. This town is 18 kilometers from Bryce Canyon, which means you'll be only 15 minutes away.
It's one of the neighboring towns closest to Bryce, so staying here is very convenient. Besides, accommodation prices are lower than in Bryce, as are restaurants, grocery stores, etc.
These are the best accommodation options in Tropic:
Panguitch is another town located 41 kilometers from Bryce, that is, 34 minutes by car.
Although it's a little further compared to the previous option, here you'll find cheap hotels near Bryce Canyon, making it an alternative that many visitors consider.
We recommend the following hotels in Panguitch:
Located more than 110 kilometers from Bryce, this place was our temporary home when we visited Zion Canyon. Kanab is between Bryce Canyon and Zion National Park, making it a strategic location to sleep.
It's a two for one if you're looking for where to sleep in Bryce Canyon.
These are the best accommodations in Kanab:
Camping in Bryce Canyon
Bryce Canyon, besides being famous for its majestic rock structures, stands out for its incredible dark sky full of stars.
Since it's far away from the city and free of light pollution, stargazing is very popular in the park.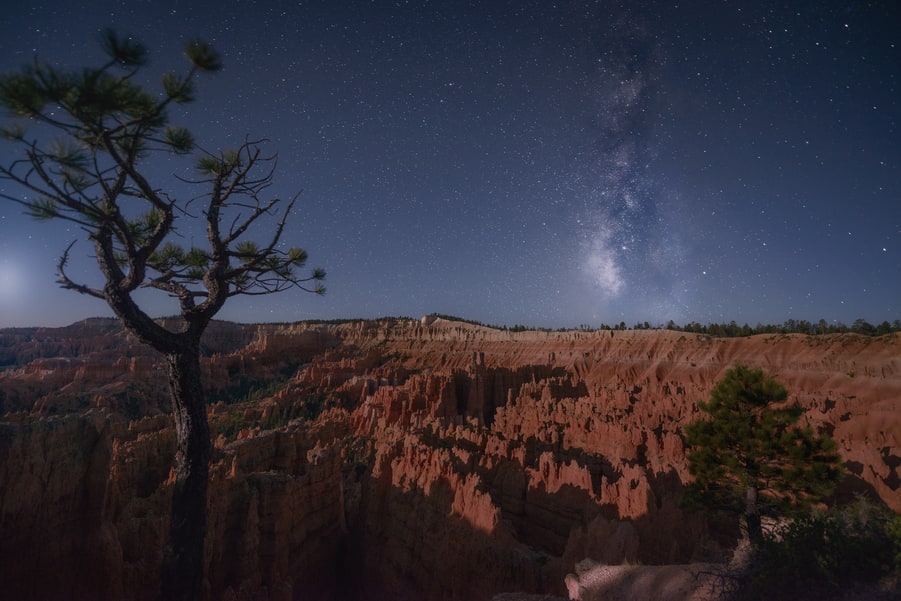 Because of this, we decided to camp in Bryce. Additionally, we traveled in mid-August, which coincided with the Perseids meteor shower, and we didn't want to miss it.
In case you decide to camp in Bryce Canyon, remember to wear warm clothes even in summer, since Bryce is at an altitude of 2,400 meters above sea level, and temperatures are usually very low.
Now we 'll talk about the different campsites in Bryce Canyon.
North Campground is one of two Bryce Canyon campgrounds and the only one that's open all year round. It has a total of 86 sites for tents or RVs that are first come, first served and 13 RV sites that can be reserved up to 200 days in advance.
The campsite has bathrooms, laundry, a grocery shop, and picnic tables. The price of the sites is $20 per tent or $30 per RVs.
The other camping in Bryce Canyon is in the middle of the national park. Unlike the previous one, the Sunset Campground is only open from May to October.
20 of its sites are only available for tents, while the other 80 are for both tents and RVs. All are first come, first served. The camp also has bathrooms, picnic tables, campfire, and drinking water.
The price of the sites on this campsite is the same as the previous one.
If you aren't familiar with backcountry campgrounds, these are areas where you're allowed to pitch tents but where you won't find services like the ones in popular campgrounds. That is, they don't have a reception, or bathrooms, or drinking water, or garbage containers (you must take your trash with you), or any other sign that indicates you're in a camp.
These types of campsites are usually found along multi-day hiking trails and serve to prevent hikers from camping just anywhere and damaging the surroundings.
In Bryce, there are 12 Backcountry Campgrounds divided between the Under-The-Rim trail and the Riggs Spring Loop trail. Here is where they're located.
To be able to camp in one of them, you must get a permit at the Visitor Center, which costs $5.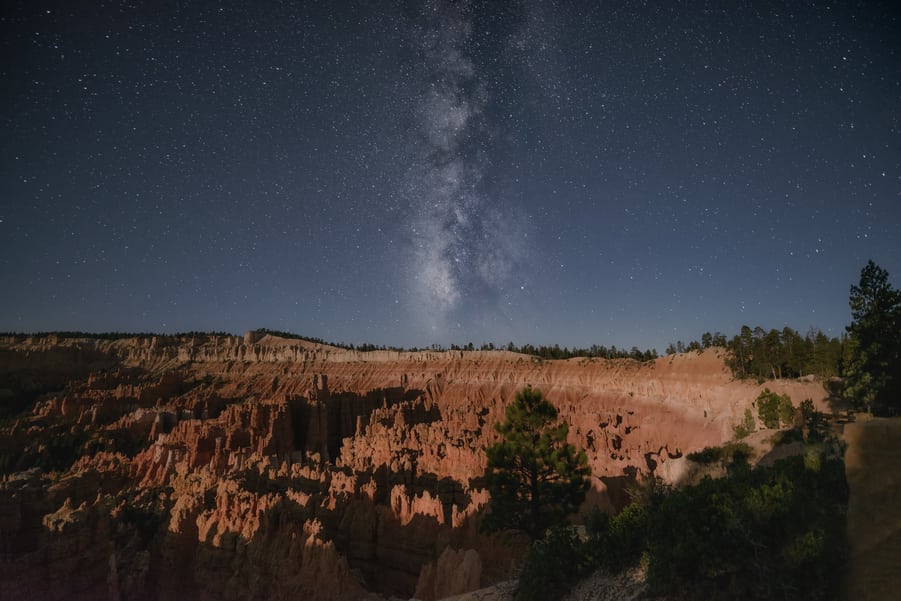 That's all. I hope I helped you choose where to stay in Bryce Canyon. As you've seen, the best options fill up quickly, so try to book as soon as possible. Additionally, this way, you may even find cheap hotels in Bryce Canyon National Park, and you'll be able to sleep a few minutes from the park entrance.
Before yo go, you may be interested in our article on how to get discount hotels.
If you have any questions about where to sleep in Bryce Canyon or want some further advice about camping in this amazing place, don't hesitate to leave us a comment.
See you soon!