Visiting Zion National Park was not in the initial West Coast USA trip itinerary. However, after checking where Zion Canyon is on a map, in Utah and very close to Bryce Canyon, which was in our plans, we started gathering more information about Zion until we made up our minds. And it was very quick!
If you like all kind of hiking trails with supernatural views, you cannot miss visiting Zion National Park.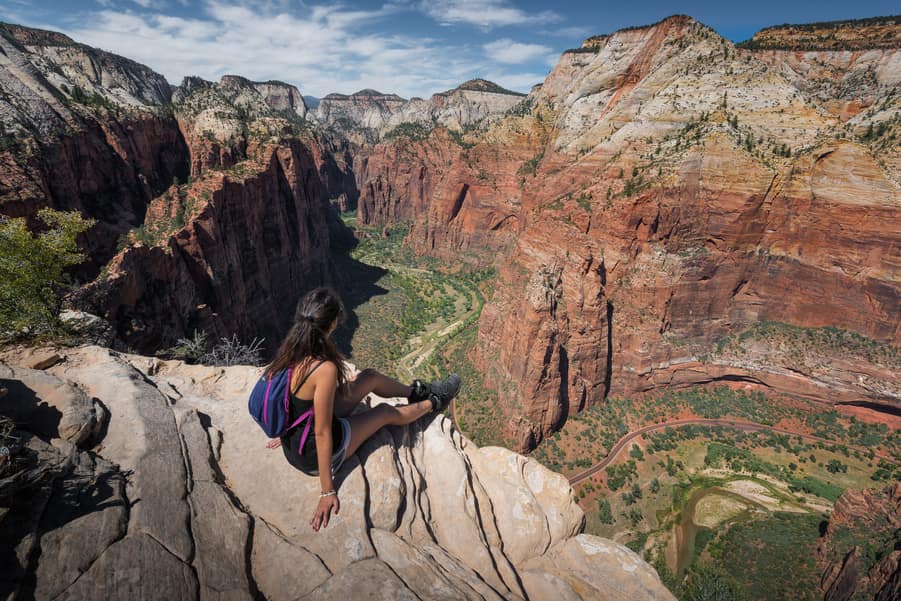 We visited Zion in one day during our 10-day West Coast USA road trip, and I daresay that we are very much looking forward to discovering more things about this National Park as we could just spend one day. However, Even if you visit Utah and do not have too much time, you should know that Zion National Park is worth a quick visit.
VISITING ZION NATIONAL PARK
Visiting Zion National Park means discovering steep cliffs, hikes to high viewpoints that will leave you speechless and narrow canyons where you can experience the purest nature and adventure. Zion Canyon offers a wide variety of plans to do.
This national park is visited from the base of the Zion Canyon, carved over millions of years by the Virgin River, to higher altitudes reachable only on foot. Many of the routes are considered strenuous and dangerous, which is a magnet for travelers in search of adrenaline or extreme sports.
In addition, there are other simpler routes that are suitable for families or travelers who do not want to run any risk.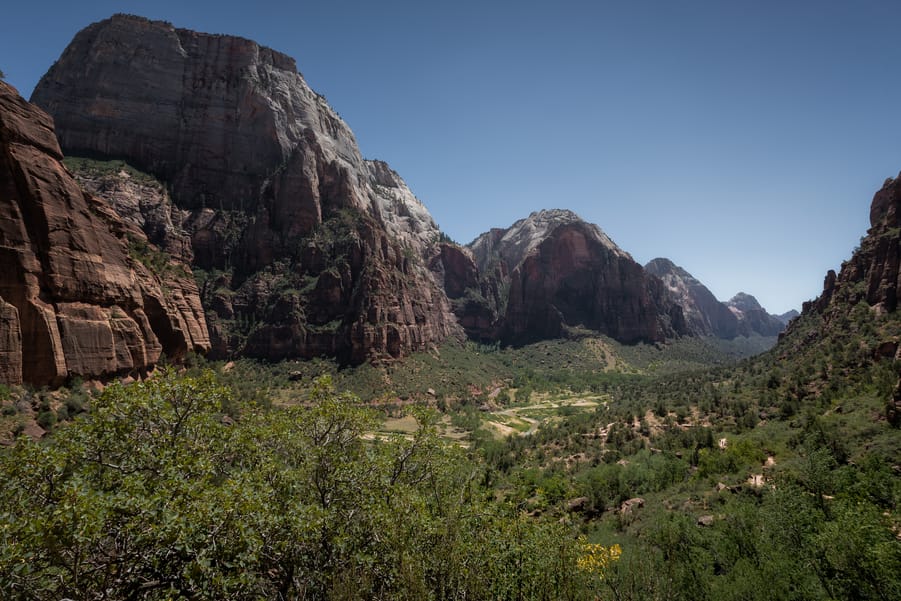 In this guide to visit Zion National Park you will find the following information:
HOW TO GET TO ZION NATIONAL PARK
As public transportation in the United States is quite inefficient, the best way to get to Zion Canyon is by renting a car.
Zion Canyon has two entrances by car, the East entrance, and the South entrance. We will use one or the other depending on where we come from.
In the east access, if you use a large vehicle, (more than 7.8 feet wide or 11,5 feet high) keep in mind that you must buy a special permit to cross The Zion-Mount Carmel Tunnel. This tunnel is quite narrow and double-directional, so with the permit, they will cut the traffic and let you ride at the middle of the two ways. The price is $ 15 and you can use it twice, to enter the park and to exit. More information here.
HOW TO GET TO ZION FROM LAS VEGAS
The closest international airport to Zion National Park is Las Vegas. There is a 167 miles distance between Zion and Las Vegas, so it will only take about 3 hours to get there. To go to Zion from Las Vegas we will get in through the south entrance.
HOW TO GET TO ZION FROM BRYCE
Zion and Bryce National Park are very close, so these two national parks are usually visited at the same time. Some people even visit Zion and Bryce in a single day, although if you don't want to see them in a rush I recommend to spend a full day in each of these parks.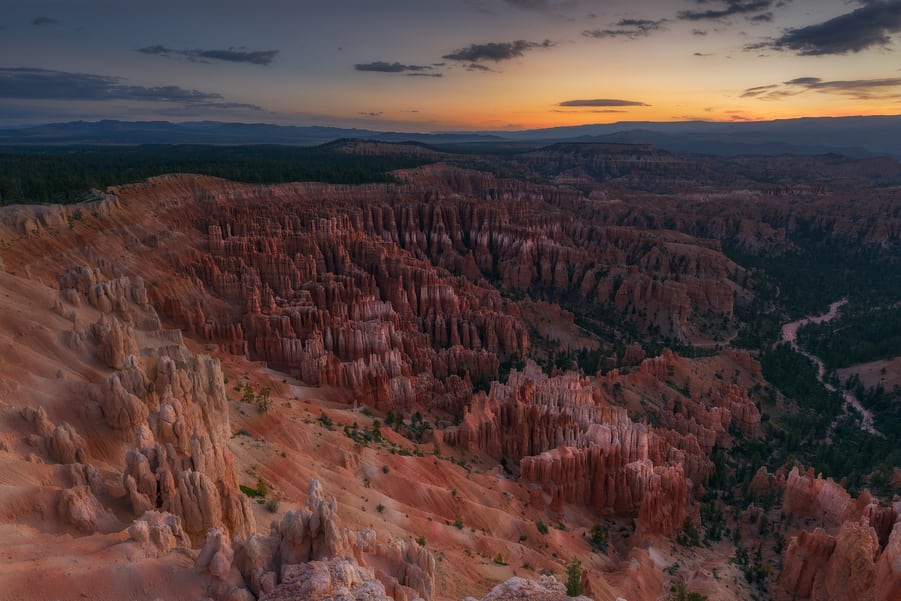 It only takes an hour from Bryce Canyon to Zion Canyon, covering a distance of 50 miles. To go to Zion from Bryce we will use the east entrance.
HOW TO GET TO ZION FROM THE GRAND CANYON
If you visit Utah you will surely want to visit the most popular national park in the United States. There is a distance between The Grand Canyon and Zion National Park of 242 miles, so it will take you approximately 5 hours to get there. To go from the Grand Canyon to Zion we will also use the East entrance via The Zion Mount Carmel Tunnel.
HOW TO MOVE AROUND ZION CANYON NATIONAL PARK
Due to the large number of tourists that visit Zion during most of the year, the National Park Service of the United States offers travelers free shuttles that run through the Zion National Park from March to November.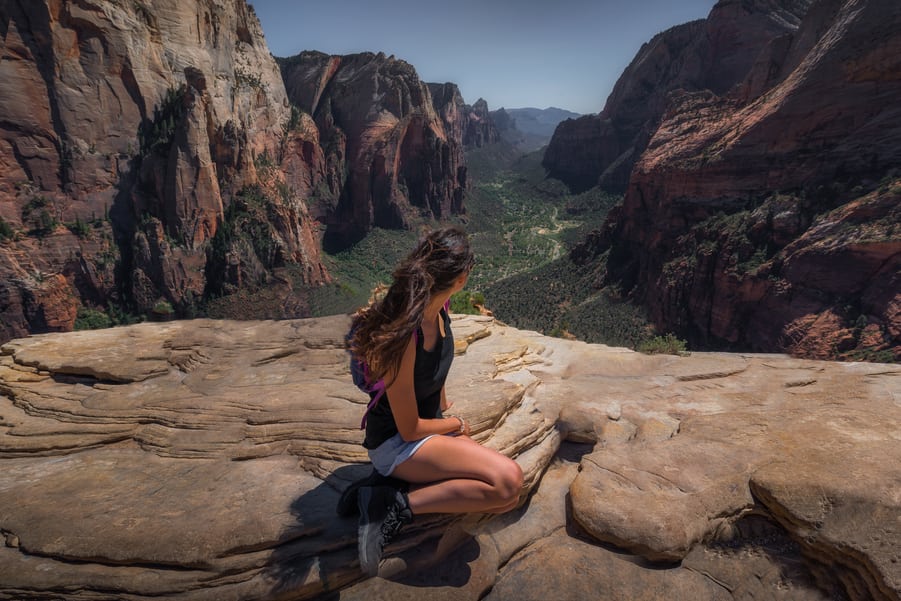 During these months, it is forbidden to use your own vehicle to visit the canyon. This is the only way to stop creating more traffic on the famous road "Zion Scenic Drive",  helping to conserve this natural landscape. There are two bus shuttles.
ZION CANYON SHUTTLE
This bus line completely crosses the Zion Scenic Drive, which is the main road of the park and where most of the hiking trails start. This shuttle starts at the Zion Canyon Visitor Center.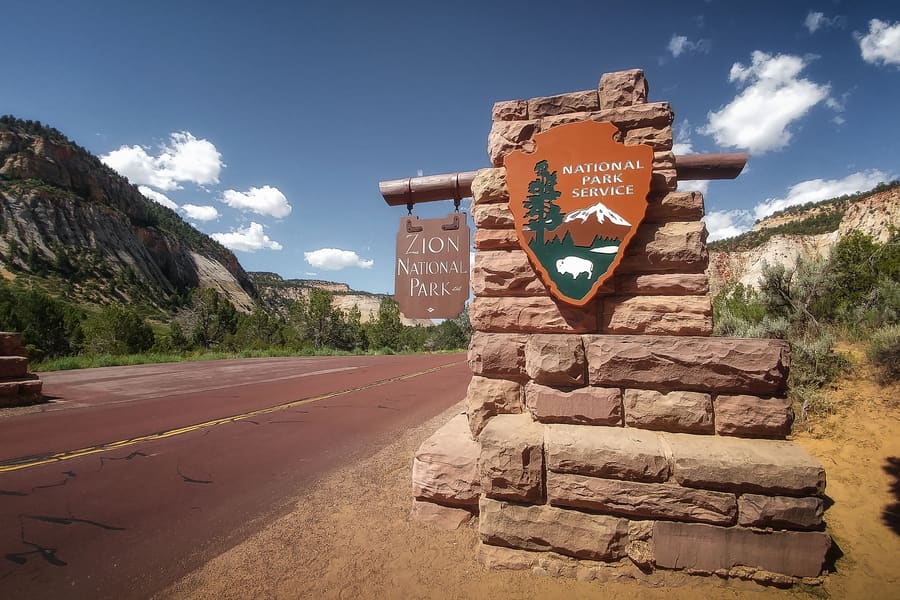 In total, this route makes 9 stops: Zion Canyon Visitor Center, Museum, Canyon Junction, Court of the Patriarchs, Zion Lodge, The Grotto, Weeping Rock, Big Bend and Temple of Sinawava. Buses run quite frequently, so you will not have to wait more than 10 minutes for the next bus to pass.
SPRINGDALE SHUTTLE
As the Zion visitor center's free parking lot is usually full early in the morning, the National Park Services recommends parking the car in the nearby town of Springdale, where there is more parking space.
To encourage travelers not to go to the Zion visitor center in their own vehicle, thus reducing traffic, a second shuttle was set up free of charge working on the same dates as the previous one and communicating different points of Springdale with the Zion visitor center.
I recommend not to try to look for parking in Zion and go directly to Springdale since it is only 10 minutes away. Parking in Springdale is not free, but it is better to pay first than to wait for hours for a free spot in the free parking of the Zion visitor center. I would only encourage to go directly to Zion if you plan to park before 8 a.m.
In this map you can see both the location of the Zion Canyon Shuttle stops, in green, and the Springdale Shuttle, in brown.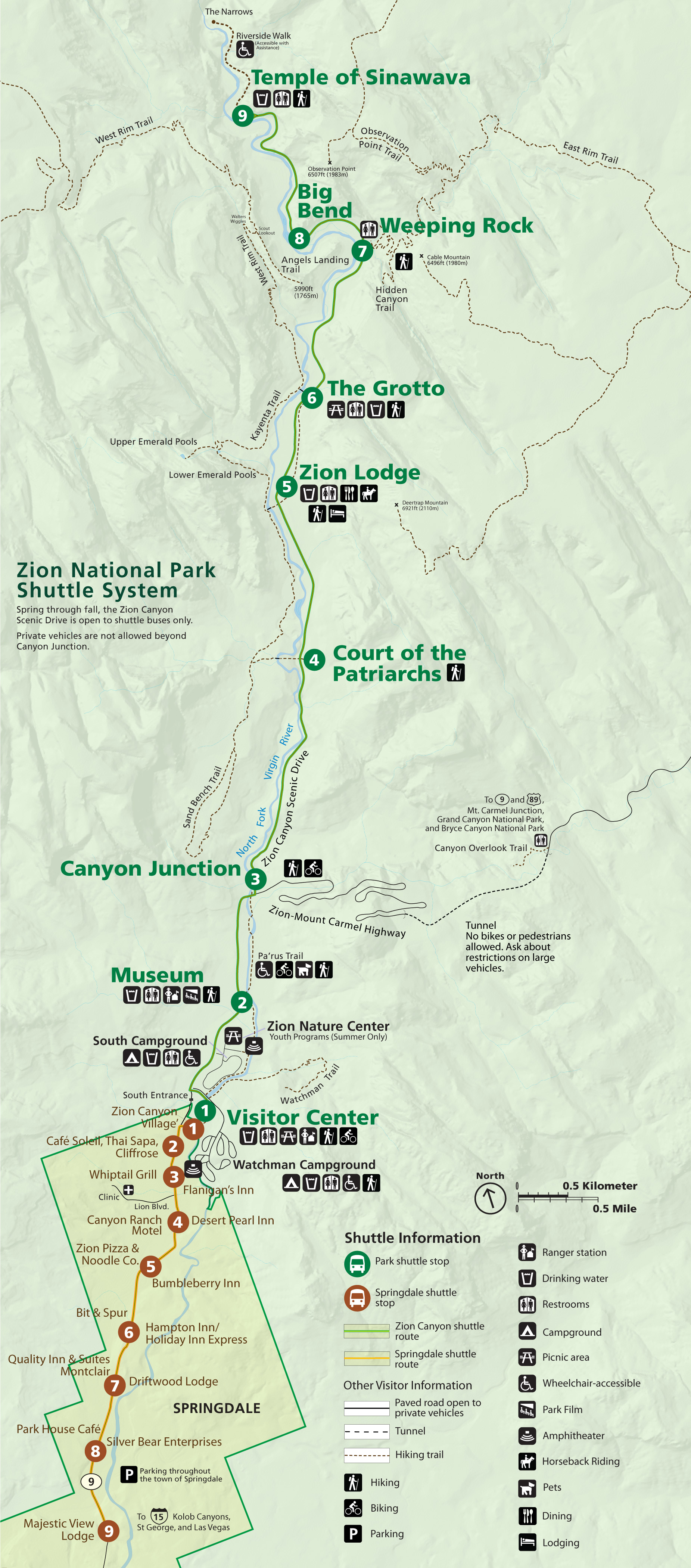 ZION NATIONAL PARK Opening hours
Zion National Park is permanently open to the public, however, since for most of the year the only way to access is through the Shuttle system, here I leave the bus schedule of Zion National Park during 2018.
ZION NATIONAL PARK entrance fee
The price to enter Zion National Park is $ 35 per vehicle with a maximum of 4 occupants or $ 20 per person entered on foot for a week. However, if you have the  America the Beautiful annual pass, you can enter Zion and all the National Parks of the United States for a single price of $ 80.
During the months when the bus shuttle works, when we change between the Springdale Shuttle and the Zion Canyon Shuttle, we will go through some stalls where the Rangers verify that we have a pass (for example, the America the Beautiful) or they will charge for the ticket entrance.
BEST THING TO DO IN ZION NATIONAL PARK
The beautiful Zion Canyon Scenic Drive crosses Zion National Park, so it will be the best way to get to the main points of interest, either on the free shuttle or with your own car if you visit Zion in winter.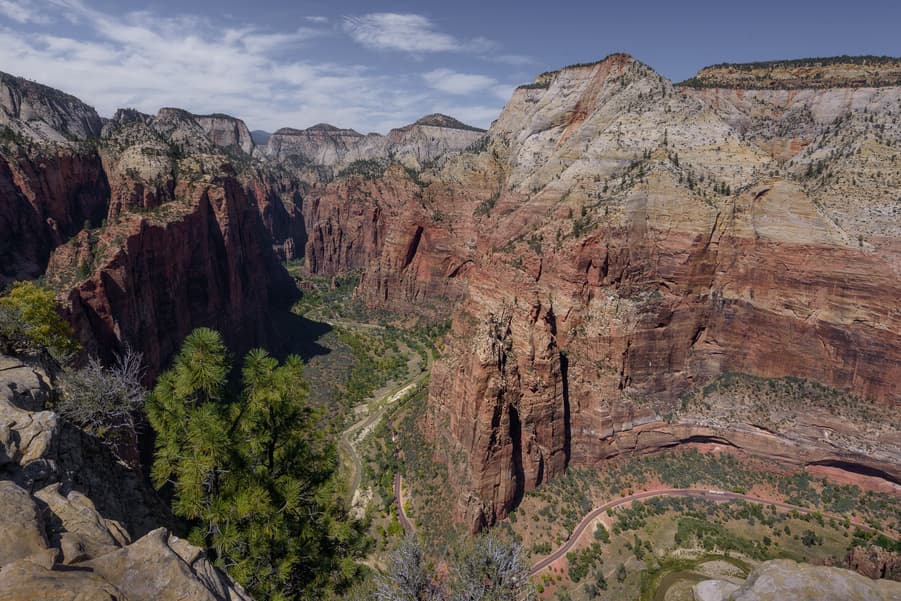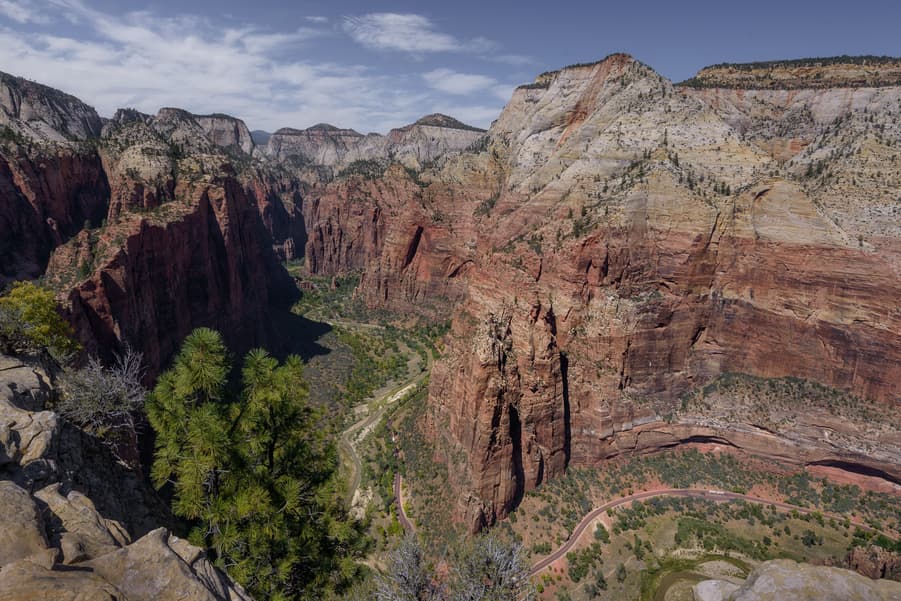 Along the road, you will find 9 stops that will take you to incredible viewpoints and trailheads. In this section, we will speak about the routes you have to do in Zion and the main overlooks that you should not miss.
THE ZION NARROWS
Undoubtedly the most popular trekking route of Zion is The Narrows, which runs through the gorge that the Virgin River has been historically carving in the north of the canyon. This narrow has a length of 15.5 miles, up to 2000 feet meters deep and sometimes only 20 feet wide, making it one of the most original scenarios in Zion National Park.
The route is considered of high difficulty since most of the trail passes over the Virgin River. It is highly recommended to visit the visitor center the day before your adventure to receive inform as regards the state of the river, as well as the possibilities of storms and flash floods that could make this route quite dangerous.
In 2015 a flash flood left 5 dead in The Narrows Zion, so it is always better to get information and not take risks. Also, keep in mind that not only floods are dangerous. The area of The Narrows is colder than the rest of the Zion National Park, so another danger that you should consider is hypothermia.
To prepare for this route we need special shoes to walk through the water, a bag where we can keep our clothes dry, as well as trekking poles so we do not lose balance on the slippery rocks of the river.
The trail starts at the Temple of Sinawava bus stop, the first mile you have to walk along the Riverside Walk that is also accessible for people in wheelchairs. At the end of this paved route, we must continue along the river. In total it takes around 8 hours to complete the trail returning from the same path.
The Narrows is a must see in Zion National Park. We could not hike this trail so we will be back very soon with more time to do this and other routes we missed.
THE ZION ANGELS LANDING
The next most important hike in Zion is Angels Landing, where instead of going through the canyon we will climb an incredible stone lookout to have a 360º view of the Zion National Park.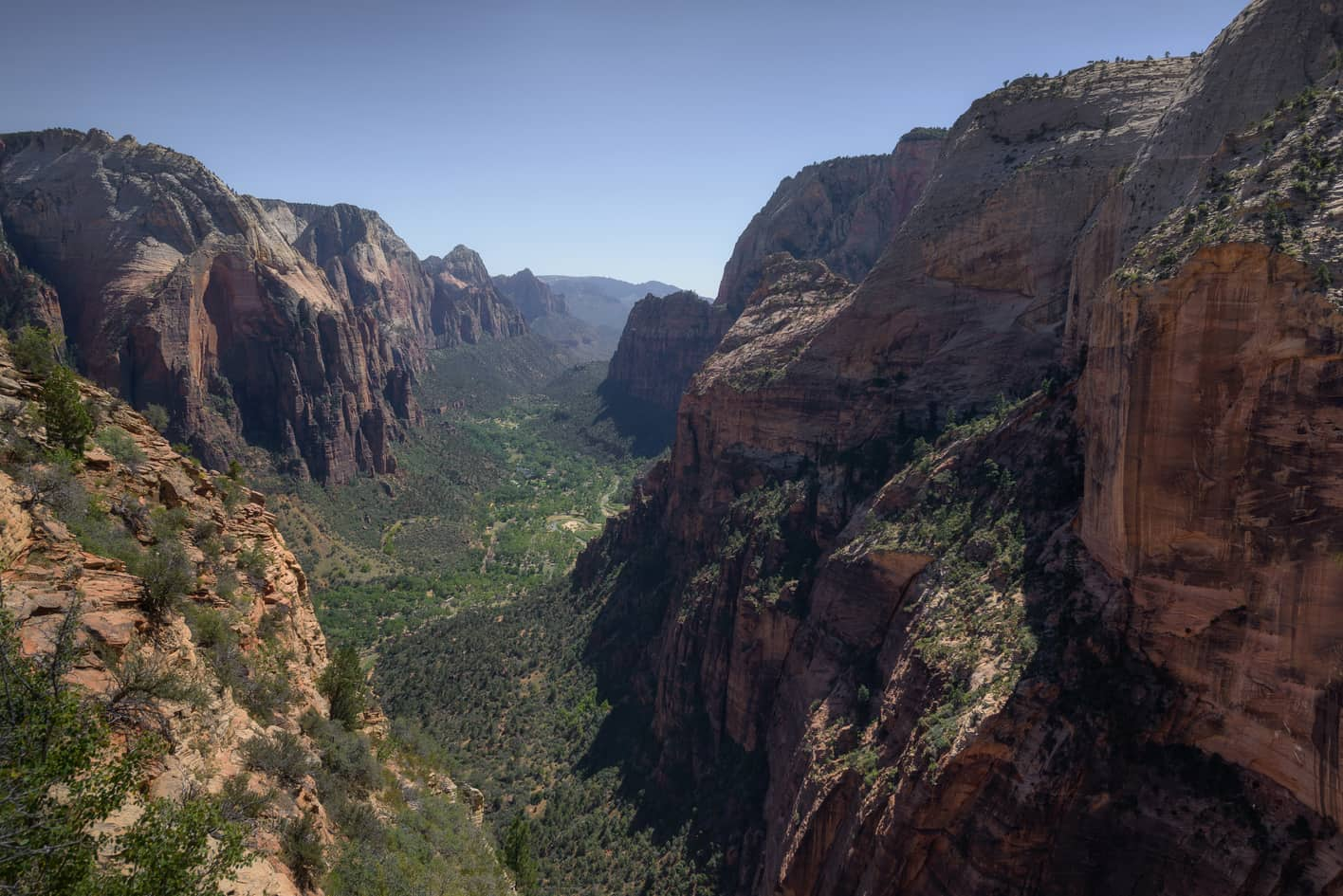 Angels landing trail has a distance of 5.6 miles with a difference of 1640 feet that is quite hard especially if it is done during the summer. Approximately it will take 4 hours to complete the round trip that starts from the bus stop "The Grotto".
It is considered as a high difficulty route since we will have to cross a via ferrata in the last section to the edge of the precipice, where a slip would turn into a fatal accident for sure. As in the previous trek, there are posters that remind that other travelers have died in Zion in Angels Landing trail.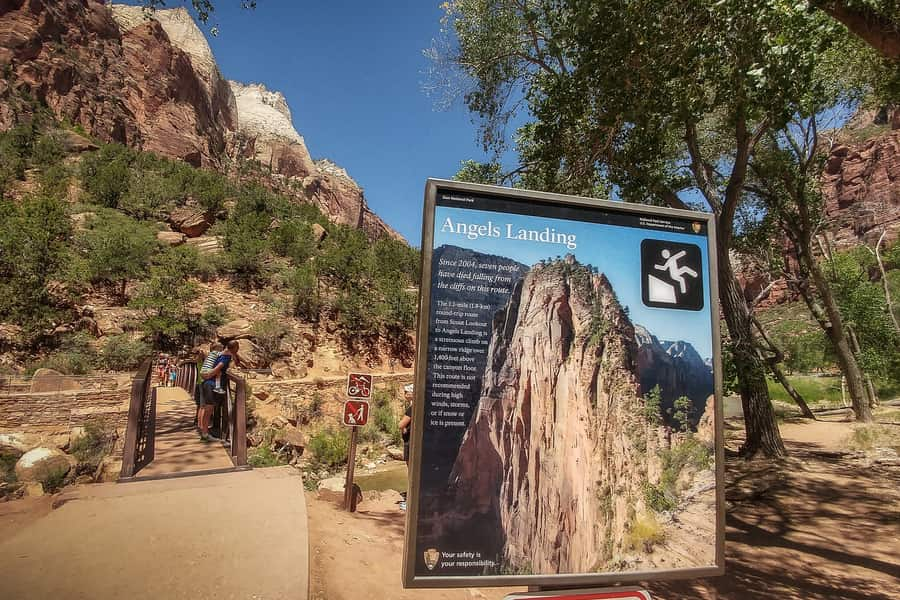 The first section, which is where you are gradually going up by a steep zigzag carved into the rock, is the most strenuous but is not dangerous. However, the last meters of the route to the viewpoint is not suitable for people with vertigo. The path continues along a narrow ridge where only one person can pass and where there is a fall of hundreds of feet on both sides of the ridge.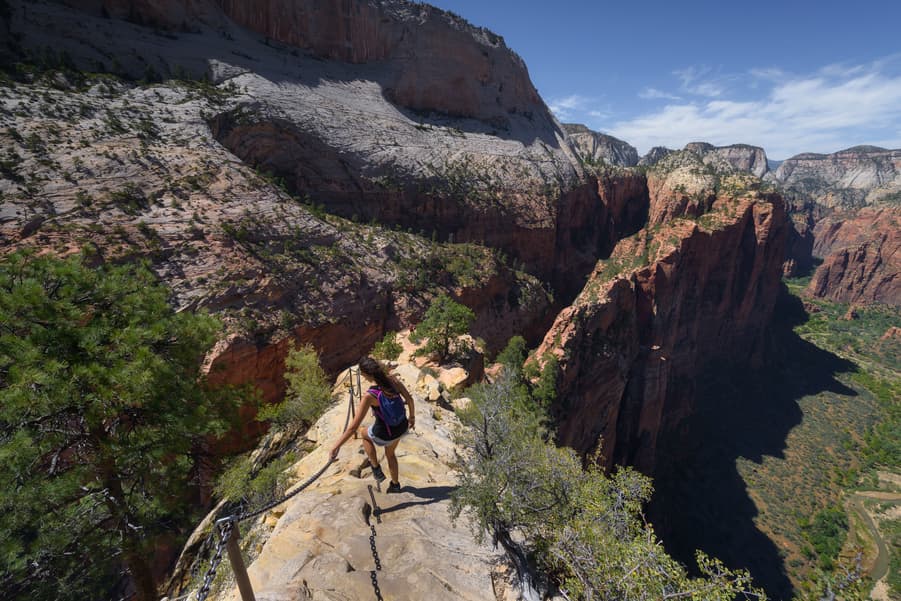 To advance it will be essential to grab onto the chains of the handrail before the rock steps that give way to a platform where you can have the best views of Zion at your feet.
If you are going to visit Zion for a short time, there is no fear of heights and you like adventure, this is the route we recommend you to do.
EMERALD POOLS
If you prefer a simple route or you are traveling as a family, the route that starts at Zion Lodge and reaches the Emerald Pools, known as the Lower Emerald Pool trail, is one of the most interesting. In just half an hour you will get to the Lower Emerald Pool watching in your way different waterfalls.
From here other routes of moderate difficulty set out, such as Upper Emerald Pool Trail, where we will see the upper pool, or Kayenta Trail, which will take us to The Grotto and therefore at the beginning of the Angels Landing trail.
Although the Emerald Pools seem totally harmless, do not underestimate them. More people have died after falling on these routes than at Angels Landing. The trail is safe as long as you do not get close to the edges and do not get into the pools, since a slip from the rocks could be very dangerous.
WEEPING ROCK
From the Weeping Rock bus stop we can also find other interesting trails. The first, Weeping Rock Trail, is also recommended to do it as a family since it only takes 30 minutes where you will reach a rock that, as the name says, "cries water".
From here we can find the trailheads of two other extenuating routes not recommended for people with vertigo; Hidden Canyon Trail (3 hours round trip) and the East Rim Trail that will take us to the Observation Point (6 hours round trip). If you have already hiked Angels Landing these routes won't be very original for you.
COURT OF THE PATRIARCHS
Another thing to see in Zion Canyon is located right in the Court of Patriarchs bus stop, where we find one of the most emblematic views of the Zion National Park: the Three Patriarchs.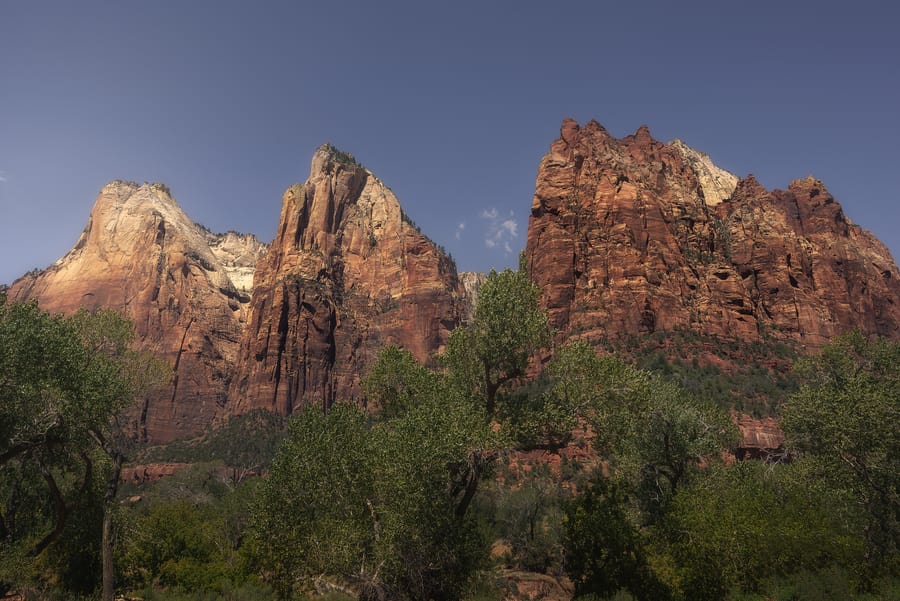 These are three peaks called Abraham, Isaac and Jacob in honor of the patriarchs of the Hebrew Bible. A quick view and photograph that cannot be missed during your visit to Zion Canyon.
CANYON OVERLOOK TRAIL
Outside the scenic road of the Zion Canyon we can also find other things to do. Canyon Overlook Trail is one of the more popular trails that you can hike, and the trailhead is reachable by car all the year.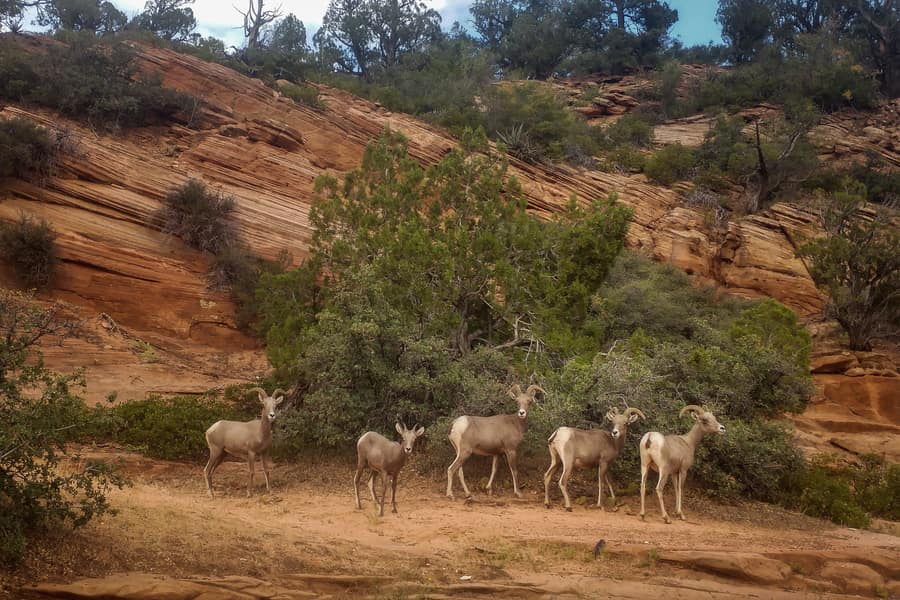 It takes an hour round trip to get to the viewpoint of the Pine Creek Canyon overlooking Zion Canyon. The perspective is totally different from those found elsewhere in the park. The trail starts just after passing the Zion-Mount Carmel Tunnel, where we can park our car.
THE SUBWAY
Another of the most interesting things to see in Zion Canyon is The Subway. Maybe doesn't sound familiar but after seeing this photo I am sure that you will be also eager to go.
The pipeline carved into the water by the Left Fork North Creek is one of the most valuable images for any photographer visiting Zion.
To do this route you need a special permit issued through a lottery three months in advance here, although if you arrive late, check it out since they sometimes make a last-minute lottery if there is any spot available.
This route is considered difficult, although it has two variants:
The Subway "top-down" route via Russell Gulch: The classic route starts at the Wildcat Canyon Trailhead to descend the canyon ending at the Left Fork Trailhead. It is a technical route where you must be experienced in canyoning and rappelling as you must check before ropes and other elements you need to carry. In addition, it is recommended counting on a car to pick you up at the end of the trail so they can drive you to the start point again.
The Subway from the bottom route: The simplified route starts and ends at the Left Fork Trailhead, the southern area of the canyon. We will miss some of the best scenes of the complete route but we will be able to get upstream to the famous Subway without having so much experience in canyoning, returning afterwards back to the starting point. It is not a technical route although the use of trekking poles is highly recommended.
You will need between 6 and 10 hours to do any of the variants, so it takes a full day on this route. In addition, you must get information before doing this route, especially to check if possible flash floods are expected. Here you can find a very helpful website if you want to visit The Subway in Zion.
OTHER TIPS TO VISIT THE ZION NATIONAL PARK
In this section, we will give you some last tips and information about Zion so you can make the most of your visit.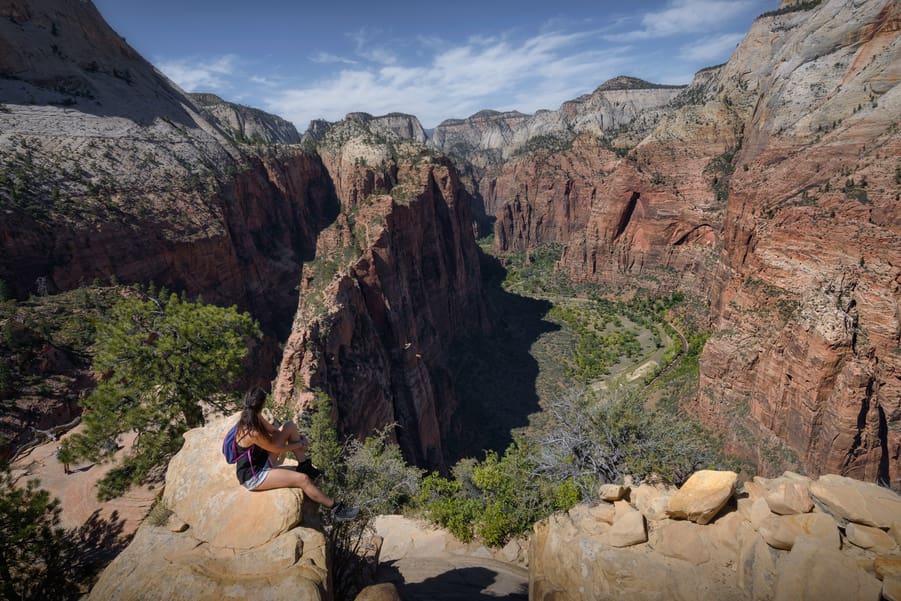 Here you will find a collection of things you should know before visiting Zion.
BEST TIME TO VISIT ZION NATIONAL PARK
If you can decide when to visit Zion I would recommend that you travel in summer, between June and August, since during this period you will find the best temperatures.
The winter months are quite hard since temperatures will be around 0ºC.
As you have previously seen, good weather in Zion is essential to do most of the hiking trails. Storms and frequent rains usually end up with cut trails, not only in The Narrows or The Subway but also in those that go through the edge of a steep fall, like Angels Landings, where heavy rain can end up in landslides or make the trails even more dangerous. Therefore, the best month to visit Zion is June, since the temperatures will be very good and it is the driest month of the year.
HOW MUCH TIME IS enough TO VISIT ZION NATIONAL PARK
We visited the Zion National Park in one day and it was definitely not enough. For me, the ideal would have been to spend 3 days in Zion National Park, but since we only traveled 10 days to the West Coast, we could not spend more time in Zion.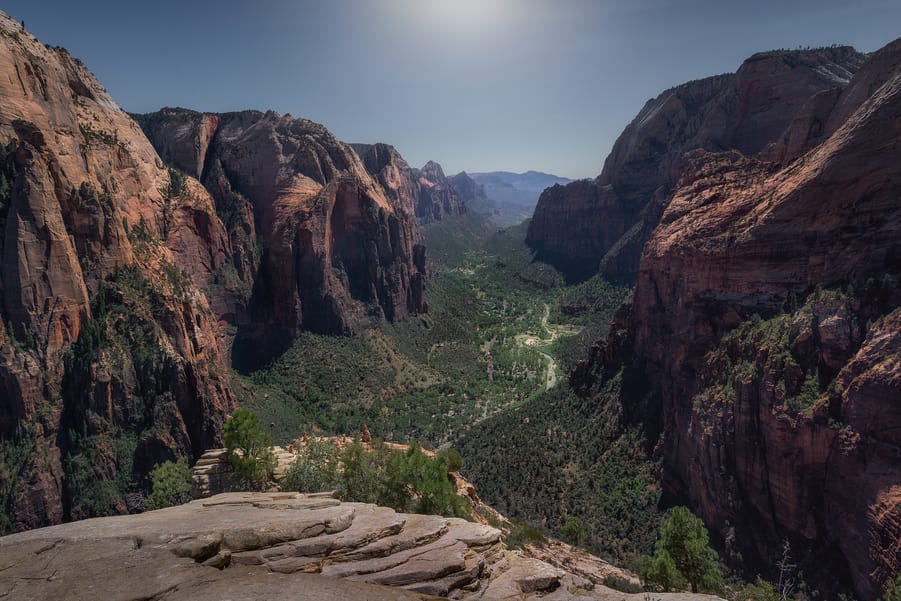 If your trip is going to be longer and you have 20 days or more to visit the West Coast, I recommend spending at least 2 or 3 days in Zion since it is a park with many hiking and photography possibilities.
Here is my itinerary ideas for Zion in 1 day, 2 days and 3 days.
ITINERARY TO VISIT ZION IN ONE DAY
If your plan is to explore Zion in one day, then you have to choose if you prefer to make a height or water route.
Angels Landing is the best Zion trail if you like strenuous routes with amazing views. If you have the right physical conditions you do not need prior preparation. The road is perfectly signed and you can't get lost. At the end of the route, you will have the best views of Zion.
The Narrows is the best option if you prefer a route with water and the weather conditions are favorable (make sure you contact the Zion information center beforehand to receive an accurate forecast). In addition, you must come well equipped with special shoes to walk in the water, trekking poles and a waterproof backpack with dry clothes as we explained with more details above.
ITINIERARY TO VISIT ZION IN 2 DAYS
If you visit Zion two days then you do not have to choose. Make the Angels Landing route on the first day and take the opportunity to go to the Zion visitor center to get all the necessary information to do the following day the route of The Narrows.
ITINERARY TO VISIT ZION IN 3 DAYS
If you are spending three days in Zion then plan ahead and get a permit for The Subway. If you hike in 3 days Angel Landings, The Narrows and The Subway I am sure you will have made the most of your visit to the Zion National Park, although it could be quite exhausting.
DEATHS IN ZION NATIONAL PARK
Falls in Zion are not frequent, but in most cases, they have fatal outcomes. When we organized this trip and started to read information, we were very surprised with the death toll in this National Park, and wondered how many people have died in Zion National Park. Here is the data of the last 10 years:
Angels Landing 8
Cathedral Mountain 1
Emerald Pools 7
Lady Mountain 2
Mt. Kinesava 1
Mt. of the Sun 1
Observation Point 2
Watchman 2
East Rim Trail 1
Checkerboard Mesa 1
Crazy Quilt Mesa 1
Deer Trap Mountain 1
Hidden Canyon 2
Canyon Overlook 2
Most of these accidents have occurred due to the imprudence of the visitors. The best way to prevent accidents is to receive the necessary information at the visitor center and to check frequently the weather. If there is a rain or storm forecast think twice before continuing on the route.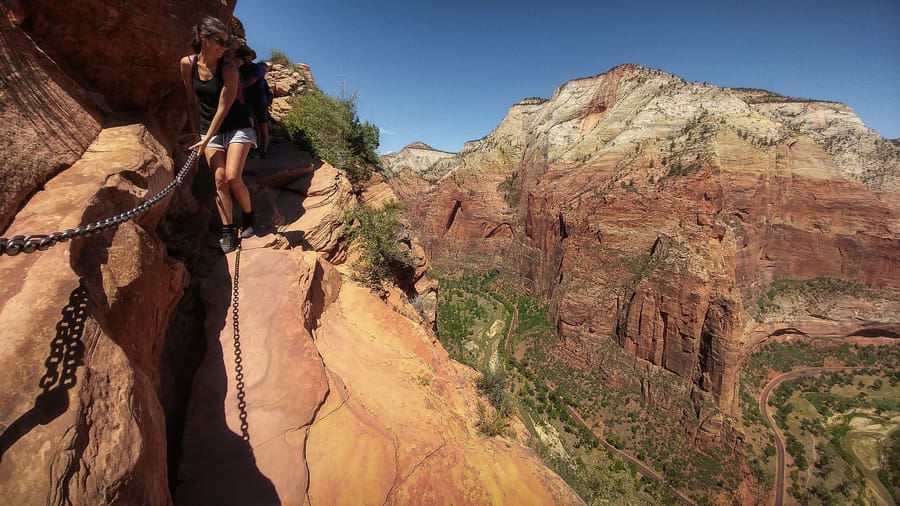 And of course, make sure you have good travel insurance, especially if you are doing moderate or strenuous hikes in the United States. For the USA I recommend an insurance with an extraordinary coverage (never consider hiring anything that covers below $ 30,000 if you travel to the United States).
For the United States, we travel with MONDO, since in addition to offering free telephone medical assistance to their clients, they have now doubled their medical coverage to $ 100,000.

WHERE TO Stay in ZION CANYON
If you are organizing your visit well in advance, you can book accommodation inside Zion National Park.
Within the national park, we have a motel and two campsites.
El motel Zion Lodge  also offers cabins and suites. If you stay at this hotel they will provide you with a Red Permit so you can enter and leave the park with your car during the months in which the Zion Canyon Shuttle runs (although you will have to park at the lodge).
Watchman Zion Canyon Campground: It is the main camping of Zion. It is open from March to the end of November and reservations must be made 6 months in advance if you want to secure a spot.
South Campground: It is also open between March and November although it can only be booked two weeks in advance.
However, do not be overwhelmed if there are no more available sites. As you know, the town of Springdale is only 10 minutes away from Zion, so staying here is a very good solution. The best hotels in Springdale are:
Bumbleberry Inn: One of the few hotels near Zion with a price below $ 200 and with very good reviews.
La Quinta Inn and Suites: Another hotel with affordable prices and good reviews near Zion, known for its buffet breakfast that includes delicious homemade waffles.
In addition to this two, you can also find many other hotels on Booking or Airbnb. Below you can find some discounts.
BEST PHOTOS OF ZION NATIONAL PARK
As in every article, we like to create a small gallery with the best pictures we took during our visit, and here you can find our best images of Zion:
I hope you like them and you can come back with outstanding and unforgettable pictures of Zion National Park.
ZION NATIONAL PARK MAP
Here you can find the Zion Canyon National Park map, with all the hiking trails, best accommodation and campsites in Zion and the most important places in Zion you must see.
If you want to use this map of Zion Canyon National Park on your mobile and without internet:
Download the Mapswithme app on your cell phone.
Download and save the following KML file in your Dropbox.
Open the file through Dropbox from your cell phone. You will get a dialog box where you have to select open with the Mapswithme application (Maps.me)
Ready, you have everything you need to start your trip.
SEE YOU IN THE NEXT ARTICLE AND DO NOT HESITATE TO LEAVE US A COMMENT IF YOU NEED MORE INFORMATION ABOUT zion CANYON.

---
– OTHER POSTS OF THE WEST COAST AMERICA COLLECTION –
Don't miss out...