Finding a place to stay in Zion is quite difficult because there's only one hotel in the National Park and if you don't book many months in advance, it's impossible to get a room.
During our West Coast 10-day trip, we explored this fantastic national park and were delighted with the view from the top of the canyon (we hiked the Angels Landing trail). If you love the outdoors, you will definitely enjoy your time there.
However, before visiting Zion Canyon, I recommend you read our guide. There, we tell you about the shuttle you need to take to visit this park during the summer months.
If you're staying at the only hotel within Zion National Park (Zion Lodge), you'll get a red permit to enter and leave the park in your car. However, you can only park at the Lodge. During the summer, you can't use your car inside the park. You must use the shuttle to reduce traffic in the park during the high season.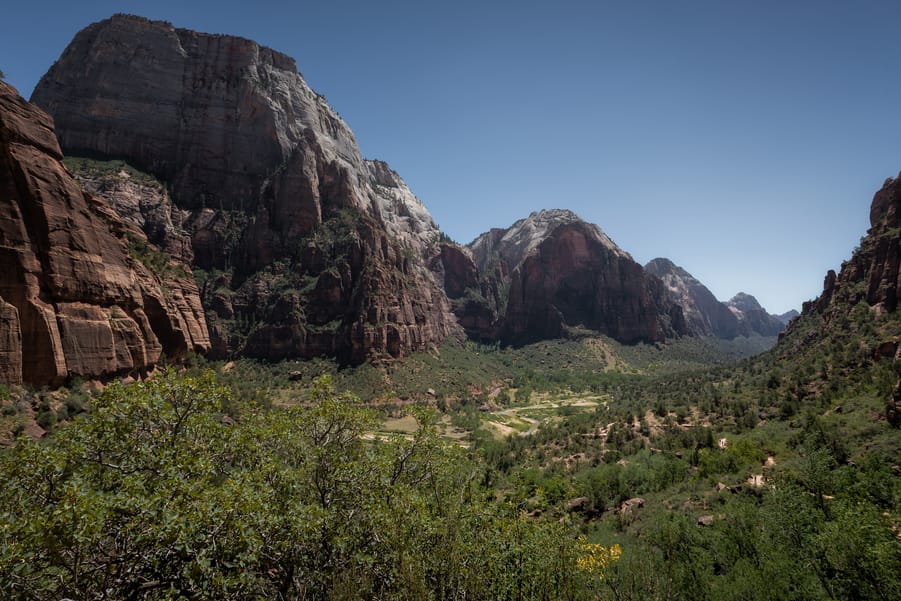 Zion Lodge is almost always sold out months in advance. If there's no availability for your dates, you can find more options for where to sleep in Zion in the following sections. In fact, I think that some of the options we'll tell you about are even better than the above-mentioned Lodge, since outside the park, you'll find cheap accommodations in Zion Canyon, which are much more modern than the lodge. We'll also talk about the best campgrounds in Zion in case you want to camp there.
Springdale – the Best place to sleep in Zion National Park
Springdale is the nearest town to Zion. It is 10 minutes from the Visitor Center, which you can walk to. It's also the best place to look for a place to sleep in Zion, although some of its hotels have high prices and fill up quickly.
If you stay here, you won't have to worry about how to get to the park. There's a free shuttle that passes through different points of the town and takes you to the main outlooks of the park. That is why it's the best place to stay in Zion.
This would be the route the shuttle would take.
FLANIGAN'S INN, the closest hotel to Zion National Park
Flanigan's Inn is the closest hotel to Zion National Park, since it's located 8 miles from the park. It has the highest score among all the hotels in Zion, which is not only due to its fantastic proximity but also to the services it offers.
Within the ratings, it's listed as a 3-star hotel. It's a luxurious hotel in Zion. Its rooms are equipped with the latest technology and have warm and amazing green areas.
Of course, book well in advance if you want to stay here. The park shuttle stops at the hotel's entrance.
Zion Canyon Lodge, the best hotel in Zion National Park
Zion Canyon Lodge is a perfect option to stay in Zion if you like the idea of ​​being surrounded by rocky, red mountains and having an incredible view. It has one of the highest scores according to previous guests' opinions.
It's located 20 miles from Zion National Park and 44 miles from the airport. It may seem a little far, but the park shuttle also stops at its entrance, making it one of the best accommodations in Springdale.
The rooms have everything you need: spaciousness, flat-screen TV, free Wi-Fi, terrace, bathrooms, and more. Also, the restaurant offers local food.
DRIFTWOOD LODGE, luxurious hotel in Zion National Park
Driftwood Lodge is one of the most popular hotels in Zion Canyon. It's located less than 2 miles from the entrance of the national park, and the attention of the staff is excellent.
Its rooms are usually a bit expensive, but worth the stay. If you would like to visit other places in addition to Zion National Park, this hotel allows you quick access to the Virgin River.
It has a pool and a hot tub where you can relax. Moreover, the variety of its restaurant menu is quite large, and the restaurant has fantastic views. During the high season, you need to book several months in advance.
Bumbleberry Inn, the cheapest hotel in Springdale
If you're looking for a hotel to stay in Zion but you're traveling on a budget, Bumbleberry Inn is perfect for you. The prices of its rooms are entirely accessible, and they offer quality service, so I recommend booking well in advance.
It's located 5 minutes by car from Zion National Park. You can park your car here for free to take the shuttle to Zion Canyon.
The hotel is also less than 93 miles from Bryce Canyon. If you want to continue your adventure, here's a complete guide to Bryce Canyon National Park.
LA QUINTA BY WYNDHAM, one of the most valued accommodations near Zion
La Quinta by Wyndham competes with Flanigan's Inn for first place among the top-rated hotels in Zion. It has the second-highest score, and the hotel design is impressive.
If you stay here, you'll be 3 miles from the national park and able to enjoy the best sunrises and sunsets of Zion. In addition, it has a large pool.
The shuttle buses stop at its entrance too, so it's one of the best hotels in Springdale.
La Verkin – Another option for where to stay in Zion National Park
La Verkin is one of the most popular choices if you're looking at where to sleep in Zion at the last minute. Although it's a small town, it offers a variety of accommodations at different prices. Furthermore, it's possible to find an available hotel just a couple of months before your trip.
If you want to enjoy other hikes and cycling in addition to visiting Zion National Park, staying in one of the hotels in this town is a good alternative. It's only a half hour from the park.
These are the best accommodations in La Verkin:
By the way, La Verkin is 2 hours away from Las Vegas. Check here the best things to do in Las Vegas. If you're also visiting Sin City, here's where to stay in Las Vegas.
Hurricane – Cheap accommodation in Zion National Park
If price is the most important thing for you, check Hurricane, the best option to stay in Zion on a budget.
Although it's a small town, it has relatively cheap hotels with quality services. These can range between $30 and $85. In addition, the city itself has landscapes that make the road to Zion more picturesque (only a 30-minute drive).
These are the best hotels in Hurricane:
Kanab – The best-connected lodging option in zion
We discovered this small town when we came back from Bryce Canyon, and it's a great place to stay in Zion because of how well connected it is.
Besides being close to Zion National Park, Kanab is also a good option if you come from visiting Antelope Canyon or visiting Horseshoe Bend, or even if you take a Grand Canyon helicopter tour.
If you're looking for cheap hotels in this area, we're sorry to tell you that the options are almost nil. However, paying a little more is necessary if you have to make a stop here. These are the best options:
Camping in Zion National Park
If you like your accommodation closer to nature, the Zion Campgrounds are ideal. Zion National Park has two very popular campsites.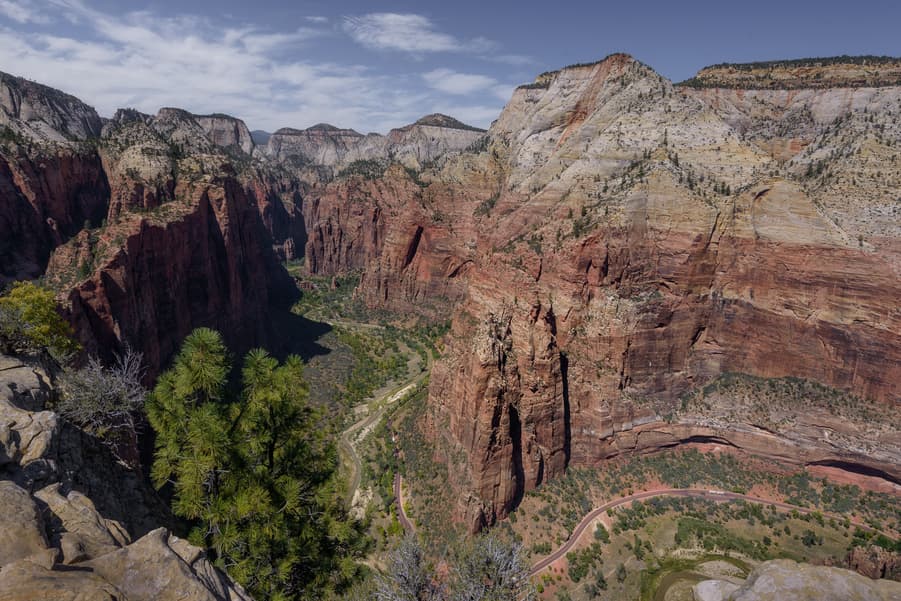 Here is everything you need to know to camp in Zion.
Watchman Zion Canyon Campground is the park's main campground. It's a few miles from the south entrance and the Visitor Center. Shuttle buses to the main outlooks depart from here.
The campsite is open all year round. However, it's only necessary to book camping in Zion between March and November. The rest of the months, it's first come, first served.
This site is suitable for both tents and RVs, with prices ranging from $20 to $130 per night.
South Campground is the second camp in the area. In comparison with the previous one, it's only open between March and November, and reservations must be made at least two weeks in advance
In addition to having RV and tent sites, they organize some tours. Prices range from $20 to $50 per night.
The location is also excellent, as it is very close to the park entrance.
To learn more about the reservations and packages they offer, check out the Zion campsites homepage here.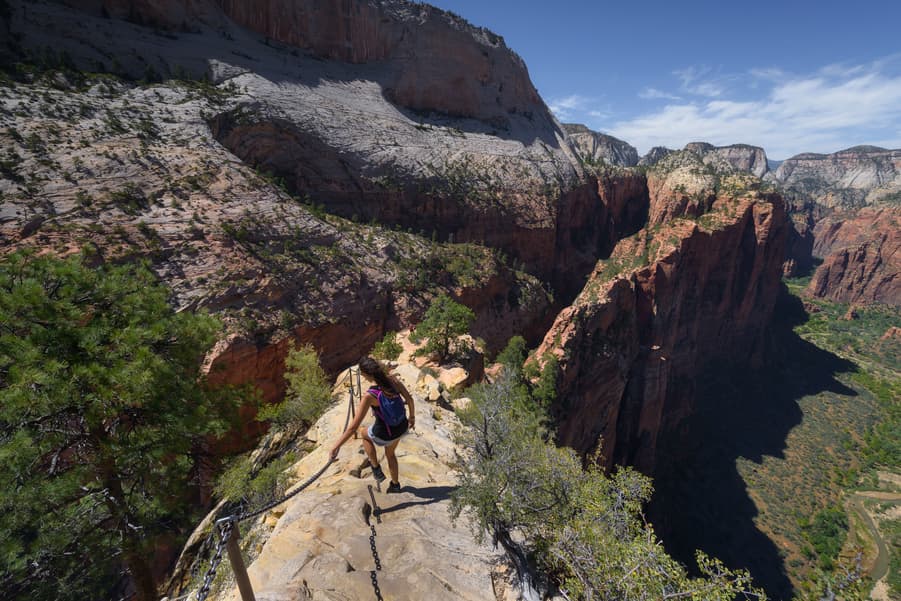 And that's all you need to know. I hope you find choosing where to stay in Zion Canyon easier now. If you have any questions or need any further advice on where to sleep in Zion, leave me a comment and I'll answer you as soon as I can.
Safe travels!