Visiting Monument Valley was a highlight of our West Coast America road trip.
Our American adventure finally started as we walked through the reddish lands of the far west. Up until then, we only got to enjoy these vast territories through classic western films.
As you visit Monument Valley, let your imagination fly to a life-or-death duel between cowboys or an ambush of Indians riding wild horses.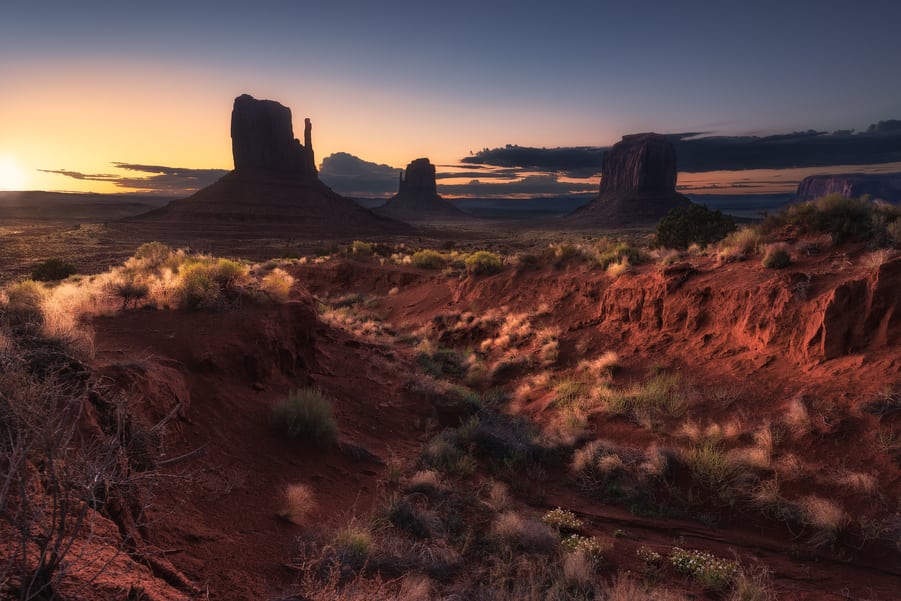 In this guide for planning your visit to Monument Valley in the United States, you will find all the information you need to make the most of your trip.
We spent one night and one morning in Monument Valley during our 10-day West Coast America self-drive holidays. However, if you want to discover this Navajo Indian Reservation in depth, I recommend at least a two-day visit.
TO SUMMARIZE, THESE ARE THE BEST PLACES TO VISIT IN MONUMENT VALLEY:
The Mittens and Merrick Butte: See the sunrise from the most famous viewpoint in Monument Valley.
Hiking routes: Hike the "Wildcat trail", the only route that you can hike on your own in Monument Valley.
John Ford's Point: Shoot the classic western scene of the cowboy and the horse in this viewpoint.
"Elephant Butte", "Three Sisters" and "Camel Butte": Visit some of the most curious formations in the valley.
Visit the road where Forrest Gump stopped running, located at mile 13 of the Federal Route 163.
Take a guided Navajo Tour: Like "Hunts Mesa" or "Mystery Valley".
Starry Skies: Enjoy one of the best starry skies in the United States with the silhouette of the main rocks of the Valley.
See historical movie sets: Such as "Stagecoach", "Fort Apache" or "Back to the Future III".
VISIT MONUMENT VALLEY
After seeing images of this place, everyone who is planning a West Coast USA road trip wants to visit Monument Valley.
However, you will notice that Monument Valley is on the border between Utah and Arizona, likely the easternmost point of your West Coast trip. Following this, you may consider crossing it out from your travel itinerary because it's too far from other points of interest.
Well, if you ask me whether visiting Monument Valley is worth it, I would most definitely say yes.
We drove 7 hours from Las Vegas to get to Monument Valley and pitched our tent. We arrived at night, but it only took us 5 minutes to realize how much we would have regretted it if we had not included Monument Valley on our Western USA trip.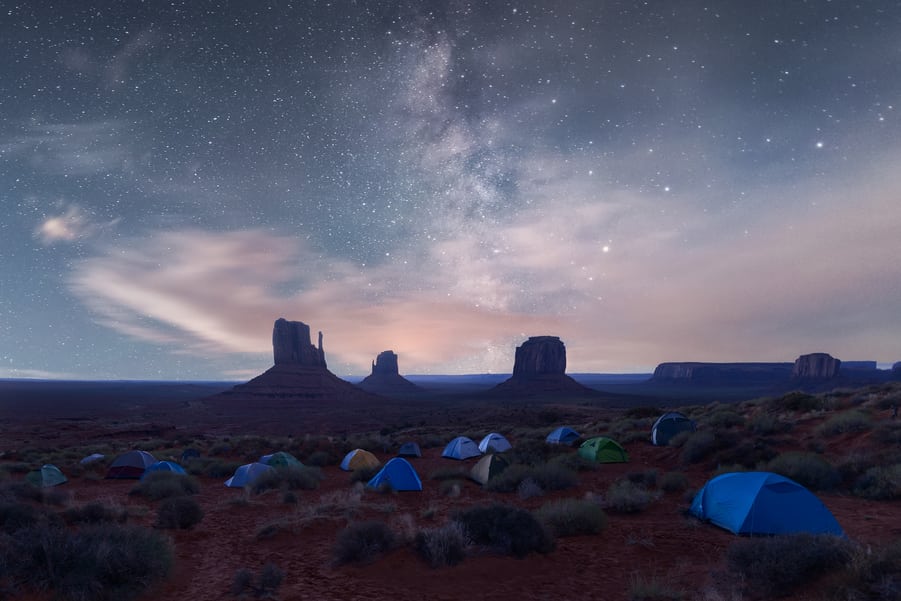 If we have persuaded you to include this wonder in your trip planning, I recommend paying close attention to the details of this guide to visiting Monument Valley.
BEST TIME TO VISIT MONUMENT VALLEY
Visiting Monument Valley is an incredible experience throughout the year, but spring and fall are the most recommended seasons.
When you see the arid and desertic landscape, you might think that temperatures are high during summer. However, being at high altitude (5577 feet), it rarely exceeds 90ºF. The main reason to keep you from visiting Monument Valley during summer should be the large number of tourists who come here during these months.
On the other hand, if you visit Monument Valley during winter, temperatures can be around 32ºF, so it is not strange to find Monument Valley covered by snow.
HOW TO GET TO MONUMENT VALLEY
If you are going to visit Monument Valley by yourself, keep in mind that you will be driving long distances. The only practical way to get to Monument Valley is by car (or with an RV rental in the USA).
You can check our 20 best tips to find cheap rental cars here.
For us, the only reason to not visit Monument Valley would have been the long-distance travel to get there. However, without any doubt, our visit to Monument Valley was worth it, and the views at the end of the road will make up for it.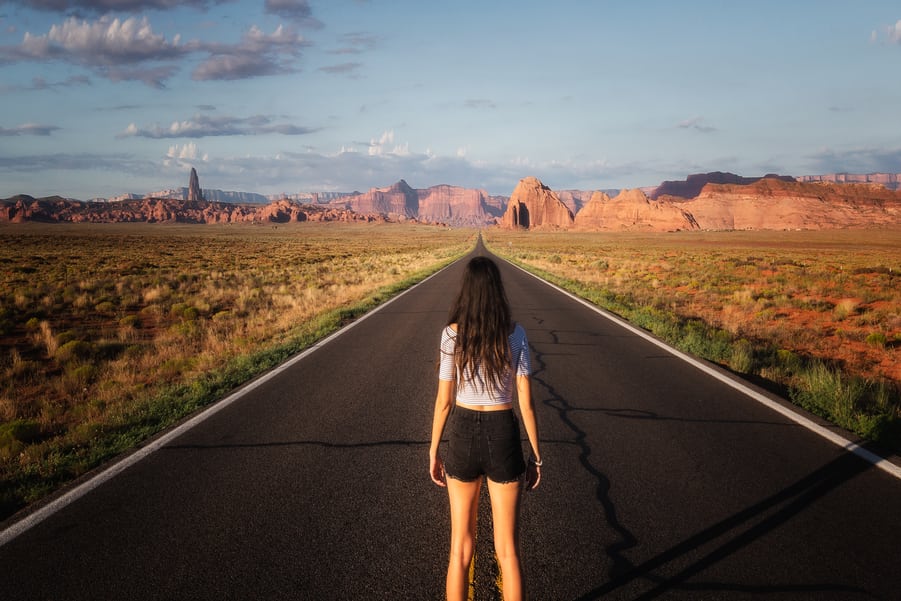 If you don't know where Monument Valley is, I suggest checking this map of the West Coast that we created to help you choose your travel route to the West Coast.
HOW TO GET TO MONUMENT VALLEY FROM PAGE (ANTELOPE CANYON)
People who visit Monument Valley usually also visit the Antelope Canyon. This canyon carved into the reddish sand of Arizona is located in Page. Since Page and Monument Valley are only 124 miles apart, it is not uncommon to visit Antelope Canyon and Monument Valley on the same trip.
I also recommend visiting Horseshoe Bend as it is also in Page a few minutes from Antelope Canyon and can be visited on the same day.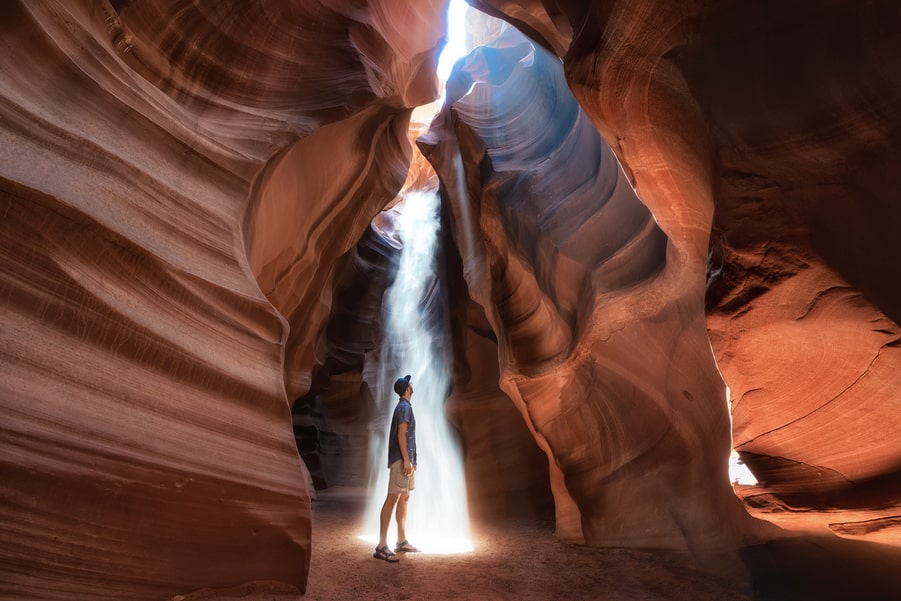 Keep in mind that while the Page and Monument Valley are just three hours apart in the same state of Arizona, the time zone between the two are different during the summer. Although Page also belongs to the Navajo Indian Reservation, it does not observe daylight savings, which maintains the same time throughout the year.
If you are going to spend the night in Page, you can check where to stay near Antelope Canyon and Horseshoe Bend here.
HOW TO GET TO MONUMENT VALLEY FROM LAS VEGAS
The closest international airport to Monument Valley is in Las Vegas, located in Nevada. In addition to this, there are a million things to do in Las Vegas, so it is very likely you are going to visit it at some point. To get to Monument Valley from Las Vegas by car, you will have to travel about 400 miles which will take you at least 7 hours. This is one of my favorite road trips from Las Vegas.
However, if you prefer not to drive you can hire this 3-day tour to Monument Valley from Las Vegas, one of the best tours in Vegas, where you will also visit Horseshoe Bend and the Antelope Canyon.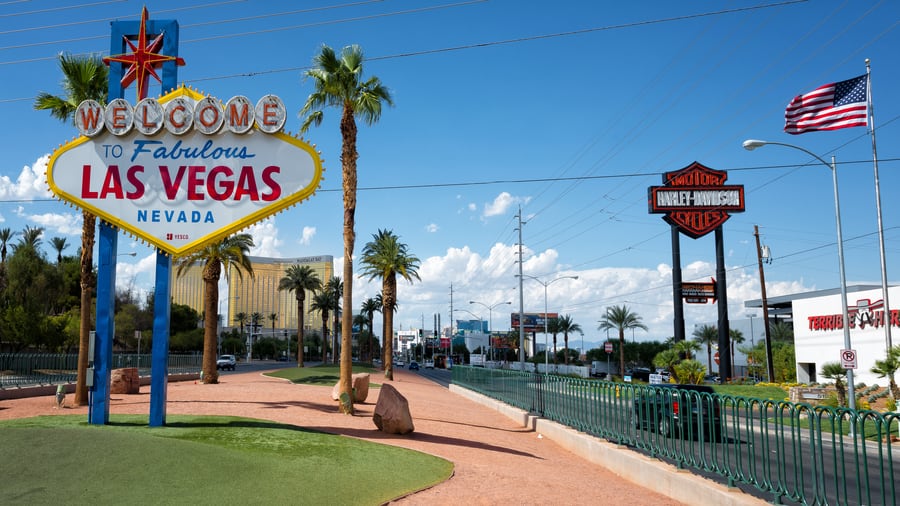 If you decide to go on your own and spend a few days in the city, you can check the best hotels in Las Vegas here and some tips to rent a car in Las Vegas here.
HOW TO GET TO MONUMENT VALLEY FROM THE GRAND CANYON
The Grand Canyon is the most popular National Park in the United States. There is a distance between the Grand Canyon and Monument Valley of 186 miles, which takes about four hours.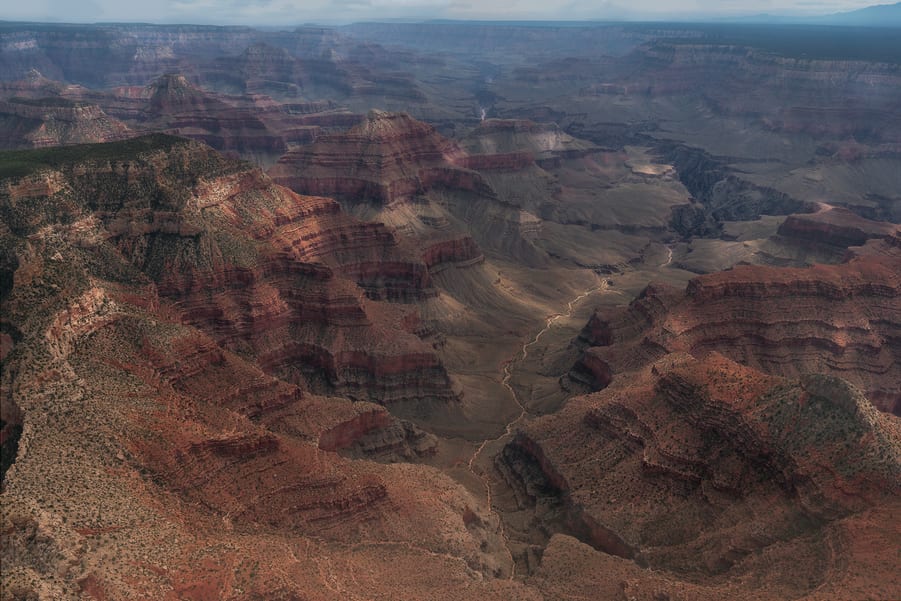 Although there are different tour packages to Grand Canyon and Monument Valley in one day, I advise visiting the two Arizonian wonders in at least two days. If you can, I advise you to spend at least two days for visiting the Grand Canyon.
If you're traveling on your own, you can check where to stay in Grand Canyon Village here.
MONUMENT VALLEY OPENING HOURS
When planning your visit to Monument Valley without a guide, keep in mind that the visiting hours are 6 a.m. to 8 p.m. May to September and 8 a.m. to 4:30 p.m. from October to April.
While you can still enter at any time of the day, the Monument Valley Visitor Center will be closed.
HOW MUCH DOES MONUMENT VALLEY COST?
The Monument Valley entrance fee is $ 20 per car (up to 4 people) + $ 10 for each extra person.
If you want to visit Monument Valley for free, enter the park when it is closed and stay at one of its campsites or hotels. This way, you don't have to pay the Monument Valley entry fee whilst being able to see incredible views the next morning.
Keep in mind that Monument Valley is part of the Navajo Indian Reservation and not a National Park or State Park, so you cannot use your "America the Beautiful" Pass to enter.
The Monument Valley admission fee corresponds with the entry fee to the Navajo Nation, so if you are going to visit different attractions within the Navajo Nation on the same day (i.e. Antelope Canyon + Monument Valley), make sure you only pay this fee once.
BEST THINGS TO DO IN MONUMENT VALLEY
The main attraction of Monument Valley is the diverse rock formations, which you will discover in this section.
There is nothing like exploring through the incredible landscapes of Monument Valley. Driving across the Monument Valley Scenic Drive is the best way to make the most of your trip.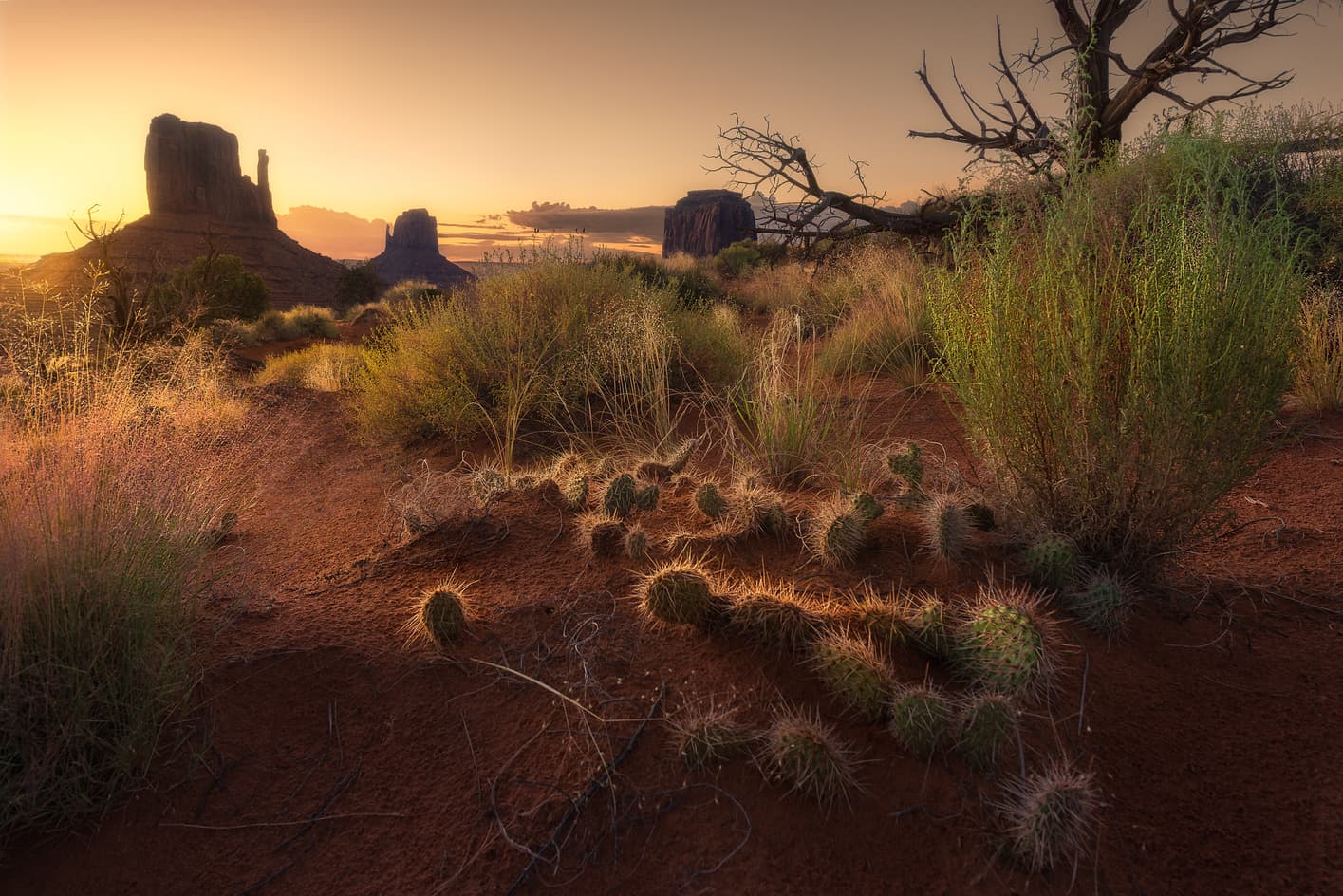 Keep in mind that you will need between 2 and 4 hours to see this arid landscape. Although it is a dirt road, it is not necessary to have a 4×4 car.
You can drive the 16 miles loop and visit the 11 main viewpoints listed in this Monument Valley map that you will find at the end of the post.
Note: Take into account that some vehicles like motorcycles or RVs are not allowed at the scenic drive .
1. THE MITTENS AND MERRICK BUTTE
From the first viewpoint at the entrance of the reserve, we can see the most famous rock formations of Monument Valley – The East and West Mitten Buttes and Merrick Butte. They are undoubtedly one of the most imposing structures in Monument Valley as they rise 6500 feet above the vast plains.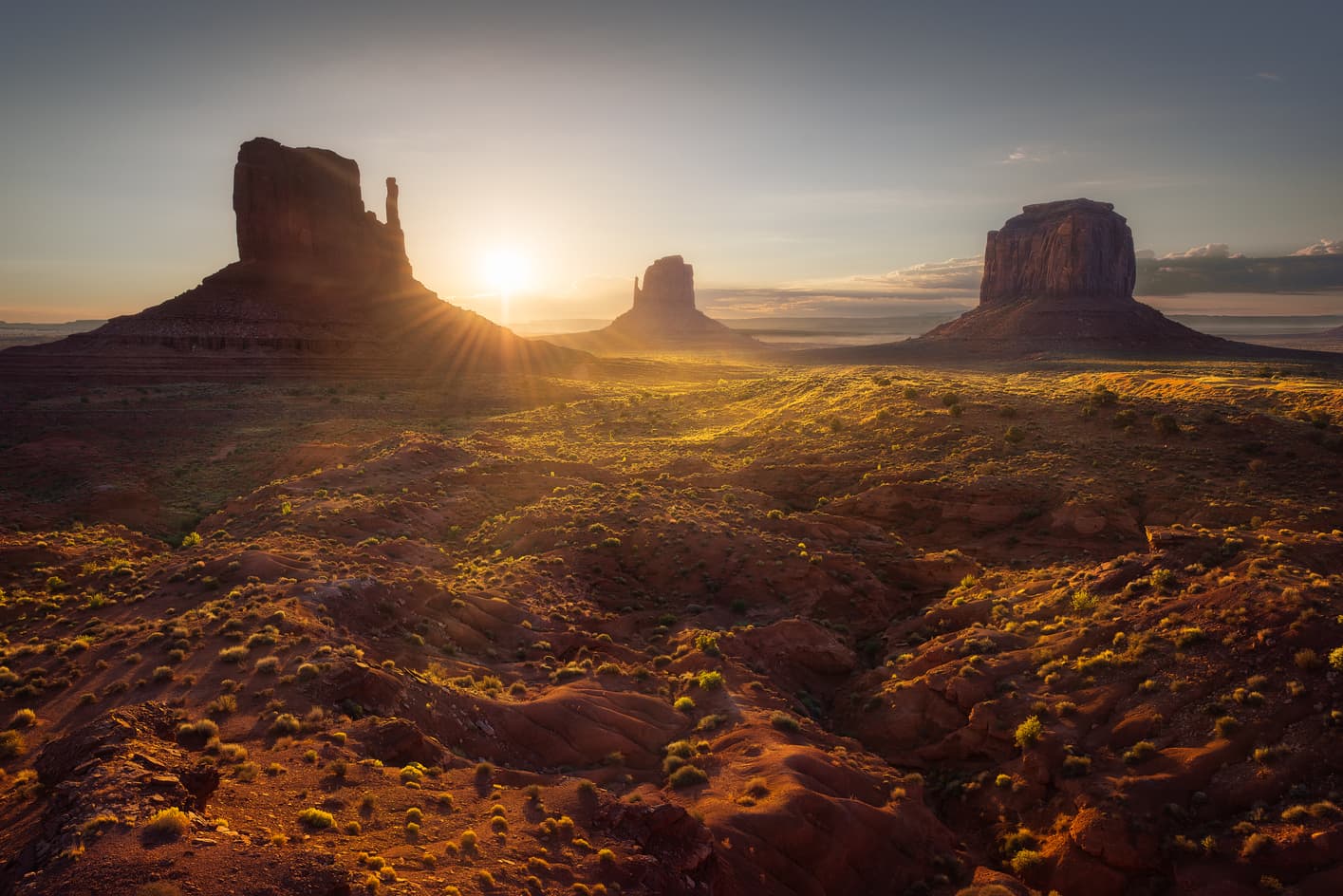 The Mittens earned its name due to its silhouette – the shape of a mitten. Merrick Butte, on the other hand, was named after one of the two explorers who discovered Monument Valley.
2. ELEPHANT BUTTE
Following the path, we find the Elephant Butte, a rock formation in the shape of an elephant sitting on the desert sand, only recognizable when the shadows at the end of the day cast over the rock.
3. THREE SISTERS
If you turn around, you will find the Thee Sisters. These three high pinnacles recall the figure of a nun teaching two students.
Mitchell Mesa stands next to them. This plateau is named after another explorer in the area.
4. JOHN FORDS' POINT
The most exciting viewpoint for Western film lovers. Film director John Ford brought Monument Valley to the big screen in 1939, and since then, Monument Valley has become one of the most filmed locations.
To this day, it continues to serve as a film set, not only for movies but also for cartoons and computer games.
This stop is also perfect for buying Navajo made crafts and taking the famous shot of a man on horseback over the ravine.
5. CAMEL BUTTE
Considering its name, you would expect that the shape of Camel Butte should vaguely resemble a camel lying on the desert. However, do not be frustrated if you do not see it, as most others can't see it either. It is supposed to be seen facing west.
6. THE HUB
The road continues toward the Rain God Mesa, named after a sacred place of the Navajos. It was also used by healers to praise the God of rain.
After this, we will get to The Hub, which rises 164 feet above the ground. Its unique and solitary needle shape has a group of Navajo homes at the base.
A secondary path that can only be accessed with a guide starts from here, to Saddle Rock or Ear of the Wind near Thunderbird Mesa.
7. TOTEM POLE AND YEI BI CHEI
Past the Rain God Mesa, we reach the next viewpoint from where we can see a group of needles called Yei Bi Chei (Navajo spiritual gods) and Totem Pole at 140 meters high.
We can also see Sand Springs from here, although you can see it better from the next viewpoint.
8. SAND SPRINGS
On the way to this viewpoint, we find the Sand Springs, different red-orange dunes and the only natural aquifer in the reserve.
From here, we will get an even better view of Yei Bi Chei and Totem Pole. However, if we want to get even closer to these rock formations, we will have to take the Thunderbird Mesa guided tour.
9. ARTIST'S POINT
It is located in front of Spearhead Mesa, but if we turn around, we can see The Mittens and Merrick Butte here from the end of the valley.
Many consider this to be the second-best viewpoint in Monument Valley, following John Ford's Point.
Of course, it is the best viewpoint to photograph Monument Valley at dawn, since it is facing west and therefore the reddish stone will be illuminated with the first lights of the day making the color even more vivid.
10. NORTH WINDOW
North Window opens like a window to the north of the reserve in such a way that East Mitten Butte is framed between Elephant Butte and Cly Butte. However, it will be difficult to recognize it from this position since the main finger of the mitten will be hidden.
11. THE THUMB
The Thumb is the last point of interest in the Monument Valley Scenic Drive. Some say that the figure of the rock reminds them of a thumb and others of a cowboy boot.
OTHER THINGS TO DO IN MONUMENT VALLEY
In addition to this scenic drive, there are many other things to do in Monument Valley.
HIKING THE WILDCAT TRAIL
The next free activity to do in Monument Valley is hiking the Wildcat Trail. The is the only hike that you can do for free in the reserve, which consists of going around one of the most popular rock formations, West Mitten Butte.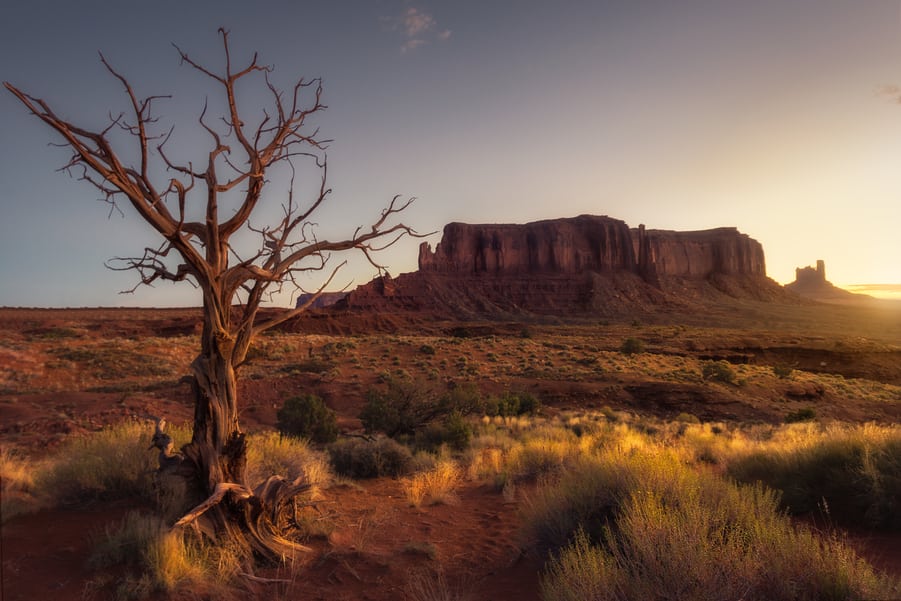 It is a 3.7 miles loop with elevation gains up to 656 feet that takes two hours to complete.
We didn't do it since we were told that it could be a bit monotonous.
STOP AT THE EXACT POINT WHERE FORREST GUMP STOPPED RUNNING
The last free activity in Monument Valley will take you to one of the most iconic spots, a stop at the exact point where Forrest Gump stopped running in the United States.
This stop takes place at mile 13 of Federal Route 163, where you will drive through on your way to Monument Valley. There is a small sign indicating the stop, so you should not miss it.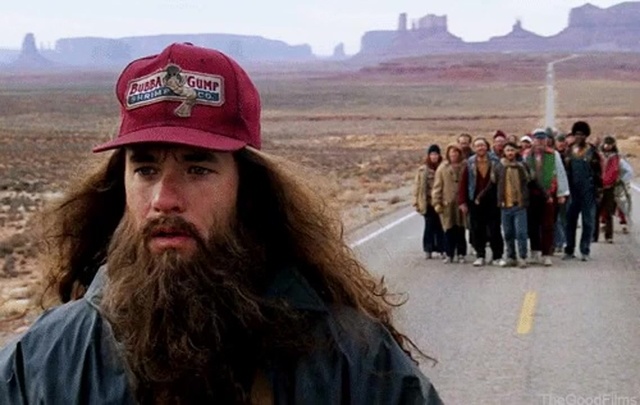 TAKE A NAVAJO GUIDED TOUR
If you want to dig a little deeper into Monument Valley, you can take a Navajo Indian guided tour. There are several companies approved by the Navajo Parks & Recreation Department. You can find a list of these official companies here.
Each company offers different but similar tours at the same time. Some tours focus on photography whereas others are eager to show the Navajo culture. These tend to dig into the spiritual significance of Monument Valley for the Navajos and can show you their traditions, history, music, and even gastronomy.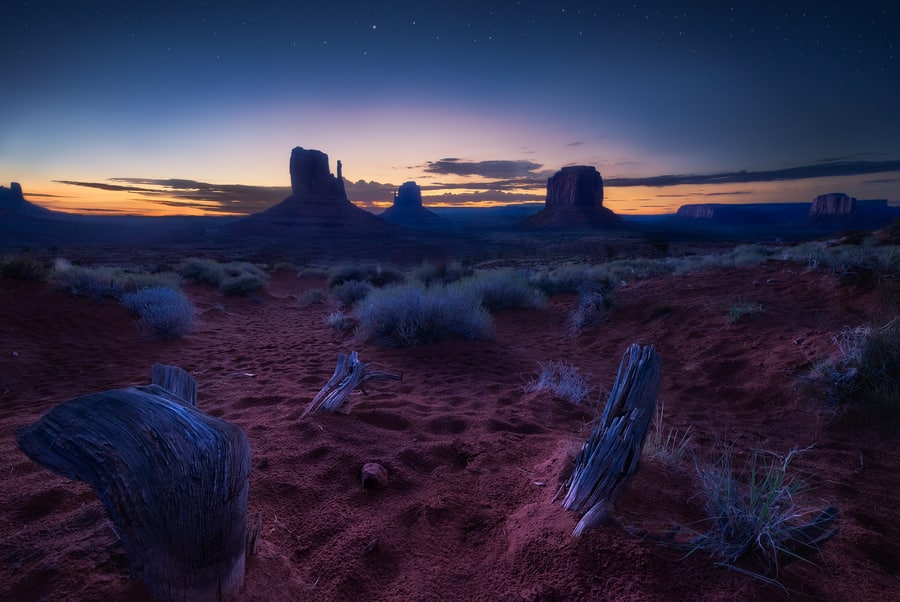 Other tours focus on showing you the best places to photograph Monument Valley. Some of these tours are night photography tours, and others are sunrise or sunset photo tours.
You can take your vehicle on some of the tours while others provide 4×4s, and some even offer horseback riding through Monument Valley. While it is quite popular, we do not recommend it since it is not right to use animals as a tourist attraction.
Although many tours take you through the same Monument Valley drive that we can do for free, other tours go across some of the private routes found in the valley. Following are the most outstanding ones:
HUNTS MESA
If you want to see the best views of Monument Valley, you must take a tour to the top of Hunts Mesa in a 4×4 vehicle. After passing through dunes, the plateau rises 984 feet above Monument Valley, and from here you can enjoy a panoramic view of the entire valley.
This excursion usually takes about 7 hours, but you can also find some tourist agencies that offer overnight tours with tents and sleeping bags supplied. This way, you can photograph Monument Valley at sunset and at sunrise with an aerial view that is difficult to get from another point.
Although the price is higher than other tours, keep in mind that it includes lodging, a Navajo dinner and breakfast, and unique priceless experiences like listening to folktales, native songs, and Navajo flute music around a campfire.
MYSTERY VALLEY
Mystery Valley, just by Monument Valley, is one of the most exclusive tours of the Navajo Indian Reservation. As the Navajo consider the valley to be sacred, access is only allowed if a member of the tribe accompanies you.
Also, the road is barely visible between the dunes, and there are no traffic signals, so it is not a good idea trying to go on your own.
This tour is somewhat physically demanding since the essential points of interest would be visited on foot. Across the valley, we will find the Anasazi ruins (a tribe that lived in the valley before the Navajos arrived), Navajo family homes and spectacular landscapes that include stone arches and views of Monument Valley in the distance. The guide will also tell you about Navajo culture and traditions.
The tour takes between three and four hours and the best time to do it is at sunset.
TEARDROP ARCH
Another frequently photographed point is one known as Tear Drop Arch, where you can frame Monument Valley in the tear-shaped opening of the rock. This tour is very short and can be done on foot.
As the location is somewhat unknown, most choose to hire a guide to get there. Once you know the location (36 ° 59'59.5 "N 110 ° 11'16.3" W), it may not be necessary.
CURIOSITIES OF MONUMENT VALLEY
We did not want to forget in our guide to visiting the Monument Vally a section to discuss the main peculiarities of Monument Valley.
HISTORY OF MONUMENT VALLEY AND THE NAVAJO NATION
Did you know that the Navajo Indians are not originally from the United States, but from Canada? Nonetheless, they had been inhabiting in Monument Valley, or Tsé Bii 'Ndzisgaii ('Valley of the Rocks') in the Navajo language, long before the Spaniards arrived.
It was not the first tribe to inhabit the Monument Valley. To date, there are many indications of the presence of Anasazis, an indigenous tribe that inhabited Western United States and ancestors of other indigenous cultures such as the Pueblo Indians, the Zuni, and the Hopi.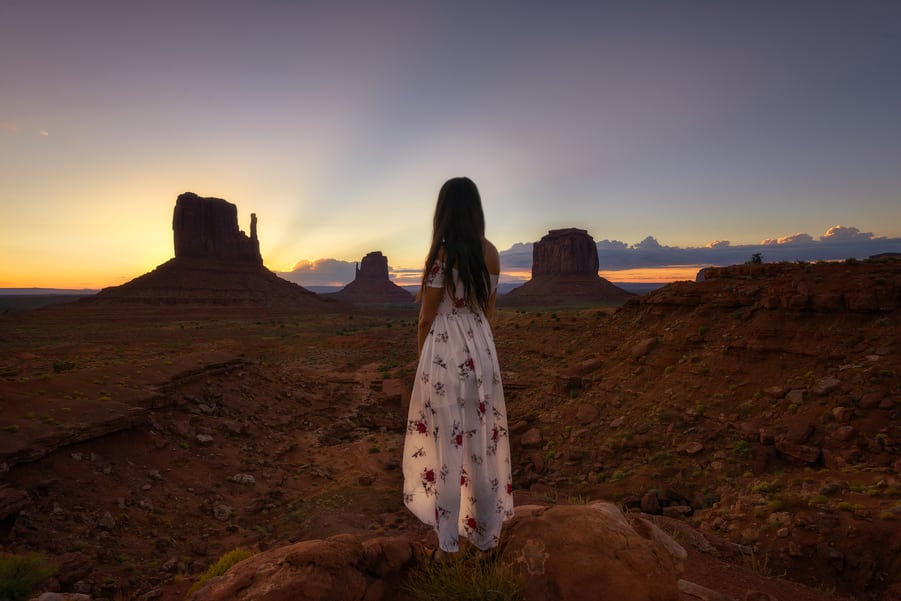 Politically, the Navajo Nation, Diné Bikeyah, or Navajoland is recognized as a nation within the United States. However, what may seem like one of the most significant victories achieved by an indigenous tribe is fictitious, since the United States continues to enforce its laws on the Navajo Nation.
HOW MONUMENT VALLEY WAS FORMED
Like the rest of the Colorado Plateau, Monument Valley was a seabed that covered the western part of the United States millions of years ago.
The tectonic movement pushed rocks formed by strata of siltstone and shale up to 5900 feet above sea level.
After this, the erosion shaped the landscape. Rain, wind, and rivers that flowed into the basin ended up forming what we know today as Monument Valley.
The characteristic reddish and orange colors of the Monument Valley landscape are from the iron oxide present in the geological formations.
MONUMENT VALLEY IN FILMS
Monument Valley is one of those places in Western America that looks very familiar to you even if you have never been there.
The first moments of Monument Valley on the big screen was thanks to film director John Ford, who used the landscapes as the main stage of the 1939 film Stagecoach, starring John Wayne.
Since then, it has been one of the most iconic spots for Western films such as Fort Apache or The Searchers.
Later on, other films took place across the incredible background of Monument Valley, like Forrest Gump, Lone Ranger, License to Kill or Back to the Future Part III. Some cartoons and animated films staged these landscapes as a base for their stories, such as Wile E. Coyote, the Road Runner, and Cars.
And of course, we can find in many advertisements or even video games featuring Monument Valley landscapes, such as in GTA San Andreas or Red Dead Redemption.
Other useful information that we want to share with you are the best places to stay in Monument Valley. In this section, you will find the best campsite, hotel, and lodge in Monument Valley, so you can choose the option that best suits your needs.
THE VIEW CAMPGROUND
If you ask me what is the best accommodation in Monument Valley, without a doubt I would say it is The View Campground (not The View Hotel). This campsite, with only space for 30 tents, has the best views of Monument Valley. Also, there's nothing like sleeping in a tent in such a place to feel like an authentic Navajo Indian.
The price is $20 per tent. The camp has bathrooms and a small kitchen. However, they do not have tent rental services, so you must bring your own.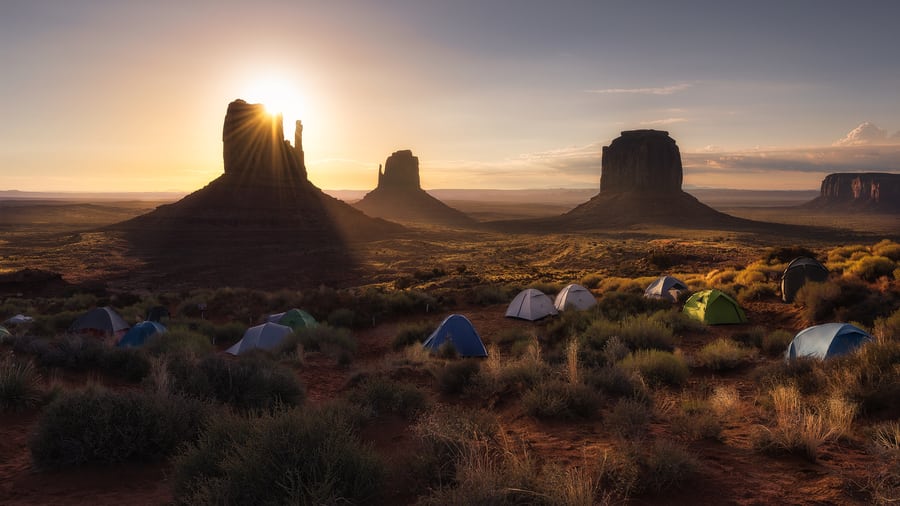 They also have space for RVs, however, the reviews are not as good as it is just a parking without connections or the views from the tent sites. However, if you are interested in that option, check the RV rental in the USA
Though they say that you can make reservations online, the campsites can only be booked via phone by calling +1 435-727-5802. Book well in advance if you want to sleep in the best place in Monument Valley.
THE VIEW HOTEL
Another option is to book at The View Hotel, a sister establishment that also manages the campsite. While not as authentic as camping in Monument Valley, if you are looking for comfort, this is the best hotel in Monument Valley. Online booking is available for this hotel.
The premium cabins, though much more expensive, offer very similar views you can see from the campsite.
You will need a credit card to do the check-in for either the hotel or the campground.
GOULDING'S LODGE
A little further away, but still very close to the valley, we found Goulding's Lodge.
Unlike the previous one, this hotel offers a pool and a museum about the Navajo Nation. The price follows the quality of its rooms, but the possibilities of last-minute vacancies are higher than at The View.
MORE INFO ABOUT MONUMENT VALLEY
To finish with this complete guide to Monument Valley, we are going to give you some tips for visiting Monument Valley in this section. We will explain, among other things, the time zone that they follow (one of the biggest curiosities of Monument Valley) so that you don't arrive late to your next destination.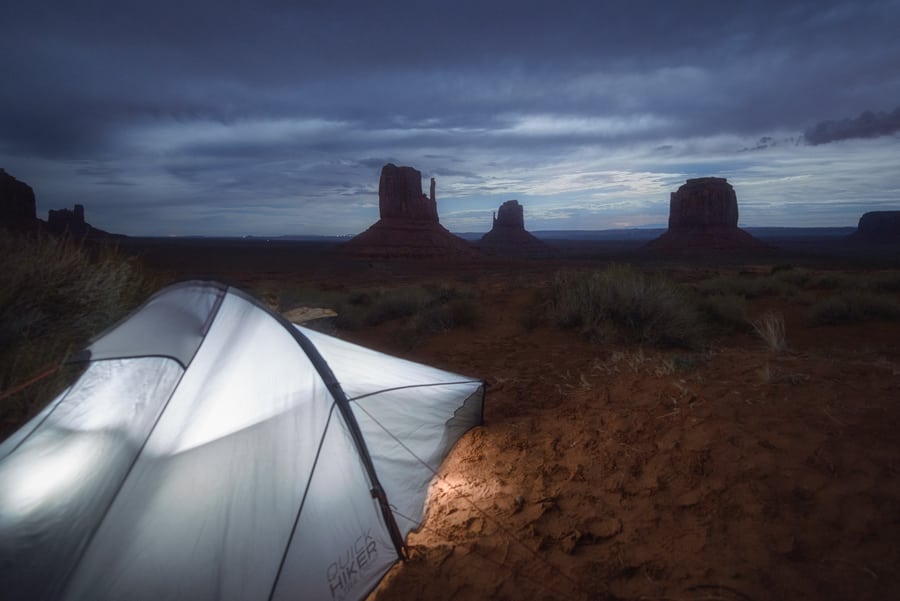 At the end of this section, you will have all the necessary information you need to visit Monument Valley.
MONUMENT VALLEY TIME ZONE
Monument Valley is located within the Navajo Indian Reservation. Navajo Nation follows Mountain Daylight Time (MDT) during the summer months to increase daylight hours.
However, you should know that Arizona, the state in which Monument Valley is located, observe Mountain Standard Time (MST) and does not participate in the summertime change. Instead, it maintains the same time throughout the year.
The reason why Arizona decided not to observe Daylight Savings is because increased daylight hours also meant increased hours of heat and therefore more electricity consumption from the air conditioners.
During summertime, the state of Utah (north of Arizona) and the Navajo Nation (within Arizona) is one hour behind Arizona. However, during the rest of the year, all three are observing the same hours.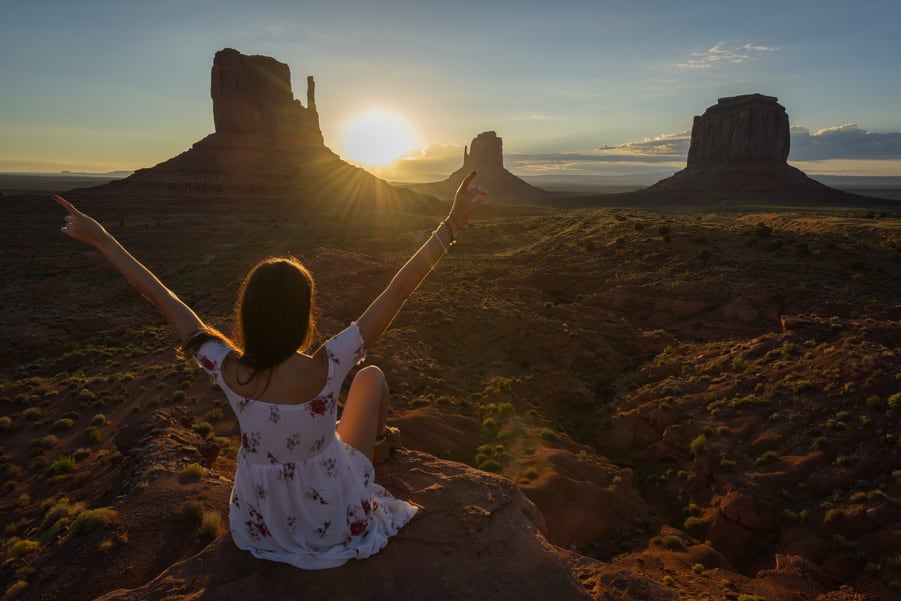 We advise you to keep this time difference in mind, especially when you hire tours, for example, to visit Antelope Canyon (which follows MST all year) and you plan to come from Monument Valley (which follow MDT in the summer) or vice versa.
GAS STATIONS IN MONUMENT VALLEY
There is only one gas station in Monument Valley, and that belongs to the Goulding's Lodge hotel. As with every service, when demand exceeds supply, refueling in Monument Valley will be quite expensive, so we recommend coming into Monument Valley with a full tank.
BEST RESTAURANTS IN MONUMENT VALLEY
There are just a few places to eat in Monument Valley, and they are essentially the hotel restaurants that we have already mentioned.
One of the most outstanding is the restaurant at The View Hotel, where you can find Navajo cuisine (quite similar to Mexican) as well as American classics.
The Goulding's Lodge also has a restaurant with common Navajo dishes, although its menu is somewhat small.
With both cases, if you're going to eat in Monument Valley, you can order take-out food and enjoy it throughout your visit, while driving across Monument Valley Scenic Drive.
Do not forget to hire travel insurance in the United States. Although I always recommend buying the best travel insurance wherever you go, for the US, your policy must have excellent coverage (never consider hiring anything that covers below $300,000).
The cost of healthcare in the US is very high, and if you have to go to the hospital without any insurance, you will have to pay between $10,000 and $15,000 per night at the hospital.
You can get the best quality-price insurance with Heymondo. Right now, I'm traveling with their long term travel insurance plan.

5% OFF your travel insurance
MAP OF MONUMENT VALLEY
You will find the Monument Valley map below. As you can see on the map, Wildcat Trail is marked as the only hiking trail through Monument Valley that can be done on your own.
Also, you will find the loop that can be done in Monument Valley by car, with the different stops and most outstanding viewpoints.
Finally, you can also see the different Navajo guided tours that can be hired, to discover other places such as Mystery Valley, Hunts Mesa and Lower Monument Valley that are off limits without a Navajo guide.
We hope that you have found all the information to visit Monument Valley through this guide. If you have any questions, don't hesitate to write us 😉