I cannot remember precisely the first time I packed a travel backpack, but the earliest memory I do have was during the summer camps with the Scouts when I was nine years old. Yes, I've been a backpacker all my life. In fact, I have traveled to Europe, Asia, and America with the same backpack until just last year.
After 18 years, I finally had to get a new one. Since then, I have traveled with the same backpack for months on all kind of trips. Even on an "interrail" and business trips with me. So, I think you can trust me to help you pick and pack the perfect travel backpack, whether it is for a long-term or a few days adventures.
The first section we created here is to help you choose the best backpack for long-term trips, but if you already have your own backpack and want to skip directly to packing, go to the next section.
CHOOSING THE BEST BACKPACK
Selecting a good backpack is a crucial decision, as you will spend many hours with it whether you are planning a route through Southeast Asia, Camino de Santiago in Spain, or a road trip through the Canadian Rockies.
Buying a good backpack is a long-term investment. If you buy a high-quality one and take care of it properly, it can last a lifetime. And this is an important decision because once you start traveling as a backpacker, you may not want to travel any other way.
Take into account these four essential categories when choosing a backpack:
CAPACITY
One question that most people ask is how much capacity the backpack should have. My experience is that bigger is often better. My backpack has a 65 liters capacity. I almost never fill it all the way except when I take long-term trips to cold areas.
In addition, I have never had any trouble using it as a carry-on for the plane without any bag fees.
I would like to take this opportunity to tell you that I actually use a men's backpack, because I did not find any that I liked with the same capacity in the women's section. Additionally, like deodorant and razor blades, two products that are exactly the same often cost more when labeled as a product for women, all because the colour is pink.
fastening
The most important thing when choosing a good backpack is the fastening system. The pack's weight should not sit on your shoulders but rather on your hip to prevent your back from straining.
There should be a Side Release Buckle on the hip that you can adjust according to your contour and one on the chest so that the backpack straps doesn't pull you back.
Once you have these two straps adjusted to your body, you can then release the weight on your shoulders by adjusting the straps on the sides. When you feel that the weight is comfortably resting on your hips, you will know that it is well adjusted. You can find the positions of the different buckles marked in the image below.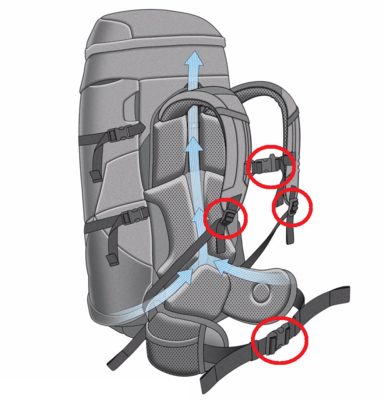 It is best to buy a backpack that you can return if you are not sure it is the right one. You can go hiking with the backpack with full weight to determine that this is the best for you.
With that, you also can check if the padding of the Shoulder Straps causes chafing.
POCKETS
The next thing to analyze is the position of the different pockets. These are the pockets that I find indispensable in a backpack for long-term travel:
Inside the main compartment, there should be two independent compartments but with the option to connect them.
Pockets on the sides of the hip fasteners, to keep certain things like the phone or lip balm handy so that you don't have to take off your backpack to get to them.
Upper pocket with a security pocket inside. Perfect for the passport.
Rear side pocket. For easy access to things of low volume and you want to locate quickly.
Bottle holder. To have water available at all times.
FABRIC QUALITY
The next thing to consider is the type and quality of the fabric. Look especially for ventilating waterproof fabrics and choose brands with a lifetime guarantee (in case of product defects).
OTHER IMPROVEMENTS
There are many others to consider when choosing the perfect backpack for your trip.
 MAT STRAPS
In the previous image, you can see the back straps which are very useful for things like fastening insulating sleeping mats. It is a mandatory accessory when choosing a backpack if you plan to camp. Other models have the straps at the top.
AIR CHANNEL SYSTEM
To keep your back ventilated, it is better if the backpack has air channels between your back and the load. These channels are also shown in the previous image.
OPENING FOR HYDRATIONpacks
Some models have a small aperture in the backpack to use a hydration hose. With this, you can drink water with no need to stop and take the backpack off.
height adjustment
Some brands also offer height adjustment so that the backpack adapts even better to your anatomy.
As I mentioned in the introduction, I used the same backpack for 18 consecutive years. After it was full of holes and partially torn down, I wanted to buy the same model. However, the company that made it had shut down, so I researched the market until I found the one that I hope will come with me on all my trips in the future. After analyzing different options, I opted for this model since it fulfilled everything described above:
Backpack – 65L
HOW TO PACK A BACKPACK FOR LONGTERM TRAVEL
Now we will cover the specifics. Every trip is different so we are going to ask you a series of questions and we will redirect you according to your answers throughout the post.
But first, let's review the basics for all types of travel. This is how we start prepping whether it is a trip to the city, countryside, Interrail, camp, adventure trip or Camino de Santiago.
INDISPENSABLE THINGS IN YOUR TRAVEL BACKPACK FOR ANY TRIP
These are the indispensable things that we take on 100% of our trips. It must be the first thing you consider when preparing your travel backpack.
toiletry bag
Soap travel bottles
Toothbrush and toothpaste
Hairbrush
Deodorant
Sunscreen
Mosquito repellent
Tweezers
Nail clipper
Lip balm
Hand cream
Menstrual cup
CLOTHES
Swimsuit – 1 or 2 (Depending on whether it is a trip of more than two weeks)
Quick drying towel
Raincoat
Tracksuit Bottoms – 1 or 2 changes (Depending on whether it is a trip of more than two weeks)
Underwear – 5 changes (regardless of trip duration)
Socks – 5 changes (regardless of trip duration)
T-shirts – 5 changes (regardless of trip duration)
♦ Traveling to a warm destination
Shorts – 1 or 2 (Depending on whether it is a trip of more than two weeks)
Dresses or jumpsuits – 2 or 3 (Depending on 

whether

 it is a trip of more than two weeks)
♦ Traveling to a cold destination
Long pants – 1 or 2 (Depending on whether it is a trip of more than three weeks). Sports type if it is an adventure/mountain trip or jeans if it is a trip to the city.
Long sleeves Top – 1 or 2 (Depending again whether it is a trip of more than three weeks). Sweatshirt if it is an adventure and mountain trip or jersey if it is to the city.
OTHER ESSENTIAL THINGS YOU SHOULD NOT FORGET
Passport
Wallet
Boarding pass
Booking tickets
Phone charger
Powerbank
First-aid kit
FIRST QUESTION
DO YOU PLAN TO CAMP DURING YOUR TRIP?
PACKing A BACKPACK FOR A CAMPING TRIP
If it is your first time going camping, I understand that you may find it difficult and possibly uncomfortable. However, once you try it, there will be no hotels that can make you feel happier and with the same feeling of freedom. Do not hesitate to ask if you have any questions, we almost always camp on our travels.
TENT
Although it is a bit more expensive to choose an ultralight and compact tent, this is always the best solution if you are backpacking. We all like "easy-open" tents but they are bulky and uncomfortable to transport.
I recommend that you choose one fit for all seasons, so you do not need to have two different tents for cold and warm destinations.
SLEEPING BAG
Until recently, we used individual winter sleeping bags. But then we bought a double sleeping bag which we could not live without nowadays.
Choose a winter sleeping bag that can be used during all seasons. In the summer, we use it open as a sheet and it is very comfortable too.
MAT
The best option are always the simpler mats, although if you are going to do a road trip, another option is to choose inflatable mats.
ILLUMINATION
We always carry a USB rechargeable lamp for the tent. It is a MUST in your travel backpack when camping.
SECOND QUESTION
ARE YOU TRAVELING TO A COLD DESTINATION?
PACKING A BACKPACK FOR COLD DESTINATIONS
Seeing the Aurora Borealis can become a frozen nightmare if you forget one of the following items in your backpack.
THERMAL COAT
Choose a double layer coat. They weigh/bulk less and protects you better than the padded ones in the cold. If you are going to travel to a cold place, try one from a sportswear brand.
SOCKS
Keeping your feet warm is the best way to maintain your body temperature. That's why you must choose thermal socks that keep your feet dry. Also, if you plan to trek, select seamless socks to prevent blisters.
GLOVES
If you travel to a cold place, forget about the typical wool gloves. It is better to opt for special gloves meant for winter sports. Besides, for having better protection against the cold, they are waterproof which will keep your hands dry. Our favorites are from The Heat Company – with features like touch screen fingers, heating pocket, and removable mittens. With them you have full mobility on your fingers to use the camera or mobile with the gloves still on, making them the best gloves for photography. Here, you can find our experience using them along with a discount coupon in case you want a pair.
HAT
There are numerous types and offers for hats on the market these days. For those of you who cannot stand the cold very well like me, I advise you to try on a thermal trapper hat with synthetic polyester hair lining. They are the warmest since they also cover your ears.
NECK GAITER
While you prepare your backpacks do not forget to put a thermal neck gaiter.
THERMAL Pants
Choose lightweight thermal pants with a special material that you can wear comfortably under your pants. Essential especially when you go hiking in cold places.
THERMAL Top
Remember to take a thermal top when you travel to places with extreme conditions. It will be the best match for your coat, so you do not get cold.
CHEMICAL Warmers
I discovered this great invention when I came to live in the United States. Once you try them, you cannot imagine traveling to a cold place without them. You can find them for hands and feet, and they usually last from 8 to 12 hours. It's incredible how well they work.
THIRD QUESTION
ARE YOU GOING TO DO EXCURSIONS OR TREKS?
PACK A BACKPACK for TREKKING OR HIKING
FOOTWEAR
Choosing appropriate footwear is fundamental if we plan to be walking for many hours, whether for visiting cities or hiking.
When preparing the backpack for a trip, we should consider that the footwear usually takes a lot of space. I usually choose to wear two of the following three types of footwear:
Hiking boots: Best option for long treks on difficult terrain or in cold places.
Lightweight sneakers with cushioning: perfect for many hours of walking in the city or on easy trails. My running shoes work pretty well for me in these moments.
Sport sandals: the best option for walking in hot and humid places. For example, on a backpacking trip to Cuba.
BACKPACK FOR TREKKING
If you are going to take short trekking trips or excursions around the city, remember to take a smaller backpack.
THERMAL BOTTLE
We always prefer to use thermal bottles than plastic bottles so that the water stays at a good temperature and to protect the environment. We like those that have a standard bottle shape because they are easier to attach to backpacks.
ENERGY BARS
You can buy them at most destinations, but I wanted to add them to the list so you do not forget them. My favorites are Clif bars because they are not so cloying as the vast majority.
FOURTH QUESTION
ARE YOU GOING TO TAKE A ROAD TRIP?
PREPARE THE BACKPACK FOR A road trip
We love road trips, and two items can never be missed when packing. You can find them below:
CHARGER FOR THE CAR WITH 4 USB PORTS
Without a doubt, this was the best discovery in the preparation of our trip to Sicily. Before it was a pain to decide which item we should charge (camera, mobile, batteries).
AUX CABLE
Don't have an Internet connection? No problem. Connect your Spotify list and ride.
FIFTH QUESTION
ARE YOU GOING TO TAKE A TRIP INTO THE WILD?
PREPARE A BACKPACK FOR AN ADVENTURE AND NATURE TRIP
These trips are our favorites. Feeling free and bound to nature require extra good preparation so that we are not missing anything when we are miles away from civilization. This is what you need to pack in a survival backpack.
CAMPINGAZ + JETBOIL
Your portable kitchen. You can reuse the Jetboil as many times as you want. Remember to buy the gas bottle once you reach your destination.
Emergency Food Supply
They are not used very often in Spain, but when we travel to countries like Canada or the United States where there is a bigger outdoor scene, they are very easy to find in any sports store. It is the best option to feed yourself while taking trips to the unknown.
camping cutlery
You can find them made of plastic or stainless steel. We used plastic in recent trips. The important thing is that they do not bulge or weigh too much.
LIGHTER
It is easy for non-smokers to forget about it. If you want to build a good campfire to warm up before the night, you will need a lighter unless you are Bear Grylls.
Sheath Knife
To cut bread, rope or defend yourself from any animal. A knife is essential in a nature trip full of adventures.
ROPE
We use it to hang clothes, but also to hang our backpacks in the trees if there's food in them. In some places like Canada, it is very dangerous to leave backpacks with food at ground level when you are in the bear country.
Bar soap
If you want to keep your backpack light, you cannot take as many pairs of underwear as the days you will be traveling, especially if it is a long trip. A bar soap solves this problem. For travels with an indefinite timeline, 5 pairs of underwear are the maximum I would take with me. Every two or three days, you can wash your clothes with the soap, which is cheaper and faster than going to the laundry mat.
Flashlight
We love to photograph the Milky Way, so we usually do night hiking routes where we always carry a flashlight. If the route is a bit more complicated or we are going to cook at night, then we will use a headlamp to keep our hands free. In our case, we always carry both and use one or the other depending on what we are going to do.
THINGS YOU MUST INCLUDE IN YOUR BACKPACK FOR SPECIFIC DESTINATION
BEAR SPRAY
Essential if you visit National Parks of Canada and the United States where it is bear country
POWER ADAPTER
Check here if the same type of plug is used in your country of destination.
CRAMPONS
If you travel to a place where you can find icy hiking trails like Canada, Iceland or Norway.
HOW TO DISTRIBUTE WEIGHT WITHIN THE BACKPACK
Once we know everything we need inside the backpack, we should decide how to distribute the weight so that everything fits nicely.
The general rule is that heavier things should be closer to your back while the lighter towards the outer pockets.
My experience is that you have to pay attention to how often you will use something rather than just looking at the weight.
For example, since I use my toiletries every day, I always keep my toiletry bag in the top pocket along with my wallet, passport, etc. That way I will not have to spend a long time looking inside my backpack every time I want to brush my teeth or pay for something.
I also want my underwear to come on handy. That's why I keep them in the big compartment but in the bottom part since it has a quick access.
However, items like crampons which I don't use frequently, I leave them in the middle of the backpack so they are not in the way when I want to get something near the top or bottom of my pack.
AND YOU, HOW DO YOU Pack YOUR BACKPACK FOR A LONG-term TRAVEL?
Notice of affiliation links: if you buy through some of the links that you will find in this post, we may take a small commission without affecting at all the price paid by the reader. Buying through them helps us to continue with this project.