Let's travel to the Canadian Rockies. Let's go find emerald lakes that become mirrors for the Milky Way's reflection at night, rows of pine trees that resemble watercolor paintings, wild animals that cross your path along the way, and Northern lights that invite you to dance until dawn.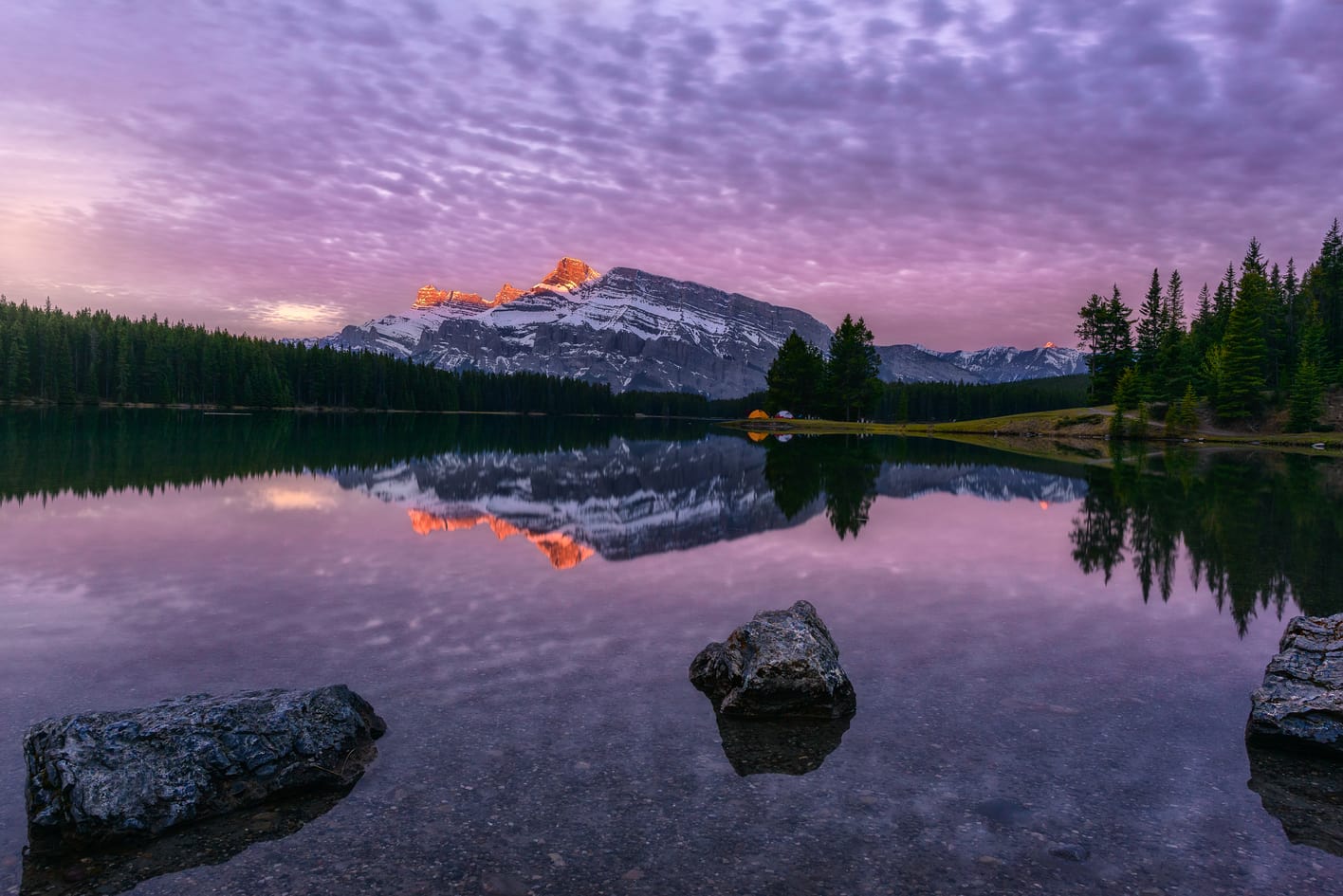 You are about to experience the most amazing trip of your life. You will feel deep emptiness when you say goodbye to the snowy peaks. Western Canada will become a part of you, and no new place that you explore will fill the gap quite the same way.
We gathered all necessary information in this post so that your Canadian Rockies road trip can be planned with ease.
This is the first article about our 15-day Canadian Rockies trip. Here you will find:
WHY TRAVEL TO THE Canadian Rockies?
The most beautiful place on Earth is a mountain range in northwestern part of North America, which crosses Canada and the United States. Our 15-day trip focused on the Canadian Rocky Mountains. This area is located between the provinces of British Columbia and Alberta.
It is no wonder why the Canadian Rocky Mountain Parks were declared a World Heritage Site by UNESCO in 1984. Its landscape formed by mountain peaks, lakes, waterfalls, glaciers, and canyons is unique to the rest of the world.
This, in turn, brings in thousands of visitors every year, many of them photographers aspiring to boost their portfolios. As a result, Canadian Rockies tours with travel agencies have become very popular.
Other visitors of the Canadian Rockies are tourists with purchasing power who are drawn to the luxury hotels and lodges hidden within the mountains. However, do not worry, the Rockies are for all budgets. It is also an ideal journey for backpackers in search of nature and adventure, with many affordable campsites that can reduce your travel budget.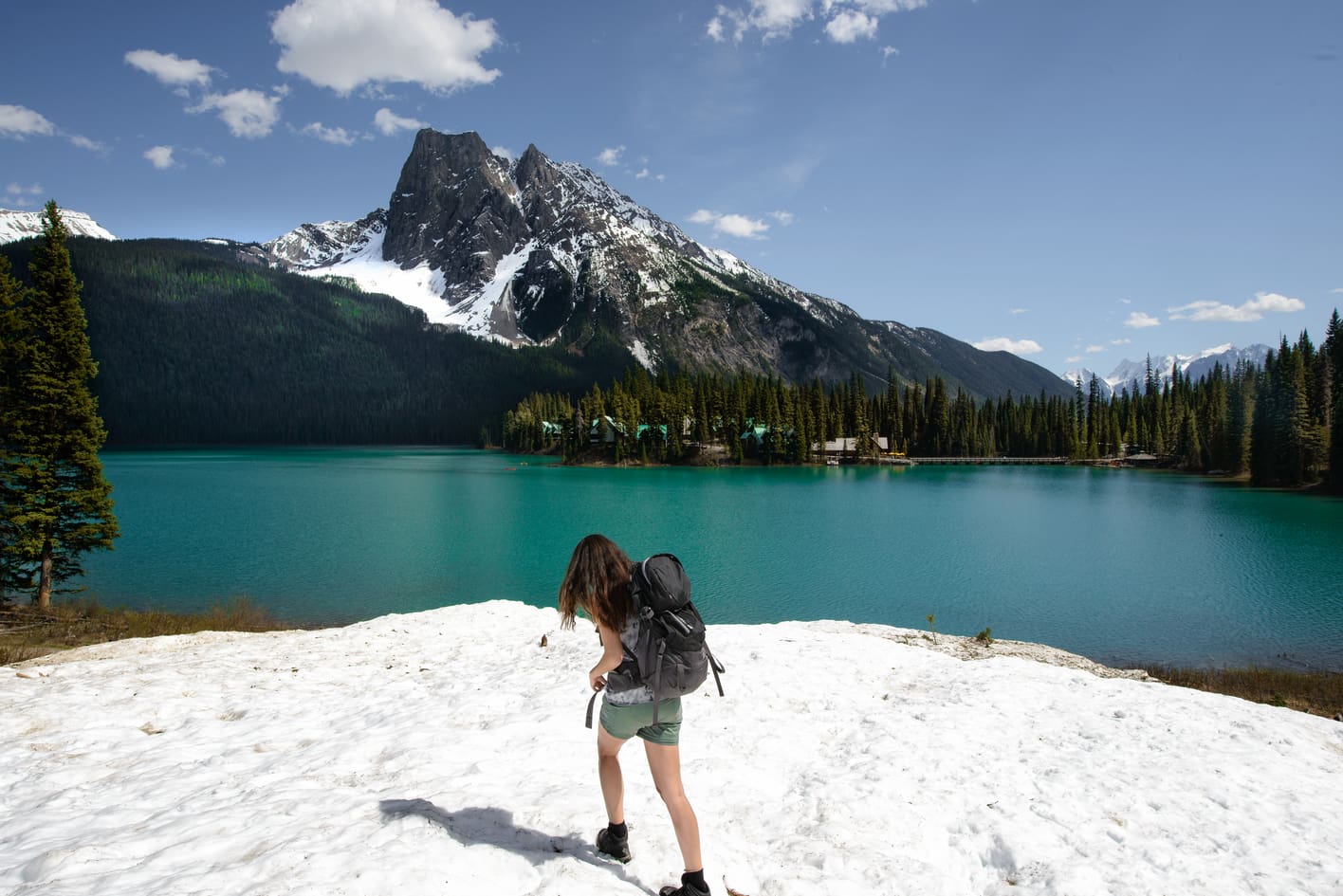 There are four National Parks in the Canadian Rockies: Banff National Park, Yoho National Park, Jasper National Park, and Kootenay National Park.
During our 15-day trip in the Canadian Rockies, we were able to visit the first three.
TOP THINGS TO DO IN THE CANADIAN ROCKIES for 2 weeks
In this section, we will tell you essential things to do and see in the three Canadian Rockies parks that we visited.
These are:
BANFF NATIONAL PARK
Banff National Park was the first national park we visited. This park is closest to a commercial airport, in Calgary, which is only an hour and a half away. The park is located entirely within Alberta.
We spent a total of 6 days in Banff, although not consecutively. We returned to Calgary through the park so that we could do and see a few more things that we missed previously.
Of all the parks, Banff National Park has the most attractions to offer. If you are planning a 2-week longs road trip in the Canadian Rockies, leave approximately one week to explore this park.
Banff
Banff is the ideal place to start your Canadian Rockies road trip. In the two nights we spent in this area, we stayed at Two Jack Lakeside Campground. You will immediately fall in love with the lake views at this campground.
The small Two Jack Lake is linked to the larger Lake Minnewanka through a small channel. I recommend trekking a few routes that start out from this lake. We took the one towards Stewart Canyon.
Another thing you have to do in the Canadian Rockies is enjoying a sunset from Lake Vermilion, which is very close to Banff.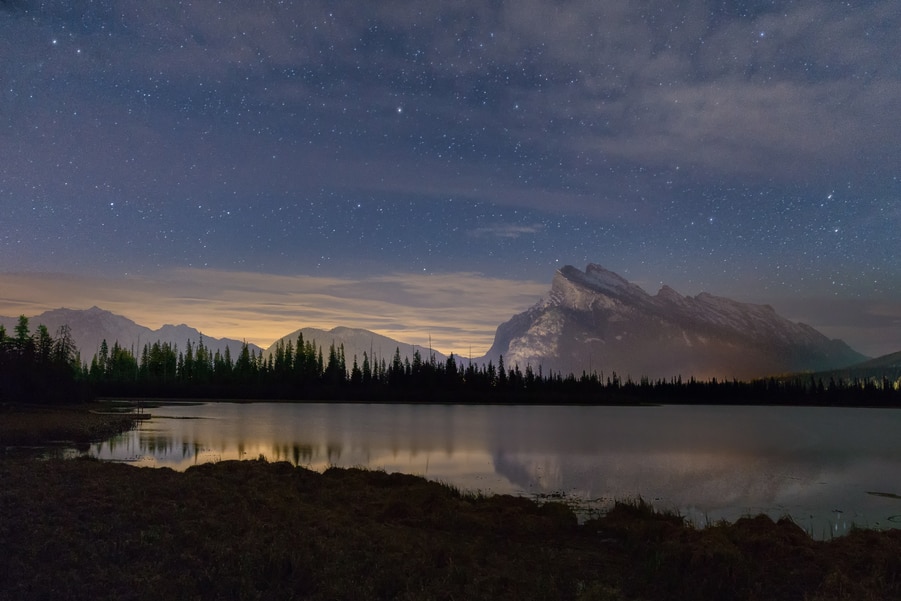 Also, staying in Banff town was a good option to do some of the activities that we found in Bow Valley Parkway.
BOW VALLEY PARKWAY
Bow Valley Parkway is one of the most amazing natural areas we've ever seen. Driving through the slender pine trees and tight curves was a special experience. You can find several Canadian Rockies landmarks here, such as Castle Mountain or Morant's Curve.
One of the most popular excursions in the area is Johnston Canyon, where you can see double-tiered waterfalls.
If you still have energy after reaching the upper waterfalls you can continue ascending to the Ink Pots. This was one of our favorite spots in our 15-day Canadian Rockies road trip.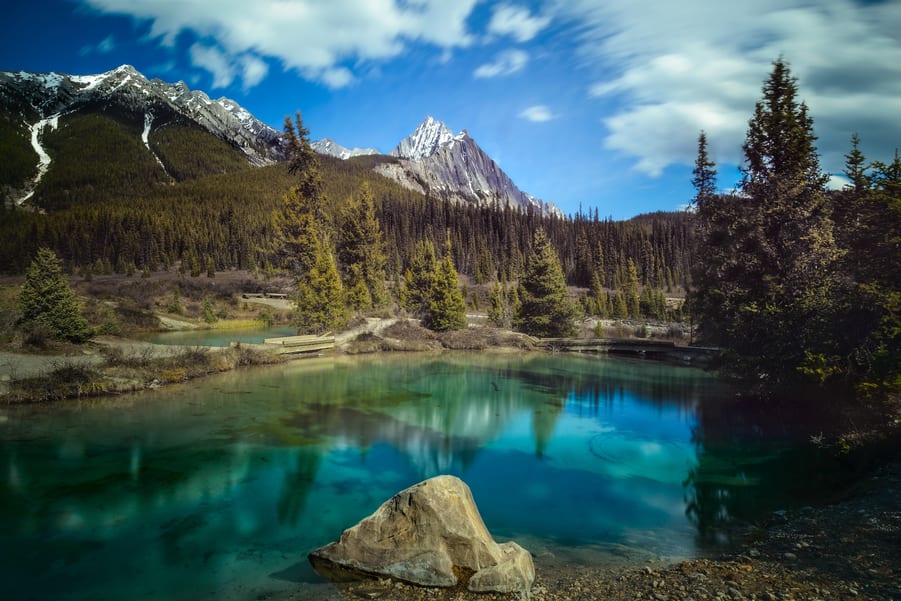 LAKE LOUISE
I recommend spending two days in Lake Louise town to discover the area.
Lake Louise by itself is likely the most visited lake within the Canadian Rockies.
If you want to find a less crowded place, I recommend trekking up to Lake Agnes, but first passing through Mirror Lake. We found it very interesting that they were able to build a tea house in such a remote place.
Another thing you must see on this trip to Western Canada is Moraine Lake. This famous lake is surrounded by 10 peaks, and the best time to see it is a dawn.
We personally preferred this to its neighbor, Lake Louise.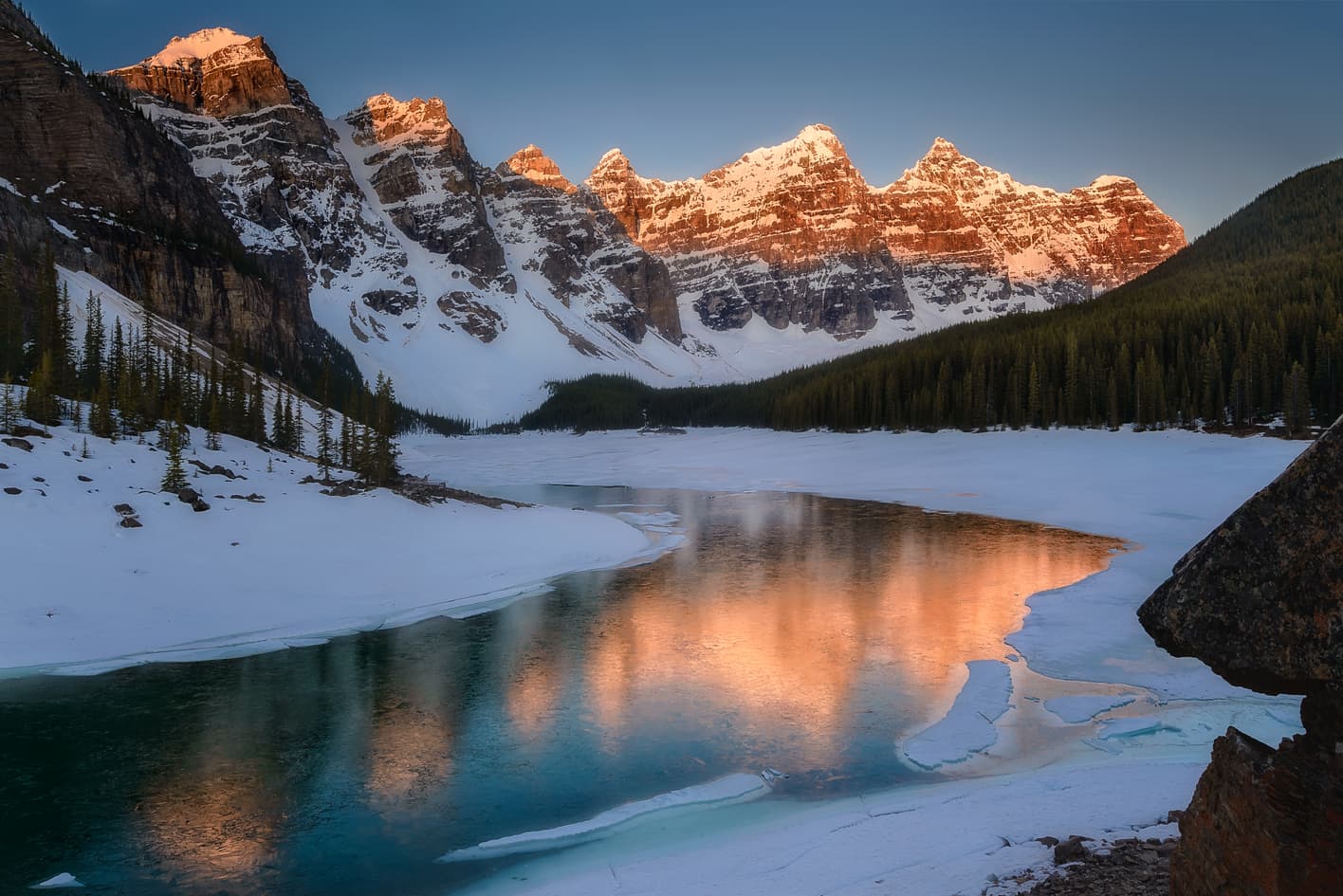 you should be careful when hiking through the Lake Louise area, as this place is also home to many Grizzly bears.
Check our Guide to survive a bear attack in Canada.
ICEFIELDs PARKWAY
The Icefields Parkway links Banff National Park to Jasper National Park through 232 km of highway.
It is considered one of the most beautiful roads in the world, and we got to drive through it twice.
As you can imagine, there are many points of interest along this road. We stayed for two nights, one in Banff National Park and another in Jasper National Park, and were able to see some of the most interesting natural attractions.
Within Banff, the most beautiful lakes that we saw while crossing this road were Bow Lake and Peyto Lake, where we stopped both on the way there and back.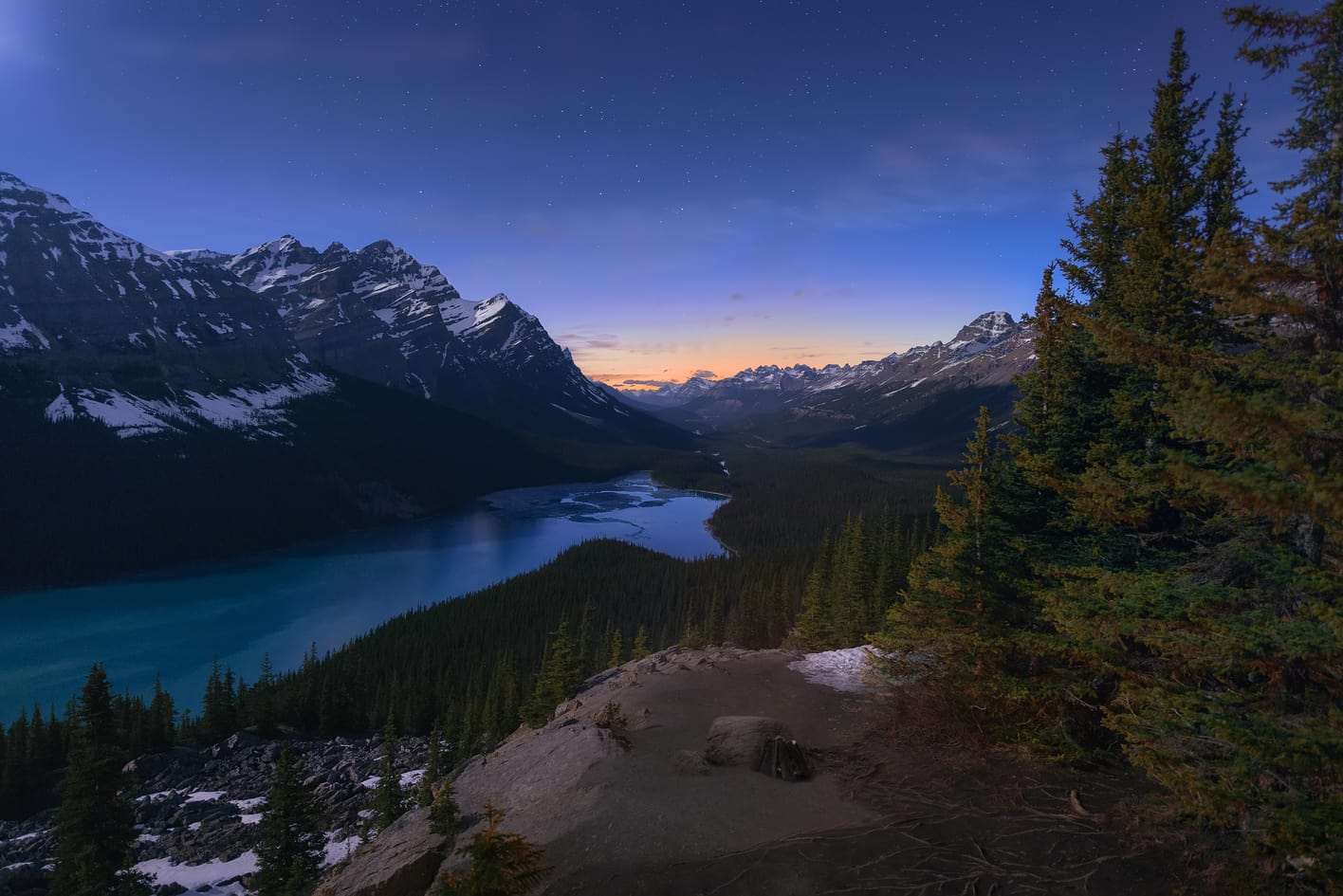 Another essential thing that you have to do in the Canadian Rocky Mountains is to visit Mistaya Canyon, one of the landmarks inside Icefields Parkway.
YOHO NATIONAL PARK
Before going to Jasper National Park, we spent two days in Yoho National Park. Located within British Columbia, this park is much smaller than the others but no less interesting.
In this park you will find Emerald Lake, one of our favorite places in the Rockies. Its turquoise colored waters, bordered by green pine trees is simply a magical view to see.
We also had the best experience of our Canadian Rockies trip here: seeing Aurora Borealis for the first time.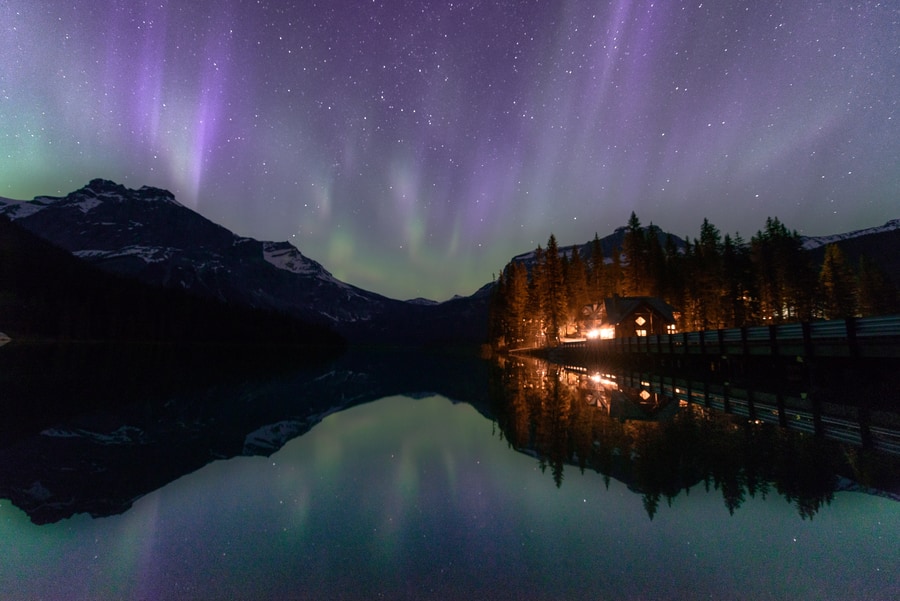 Many hiking trails start from this lake. We trekked the one that goes to Yoho Lake.
If you come to Yoho, you cannot miss the Natural Bridge of the Kicking Horse River– the electric blue-dyed waters here is out of this world.
JASPER NATIONAL PARK
We then spent five days discovering Jasper National Park. This park is located north of the other two ones, within the province of Alberta.
This national park surprised us with its wildlife scene. If you like wild animals, you should definitely consider a visit to this park in the Canadian Rockies.
You can check a list with all the animals you can spot in the Canadian Rockies here.
ICEFIELDs PARKWAY
We continued along the Icefields Parkway on the way to Jasper from Banff National Park. In this part of Jasper National Park, you should not miss Sunwapta Falls and Athabasca Falls.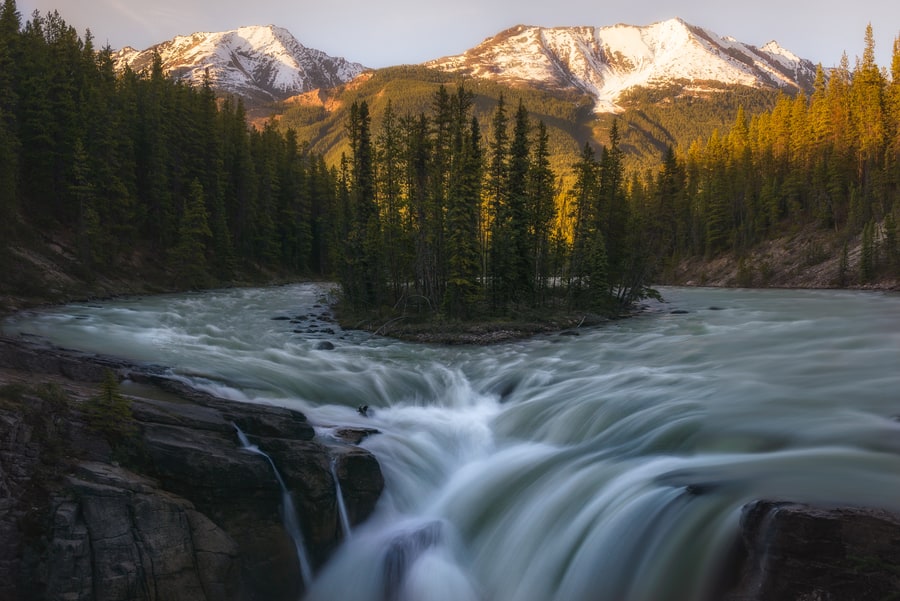 It is also highly recommended to stop at the Athabasca Glacier to see this huge block of snow and ice.
From here, you can also quickly stop to check out Abraham Lake. This artificial lake is not inside the park, however, it may interest you to see these mysterious gas bubbles that appear under the ice during winter time.
Jasper
We spent 4 days in Jasper. Near this town, you can find the Valley of the Five Lakes, a highly recommended hike.
To the east of Jasper, we visited Patricia Lake and Pyramid Lake.
If you like to see the Canadian Rockies wildlife, take some notes here. At dawn or dusk, drive the road from Medicine Lake to Maligne Lake across Maligne Road, to the west of Jasper. Each day that we did this drive, we saw different species of animals, making it one of the most fun part of our 15-day trip in the Canadian Rockies.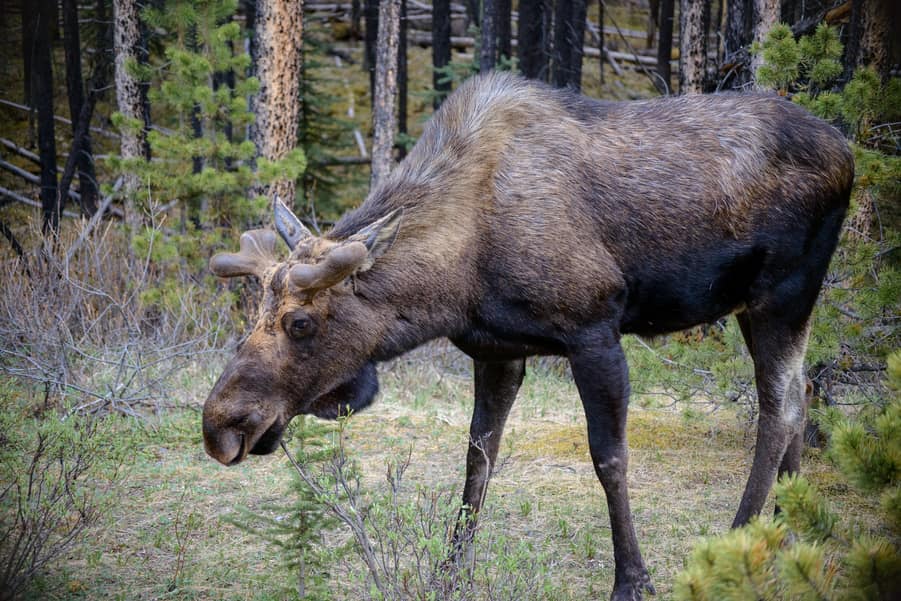 Finally, there is nothing like visiting Miette hot spring to relax. Although a little far north, this destination is well worth the trip.
USEFUL INFORMATION TO ORGANIZE A TRIP TO THE Canadian Rockies
And we did not want to end this post without talking about certain things you must do before taking a trip to the Canadian Rockies.
VISA FOR CANADA
Canada has an agreement with 52 countries for their citizens to enter by air without visa. You can check if your country has a visa exemption from Canada here.
If you are from one of these countries, an electronic travel authorization (eTA)will be sufficient to enter Canada. You can process your visa on iVisa.
We filled the form and received our eTA in less than 30 minutes.
You will not need a visa or eTA if you belong to one of those 52 countries and arrive in Canada by land or ship from the United States.
Currency
The official currency of Canada is the Canadian dollar, with an exchange rate of 0.68 € (May 2017).
We did not exchange money before the trip. As always, we used our Evo smart card, with which you can withdraw cash from anywhere in the world at zero commission. Until recently, they did not charge a premium currency exchange rate. However, it seems that the policy may have changed since and exchange rates seem to vary from market value.
TRAVEL INSURANCE
It is very advisable to purchase travel insurance for Canada. From my experience, Heymondo is one of the best travel insurance companies and the one I recommend for your trip to the Canadian Rockies in 15 days.

5% OFF your travel insurance
We currently have an annual multi-trip insurance plan, since, in addition to traveling for leisure, we travel a lot for business and it saves us a lot of money.
Best TIME TO go to the canadian rockies ACCORDING TO CLIMATE
The weather in the Canadian Rockies is a factor to consider when deciding best time of year to visit.
While the summers are mild, the winters are cold and humid with quite a bit of snow precipitation.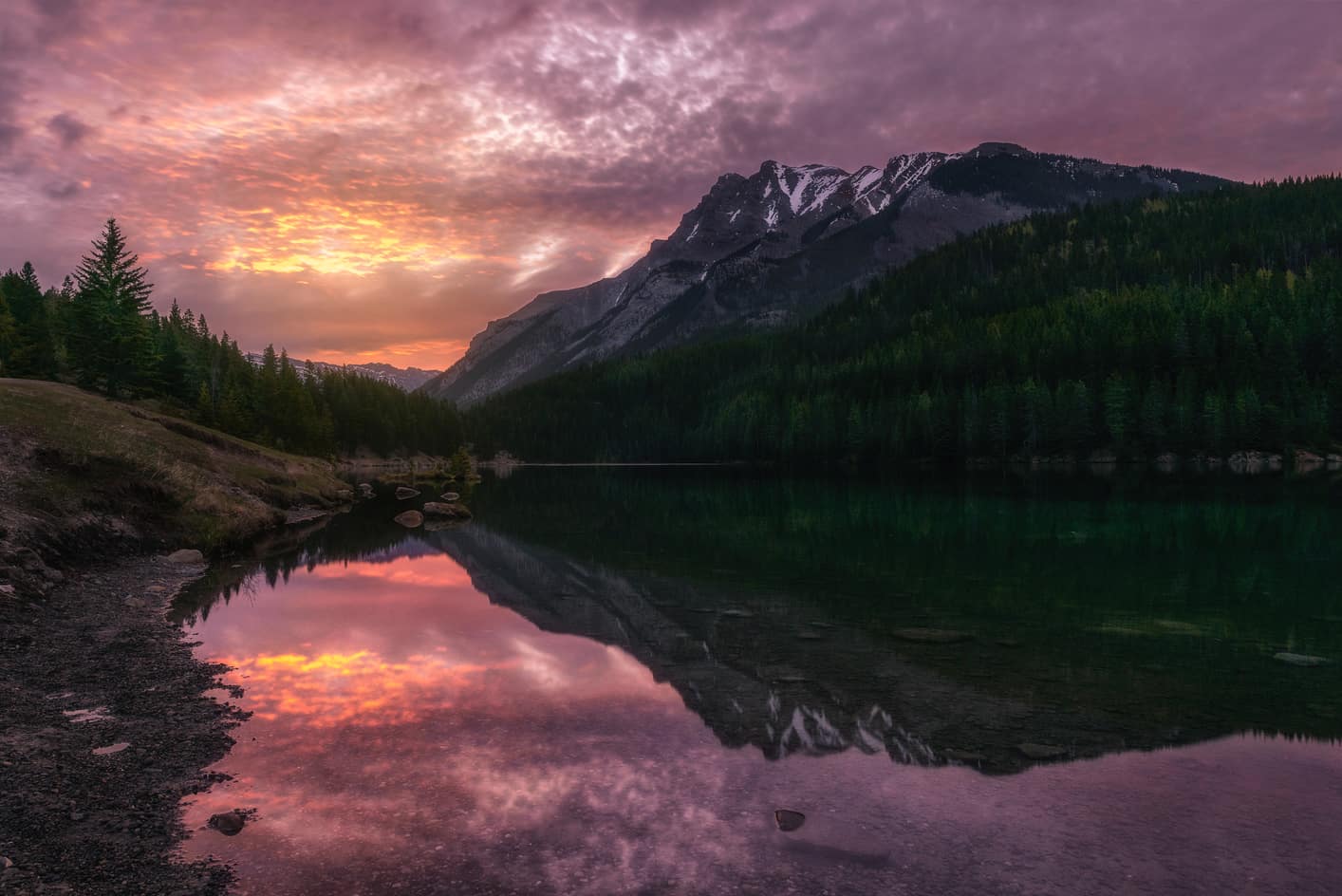 If you plan to take a Canadian Rockies trip in the winter (November – March), you should be aware that many roads will be closed and that you may not be able to go on most of the excursions. However, it is a good option if you like winter sports, snowy landscapes or if you want to see northern lights in the Canadian Rockies.
If you travel to the Canadian Rockies in the summer (June – August), the lakes will be thawed with a beautiful emerald-blue color. However, the most popular points of interest are filled with tourists during these months. If you want to get away from the summer crowds, it is best to do some of the more treacherous Canadian Rockies hikes for several days.
We believe that September is the best month to visit the Canadian Rockies. During this time all roads will still be open with lesser tourist traffic. On the scenery end, there are possibilities to see the Northern Lights reflecting over thawed lakes at night.
May is also a good month depending on the previous winter. We traveled the Canadian Rockies in May of 2017 when a cold winter had just taken place. Although most places of interest were open to public access, some were closed. There were tourists, but not as many as the peak of summer. We also had the great fortune to witness the Northern Lights.
HOW TO GET TO THE canadian rockies
Many travel to the Canadian Rockies by rail. We didn't consider this option because we knew we wanted to be at specific locations during specific times (early morning, night, etc.) for different types of photo shoots.
By car, here are two most recommended options to reach the Canadian Rockies:
Flight to Calgary + 1 hour by car.
Flight to Vancouver + 8 hours by car.
Since most flights to Calgary connected via Vancouver, we decided to spend one day in Vancouver to fulfill a bucket list item: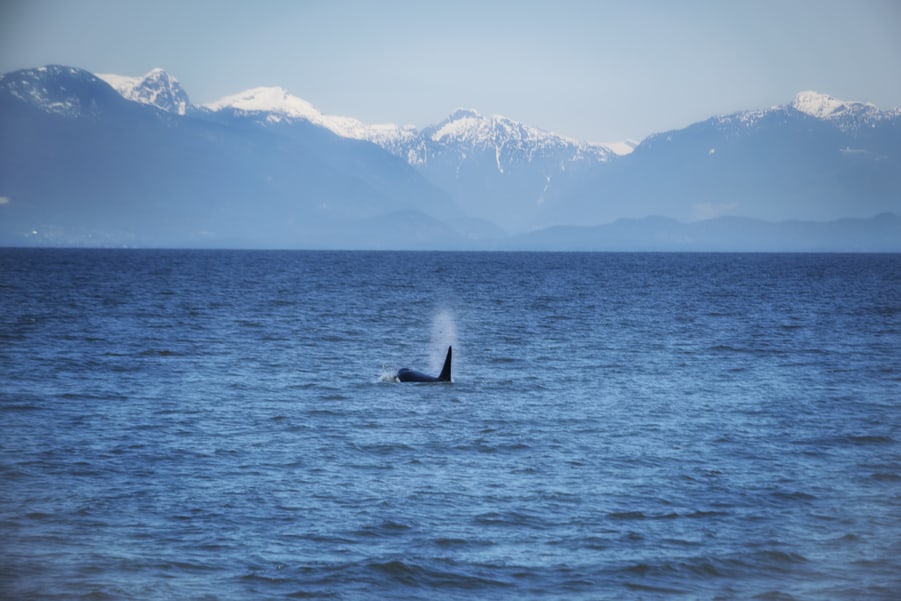 It is not guaranteed that you will see an Orca since the whales are in total freedom. Fortunately, most companies allow you to take the same trip as many times as necessary until you meet these giants at no extra cost.
Therefore, we decided to spend two days here instead of one, giving ourselves a second chance in case we have no luck on the first go.
It's no wonder why you can find many Canadian Rockies tours from Vancouver.
DISCOVERY PASS
If you are visiting several national parks on your trip to Western Canada, we suggest you to buy a Discovery Pass. This pass, valid for one year, allows you access to all national parks and sites managed by Parks Canada – see the complete list here.
One Discovery Pass covers entrance for one vehicle with a maximum of 7 occupants. Upon entrance at the parks, you must display the pass by hanging it from the mirror.
We were lucky that it was the 150th anniversary of Canadian Confederation in 2017. As a celebration, these passes were made available to the public for free.
You can buy the pass online here. We recommend ordering early because it can take a month to arrive by mail. you can also buy it directly at specific establishments mentioned here. The price is 136 CAD (94€).
The discovery pass is usually included in the Canadian Rockies vacation packages.
places to stay in the canadian rockies
There are many options for accommodation. We opted for camping most nights and stayed in a classical wood cabin lodge for two. It is a highly recommended luxurious alternative, especially after so many days camping in the wild.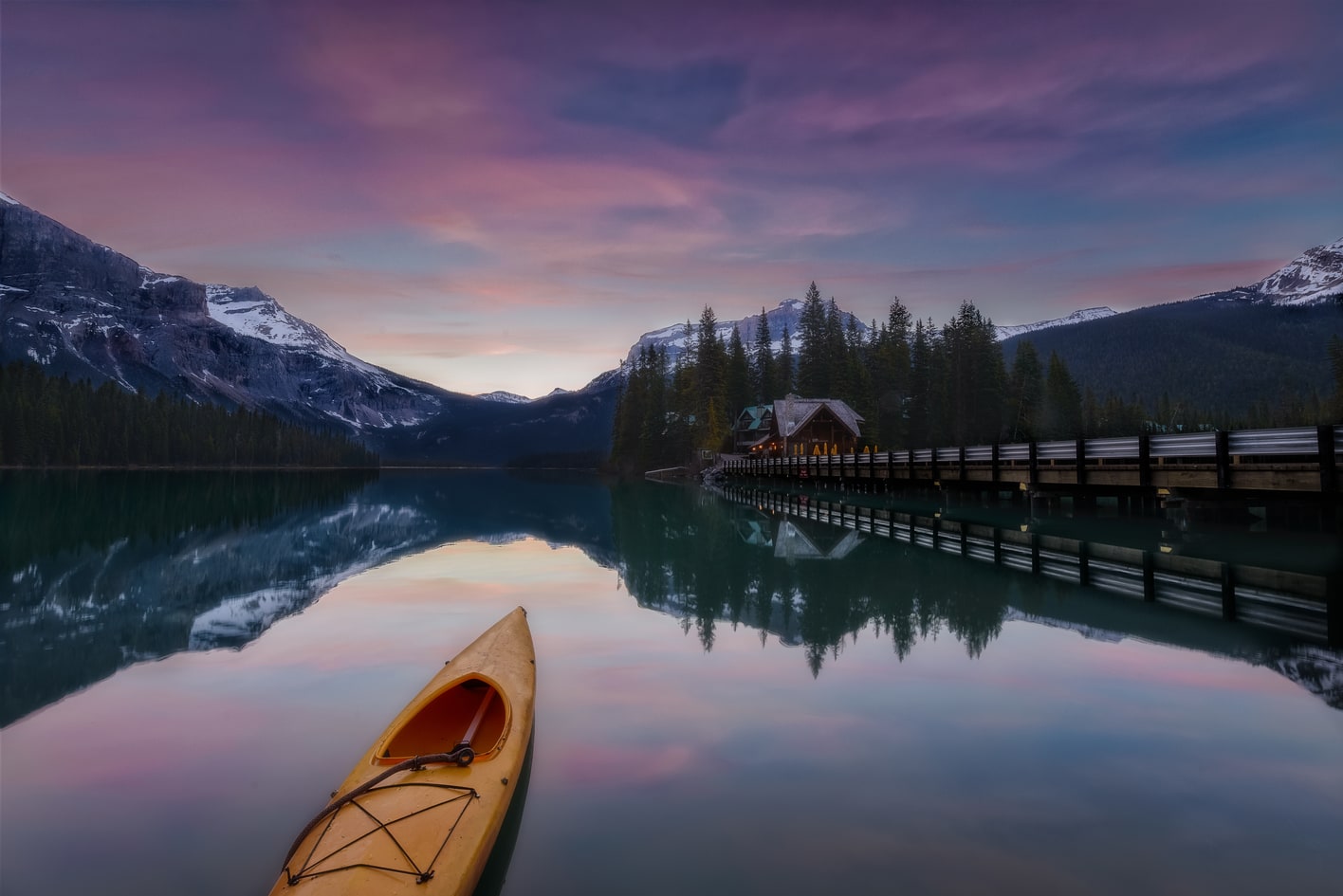 While not exactly a budget choice, having a fluffy bed and sparkling fireplace was much appreciated after many days camping. Luckily, we were able to find discounts for these lodges as May is not a high season month. You can find the places we stayed during our trip in our itinerary section.
TRANSPORTation
The best way to travel the Canadian Rockies is by renting a car. On this road trip, you will see a lot of animals and roads that look as if you were living in a fairy tale.
Remember that you need a credit card (not debit card) to rent a car. Also, check our tips to get cheap rental cars.
Indispensables in your baggage
If you are going to travel to the Canadian Rockies, you should be prepared for all kinds of weather situations. Even in the summer, going from a hot day to a snowstorm can happen in a matter of hours.
In addition to sufficient all-weather clothing and camping equipment, there are other essentials in your backpack that you may not want to miss.
To make it easy, we created a list of essentials to carry in your backpack for this adventure.
canadian Rockies photography
Traveling to the Canadian Rockies is a dream come true for a photographer. Equipment preparation, site planning… the work begins long before you arrive. For such, Dani has written five special posts that you will enjoy if you are a photographer: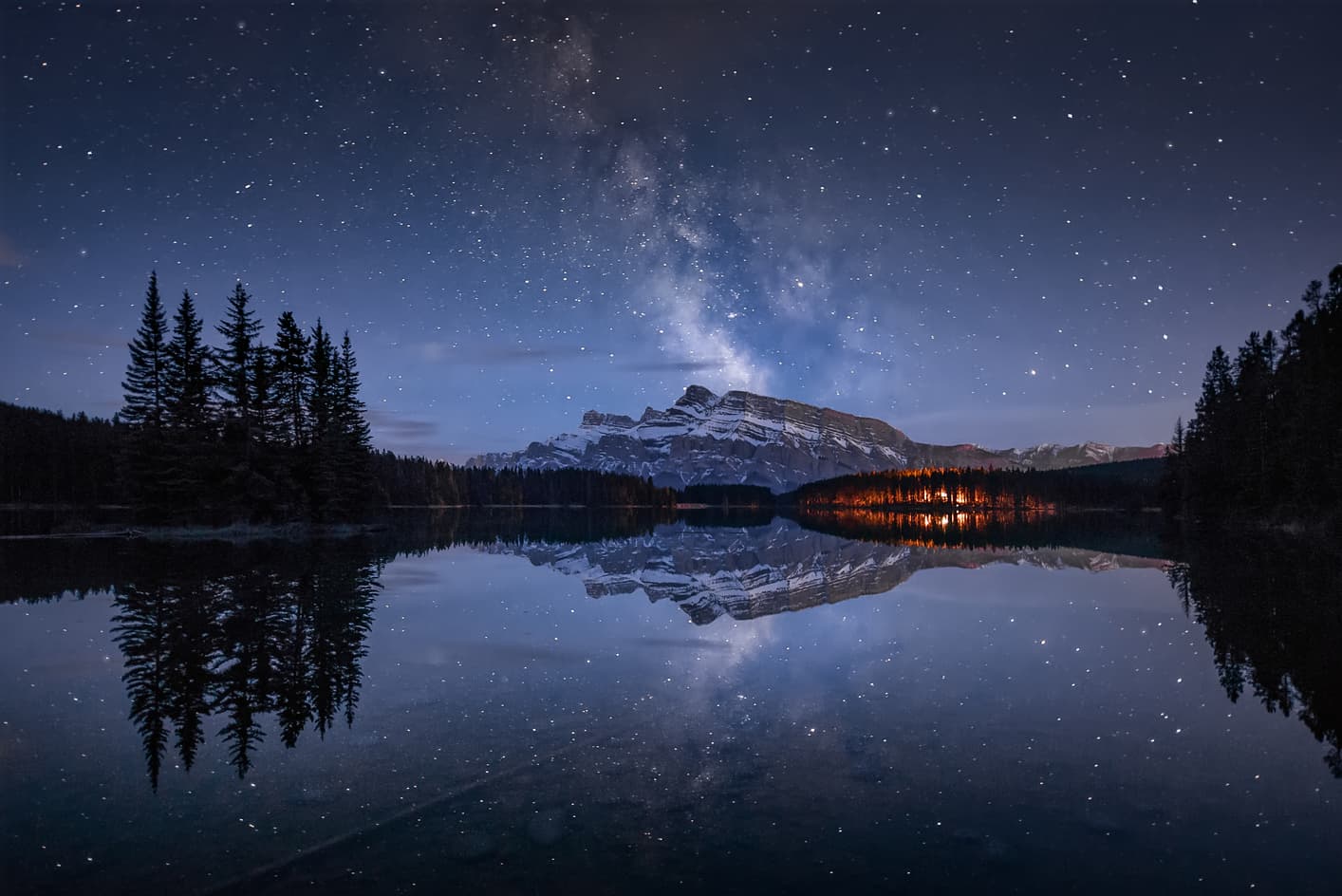 our 2-week Canadian Rockies itinerary + ACCOMMODATIONS
Although the possibilities are endless, here we show you our 2-week long travel itinerary to the Canadian Rockies as one example.
Day 1: Orca whale watching tour from Richmond. Dinner in downtown Vancouver – Airbnb in Vancouver
Day 2: Spend the day in Vancouver – Airbnb in Vancouver
Day 3: Arrival in Calgary. Camping at Two Jack Lake and sunset at Vermillion – Two Jack Lakeside Campground
Day 4: Johnston Canyon Falls and Ink pots – Two Jack Lakeside Campground
Day 5: Stewart Canyon and Bow Valley Parkway – Kicking Horse Campground (There was no open campground in the Lake Louise area)
Day 6: Lake Louise and Lake Agnes + Moraine Lake – Kicking Horse Campground (There was no open campground in the Lake Louise area)
Day 7: Sunrise at Moraine Lake + Natural Bridge of the Kicking Horse River + Wapta Falls – Emerald Lake Lodge (One of the best resorts for seeing the Northern Lights in Canada)
Day 8: Canoeing at Emerald Lake + Trekking to Yoho Lake + Northern Lights – The few hours we slept were in the car. We did not have accommodation booked for this day.
Day 9: Icefield Parkway + Peyto Lake + Bow Lake + Mistaya Canyon – HI-Mosquito Creek
Day 10: Athabasca Glacier + Sunwapta Falls – Sunwapta Falls Rocky Mountain Lodge
Day 11: Valley of the Five Lakes + Annette Lake + Maligne Lake – Wapiti Campground
Day 12: Pyramid Lake + Patricia Lake + Maligne Road – Wapiti Campground
Day 13: Miette Hot spring + Icefields Parkway + Sunset at Peyto Lake – Lake Louise Campground
Day 14: Sunrise at Moraine Lake. Return to Calgary. Flight to Vancouver – Airbnb in Vancouver
Canadian Rockies map
We leave a map of the Canadian Rockies below with the main landmarks. However, keep in mind that in the individual guides of each national park we left a more complete and downloadable map that will be very useful during your trip.
I See you around the Rockies!