Seeing wild orcas has been a dream of mine for years, and some of the best whale watching is in Vancouver. In fact, Vancouver is a prime destination for whale watching in Canada. So, when we planned our trip to the Canadian Rockies, I knew we had to include whale watching from Vancouver Island!
The picturesque scene of wild orcas swimming in the northern Pacific waters with snow-capped mountains in the distance makes for one of the most priceless experiences.
There are different types of tours and day trips in and around Vancouver & Vancouver Island, so choosing the best one isn't always easy. Not only that, but when you go whale watching also determines your likelihood of seeing these gentle giants.
This guide will help you find an orca tour in Vancouver for your budget and schedule.
6 Best whale watching tours in Vancouver
Since Vancouver is a hotspot for whale watching, there are different tours to choose from. Some trips focus on humpback whales in Vancouver while others combine a boat and seaplane tour. There is even the opportunity to kayak with killer whales in Vancouver!
To sum up, these are the best Vancouver whale watching tours:
1. Prince of Whales Vancouver, the orca tour we took
Prince of Whales Vancouver is the perfect tour if you want a comfortable whale-watching experience from Vancouver City. There are many different things to do in Vancouver, but there is no doubt that whale watching is one of the best.
This is the tour we did, and it's very convenient since it departs from Granville Island in an eco-certified catamaran. The covered boat has several viewing decks, so you can watch from inside or outside, and whale sightings are guaranteed. If you have no luck during your trip, you can repeat it for free.
Along with orcas and harbor seals, you may see humpback whales near Vancouver Island, as well as bald eagles. No doubt, watching whales in Vancouver is something I'll never forget.
Highlights: Killer and humpback whales, seals, bald eagles, and other seabirds
Starting point: Grandville Island (Vancouver City)
Duration: 5 hours
Price: $150
2. Killer Whale Watching Tour from Vancouver Island (with seaplane from/to Vancouver)
While Vancouver City offers great tours, some of the best whale watching is in Victoria, Vancouver Island. If you're in the city but want to take the best killer whale watching tour in Vancouver, this one is your best option, especially if you want to spend some time in Victoria after your boat ride.
You'll embark on a flight from the Vancouver Seaplane Terminal and get stunning birds-eye views of the Gulf Islands and Vancouver Harbour before landing in Victoria. Then, enjoy orca watching from Vancouver Island's Inner Harbour in either a zodiac or covered boat. Afterwards, you can spend a couple of hours in Victoria before boarding a flight back to Vancouver City.
Highlights: Round-trip flight from Vancouver City to Victoria, 3-hour whale watching expedition, free time in Victoria
Starting point: Vancouver Seaplane Terminal (Vancouver City)
Duration: 8 hours
Price: $379
3. Whale watching Vancouver Island Trip from Vancouver City (w/ return by seaplane)
If you have a larger budget and want to make the most of your time, the next whale-watching Vancouver Island trip is for you. This full-day tour starts with complimentary pick-up from your Vancouver hotel or Airbnb. Then, you'll set off for a 4-hour cruise across the Georgia Strait for some of the best orca watching off Vancouver Island.
You'll stop in Victoria, where you'll have time to explore the city and take in its colonial charm for a few hours before boarding a seaplane back to Vancouver City. Enjoy the aerial views and the splash landing, then get dropped off at your accommodation.
Highlights: Boat ride across the Georgia Strait with whale watching, Victoria sightseeing, seaplane return flight
Starting point: Hotel pick-up (Vancouver City)
Duration: 11 hours
Price: $465
4. Zodiac whale watching tour from Vancouver Island, British Columbia
If you're staying in Victoria, taking a zodiac whale watching tour is the most thrilling thing to do. With this tour, you will get picked up from your hotel and board an open zodiac boat on the Salish Sea. These fast boats accommodate just 12 passengers, so you can get closer to the whales, as well as elephant seals, bald eagles, and dolphins in Vancouver.
For whale watching in Vancouver Island with guaranteed sightings, this tour comes at a great price. You'll even get some hydrophones so you can listen to whale calls under the water.
Highlights: Exhilarating zodiac boat ride, wildlife viewing
Starting point: Hotel pick-up (Victoria, Vancouver Island)
Duration: 3 hours
Price: $109
5. Orca kayak tour in Vancouver Island, Canada
Imagine a more intimate whale-watching experience where you can kayak near orcas on Vancouver Island. This tour is led by knowledgeable naturalists and kayaking guides who will lead you through the Discovery Passage strait, a prime area for wildlife viewing. Spend 3 hours kayaking and another few hours aboard a covered boat with an open-air viewing deck. Lunch is included and there will be plenty of opportunities to photograph orcas, humpback whales, dolphins, seals, and more.
Of all the orca kayak tours in Vancouver Island, this one is a one-of-a-kind day trip that's worth the price. Plus, whale sightings are guaranteed if you take the tour between May 15th-August 15th.
Highlights: Full-day tour including kayaking and onboard wildlife viewing with lunch
Starting point: Campbell River (Vancouver Island)
Duration: 9 hours
Price: $330
6. Full-day whale watching tour from Vancouver Island
This full-day tour is perfect if you want to get off the beaten path. It's also ideal for photographers, as you'll experience some of the best wildlife views on the Salish Sea.
Your Vancouver Island whale watching adventure is based on the most recent sightings and weather forecasts, so you'll have the best chances of seeing orcas, Biggs killer whales, humpbacks, as well as grey and minke whales, sea lions, harbor seals, porpoises, and bald eagles. The tour includes stops at some local islands for further exploration.
Highlights: Custom routes for prime wildlife viewings, island exploration
Starting point: Cowichan Bay (Vancouver Island)
Duration: 8 hours
Price: $217
Description: Hop aboard and learn from an expert guide as you spot killer and humpback whales, seals, seabirds, and more. This full-day tour includes stops at several islands, too.
Vancouver whale watching season
Whale watching season in Vancouver Island takes place in the spring and summer, so plan accordingly. This is the time of year when resident whales, as well as migrating pods pass through the Pacific Northwest waters.
Of course, you shouldn't assume that traveling to Vancouver during peak season means you're guaranteed to see whales. These are wild animals that don't adhere to human schedules. Fortunately, most tour companies will let you repeat the tour for free if you don't see whales the first time.
Best time to see orcas in Vancouver
The best time of year to see orcas in Vancouver is between May and October when spawning river salmon attract the whales. That said, while resident killer whales feed mostly on salmon, transient orcas eat small mammals, so it's not uncommon to see transient killer whales, too. In the fall, whales start migrating south in search of warmer waters to find a mate.
Best time to see humpback whales in Vancouver
If you want to see humpback whales in Vancouver, plan your tour between April and November. The Pacific Northwest coast has seen an increase in humpback whales recently, and while it's possible to spot them year-round, your best chances are in the late spring to early fall.
Where to see wild orcas in Vancouver
If you want the best chances of seeing wild whales in Vancouver, you must know where to go and when. The west coast waters near Vancouver Island, the Gulf Islands, and the San Juan Islands make the perfect setting for whale-watching tours. Most of them depart from Victoria, the capital of Vancouver Island, and travel along the Georgia Strait.
However, if you can't make it to Victoria or you're only in Vancouver for a day, there are several great whale watching tours from Vancouver City.
Whales in Vancouver City
If you're not sure where to see whales in Vancouver, I recommend the tour we took. It's operated by one of the most well-known companies in Vancouver City and departs from Granville Island. From there, you'll explore the Georgia Strait and Howe Sound in search of orcas and humpback whales.
There are several whale-watching ferries from Vancouver to Victoria, BC, Vancouver Island's capital city. Most Vancouver Island whale watching tours travel along Victoria's Inner Harbor, as well as the Georgia Strait in the Salish Sea and the Gulf Island coasts.
If you're in Victoria B.C., and want to see the whales from a zodiac boat, this is the best tour for you.
Besides, we have written a specific guide on whale watching from Victoria B.C.
Whale watching in Telegraph Cove, Vancouver Island
Some of the best whale watching in Vancouver Island takes place in Telegraph Cove. This old fishing village offers easy access to the Johnstone Strait, where wild orcas spend the summer months. Telegraph Cove is also close to the Robson Bight ecological reserve, so you have higher chances of seeing humpback whales, grey whales, and minke whales, as well as dolphins, elephant seals, otters, sea lions, and bald eagles.
The best tour departing from Telegraph Cove, is this half-day tour.
Whale watching in Port Renfrew, Vancouver Island
Port Renfrew is on the south shore of the Port San Juan inlet, on Vancouver Island's west coast. The whale watching tours that depart from Port Renfrew explore the waters of the Juan de Fuca Strait, where you can see humpback whales and transient killer whales. Several tours go past the Carmanah Lighthouse, where sea lions like to lounge.
If you visit Port Renfrew, the best whale and wildlife watching tour is the one you can find here.
Whale watching in Campbell River, Vancouver Island
Campbell River is a city on the eastern coast of Vancouver Island, near the Discovery Passage strait. This is a prime area for whale spotting on Vancouver Island, as well as the nearby Johnstone Strait. During a tour around Campbell River, you're likely to see humpback whales, orcas, and dolphins.
Campbell River is also popular for its orca kayak tours in Vancouver, so if you want to try this exhilarating experience, book your tour here.
Types of whales in Vancouver, Canada
Depending on the Vancouver whale tour you take and when you take it, you may see different species of whales. Here is a little cheat sheet to help you differentiate the types of whales that inhabit the Pacific Northwest waters near Vancouver.
Orcas in Vancouver
One of the best things about orca watching in Vancouver is that the tours are often led by expert guides, so you can learn more about these majestic creatures.
For instance, we learned that a killer whale isn't actually a whale, but a relative of the dolphin family. The Vancouver waters are home to resident orcas, which feed mostly on salmon, and transient orcas, which eat small mammals. These whales can weigh up to five tons and swim over 60 miles per day!
They're very social, often traveling in pods, and each group of whales has a particular range of sounds they use to communicate.
Humpback whales in Vancouver
While looking for wild whales in Vancouver, you might also see humpback whales. These creatures spend more time underwater than killer whales, so it's much harder to predict their location. They're also much larger, so seeing one in the icy northern waters is quite the experience! Listen closely for their loud breathing as they come up for air and keep an eye out for their magnificent tail slaps.
Dolphins in Vancouver
It's not uncommon to see dolphins in Vancouver during a whale-watching tour, so keep an eye out! Pacific white-sided dolphins sometimes swim in schools of 50 to 100 near the northeastern coast of Vancouver Island, especially around Johnstone Strait. These creatures are playful and energetic, and you can often see them jumping between the waves. They're also very social, so you'll probably see them swimming along with orcas or sea lions.
Grey whales in Vancouver
During Vancouver Island whale-watching season, you may be able to spot grey whales. Between February and April, over 20,000 grey whales swim along the island's western coast. A couple hundred remain in the waters close to shore, so you might see one during your tour. Grey whales, which are a type of baleen whale, are easily recognized by their white scars, which are left there by parasites.
Minke whales
If you're whale-watching in Vancouver Island, you may see minke whales. A minke whale's dorsal fin looks like that of a female orca, but it's a bit smaller and further back on its body. They don't spend nearly as much time above the surface as orcas, and they're quite shy, so don't be surprised if you don't see any.
Other wildlife you can see on a whale watching tour in Vancouver
Just because you're going whale watching in Vancouver, that doesn't mean you can't see other sea creatures and wildlife. The Pacific Northwest forests make for a gorgeous backdrop while you scan the icy waters for whales and dolphins. Here are a few other species you might see during your tour.
Bald eagles
Bald eagles may be a symbol of the United States, but their impressive strength and majestic appearance make them emblematic birds in western Canada, too. In fact, British Columbia is home to the largest bald eagle gathering in the world. We saw some during the whale-watching tour we took, and there is nothing quite like seeing their 8-foot wingspan up close.
Dall's porpoises
Dall's porpoises are similar to Vancouver's killer whales, but they're much smaller, with white tips on their dorsal fins. These creatures prefer deep waters, but since the Georgia Strait has an average depth of 500 feet, it's possible to see them in Vancouver Island. Dall's porpoises are fast, reaching speeds up to 34 mph, which is good because they're prey to transient killer whales.
Harbor and elephant seals
A Vancouver whale-watching adventure wouldn't be complete without seeing some harbor seals, as they're the primary prey for transient killer whales. These seals are extremely agile in the water, although you might also spot them lounging lazily on some coastal rocks.
Elephant seals are larger, with elongated noses that resemble an elephant trunk. They spend most of their time in the water, but they aren't nearly as prevalent in western Canada as harbor seals.
California sea lions
As the name suggests, these sea lions populate the California coast. However, the males are commonly found around Vancouver Island between September and May before returning south. You can recognize them by their dark brown color and domed foreheads.
Steller sea lions
The Steller sea lion population in Vancouver, British Columbia is around 15,000, so you're bound to see these semiaquatic creatures during your tour. The males average around 1,500 lbs and can reach 10 feet long. They are the largest sea lion in the world. Not only is their size impressive, but the sounds they make from the shore are sure to astound you!
Orca whale watching tour in Vancouver: our review
Our first time taking a Vancouver Island whale watching tour was an experience we'll never forget. We left Vancouver City in the late morning on a double-decker boat. While there was a covered lower deck, we stayed on the upper level, where we had 360° views.
It was mid-May, so it didn't take long for us to spot our first killer whale in the wild. As we moved to deeper waters, we saw more transient killer whales, including a male, a mother, and her calf. In total, we got to see seven transient killer whales, and seeing that little orca poke her head out of the water was the highlight of the tour.
During our journey, we also got to see humpback whales, sea lions, and bald eagles. We had an excellent tour guide who even mapped out our route and marked where we saw the different species. I also appreciated that the boat followed the whales at a legal and safe distance to avoid disturbing them.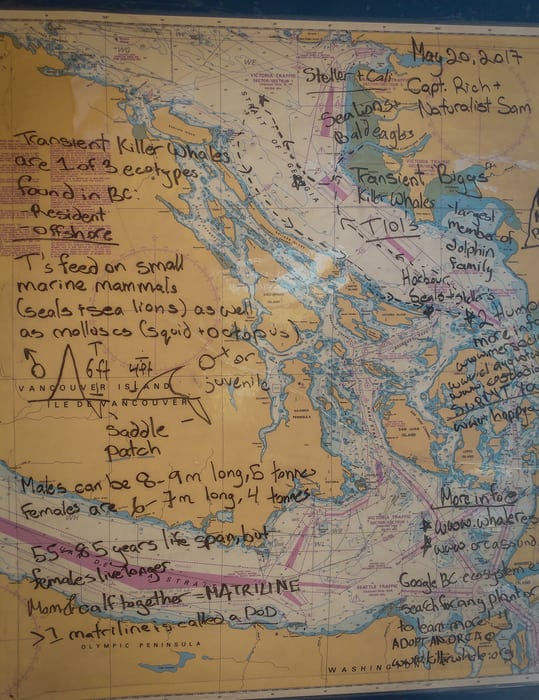 Seeing wild whales in Vancouver was a literal dream come true for me. The euphoria of seeing these majestic giants cutting through the waves is hard to put into words. I felt a rush every time I saw a dorsal fin or a jet of water vapor rising to the surface.
Since we were lucky enough to spot whales on our first tour, we didn't need to repeat it, so we could spend our second day in Vancouver exploring the city. Even if you have just one day here, a Vancouver whale watching tour is something I highly recommend.
Whichever tour you choose, I'm sure you'll have the time of your life! If you have any other questions about orca-watching in Vancouver, leave a comment, and I'll be happy to help.
Happy whale-watching!