Visiting Vancouver Canada in one day was the best start we could have to our trip to British Columbia and Alberta. In fact, we decided to travel to Vancouver, just before our Canadian Rockies trip to fulfill my lifelong dream: seeing wild killer whales.
Therefore, we left two days for Vancouver just in case we were not lucky enough to see orcas on the first day.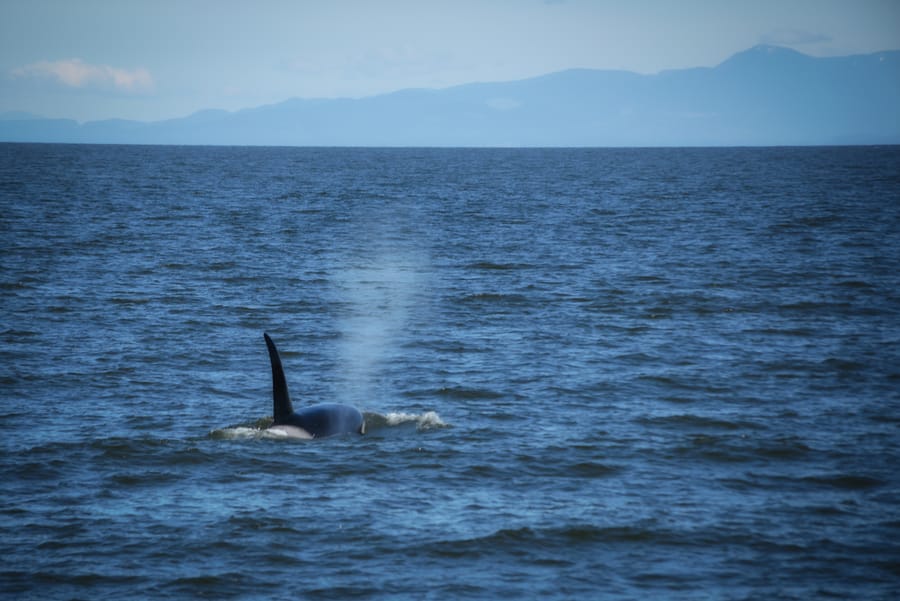 However, as everything went as expected, we spent our second day in Vancouver exploring the city.
In a nutshell, these are the top things to do in Vancouver in a day.
Top Things TO DO IN VANCOUVER IN ONE DAY
Stanley Park: Immense park to visit in Vancouver, where you will find a lot of indigenous totem poles and the famous Girl in a Wetsuit
Gastown: Stroll through this old neighborhood full of bars and restaurants and visit the Steam Clock.
Canada Place: From the Waterfront terminal take the ferry that takes you to North Vancouver to have some amazing views of Canada Place.
Chinatown: Surprise yourself by visiting Chinatown, the home of the majority of Vancouver's Asian population, and experience its quirks.
Grandville Island: Have a craft beer on this hippie island and soak up the good atmosphere of the area.
Capilano: Walk the Capilano suspension bridge, with a length of 137 meters and a height of 70 meters, in a one-of-a-kind environment.
Killer whale tour: Do not leave Vancouver without seeing the incredible marine life that inhabits its waters.
In the following section, you will find our travel guide with the best things to do in Vancouver in one day. Below we will go through the best places to visit in Vancouver in 24 hours, the best restaurants in Vancouver and where to stay in Vancouver.
We will also give you some itinerary ideas for Vancouver in 2 days, 3 days or 4 days.
best time TO visit VANCOUVER
If you want to know when the best time is to travel to Vancouver, I would say it depends a lot on what you are looking for. In this section, we tell you about Vancouver weather.
If you travel to Vancouver in summer, between May and September, temperatures are warmer, making your visit more pleasant, but it is usually difficult to find cheap hotels.
If you like snow and winter sports, visiting Vancouver in winter is the best thing for you, since there are ski slopes very close to the city.
Between March and May, and September and November, the temperatures are mild and you can find hotels with very good prices, so that period is the best time to travel to Vancouver.
HOW TO GET TO VANCOUVER
The best way to get to Vancouver is by flying directly to the Vancouver International Airport, which is south of Vancouver and a half-hour train ride from the city.
If you want to find cheap flights to Vancouver, I recommend booking them 3 months in advance, in addition to using a notification service in case of price drops.
THINGS TO DO IN VANCOUVER IN ONE DAY
If you want to have a perfect day in Vancouver, plan your visit in advance. To help you plan, we are going to tell you everything you have to visit in Vancouver.
First of all, I have to confess that Vancouver is not a city that excited me greatly. For me, the real appeal of Vancouver is in the surroundings: dreamy mountains and a sea full of surprises. For downtown Vancouver, 24 hours is enough to explore the most popular attractions.
STANLEY PARK
Of all the things you have to see in Vancouver, the first place I recommend is Stanley Park. This was what we liked most about our day in Vancouver.
This huge park will make you forget about the city. We walked a big section and it took us more than two hours. Renting a bicycle to visit is also a good option.
You will find an area where there are a lot of indigenous totem poles. This is, for me, one of the best places to see in Vancouver. Tellingly, the so-called First Nations lived on the west coast of Canada for more than 500 generations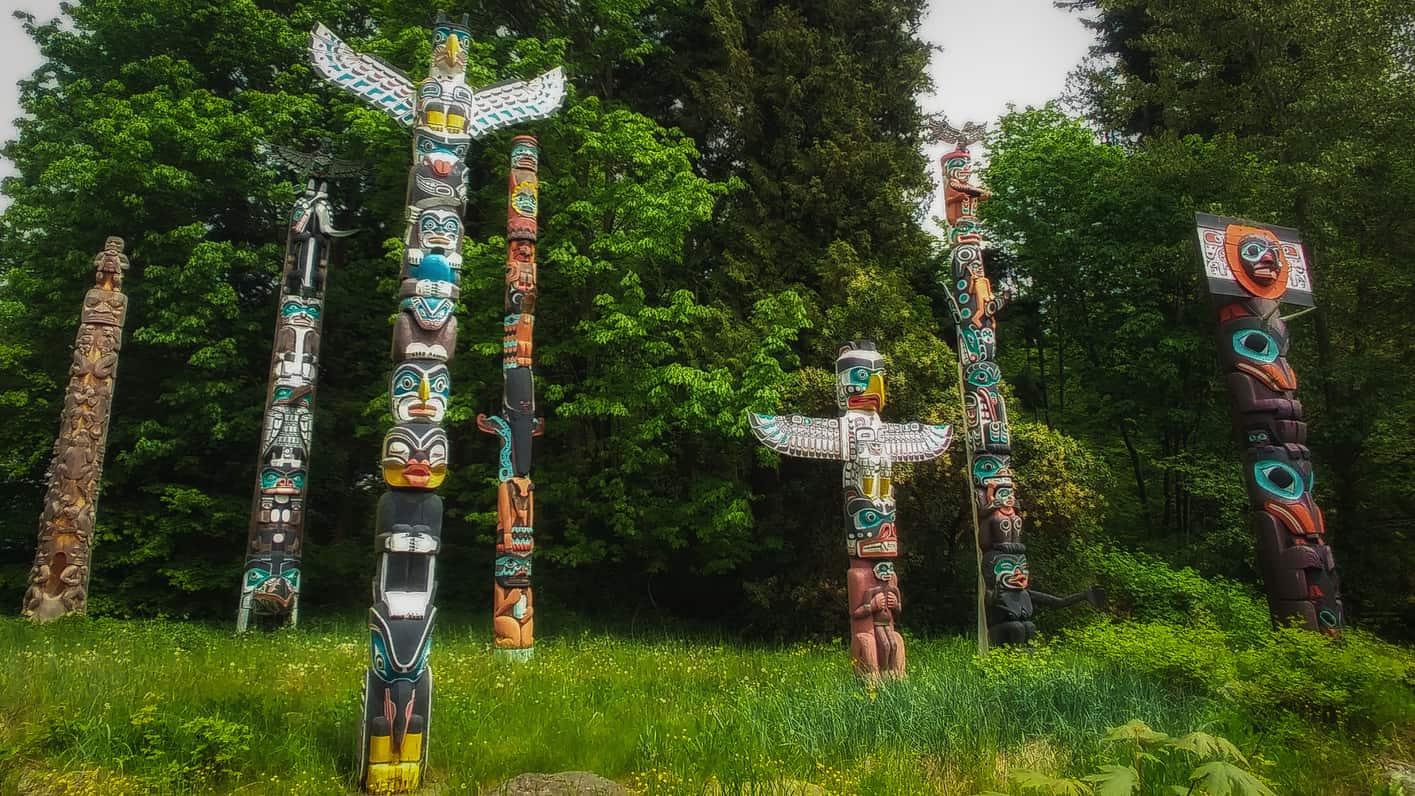 Also in this park, you can find the statue "Girl in a Wetsuit". This is possibly the most popular statue in Vancouver.
To the west of the park, you'll find two beaches, Second Beach and Third Beach, which are filled with people on sunny days. We visited Vancouver on a very sunny day and the beach was completely crowded.
What I liked most was that orcas and whales could be seen from those beaches. For all these reasons, Stanley Park could not be left off our list of things to do in Vancouver in 24 hours.
FERRY TO NORTH VANCOUVER
Taking the public ferry that leaves from the Waterfront terminal and goes to Lonsdale in North Vancouver is another thing we recommend you to do in Vancouver in one day. The boat departs approximately every 15 minutes and the views are impressive in both directions. Coming back to the center of the city, you will see Canada Place, a building with 5 white sails as a roof, used both for cultural activities and entertainment. It is a true icon of Vancouver.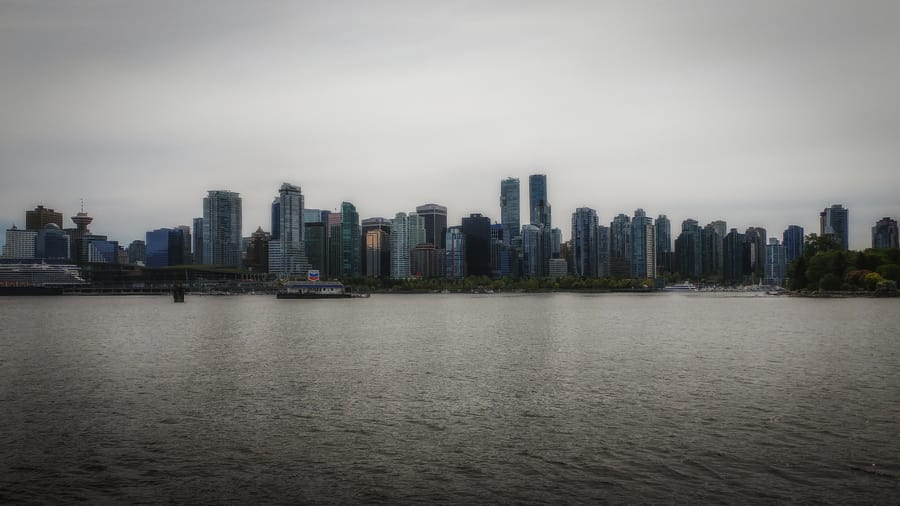 To take the ferry you can use the public transport pass that we will talk about later, which is very useful to do everything you want to do in Vancouver in 24 hours.
GASTOWN
Old Gastown neighborhood is something that we could not leave off of your list of things to do in Vancouver. Walk through it until you find the curious Steam Clock built in 1977.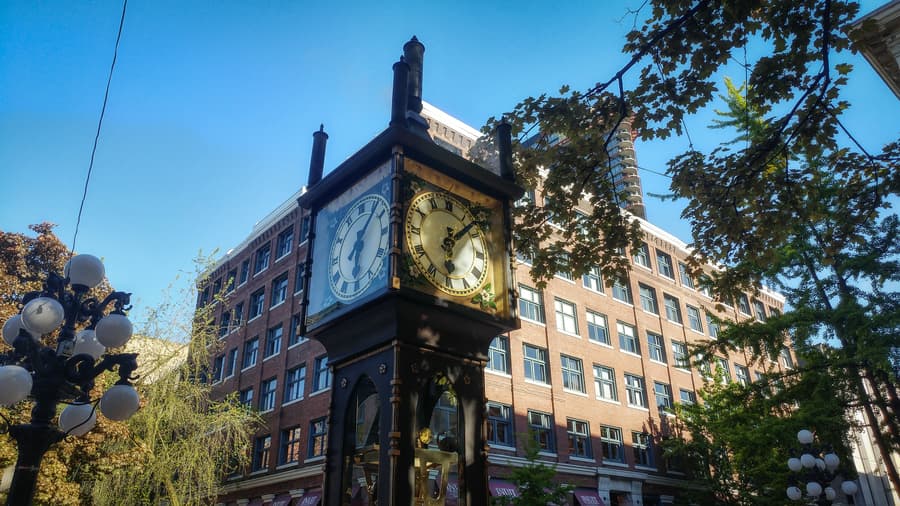 The neighborhood itself is very lively. There are a lot of souvenir shops inspired by the First Nations of Canada. You will also find cafes and restaurants with a great atmosphere.
CHINATOWN
Vancouver surprised us with its huge Asian population. It was a culture shock. Although we knew that Canada is one of the most multicultural countries in the world, we did not expect it to be so obvious.
In Richmond, the neighborhood where we stayed and of which I will speak later, we experienced this high Asian population. That's why we went to Chinatown, which is located in downtown Vancouver, with very high expectations.
However, we ended up disappointed. Chinatown today is a poor neighborhood. We saw dozens of young drug addicts stuck in a miserable situation. It turns out that Hastings Street where it crosses through Chinatown is the main poor neighborhood of Canada.
Of all the attractions in Chinatown, we only saw the Millennium Gate, because the main attraction in the area, the Dr. Sun Yat-Sen Classical Chinese Garden, was being refurbished.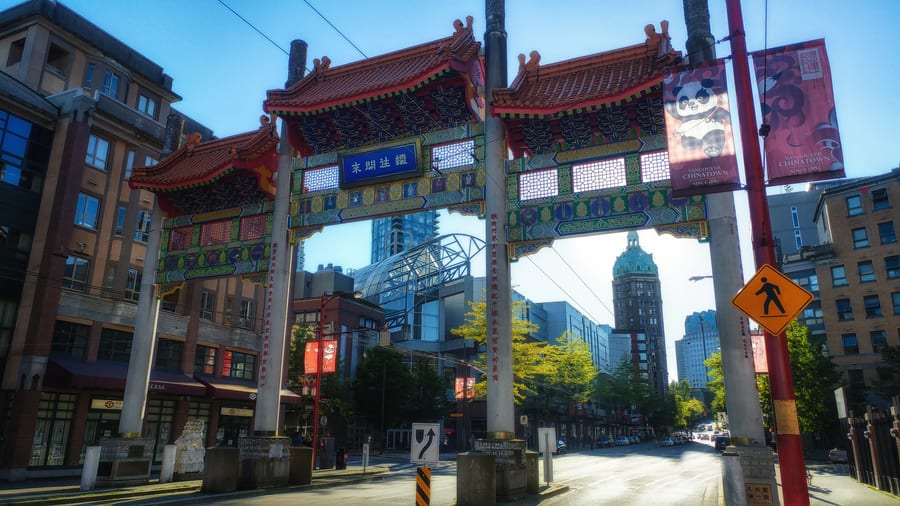 Despite our experience, I think it is a place worth visiting if you travel to Vancouver in one day. To explore the city you must experience the tremendous contrasts inside Vancouver. Even if you do not plan to visit it, you might do it unintentionally, as the dividing line between Chinatown and Gastown is non-existent. All of a sudden you will find the marginalization and poverty of this area of Vancouver. But do not worry. Even here, Canada is a safe country.
That's why we have no choice but to include Chinatown on our list of essential attractions to visit in Vancouver in 24 hours.
Although Canada is very safe, I take this opportunity to recommend you travel with Heymondo travel insurance, one of the best travel insurance companies in the world. In our case, we have purchased multi-trip insurance for one year. Here is a discount.

5% OFF your travel insurance
GRANDVILLE ISLAND
Another interesting place to see in Vancouver in one day is Grandville Island. This small hippie island, under the bridge that gives access to the center of the city, is a must.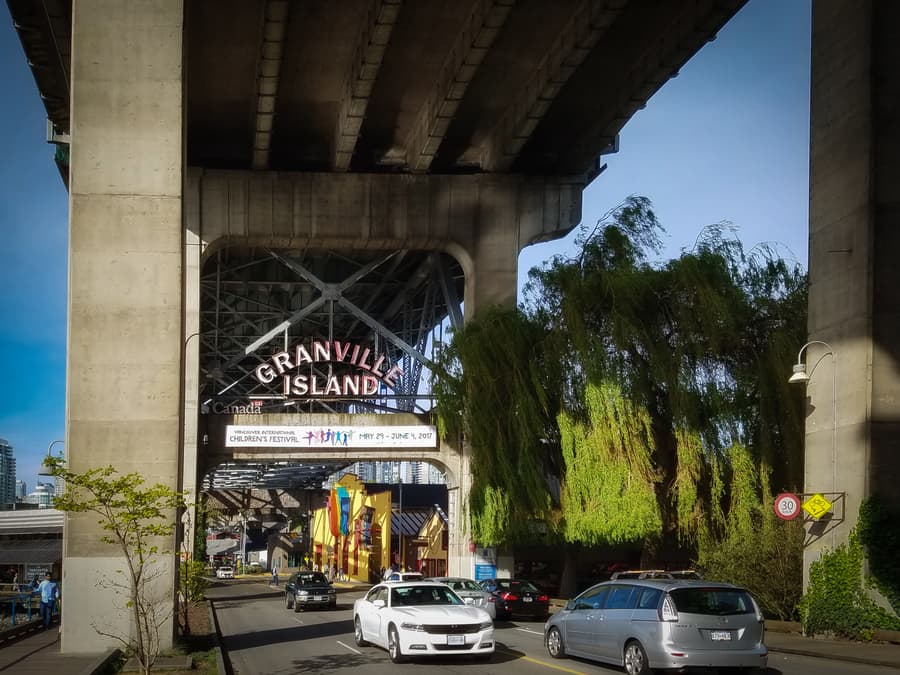 Here, you will find bars, terraces, and restaurants with a very good atmosphere. We recommend the Granville Island Brewing. Trying the tasting menu with different kinds of beer is one of the essential things to do in Vancouver in one day. Our favorite was Maple, the symbol of the country.
To get to the island you must do so by ferry or walking over the bridge. Unlike going to North Vancouver, there is no public ferry, so you'll have to go with some private companies that are not cheap. We opted for walking the bridge, with the reward of seeing all the terraces of Granville Island from above.
Visiting the public market is another thing you have to do in Granville Island. Once there, you will find everything from crafts to agricultural products of the highest quality and food stalls. The atmosphere is unique so it is very popular with both tourists and locals.
We recommend that you go to Granville Island in the afternoon, since it is the liveliest time, and if the weather is nice, all the terraces will be full.
THINGS TO do IN VANCOUVER IN 2 DAYS, 3 DAYS OR 4 DAYS
If you have more than one day to explore Vancouver, do not miss out on these other things you can do.
CAPILANO HANGING BRIDGE
Actually, we could have done the visit to the Capilano suspension bridge in our one day in Vancouver. However, the price of $ 43 CAD per person was not within our travel budget.
This bridge is suspended more than 70 meters above the Capilano River with a total length of 137 meters. The natural environment is fantastic but we still do not know if the price is worth it. In the images, it seems ideal for lovers of extreme experiences. If it had been cheaper, we would have visited it, especially if we had visited Vancouver for 3 days.
It is only half an hour by public transport from the city center. And best of all, there are buses that take you for free. Here you can find the pickup points.
SKI IN GROUSE MOUNTAIN
If you are traveling to Vancouver in winter and you like snow sports then plan at least 4 days in Vancouver. Less than half an hour away you have the Grouse Mountain ski slope.
In summer, Grouse Mountain can also be a place of interest for Vancouver tourism. Some of the activities offered are the Super Skyride cable car, the World Famous Lumberjack Show, the Birds in Motion show and, of course, amazing views of Vancouver and the nearby fjords.
You can also do other activities in Vancouver, such as Mountain Ziplines, The Eye of the Wind, Peak Chairlift, or helicopter tours.
WHALE WATCHING
Taking a whale-watching tour is, for me, the perfect activity to spend one day of a two-day trip to Vancouver.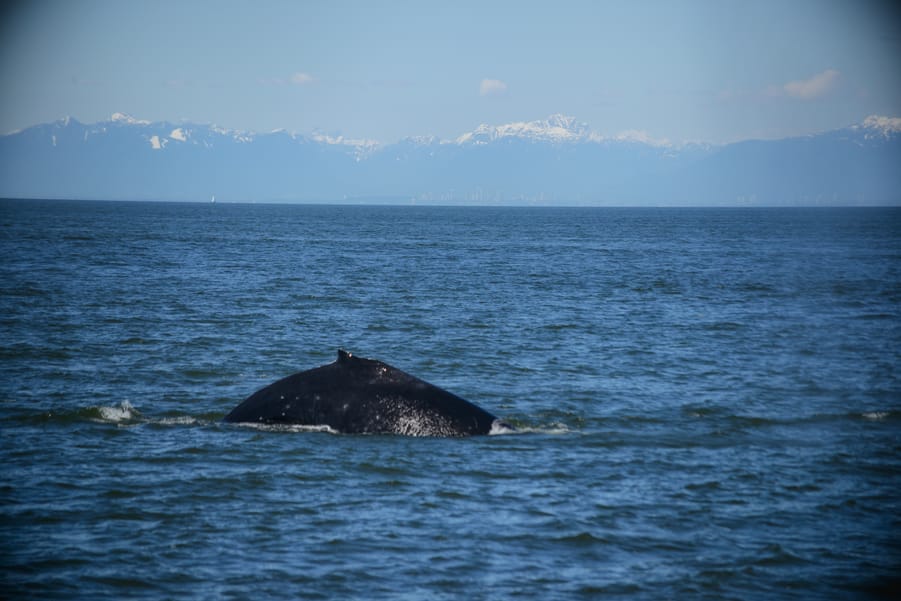 Since it was the best thing we did in Vancouver, we wrote a special post where we thoroughly describe everything about this experience.
VANCOUVER ISLAND VISIT
One of the alternative things you can do around Vancouver is to visit Vancouver Island and its capital Victoria.
If you like nature and do not have time to visit Vancouver and the Canadian Rockies on the same trip, at least try to combine Vancouver + Vancouver Island.
To get to Vancouver Island you will have to take a ferry or a hydrofoil from Vancouver.
In addition to whales, you can find all kinds of wildlife on the remote island. Here you can also find one of the most popular treks in the world, the West Coast Trail.
HOW TO MOVE around VANCOUVER
Vancouver's public transportation is very efficient. It is equipped with the fastest automated subway in the world, the SkyTrain, an extensive bus network and the SeaBus, the ferry that we used to go to North Vancouver.
The price of public transport changes depending on the areas you travel to. The tickets are $ 2.5 CAD if you travel through zone 1, $ 3.75 CAD if you travel through zones 1-2 and $ 5 CAD if you travel between zone 1 and zone 3. Here you have a map with the detail of the different zones. Once you use the ticket you have 90 minutes to make all the transfers you need until you reach the destination.
A way to save money on transportation is by getting a booklet of 10 FareSaver tickets. The price would be 19 $ CAD for zone 1, 28.5 $ CAD for zones 1-2 and 38 $ CAD for zones 1-3.
However, if you are visiting Vancouver in one day, we recommend you buy a DayPass. The price is $ 9 CAD and covers all areas so it is definitely the best option. Of course, keep in mind that the "change of day" is at 6:30 p.m., so if you buy the DayPass at 6:00 p.m., you can only use it for half an hour. However, if you buy it at 6:30 p.m., you can use it until the same time the next day.
WHERE TO EAT IN VANCOUVER
If in your day in Vancouver you want to try the best restaurants, here we recommend some that you should not miss.
BEST BREAKFAST IN VANCOUVER
If you want to have a good start to your day in Vancouver, there is nothing like having a 1950s, American style brunch at The Templeton.
The appeal of this restaurant is that each table is decorated with old jukeboxes that no longer work and leather stools around the bar. The quality of the menu is very good and the amount of food is literally huge.
The highlights include the Farmers Breakfast and the Big Ass Breakfast. And of course, the Milkshakes. Share one with your partner or friends; they're too big to be finished by a single person.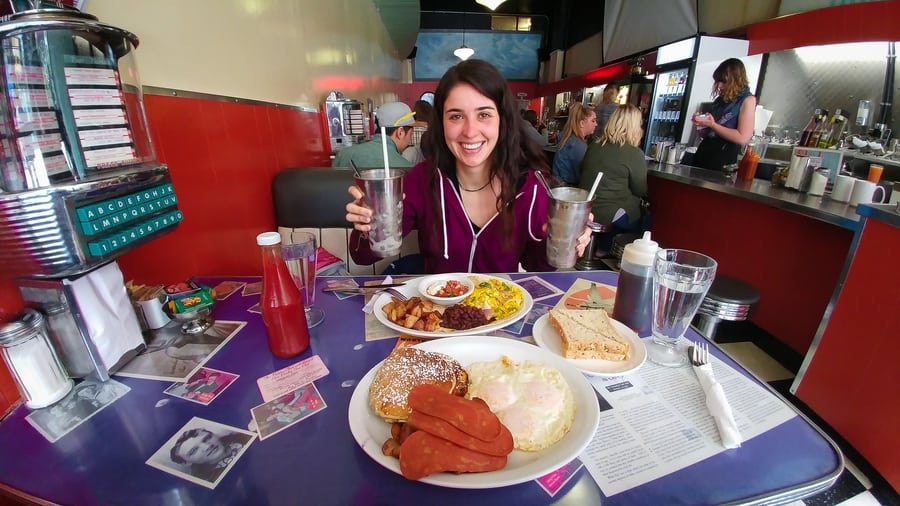 The Templeton is located at 1087 Granville Street and is open daily from 8:30 a.m. to 11:00 p.m., although it is most famous for its breakfast food. Here is the menu.
TRY A GASTOWN RESTAURANT
For lunch I recommend you stop at one of the many stylish restaurants that you can find in Gastown.
We ate at the Guilt & Co and we liked it a lot. I recommend you to check the menu.
ASIAN STYLE DINNER AT A NIGHT MARKET
Another place that we can't forget on our list of things to do in Vancouver is to dine in a Night Market.
Although they are not located in the center of Vancouver, but instead in the Richmond neighborhood, in the south of the city, you need to visit one to understand the importance of Asian influence on the west coast of Canada.
The population of the neighborhood is mainly Asian, making up 65% of the total population. Restaurants, shops, supermarkets, and kiosks: everything is of Asian origin. Canada is one of the most multicultural countries in the world and in Vancouver, we could experience it.
The best way to do it is by going to dinner at the Summer Night Market, an open-air market that operates during the warm months.
Actually, in Richmond, there are two Asian markets, the Summer Night Market, smaller and authentic (closed since 2017) and the Richmond Night Market, super large and where most tourists go. The basics are essentially the same: you have hundreds of delicious places to eat.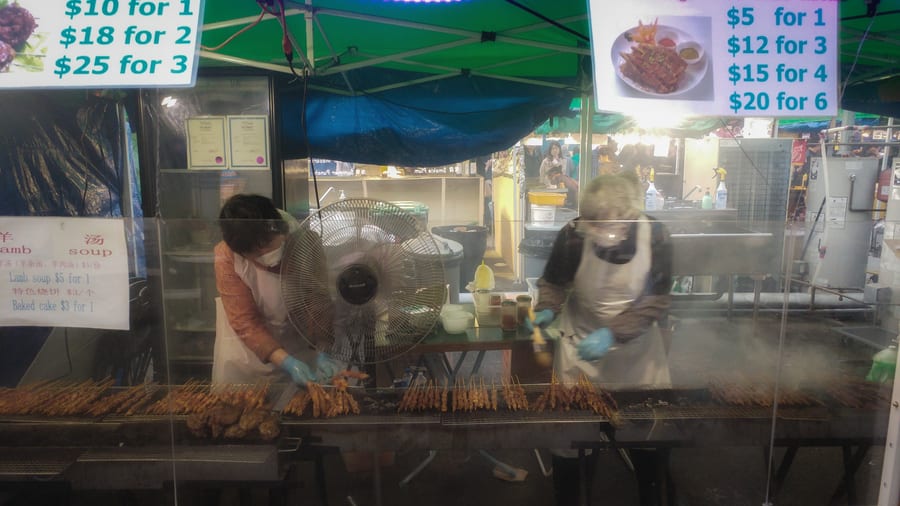 Visiting at least one is a must on a list of things to do in Vancouver in a day.
WHERE TO Stay IN VANCOUVER
As we told you, our motivation to visit Vancouver was mainly to take an orca watching tour. In the event that we could not see whales the first day, we would have gone on a tour again the second day.  To be honest, we did not have a special interest in visiting Vancouver, considering we had just 15 days and our trip was focused on the Canadian Rockies.
The company we hired the Orca watching tour with was located in Richmond. It was 45 minutes by public transport from the center. That is why we decided to stay in the Richmond neighborhood.
Another reason for not staying in the center was the price of hotels in Vancouver, as they are very expensive and were out of our budget. Staying in Richmond, we managed to save some money but nevertheless, there were also some downsides.
Although Vancouver's public transportation also reaches Richmond, the frequency is not as high, especially at night. For this reason, we often ended up taking taxis, which considerably increased the price of our trip.
Additionally, Richmond is mostly a residential neighborhood. By this I mean there are no areas where you can find different restaurant options, except for the two Asian food markets.
You can feel the Asian majority in this neighborhood with every step and this is good news: the best sushi we have ever tried was in a restaurant near our accommodation. From what we read after our trip, in Vancouver, you can find the best sushi restaurants outside of Japan.
We chose to rent an Airbnb in Vancouver because it was the cheapest option, so I'll share some Airbnb coupons with you so you can save on your next trip.
VANCOUVER MAP
And with this map of Vancouver, we say goodbye. Do not hesitate to leave us a comment if you need any other information about Vancouver. We will be happy to help you.
And remember that this is just our opinion according to our experience. We will be happy to include other different activities that we don't know about yet if you tell us about in the comments.