In this article, you will find our Canada travel budget for 15 days, as we do with all our travels in order to show you how much we spent before estimating your own budget. Traveling to the Canadian Rockies is expensive. However, throughout this post, we will show you some tricks to travel on a budget. We will also provide a few tips so you can save money while making the most of your trip.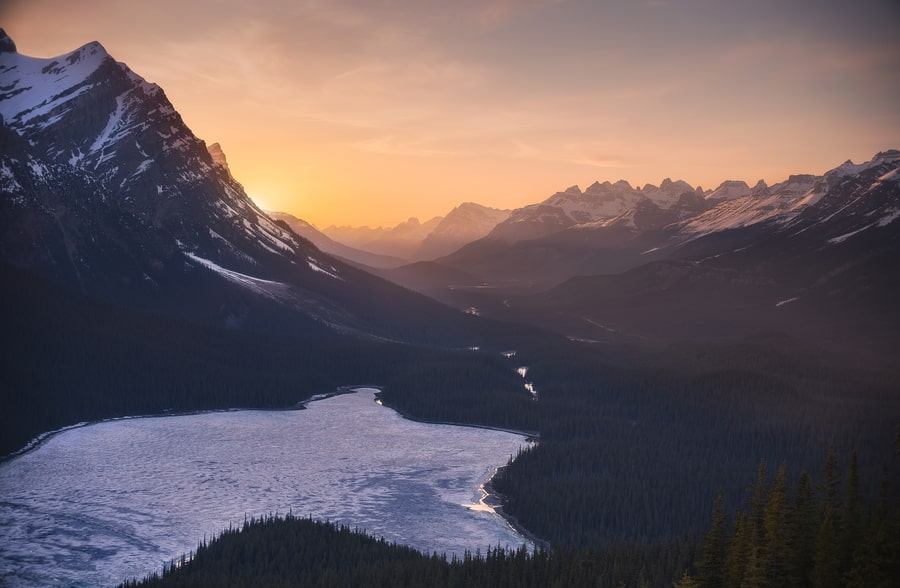 If you are worried about how much can take a travel to Canada, we will try to answer all your questions in this post. You will find below our break down of prices of our Canada trip. Let's start with our Canada travel budget guide!
COST BREAKDOWN – Canadian Rockies budget guide
Keep in mind that what we show in this section is information relative to what we spent in our 15-day Canadian Rockies trip in May of 2017.
ANTICIPATED SPENDINGS
These are all costs we took before our Canadian Rockies trip.
HOW MUCH do the flights to the Canadian Rockies COST?
As always this section is just a rough idea. Please, check yourself the prices of flights to Canada because they change depending on the time of year and the place of departure. However, it is an essential element to know how much a Canada trip costs.
We booked our flights 3 months before our trip since we explain on our guide on how to find cheap flights. Dani set out from Madrid and I did from Philadelphia. Our adventure started in May at the Vancouver airport.
Madrid – Vancouver round-trip flight = € 750
Philadelphia – Vancouver round-trip flight = € 310
We must also consider the flights we took to go from Vancouver to Calgary and return. Calgary is the closest airport to the Canadian Rockies.
Vancouver – Calgary flight = 114 € / person
Calgary – Vancouver flight = € 177 / person
Total flight expenses = € 821 / person approximately
HOW MUCH DOES THE CANADA VISA COST?
As we told you in the Guide to travel to the Canadian Rockies, we do not need a visa but an electronic travel authorization. The price of the eTA was around €18.
To apply it, you can visit this iVisa.
Visa expenses = €18 / person
HOW MUCH DOES the Canadian TRAVEL INSURANCE COST?
It is very advisable to purchase travel insurance for Canada. From my experience, Heymondo is one of the most reliable travel insurance providers and the one I recommend for your trip to Canada. We currently have an annual multi-trip insurance policy, since in addition to traveling for pleasure, we travel a lot for work and it compensates us.

5% OFF your travel insurance
Total expenses in travel insurance = 65 € / person
HOW MUCH DOES THE DISCOVERY PASS COST?
If you are going to visit more than one Canadian Rocky Mountain National Park, we recommend that you buy a Discovery Pass. This pass will allow you to enter into a lot of parks and other places by free.
In 2017, as it was the 150th anniversary of the Canadian Confederation, the pass was free. However, the actual price is CAD $ 136 for a group of up to 7 people who access the parks in a single vehicle (€ 94). You can buy it online here.
Total Discovery Pass costs = € 94 vehicle = € 47 / person for a two-person trip
HOW MUCH DOES renting a car in Canada cost?
The rental car is an important expense in Canada since they are not usually cheap. We paid € 640 for renting a car 13 days + full coverage insurance. Remember to carry a credit card since debit cards are not allowed to rent cars.
Total rental car costs = € 640 per rental car = € 320 / person for a two-person trip
booked ACCOMMODATIONS
For most of the trip, we stayed in campsites without prior reservation. We will break down the prices of campsites in Canada in the following section.
However, there were 5 nights in which we booked accommodation.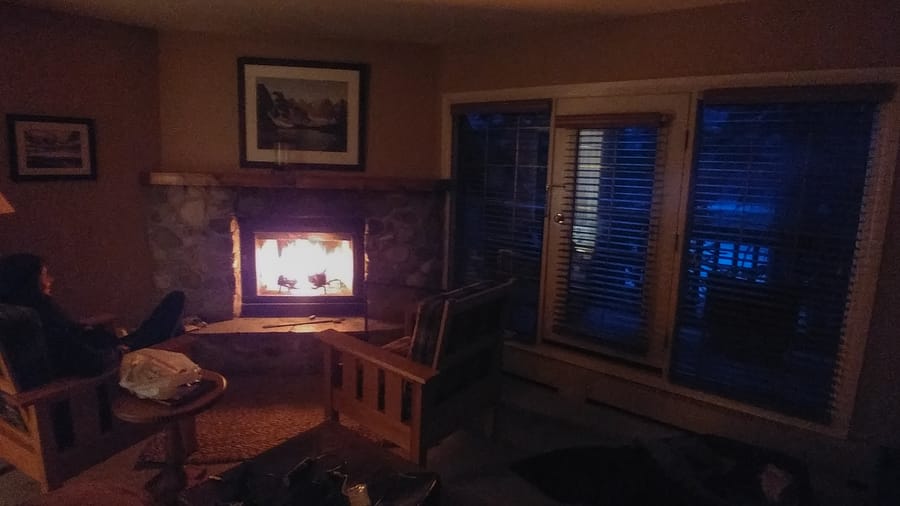 Three nights in Vancouver (where camping was not an option) and two nights in the Canadian Rockies.
We found the accommodation in Vancouver through Airbnb. The price per night was € 67. If you haven't an account yet, you can check here how to join to Airbnb with a coupon code for the first booking.
During those two nights in the Rocky Mountains, we stayed in classic famous lodges instead of campings. The prices were:
Emerald Lake Lodge: The price was € 200 per one night. (It was worth paying since it is one of the best Northern Lights hotels in Canada).
Sunwapta Falls Rocky Mountain Lodge: The price was € 125 per one night.
Total expenses for 5 nights of booked accommodation = 67×3 + 200 + 125 = € 520 = € 260 per person
EXPENSES DURING THE TRIP – ESTIMATED TRAVEL BUDGET TO CANADA IN 15 DAYS
Once in the Canadian Rockies, we had the following expenses outlined below:
HOW MUCH DOES THE CAMPINGS COST in Canada?
We stayed in camping without any previous booking most nights. One night we stayed in a shared cabin with 12 beds and another night, the one that we saw the northern lights, we spent the night outdoors under the display of lights of the Aurora Borealis and took a little nap in the car the next morning.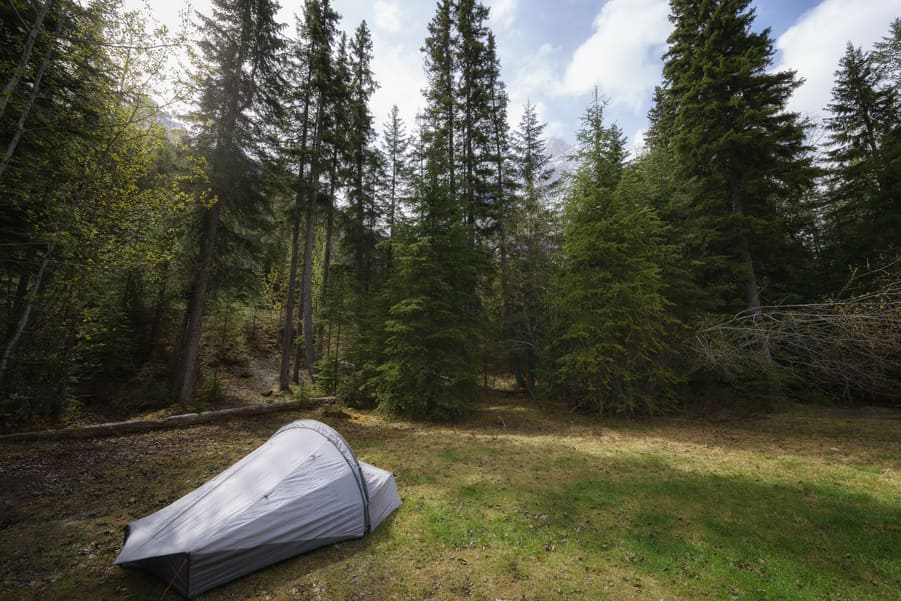 As for the prices we paid:
Two Jack Lake Campground – Banff (2 nights) = € 24 / night
Kicking Horse Campground – Yoho (2 nights) = € 18 / night
HI-Mosquito Creek Hostel with 12 beds – Banff (1 night) = 27.98 € / per night and bed
Wapiti Campground – Jasper (3 nights) = € 19 / night
Lake Louise Campground – Banff (1 night) = € 18 / night
Dancing with Aurora all night long = Priceless!
Total expenses for accommodation for 9 nights without reservation = 24×2 + 18×2 + 28×2 + 19×3 + 18 = € 215 = € 108 / person
How much does it cost to eat in the canadian rockies?
Eating in the Canadian Rockies can be very expensive or very cheap and it only depends on you.
We ate most of the time what we cooked with a Campingaz. We made a first big purchase in a mountain equipment store where apart from buying the Jetboil and the fuel we bought dehydrated food: rice, pasta, soups, quinoa … etc.
We also bought more food throughout the trip in supermarkets. In total we spend € 500 although this price also includes the Jetboil + fuel (€ 90), mat (€ 30), spray anti bears (€ 50), wax and wood for fires (20 €), water bottles (€ 10) and reusable plastic cutlery (€ 5). We have used this in all of our trips since then.
Eating in restaurants in Canada is very expensive. However, we also indulged ourselves. For example one night we had dinner at Emerald lodge with a price of € 55 for two people. We had breakfast twice in the same place and another in Sunwapta Falls Lodge for € 30 for two people each time.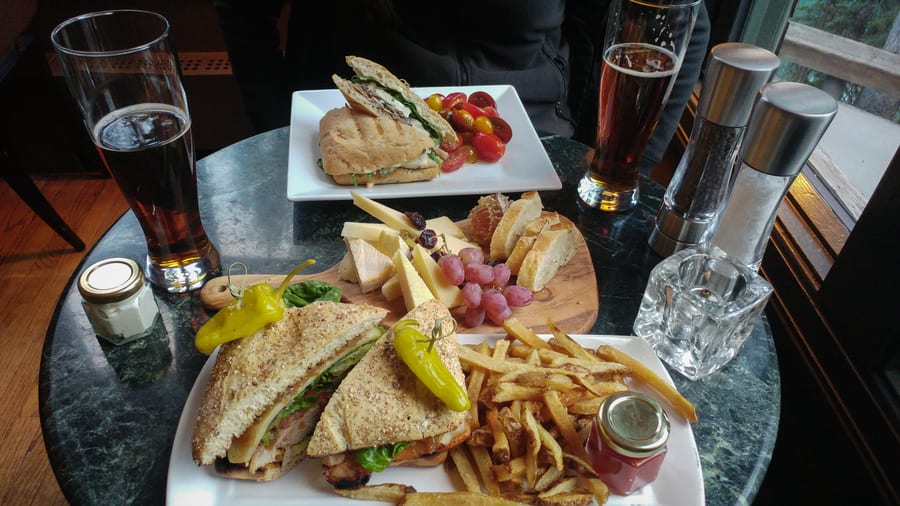 Of course, if we hadn't bought the Campingaz we would have spent much more.
In total, we spend on diets (including beer, ice cream, and other treats) € 850.
Total expenses in diets = € 850 / total = € 425 / person
Fuel
The gas price in Canada is cheaper than most of the western countries. This is great when it comes to reducing your travel budget to Canada. Many miles are driven on a road trip, so cheap gasoline is the perfect match for a road trip !
Total expenses in gas = € 96 / car = € 48 / person
OTHER ACTIVITIES
Once you have the Discovery Pass everything else is free. The only activity where we spent money was in the Whale sighting in Vancouver = € 90 / person
We carried 260 € in cash that we spent in souvenirs, transportation in Vancouver (taxi, bus and metro), some restaurants and other activities that we payed in cash like this:
Kayak in Emerald Lake: CAD$ 60 / hour = € 20 / person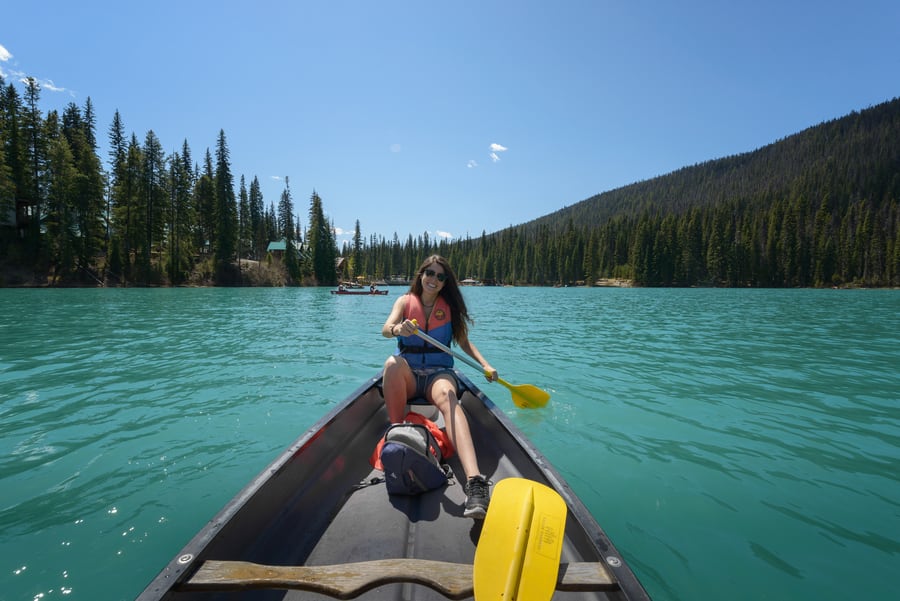 Total expenses in other activities = € 220 / person
TOTAL 15-DAY trip to CANADA Budget: ROCKY MOUNTAINS + VANCOUVER = € 2400 PER PERSON
However, keep always in mind that this budget depends on the type of trip you are preparing. With this guide you can just make an idea and make a rough estimate of your own travel budget to Canada. Take for granted, of course, that it is worth visiting the Canadian Rocky Mountains, whatever your budget is.