If you are planning your next vacation and you have found out about Airbnb, a platform where you can find private holiday accommodation, you might have some doubts about how it works and might be interested in reading Airbnb reviews.
We have used Airbnb quite a few times, especially before we knew how to get cheap hotels, or when, in certain circumstances, we prefer to stay in an apartment rather than a hotel. So in this guide, I am going to explain everything you need to know about how Airbnb works. Also, if it's your first time using this platform, you can get an Airbnb coupon here.

I will also give you the best tips so that when you look for accommodation on Airbnb, you will get a good place to stay and, above all, an Airbnb host that makes you feel at home. Plus, using the Airbnb discount code will make your trip even better because you'll be saving money.
In this guide you will find:
What is Airbnb?
Airbnb is a platform that matches owners of rooms, apartments, flats, or houses with guests who need temporary accommodation. This type of accommodation can be reserved for one or several days or even weeks or months. In other words, it's a platform designed, above all, for finding a place to stay for vacations/holidays, although it's also possible to find long-term Airbnb accommodations.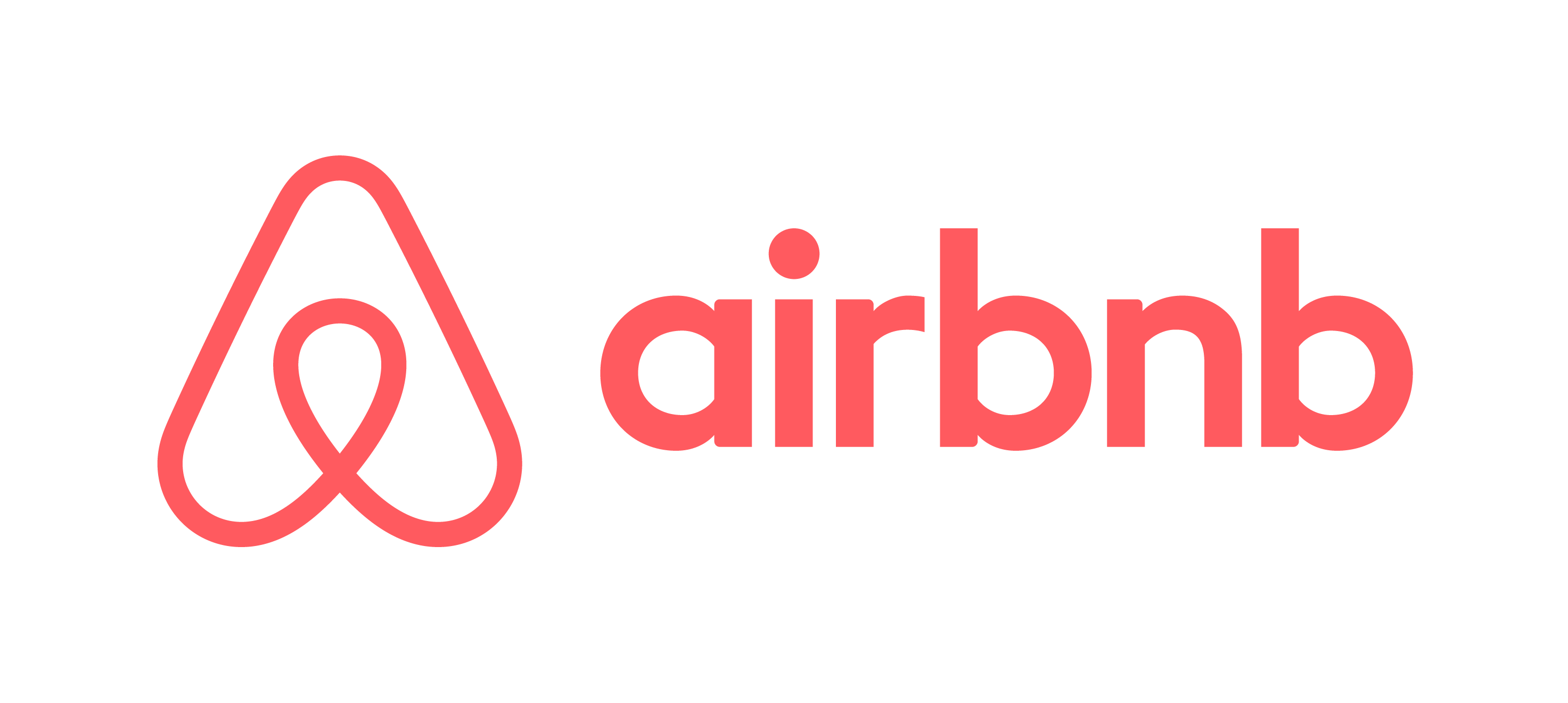 Within this great platform that is Airbnb, there are three basic pillars, the hosts, who are the owners of the houses; guests, who are seeking temporary accommodation; and Airbnb, which is the intermediary that connects hosts and guests through its online platform or mobile app.
Nowadays, you can find accommodation almost anywhere in the world thanks to Airbnb. For this reason, it has become one of the most popular accommodation booking platforms among travelers. Now that you know what is Airbnb, I'll remind you that you can get an Airbnb discount for being a Capture the Atlas reader here.
How to get an Airbnb coupon
Before you find interesting accommodation on the platform, register on Airbnb through this link to get your Airbnb discount code for your first stay.
To get your Airbnb coupon, you will have to register through the link above, and the credit that you can use on your next reservation will be automatically added to your new account. Do you see how easy it is to register on Airbnb? In case you have any doubts, below I explain all the steps you need to follow to sign up for Airbnb with a discount for new users.
How to sign up for Airbnb with a discount code
To sign up on Airbnb with a promo code, you will have to do so by clicking here and clicking "Claim your credit." The site will give you three options: Follow with Facebook, Follow with Google, or Sign up with your email. Choose the option that works best for you.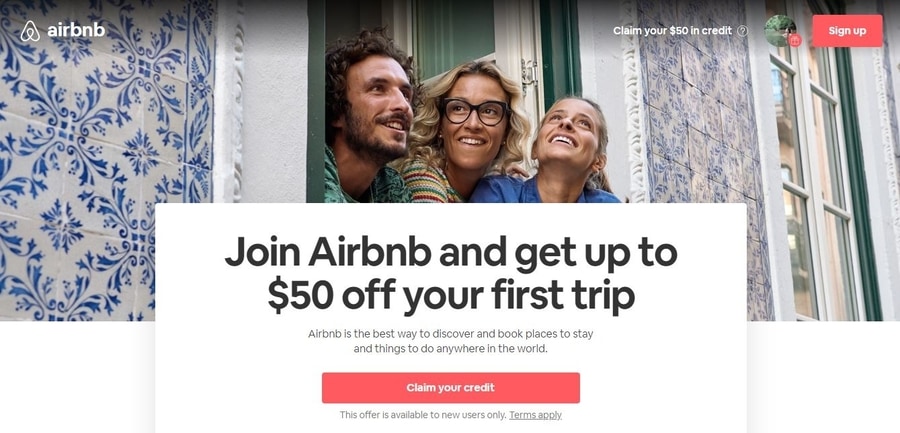 The next step will be to complete all the basic data. Once the form is completed, click on "Sign up," and you will receive a confirmation email. You will have to click on the link in the email to confirm your Airbnb account. This link will take you to the Airbnb website again, where you can start looking for accommodation for your next vacation. If you have registered through the link I gave you, you will have received a discount coupon on Airbnb that you can spend on your first stay.
Then, fill in as much information as possible on your profile so that the hosts can get to know and trust you. A profile that is practically empty or is missing information can make hosts distrustful, so they may not accept your reservation, especially if it is your first Airbnb reservation and you don't have any reviews. Uploading a decent profile picture also helps you get accepted into more accommodations.
How to use an Airbnb coupon code
The Airbnb discount coupon you have expires in one year, so the first reservation will have to be made within the next 12 months or you will lose that credit.
Using the credit is very simple; you just have to click on "Apply coupon" when you choose the payment method. This option is just below. You then enter the code and click "Apply". Then you will see that this amount is automatically discounted from the total you have to pay. As you can see, using the Airbnb discount is quick and easy.
How Airbnb works
If you don't know how Airbnb works but you want to use it to find accommodation, I will explain how it works step by step so you don't have any problems.
The first thing you have to do is log in to the platform. If you have already signed up and completed all your information, you will only have to indicate the place you are traveling to, the dates of your trip, and the number of travelers. Then you will see all the accommodations that are available in that place for your dates and that are suitable for the number of guests.
Once you have chosen your accommodation, the reservation process is very simple and similar to what you would find on any hotel search engine. You may be asked for some personal information, and you will also have to enter a payment method. Then, you just have to wait for the host to accept your reservation. You can check the status of your reservation from "My account" on Airbnb at any time.
I admit that the most difficult thing is choosing the accommodation, since the reservation process is quite simple and fast. Also, it's very intuitive.
How to use search filters in Airbnb to find a good accommodation
Depending on where you travel, you will find many accommodations on Airbnb, and choosing one can be quite difficult. In this case, I advise you to use Airbnb filters.
In addition to the place, dates, and number of guests, Airbnb offers some filters that can make your search much easier. You can filter by room type, by price range, by instant book, by the number of rooms and beds, by amenities, by facilities, by accessibility, by neighborhoods, and even by the language of the host.
I always use the room type filter, so I can check if I want to rent an apartment, a house or just a room in Airbnb; the price range, to find accommodation that fits my budget; and depending on the trip, I might try looking for an apartment with a Jacuzzi on Airbnb or with a fireplace if I'm planning a winter getaway.
The Airbnb map is also very useful, since you will be able to find accommodation near the places you want to visit, especially if you are going to be there for a few days and want to make the most of your time.
I advise you to use these filters, as they are, without a doubt, the fastest and best way to find your ideal Airbnb accommodation.
How to book in Airbnb
If you don't know how to book with Airbnb I assure you that it is very simple, fast, and intuitive. Once you've found an Airbnb accommodation that you like, it's time to see if it is a good place to stay.
In addition to reviewing the photos of the property, carefully read the information that the host has written about the accommodation and the house rules. Also, check the included amenities. Do not assume that a house has a bathroom or a washing machine, for example. You will have to check.
Then, read the Airbnb reviews of other travelers who have stayed there. This is the best way to know if that accommodation is right for you. If you have any questions, you can also contact the host before requesting a reservation.
Have you found the Airbnb of your dreams? Then check that the dates are correct and hit "Reserve." If it isn't an instant book, you will have to write a few sentences to the host along the lines of "who are you and what are you going to do at his/her house," or "why are you traveling to that place." It isn't necessary to enter in details. I just usually tell them my name and the name of the person I'm traveling with and say that I want to stay at their house to visit Palermo, to give you an example. Once this is done, you will have to wait for the confirmation from the Airbnb host, which usually doesn't take more than a day.
Payment and expected fees on Airbnb
One of the things I don't like about Airbnb is that, depending on your country and currency, the prices you see when selecting your accommodation sometimes don't include the cleaning fee and taxes until you go to the payment page. If you pay in dollars, the cleaning fee may not be included and will considerably increase your bill.
The Airbnb commissions are split between what it charges the guest and the host. It's always calculated from the subtotal of the reservation and is usually 3% for the vast majority of hosts.
The guests, meanwhile, tend to pay a fee to Airbnb that's less than 14%, also calculated from the reservation subtotal, which is the price per night plus cleaning fee and charges for additional guests included.
However, you will never see the commission that Airbnb is charging the host or you, since the Airbnb commission is always integrated into the price of the accommodation. If, once you see the total cost of your accommodation on Airbnb, it's more expensive than what you are willing to pay, you can always back down and not formalize the Airbnb reservation.
If you decide to go ahead, payments on Airbnb can be made in different ways depending on the country in which the payment account is located. You will never have a problem if you pay by credit, debit, or prepaid card, as they are accepted anywhere in the world.
In certain countries, they accept payments through Apple Pay, Google Pay, and Paypal.
Airbnb Cancellation Policies
There are several cancellations policies on Airbnb for guests. My advice is, before booking, to look at the cancellation policy of the specific accommodation.
If your Airbnb has flexible cancellation, you can cancel free of charge up to 24 hours before arrival. If you cancel later, you will have to pay the price of the first night only, and if you decide to leave the accommodation early, you will be reimbursed the price of the nights you haven't uses. It is, without a doubt, the best cancellation policy on Airbnb you can find.
The moderate one allows you to cancel up to 5 days before arrival without costs; if you cancel later, you will have to pay the full price of the first night and you will only receive 50% of the price per night for the rest of the nights. The same applies in case you decide to leave early.
There is also a strict cancellation policy on Airbnb. In this case, you can only cancel without costs for the next 48 hours after making the reservation. If you cancel later and up to 7 days before your arrival, you will receive a refund of 50% of the price per night. If you cancel the reservation less than 7 days in advance, you won't be refunded.
Then there are special cases; if your reservation is for a long stay of 28 nights or more, and you want to receive a full refund, you will have to cancel at least 28 days before your arrival. If not, you will have to pay the first month of the reservation in full.
Finally, there are also the 30-day and 60-day Super strict cancellation policies. In these cases, the cancellation has to be made 30 or 60 days before, respectively, to receive 50% of the price per night from that date, or you won't be refunded.
FLEXIBLE
MODERATE
STRICT
LONG TERM
STRICT 30 DAYS
STRICT 60 DAYS
My advice is to look at the conditions of that accommodation and decide, according to its cancellation policy, whether it is worth taking the risk or not, especially if it isn't flexible. Usually, the cheapest Airbnbs are the ones with the strictest cancellation policies.
How safe is Airbnb?
Airbnb is reliable. I have never had any problems with Airbnb. Yes, booking with individuals instead of companies can indeed create a bit of uneasiness at first, but since everything is managed through the platform, it makes it safe. In the end, you have a company behind the reservation that responds in case there are any problems or incidents.
Regardless of whether the experience in an accommodation booked through Airbnb is as expected, Airbnb is safe. They will not charge you more or less, and they make sure you have accommodation at the destination, even if the host doesn't show up, as I will tell you later.
advantages of Airbnb
One of the main advantages of Airbnb is that it can be much cheaper than a hotel depending on the places you are traveling to. Anyway, if Airbnb doesn't appeal to you as a platform or you have not found an interesting accommodation, I encourage you to read our guide on how to get cheap hotels.
I also highly appreciate the wide variety of accommodation on the platform, since you can rent everything from a room to an entire apartment or house almost anywhere in the world.
In addition, it gives me security, since Airbnb acts as an intermediary for payments, which gives me a lot of confidence. Something I also appreciate is that if the host doesn't show up or they cancel the reservation at the last minute, Airbnb looks for an accommodation with similar or superior characteristics so that you have somewhere to stay.
What is the Airbnb app for?
The Airbnb application allows you to do exactly the same things as the desktop version. It's free and available for all operating systems, making it an excellent tool for finding accommodation anytime, anywhere.
With the Airbnb app, you can search for accommodation for your next vacation and book it quickly and easily. Plus, it also lets you save your favorite accommodations so you can decide which one to book later, contact the host, and read and post reviews. There is practically no difference from the Airbnb website, except for the visuals.
However, what I like most about it is being able to find the address of your accommodation quickly when you are already at the destination. Logging into the web from your phone can be difficult, so if you forgot to write down the address before you started your trip, it's a good thing to download the Airbnb app.
Problems with Airbnb – How to contact Airbnb
No platform is perfect, so you may have problems with Airbnb at some point. In this case, I advise you to contact the platform directly and explain the issue so that they can give you a solution as soon as possible.
Moreover, contact them if you have tried to solve a problem with the host and you haven't had an answer or you haven't reached an agreement. In that case, it is best to contact Airbnb.
How to cancel a reservation in Airbnb
Canceling an Airbnb booking is simple and fast. You will have to log in and go to "My trips" on Airbnb and click on the reservation you want to cancel. When the page with all the information about that reservation opens, scroll down and click on "Modify," if you only want to make changes, or "Cancel" if you want to cancel it completely. Airbnb will ask you to confirm that you want to cancel the reservation; click "Yes" and that's it. You will receive an email confirming the cancellation.
Depending on the payment method used, the refund may take around 10 days as long as you are entitled to it according to the cancellation policy of that reservation.
What to do if the Airbnb host cancels the reservation at the last minute
When an Airbnb host cancels the reservation, the guest automatically receives a full refund. But when the cancellation occurs 24 hours before or the host simply doesn't show up and you are already at the destination, you have to contact Airbnb.
Airbnb will give you two options: refunding your money so that you can find accommodation yourself, or booking you one that is similar or superior to the one you paid for.
From experience, I tell you that this is very, very rare. I have stayed in over 30 different Airbnbs and have never experienced a host not showing up.
How to make a claim with Airbnb
If your experience has been negative and you want to make a claim with Airbnb, you will have to contact the platform from your user profile.
You will have to log in and go to the Help Center to contact them or call the Airbnb phone number +1-415-798-2174 or +1-877-532-2356 for USA or +44 203 318 1111 for UK if you want to receive personalized attention.
How to contact Airbnb
To contact Airbnb, you will have to log in and go to the Help Center, at the bottom right of the website, although the fastest way to contact them is by phone: +1-415-798-2174 or +1-877-532-2356 for USA or +44 203 318 1111 for UK.
Please note that, depending on your country, the Airbnb support phone number changes, as well as the other forms of contact (Airbnb chat, contact form, phone, etc.).
With the Airbnb phone number, you can quickly contact them to solve the problem.
How to deactivate or delete an Airbnb account
If you want to delete your account on Airbnb or deactivate it, you will have to log in and go to "Manage account." Airbnb will verify your identity for security reasons before deleting or deactivating the account and will automatically cancel all confirmed reservations regardless of whether you are a host or a guest.
If you choose to delete your Airbnb account, this action is irreversible and all your data will be automatically deleted. So, if in the future you want to rebook with Airbnb, you will have to create a new account. Here is an Airbnb coupon to save on your first booking!
If, instead of deleting, you decide to deactivate your Airbnb account, it will be hidden, but you can recover it in the future.
Airbnb reviews
As I have told you, I have used Airbnb on many occasions and have had both good and bad experiences, although the positive ones far outweigh the bad ones. To make sure you get a real idea of what this platform is like, I'll tell you Airbnb opinions from both myself and my friends and family.
Before, however, I want to give you some advice. Always read the Airbnb reviews of other travelers and trust, especially, accommodation and hosts that have enough positive reviews.
Renting a room on Airbnb – My experience
Renting a room on Airbnb is the cheapest option, but also the riskiest, because it can go very well or very badly.
On my trip to Cuba, I decided to book a room in Havana with Airbnb and I met a truly wonderful host. Upon arrival, she offered me a fresh drink and suggested places to see and eat. She even told me a little about the history of the city, its customs, and lifestyle. I was delighted. Renting a room on Airbnb was a success that time.
But I have also had negative experiences. For example, when I booked a room on Airbnb in an apartment with children in Iceland. Children don't bother me, but they entered the room, left toys on the floor, and made a lot of noise. That was not a good experience with Airbnb because I had no privacy and I couldn't rest well either. But it wasn't a big deal.
However, my brother, for example, had a really bad experience with Airbnb. He rented a room in Tenerife, in an apartment where many people lived. They were constantly partying and making noise. Also, as he told me, the apartment itself wasn't too clean, and he didn't feel comfortable there, so he decided to leave in the middle of the night. This is an extreme situation that I have never experienced, but it's true that if you search, you will find bad Airbnb reviews of all kinds.
To save yourself a bad experience, read the other travelers' reviews to get an idea of what you are going to find because sometimes Airbnb deals may not be as nice as they seem. Usually, when I want to rent only one room, I try to get cheap hotels, since I am much more comfortable there than living with strangers, although I have also had very good experiences with Airbnb when renting rooms.
Renting an apartment on Airbnb – My opinion
Renting an apartment on Airbnb is undoubtedly the best option. It's more expensive, but you have privacy, you can enjoy all the facilities without problems, and you don't have to share anything. This is also no just with apartments; you can also rent a house on Airbnb to have more space, especially if you are traveling as a family or in a group.
Whenever I can, I choose this option because booking the whole accommodation ensures privacy, greater security, and confidence when I am away. Except for one time: I booked an apartment in Bilbao, which turned out to be very different from the photos, since it was smaller than it seemed. It was dirty, the door didn't close well, and for the whole day, I had to smell what was cooking in the restaurant just below. However, the rest of my experiences have been good.
I definitely advise you to book an apartment or a house on Airbnb, since you will be more likely to have a good experience. However, always read the Airbnb reviews of other travelers because they can help you a lot with deciding which accommodation is good for you.
Long-term Airbnb rentals – My experience
On two occasions, I opted to rent long-term apartments on Airbnb. The first was when I moved to the USA, during the first three months, while I found an apartment to live in permanently. By opting for a long-stay Airbnb, I was able to save quite a bit of money compared to staying in a hotel, and I also had more flexibility compared to renting an apartment with a one-year commitment as is usual here.
The second time was for a month, also in the US, because my lease contract was about to expire and they wanted me to renew it for another 12 months. As I wasn't sure if I was going to continue living in that area or not, due to my job, I decided to rent an apartment on Airbnb until I knew exactly which area I wanted to live in permanently.
Both times my experiences were good, and it was great because I saved a lot of money, which gave me a lot of flexibility to find an apartment to live in. The best thing about Airbnb is that you can find long stay deals on Airbnb.
Airbnb FAQS
Here are the most common questions I receive about what Airbnb is and how it works.
And that is all. I hope you know how Airbnb works now and can see how safe Airbnb is, just as much as if you were staying in a hotel. Airbnb has many advantages: it allows you to interact with locals, get cheap Airbnbs, stay in places where there aren't many hotels, rent full apartments on Airbnb… In short, a lot of options, so if you haven't used the platform yet, don't think twice, and save with this Airbnb coupon.

And remember: a good photographer can do wonders for even the worst accommodations, but there is no way to cheat on Airbnb's reviews, so trust what other travelers tell you.
Good luck with staying at your next Airbnb!