Visiting Yoho National Park (British Columbia, Canada) means discovering all of the Rocky Mountains' magic. Deep blue rivers, roaring waterfalls, and green pines surrounding the lakes – those sceneries are waiting for you.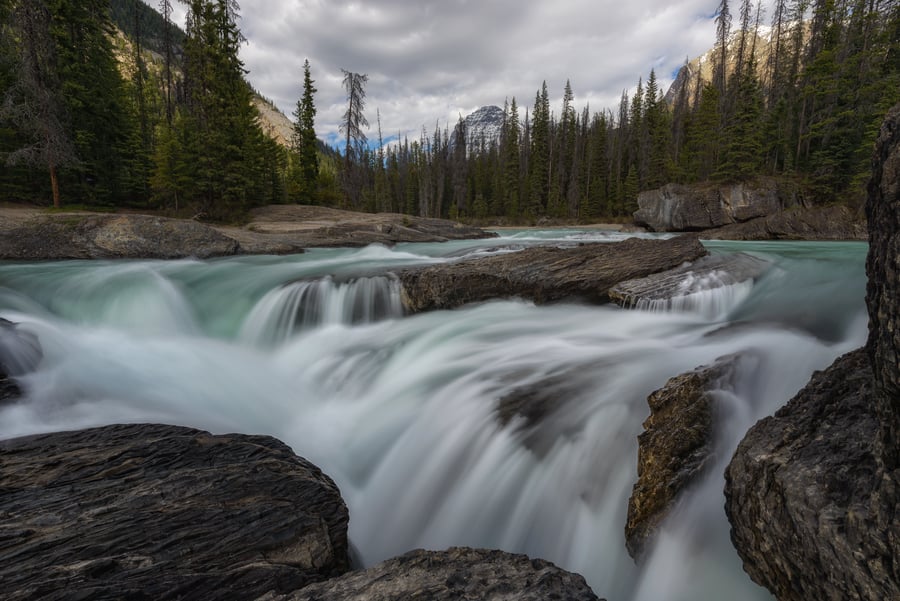 Excuse me if I sound biased while talking about Yoho, but this park gave us so much – unexpectedly, it fulfilled our dream of seeing the Northern Lights in Canada.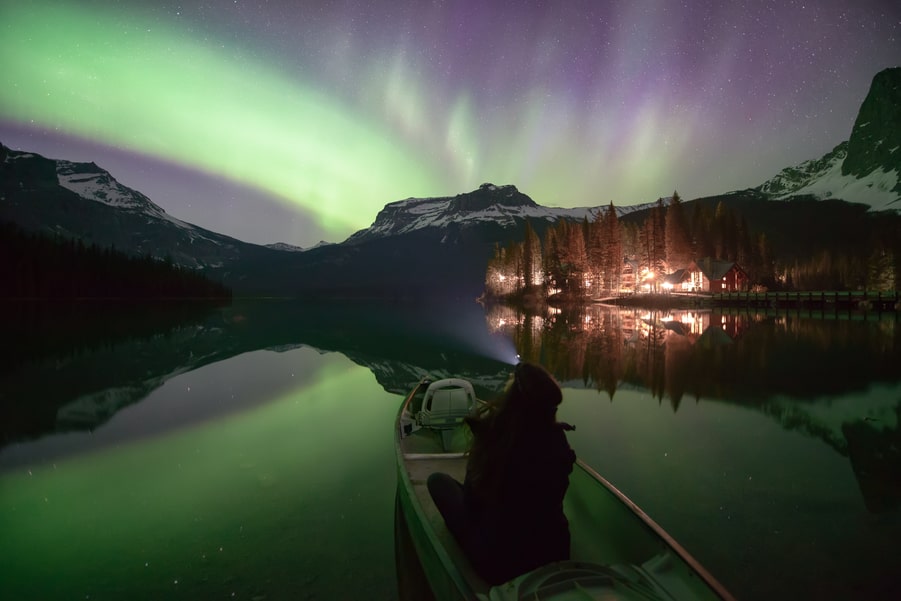 We wrote about how to photograph the Northern Lights in a separate post. In this post, you will find a travel guide of essential things to do in Yoho Canada.
Visiting YOHO NATIONAL PARK – TOURISM IN YOHO
Yoho National Park is the smallest park in the Canadian Rockies. However, it is a must visit per all of the exciting things to do here.
Yoho is in the British Columbia Province, bordering Banff National Park to its east and Kootenay National Park to its south.
Yoho means admiration and astonishment in the language of the Canadian First Nations. Unsurprisingly, it is the main feeling that you will experience during your visit. Waterfalls, turquoise blue lakes, rivers tinted with glacial salts, and trails through the most scenic landscapes are waiting for you.
BEST THINGS TO SEE IN YOHO NATIONAL PARK
Throughout the article, we will see in depth all the important places you can visit in Yoho. Before, and, just to sum up, these are the best things to see in Yoho National Park:
Emerald Lake: One of the most spectacular lakes in the Canadian Rockies famous for the particular turquoise color of its water.
Takakkaw Falls: The second highest waterfall in Western Canada is worth a visit just to see and to hear the impressive roar of its waters.
Lake O'Hara: The jewel of Yoho National Park. This area is essential if you visit this park during the summer.
Burgess Shale: Yoho's best-known geological formation known for its dinosaur fossils.
Field: The town of Field is the largest town located in Yoho. In addition to the Yoho National Park Visitor Center, nearby we can find the historic "Spiral Tunnel", one of the most historic railway works of engineering in the world.
Natural bridge: The waters of the Kicking horse River have shaped an impressive natural bridge with different waterfalls.
Wapta Falls: Hidden in the mountains, the roar of the Wapta waterfall is heard even from a far distance.
Meeting of the rivers: The union of the Kicking horse, the Amiskwi, and the Emerald rivers, offers an impressive natural view where you can see the mix of colors of the three rivers.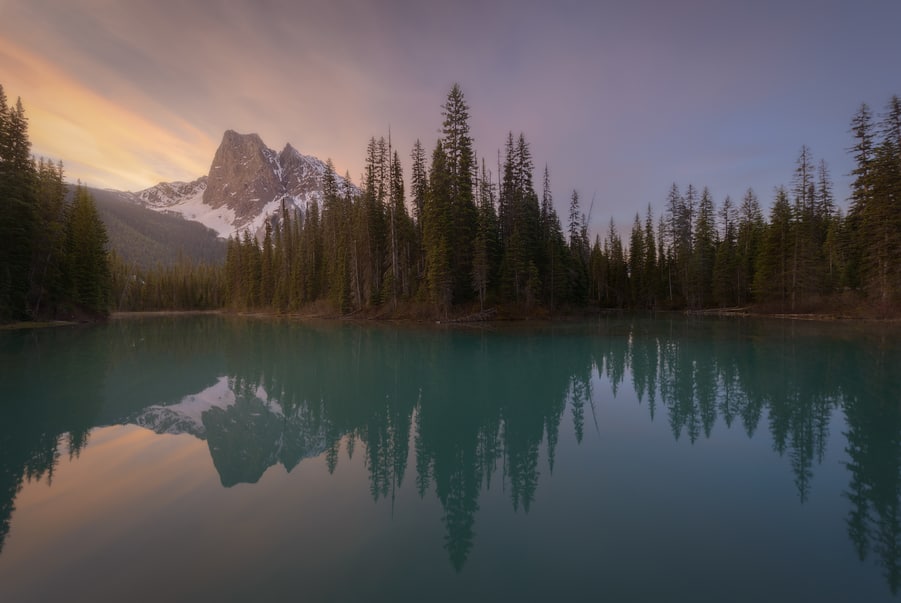 We traveled to the Canadian Rockies for 15 days, and spent 2 of them in this park. As it was May, some of the most important things to do in Yoho National Park were closed due to snow. However, considering all the trails and attractions that will be open during your trip, three days seems more appropriate for a visit to Yoho.
HOW TO GET TO YOHO
There are different ways to get to Yoho, and you will discover some of them in this section.
HOW TO GET TO YOHO FROM CALGARY
The easiest way to get to the Rocky Mountains is by flying to the Calgary airport. To get to Yoho from Calgary, we will have to first cross Banff National Park which takes a total of 2 hours. The typical plan is to fly to Calgary and rent a car or camper to get into the Canadian Rockies.
HOW TO GET TO YOHO FROM VANCOUVER
Another option is to get to Yoho from Vancouver. With this option, you can take a Vancouver Island whale watching tour in addition to all the things to do in Vancouver.
It takes 8 hours by car from Vancouver to Yoho. Since we did not have much time, we took an internal flight between Vancouver and Calgary to shorten travel time.
HOW TO Get TO YOHO FROM BANFF
Yoho and Banff are very close, with the Lake Louise area right in the middle, so you can even stay in one park on the days you are visiting the other. The largest town in Yoho, Field, is only 20 minutes from Lake Louise in Banff. To give you an idea, we stayed in a Yoho campsite while visiting Lake Louise, since there was still too much snow to camp in that area and the campgrounds were still closed.
TOP THINGS TO DO IN YOHO NATIONAL PARK
The things to do in Yoho National Park will change depending on the time of year when you travel.
Many of the main points of interest in Yoho National Park are inaccessible during the winter. Also, these tend to open later than the ones in Banff National Park. In short, if you are traveling during spring, leave Yoho National Park to the end of your trip.
We traveled at the end of May, and unfortunately, there were some activities that we could not do.
Nonetheless, you will find all the essential places you cannot miss in Yoho National Park in this travel guide.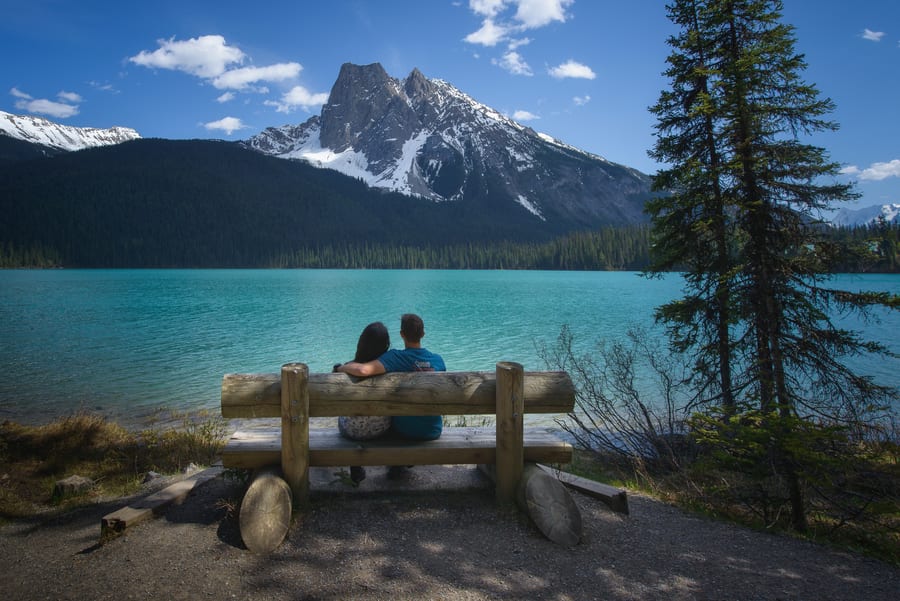 We will especially emphasize on trekking routes that will leave you speechless, and the most photogenic corners within the park. And of course, we will tell you about the places of interest and excursions that you have to do in Yoho National Park.
♦ GUIDE TO YOHO NATIONAL PARK
To structure the information, we will divide the post into four main areas:
Field: Main town of Yoho National Park, highly recommend to stop by at the beginning of your route.
Emerald Lake: Yoho's most impressive lake that you should not miss.
Lake O'Hara: If you travel to Yoho in the summer, you can not miss a visit to this lake.
We will also speak about all of the accommodation we stayed at in Yoho National Park.
Finally, we will give you some tips, some of them are included in the Canadian Rockies post, which I recommend reading before this article.
FIELD
Field is the only major population that we will find in the entire park. It has a gas station, ATM, some restaurants, and most importantly, the Yoho National Park Visitor Center.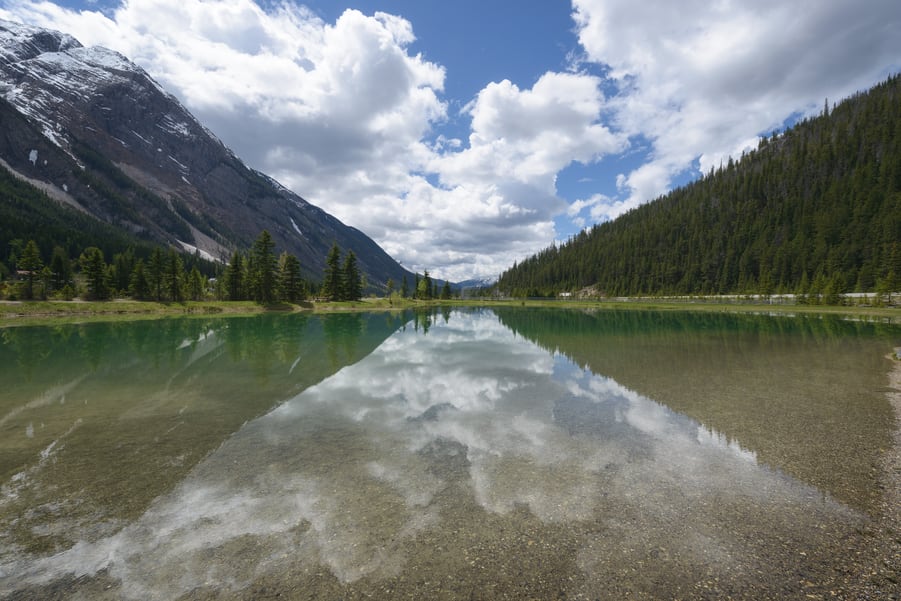 Even if you have the information in advance, it is always useful to get a map to plan your excursions and day hikes. In this information center, they distribute Hiking Guides in Yoho National Park. You can find it attached here.
EMERALD LAKE
Emerald Lake is the most visited point of interest in Yoho National Park, and it is no surprise why. The emerald color of its water is unique in the world.
It also has a wooden cabin resort wholly integrated into the natural landscape. We will talk about the Emerald Lake Lodge in the accommodation section later in this article.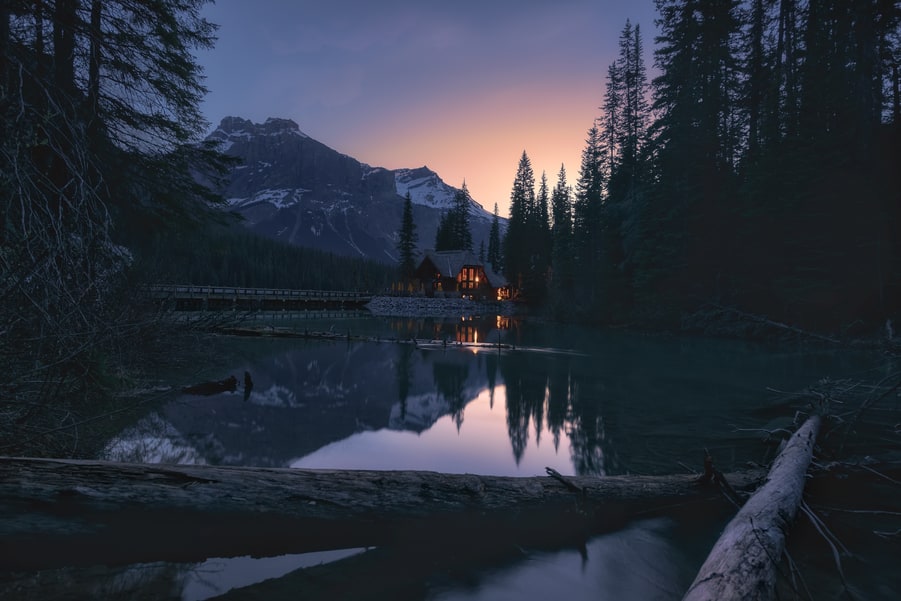 One essential thing to do in Yoho National Park is canoeing in Emerald Lake. You can rent a canoe in the small souvenir shop at the entrance of the resort.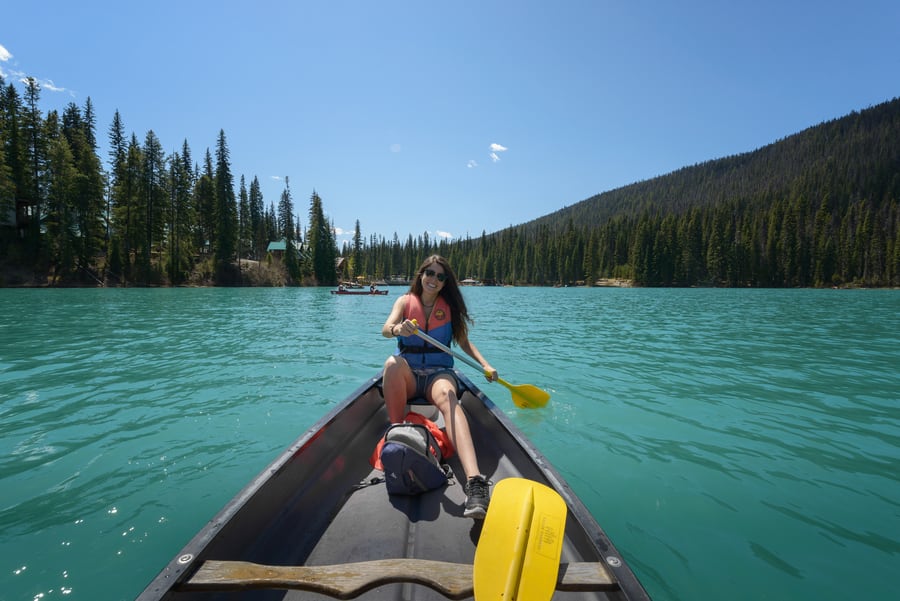 We found the price to be quite expensive – a canoe for two at 60 CAD per hour. However, having the opportunity to explore further is priceless. Of course, canoeing is one of the most important things to do in Yoho.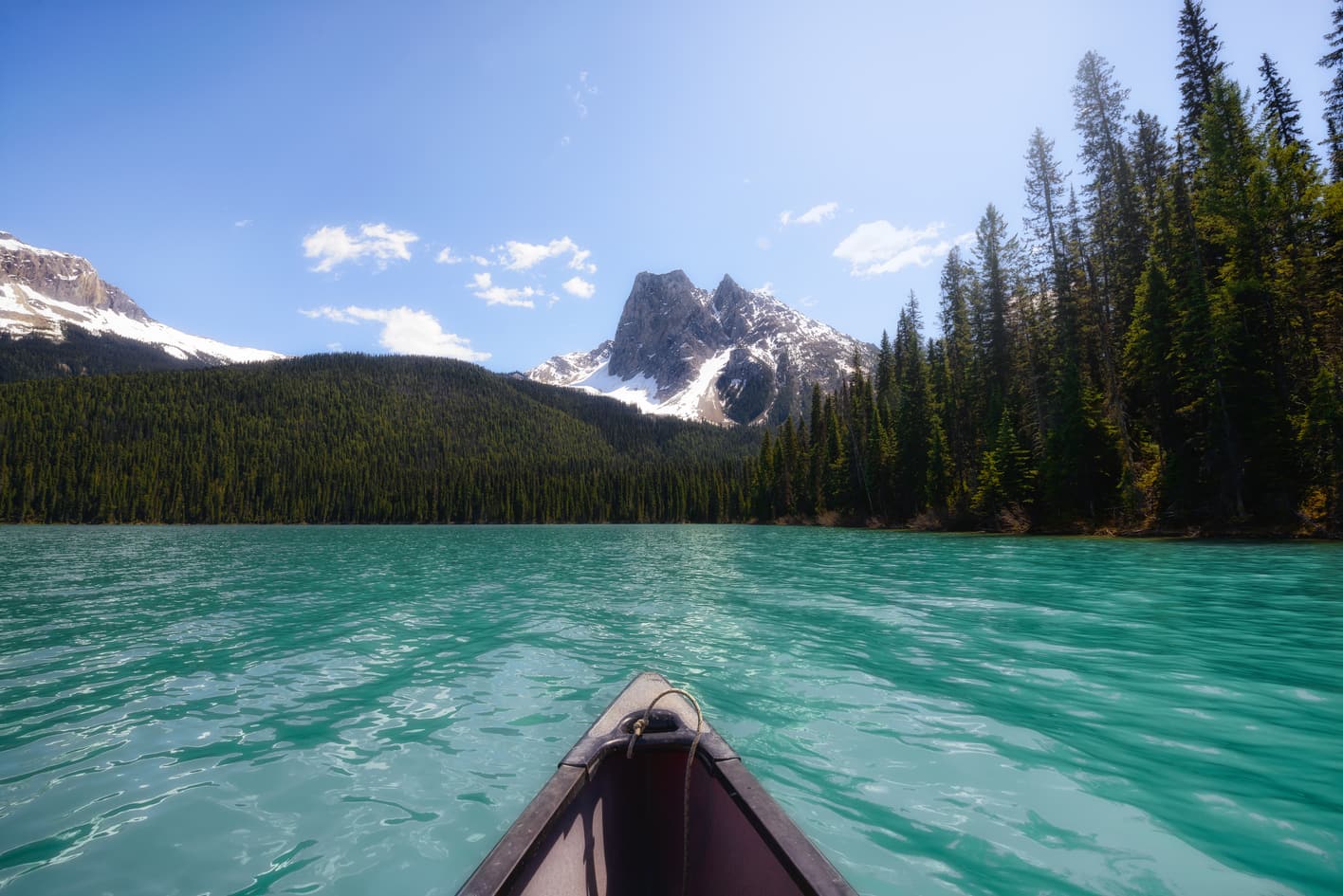 Also, we can walk along the lake through a straightforward 3.1-mile trail that takes about two hours. If you travel in early summer, it is very likely that avalanches take place every year on the left bank, which would then block the trail. During the winter, this area can be dangerous to cross.
We may not be impartial in saying that Emerald Lake is the most beautiful lake in the world, because we had a one in a lifetime experience here seeing the Northern Lights for the first time.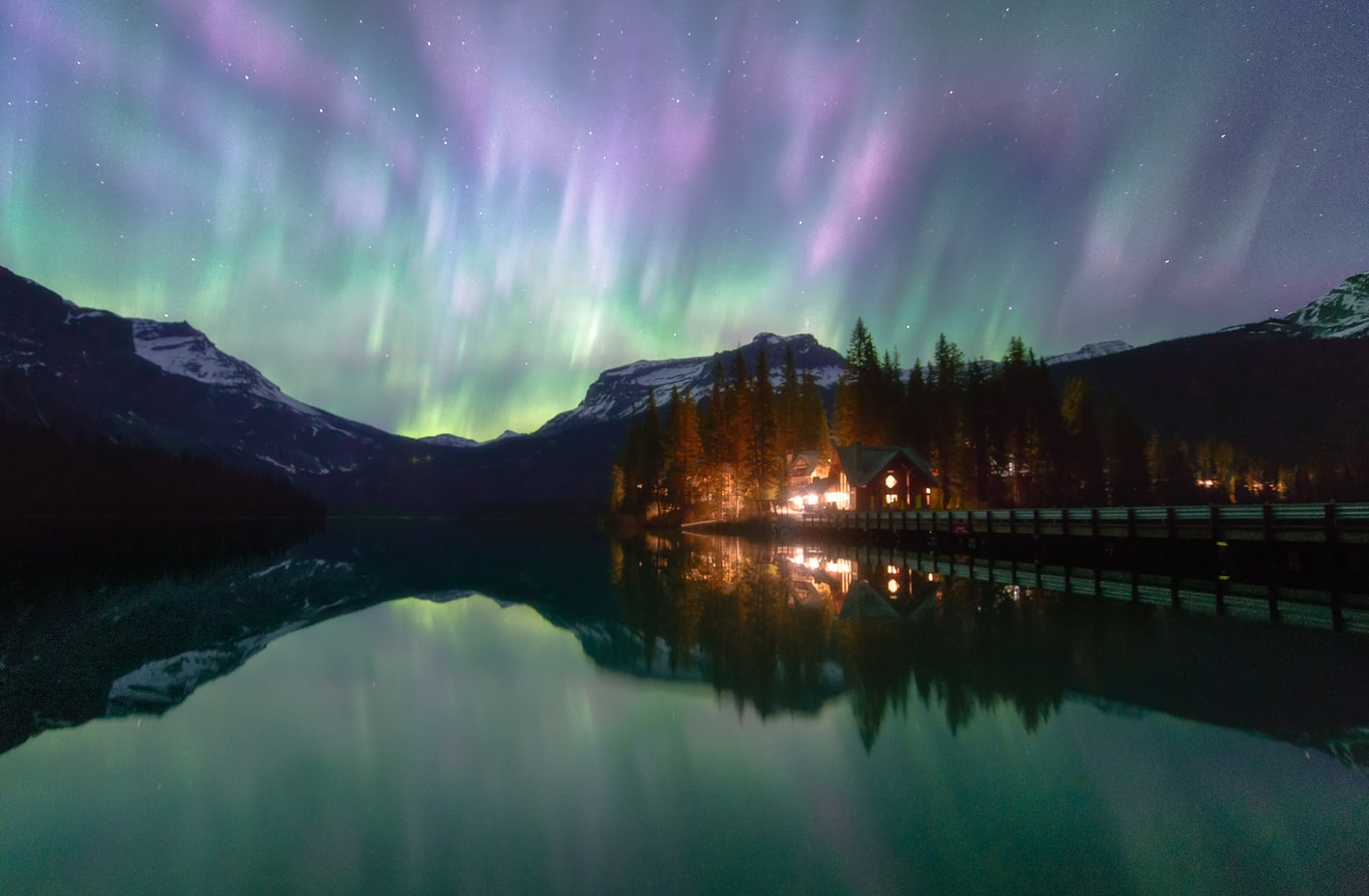 Did you know that you can see Northern Lights in the Canadian Rockies? Don't worry, you're not the only one if you didn't. We've prepared another post to tell you how to see Northern Lights in Canada. We also have a guide to learn how to photograph them.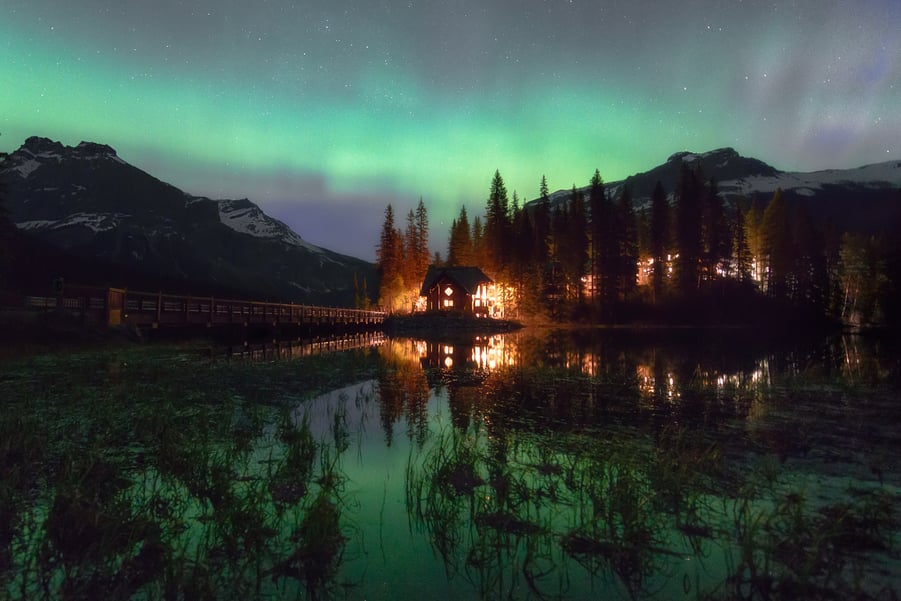 In the following sections, we will speak about other exciting hikes in Yoho that start from this lake.
YOHO LAKE
Yoho Pass, which takes you to Yoho Lake, is one of the most popular trails that starts from Emerald Lake.
The route begins along the left bank of Emerald Lake, crossing the ice tongue of the avalanche.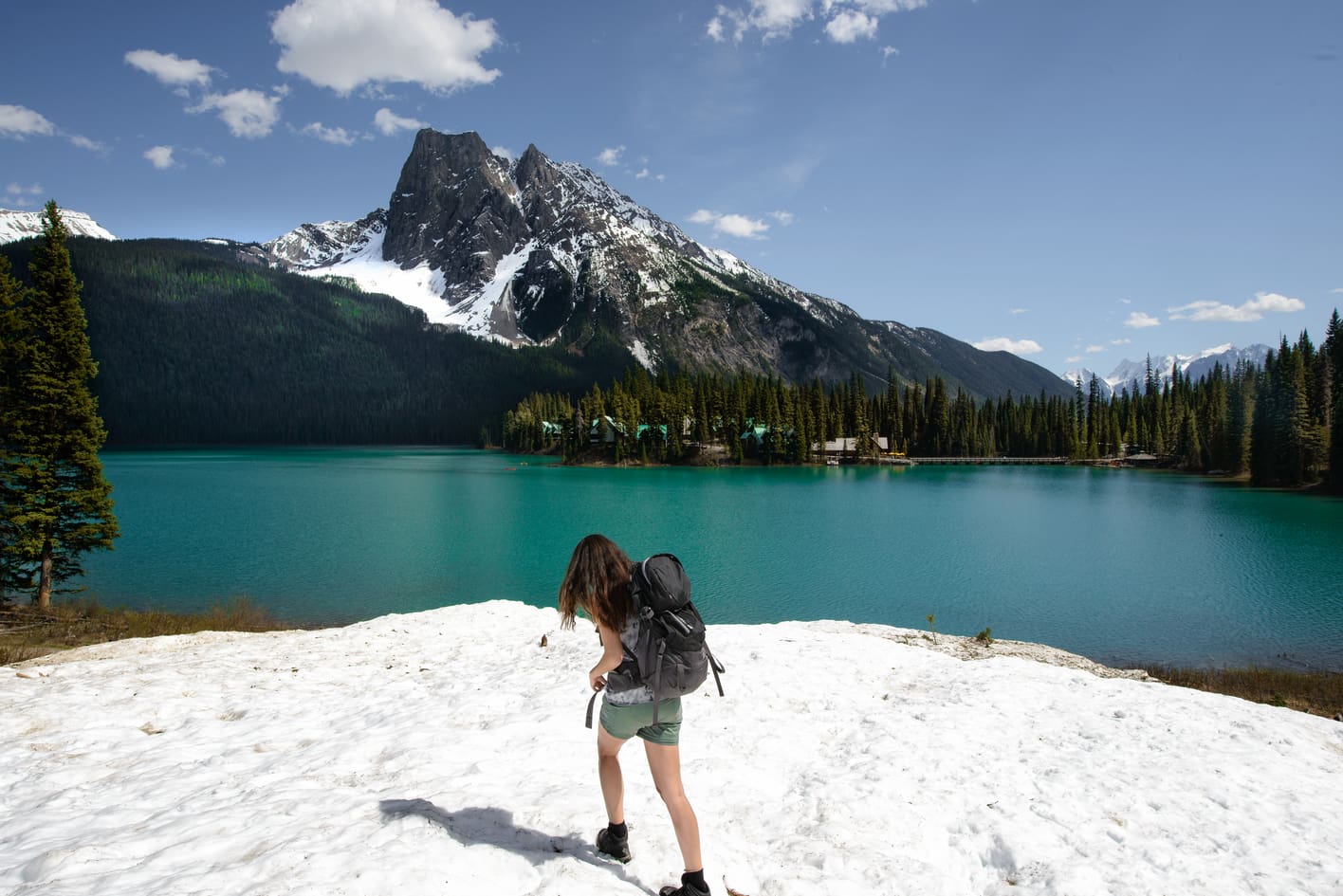 When you get to the other side of the lake, the path, known as Yoho Pass, separates and goes through a plain where we can find small streams and creeks that will flow into the lake. After crossing them, a slight ascent begins and takes you to a small waterfall.
And we leave the Emerald Lake behind us, shining blue among the green pines and beautiful mountains.

From this moment on, the path became quite complicated for us, not because of trail difficulty, but because of the 30+ inches layer of snow on the field. Crampons became very useful for this activity.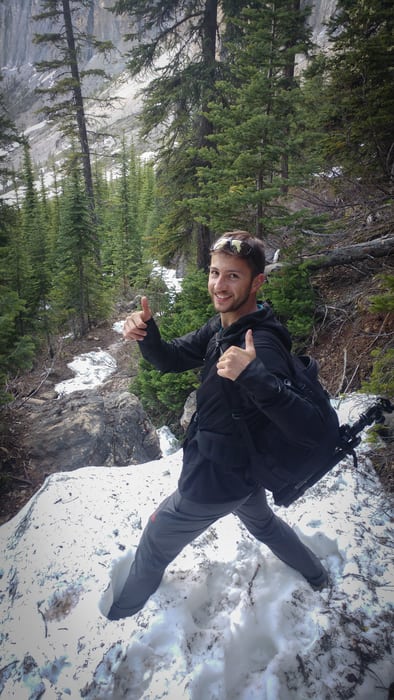 And after a long 3-hour hike, we finally reached Yoho Lake, entirely frozen.

TAKAKKAW FALLS
From Yoho Lake, you can continue on the trail until you reach the Takakkaw falls. It is only a 2-mile trek, however, the layer of snow increased to forty inches, and hiking over that terrain became very exhausting.
Since we started the hike in the afternoon, we didn't have time to return to Emerald Lake before dark if we had continued to the Takakkaw falls. I confess that we were a bit afraid of an encounter with a Grizzly bear, which are quite abundant in Yoho National Park.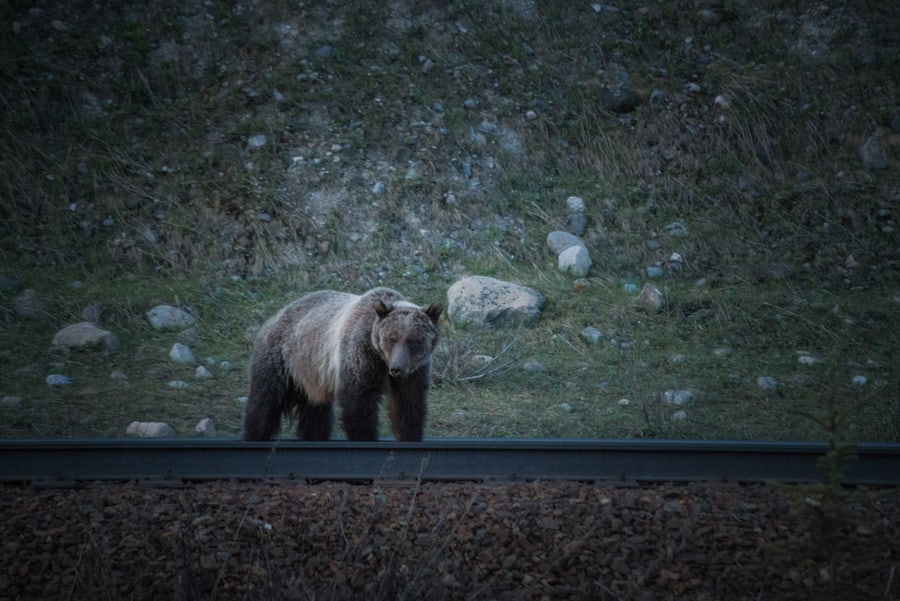 Do not miss our guide to avoiding bear encounters and attacks in Canada.
Whatever the trail you hike, I recommend you always travel with the best international medical insurance. As we travel a lot, we have bought annual travel insurance.

5% OFF your travel insurance
The easiest way to get to this falls is through the Yoho Valley Road. However, this route was also blocked by snow during the late spring. It usually opens from the second half of June.
It is a pity that we could not visit this waterfall since it is one of the essential points of interest in Yoho National Park. For now, it is one of the main reasons for us to be back soon.
BURGESS SHALE
Another activity of interest that you can do in Yoho during summer is to visit the Burgess Shale, one of the most important fossil discoveries on the planet. Not only skeletons were preserved here, but also soft parts of many different creatures.
It is mandatory to visit with guided groups, which operate from the middle of July to September.
There are two main guided routes. The most popular one is the Walcott Quarry, which cost 70 CAD. This route starts from the Takakkaw Falls and takes you on part of the route to Emerald Lake, passing through Yoho Lake, but veers to the left. This is considered a high-intensity route. In total, you will hike 13 miles in 11 hours with an elevation of 2625 feet.
The next route is Mount Stephen, which cost 55 CAD. This route departs from Field. It is also considered a high-intensity trail. You will need 7.5 hours to hike the 5 miles trail with an elevation of over 2600 feet.
These two hikes are not suitable for children under eight years old, although there are some other activities for families. On the Canada Parks official website, you can find more information and book your guided tours, since only 12 people are accepted per excursion.
If you are interested in more information about what to do in Emerald Lake, you can visit our special article about Emerald Lake.
LAKE O'HARA
Lake O'Hara is a jewel only accessible in the summer months. It can be reached only by bus, which is booked in advance here. The reservation will be processed according to day and time (4 times a day), to get back, you can take any of the buses that go down (4 drop-off times) free of charge.
You can also reach this lake by walking the same route as the bus. It takes about 3 and a half hours to do 7.5 miles from the parking lot. The good thing is that the return trip can be done for free on any of the buses whenever there is an open spot.
If you travel during summer, Lake O'Hara is one of the most important places to visit in Yoho National Park.
Many other hiking routes start at Lake O'Hara. It also has two hotels and a campsite where you can stay for up to three days. You can book it here.
Other things to do in YOHO
In addition to all the hikes to do in Yoho, there are many other very interesting quick stops that I suggest taking during your stay.
NATURAL BRIDGE
The Natural Bridge of the Kicking Horse River is a unique rock formation. It shows the strength of water from an old waterfall that has been carving a hole into the rock, shaping a natural bridge.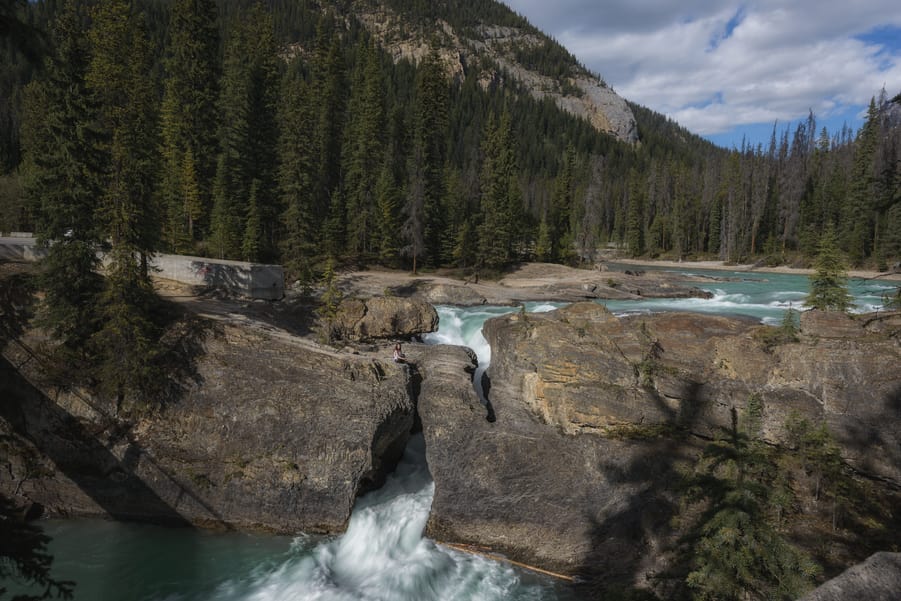 It is very easy to get to this spot since you can park the car directly at the viewpoint. Although it is usually a stop for lots of tourists, it is still a highly recommended visit, not only to see the Natural Bridge but also to enjoy the blue water of the Kicking Horse River. Like other rivers that we saw in the Canadian Rockies, its color comes from the minerals of the glacial waters.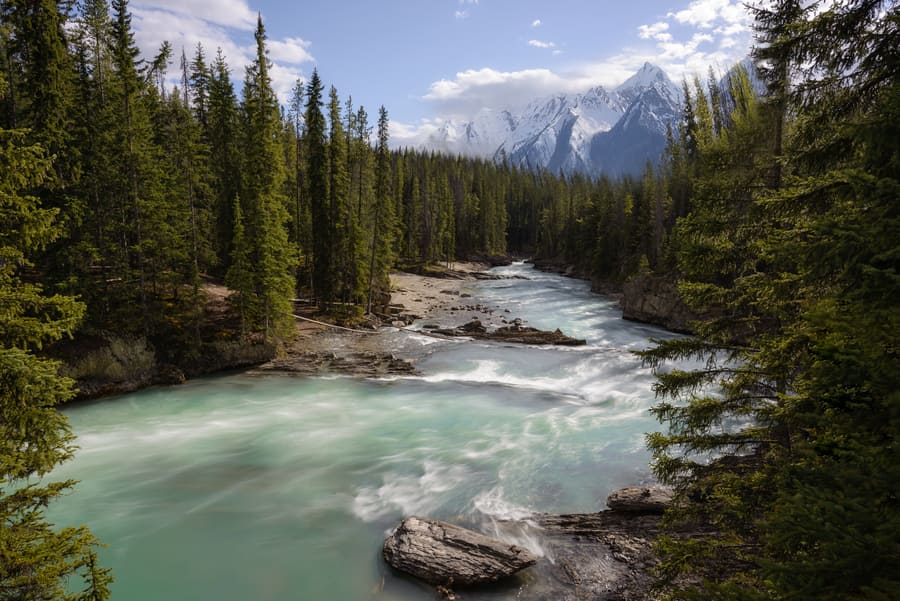 MEETING OF THE WATERS
Meeting of the Waters is another interesting point to see in Yoho, located north of the Kicking Horse River. This spot is where the Kicking Horse river meets the Amiskwi and Emerald River.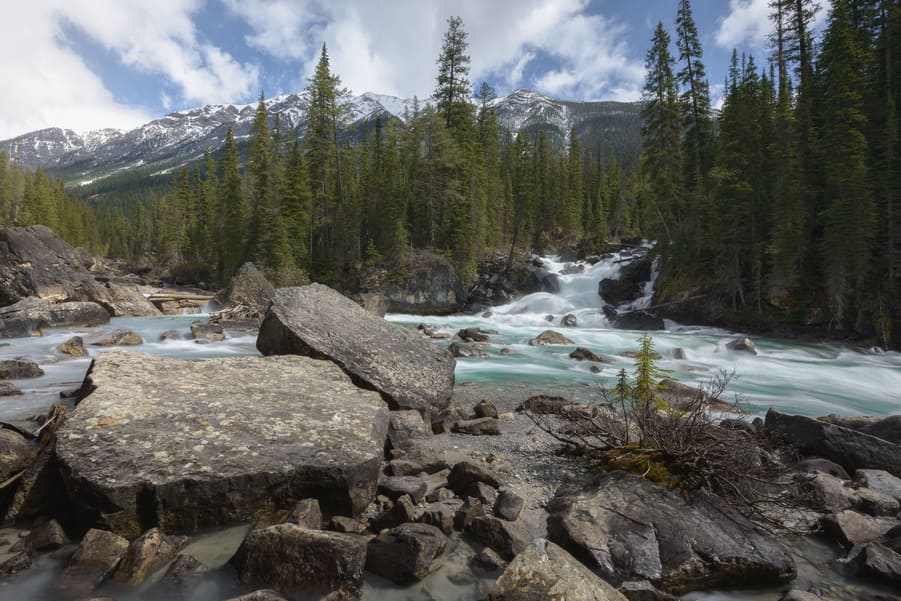 You can also get here by car without difficulty. From the "Meeting of the waters" viewpoint, it is very interesting to see different types of water converge into a single river.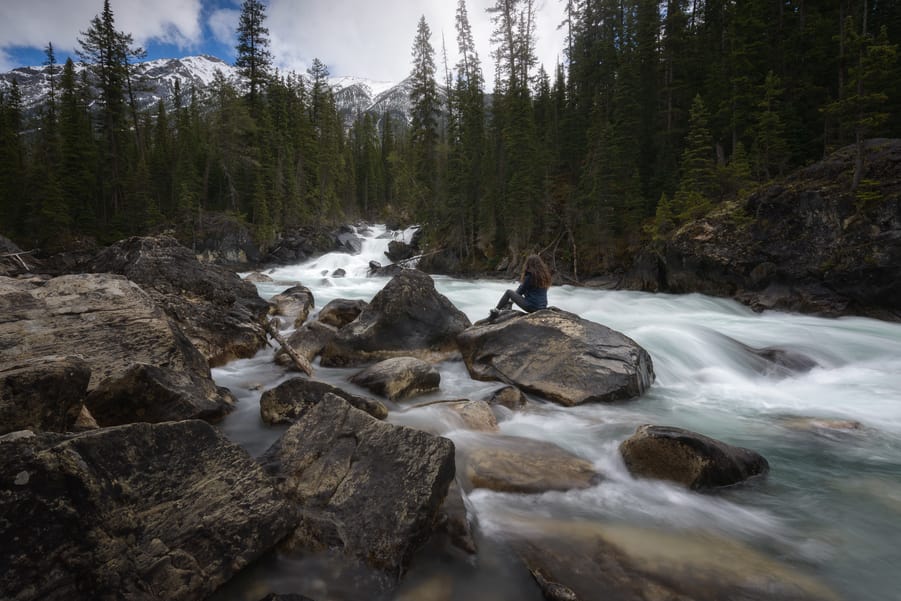 The Yoho Valley Road that goes to Takkakkaw Falls starts here, but it is usually closed until the beginning of June.
Spiral Tunnel
We commented in the Banff National Park article about the construction of the Canadian Pacific Railway and how vital it was for tourism development in the area. This railway joins the east and west coasts of Canada, and without a doubt, the most significant engineering difficulty was to cross the Canadian Rockies.
Spiral Tunnel is a section of the railway where the train must turn on itself, as a solution to the large slopes of the terrain.
There are two lookouts, one located on the Trans-Canada Highway itself, known as Lower Spiral Tunnel, and another on the Yoho Valley Road, known as Upper Spiral Tunnel.
WAPTA FALLS
A little further away from Field, we found the Wapta Falls. These falls are relatively low (100 feet) but quite wide (490 feet) and easily reachable. The trail is only 1.24 miles from the parking area.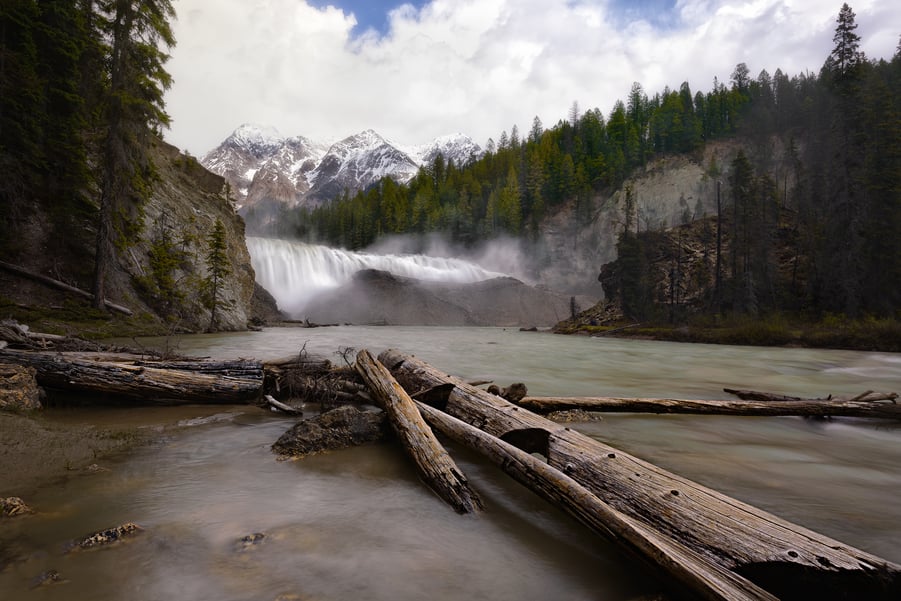 It is a bit steep at the end of the road, as we must descend between trees and roots until we reach the base of the waterfall. I have to say that this waterfall is one of the most peculiar that we have ever seen. The water goes to the bottom of a small sand dune that I'm not sure if is a product of the sediments or if it is a small hill that has been eroded by moving water and will someday cease to exist.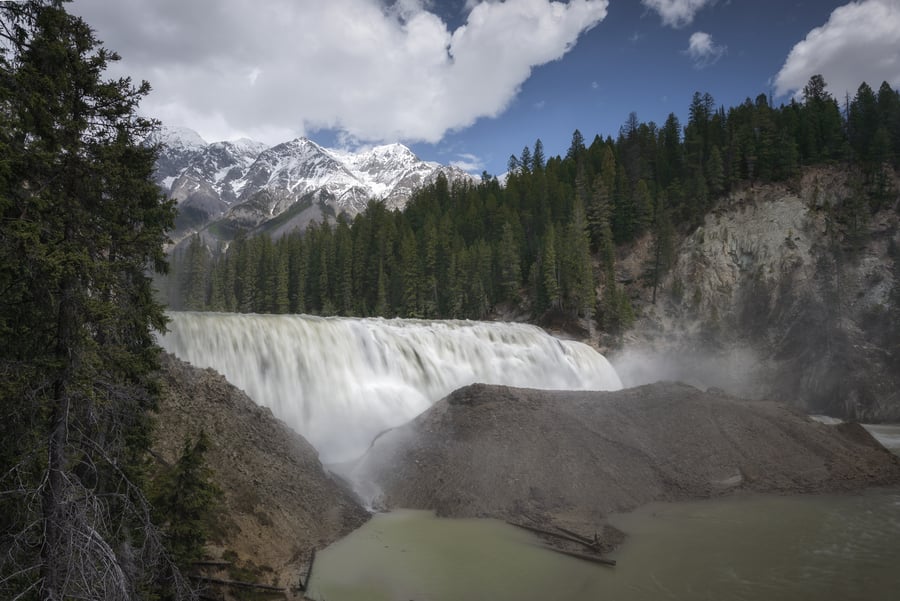 After this fall, the water splits into two different streams, where you can find a small island in the middle of the riverbed.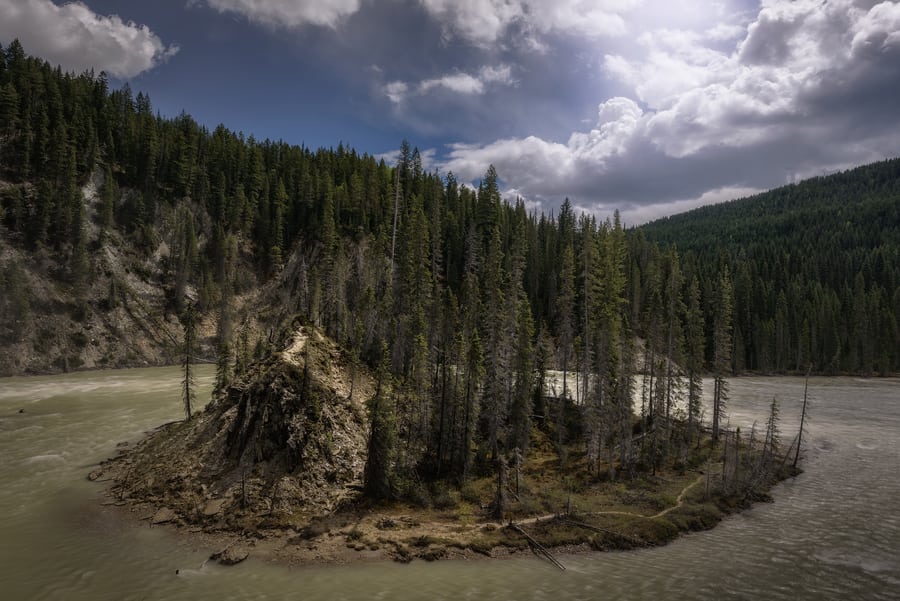 Although it is quite interesting, it is somewhat far from other points of interest, so visiting it is not something essential to do in Yoho.
As we commented in the Canadian Rockies post, there is no better accommodation than staying in the different campsites of the National Parks. However, one of the most popular resorts in Canada, the Emerald Lake Lodge, is in Yoho National Park, so we decided to spend a night there while we camped the rest of the nights. Besides, it is one of the best Northern Lights hotels in Canadá.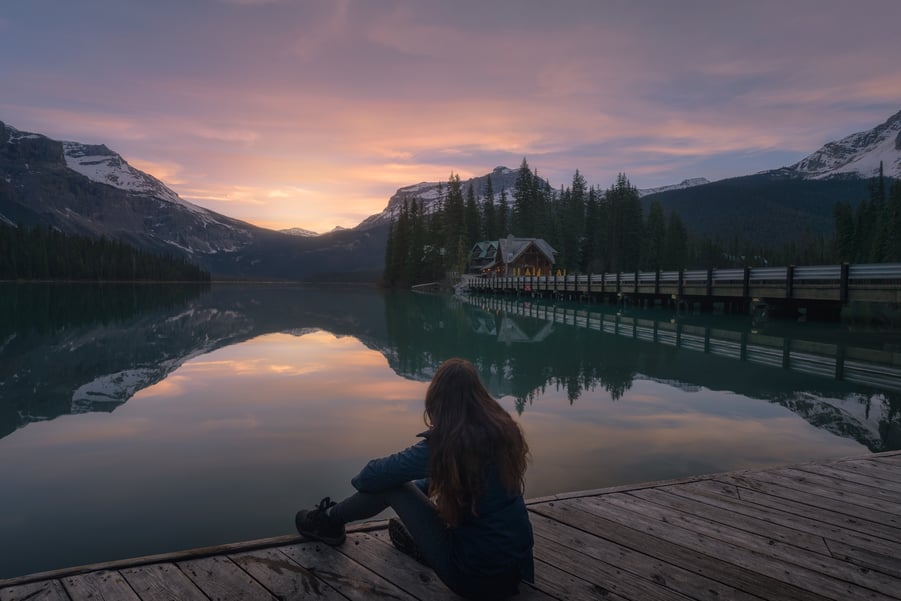 Regarding campsites, you should bear in mind that they are not open year-round, so if you want to camp, you should check which ones will be operating when you travel to the Yoho National Park. You can find all the information about the campsites that are in Yoho and operational dates here.
Campsites in Yoho cannot be booked in advance. They operate on a first-come, first-served basis upon arrival. Then, you will need to fill out a form and leave it in a mailbox with the campsite fees in cash or with your credit card information.
KICKING HORSE CAMPGROUND
Like most campsites in Canada, each spot is equipped with a table with fixed benches, a firepit, and enough space to park the car and pitch your tent at Kicking Horse campground. To enjoy a bonfire, you will have to pay a separate fee, but you can use the firewood supplied by the campsite.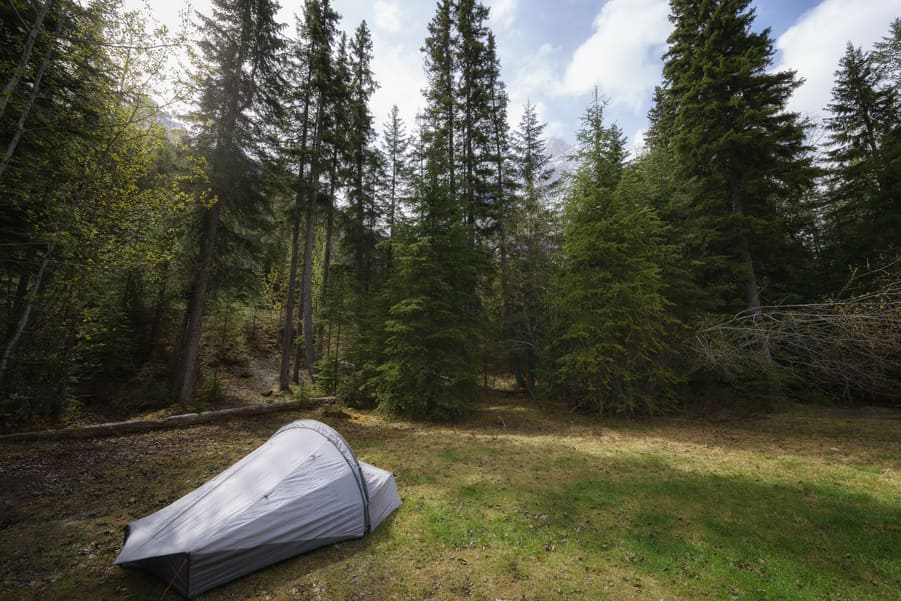 The Kicking Horse is a pretty big campsite. We found a spot at the end of the campground that was also perfect for an RV or camper while still having plenty of space for yourself.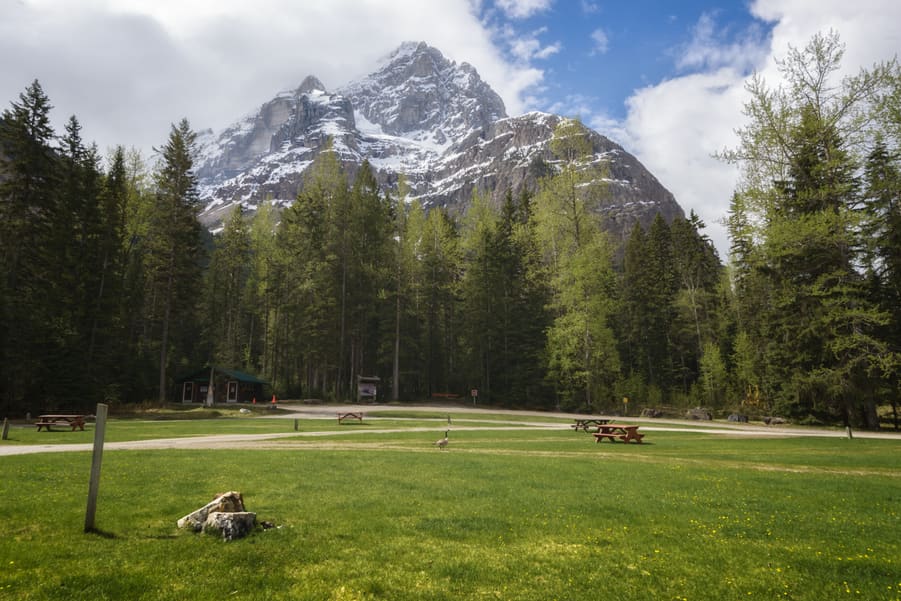 We especially liked it because you can see a glacier from here.
EMERALD LAKE LODGE
We are generally not very into luxury hotels and resorts, but if you travel to Yoho National Park, it is essential to stay at least one night at Emerald Lake Lodge. It's the best hotel in Yoho, Canada.
Emerald Lake Lodge, located on the small island within the Emerald Lake, features a complex of wooden cabins that is linked to the shore by a walkway.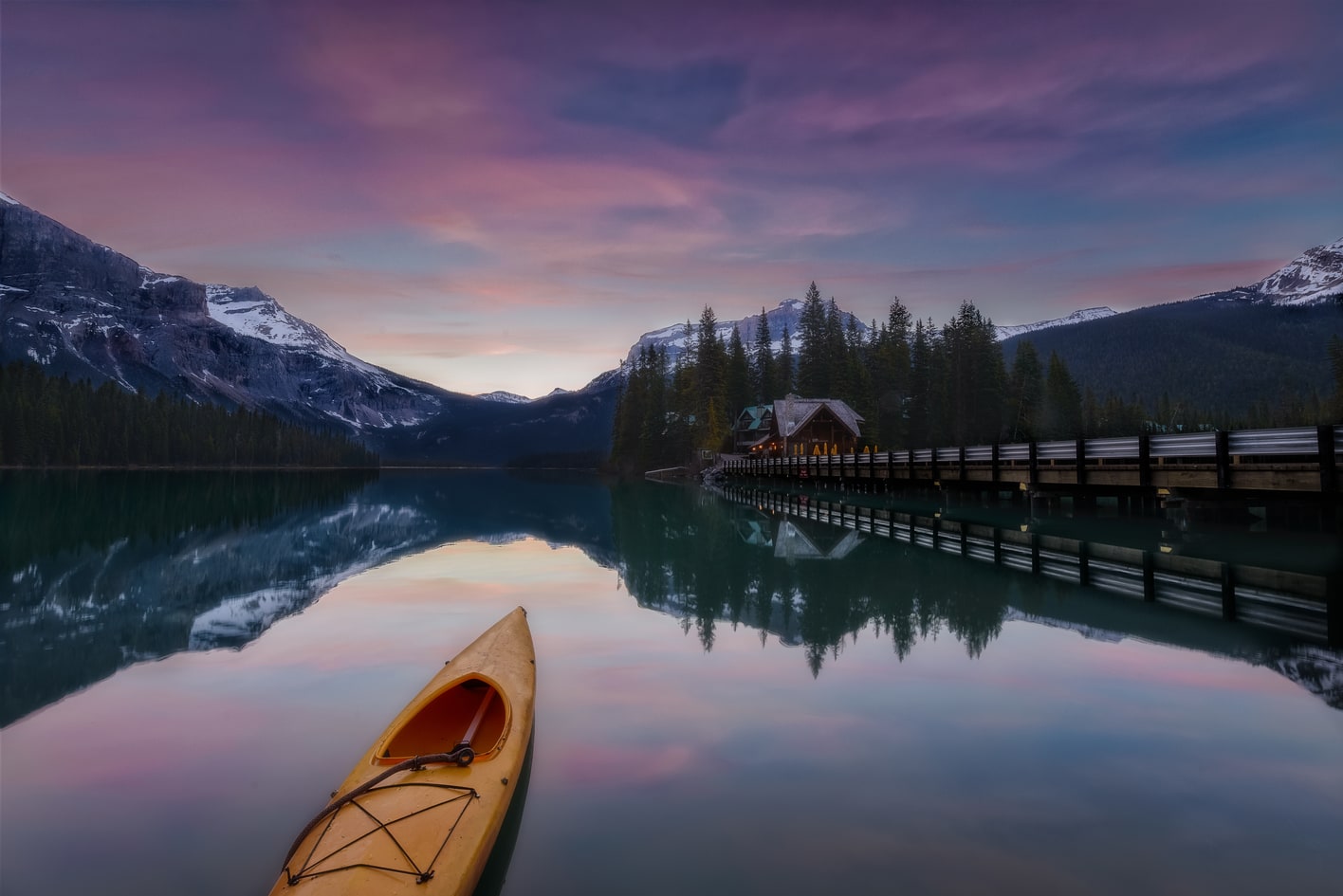 HOW TO GET TO EMERALD LAKE LODGE
To visit Emerald lake, you can park your car right in the nearest parking lot from the lake. However, if you are staying at Emerald Lake Lodge, you have to park your car in a parking lot further away and wait for a shuttle to come and pick you up.
The signs pointing to Emerald Lake will let you know which exit takes you to the guest parking lot. Here is a cabin where you can wait and a phone to call the reception and ask for the shuttle.
THE HOTEL
We were dropped off at the reception at the hotel. We liked the room a lot, but the style was peculiar. Our cabin seemed to have maintained its original decoration from more than 50 years ago. Nonetheless, it was very clean and took us back in time for an evening. The fireplace next to the bed was ready for us and when the windows opened, the turquoise blue of Lake Emerald loomed through the pines.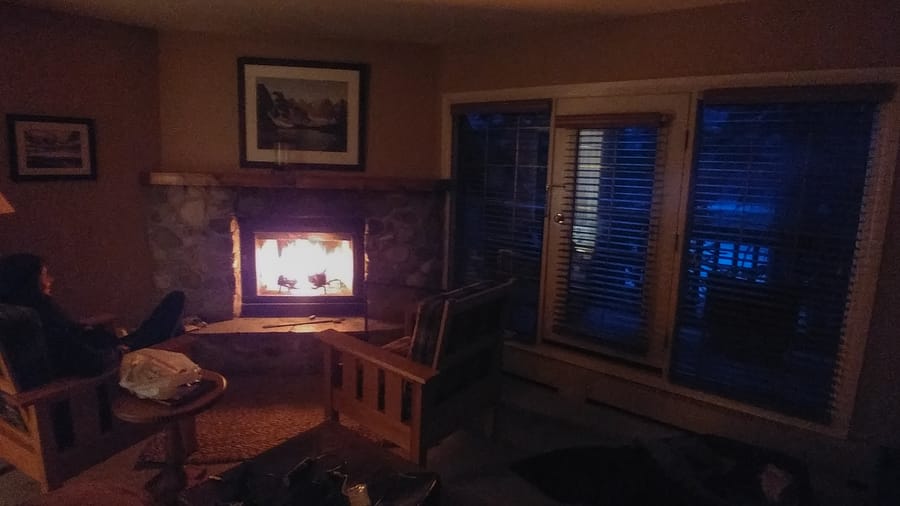 Emerald Lake Lodge also has common facilities such as sauna and jacuzzi that we did not have time to use. What I liked most was the bonfire area where you could share conversation with other guests. In addition, the hotel supply marshmallows and chocolates at your disposal.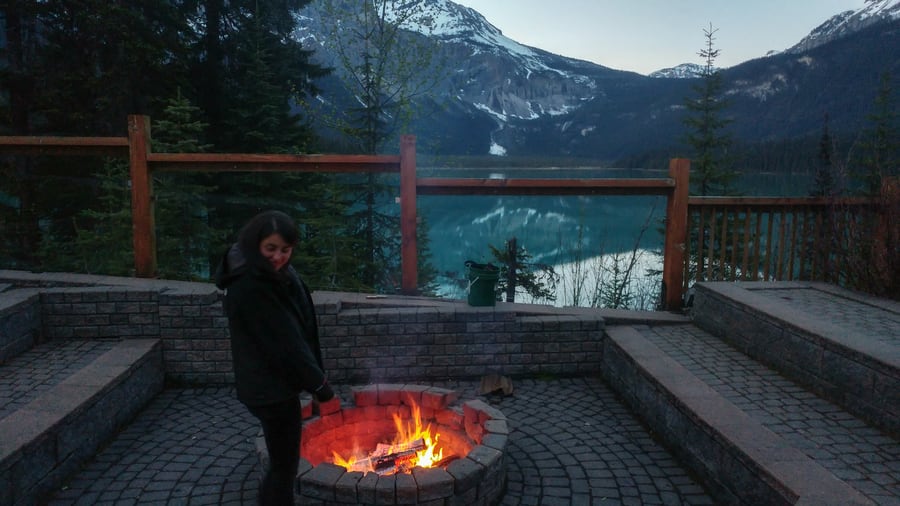 The main restaurant at the lodge is another thing you cannot miss. While it is expensive, the day we spent at Emerald Lake Lodge was our resurrection after spending so many days camping and eating freeze-dried meals. We dined at the restaurant that is right behind the reception, the only area of the resort with a Wi-Fi connection.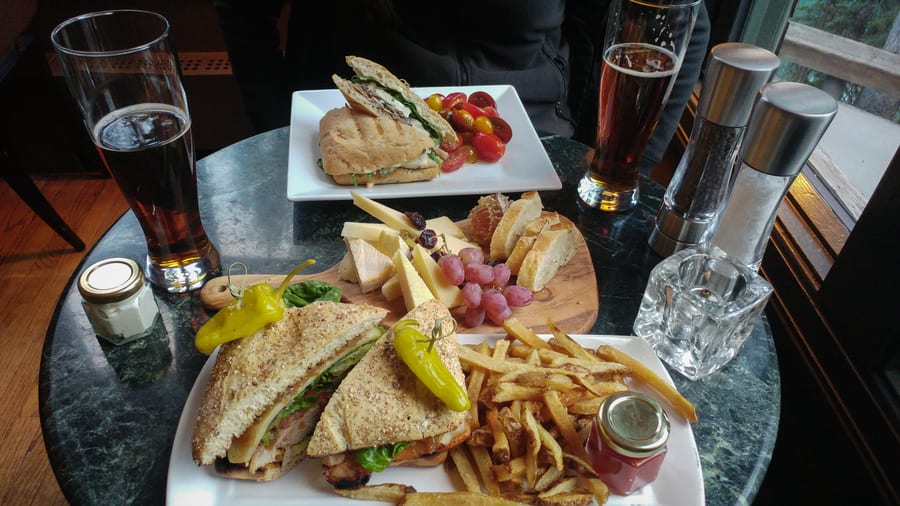 We also ended up having two breakfasts here, as they served the best brunch out of this whole trip.
PRICE
The hotel is expensive, but we got a significant discount. Since it wasn't high season, we paid €200 for one night.
I think it was definitely worth it, and with no doubt, this was an incredible, once in a lifetime experience.
THE MOST EXCITING NIGHT OF OUR LIFE
And we may be biased when talking about this resort, but here, we had one of the most exciting moments of our lives. After our trek to Yoho Lake, we decided not to book any accommodation, but to stay close to the Emerald Lake to do some night photography and watch the sunrise.
While it was dark, we decided to go through the Lodge's reception area for some Wi-Fi connection. Then, the magic happened all of sudden: Dani had his cell phone in his hand, I had mine, we looked at the screen, and then into each other's eyes. KP7 alert and increasing. The next 5 minutes were incredible. We were screaming, jumping, running out of the resort to experience the most exciting night of our lives.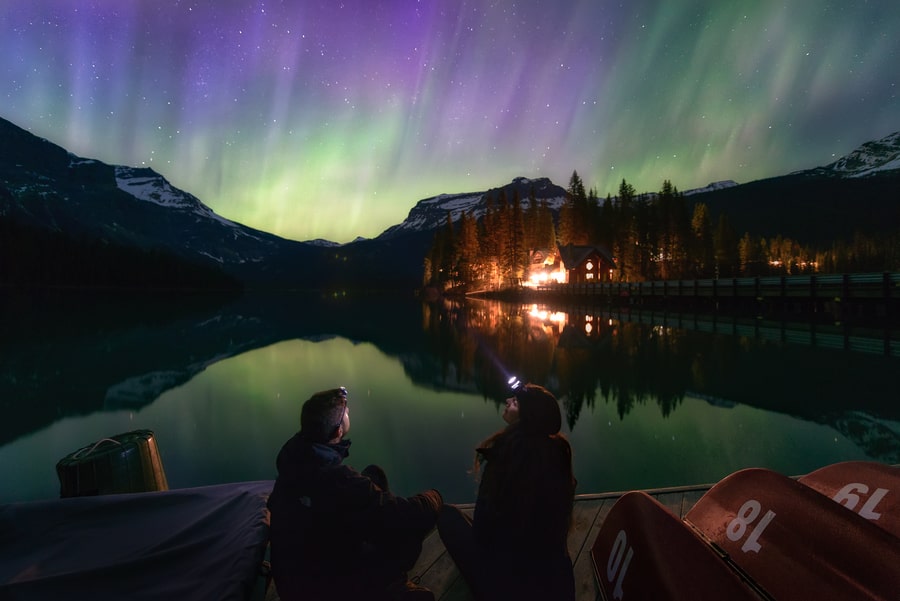 I'm sure you can understand why we couldn't sleep at all that night.
Other tips WHEN YOU VISIT YOHO NATIONAL PARK
To finish this section, we will give you some other tips to visit Yoho National Park. There are general recommendations that have been provided in the Canadian Rockies post – we talked about visas, currency, park entrance fees, necessary luggage, etc. If you have not read it yet, I highly recommend doing so before continuing with this article.
Best TIME TO TRAVEL TO YOHO NATIONAL PARK
Takakkaw Falls and Lake O'Hara, two of the essential things to do in Yoho National Park, open between the middle and end of June. If you come before, it is very likely that you won't be able to enjoy these attractions.
However, in July and August, the park is usually crowded, so it can be difficult to find accommodation. That's why I find September to be the best time to visit Yoho National Park.
HOW MUCH TIME for your VISIT to YOHO NATIONAL PARK
If all the places of interest are open when you visit Yoho National Park, 3 – 4 days should be enough, including a night camping in the Lake O'Hara campground.
However, if, like us, you travel at a time when some places of interest are still closed, two days will be enough.
WHERE TO TAKE THE 5 BEST PHOTOS OF YOHO NATIONAL PARK
To end this section, you will find our best five images of Yoho National Park below.
Natural Bridge
Emerald Lodge at sunrise
Symmetry on the walkway towards Emerald Lake Lodge
Wapta Falls
Canoe in the middle of Emerald Lake
YOHO NATIONAL PARK MAP
And to finish this guide of things to do in Yoho National Park, below you can find a map with all the mentioned places of interest.
If you want to use this map of Yoho National Park on your mobile offline:
Download the Mapswithme app on your cell phone.
Download and save the following KML file in your Dropbox.

Open the file via Dropbox from your cell phone. You will get a dialog box where you have to select open with the Mapswithme application (Maps.me)
Now, you have everything you need to start your trip across Yoho National Park!