Choosing where to stay in Yosemite is something I recommend you do many months in advance, especially if you're planning to visit this National Park in the summer.
This is not only because there are few accommodations within Yosemite National Park, but also because hotel prices in Yosemite skyrocket when the high season approaches.
The same applies if you want to camp in Yosemite. Most of the campgrounds inside Yosemite Valley get booked up in the blink of an eye, and booking a camping spot during the high season is about as likely as winning the lottery.
In our case, we wanted to be as close to nature as possible and experience the feeling of being at the climbers' historic campsite below the famous "El Capitan," so we decided to try sleeping at the legendary Camp 4 in Yosemite.
Traveling in August and with no reservation, we thought it would be impossible to sleep at a campsite in the middle of Yosemite Valley. However, if you keep reading, we'll tell you about a little trick to get a spot at the most popular campsite in Yosemite.
You'll find all the information you need about where to stay in Yosemite in our Yosemite accommodation guide:
If you prefer to stay in hotels during your visit to Yosemite National Park, don't worry. We've also gathered a list of the best quality hotels located near the main points of interest.
Where to stay in Yosemite National Park
Yosemite is one of the most visited national parks in the United States, so it's necessary to book your accommodation months in advance.
If your trip is coming up in a few weeks, I recommend directly checking hotels near Yosemite. Additionally, it will probably be cheaper for you.
These are the leading hotels within Yosemite National Park:
The Ahwahnee, the best hotel in Yosemite
The Ahwahnee, formerly known as The Majestic Yosemite Hotel, is Yosemite's most luxurious hotel.
The dining room is the visual highlight of this hotel and the location for the hotel's historic Christmas Party. From its windows, you can see the mammoth granite walls that have made Yosemite the mecca of rock climbing up close.
We had the breakfast buffet at the Ahwahnee and were pleasantly surprised. Breakfast is served in the lounge, which has historical artwork and an original design that makes it the most breathtaking lodging option in Yosemite.
If you find a room available at a reasonable price, don't think twice. It's one of the best hotels where you can stay in Yosemite. Remember to book well in advance, so the prices don't shoot up abruptly.
Yosemite Valley Lodge is a somewhat cheaper hotel, but it's as in demand as the previous one. It's also in a privileged location, since it's one of the few hotels within the Yosemite Valley.
The rooms were renovated not long ago, so they have more exceptional comforts than the previous option, although they lack the luxury, style, and history of The Ahwahnee.
Even so, it's the best option to sleep in Yosemite for anyone on a mid-range budget, although you must also book well in advance.
Curry Village, another option to sleep in Yosemite
Curry Village is the most popular option for those who dream of camping in Yosemite but don't have the necessary gear. In this "glamping" accommodation, you'll find wonderful heated tent cabins with all the comforts you could imagine.
Since it's the cheapest hotel in Yosemite, it's usually sold out right away, so if you find a free room, don't hesitate to book it. For me, it's one of the best places to sleep in Yosemite.
Another perfect place to stay in Yosemite is in one of the private apartments in Yosemite West, a few minutes from the valley. The prices of these villas and apartments in Yosemite are usually high, but if you're traveling in a group, it can be an exciting option.
Some of the best are:
Just like the previous option, you can rent cottages in Wawona to stay within Yosemite National Park. The prices aren't cheap, but if you're traveling for a short time and everything is booked up, it's an excellent option for staying as close to Yosemite Valley and the main attractions as possible. Wawona is also one step away from Mariposa Grove.
These are the best accommodations to stay in Yosemite (Wawona):
If none of the above hotels are available for your dates, I recommend taking a look at the following best places to sleep near Yosemite.
Where to sleep near Yosemite National Park
There are several reasons you might decide to stay on the outskirts of Yosemite National Park. The most common is because you left the hotel reservation for the last minute. However, you also just might want to sleep in Yosemite on a budget.
In either case, don't worry! There are excellent accommodation options near Yosemite. You just have to know which entrance you want to stay near.
If you've already checked our Yosemite travel guide, you'll know that there are four entrances to the park, three from the west (Big Oak Flat Entrance, Arch Rock Entrance, and South Entrance) and one entrance from the east (Tioga Pass Entrance).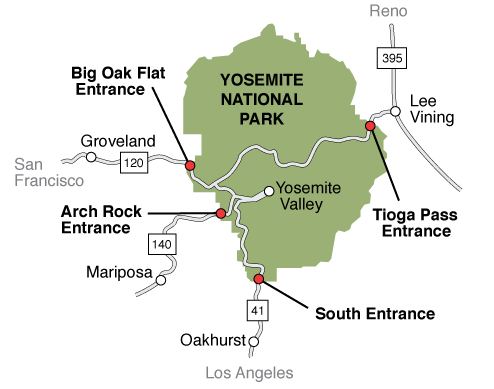 Hotels near Arch Rock Entrance
The Arch Rock entrance is the closest to Yosemite Valley, so it's usually one of the popular areas for finding a hotel in Yosemite. Staying near this entrance is the best option if you want to be just 5 minutes away from famous viewpoints like the Valley View. The closest towns are El Portal (20 minutes away) and Mariposa, which is somewhat further away (1 hour). In these two locations, you can find good hotels near Yosemite, such as the following:
HOTELS NEAR BIG OAK FLAT ENTRANCE
The fastest way to get from San Francisco to Yosemite Valley is by the Big Oak entrance, so, as you can imagine, this is one of the busiest entrances. Even so, there are many lodging options, and it's an excellent choice if you're looking for cheap hotels near Yosemite.
These are the ones I recommend:
If by the time you're booking, you can't find any lodging available for your dates, I recommend you look for accommodation in the surroundings of Groveland, which is another good place to sleep near Yosemite.
HOTELS NEAR YOSEMITE SOUTH ENTRANCE
If you visit Yosemite from Los Angeles or Las Vegas (in winter), you'll enter through the South Entrance. This entrance is further from the valley, but it's best if you want to visit Mariposa Grove.
In addition, it's a fascinating place to stay in Yosemite, as there are many accommodation options, especially in the towns of Fish Camp and Oakhurst. These are some of the best quality hotels:
HOTELS NEAR TIOGA PASS ENTRANCE
The Tioga Road is only open during the summer months and shortens the way from Death Valley to Yosemite Valley.
We had the opportunity to go through it at the end of August, and it was one of those places that surprised me the most during our 10-day West Coast trip. In summer, it's a magical place away from the masses of tourists in the valley. Wildlife also abounds here, so if you want to increase your chances of seeing wildlife, such as bears in Yosemite, it's probably your best option.
My suggestion is to stay at Lee Vining, June Lake, or Mammoth Lakes, close to the east entrance of Tioga Pass. These are some of the best accommodations near Yosemite Tioga Pass:
Where to camp in Yosemite
We've already talked about the best places to stay in Yosemite, mainly hotels and traditional lodging options, so now it's time to speak about campsites.
We've camped in most of the national parks in the United States, and Yosemite was the place where we most wanted to do it. If you've ever dreamed of camping in the American West, under a starry sky, there is no better place than here. Besides, it's one of the best ways to get a cheap trip.
Below you'll find everything you need to know about how to camp in Yosemite.
Campsites in Yosemite National Park
There are 13 campsites in Yosemite, and only four of them are in the valley (Upper Pines, Lower Pines, North Pines, and Camp 4).
Not all of them are open throughout the year, so I recommend checking opening times and prices here, and seeing if they require a reservation or work on a first-come first-served basis.
We stayed at Camp 4, which only cost $6 and is the only one that doesn't require a previous reservation. (Update: it seems that now in the summer months, a reservation is required).
How to get a spot in Yosemite Camp 4
If you plan to get a spot in the famous Yosemite Camp 4, the first thing to do is to check if the camp was filled up the night before and at what time. If it filled up early in the morning and you want to sleep for free in the center of Yosemite Valley, you can bivouac (sleep outdoors) at the door of the ranger's hut that will assign the sites the next morning.

Don't worry about bears and other animals; if the camp has been full the past few days, there will be other campers who spend the night outdoors to get a spot the next day. In our case, there were more than 30 people who slept in the queue (perhaps, for this reason, it's now mandatory to book ahead in the summer).
Sleeping at Yosemite's Camp 4 is cheap ($6 per person), and it's in one of the best places in Yosemite Valley. Apart from that, camping in Camp 4 is a must if you want to experience the essence of the park and get to know the historic camp where hippie climbers lived at the foot of El Capitan.
Wilderness Permit and High Sierra Camps in Yosemite
Another option, if you want to take multi-day hikes, is to camp in the middle of nature. For this, you need to request a Wilderness Permit that includes the route that you're planning. For example, if you want to do a two-day hike to climb the Half Dome, in addition to the cable permit, you must apply for a special Wilderness Permit for that area. Here you can find all the information on the process for booking it.
Another type of accommodation in Yosemite is High Sierra Camps, which are five pre-assembled camps as remote as if you were using a Wilderness Permit. This type of campground can only be reached on foot, and there is no need to carry a tent (although a sleeping bag is highly recommended). Additionally, they offer half board or full board for an extra fee, and you can even hire a guided tour with a ranger. There is more information here.
That's ALL! Do YOU feel like you know where to sleep in Yosemite? If you have any questions, leave us a comment.