At Yosemite National Park, you can see and experience a wild variety of things – giant sequoias, black bears, the highest waterfall in North America, and some of the best hiking routes in the California Sierras, to name a few. It is the epitome of experiencing real American outdoor culture first hand.
In addition, you will find the best scenic views you can imagine here. Two of the most important landmarks in the park include El Capitan and Half Dome, the enormous granites that made Yosemite Valley the mecca of climbing.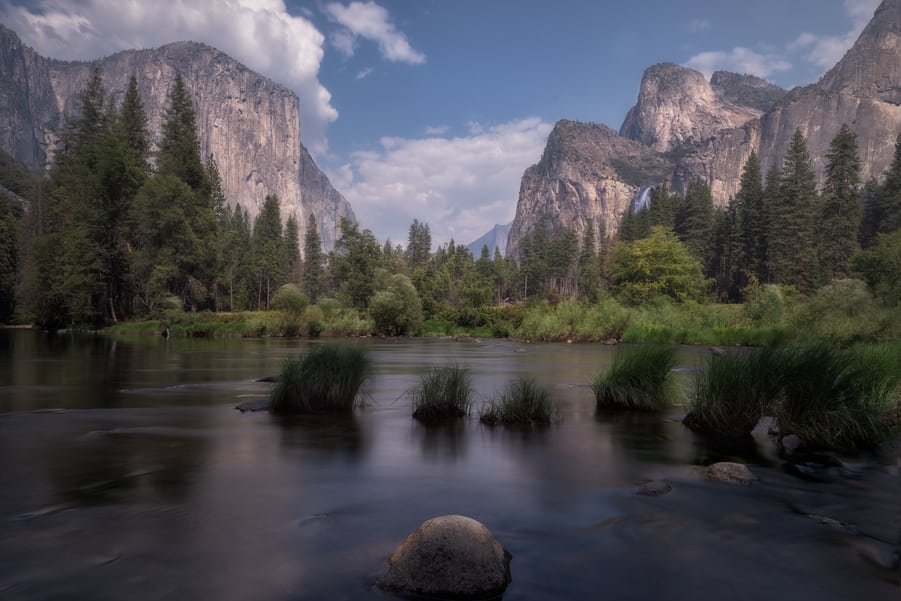 Located in the Sierra Nevada of California, Yosemite was the final destination of our 10-day West Coast road trip. Like other camping lovers, we spent three days discovering this park and hiked as many routes as we could. However, even if you only can spend one day in Yosemite Park, the main attractions are concentrated in Yosemite Valley and easily accessible.
GUIDE TO YOSEMITE NATIONAL PARK
In this guide, we want to help you prepare your journey through Yosemite National Park regardless of the number of days you plan to visit.
Once you are familiar with where Yosemite is, how to move around, the best hikes (long and short), and type of accommodation that best suits your needs, your itinerary will fall together with little effort.
To simplify navigation, we will organize our Guide to Yosemite National Park as follow:
WHAT TO DO IN YOSEMITE NATIONAL PARK
In this section, we will cover what to do and see in Yosemite based in four areas:
WHAT TO DO IN YOSEMITE VALLEY
Yosemite Valley is the heart of Yosemite National Park and a must see during your visit. This is the perfect area if you only have one day to explore Yosemite, as most of the landmarks are concentrated here. In the summer, the valley is crowded with tourists who can make your getaway to the Sierras experience anything but peaceful. Still, it is worth a visit and there are always less crowded possibilities.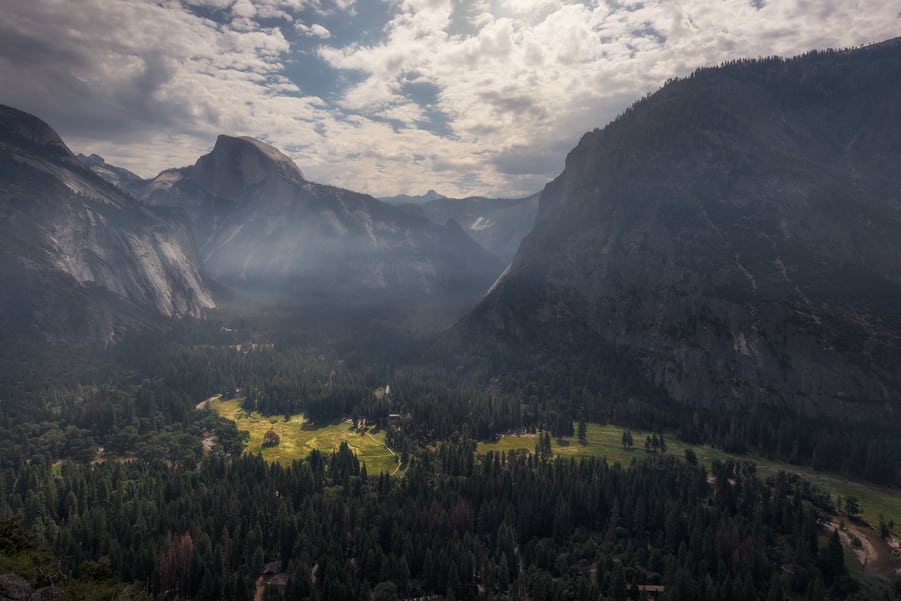 The most crowded area is known as Yosemite Village (formerly called Curry Village), where we will find shops, groceries, parking lots, a wide range of hotels, and most importantly, the Yosemite Visitor Center.
Keep in mind that touring Yosemite by car can be complicated. First, consider the large number of tourists that will make parking very difficult in the summer. Second, because the road that surrounds the valley is circular, you can only move in one direction. To make transit easier between different points of interest of Yosemite, a free bus shuttle service is available for visitors, and we will discuss this in later sections.
The most scenic hikes in Yosemite start from the valley as well. Regardless, the first thing I recommend doing is head to the visitor center for most updated information about different sites throughout the park. This way, you are not disappointed when you find dried waterfalls and lakes, or routes closed due to snow or fires.
EL CAPITAN
The main protagonist in Yosemite Valley is El Capitan, a granite mass flanking 7569 feet high at one side of the valley.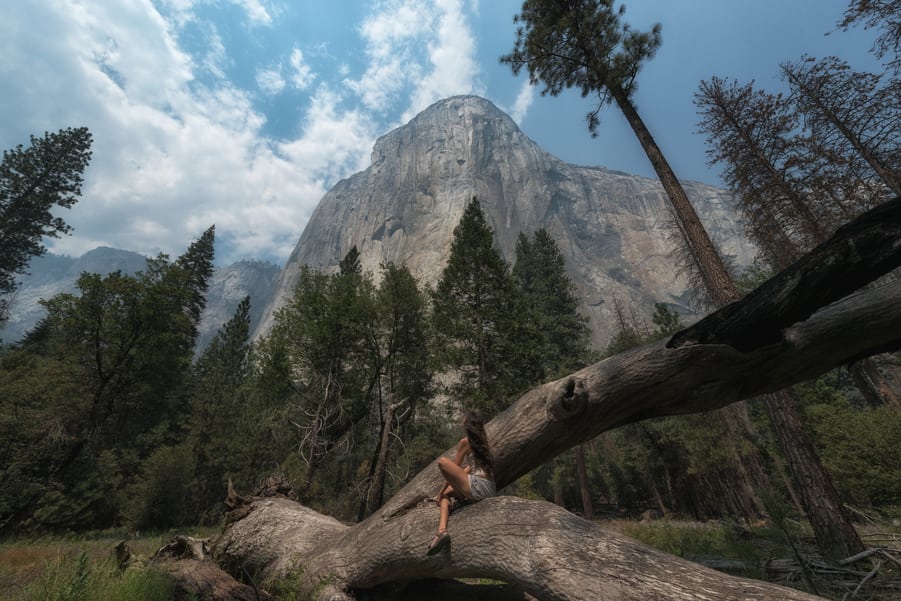 The most desired and challenging wall for the world's climbers throughout history, it was first ascended only 40 years ago, after 46 days of vertical climb.
Even if you are not a climbing fan, it is still a pleasant experience to watch them just starting their climb near the base, or from far in the distance, as they get close to the top.
HALF DOME
Far in the distance on the other side of the valley stands the Half Dome, another rocky granite formation with a characteristic half vault shape at 8839 feet high. It is equally longed-for by climbers.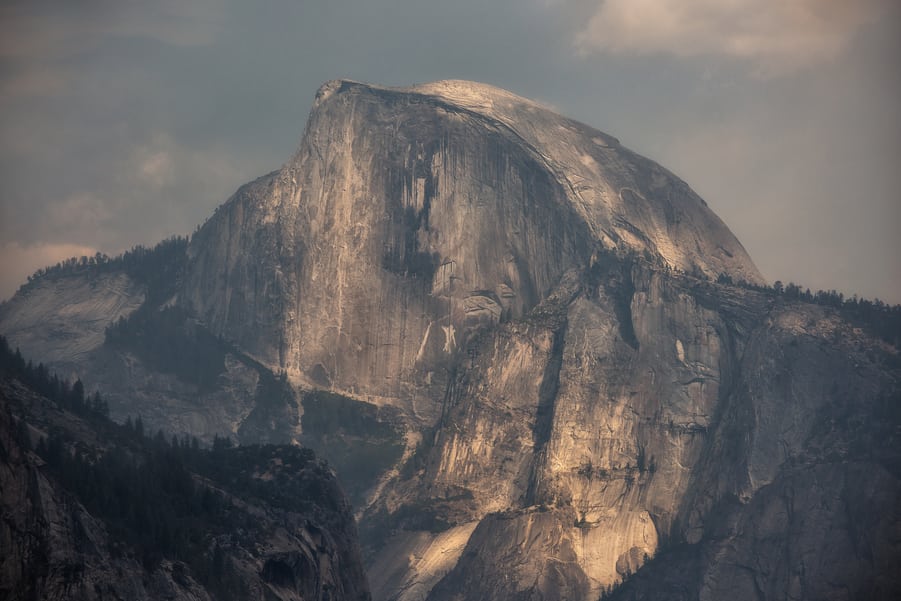 Today, climbing to the top of Half Dome is not as a big challenge as it used to be. No technical climbing skills are required, but you will need a permit to ascend the via ferrata that take you to the top.
Permits for the via ferrata are given in March of each year through a lottery on this website, where 300 permits are issued per day.
If you didn't prepare your trip this far in advance, you can also apply to a different lottery two days before the day you want to climb. However, there are only 50 permits per day for this one. We tried our luck for the three days that we spent in Yosemite and had none, which is not a surprise as we traveled in August when the park is full of people.
In any case, you must pay a non-refundable $6 fee per application even if you are not awarded a permit. If you do, add $10 once they confirm your slot.
YOSEMITE FALLS
The Yosemite Falls consist of three cascading waterfalls at a combined height of 2425 feet. It is the highest waterfalls in North America.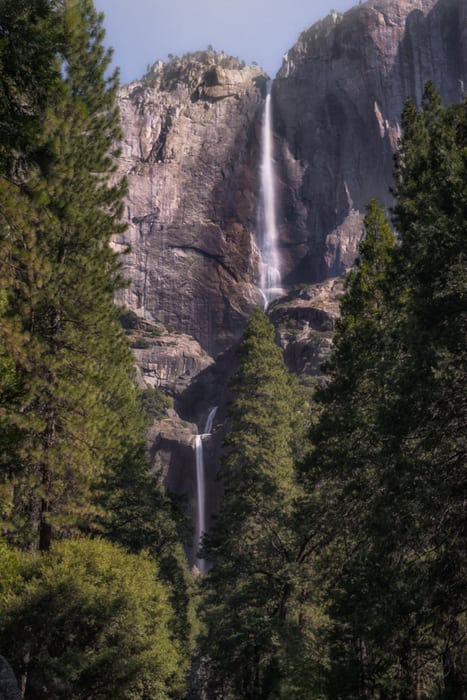 The route that goes to Lower Yosemite Falls is easy and accessible, even for wheelchairs or if you travel to Yosemite with children.
However, to reach the impressive Upper Yosemite Falls, you will need to hike for 6-8-hour round trip with 2700 feet of elevation gain. At the top, there will be a well-deserved reward of a natural pool sitting just before the falls for a refreshing bath.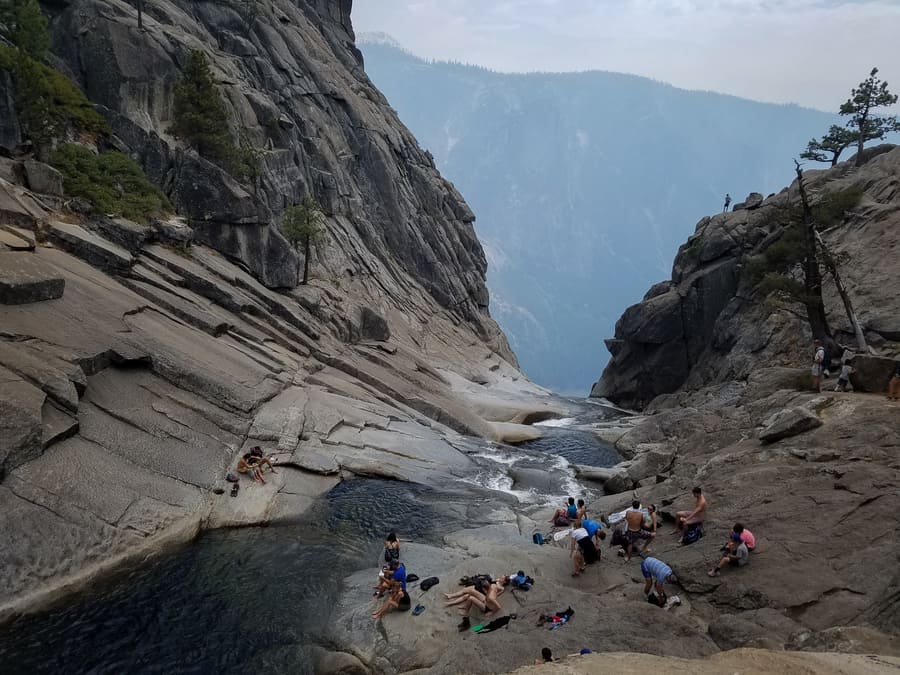 I would not recommend this hike if you're only visiting Yosemite for one day.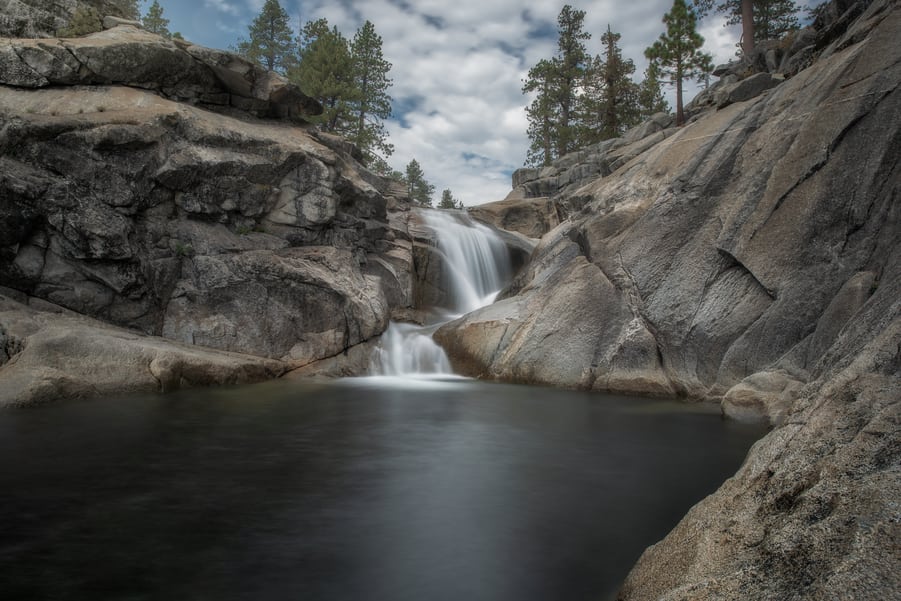 Also, if you visit Yosemite during summer, keep in mind that the waterfalls may be completely dry by August. In our case, we were lucky to see them with enough water even though we traveled during the dry season.
YOSEMITE VALLEY VIEW
In my personal opinion, Valley View is the most beautiful scenic area in Yosemite Valley. Located at the edge of the Merced River, the imposing form of El Capitan faces the Cathedral Rocks, which are reflected on the river. If you plan to visit Yosemite in one day, this is one of the viewpoints that you cannot miss.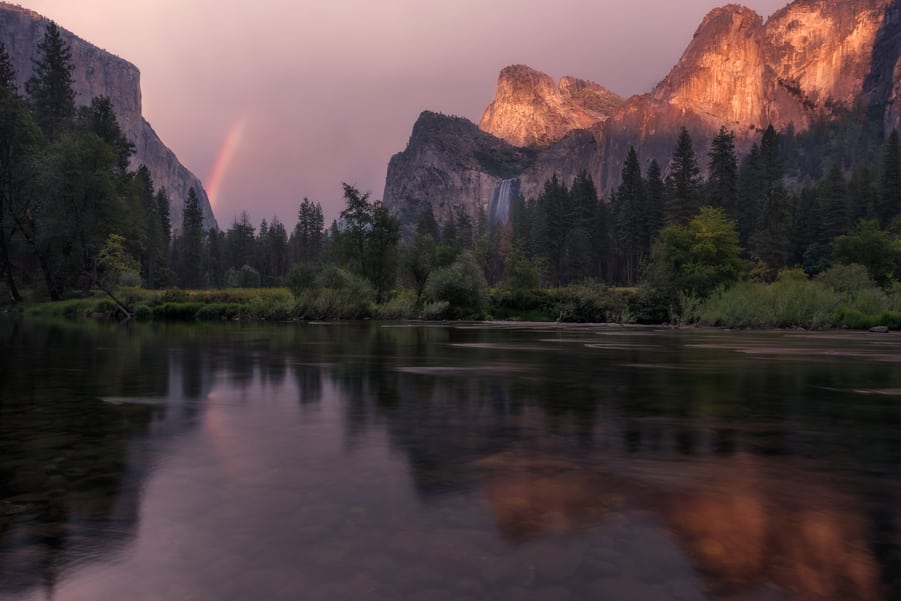 I especially recommend this iconic view of the valley for sunrise and sunset photo sessions.
TUNNEL VIEW
Tunnel View is undoubtedly the most representative view to see in Yosemite Valley. This viewpoint has attracted painters and artists since its discovery in the 1850s.
From this spectacular outlook, we can see El Capitan on the left, Cathedral Rock with the great Bridalveil Falls on the right, and Half Dome in the background. On top of that, we can enjoy the lush pine forest of the valley in the middle. Like Valley View, the best time to photograph Yosemite Valley from Tunnel view is at sunrise and sunset, especially in the morning when fog is still present.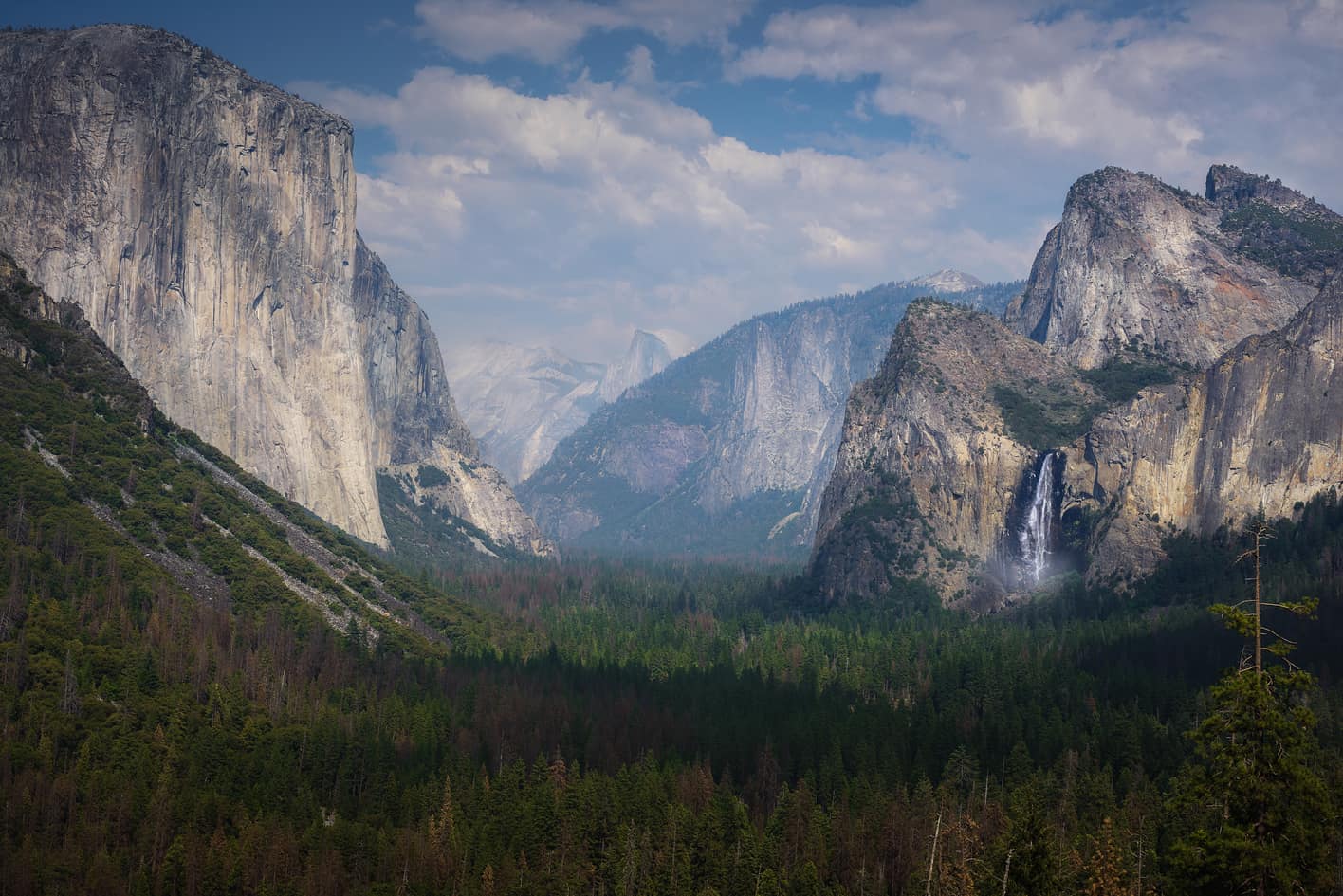 MIRROR LAKE
Starting at the foot of the Half Dome, the 1-hour trek to Mirror Lake is one of the most popular hikes in the valley. I recommend checking lake conditions at the visitor center before setting out, as the water could be dried up by summer time.
The name of the lake comes from the phenomenon when we can see Half Dome reflected on its surface during spring.
BRIDALVEIL FALLS
Bridalveil Falls is another of the waterfalls situated over the valley that we will see as soon as we enter Yosemite Valley. This is one of the few waterfalls with water running all year round.
The trek to the falls is very simple and only takes about 20 minutes, although you will need to climb the slippery rocks below the falls to reach its base.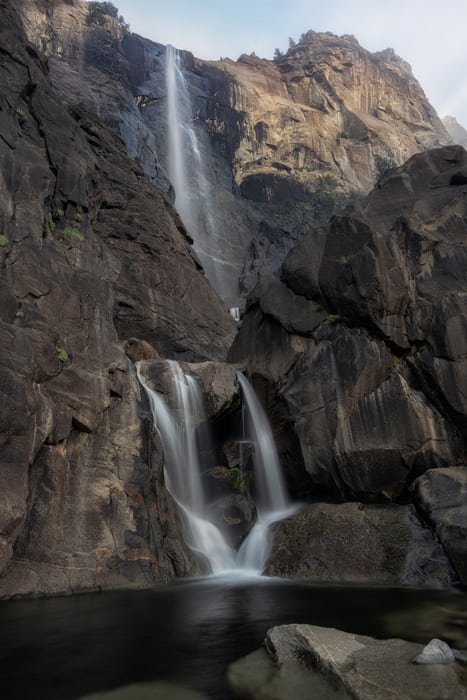 Although you do not get close to the waterfall, it is still one of the must-see places in Yosemite.
VERNAL & NEVADA FALLS
The route that goes to Vernal Falls is also quite simple and only takes 1 and a half hour round trip. You can continue on the Mist Trail to get to Nevada Fall, which becomes a strenuous route. The 5.4 miles trek round trip can last between 6 to 8 hours with very exposed sections along the way.
From Nevada Falls, we can continue until we reach the cables that go up to Half Dome, but remember that a permit is required to climb Half Dome. Note that in addition to the permit for the use of the cables, you must also obtain a Wilderness permit if you want to do the two-day, 14 miles round trip full journey to the top of Half Dome.
To move around this area of Yosemite, I recommend using this detailed Yosemite Valley map. If you are interested in the main hikes, you can also review this brochure.
WHAT TO SEE IN YOSEMITE: GLACIER POINT
The next essential thing on your Yosemite list could be the panoramic views from Glacier Point Road. A dead-end road that starts in the valley, Glacier Point Road crosses the Wawona Tunnel and rises up the southern part of the valley until you reach the imposing Glacier Point. Keep in mind that this road is not open all year round and the dates change from one year to the next depending on snow levels (usually between April and November). I recommend checking the status of this road before adding it to your route.
In this section, we will talk about the main views to see along Yosemite Glacier Point Road.
TAFT POINT
Taft Point is the first must-see point of interest. From the parking lot, you will not see anything, but after an easy 1-hour hike (0.6-mile one way), there will be an otherworldly view of El Capitan and Upper Yosemite Falls.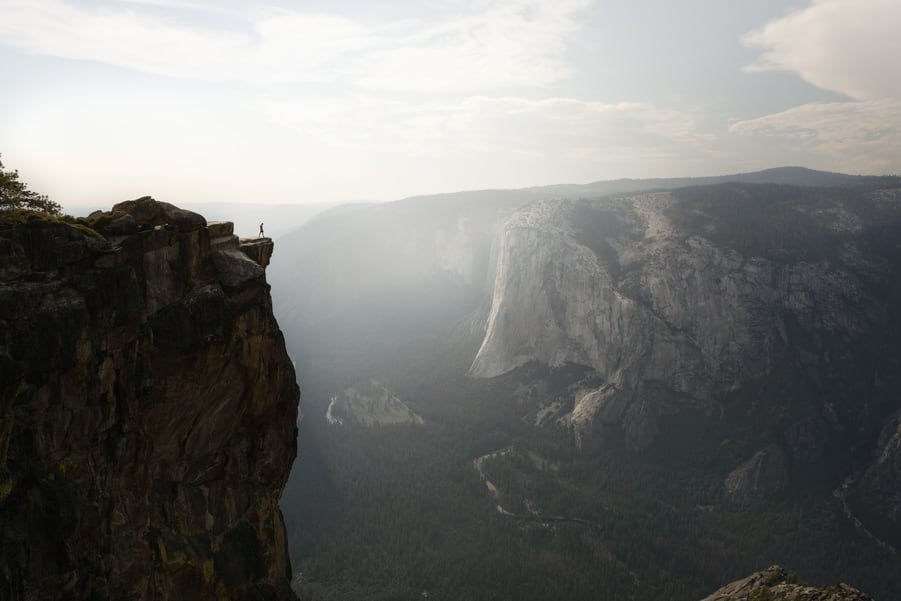 If you have acrophobia (fear of heights), I do not recommend this viewpoint, since the multi-hundred feet plus granite walls are fully exposed. This is also one of the best places to see the sunset in Yosemite, and the only moderately long hike that I suggest even if you only visit Yosemite for one day.
We will talk about the significant number of accidents and deaths in Yosemite in later sections, but first, we would like to bring to your attention that Taft point is one of the most exposed locations where people fall to death every year.
SENTINEL DOME
The Sentinel Dome, another route that offer some of the best views of the park, also starts at the Taft Point parking lot. It will take 2 hours to do the 2.2 miles round trip hike with an elevation gain of 410 feet, or if you are feeling adventurous, the Taft Point – Sentinel Dome loop passing through Roosevelt Point will take between 3 and 4 hours with an elevation gain of over 900 feet.
WASHBURN POINT
Shortly before arriving at Glacier Point, we went through Washburn Point, a somewhat less frequented viewpoint. Here, we can see beautiful views of Vernal and Nevada Falls flanked by the imposing Half Dome.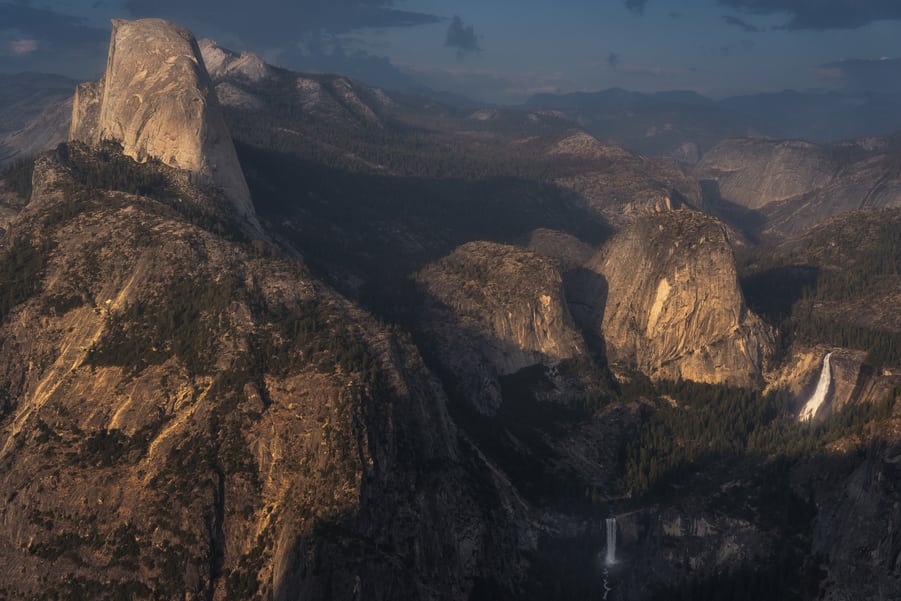 GLACIER POINT
Finally, at the end of the road, we will reach Glacier Point. Without a doubt, this is one of the most stunning and touristic points of the area. You can find restrooms, telephones, and even a store here. Getting a good spot to photograph Half Dome from here at sunset can be complicated by the number of people visiting Glacier Point toward the end of the day, so make sure you arrive well in advance before sunset.
Despite the crowds, it is still one of the must-see locations in Yosemite, even if you can only spend one day in Yosemite National Park.
WHAT TO SEE IN YOSEMITE: TIOGA ROAD
If you are visiting Death Valley after Yosemite or vice versa, the Tioga Road links the two National Parks. However, keep in mind that Tioga Road is a high mountain pass and it is closed by snow most of the year. Although it usually opens from June to October, the dates change every year. I recommend checking conditions on this road before preparing your route.
The best thing about Tioga is that it is relatively quiet and not as touristy as other areas of Yosemite, even during high season. As it is located further away with fewer people, wildlife in the surroundings is abundant. With a bit of luck, you can see endangered species from black bears to Sierra Nevada bighorn sheep. You will see many signals to moderate your speed in the area to protect the wildlife.
Do not miss our guide to prevent and survive bear attacks if you are planning to hike in the backcountry or remote locations around Tioga.
Along this road, we will drive between the two main slopes of Sierra Nevada passing through a vast subalpine meadow, Tuolumne Meadows, and Yosemite Tioga Pass (highest point at more than 13000 feet).
TUOLUMNE GROVE
Starting from Yosemite Valley, the first thing to visit in Yosemite Tioga Road is Tuolumne Grove, a dense forest where we can see giant sequoias.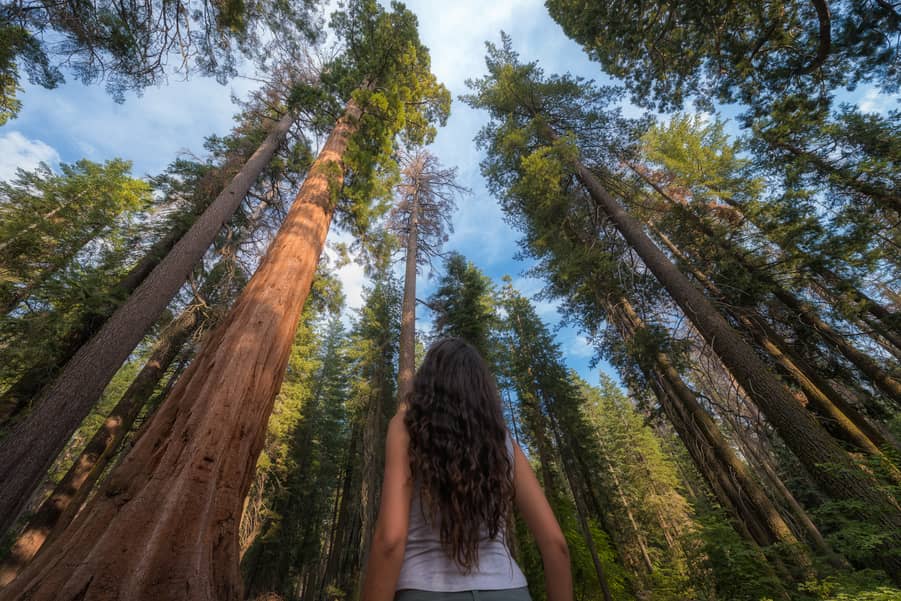 Visitors usually prefer to see these huge trees in Mariposa Grove (which I will talk about later), however, Tuolumne Grove is the best option if you do not have much time or if Mariposa is closed due to snow or for restoration (it happened during our trip).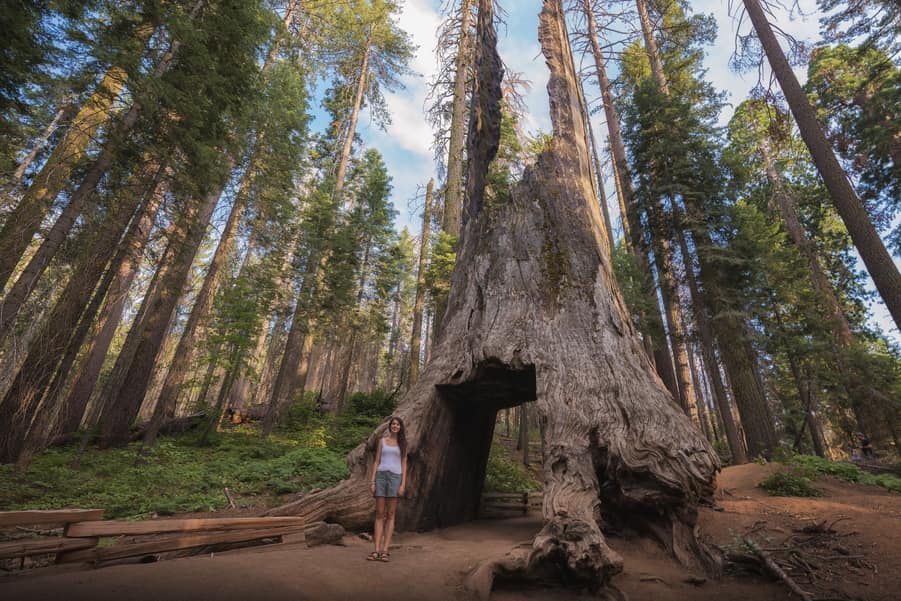 I don't know how big and impressive the sequoias are in Mariposa, so I can't suggest which is better between the two (Mariposa Grove or Tuolumne Grove). Nonetheless, Tuolumne sequoias well exceeded our expectations.
OLMSTED POINT
After passing Tuolumne Grove, we will arrive at Olmsted Point, one of the most popular viewpoints of Tioga Road. From here, we can see the back of Half Dome and other granites that surround it.
TENAYA LAKE
Just after Olmsted Point, we will arrive at Tenaya Lake, a glacial lake where we saw a sunset with spectacular reflections.
One of the most epic hikes in Yosemite, Clouds Rest, starts from here. We didn't have enough time for the 12.4-mile long full day hike, but it is at the top of our bucket list for the next trip.
The hardest section of the hike is between the second and third kilometer, where we gain 980 feet before reaching the Fork of Sunrise Lakes. From here, the route continues without sudden changes in elevation or difficulty until the final section. Although this last part does not require excellent physical condition to finish, it demands a considerable tolerance to heights. After crossing a narrow ridge with falls on both sides, the final reward awaits us: Incredible views of Half Dome, Tenaya Canyon, and the surrounding mountains.
TUOLUMNE MEADOWS
Continuing along the Tioga Road, we will arrive at the Tuolumne Meadows. Here, we will find the Tuolumne River along with several streams, one of the purest and cleanest river systems in the United States. Part of the prairie floods at times of the year, creating a unique and thriving ecosystem.
For the best views of the meadow and surrounding peaks, it is highly recommended to trek the 4-mile route that leads to Lembert Dome and Dog Lake, which takes about 4 hours round trip.
However, the most popular hike in this area leads to the Cathedral Lakes, a 6.8-mile round trip journey that takes approximately 4-6 hours to complete. From here, you can see the Upper and Lower Cathedral Lakes. The main interest here is the unique shape of Cathedral Peak Mountain reflected on the lakes.
GAYLOR LAKES
At the east entrance of Tioga Road, we can take a short but scenic two-hour round trip hike to the Gaylor Lakes and enjoy amazing landscapes. From start to finish of the trail, you can enjoy many wonderful views.
Unfortunately, there are no official Yosemite map that cover all the routes and places of interest on this road covers in depth. Nonetheless, many of them are in this brochure.
WHAT TO SEE IN YOSEMITE: MARIPOSA GROVE
One of the essential things to do in Yosemite is seeing the giant sequoias. These trees are the longest living trees on earth and can live up to 3000 years. Throughout their lives, they can reach more than 320 feet tall and 30 feet in diameter. Walking near these trees will without a doubt make you feel tiny.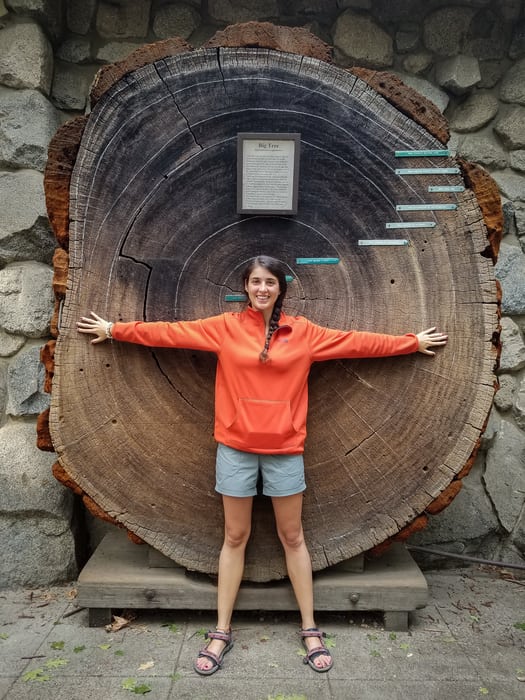 Mariposa Grove is home to the largest grove of more than 500 sequoias in the southern part of Yosemite. One way to reach Mariposa Grove is via a free shuttle that departs from Mariposa Grove Welcome Plaza at the south entrance of Yosemite. The shuttle schedules are available on this website. Car access is prohibited during the hours when the free shuttle is in operation.
In Mariposa Grove, there will be different hiking routes at various difficulty. To get to Upper Grove, an area with a high concentration of redwoods, you will have to hike a difficult route with noteworthy elevation gain. However, don't worry if you are not a hiking enthusiast, there will be easier routes in Lower Grove to find some of the most popular Yosemite redwoods such as Grizzly Giant or California Tunnel Tree. In this link, you can see a map with all the routes in Mariposa Grove.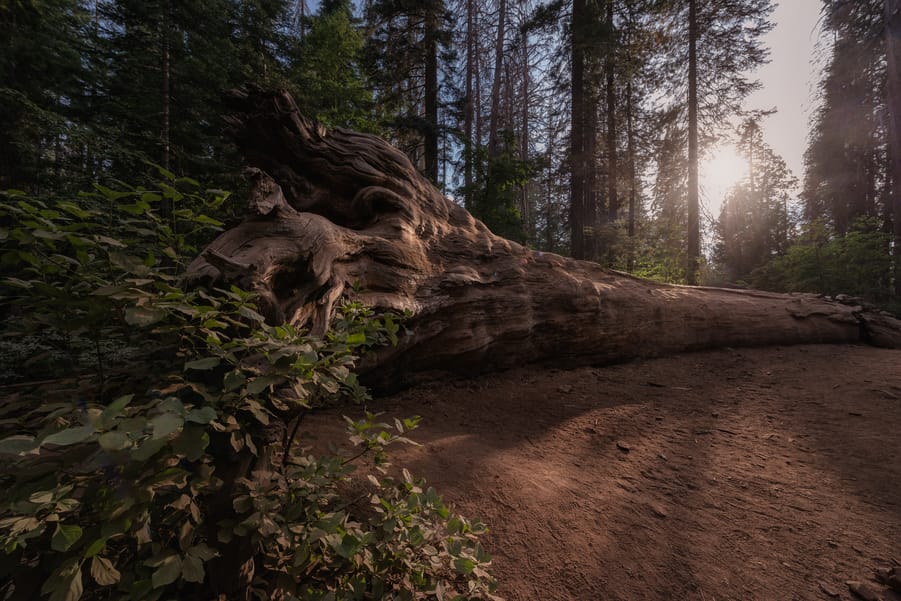 Mariposa Grove was closed at the time of our visit due to a restoration project that lasted three years. Mariposa Grove Road, the road that leads to this forest, will also be closed by snow in the winter. You can check the conditions before your visit here. In any case, if you can't include Mariposa into your route, we suggest not to miss the Tuolumne Grove sequoias in Tiaga Road
Best hikes in Yosemite National Park
Summing up, these are the 10 best hikes in Yosemite:
Upper Yosemite Falls
Nevada Falls
Vernal Falls
Half Dome
Mirror Lake
Taft Point – Sentinel Dome
Toulumne Grove
Clouds Rest
Mariposa Grove Trail
BEST TIPS FOR VISITING YOSEMITE NATIONAL PARK
In this section, you will find essential information for your visit to Yosemite National Park. We will talk about how to get to and around the park, opening times, and entrance fees.
HOW TO GET TO YOSEMITE NATIONAL PARK
Although it is a high mountain park, getting to Yosemite Park in California is easy as it is very well connected.
There are four entrances to Yosemite National Park: Big Oak Flat and Arch Rock Entrance to the west, South Entrance to the south, and Tioga Pass Entrance to the east.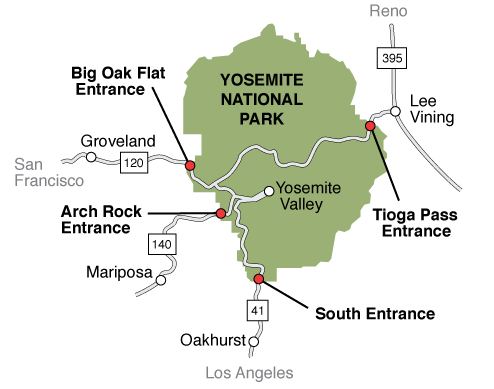 The entrance you will use depends on the time of year and the direction you come from.
HOW TO GET TO YOSEMITE FROM LAS VEGAS
Getting to Yosemite from Las Vegas by car is easier in the summer when Tioga Road is open, and we can use the Tioga Pass Entrance. Otherwise, we must use the South Entrance.
The distance between Yosemite and Las Vegas is 400 miles and takes approximately 7 and a half hours. I recommend visiting Death Valley on your way, arriving at Yosemite from Death Valley the next day. We did this when visiting during the summer.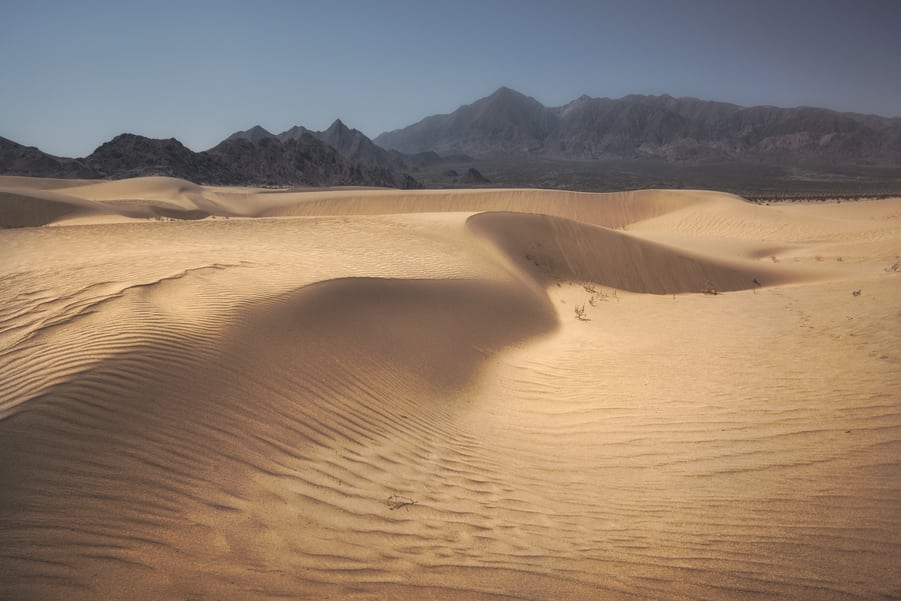 For more information, do not miss our Guide to Death Valley.
If you are coming from Sin City, you may find interesting our list of stuff to do in Las Vegas. Check also where to stay in Las Vegas and where to rent a car in Las Vegas.
HOW TO GET TO YOSEMITE FROM SAN FRANCISCO
To get to Yosemite from San Francisco, we can choose between one of the two east entrances.
Big Oak Flat Entrance can be reached via the 120W route west from Oakdale. This is the fastest way to get to Yosemite from San Francisco (4 hours, 186 miles journey). However, the road is quite steep and it is not recommended for those traveling in an RV.
To enter through Arch Rock Entrance, take route 140 west from Mariposa and Merced. This route has better views and is normally used by RVs and buses, which causes a lot of traffic in the summer. You can check the best motorhome rental companies in this article.
Alternatively, considering the close distance, if you don't want to drive, one option would be to hire a day tour to Yosemite from San Francisco.
If you are coming from this city, check the best things to do In San Francisco and the best areas to stay in SF.
HOW TO GET TO YOSEMITE FROM LOS ANGELES
To get to Yosemite from Los Angeles, take route 41 north from Fresno and Los Angeles. The distance between Yosemite and Los Angeles is 300 miles and the drive will take approximately 6 hours.
If you are coming from this city, check where to go in Los Angeles and best areas to stay in Los Angeles.
HOW TO GET TO YOSEMITE BY BUS
If you travel during peak season when parking is scarce, a solution could be traveling to Yosemite Valley by bus. There is a network of shuttle buses called YARTS that connects Yosemite Valley with the main cities to its east and west: Lee Vining, Mammoth Lakes, Merced, Mariposa, El Portal, and Fresno.
You can check the prices and tours on their website.
YOSEMITE NATIONAL PARK OPENING TIMES
Yosemite is open every day of the year, 24 hours a day. However, roads may be closed by snow or fires.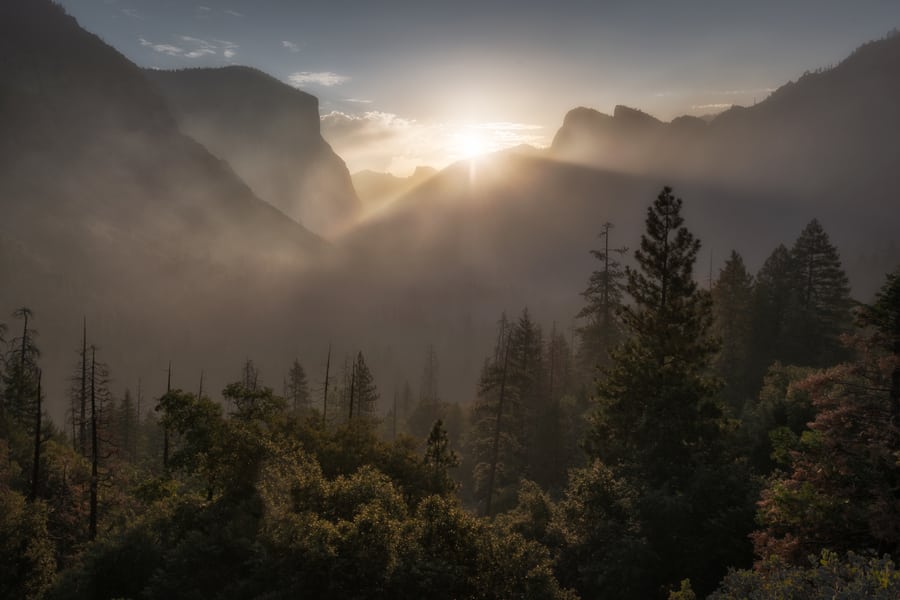 The Yosemite Visitor Center is open from 9 a.m. to 5 p.m. every day.
YOSEMITE NATIONAL PARK ENTRANCE FEE
The entrance fee to Yosemite is $30 per vehicle, including all occupants for seven consecutive days. One option to save money on entrance fees is to buy an America the Beautiful annual pass for $80 if you also plan to visit other national parks.
HOW TO MOVE AROUND YOSEMITE
It is recommended not to move around Yosemite by car in the summer, as there are not enough parking spaces for all visitors, especially in Yosemite Valley. The park is aware of this problem and offer free shuttles that operate year-round from 7 am to 10 pm around Yosemite Valley. You can see the main stops on this Yosemite Valley map. If you travel in June, July, or August, I recommend leaving your car with your place of accommodation and move around the valley by bus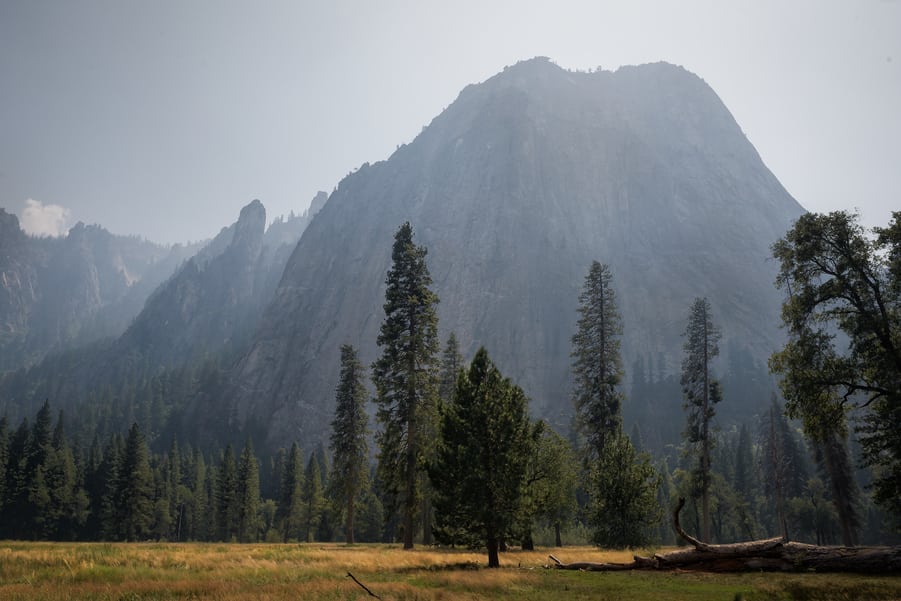 There are also other bus lines in Yosemite National Park that connect the valley with the more remote areas, although these services are private and you will need to buy tickets:
Glacier Point Tour: When Glacier Point Road is open, connects Yosemite Valley with Glacier Point.
Yosemite Valley-Tuolumne Meadows Hikers' Bus: Starts at Yosemite Valley and takes you to various hiking trailheads along Tioga Road.
Big Trees Tour: Link Yosemite Valley with Mariposa Grove when this area of the park is open.
Visit this website to check ticket prices and operational schedules.
MORE INFORMATION ABOUT YOSEMITE NATIONAL PARK
In this section, you will find other tips for planning your visit to Yosemite, such as the best time to visit and things to do during different months, as well as samples of 1, 2, and 3-day itineraries.
BEST TIME TO VISIT YOSEMITE
The best time to visit Yosemite is in the spring, when waterfalls will be overflowing from glacier melt, providing some of the best views. Temperature in Yosemite average between 41ºF and 71ºF during April and May.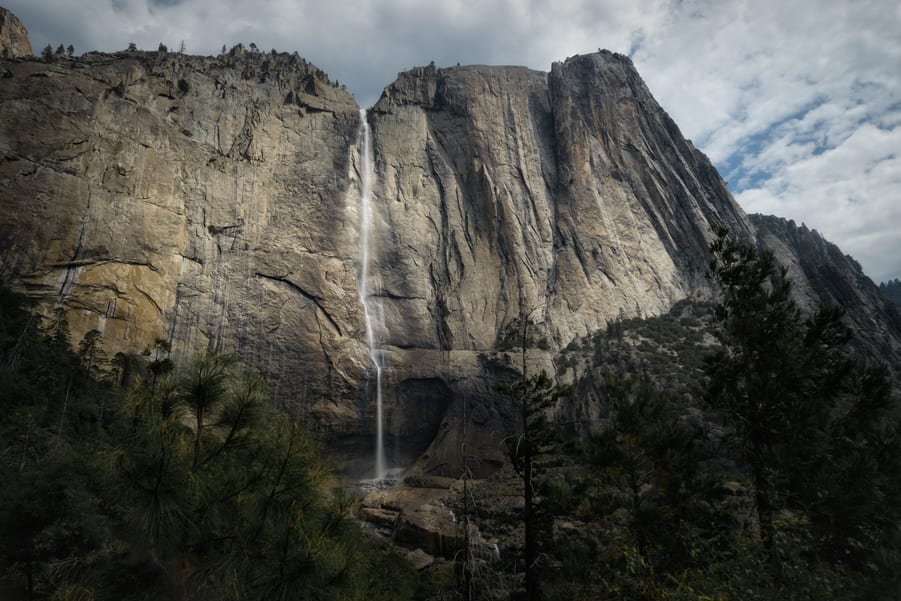 Peak season in Yosemite will be summertime, when all hiking routes and roads are open. At this time, the waterfalls may not have much water left.
During the fall, Yosemite offers beautiful autumn colors, and if the first snowfalls occur during this time, one can enjoy all hiking trails with fewer tourists.
If you are not a snow sports fan, I would not recommend visiting Yosemite during winter. At this time, most roads will be covered by snow and temperatures are generally below 32ºF.
WHAT TO DO IN YOSEMITE DURING EACH MONTH
Here, I propose a series of plans that you can do in Yosemite according to the month that you visit:
| | |
| --- | --- |
| MONTHS | WHAT TO DO IN YOSEMITE ACCORDING TO THE MONTH |
| Yosemite in January | Skiing and Snowboarding |
| Yosemite in February | Enjoy the natural Firefall in Horsetail Fall |
| Yosemite in March | Snowshoeing |
| Yosemite in April | See the "Frazil Ice" in some rivers and waterfalls of Yosemite |
| Yosemite in May | Yosemite waterfalls in all their glory and wildflowers |
| Yosemite in June | "Moonbow" in the Upper and Lower Yosemite Falls |
| Yosemite in July | Great hiking in Yosemite |
| Yosemite in August | Enjoy Mariposa Grove or the Tuolumne Meadows |
| Yosemite in September | More pleasant temperatures for climbing |
| Yosemite in October | Enjoy the fall colors in Yosemite |
| Yosemite in November | Simple hiking trails and photographing the valley with clouds and autumn light |
| Yosemite in December | Celebrate Christmas with the famous "Christmas Bracebridge dinner" at the Majestic Hotel |
HOW MANY DAYS ARE NECESSARY TO VISIT YOSEMITE NATIONAL PARK
Yosemite covers a great extension so you will still have plenty of things to do even if you spend a week here. Realistically, most people only spend a day or two in this park.
WHAT TO DO IN YOSEMITE IN ONE DAY
If you are planning to spend one day in Yosemite, the best itinerary should include the main car accessible viewpoints of Glacier Point Road, such as Valley View, Tunnel View, and Glacier Point.
I suggest spending one night here, otherwise, you will spend a long time entering and leaving the valley.
If you're not going to stay overnight, there are Yosemite Day Tours from San Francisco, which will be the best option if you're in this nearby city and do not have much time.
TWO-DAY ITINERARY IN YOSEMITE
If you have two days to visit Yosemite, you can add a short hiking route, such as Mirror Lake, Lower Yosemite Falls, or Bridalveil Falls.
You can also opt to visit some of the more distant places such as Mariposa Grove or Tuolumne Grove.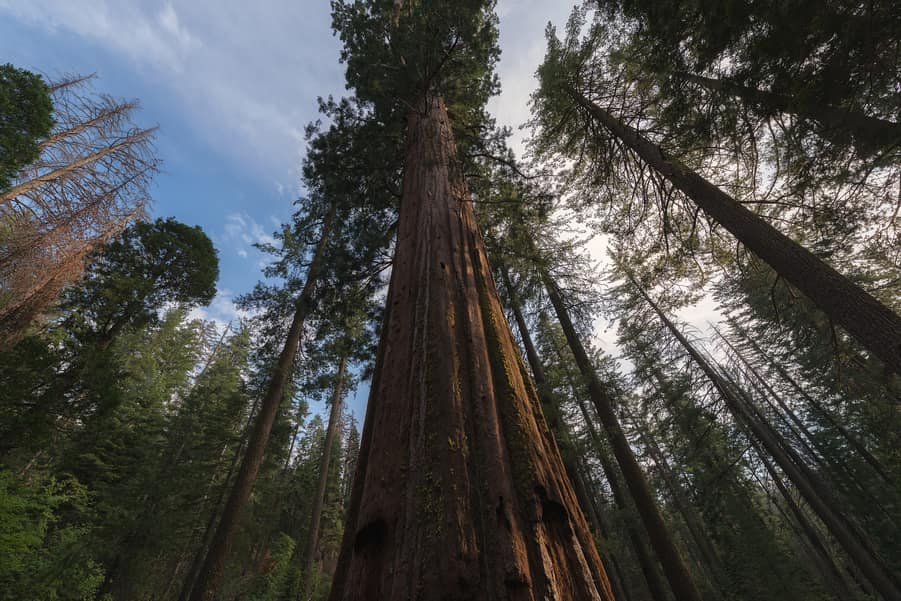 THREE-DAY ITINERARY IN YOSEMITE
If you can spend 3 or more days in Yosemite, add a longer trek, such as the one to Nevada Falls, Clouds Rest, or Upper Yosemite Falls.
In addition to Mariposa or Tuolumne Grove, if we travel in the summer, we could go further into areas along the Tioga Road.
YOSEMITE FACTS
It may interest you to learn about Yosemite and its long history of interesting and remarkable facts as you prepare for your trip.
Fire is a natural part of Yosemite. It is fundamental to the park's ecosystem. However, manmade fires have often threatened the safety of people and property.
Some of these uncontrolled fires have ended with Yosemite National Park closed, such as the Ferguson fire in August 2018. Yosemite Valley and Mariposa Grove were subsequently closed. Reopening of park did not take place until the following week, and luckily, the Yosemite Valley did not end up burned, only filled with smoke from the nearby fire.
When we traveled in August 2017, Yosemite was not closed, but there was still a lot of smoke in the valley from near fires which created an alert in the park.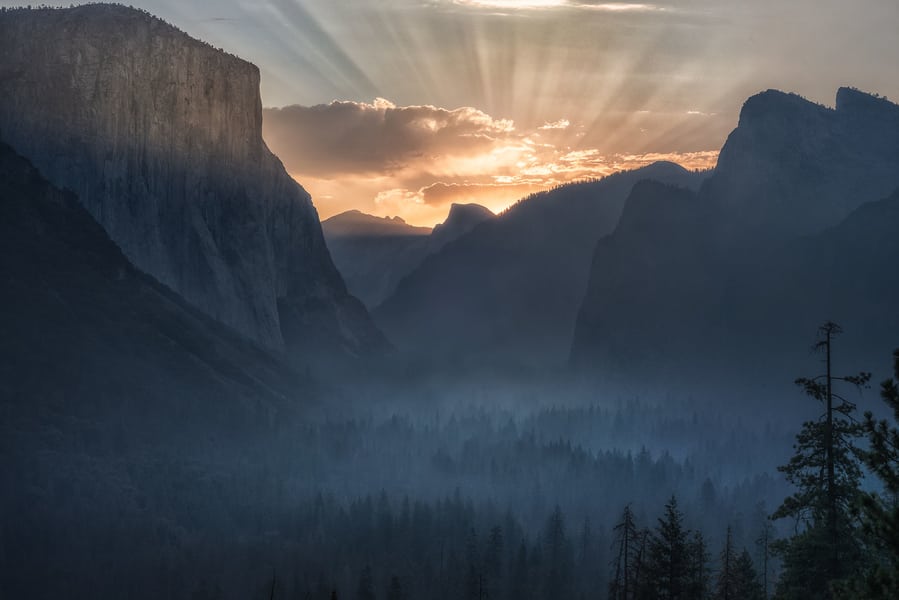 In any case, remember that fires produced by lightning in Yosemite are common in the summer and it is essential to check this Yosemite fire map before your trip.
BEARS IN YOSEMITE
Throughout the park, you will find a lot of posters and signals of bears warning in Yosemite.
In addition to watching your speed while driving, follow rules regarding storage of food and hygiene products that can attract bears. In almost all car parks and campsites, you will have access to bear-proofed food containers.
American black bears, the only type of bears we can find in Yosemite, are not usually aggressive. However, having gotten used to the presence of human due lack of early wild bear policies, they have lost their fear and become more aggressive overtime.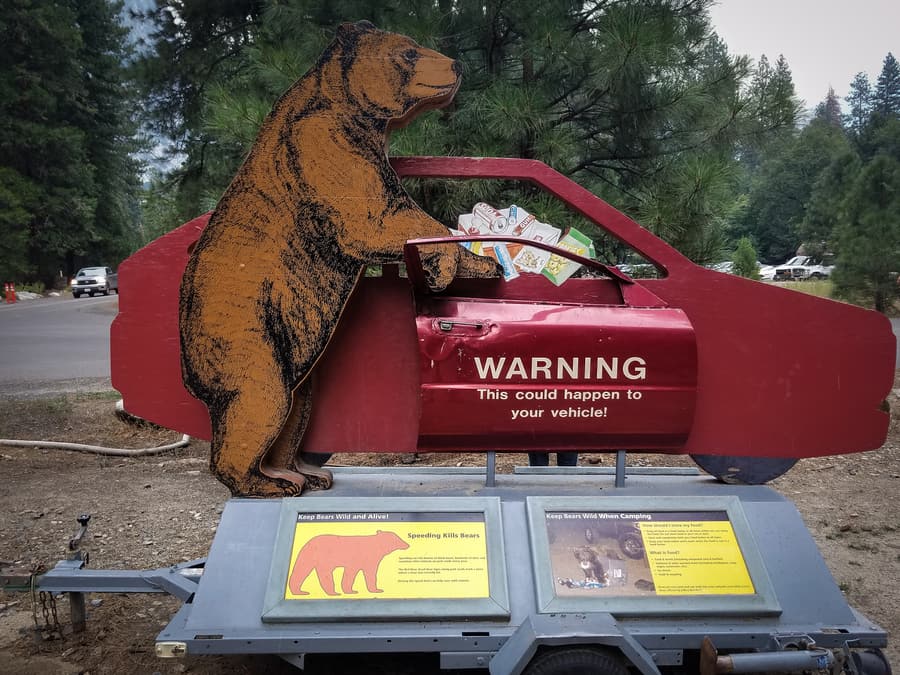 Nowadays, bears found in camps and urbanized areas are put down to sleep. To protect yourself and the bears, store your food properly in the right containers and follow basic precautions.
If you are interested in this topic you can find more information on our guide on avoiding bears attacks.
DEATHS IN YOSEMITE
Sadly, Yosemite is one of the National parks where more accidents take place, and people lose their lives every year here.
Even though it might look like a homely and friendly national park, every single year there are drowning, lightning, and fall-related deaths. That's why I always recommend buying high-coverage travel insurance for the USA. This is the best travel insurance coverage and price.

5% OFF your travel insurance
Are you going to spend a long time in the US. Then you should check the best long-term travel insurance companies.
While the views are spectacular at the main lookouts, getting closer to the edge won't offer a better perspective for your photograph – a selfie on the edge of a cliff is not worth your life.
In this book, you can see that deaths in Yosemite are not rare with more than 800 registered accidents.
CLIMBING IN YOSEMITE
Yosemite is renowned for being the mecca of rock climbing. The smooth granite walls found here are prized for the sport, which are also intimately linked with the history of the Yosemite Valley.
Before the 20th century, naturalist John Muir began to climb some of the walls without ropes or climbing equipment. It was not until the early 30s that the first pythons and rappelling systems arrived in the valley from European Alps.
The real start of rock climbing began in the 1950s, with some notable happenings such as the rivalry between Warren Harding and Royal Robins on conquering Half Dome and El Capitan, unscaled walls at the time.
The sport reached its peak in the 70s when famous rock-climbing groups such as the Stonemasters emerged. Lead by Jim Bridwell, the group is famous for popularizing "Camp 4".
The 90s was the era of "Speed Climbing" when El Capitan was first ascended. Some of the most famous climbers of this period include Dean Potter and Lynn Hill.
Speed climbing has continued to develop into the 2000s with notable climbers such as Tommy Caldwell and Alex Honold who are known for beating all existing records. Free Solo, the documentary of Honold's El Capitan climb in June 2017, is available on National Geographic.
HIPPIES IN YOSEMITE
There is a strong link between climbing and the hippy movement in the 50s that came with the rise of a counterculture who wished to break ties with the established order.
During this era, you would often find a congregation of young and unemployed marijuana smoking climbers at the base of El Capitan. As expected, this caused frequent squabbles between them and the Park Rangers who viewed that they were presenting a bad image of the valley amidst growing tourism.
However, everything changed one morning in 1977 when an off-radar plane from Colombia crashed into Yosemite.
The climbers who were the first to arrive on scene found six tons of marijuana that made them millionaires on the spot. This continues to be one of Yosemite's most fascinating stories.
Even if you are not a climbing lover, I recommend watching Valley Uprising, a documentary narrating how hippies found Yosemite the perfect place to break societal rules through climbing.
As this topic is extensive, we have written an article on where to stay in Yosemite National Park. However, in this article we wanted to tell you very briefly where to sleep in Yosemite.
We will divide it into two sections: accommodations within Yosemite National Park and accommodations near Yosemite National Park. In addition to recommending some of the best hotels in Yosemite, we will tell you the options you have for camping.
Yosemite is one of the most visited national parks in the United States, so if you don't plan your trip ahead of time, it can be difficult to find accommodation. These are the three best options if you want to sleep in Yosemite National Park:
If you decide to stay outside Yosemite National Park, here is a list of the best accommodation per the four park entrances we spoke of earlier:
HOTELS NEAR ARCH ROCK ENTRANCE
Arch Rock entrance is the closest to Yosemite Valley, making it a popular area to stay in. The nearest towns are El Portal and Mariposa. Following are suitable accommodation we found in these two locations:
HOTELS NEAR BIG OAK FLAT ENTRANCE
Our recommendations near Big Oak Flat based on value per rate:
If you do not find anything available for your dates at the time of booking, I recommend trying Groveland.
HOTELS NEAR YOSEMITE SOUTH ENTRANCE
It is best to look for a hotel near Oakhurst if you plan to enter at the south entrance. These are some of the best quality per price recommendations:
HOTELS NEAR TIOGA PASS ENTRANCE
If entering from the east at Tioga Pass, I advise staying at Lee Vining, June Lake, or Mammoth Lakes. Some of the best accommodation in the area are as follow:
We decided to camp in Yosemite. We chose Camp 4, since it is a historic place, no reservation is needed and it is also very cheap. If you are thinking about this option, I recommend you read our article on where to stay in Yosemite.
YOSEMITE NATIONAL PARK MAP
With this Yosemite map, we bid you goodbye. You will find all facilities and attractions within and surrounding Yosemite.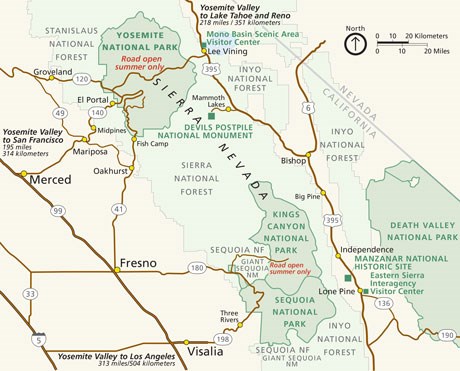 We hope this will come in handy for your trip!
SEE YOU IN THE NEXT POST AND DO NOT HESITATE TO LEAVE US A COMMENT IF YOU NEED MORE INFORMATION ABOUT YOSEMITE.