The Mojave Desert is usually crossed when traveling from Los Angeles to Las Vegas by car.
Interstate 15 spreads across more than 280 miles this immense desert that goes commonly unnoticed by the millions of tourists who make this popular journey as fast as possible, so the 6 hours trip from Los Angeles to Las Vegas doesn't take longer.
However, the Mojave Desert is a unique place that you should not miss on your route along the West Coast of the United States. It is one of the largest areas assigned by the National Park System of the United States and includes four national parks: Joshua Tree National Park, Death Valley National Park, Mead Lake National Recreational Area, and Mojave National Preserve.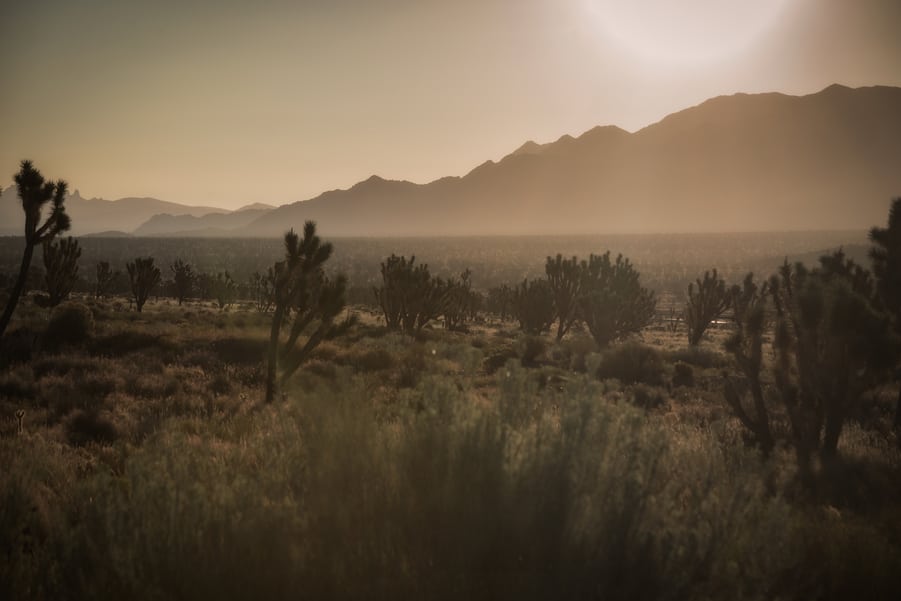 During the planning of our trip to the West Coast America in 10 days, we found incredible images of Joshua trees, a very peculiar and unique tree, so at first, we thought about visiting Joshua Tree National Park. However, after checking the location on a map and considering other places we wanted to visit, we had no option but leaving out this National Park because it was too far from our other points of interest.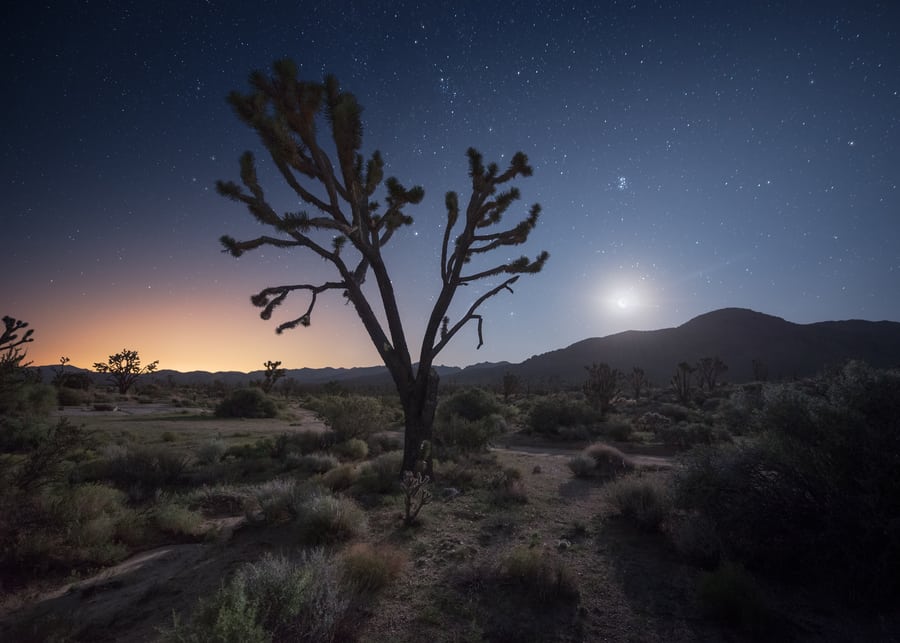 Our surprise came later when we discovered that Mojave National Preserve is the place with the highest concentration of Joshua trees in the world, and it was much closer to other areas we were planning to visit.
VISITING JOSHUA TREE OR MOJAVE NATIONAL PRESERVE?
A common question is whether to visit Joshua Tree or Mojave, so we will try to help you decide which would fulfill your expectations.
if you want to see Joshua trees, both Mojave National Preserve and Joshua Tree National Park would be fine, considering there are more trees in the former.
If you want to see stunning rock formations taken from another world, perhaps Joshua Tree National Park is more convenient, but if instead, you prefer to know about the Mojave Desert wildlife, then Mojave National Park is the ideal place.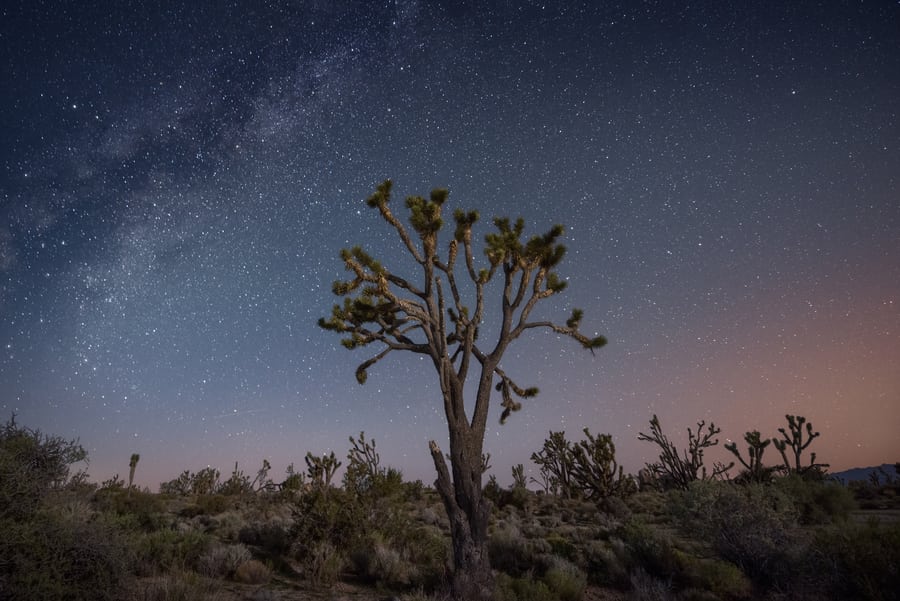 That's why we finally decided to visit Mojave National Park and Death Valley on our route from the Grand Canyon to Yosemite National Park.
In this article, you will find all the information of Mojave National Preserve, although in our travel blog you can find a Guide to Death Valley.
MOJAVE NATIONAL PRESERVE GUIDE
The Mojave Desert is placed across four states of the United States: Most of the area is located in Southern California, and we can also find areas in southern Nevada, northwest Arizona and a minimal extension in southwestern Utah. Mojave National Preserve is in California, and this is the area we will cover in this article.
You will find in our Guide to Mojave National Preserve:
HOW TO GET TO MOJAVE
To know how to get to Mojave, you must take into account that either if you make a stop on Route 66 in Mojave National Preserve, or if you make the route by car from Las Vegas to Los Angeles through the Interstate 15, you will need a rental car.
The temperatures in Mojave are very high, and if you go from Los Angeles to Las Vegas, you may find information panels suggesting you turn off the air conditioning because until the California Sierra Nevada the road will be uphill.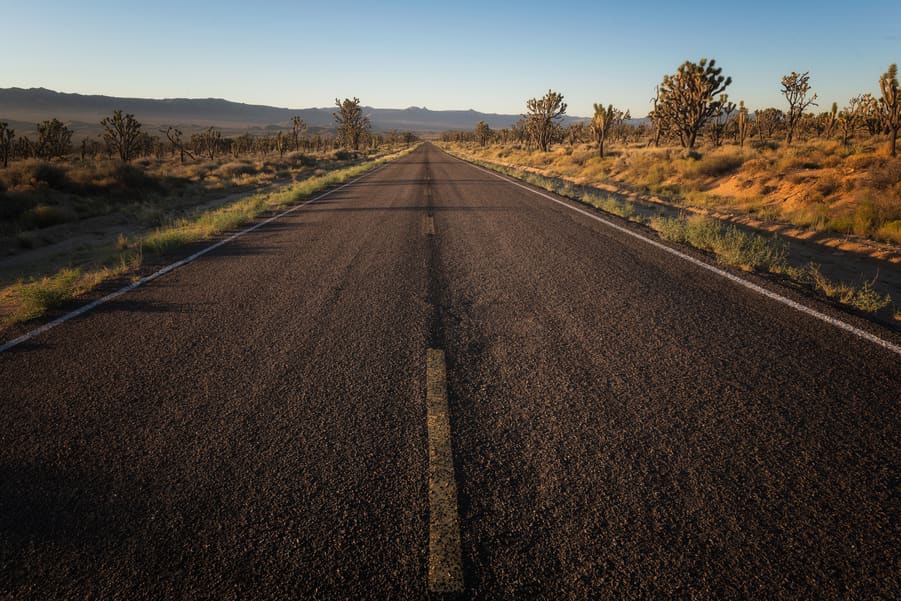 If you wonder if taking a gas bottle to cross the Mojave Desert is necessary, in our case, we had no trouble with a full tank, so it should be fine unless you are planning to spend several days in the area.
BEST THINGS TO DO IN THE MOJAVE NATIONAL PRESERVE
The Mojave Desert landscape will not leave you indifferent. Exploring the roads, some of them only accessible by 4×4, discovering its unique wildlife and feeling the real soul of the desert are some of the extraordinary things you can experience in Mojave.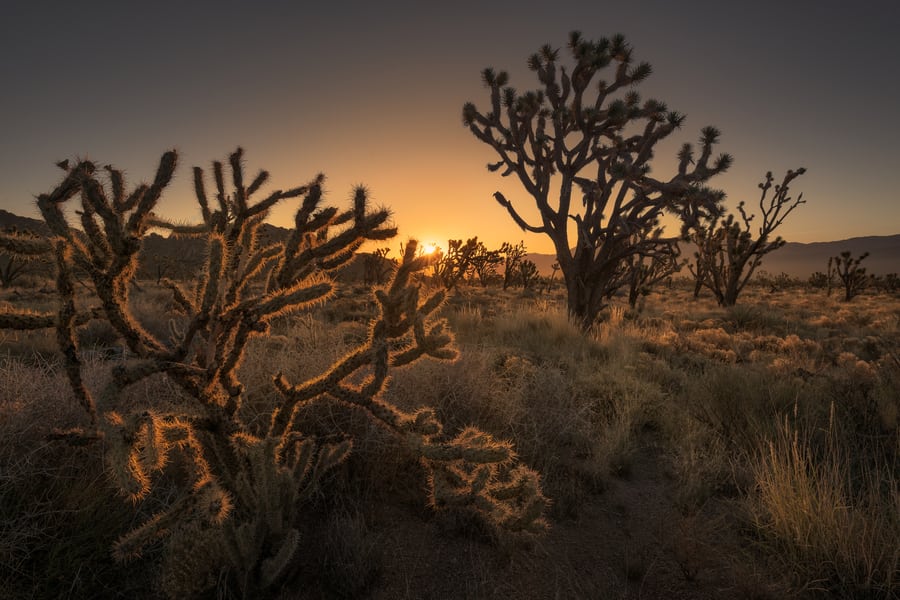 In this section, we will tell you the best things to see and to do in Mojave National Preserve.
CIMA ROAD
On both sides of this road, you can find the largest concentration of Joshua trees in the world. Try to visit this location during the day to enjoy its absolute beauty.
If you want to have a view from the top of this extensive Joshua tree forest, I recommend you take the Teutonia Peak hiking trail which is located at 5754 feet and is the highest point of the Cima Dome.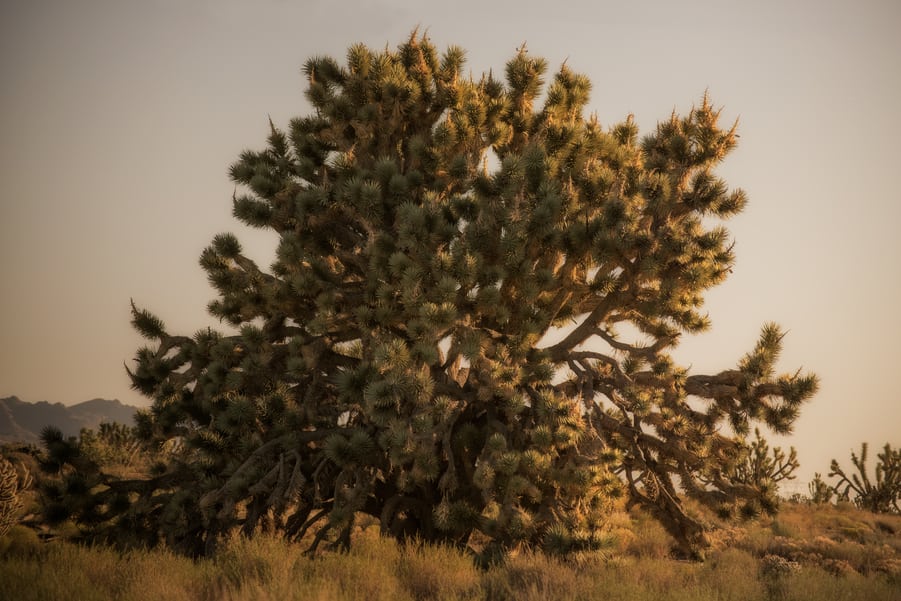 Also, when you cross this road, you will pass through Mojave Cross, a memorial dedicated to the dead of the First World War that rises over the Sunrise Rock and where we camped the night we spent in the Mojave Desert.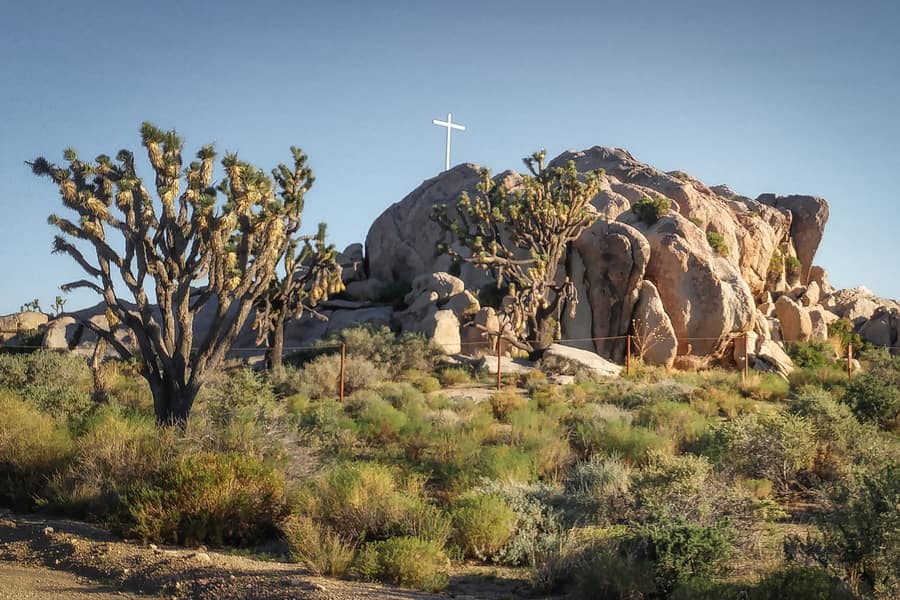 At the end of the road, we will reach the ghost town of Cima, which after being exploited for its mining resources was abandoned. Today, you can see different buildings demolished, as well as abandoned railroad cars that made Cima to be considered as a ghost town.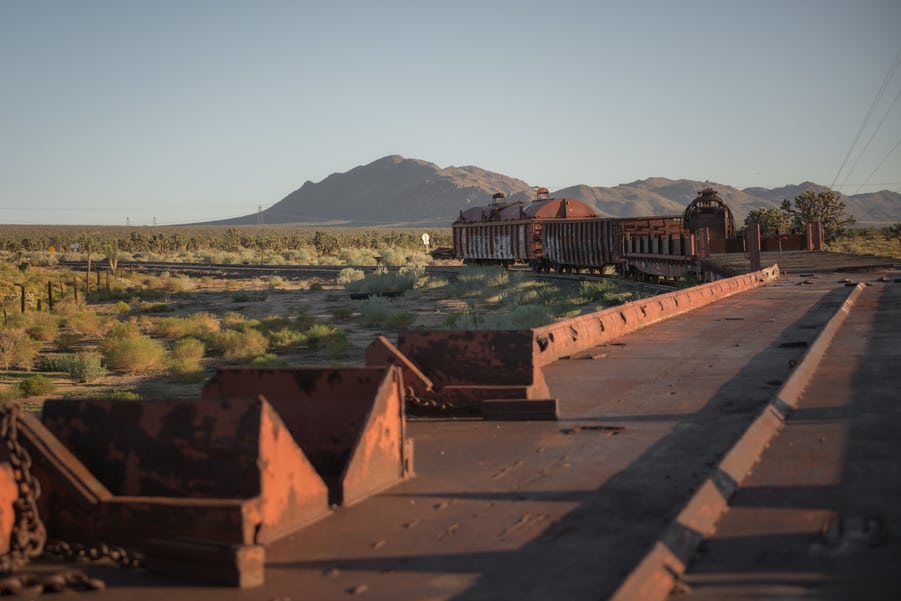 MOJAVE DESERT LAVA TUBE
Mojave National Preserve is located on an extinct volcanic zone. In addition to lava deposits and slag cones, we can find up to 32 extinct volcanoes. One of the most impressive formations is a lava tunnel, Mojave Desert Lava Tube, 1312 feet deep where there is a hole that creates light beams during the afternoon.
KELSO DUNES
Another essential thing to do in Mojave National Preserve is to watch the sunrise or sunset in the Kelso Dunes, the second largest dune system in California, extending over 44 square miles. In addition, the highest dunes rise about 600 feet, so after climbing them, we can enjoy incredible panoramic views of the desert.
During the wetter springs, the dunes are covered with wildflowers, coloring the sand and forming a unique pattern also found in other areas of the Mojave Desert.
If you need more information, I recommend you visit the Kelso Depot Visitor Center, in the so-called Kelso ghost town. The building is an abandoned train depot that was reopened as a visitor center and a cultural oasis for everyone visiting Mojave.
RINGS TRAIL
Very close to the Hall-in-the-Wall Visitor Center we found one of the best hikes in Mojave National Preserve. The Rings Trail was named because of the metal rings that you must use to climb a section of this trail.
According to a 19th-century legend, in order to hide from the cowboys, the American Indians climbed up and down the Banshee Canyon. To follow their tracks, a via ferrata was installed so visitors could take the same route.
As it is a circular route, if you don't feel great about hiking the metal rings section , you can simply return from the same way. This road connects Mid-Hills to the Hole-in-the-Wall trail, where, also, there are signs that help identify the Mojave plants that we will find.
MITCHELL CAVERNS
The limestone caves of Mitchell Caverns is another excellent attraction to visit in Mojave National Preserve. Located on a slope in Providence Mountains State Recreation Area, they are operational again after seven years closed to the public. To visit them it is necessary to book a guided tour by calling 760 928-2586 on Mondays from 8 am to 5 pm.
The guided tour of one hour and 1'24 miles round trip takes place twice a day, at 11 am and 2 pm, from Friday to Sunday and on Mondays, with a maximum of 15 participants. The price of the tour is $ 10 per person.
The caverns include two main caves called El Pakiva (The Devil's House) and Tecopa.
Curious formations take random forms throughout the cave. We will find spectacular and sharp stalagmites, stalactites and helictites.
ZZYZX
The last town in the world alphabetically speaking, ZZYZX, also known as "Soda Springs," is located in San Bernardino County, in the Mojave National Preserve.
The origin of this village was a garrison of the United States army abandoned in the XIX century, which later became a place where people who crossed the Mojave desert could stop to rest and get supplies like food or gas.
However, with the development of other means of transport, people crossing through this town were becoming less frequent, ending up turned into an abandoned place like other Mojave ghost-towns.
The curious name of the town comes from an American radio evangelist, who after a few years, requested a permit to build a spa in the area after the supposed curative properties of the water of the place and choosing the last letters of the alphabet for the facilities, Zzyzx (which is pronounced as zi-six)
After a few years, the government of the United States chased the healer for irregularities in the permits obtained and closed the spa. However, the town and the road that reaches Zzyzx, kept its peculiar name.
MOJAVE WILDLIFE: ANIMALS YOU CAN FIND IN MOJAVE
If something fascinated me, it was the variety of animals to see in Mojave that we could experience with just one night in the desert.
As soon as we entered the Cima Road, there were signs to pay attention to the road, since the Mojave desert tortoises often cross it.
Once we camped and the full moon lit Joshua's trees, the howls of the coyotes began to sound closer and closer. Even though it might sound scary, it was the most magic soundtrack under the Mojave Milky Way.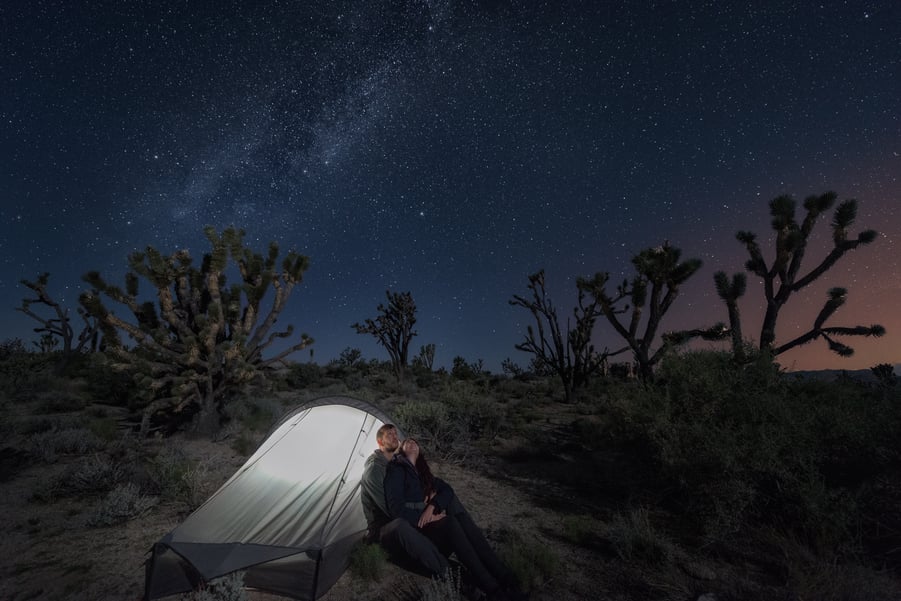 Learn how to photograph the Milky Way
The next morning, almost reaching the ghost town of Cima, we could see a big colony of wild black-tailed jackrabbit that was very active. We had never seen a rabbit with such large ears, much longer than common jackrabbits.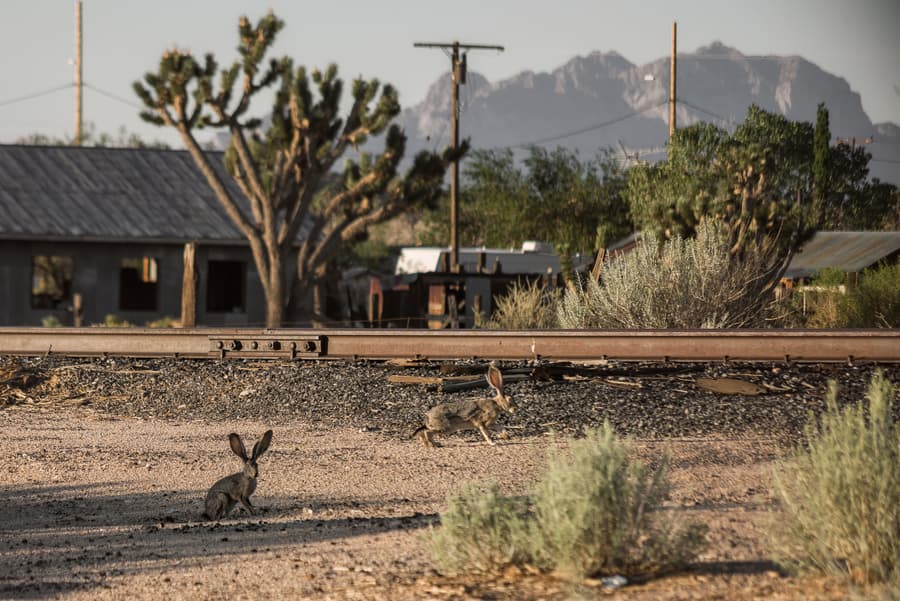 However, all of them disappeared when suddenly a bobcat, appeared crossing the abandoned train rails. Sadly, our presence made him uncomfortable, and he left as fast as he could to hunt elsewhere.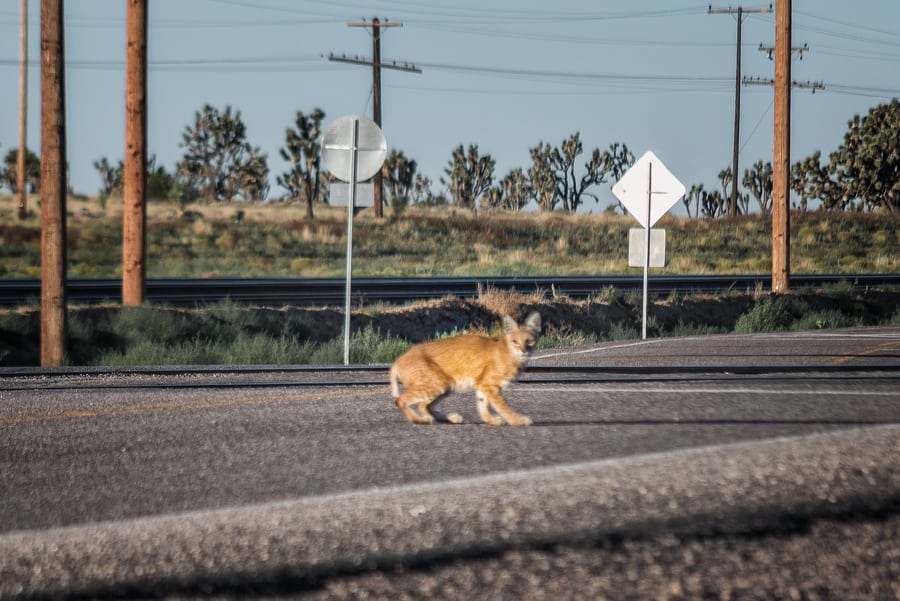 There are many animals in Mojave, but not all of them are harmless. The Mojave desert snake is one of those animals you need to watch out carefully, especially when you approach rocky areas. This snake, also known as the Mojave Rattlesnake, is one of the most poisonous snakes in the world, so although the chances of being attacked and bitten by a snake in Mojave are not very high, please do not enter the desert without knowing the necessary precautions to avoid encounters and always having a good travel insurance.

We collaborate with MONDO, since they offer complimentary cellphone medical assistance  to their clients. If you hire your insurance through our link, you will have a discount of 5%, and we will receive a small commission that will help us to continue with this project.
WHERE TO SLEEP IN MOJAVE
The best way to stay in Mojave is camping since within the Mojave National Preserve there are no hotels. If you want to look for hotels near Mojave, then try Barstow, Needles and Twentynine Palms, in California, or Primm and Searchlight, in Nevada.
Within the reserve we can find two campsites, Hole-in-the-Wall and Mid-Hills, for groups of less than eight people; they offer water and bathrooms, but no showers or electrical connections.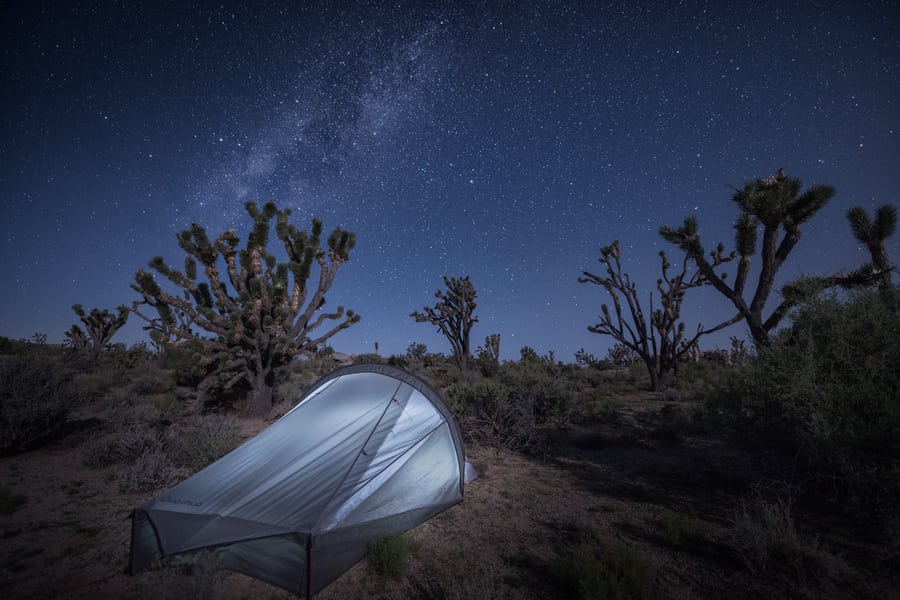 The price is $ 12 per plot or $ 6 if you have an America the Beautiful pass and they operate on a First-Come, First-Served basis. In addition, you should know that the road to reach the Mid-Hills is a dirt road in not so good conditions as the one to go to Hole-in-the-Wall since it is next to the visitor center.
Besides, we can find a third campsite for groups or for travelers on horseback, Black Canyon Campground, which must be booked in advance by calling 760-928-2572 or 760-252-6104.
Another way to sleep in Mojave is curious, but it is just camping legally on the side of the road. This is only allowed in certain areas, where traditionally it has been done. On the map at the end of the article, you will find these areas painted in black, so that you can locate them. We camped in Sunrise Rock, on the Cima road, where we had one of the most unforgettable nights of our life and of course, we enjoyed the sunrise surrounded by the unique Joshua trees.
MOJAVE DESERT FACTS
As we have previously seen, Mojave is a unique place concerning geology, botanic and wildlife, but there are many other facts about Mojave in terms of history and nature that can be interesting if you visit this desert.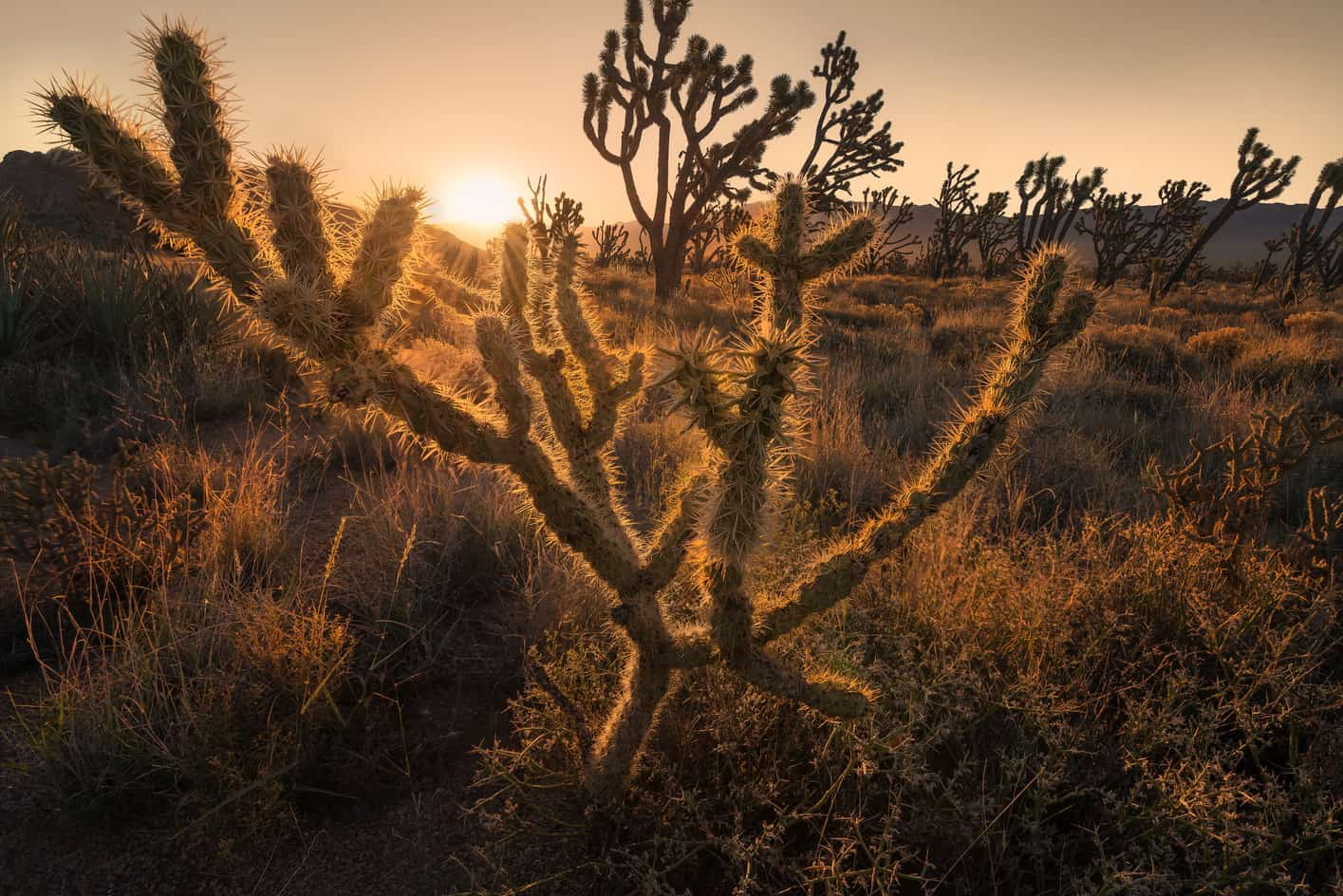 Mojave army base: In the middle of the Mojave desert is located Fort Irwin National Training Center, a training area for the United States military. This center is colloquially known as an "Artificial Afghanistan" where soldiers could simulate battlefields in similar conditions to the those of the middle east.
Mojave annual rainfall: Mojave Desert is also one of the driest places in the US. Like Death Valley, it is located in the rain shadow of the California Coast Ranges, which involves a precipitation average of just 5 inches a year. Temperatures in Mojave, however, fluctuate hugely from day to night and depending on the seasons.
Mojave night skies: As Mojave is located far from any population or settlement, there is no light pollution. Thanks to this fact and the clear skies, In Mojave we can enjoy some of the best dark skies in the world, perfect for stargazing and night photography.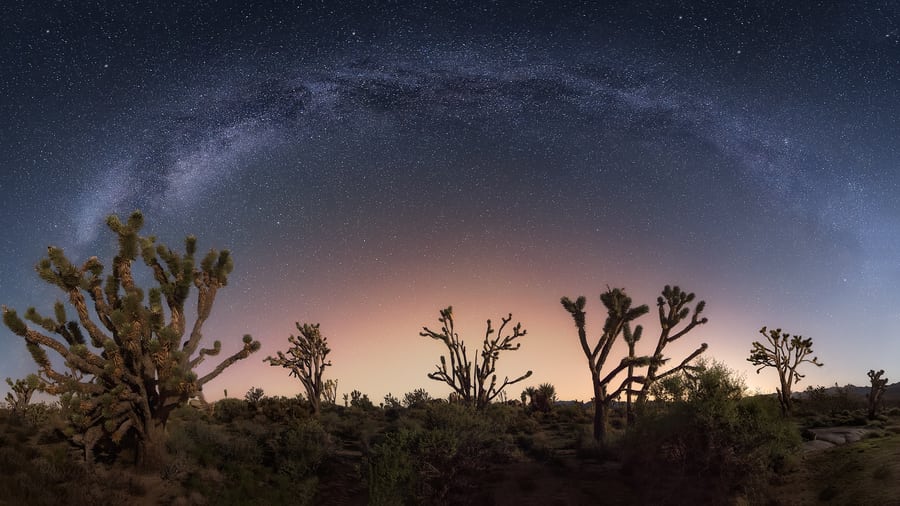 Mojave earthquake: Mojave spreads across an active tectonic plate, which results in finding rare formations for this area of the US like the Mojave volcanic cones or in other phenomena like earthquakes, as the strong Mojave earthquake which took place in 1999.
BEST IMAGES OF MOJAVE
Below you can find our best photos of Mojave. The Mojave Desert has many photography possibilities, so we hope to return very soon to keep exploring new locations and areas.
Mojave is a great unknown, and therefore we could not photograph many of the most amazing places in Mojave National Preserve as we would have liked to do, but we hope this guide has been useful and consider spending at least one day photographing the Mojave Desert.
MOJAVE NATIONAL PRESERVE MAP
To finish this article, below you can find a Mojave map where I wrote down the main places of interest to see in Mojave National Park.
If you want to use this map of Mojave National Park on your mobile and without internet:
Download the Mapswithme app on your cell phone.
Download and save the following KML file in your Dropbox.
Open the file through Dropbox from your cell phone. You will get a dialog box where you have to select open with the Mapswithme application (Maps.me)
Ready, you have everything you need to start your trip.
SEE YOU IN THE NEXT ARTICLE AND DO NOT HESITATE TO LEAVE US A COMMENT IF YOU NEED MORE INFORMATION ABOUT mojave national preserve.

---
– OTHER POSTS OF THE WEST COAST AMERICA COLLECTION –
Don't miss out...