The best family travel quotes are a great reminder of why traveling together as a family has so many benefits. Not only will you create lasting memories for your kids and (literally) broaden their horizons, but you'll also get the chance to bond as a family as you ride out all the ups and downs of your adventure together.
On top of that, traveling with your kids will allow you to see the world through new eyes and watch as they learn more about the world and themselves. This collection of family vacation quotes includes everything from hilarious family vacation sayings and motivational family adventure quotes to brief but beautiful family getaway quotes.
I hope these quotes about family trips are meaningful and inspire you to plan your next great family adventure. Save your favorites to use as photo captions, travel wisdom, or future travel inspiration. Also, don't forget that we have a list of the top 100 quotes about travel that will fuel your wanderlust!
Short Family Travel Quotes
Concise yet powerful, these short family travel quotes are the perfect kickstarter for an epic family vacation.
1. "Having kids is a reason to travel, never a reason to stop." – Anonymous
This lovely traveling with family quote overturns the usual assumption that having children can limit traveling. Instead, as this quote expresses, traveling with kids is so important because it teaches them more about the world.
2. "A family that travels together stays together." – Unknown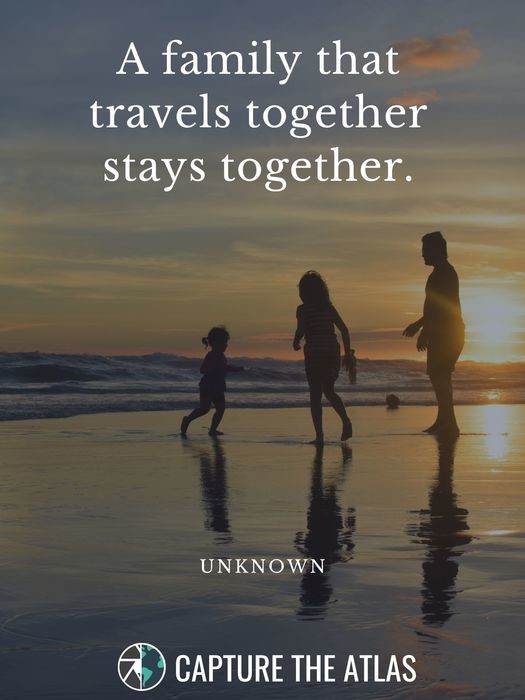 This family holidays quote works both literally (in that you physically can't escape your family when you're on vacation together!) and figuratively (travel, as I've mentioned, is an amazing way to bond). Either way you look at it, you and your family will get to spend lots of time together when you travel.
3. "This is my road. I'm so happy you came and traveled with me." – Rachel Hartman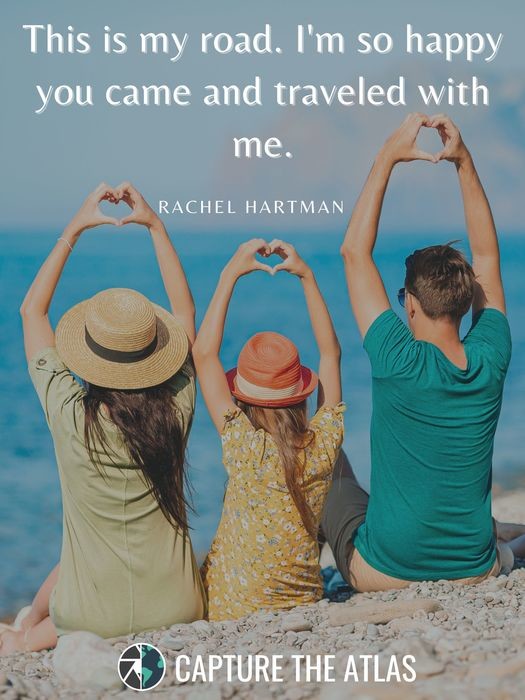 Share this lovely family road trip quote with your family to express your gratitude for their company.
4. "What child has not travelled by spinning the globe." – Anonymous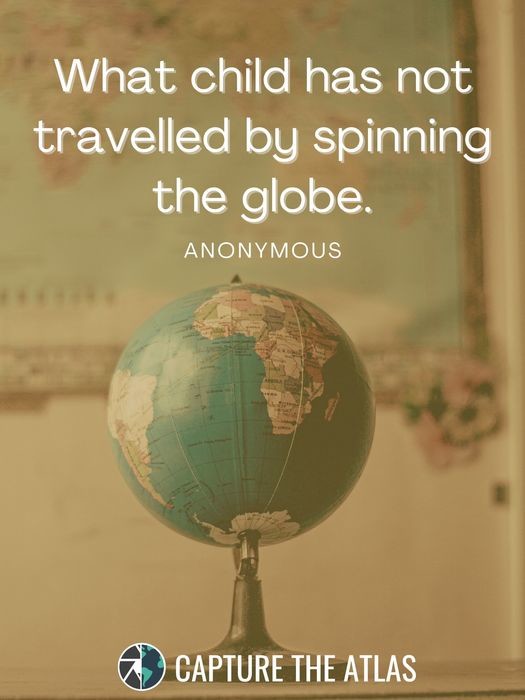 Children have such vivid imaginations that they can travel places in their minds, but it's also great for them to physically travel the globe!
5. "It is never too early to begin exploring the world." – Unknown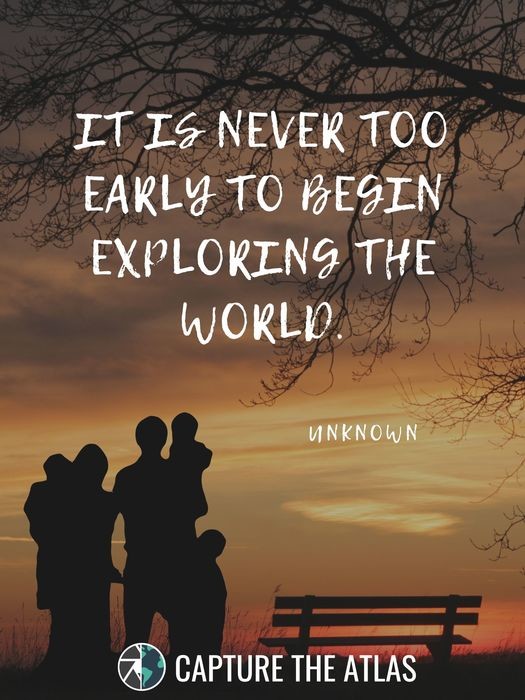 This quote about family and travel is a wonderful reminder that traveling has no age minimum or limit.
6. "Adventures: they're the best gift you could ever give your kids." – Unknown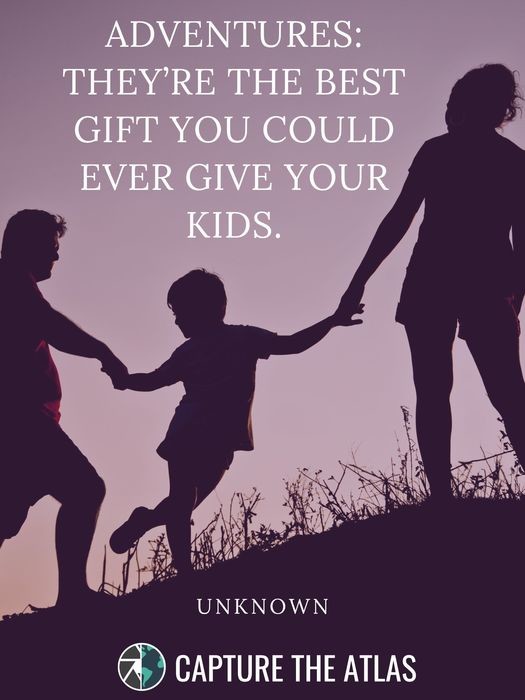 As this family love travel quote shows, travel experiences are valuable and memorable gifts that your children will cherish.
7. "Two of the greatest gifts we can give our children are roots and wings." – Hodding Carter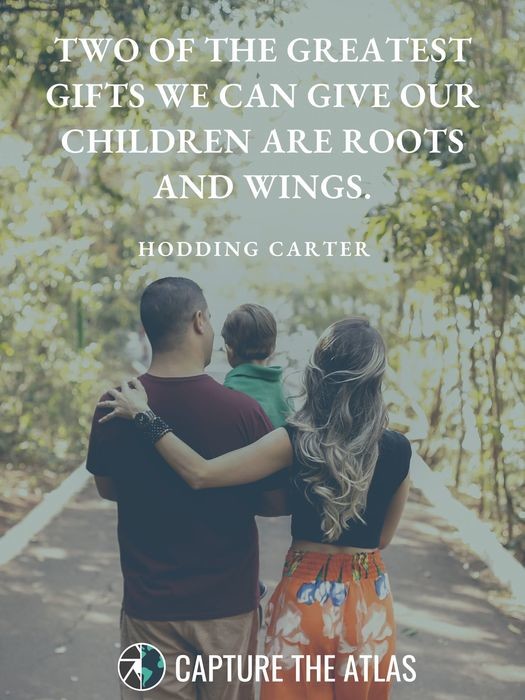 This quote on family travel reminds us that children need a good mix of both stability and adventure.
8. "The world is your playground." – Anonymous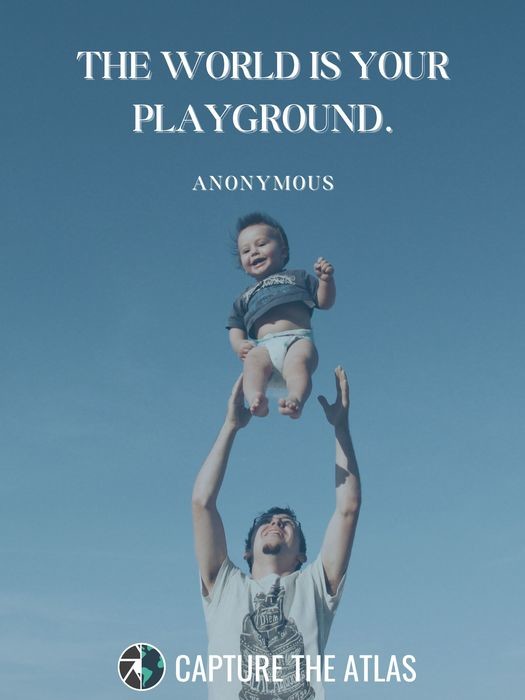 As this happy family travel quote suggests, you should embrace your inner child and adopt a sense of playfulness as you explore. After all, you're never too old to be young at heart!
9. "And at the end of the day, your feet should be dirty, your hair messy and your eyes sparkling." – Shanti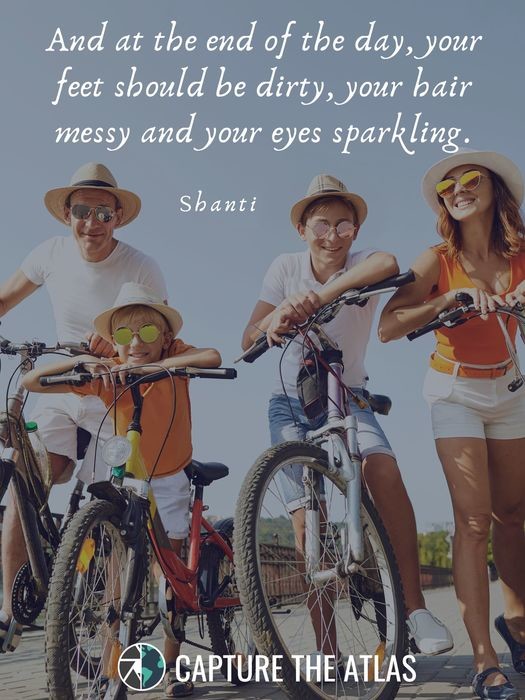 Travel and adventure aren't always pretty (or clean!). In the end, though, it's how happy you are that counts.
10. "Traveling in the company of those we love is home in motion." – Leigh Hunt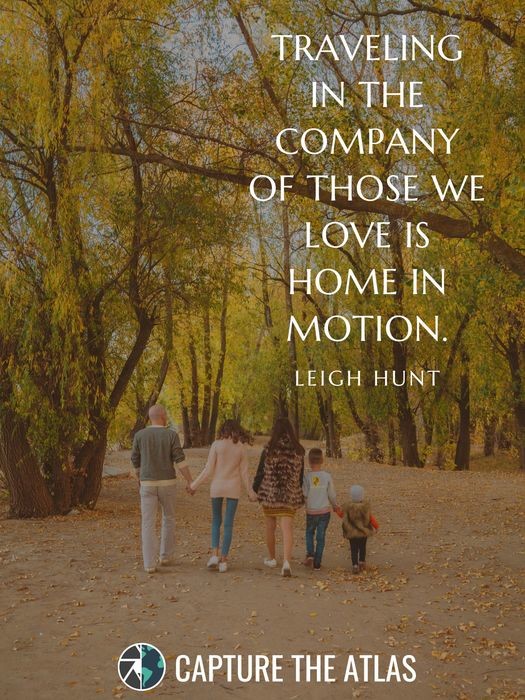 This lovely family travel bonding quote shows that we can find a sense of home, even when we're somewhere abroad, just by being with the people we love.
Family Adventure Quotes
These adventures with family quotes should be just the inspiration you need to keep exploring the world with your family.
11. "When you travel with children you are giving something that can never be taken away: experience, exposure, and a way of life." – Pamela Chandler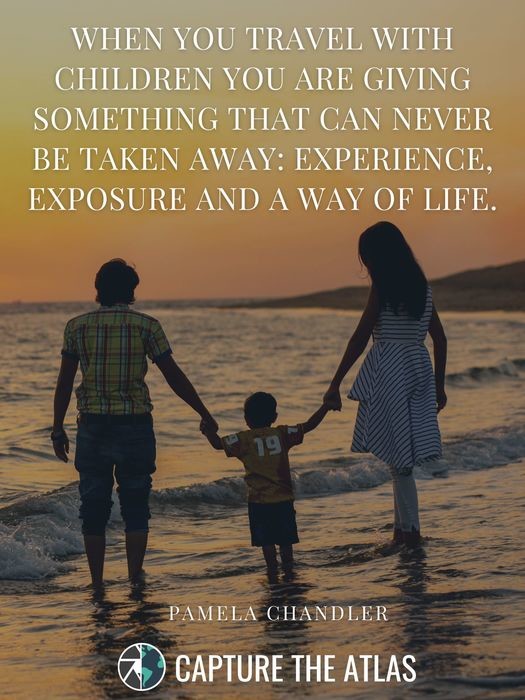 As this family vacation trip quote points out, vacations with children aren't just fun family bonding time. They're also a chance for kids to learn, grow, and experience new things.
12. "'What's your favorite place?' 'I don't have a favorite place, I have my favorite people. And, whenever I'm with my favorite people, it becomes my favorite place.'" – Nivaz Ahmad
As the famous saying goes, home is where the heart is, so it's no surprise that anywhere we find the people we love is a place we love too.
13. "My ideal travel companions are my family." – Pharrell Williams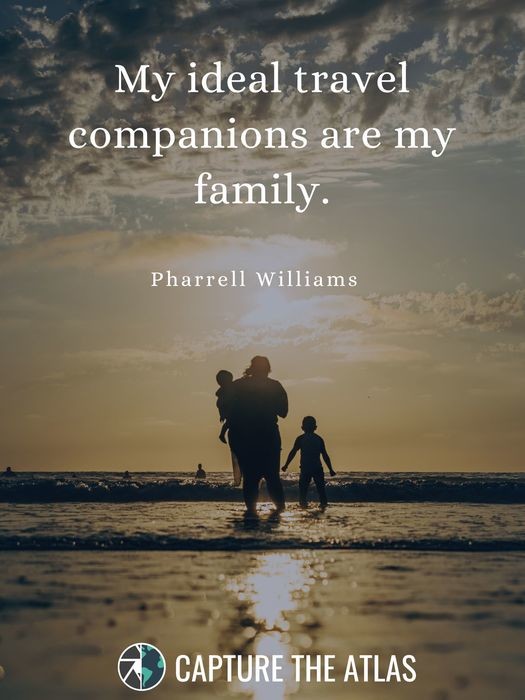 Sweet and simple, this family travel saying makes the perfect caption for your favorite family vacation photo.
14. "Travel is rich with learning opportunities, and the ultimate souvenir is a broader perspective." – Rick Steves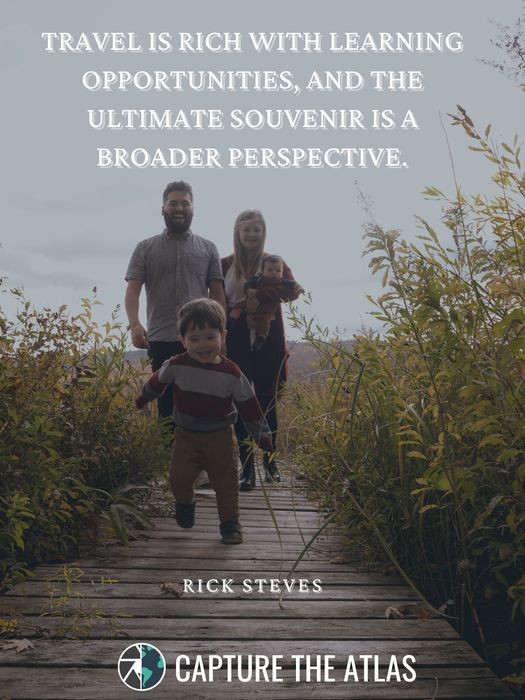 This travel and family quote works for just about any traveler. Whether you're young or old, travel is sure to be a learning experience.
15. "Together is our favorite place to be." – Anonymous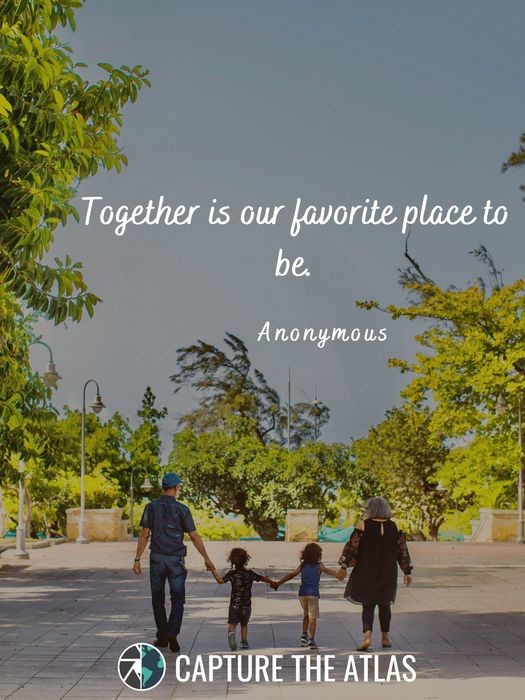 As this quote for traveling with family expresses, exploring becomes so much better when you have the people you love by your side.
16. "Don't wait to retire. Pack up your family, and go on adventures." – Unknown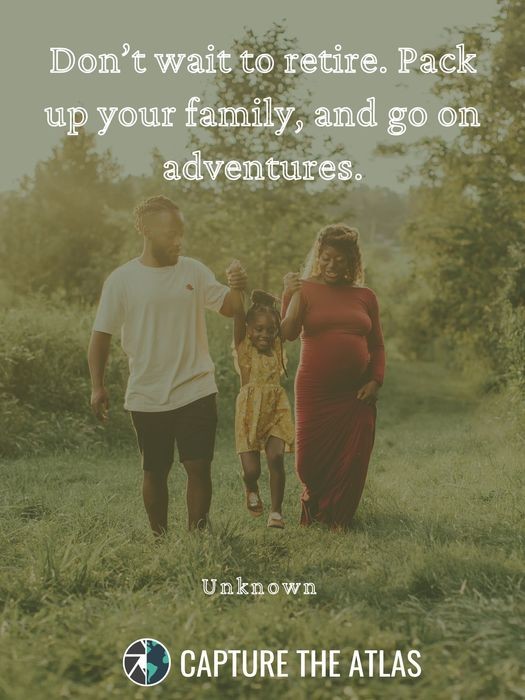 This quote about family trips reminds us to live in the present and travel now, while we can, instead of putting off adventures for later.
17. "Ohana means family and family means nobody gets left behind." – Lilo and Stitch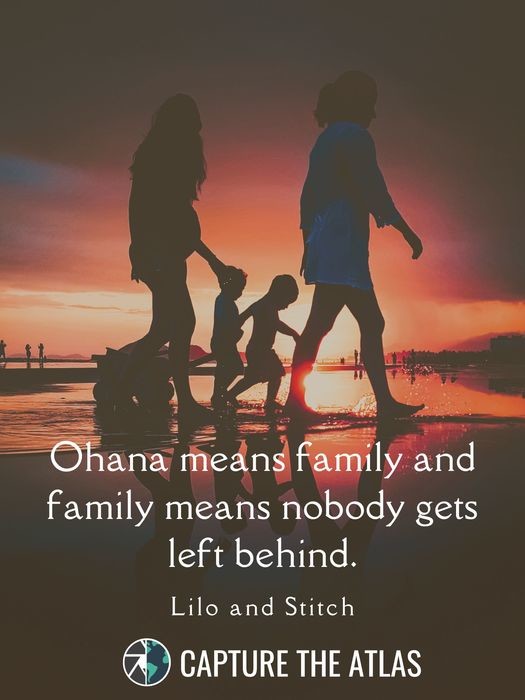 This family travel quote from the beloved Disney movie Lilo and Stitch expresses the loyalty and togetherness of being a family.
18. "Life is too short to not go on that spontaneous road trip with your family." – Fred Connors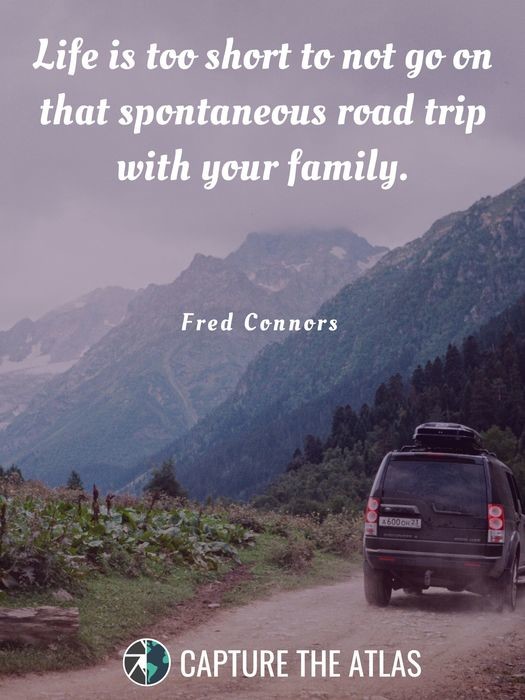 Don't put off your adventures until some unknown future date. Seize the moment and plan a trip with your family for sooner rather than later.
19. "Don't just tell your children about the world. Show them." – Anonymous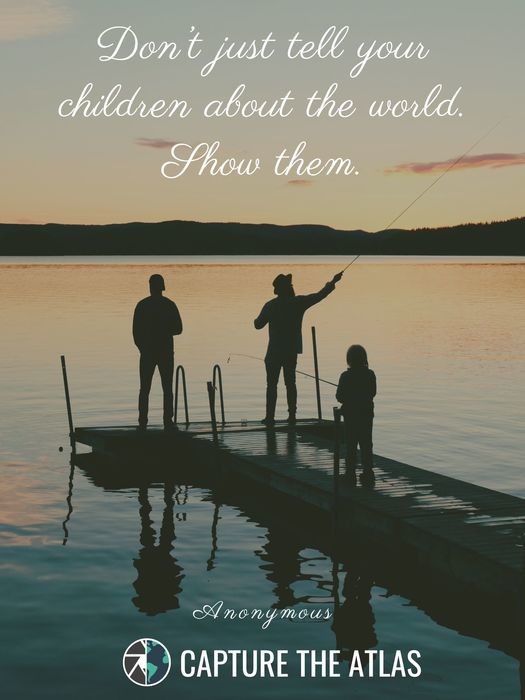 As this travelling with family quote reminds us, we learn best by experiencing things for ourselves. Travel is a way of giving your children knowledge about the world around them.
20. "A family vacation is a good time to bond and make memories that last a lifetime." – Steve Harvey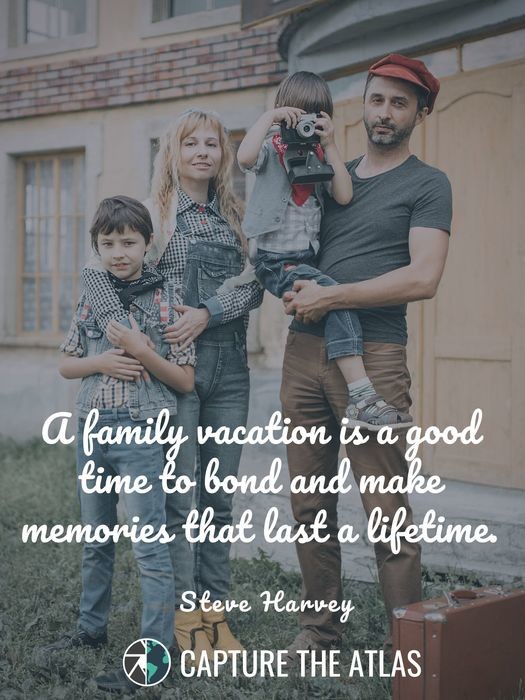 As this family travel bonding quote suggests, the memories you make on a family vacation will last forever, whether you capture them on film or simply hold them in your mind.
Funny Family Vacation Sayings
These funny family travel quotes will hopefully amuse you, make you laugh, and maybe even be a little relatable.
21. "I take my children everywhere, but they always find their way back home." – Robert Orben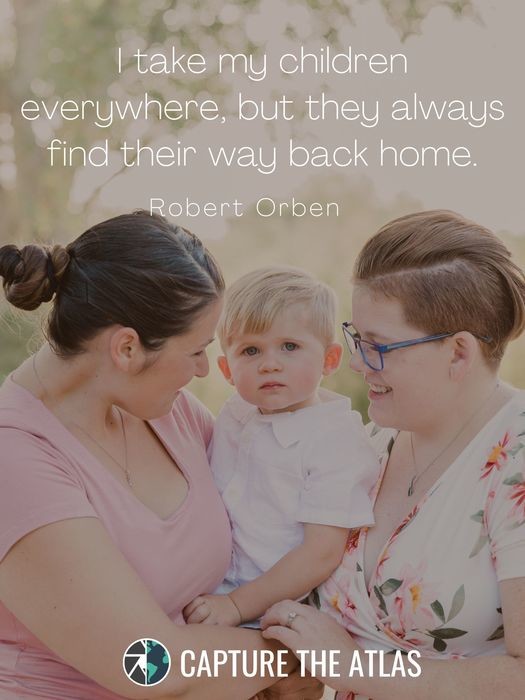 As this funny family vacation quote points out, every parent traveling with kids gets a little fed up sometimes. Try to take a little time for yourself if you can!
22. "And that's the wonderful thing about family travel: it provides you with experiences that will remain locked forever in the scar tissue of your mind." – Dave Barry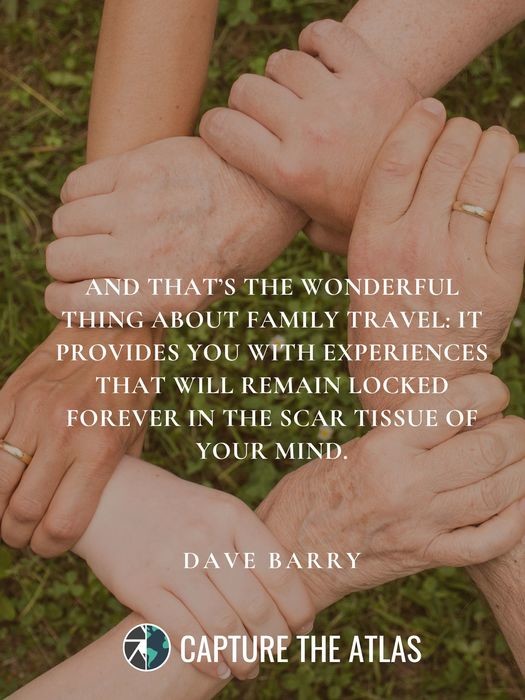 The fact that memories of family vacations last forever can be both a good and bad thing. The best we can do is to try and make as many good memories as possible.
23. "There are two kinds of travel: first class and with children." – Robert Benchley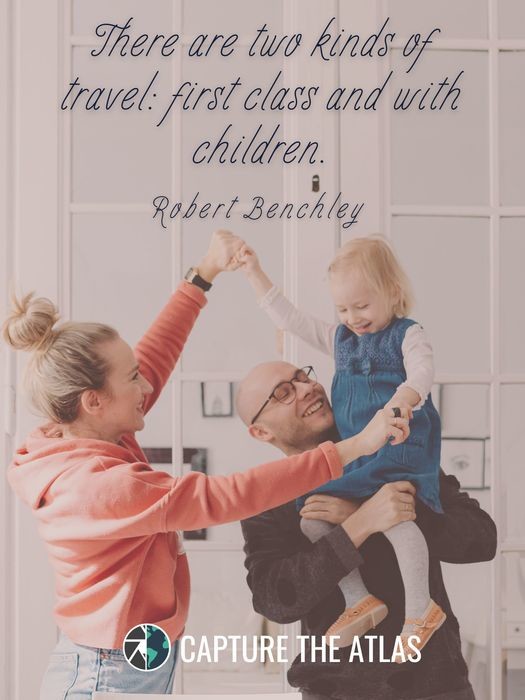 This tongue-in-cheek family adventure quote may not be true for all families. Hopefully, you're one of the lucky parents that get to travel first-class with kids!
24. "A road trip is a way for the whole family to spend time together and annoy each other in interesting new places." – Tom Lichtenheld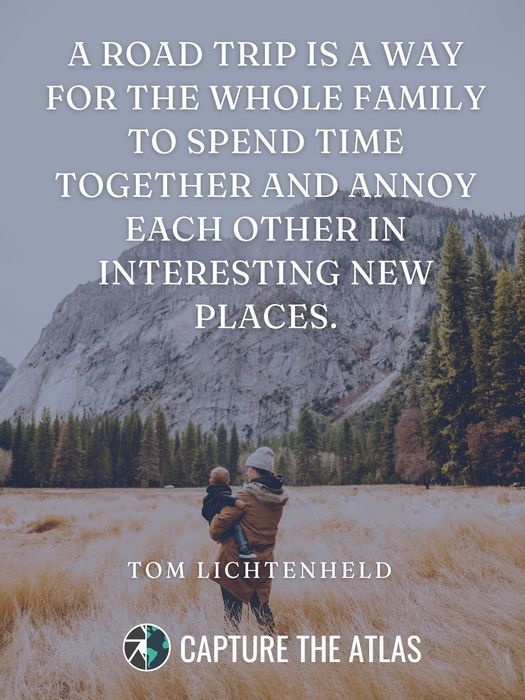 Spending all day, every day with your family can lead to lovely bonding moments but can also mean that people start to get on each other's nerves. Hopefully, your next trip involves more bonding than getting annoyed!
25. "Of all the paths in life you take, make sure a few of them are dirt." – John Muir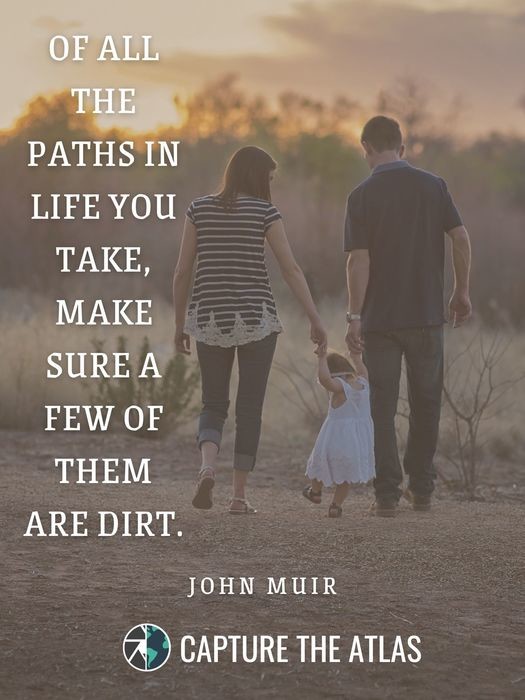 While it's wonderful to travel just about anywhere, this vacation quote with family is a good reminder to spend some time in nature too.
26. "You call it chaos. We call it a family vacation." – Unknown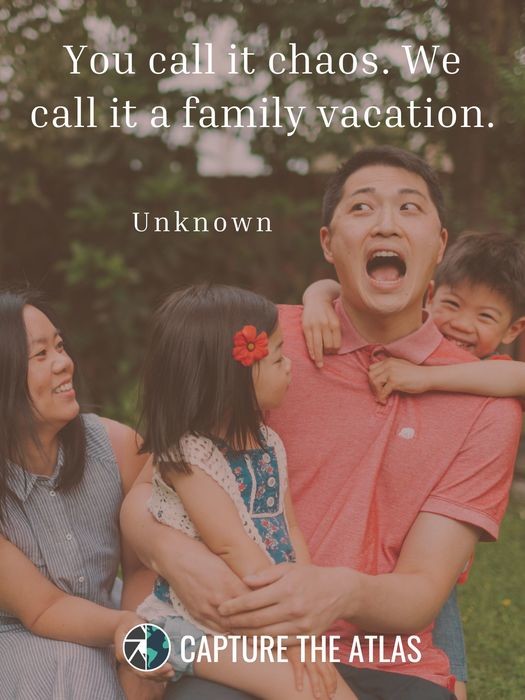 As this quote about traveling with family suggests, things won't go smoothly all the time, but we can still make the best of any chaos.
27. "I can't think of anything that excites a greater sense of childlike wonder than to be in a country where you are ignorant of almost everything. Suddenly you are five years old again. You can't read anything, you have only the most rudimentary sense of how things work, you can't even reliably cross a street without endangering your life. Your whole existence becomes a series of interesting guesses." – Bill Bryson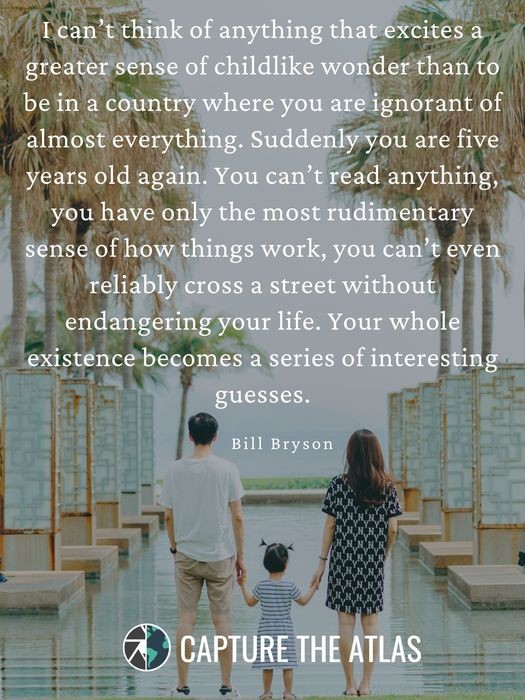 I love this quote for family trips because it reminds us that we all become children in a way when we travel.
28. "Parents don't really go on vacation. They just take care of their kids in a different city." – Unknown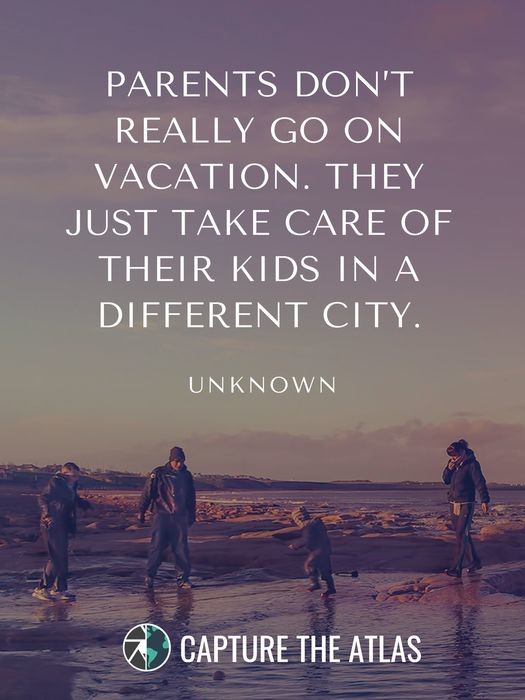 As this family getaway quote points out, parenting doesn't stop just because you're in a new place. Ideally, though, you'll still find at least a bit of time to relax and enjoy yourself.
29. "Are we there yet?"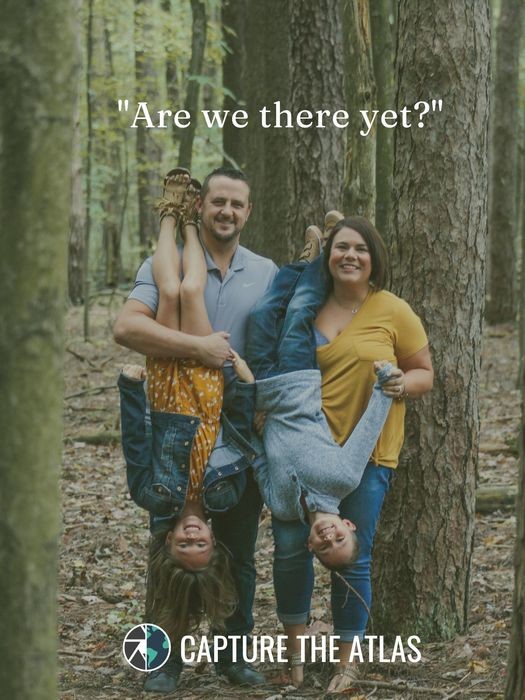 Who hasn't heard this famous question on a road trip or long journey? While it's normal to get impatient, don't forget to enjoy the little moments that make up your journey.
30. "Family traveling together means a little bit of crazy, a little bit of loud. A whole lot of love." – Anonymous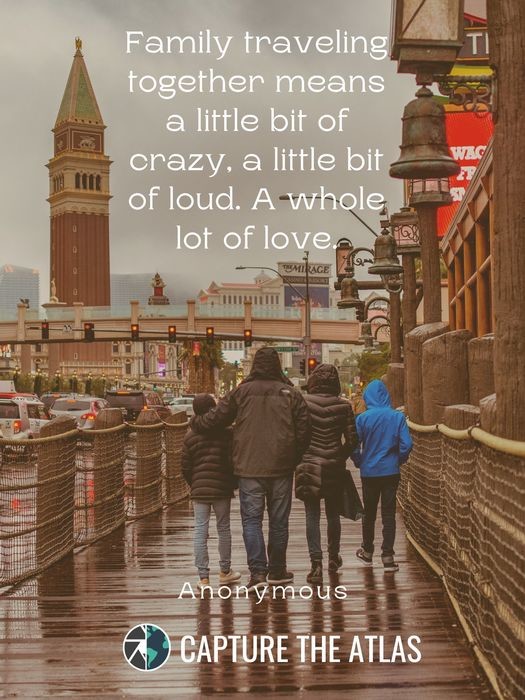 I think this family vacation memories quote captures exactly what it feels like to travel as a family.
Inspirational Family Trip Quotes
These lovely family vacation trip quotes will hopefully help motivate you to start planning your next big family adventure.
31. "There are no seven wonders of the world in the eyes of a child. There are seven million." – Walt Streightiff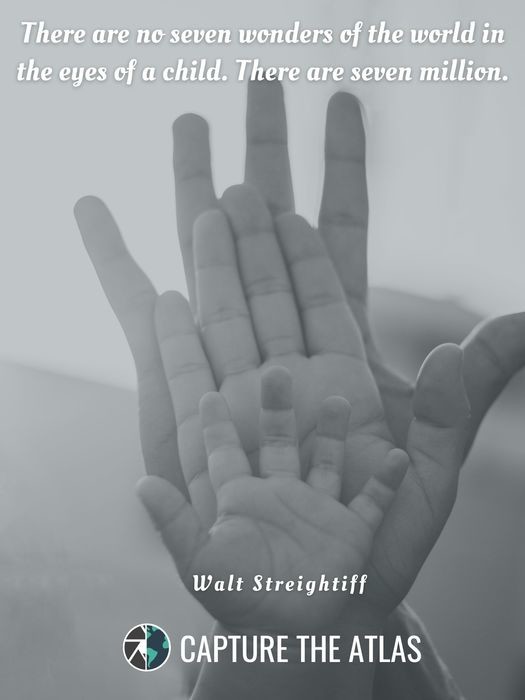 As this quote on family travel suggests, children are in awe of so many things that may simply seem natural or familiar to you. Whether you go far away or to the next town over, there will always be something new and exciting for kids to see.
32. "Travel is not reward for working; it's education for living." – Anthony Bourdain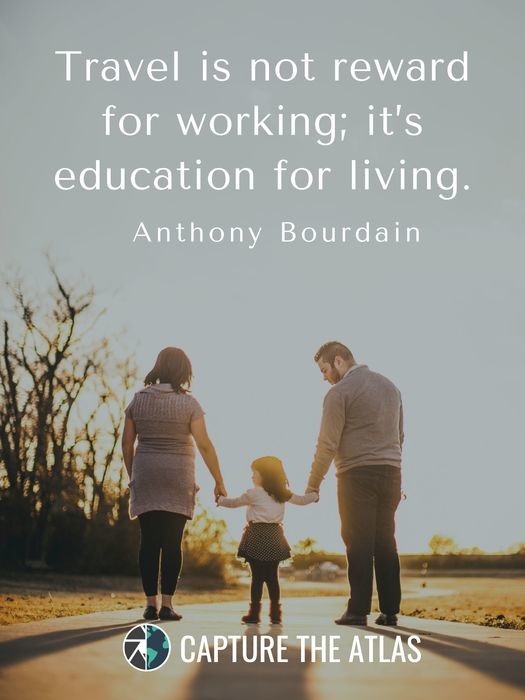 The legendary Anthony Bourdain was a world-class traveler, and he left us with this great reminder that travel is an important way of making us better, more informed human beings.
33. "Children have always travelled, and because they are young and bright and full of contradictions, they haven't always restricted their travel to the possible. Children follow the foxes, and open the wardrobes, and peek beneath the bridge. Children climb the walls and fall down the wells and run the razor's edge of possibility until sometimes, just sometimes, the possible surrenders and shows them the way to go home." – Seanan McGuire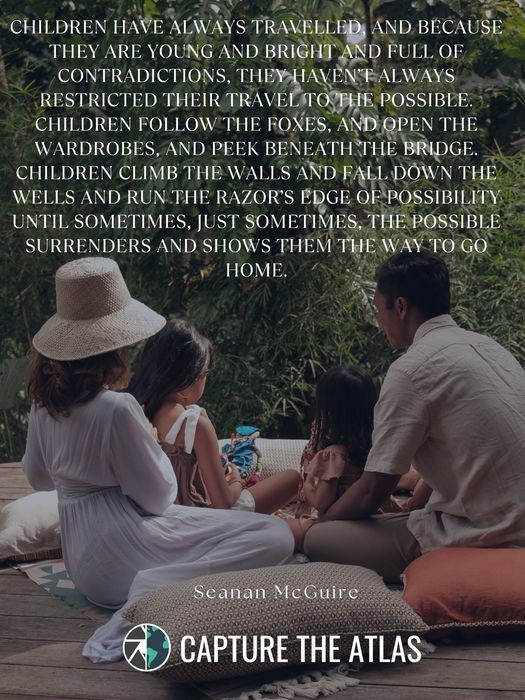 This quote for vacations with family expresses the vastness of children's imaginations. You don't even have to leave home to have a wonderful adventure with your kids.
34. "There are no perfect parents and there are no perfect children, but there are plenty of perfect moments along the way." – Dave Willis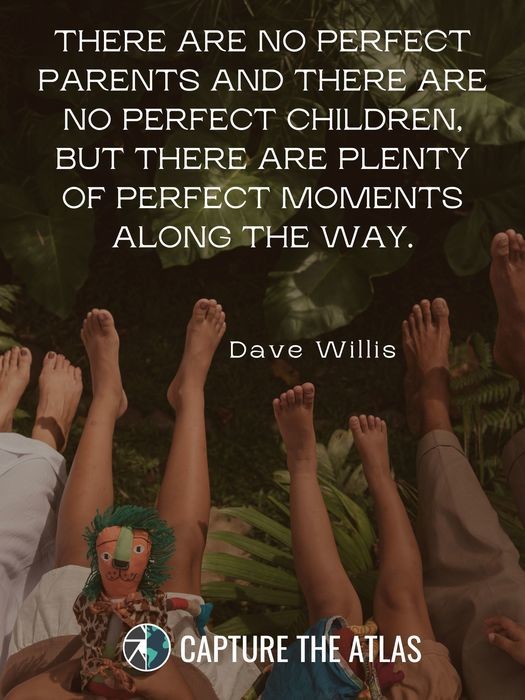 This quote about travel and family reminds us that even if things go wrong while we're traveling, we should still enjoy the perfect moments as they arise.
35. "Teaching kids to count is fine, but teaching them what counts is best." – Bob Talbert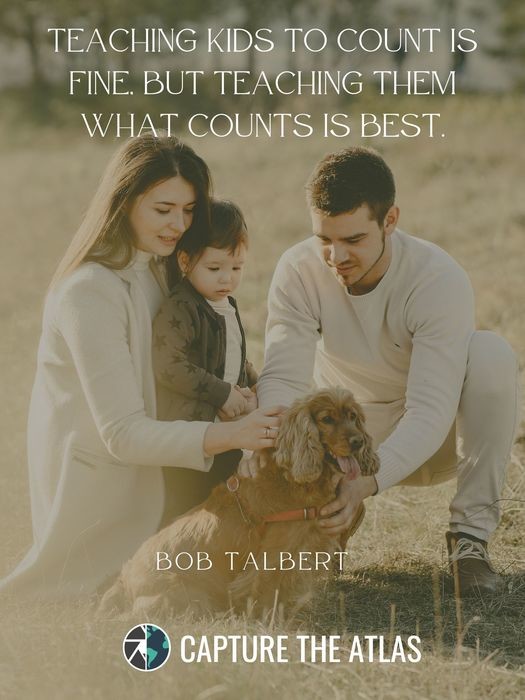 This wanderlust family travel quote is all about priorities. If you want your kids to travel and be curious, model that for them by taking them on adventures.
36. "If we experienced life through the eyes of a child, everything would be magical and extraordinary. Let our curiosity, adventure, and wonder of life never end." – Akiane Kramarik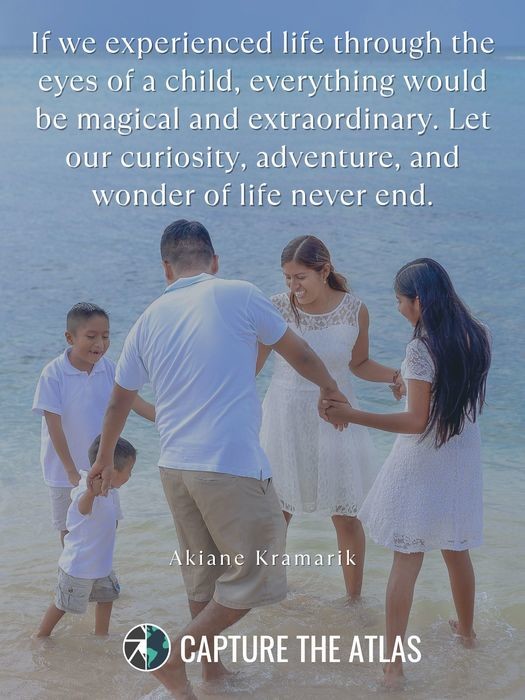 This family travel quote is a good reminder to all of us that we should be curious, imaginative, and adventurous like children, especially when we travel.
37. "You are the bows from which your children as living arrows are sent forth." – Unknown
As this quote about family vacation suggests, parents play a key role in shaping their children's lives and personalities. If you love traveling, you're probably fostering a little traveler-in-the-making.
38. "The real voyage of discovery consists not in seeking new landscapes, but having new eyes." – Marcel Proust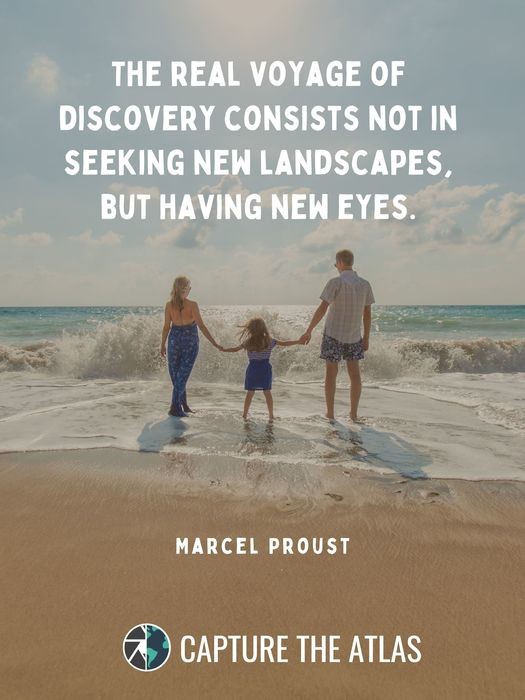 This family travel saying expresses how much we can learn by seeing the world through our children's eyes.
39. "Vacations are meant to be shared with the people we love the most." – Unknown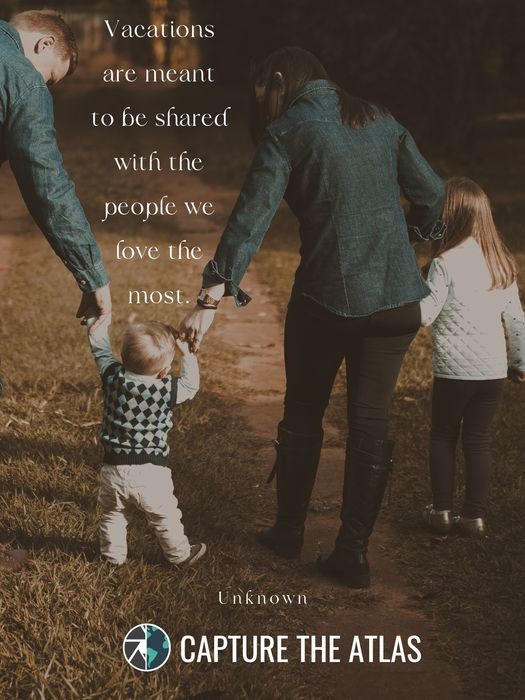 Good company makes everything better, which is why vacations with family can be so lovely.
40. "Road trips are the equivalent of human wings. Ask me to go on one, anywhere. We'll stop in every small town and learn the history and stories, feel the ground, and capture the spirit. Then, we'll turn it into our own story that will live inside our history to carry with us always. Because stories are more important than things." – Victoria Erickson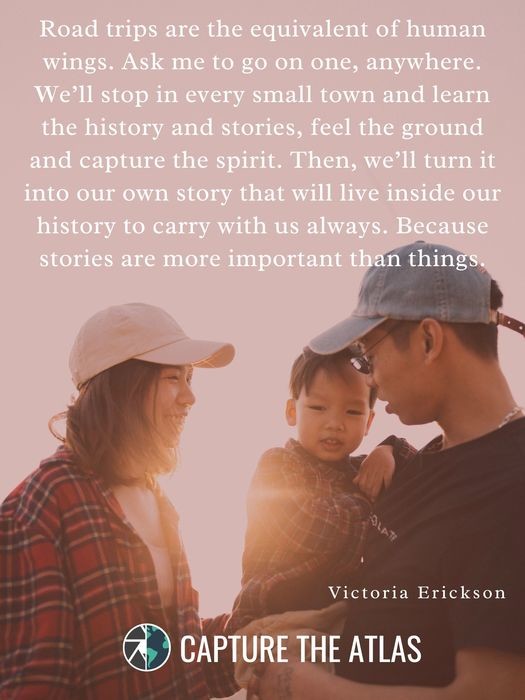 This family road trip quote is as good a motivation as any to plan a family road trip. Not only will you see new places, but you'll also hear others' stories and make your own story in the process.
Family Travel Memories Quotes
Hopefully, your family vacation creates a ton of wonderful memories that you'll cherish forever. These family travel memories quotes express just how powerful family travel memories can be.
41. "The best memories are those of people you love, the places you have seen together, and the experiences you have shared with one another." – Anonymous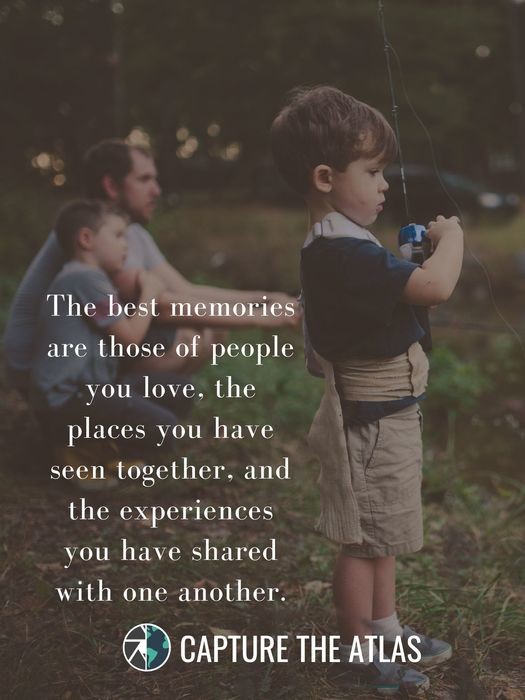 This family on vacation quote is a great reminder that people, places, and experiences all become linked through travel.
42. "Travel in the younger sort is a part of education; in the elder, a part of experience." – Francis Bacon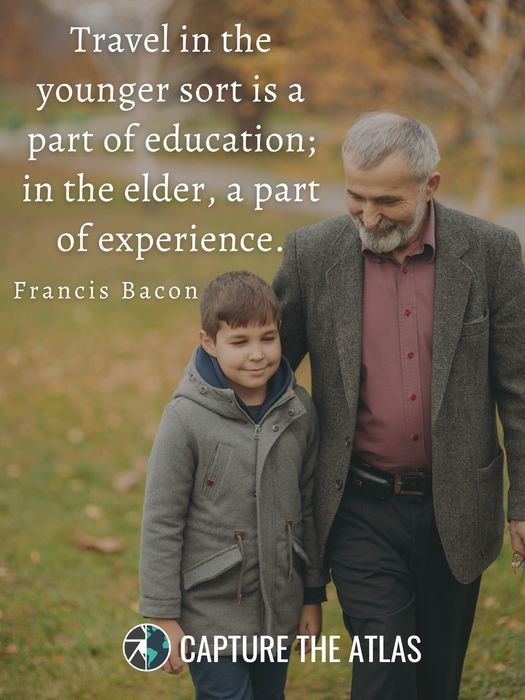 As this quote for family travel expresses, travel serves different purposes for people of different ages. For kids, it's a way to learn, and for adults, it's a way of increasing their wisdom.
43. "Own only what you can always carry with you: known languages, known countries, known people. Let your memory be your travel bag." – Alexandr Solzhenitsyn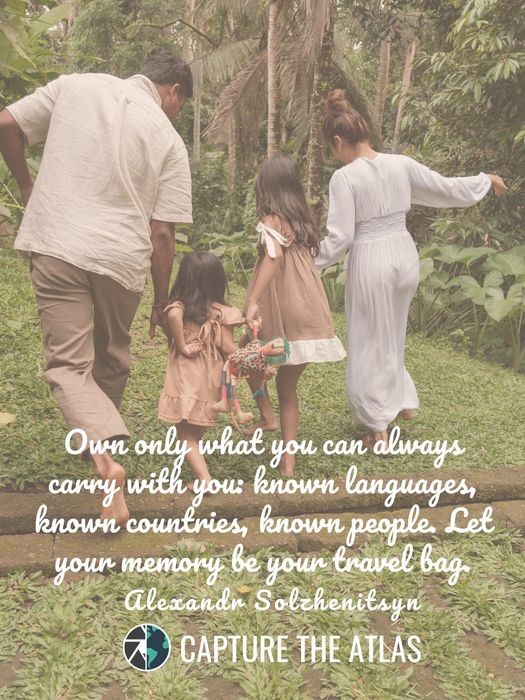 While a camera can capture so many incredible travel moments, the best memories will always be in your head.
44. "The greatest legacy we can leave our children is happy memories." – Og Mandino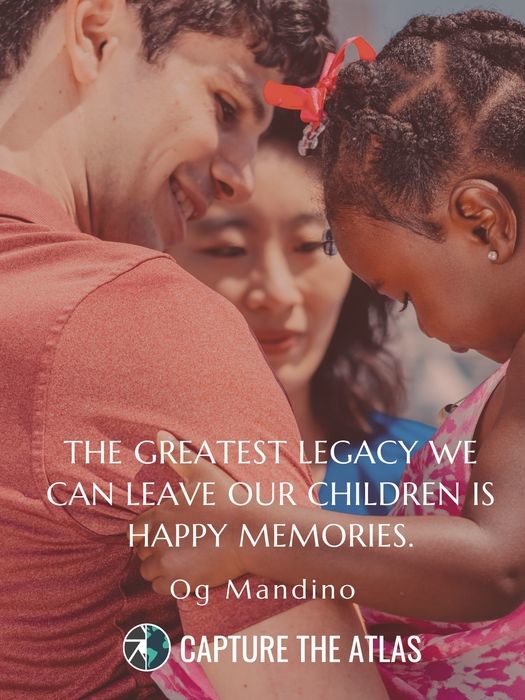 If you take anything away from these quotes about family vacations, hopefully, it's that giving your kids new experiences and good memories is one of the best things you can do as a parent.
45. "Take only memories, leave only footprints." – Chief Seattle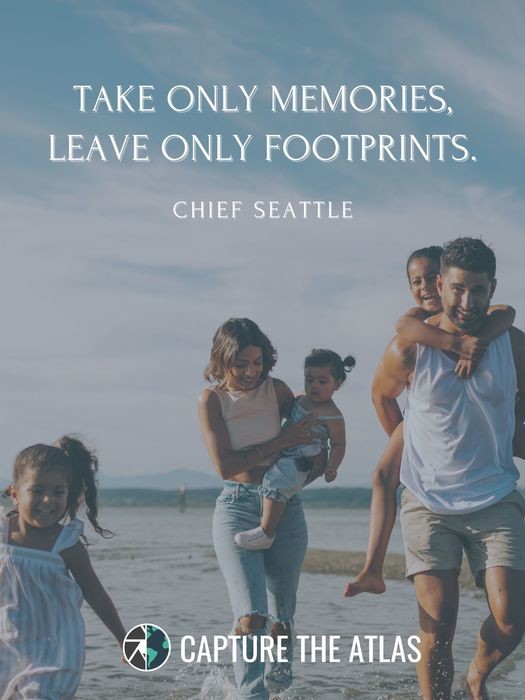 This family trip quote reminds us to keep our impact on the world minimal so that future generations can enjoy the same beauty we have.
46. "Deciding not to travel with kids because they won't remember is like not reading them books because they won't remember the stories you read them." – Unknown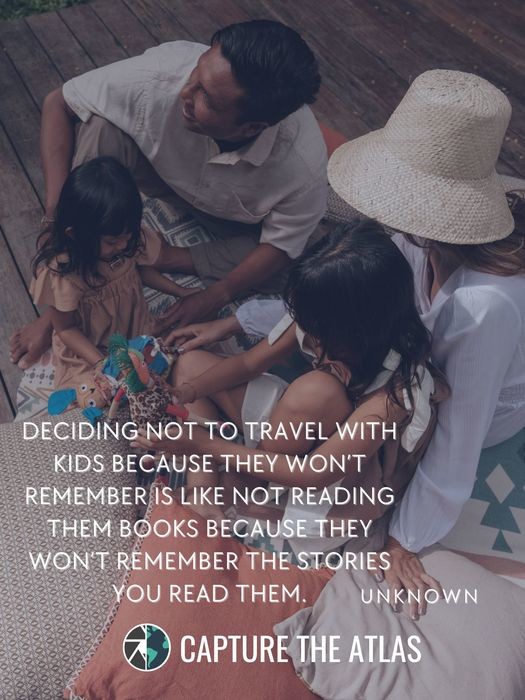 As this traveling with family quote suggests, worrying that your kids won't remember a family vacation is no reason to stop you from traveling.
47. "Build traditions of family vacations and trips and outings. These memories will never be forgotten by your children." – Ezra Taft Benson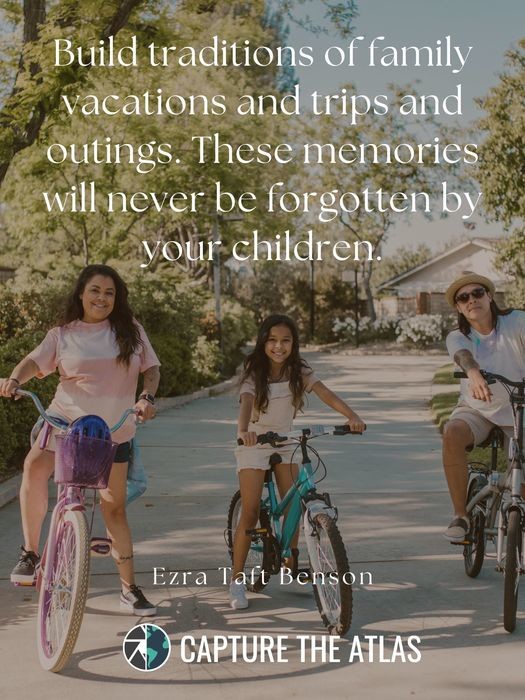 I love this family travel quote because I have so many good memories of my own family vacations. Hopefully, your kids will have years of good vacation memories too!
48. "We have such a brief opportunity to pass on to our children our love for this Earth and to tell our stories. These are the moments when the world is made whole. In my children's memories, the adventures we've had together in nature will always exist." – Richard Louv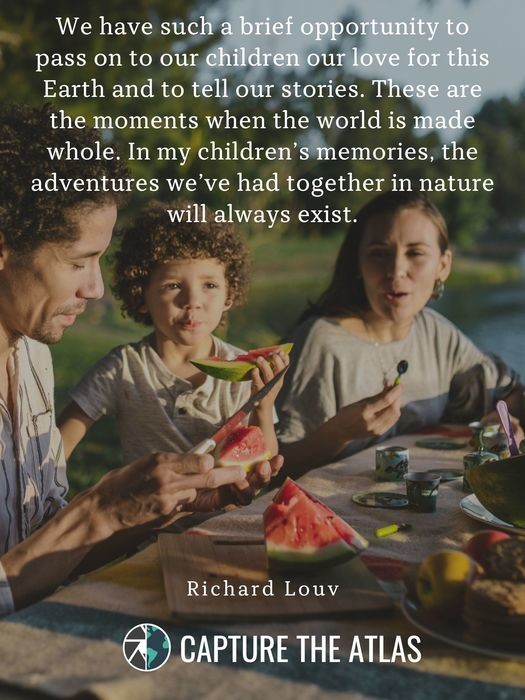 This family adventure quote shows that parents teach their children how to value and interact with the world around them.
49. "Children will not remember you for the vacation you provided, but for the way you made them feel during that vacation." – Allen Richardson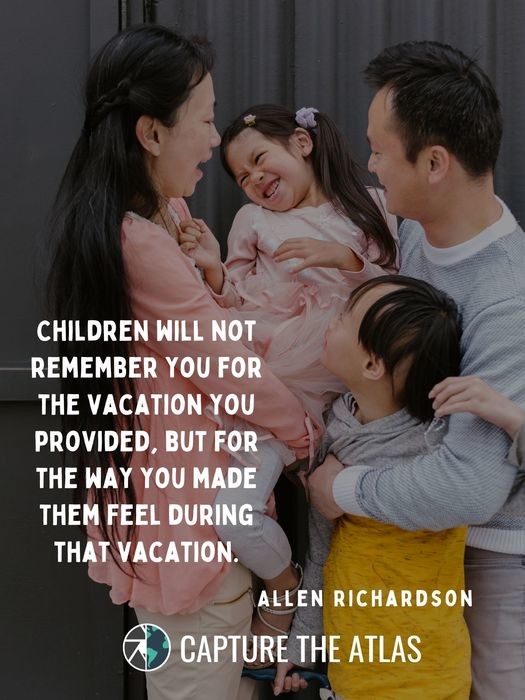 This quote about vacation with family is a fantastic reminder that feelings are important. You could be in the most beautiful place in the world, but it's the way people treat you that will make you love where you are or not.
50. "In the end, kids won't remember that fancy toy you bought them. They will remember the time you spent with them." – Kevin Heath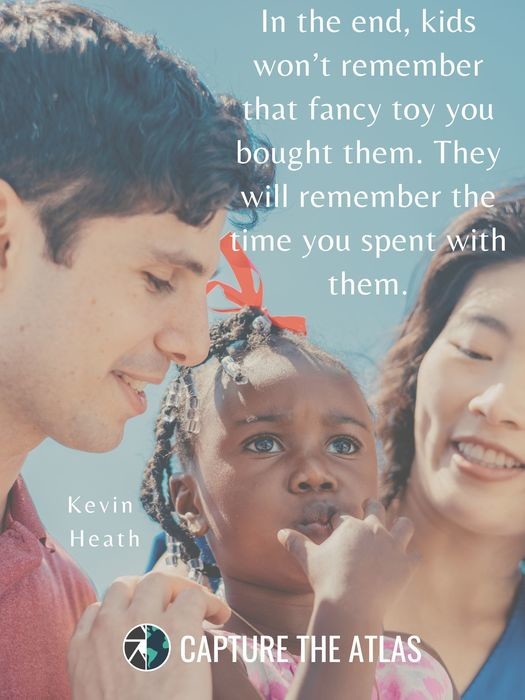 As this family holiday quote points out, spending time with your kids means so much to them. And what better way to spend time together than on a family vacation?
I hope you've enjoyed these quotes about family vacations as much as I enjoyed finding and sharing them with you! Whether they inspire you to plan a family road trip or just serve as great photo captions, be sure to save the family travel quotes you love the most. That way, you can return to them again and again, and maybe even share them with your family.