These quotes about traveling with friends will inspire you to round up all your favorite travel buddies and plan your next big adventure together. After all, friends make great company when you're traveling, since they're supportive, fun, and hopefully up for anything.
This collection of friendship adventure quotes has it all, from short travel quotes with friends and friends road trip quotes to funny friends trip quotes and inspirational quotes about traveling and friends. You'll be amazed and inspired by all of the incredible things people have said about friendship and travel.
Don't forget to save your favorite friends and travel quotes to share with your best buds. You can read them while you're sitting around the campfire, when you're on the road together, or to help pass the time on a trail. If you want even more inspiration, be sure to check out our list of the top 100 quotes about travel.
Short Travel Quotes with Friends
These short friends on vacation quotes are perfect for sharing with your pals before you start out on your next adventure.
1. "A journey is best measured in friends rather than miles." – Tim Cahill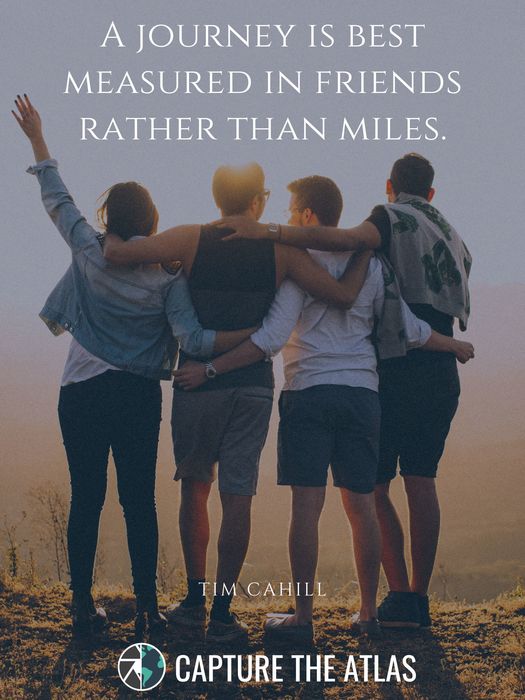 This quote about traveling with friends points out that a great trip is not just about the friends you bring with you. It's also about the friends that you make along the way – hopefully, lots!
2. "Good company on a journey makes the way seem shorter." – Izaak Walton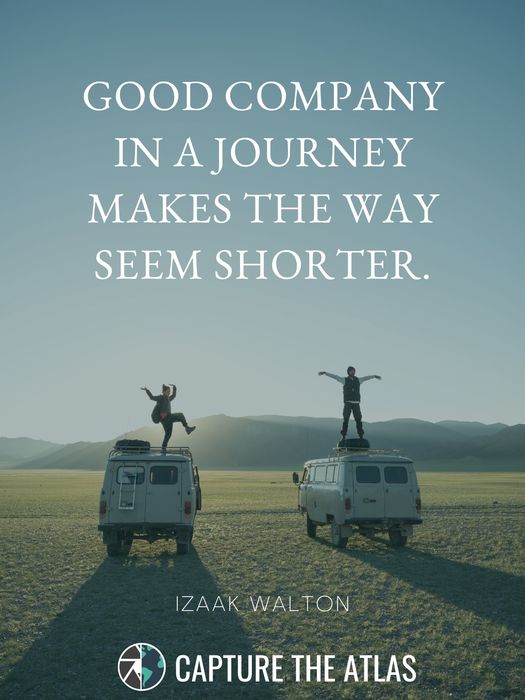 As this quote about adventures with friends suggests, traveling with friends makes the journey fly by. You'll be having so much fun that you'll arrive at your destination before you know it!
3. "Friends that travel together, stay together." – Unknown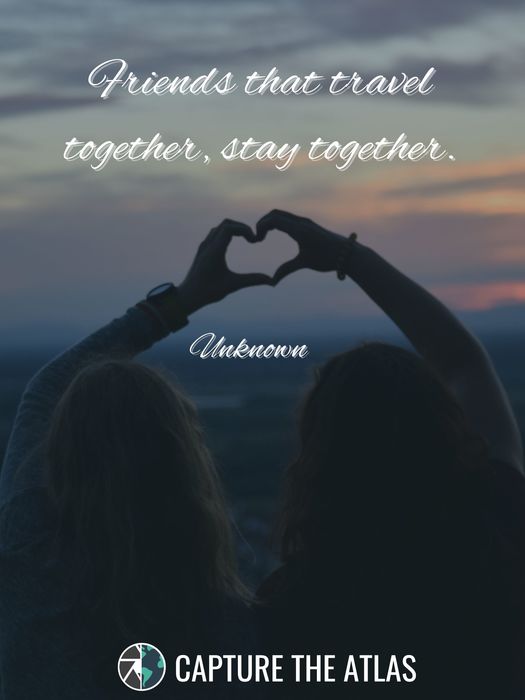 I love this journey with friends quote because it's so true that travel is a great way to bond. You go through so much together in a short time, which creates memories that will last a lifetime.
4. "There is an unspoken bond you create with the friends you travel with." – Kristen Sarah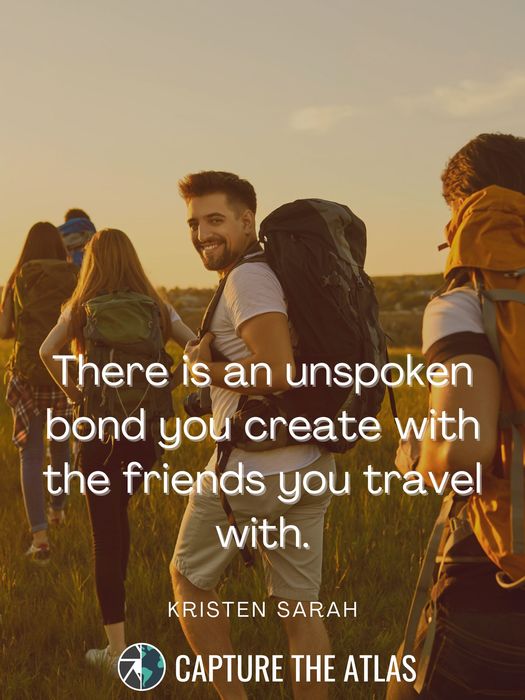 Traveling with a friend means you'll share unforgettable experiences that will hopefully bring you closer together.
5. "Life was meant for great adventures and close friends." – Unknown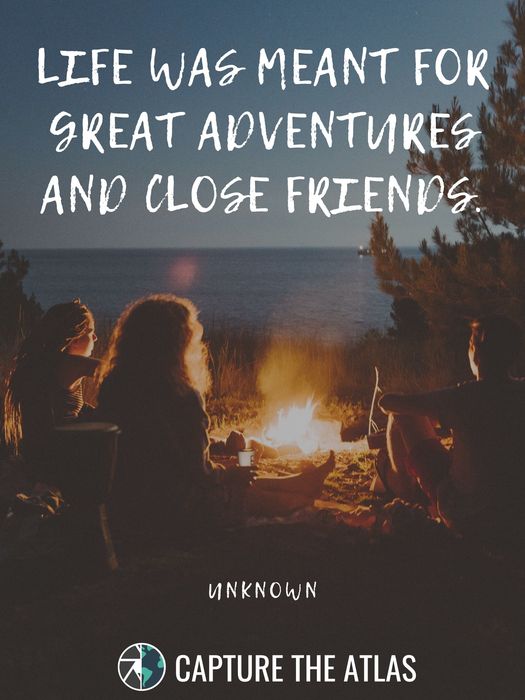 If you've got a bad case of wanderlust and love to travel with friends, then this friendship journey quote is for you!
6. "Good friends follow you anywhere." – A.A. Milne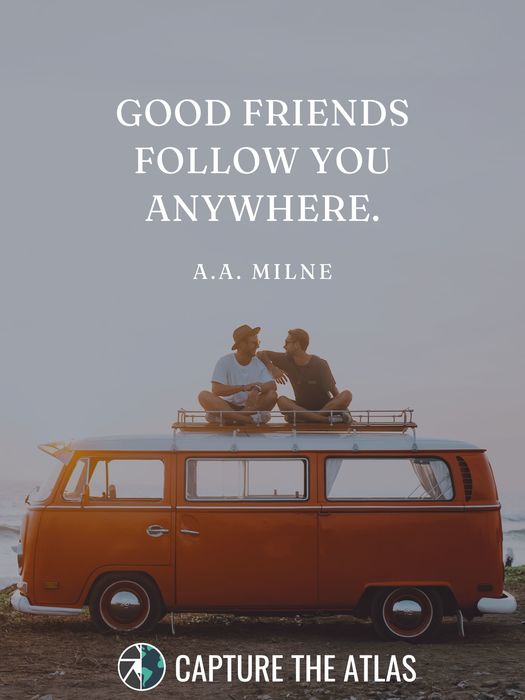 This adventure quote with friends shows that the best friendships involve lots of support, loyalty, and spending time together. Hopefully, you've found friends who want to travel the world with you!
7. "As with any journey, who you travel with is more important than the destination." – Unknown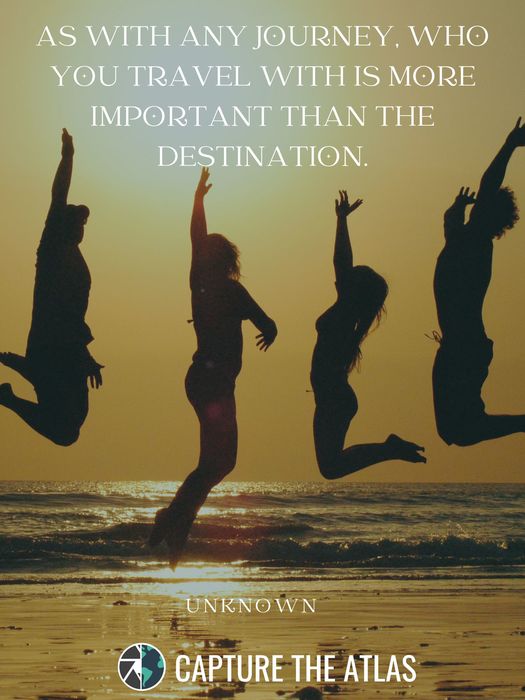 As anyone who's traveled with not-so-great company will know, this quote about friends traveling together is spot-on. Having your best friends by your side as you explore is sure to enhance any travel experience.
8. "If you want to go fast go alone. If you want to go far go together." – African Proverb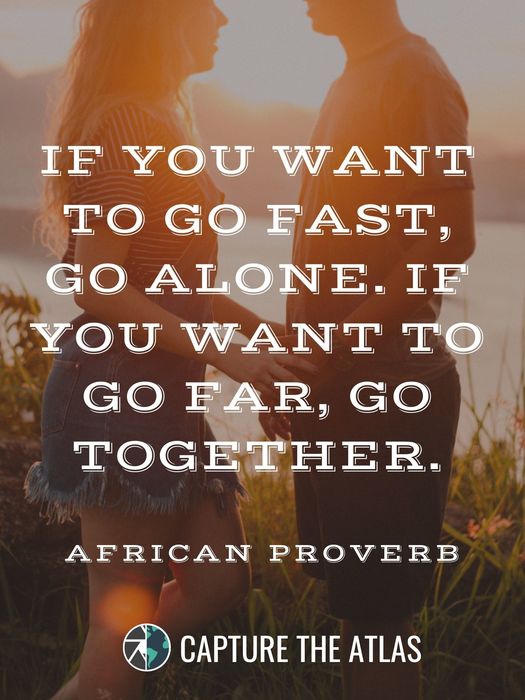 This lovely quote about trips with friends goes to show that mutual support can take you far, both physically and emotionally.
9. "There is a whole world out there. Pack your backpack, your best friend and go." – Anonymous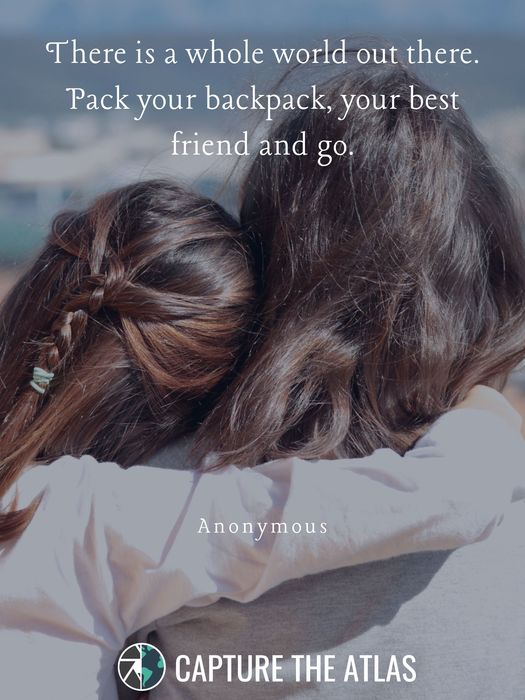 If you're on the fence about traveling with your best friend, this travel with best friend quote is your sign to start planning your trip together!
10. "As soon as I saw you, I knew a grand adventure was about to happen." – A.A. Milne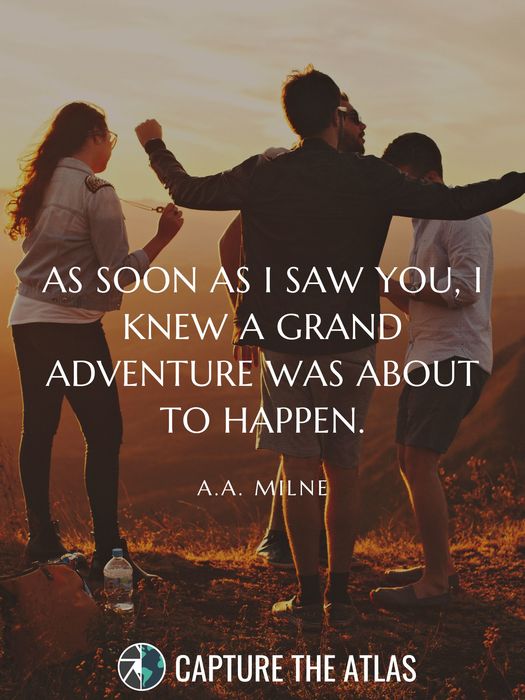 As this friendship and travel quote suggests, sometimes you just know when someone's going to make a great travel companion. Have you met your adventure buddy yet?
Funny Sayings about Travel with Friends
These funny travel with friends quotes capture the fun, hilarious side of going on an adventure with your closest buddies.
11. "Sometimes all you need is a great friend and a tank of gas." – Thelma & Louise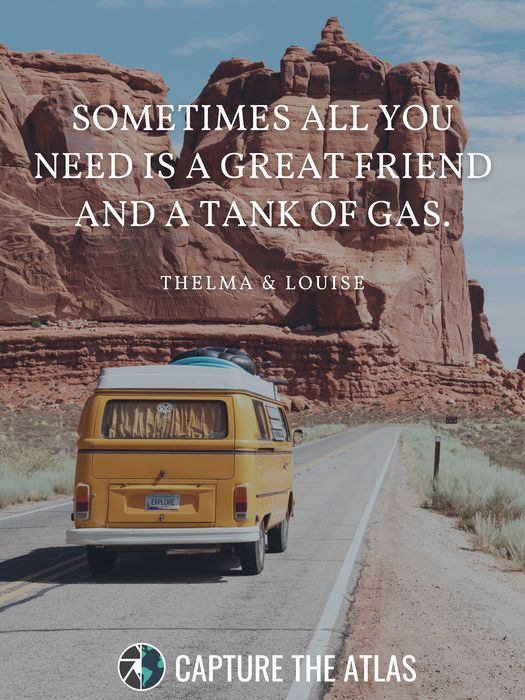 Thelma & Louise is an iconic movie about friendship and a road trip, so this quote about road trips with friends is the perfect choice if you need a good caption for a photo from your big adventure.
12. "I have found out that there ain't no surer way to find out whether you like people or hate them than to travel with them." – Mark Twain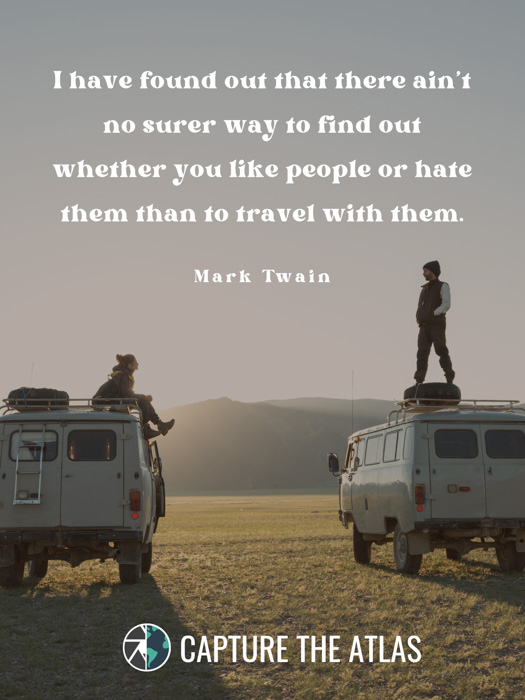 Hopefully, you'll already know whether you like traveling with your friends before you go on a trip together. However, as this witty quote about trips with friends shows, you may just find out while you're traveling.
13. "You can pack for every occasion, but a good friend will always be the best thing you could bring!" – Unknown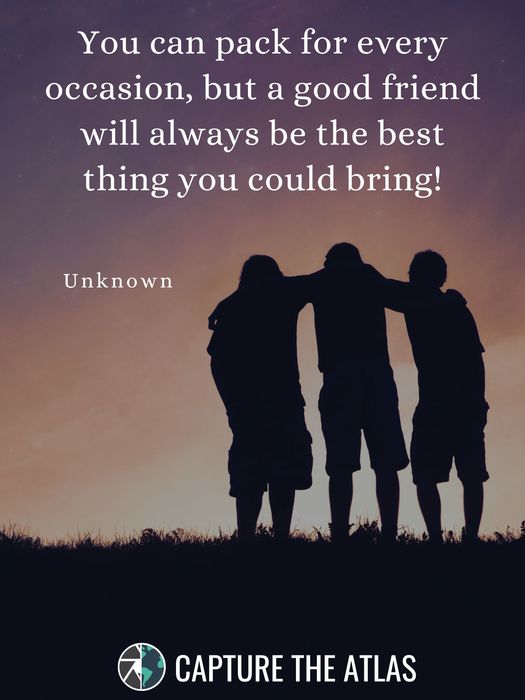 As this friends holiday quote suggests, it's always a good idea to bring a friend along on your travels. After all, they'll be great to have in just about any situation!
14. "We are more than friends. We are like a small travel gang!" – Anonymous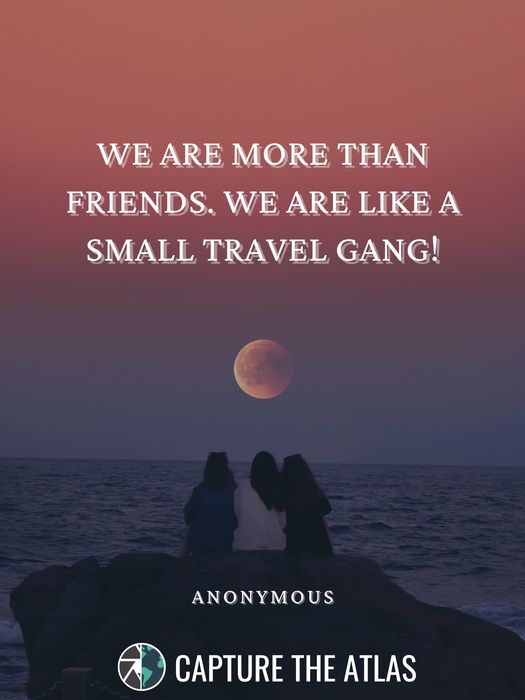 If you and your friends travel together frequently, you'll probably relate to this quote about best friends traveling together.
Road Trip with Friends Quotes
These friends road trip quotes will help you get excited about heading out on the open road together.
15. "Just grab a friend and take a ride, together upon the open road." – A Goofy Movie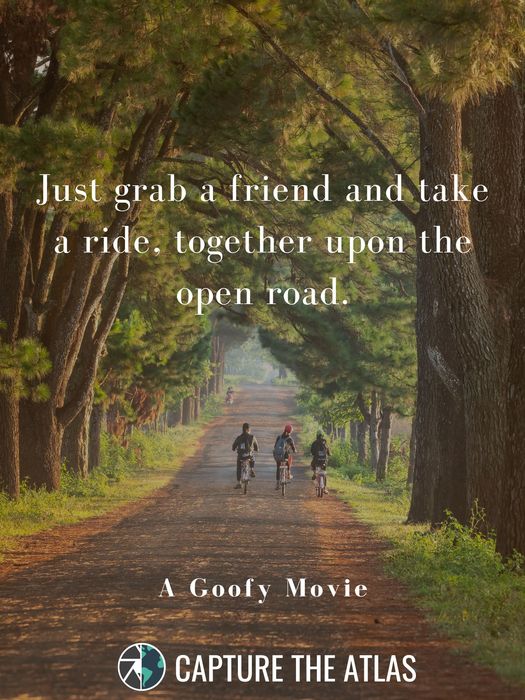 As this road trip with friends quote shows, friends make the ideal company for a long trip full of driving.
16. "Road trippin' with my two favorite allies – fully loaded, we got snacks and supplies. It's time to leave this town, it's time to steal away. Let's go get lost anywhere in the U.S.A." – Red Hot Chili Peppers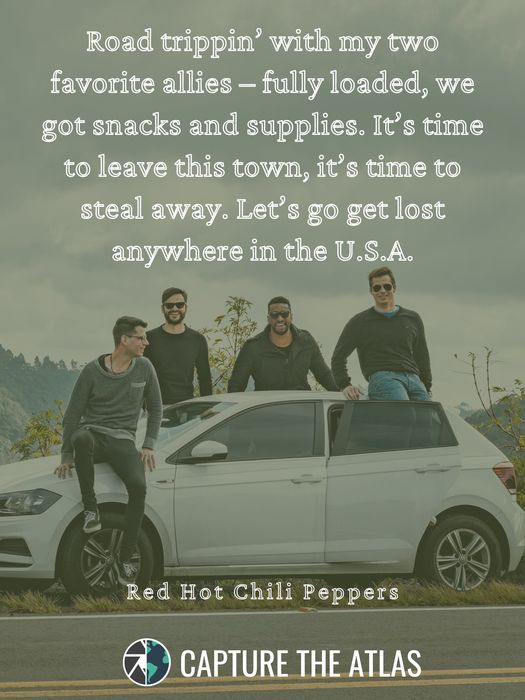 There's nothing quite like going on a road trip with your best friends. This quote about a road trip with friends sums up the fun of going on a long journey filled with snacks and good songs on the radio.
17. "Everyone needs a friend that will call and say, 'Get dressed, we are going on an adventure." – Unknown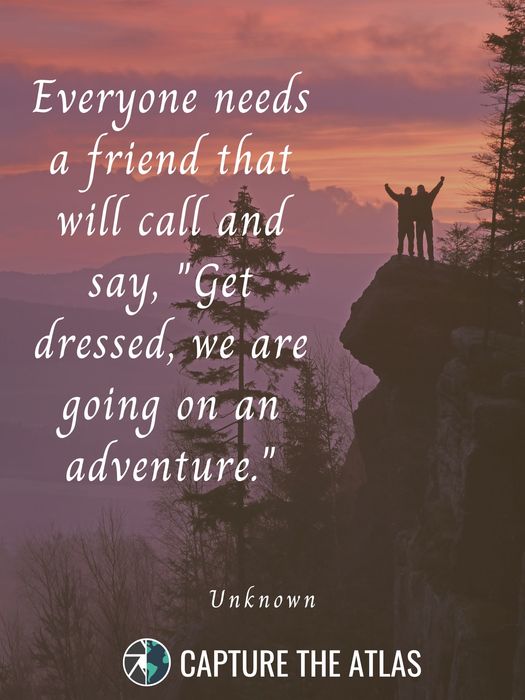 This outing with friends quote captures the excitement of going on a spontaneous friends' trip. Not all big adventures need to be planned!
Inspirational Friendship and Travel Quotes
These inspirational quotes about friends traveling together will put you in the right mood to plan an epic friends' vacation.
18. "A good friend listens to your adventures. A best friend makes them with you." – Unknown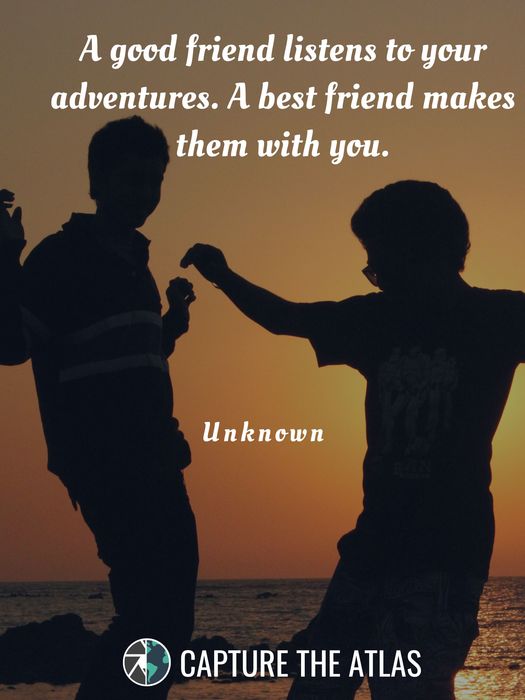 As this friends adventure quote points out, some friends will want to go with you on your travels, while others will just be happy to hear your stories. Both are great types of friends to have!
19. "We are all travelers in the wilderness of the world, and the best we can find in our travels is an honest friend." – Robert Louis Stevenson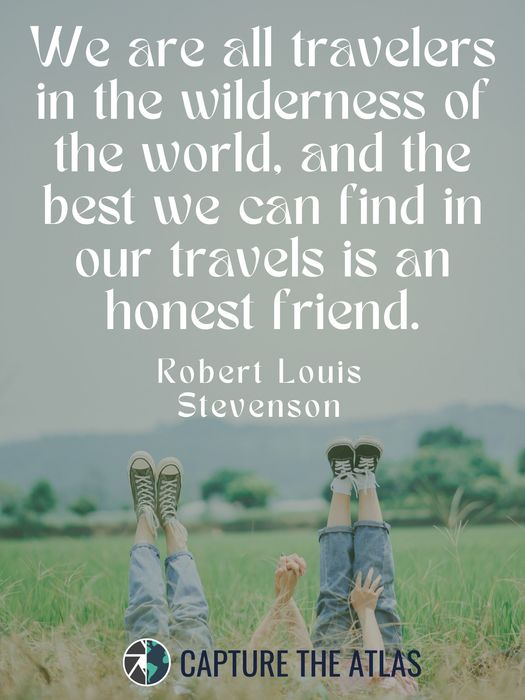 This beautiful quote about travel with friends works for travel and also as a metaphor for life. Friendships really do make our lives (and trips!) better.
20. "The fastest way to make a friend for life is to travel with a stranger." – Unknown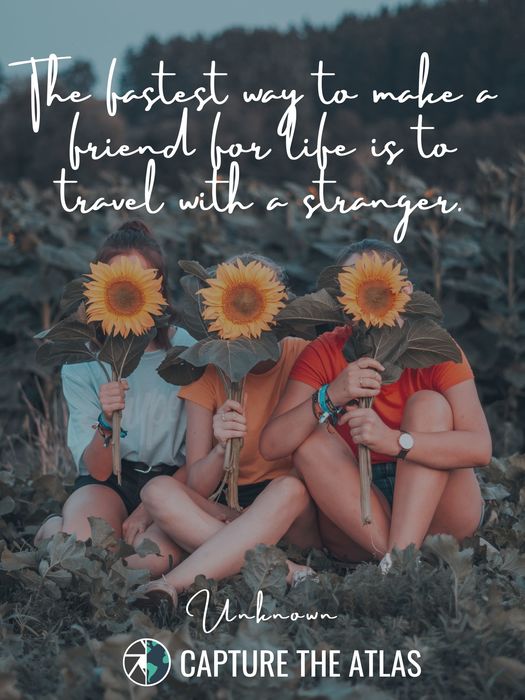 This friendship and travel quote makes an interesting point since travel is a great way to bond with people. Still, you're probably better off traveling with people you already know!
21. "I get a friend to travel with me… I need somebody to bring me back to who I am. It's hard to be alone." – Leonardo DiCaprio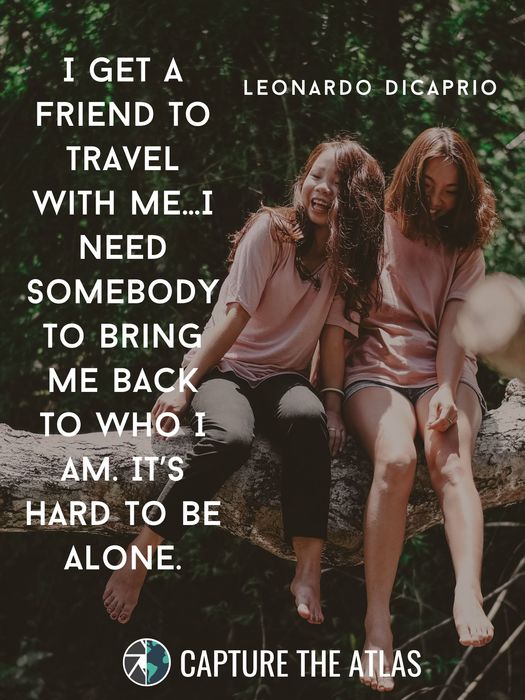 While some people love solo travel, others find it hard to be alone in strange places. If you're someone who needs a friend to travel with you, don't worry – you're not alone!
22. "Travel has a way of removing the gaps in your friendship timeline." – Christina Pfeiffer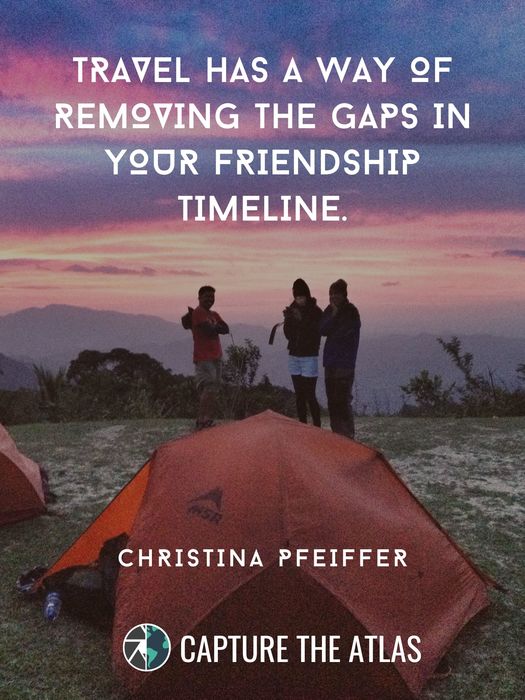 As this travel and friendship quote suggests, going on a trip together can be a wonderful way to catch up with an old friend.
23. "The more I travelled, the more I realized fear makes strangers of people who should be friends." – Shirley MacLaine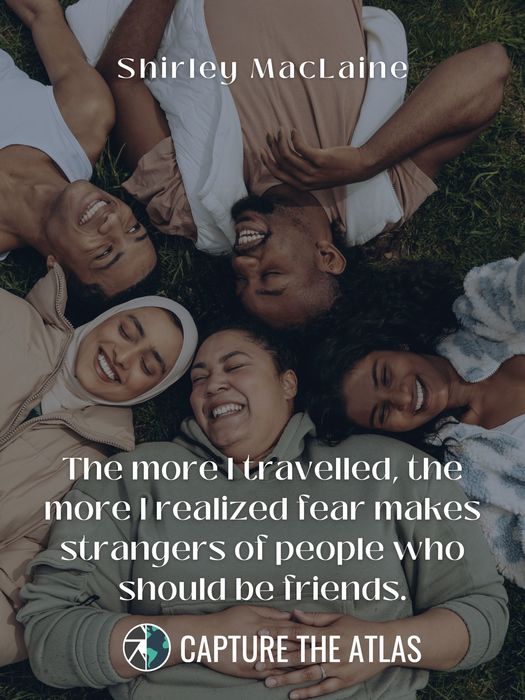 I love this quote for travel with friends because the idea that the world is full of potential friends is a beautiful one. Time to get out there and start meeting your new best buds!
24. "When you get lost in a really strange place, nothing is more comforting than finding your friend whom you trust and can show the way." – Toba Beta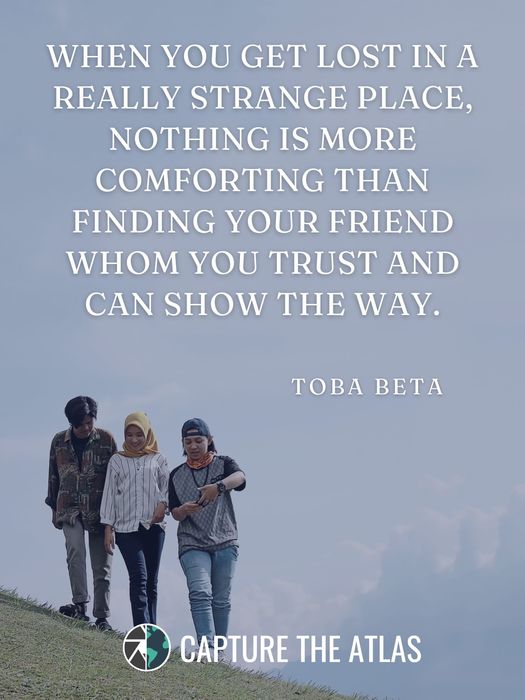 This traveling with friends quote expresses the joy and comfort that come from having a familiar friend with you in an unfamiliar place. Friends can provide that feeling of home, even when you're far away.
25. "Having a best friend is like having your own little corner of the world to escape to." – Unknown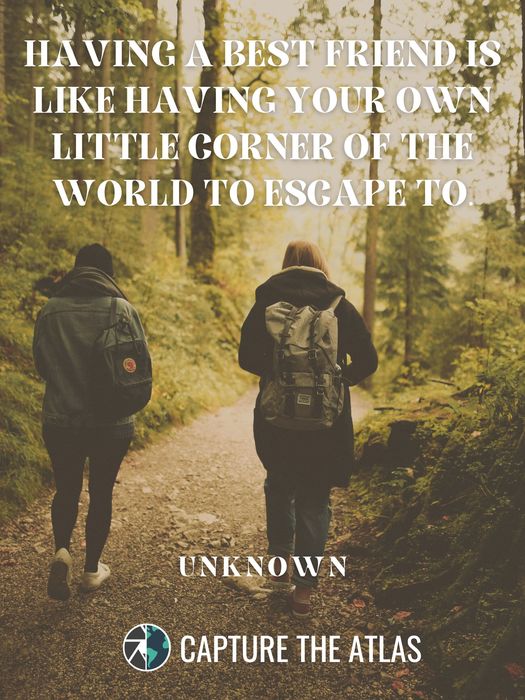 This best friend travel quote is a celebration of close friendship. I hope you've found a friend who makes you feel that free!
26. "Let's wander, and decorate our memories with wild love, epic adventures, and soul talk with badass people. Help me collect stories people won't believe, and memories that will keep us warm when we're old." – Brooke Hampton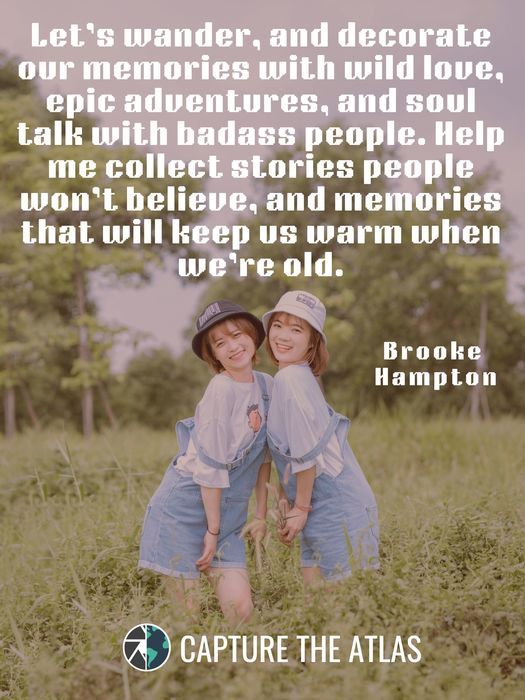 As this memorable trip with friends quote reminds us, a trip with your friends will give you lots of amazing memories that you can relive again and again.
27. "Perhaps travel cannot prevent bigotry, but by demonstrating that all people cry, laugh, eat, worry, and die, it can introduce the idea that if we try and understand each other, we may even become friends." – Maya Angelou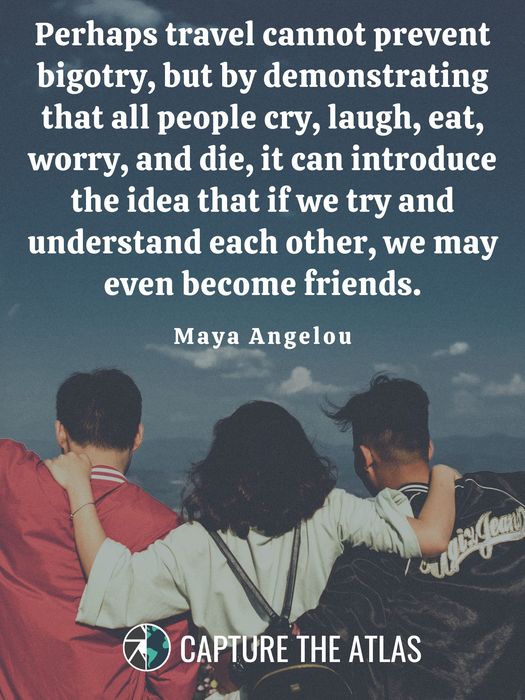 This beautiful quote about friendship and travel is a wonderful approach to viewing the world. Thinking about strangers as potential friends makes travel exciting and a way of becoming closer to others.
28. "Wherever it is you may be, it is your friends who make your world." – Chris Bradford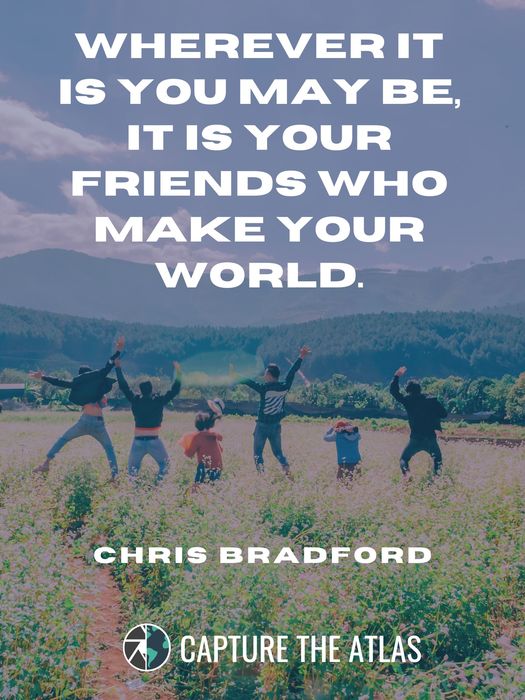 As this friends travel together quote points out, friendships are one of the most beautiful, powerful parts of our lives. Traveling with friends means carrying a bit of home with us everywhere.
29. "It's the friends we meet along the way that help us appreciate the journey." – Anonymous
This friends travel together quote expresses the power of friendship to transform our lives for the better.
30. "A friend may be waiting behind a stranger's face." – Maya Angelou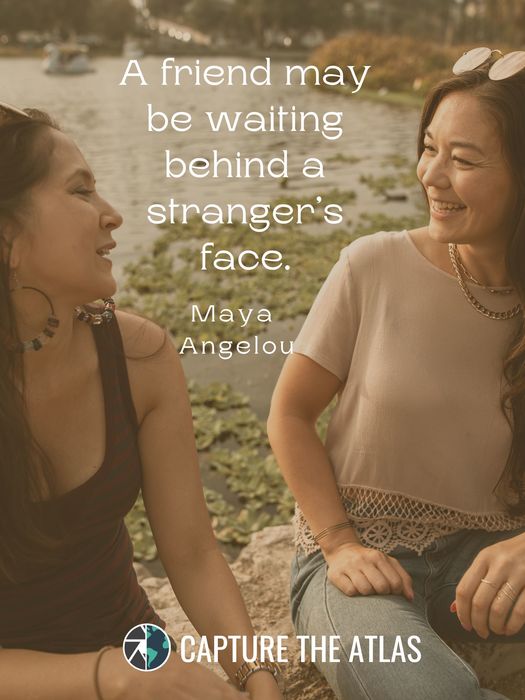 This travel and friends quote reminds us to see the people we encounter around the world as people like us, who we have more in common with than we might think.
I hope these quotes about adventures with friends spark your imagination and inspire you to travel the world with your best friends! Don't forget to share your favorite quotes with your travel buddies or use them as captions for traveling with friends.
Happy traveling!