We found many interesting things to do in Singapore during our visit to the Lion City. This was the first stop on our Southeast Asia trip, so it will always feel a little special. Even though we only spent 2 days there, we immediately felt the welcoming attitude of the locals and the modern advancements of the city.
You might be hesitant about visiting such a globalized urban center, but Singapore was a pleasant surprise. The smaller country in Southeast Asia is great for all types of travelers, including backpackers. That said, while most of Southeast Asia is relatively cheap, Singapore is an expensive city. As one of the world's largest economies and a bustling center of commerce, it's not only rich in terms of money, but also regarding culture.
There are also many places to visit in Singapore, whether on the main island or its 63 satellite islands and islets. This newborn country with only 60 years of history is the perfect mix of urban attractions and nature.
Since Singapore's international airport is a popular location for flight layovers, travelers to Asia are bound to end up here. I recommend the airport shuttle if you want a quick transfer to the city center without paying for a taxi. The Singapore Tourist Pass is also very useful because it includes unlimited access to public transportation, and if you want to visit different paid Singapore attractions, you may want to get the Singapore City Card in advance.
Now, here are the 25 best things to do in Singapore to help you plan your trip.
1. Enjoy Marina Bay, an exciting thing to do in Singapore
Marina Bay is one of the top places to visit in Singapore. Here, you can see just how modern the city is, thanks to its skyscrapers, architecture, and beautiful waterfront.
The centerpiece is the Marina Bay Sands resort, which you can identify by its three towers that are over 650 feet tall and are connected by a boat shaped platform on the roof. The resort is known for its incredible infinity pool, the longest in the world, which overlooks the city. However, you can only enjoy it if you stay at the hotel.
Also on the rooftop is the Skypark Observation Deck, a 360° lookout point that is included with the Singapore City Card. However, if you don't get the card you can still visit it with this ticket that includes the Skypark Observation Deck and Gardens by the Bay, one of the nearby Singapore attractions.
Just in front of the resort is the Event Plaza, the best place to enjoy the Spectra Light & Water Show, one of the coolest free things to do in Singapore at night. It starts at 8 p.m. and 9 p.m. Sunday-Thursday, and 8 p.m., 9 p.m., and 10 p.m. on Friday and Saturday.
The Shoppes at Marina Bay Sands is another huge draw for many visitors. It has over 300 high-end stores. Here, you can also see the Digital Light Canvas, an interactive art collaboration that uses lighting and sound effects on the floor and walls.
Once outside, be sure to walk across the Helix Bridge, pass the Esplanade Theater by the Bay and see the Merlion Statue, which is the national symbol of Singapore. From there, you can spot the famous Singapore Flyer Ferris wheel, which I'll talk about later.
2. Gardens by the Bay, one of the most popular attractions in Singapore
Behind Marina Bay Sands, you'll find Gardens by the Bay, one of the most popular attractions in Singapore. It covers 130 acres and contains over 1.5 million plants, as well as several conservatories and interactive exhibits.
The SuperTree Grove is the main attraction of the gardens. It features nearly 20 imaginative ecologic tree-like sculptures ranging from 80 to 160 feet tall, positioned among thousands of exotic plants. These trees collect water from the rain for the gardens' maintenance. They also generate energy through photovoltaic panels that are used to light them during the Garden Rhapsody light show (7:45 p.m. and 8:45 p.m.).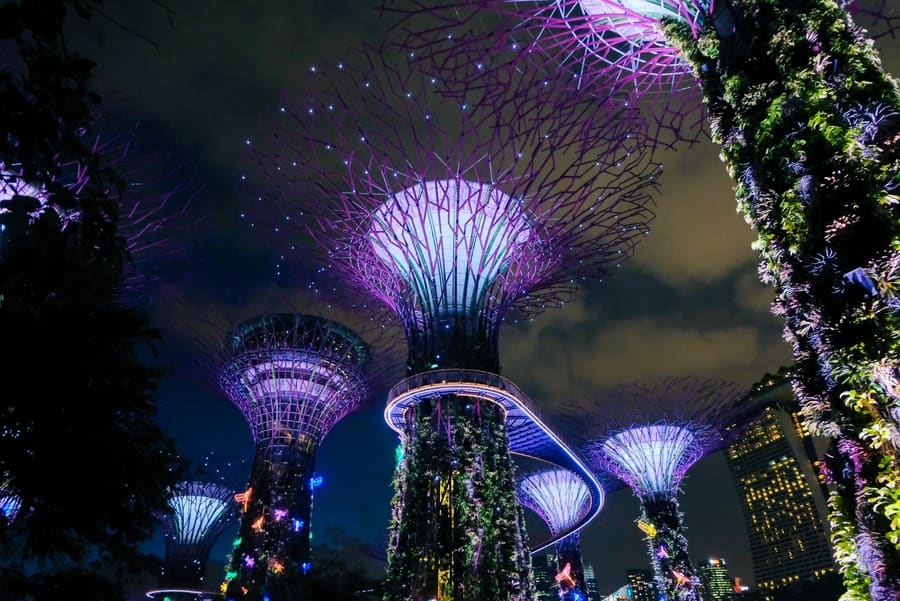 For the best views of the show, go to the OCBC Skyway, an elevated walkway above SuperTree Grove and one of the best places to go in Singapore at night.
The two main conservatories in the gardens are the Flower Dome and Cloud Forest. The Flower Dome is the largest glass greenhouse in the world and displays flowers and plants from the Mediterranean and semi-arid regions. On the other hand, the Cloud Forest replicates the tropical highlands showcasing orchids, pitcher plants and ferns from the cool-moist Tropical Montane region. It also features an indoor waterfall.
Another impressive attraction is Floral Fantasy, a collection of artistic garden landscapes and a 4D ride. This space will transport you to tropical rainforests, caves, and a wonderland of blooms. It truly is one of the most beautiful places in Singapore.
Some parts of the Gardens are free, including the Children's Garden, so visiting this place is one of the fun things to do in Singapore with kids. However, if you want to visit the Flower Dome or Cloud Forest Conservatories, the OCBC Skywalk, or Floral Fantasy, and you don't have the Singapore City Card, you will need to purchase admission in advance.
3. Sentosa, a must-visit in Singapore
Sentosa is a popular island off the southern coast of Singapore's main island. This small isle packs in a lot of adventure and luxury, so it's the best vacation destination in Singapore.
One of its most successful attractions is Resorts World Sentosa which boasts two casinos and 7 hotels (the most popular are Beach Villas and Crockfords Tower). RWS also includes a water park, and a Universal Studios theme park, which I'll talk about later. It also hosts the iconic Crane Dance, one of the largest animatronic shows in the world, which has free admission and happens every evening at 8pm.
However, the most popular night show in Sentosa is "Wings of Time", which you can enjoy daily at 7:40 pm and 8:40 pm next to Beach Station. You will have to pay for admission in advance, but it's very worthwhile.
From there, you can walk the beautiful Merlion Walk to visit the huge 120-feet tall Sentosa Merlion statue. You can even get up its mouth to have stunning views of Sentosa, for a fee.
Of course, as an island, Sentosa also offers some of the most beautiful beaches in Singapore, including Palawan Beach (the southernmost point of Continental Asia), Tanjong Beach, and Siloso Beach. It's also full of history, as you can see at the westernmost corner of the island, at Fort Siloso, a restored WWII fort.
Sentosa is packed with adrenaline-boosting activities. My favorite ones are Mega Adventure Park, which has one of the longest and steepest ziplines in Asia (1,475 feet), and the AJ Hackett Giant Swing. You can purchase advance tickets for the zipline here and the swing here. However, check the Singapore City Card first, since it includes these and other things to do in Sentosa, Singapore, like the Skyline Luge Sentosa, iFly Singapore, and the Madame Tussauds wax museum.
4. Singapore Cable Car, the best thing to do in Singapore for families
If you want to get to Sentosa, you have a few options. The Sentosa Bus costs 3 SGD ($2.20) each way, while a one-way Sentosa Express train ticket costs 4 SGD ($2.90). Both options depart every 15 minutes or so from the Harbour Front Station, and the trip lasts less than 20 minutes.
That said, I recommend taking the Singapore Cable Car which you can get with a discount here. While it's a bit pricier, it's a fun thing to do in Singapore, and the views are much better. From your cabin, you'll see the jungle, harbor, and city from a birds-eye view.
At 5,410 feet long, it is the first aerial gondola system in the world to span a harbor. Singapore's cable car system has two lines and six stations, four in Sentosa island and two on Singapore's main island, including Mount Faber Park. This hill has an elevation of nearly 310 feet and provides lovely panoramic views of the city.
It's also one of the top areas to visit in Singapore if you want to get away from the hustle and bustle of downtown. Several footpaths and walking trails lead up the hill, although the main ones are the Marang Trail and the Southern Ridges Park Connector.
Mount Faber contains lush rainforests, relaxing parks, gardens, and hilltop restaurants. If you're traveling with a partner, a scenic sunset dinner there is one of the most romantic things to do in Singapore.
5. Universal Studios, the best thing to do in Singapore with kids
As I mentioned earlier, Sentosa is home to Universal Studios Singapore, a huge theme park that's open year-round. A visit here is one of the top things to do in Singapore with kids, although it will appeal to people of all ages.
The 49-acre park is only open Thursday through Sunday, and you can purchase an entry ticket with hotel pick-up in advance.
As one of the top Singapore tourist attractions, Universal Studios offers rides, shows, live entertainment, shopping, and dining. Children will love doing meet-and-greets with some of their favorite cartoon characters from Sesame Street, Transformers, Minions, and more. The park is divided into seven themed zones: Hollywood, New York, Sci-Fi City, Ancient Egypt, Jurassic Park's Lost World, Madagascar, and Shrek's Kingdom of Far, Far Away.
Even if you're not a thrill-seeker, Universal Studios is still a must-see in Singapore.
6. Singapore Flyer, the perfect way to see Singapore
For the best sightseeing in Singapore, I recommend taking a ride on the Singapore Flyer. This Ferris wheel is located at Marina Bay and is one of the world's tallest, at 541 feet. If you're brave enough to climb aboard, you'll be rewarded with the best panoramic views of the city. When the skies are exceptionally clear, you can even see Malaysia and Indonesia in the distance.
Riding the Flyer is among the top things to do in Singapore and was designed to be a stunning touristic experience. This huge observation wheel features 28 air-conditioned cabins, and each one can accommodate 28 passengers. A complete ride on the Flyer lasts about 32 minutes, so it's well worth the money.
If heights aren't your thing, you can still enjoy some parts of this Singapore attraction since the Flyer sits above a 3-level mall. Inside, you'll find a 6D cinema and flight simulator, a beautiful tropical rainforest display and many cafes and restaurants.
7. Singapore Botanic Gardens, the most spectacular place to visit in Singapore
The Singapore Botanic Gardens is one of the most beautiful places to visit in Singapore. It's over 160 years old and has been named a UNESCO World Heritage Site. It's the only tropical garden in the world to receive such an honor, and once you see it, you'll understand why.
The gardens cover over 200 acres and include several unique zones, most of which are free. The only one that requires an entry fee is the National Orchid Garden, and you can purchase admission in advance here.
The National Orchid Garden contains over 1,000 species and 2,000 hybrid plants. It features four distinct zones, each one reflecting one of the four seasons. As one of the main attractions in Singapore's botanic gardens, you could spend hours strolling through the exhibits and admiring the colorful blossoms.
There is also a small rainforest here, which predates the creation of the Botanic Gardens. Next to the National Orchid Garden, you'll find the Ginger Garden, which has a small waterfall. The Children's Garden includes areas for play and exploration, as well as a rope bridge.
Through the gardens, there are streams, gazebos, and other relaxing elements. You may even forget that you're in one of the busiest cities in the world! Along with the interior location, there is also an outdoor area with manicured lawns and a few lakes. The most prominent one, Symphony Lake, features a large stage that hosts monthly performances by the Singapore Symphony Orchestra.
Without a doubt, a visit to the Botanic Gardens is one of the best things to do in Singapore. The 4.5 million people who visit annually would agree!
8. Take a stroll along Clarke Quay, one of the best things to do in Singapore at night
If you're wondering what fun things to do in Singapore in the evening, check out Clarke Quay. This historical pier runs along the Singapore River and features a riverside walkway and pedestrian mall.
In the past, this area was a big trading hub where bumboats and barges would moor to the pier. Today, it's more of a nightlife and entertainment spot, encompassing five blocks of food stalls, clubs, and bars. Taking a stroll along the quay is one of the best things to do in Singapore at night, especially if you want to try some local street food or do some barhopping.
Clarke Quay is also an access point for cruises and river taxis. If you're looking for some Singapore sightseeing tours, I recommend this boat tour, which takes you along the river to see the city skyline and some nearby iconic sites, like the Merlion.
That boat tour has 7 stops where you can hop onboard, however, once you disembark you can't get back on. Therefore, I suggest start your boat tour at Water B Fort Canning.
The next stop would be Boat Quay, another nice spot to enjoy a meal or drinks. From my experience, Boat Quay is a bit cheaper than Clarke Quay, but you may find the restaurant waiters are a little pushy compared to the posh Clarke Quay. Since they are within walking distance, I recommend checking both.
In any case, if you are traveling on a budget, you can simply enjoy a leisurely walk through these riverfront areas. Whether you visit during the day or at night, it's one of the best free things to do in Singapore.
9. ArtScience Museum, something to do in Singapore if it rains
The ArtScience Museum, located in Marina Bay, is one of the top attractions in Singapore. The museum's exhibits blend art, culture, science, and technology to create an intriguing, one-of-a-kind experience.
This is one of the best museums to visit in Singapore, as it appeals to people of all ages and backgrounds. There are 21 gallery spaces, each one an encounter into the latest innovations in art and science. There are explorations into future technology, as well as interactive exhibits showcasing historical events and pop culture.
The ArtScience Museum's primary permanent exhibition is Future World, an interdisciplinary collaboration with international artists from teamLAB. The showcase features interactive art installations depicting cityscapes, natural elements, digital games, and more. These large-scale works have a way of transporting you to an ethereal world and has become one of the most photographed placed in Singapore with its Crystal Universe.
Even from the outside, the ArtScience Museum is impressive. The building's architecture resembles a giant white lotus flower, which lights up in a fabulous array of colors and patterns at night. Even if you're not very into museums, visiting this one is a cool thing to do in Singapore. It's so popular that I recommend booking your entrance in advance.
10. Chinatown, one of the most popular places to visit in Singapore
Chinatown is one of the top areas to visit in Singapore. It's an interesting blend of old and new, with its traditional temples intermingled with modern bars and shops. Today, it still has a large population of Chinese residents, making it a great cultural hub to visit in the city.
One of the first things to do in Singapore's Chinatown is to see the historic buildings and temples. The Thian Hock Keng Temple is the oldest temple in Singapore. Its name translates to "Palace of Heavenly Happiness", and was built for the worship of Mazu, a Chinese sea goddess. As you walk through the courtyard and main temple, you'll notice the traditional curved roofs and decorative elements.
The Singapore Yu Huang Gong Temple is not as popular, but it's well worth visiting for its colorful wall sculptures and carved columns depicting Taoist deities. Also known as the Temple of the Heavenly Jade Emperor, the three-story pagoda still has its original floor tiles, which date back to 1847.
Surprisingly, Chinatown is also home to one of Singapore's oldest mosques, the Masjid Jamae. Constructed in the 1820s, it remains a prominent landmark among the city's Tamil Muslim community. The mosque's architecture features two domed minarets, and it's well-known for its beautiful pale green color.
Other popular buildings include the Buddha Tooth Relic Temple and the Sri Mariamman Temple, which I'll talk about in the next section.
In addition to sightseeing, you can also find great food in Chinatown. I recommend Smith Street, a pedestrian-only section where you'll find dozens of food stalls. You can also check out the Maxwell Food Center, one of the most famous hawker centers in the area. This Chinatown night tour includes dinner, a bumboat ride, and a visit to a Chinese Medicine Hall.
11. Visit Buddha Tooth Relic Temple
As I mentioned above, the Buddha Tooth Relic Temple is an important landmark in Chinatown. It's also a museum and holds various Buddhist ceremonies that are open to the public. Adhering to Buddhist tradition, the temple doesn't charge an entry fee, but donations are accepted and help to financially support the museum.
Visiting this interesting temple is one of the top things to do in Singapore's Chinatown. It gets its name from a tooth relic that is said to be from the Buddha. However, the tooth, which measures 7.5 centimeters, is too long to be a human tooth. Still, it holds cultural and religious significance, and it's worth visiting.
The temple is just stunning, reflecting Tang Dynasty architectural elements, such as bracketed roofs and pillars. Also, 700 pounds of gold were used as embellishment for the interior, which is truly impressive.
For some reflective contemplation, the temple's roof garden is something nice to visit in Singapore. There, you'll find a Buddha prayer wheel and pagoda surrounded by native plants. Whether you're spiritual or not, a stop at the Buddha Tooth Relic Temple is one of the best free things to do in Singapore, but remember to cover your shoulders because it's mandatory to cover up before entering.
12. Sri Mariamman Temple, something interesting to visit in Singapore
The Sri Mariamman Temple is Singapore's oldest Hindu temple, and surprisingly it's not in Little India but in Chinatown. It is one of the top Singapore attractions and has even been named a National Monument.
The temple was built nearly 200 years ago and, over the years, has been a welcoming refuge for South Indian Tamil Hindus in the city. While serving as a place of worship, the temple also helps with social, cultural, and educational services. Not only that, but it's a popular spot for tourists who are sightseeing in Singapore.
Right away, you'll notice the detailed ornamental gopuram (tower entrance) that makes the temple an instantly recognizable landmark. It features six tiers of Hindu deity sculptures in bright colors.
Once you go inside, you'll find the main prayer hall with a shrine dedicated to the goddess Mariamman, who is known for her disease-healing powers. Embellished columns and ceiling frescos adorn the hall, which leads to an open courtyard.
Anyone can enter the temple, but you must take your shoes off and wear something to cover your shoulders. If you forget, you can borrow a shawl for free at the entrance.
This is among the most mystical places to visit in Singapore, and it's easy to know why. We visited it on a Sunday at 1 pm and were surprised by the songs of the devotees accompanied by percussion instruments. We entered the temple, and despite knowing that it is one of the most touristy places, we felt like it was just us and hundreds of prayers.
After that magical experience, they even invited us to eat delicious (and very spicy) vegetarian food. No napkins, no cutlery, not even a glass of water, but it was the most special lunch of my life.
13. Little India, one of the can't-miss attractions in Singapore
Little India is another cultural place to go in Singapore. Here, you'll find multicultural food stalls, and historical and religious buildings, both Buddhist and Hindu. In fact, the temples in Little India are some of the most interesting places to go in Singapore, so get ready to take your shoes off.
One of the most popular ones is the Sakya Muni Buddha Gaya Temple, a Buddhist monastery founded in 1927 by a Thai monk. Also known as the Temple of 1,000 Lights, it features a nearly 50-foot-tall statue of the Buddha. By giving a small donation, you can light one of the bulbs around the statue.
In the same street, you will find another Buddhist temple, but with a very different style. It's the Leong San See Temple (Dragon Mountain Temple in Mandarin), that contains an altar dedicated to Confucius.
Among the Hindu temples in Little India, Sri Veeramakaliamman Temple and Sri Srinivasa Perumal Temple stand out for their beautiful gopurams that resemble the one at Sri Mariamman. The first one features art and shrines depicting the powerful goddess of destruction, while the second one is one of the oldest temples in Singapore, built in 1830.
Another of the oldest temples you should visit in Singapore's Little India is the Sri Vadapathira Kaliamman Temple, completed in 1855, and with a completely different aesthetic from the other Hindu temples you'll see in Singapore.
Besides temples, I also recommend visiting the House of Tan Teng Niah. This colorful home, built in 1900, is the last surviving Chinese villa in Little India. There is also the Mustafa Center Mall, where you can shop for just about anything and enjoy a range of Asian dishes.
This walking tour through Little India includes a visit to the Sri Veeramakaliamman Temple, a spice market, and interesting facts from a local guide.
14. Kampong Glam, something fun to do in Singapore
Rounding out the cultural districts in Singapore is Kampong Glam, also known as the Arab Quarter. While it began as a Muslim neighborhood, the area is now multi-ethnic and has undergone commercial development. Like many other places of interest in Singapore, Kampong Glam is a unique mix of old and new.
Among its most important religious attractions is the Sultan Mosque, also known as Masjid Sultan. Named after Sultan Hussain Shah, the national monument is recognized for its massive golden domes and huge prayer hall. The interior is decorated with floral motifs and gold-plated accents and is open to visitors between 2:30 p.m. and 4:00 p.m. In the evening, the building lights up and is a beautiful place to go in Singapore at night.
There are other majestic places of worship along Arab Street, such as bazaars where you can buy carpets, perfumes, and Arabic food intermingled with trendy cafes and artsy shops. I also recommend walking on the pedestrian Bussorah Street. At night, it is quite lively as restaurants set up tables outside to entice passersby to dine on their terraces.
Besides that, don't miss Bali Lane, where you'll find colorful buildings, hip restaurants, and artistic murals, and Haji Lane, a hotspot for young people and creatives. Here, you can peruse independent shops and boutiques and grab a bite at one of the Middle Eastern cafes.
With so many things to do, Kampong Glam is one of the top Singapore areas to visit and to know more about its history, I recommend taking this guided walking tour.
15. Visit the best cultural museums in Singapore
While Singapore is full of modernity and futuristic architecture, it also has a rich cultural history. I couldn't mention this destination in Southeast Asia without recommending a few of the best museums to visit in Singapore, like the Asian Civilisations Museum, the Peranakan Museum, the National Museum of Singapore, and the National Gallery of Singapore. I suggest adding one or two to your list of things to do in Singapore on rainy days.
The Asian Civilisations Museum specializes in pan-Asian cultures and history. These societies reflect the ethnic heritage of many people in Singapore, so it's a nice place to visit to get a deeper sense of Singapore's national identity and culture. The Chinese collection is particularly interesting and contains exquisite porcelain figures, Taoist and Buddhist monuments and statues, and other decorative art.
The Peranakan Museum is the sister museum to the Asian Civilisations Museum and focuses on Peranakan culture. This ethnic group descends from the Malay Peninsula and the islands of Indonesia. Some of the museum's highlights include an elaborate Peranakan wedding bed, beadwork, embroidery, and religious altars.
The oldest museum in the region is the National Museum of Singapore. It is known for housing some of the most precious Singaporean artifacts, such as the Singapore Stone and a traditional Peranakan coffin lid.
Finally, the National Gallery of Singapore features the largest public collection of Singaporean and Southeast Asian art in the world. There are over 9,000 fine art pieces, providing a retrospective of Singaporean lifestyle, culture, history, and development.
If you're looking for stuff to do in Singapore to learn more about this country's history and culture, these museums are worth checking out.
16. Fort Canning Park, the most stunning lookout in Singapore
If you're itching to get out into the fresh air, then Fort Canning Park is a beautiful place in Singapore I suggest visiting. This historic park is between the National Museum of Singapore and Clarke Quay and has a long and iconic history. The hilly area was once the site of 14th-century palaces and a military headquarters back in the 1940s.
Today, it's a lush refuge from the busy city streets. Here, you can find several gardens, including the historic Spice Garden. Relics from the past remain, such as The Battle Box underground bunkers from WWII, and the 9-Pound Cannon.
One of the landmarks of the park is the Gothic Gates, which was built in 1846. You can find them atop Fort Canning Hill, the nearly 160-foot summit of the park. It's a popular venue for celebratory events and musical concerts, so you might run into a festival or group during your visit. The area is traditionally known as Forbidden Hill due to an old belief that it's the final resting place of the ancient kings of Singapore.
The hill overlooks Orchard Road, a popular Singapore tourist attraction. This 1.5-mile strip winds through a central area of the city where you can shop, dine, and sightsee. If you're wondering where to go in Singapore after visiting Fort Canning Park, check out this shopping and entertainment center.
Or, if you're into history and want to learn more about Fort Canning's role in WWII, this Battlebox tour will guide you through the military museum.
17. Haw Par Villa, another unforgettable place to go in Singapore
Haw Par Villa is a theme park, as well as Singapore's largest outdoor art gallery, based on Chinese mythology. The park features over 1,000 statues and 150 huge dioramas depicting scenes from ancient folklore and legends. It's sort of like walking through a living history book, and it's a quirky thing to do in Singapore.
As you approach this Singapore attraction, you'll walk through the traditional Tiger Balm Garden archway entrance. From there, you can explore the 21-acre park, which is full of all kinds of interesting sights.
For example, one of the first displays you'll see is the Ten Courts of Hell, which are based on the traditional Buddhist concept of the afterlife. Large-scale figurines of the two guardians of the underworld, Horse-Face, and Ox-Head, will greet you.
As you walk through the park, you'll see various illustrations depicting aspects of Confucianism and Buddhism, as well as lots of mythological creatures, such as mermaids and the Monkey King. There are also colorful statues of sumo wrestlers, a Laughing Buddha, and a beautiful 5-story pagoda.
Visiting Haw Par Villa is one of the best free things to do in Singapore and the park is a one-minute walk from the Haw Par Villa MRT station.
18. Changi World War II Tour, something interesting to do in Singapore
If you're looking for things to do in Singapore near the airport, check out the Changi Museum. The museum is dedicated to honoring and remembering those who served and died in Changi during World War II. More specifically, the museum documents the events that took place at Changi prisoner-of-war (POW) camps during the Japanese Occupation from 1942 to 1945.
There is no fee to enter the museum, so a visit here is another nice free thing to do in Singapore if you're short on time. The exhibits feature wartime art, personal belongings from Singaporean POWs, and a visual history of Changi Prison life throughout the war. The museum grounds include the Changi Chapel, which is a replica of the original.
Nearby is the Johore Battery, a former British artillery battery, where you can view a replica of a 15-inch naval gun. A few blocks away is the Selarang internment camp, which was the site of a revolt of Australian and British POWs. A bit further south is the Changi Prison, and to the west is the Kranji War Cemetery, the final resting place for fallen Allied soldiers who died during the Battle of Singapore.
Most people might not realize the deep military history in this country. This WWII tour is a must-do in Singapore for anyone who's interested in this kind of thing. The guided tour includes stops at the sites above and Changi Beach Park, which overlooks the Straits of Johor.
19. Canopy Park, an incredible thing to do in Singapore airport
If you'd rather look for fun things to do in Singapore with family, you must check out Canopy Park. Located on the upper level of Jewel Changi Airport, Canopy Park is a wonderland of colorful gardens. It is also home to the world's tallest indoor waterfall, the Rain Vortex.
Without a doubt, a visit to Canopy Park is the top thing to do in the Singapore airport. Encompassing 150,000ft², it features two primary gardens. The Petal Garden is a collection of perfectly manicured flower beds with blooms of all colors. The Topiary Walk is an imaginative display of flower sculptures in the shape of iguanas, crocodiles, and other fun creatures.
You can purchase a full admission ticket in advance, which includes the Petal Garden and Topiary Walk, as well as the Discovery Slides and Foggy Bowls, where you can let the kids (or yourself) play. The Canopy Bridge isn't included in general admission, but it's worth the small extra fee. This suspension bridge is nearly 165 feet long and hovers 75 feet above the gardens. It'll give you great views of the Rain Vortex. If you go at night, you can catch the waterfall's light-and-sound show.
Canopy Park is a great place to visit in Singapore if you have a layover in the city. However, it's also worth checking out if you're staying longer. Plus, on the airport's 4th level, you can check out the Changi Experience Studio, an immersive virtual reality attraction.
20. MacRitchie Treetop Walk, one of the top places to visit in Singapore
For some outdoor greenery, I suggest visiting the MacRitchie Reservoir Park. Here, you'll find several long hiking routes where you can get some fresh air and catch a break from the whirlwind of the city.
Strolling through the forest and listening to the sounds of birds is one of the most relaxing things to do in Singapore. If you want something more exciting, consider renting a canoe or kayak at the park's Paddle Lodge, a popular place for water sports.
The best part about the park, in my opinion, is the MacRitchie Treetop Walk. This free-standing suspension bridge was the first of its kind in Southeast Asia. It connects the two highest points in the park, Bukit Peirce, and Bukit Kalang, offering an aerial view of the forest canopy and city.
The Treetop Walk is one of the best attractions in Singapore, and it's free. However, I will say that it's not the easiest to get to. You will need to take bus 166 or 167 to Flame Tree Park and walk 10 minutes to the MacRitchie Treetop Walk Trailhead.
From there, it's around 1.3 miles (30 min approx.) to the bridge, but you won't be disappointed. The suspended walkway is about 820 feet long and is the highlight of the park. At its highest point, you'll be 82 feet above the ground and feel on top of the world. Just be aware of the monkeys in the area and leave your valuables at your accommodation.
21. Go to Pulau Ubin, another must-do in Singapore
If you have the time and you're looking for places to go near Singapore's main island, I highly recommend Pulau Ubin. This island in the northeast has a charming rural atmosphere and offers a nice respite in nature.
Today, the island is managed by the National Parks Board, which has preserved the land from urban development. The main hub on the island is Ubin Town and, while it's small, it has a very welcoming vibe. In fact, most of the businesses and restaurants are focused on appealing to visitors to the island, so you'll feel quite safe here.
Take some time to explore Ubin's wooden jetties and house villages, as well as the diverse flora and fauna. And if you want some activity, I suggest renting a bike and heading to the Ketam Mountain Bike Park. The island is also a good spot for recreational activities and outdoor sports like camping, hiking, and swimming.
Two lovely Singapore attractions in Pulau Ubin are the Chek Jawa Wetlands and the Ubin Fruit Orchard. The Wetlands cover nearly 250 acres and include mangroves, beaches, lagoons, and coastal forests. I recommend walking along the boardwalk and climbing to the top of the 65-foot-tall Jejawi Tower. The Ubin Fruit Orchard is a fruit tree arboretum where you can learn about the tropical trees in the area and find some uncommon varieties of mango.
Pulau Ubin is just a 10-minute bumboat ride away. From Singapore's city center, you can take public transportation to the Changi Bus Interchange. The Changi Point Ferry Terminal is a 3-minute walk from there, and you'll see bumboats waiting at the pier. A one-way ride is usually under $3.00 and the departure times are at the discretion of the individual boat operators.
22. Swim at Wild Wild Wet Waterpark, something fun to do in Singapore
On those hot days in Southeast Asia, a visit to the Wild Wild Wet Waterpark is a fun thing to do in Singapore with the family.
With 13 attractions across more than 9 acres, Wild Wild Wet is the largest waterpark in Singapore. It also has the first raft slide in Southeast Asia, Ular-Lah. There are also speed and racing slides, a waterslide half-pipe, a lazy river, and a wave pool.
Wild Wild Wet is one of the top places to visit in Singapore with kids, too. The park has child-friendly areas and there is even a jacuzzi section for parents and older kids. If you forgot to bring swim gear, there is a shop in the park, although the prices will be higher than average. There's also a café on-site.
The best way to get to the park is taking public transportation to the Pasir Ris station. From there, it's about a 6-minute walk. Wild Wild Wet is only open Thursday through Monday, so be sure to plan accordingly.
23. 1-Altitude Viewing Gallery, one of the most spectacular views over Singapore
For a unique thing to do in Singapore, I suggest visiting 1-Altitude, an upscale viewing tower and lounge. The 925-foot-tall building is the highest viewing gallery in the country, and it's one of the most romantic places to visit in Singapore.
The viewing gallery provides a stunning 360° view of the Singapore cityscape, making it one of the most popular tourist spots. It's also an attractive venue for weddings and corporate events, so if you want to go, I would check the availability and book a ticket in advance. This isn't the cheapest place in Singapore, but the views are worth it. Plus, there is an open-air bar, making it a nice date spot for couples.
While you enjoy the sunset from 1-Altitude, you can catch glimpses of some of Singapore's main attractions, such as the Marina Bay Sands and Singapore Flyer. The rooftop bar presents great photo opportunities, too.
For a luxurious thing to do in Singapore at night, consider dining at the alfresco rooftop restaurant on the lower level. The dining space serves casual-contemporary Australian cuisine. There is also an indoor gastro-lounge one floor below that serves brunch, lunch, dinner, and drinks. Again, be sure to book a reservation in advance so you can partake in the finest sky-high dining in Singapore.
24. Visit Batam Island, Indonesia, one of the top places to go near Singapore
If you're looking around for what to do in Singapore for a week, I suggest taking a trip to Indonesia's Batam Island. It is less than an hour away from Singapore and is famous for its relaxing beaches, delicious food, and outdoor activities. You can book ferry tickets in advance here.
Batam is the largest city in the Riau Islands of Indonesia and one of the most popular vacation spots for Singaporeans. Those who are wondering where to go near Singapore need to look no further than Batam! This island has something for everyone, whether you want to take in the culture and sights, sunbathe on the sand, or enjoy the nightlife scene.
Just like Singapore's city center, Batam has some beautiful historical gems worth checking out. One of these is the Maha Vihara Duta Maitreya Temple, known for its Buddha statues and intricate carvings depicting the twelve Chinese zodiac signs. Visitors are free to walk through the prayer hall and look at the shrines dedicated to Maitreya Bodhisattva, who is believed to be the next Buddha.
For a more thrilling experience, check out the Ocarina Waterpark or Batam Cable Ski Park. The latter is a testament to Batam's signature aquatic sport, waterskiing. Here, you can also canoe or snorkel, or hang out on land and watch the adrenaline junkies on the water.
As a prime vacation destination, Batam also offers plenty of opportunities for shopping, dining, and self-pampering. Nagoya Hill Shopping Mall is the prime retail center, and you can find delicious seafood at many of the restaurants. I also suggest hanging out at Nongsa Beach, one of the most beautiful beaches in Batam.
25. Day trip to Melaka, Malaysia, the best place to visit around Singapore
Around three hours away from Singapore is the Malaysian city of Melaka, which has been named a UNESCO World Heritage Site. If you're looking for where to go near Singapore, Melaka is a great choice.
It's also a fascinating destination for history buffs and art lovers. The city has a complex history dating back to the Portuguese and Dutch domination from the 16th century.
Surprisingly, you can find St. Paul's Church, built in 1521, and which is now a museum documenting the Roman Catholic presence in Malacca; and 10 minutes away, the Kampung Kling Mosque, and the Cheng Hoon Teng Temple. The mosque reflects Sumatran, Chinese, Hindu, and Malay architecture, and is decorated with Portuguese glazed tiles, Chinese carvings, and Corinthian columns in the interior; while the Buddhist temple is the oldest temple in the country, dating from 1645.
Other interesting places to visit in the city are the A Famosa fortress, built by the Portuguese in 1511 and Stadthuys, the former city hall built sometime around 1650 by the Dutch.
Melaka also offers boat rides along the Malacca River, which is especially stunning in the evening. You should also check out the Jonker Street Night Market that opens on Fridays and Saturdays, and for daytime adventure, the Skytrex Adventure zipline.
If you are short in time but you really want to immerse yourself in Malacca's culture, I recommend this guided one-day tour from Singapore.
And there you have it, 25 awesome places in Singapore. I bet there are more things to do in Singapore than you may have thought! To help you plan your trip, I have also marked the best places to visit in Singapore on the map below.
Do you already know which attractions in Singapore you don't want to miss? If you have any questions, leave them below and I'll do my best to answer them. Happy travels!