Spending two days in Gili Trawangan was a last minute trip, and things would not have been the same without it. This tiny lawless island is full of colorful things: turquoise blue waters, violet sunsets, and unstained white lights when it gets dark.
Altogether, Gili Trawangan, Gili Meno, and Gili Air form the Gili Islands.
These islands are only 3 of more than 13,000 that make up Indonesia . Although we took a ferry to get here from Bali, these islands are actually part of Lombok. The three islands are authentic paradises of crystalline waters, and choosing to stay at one or the other depends on what you are looking for.
Gili Trawangan is for you if you are looking for young people and partying. The largest of the three islands at a span of 3.4 km2, this island is full of bars and clubs.
Gili Meno is the smallest and subsequently with fewest services. Though most visitors come to this island to see sea turtles, they still generally choose to stay at one of the other two.
Gili Air is an intermediate point between the madness and quietness of the other two islands. This island is usually the honeymoon or family trip destination.
Without a doubt, my cousin and I were seduced by the beach parties at Gili Trawangan.
In this article, you will find information about everything you can do in Gili Trawangan in two days.
HOW TO GET TO THE GILI ISLANDS
The only way is by ferry from Bali or Lombok.
If you are in Bali, there are quite a few companies that organize the journey to the islands. The ferries leave from three main ports: Padangbai, Serangan, and Amed. We checked different prices and schedules and finally decided on the company Marina Srikandi. The ferry left from Serangan, and a round-trip ticket cost 600k IDR (42 € approx.). However, this was not the nearest port to Ubud, where we were.
Good news: usually all ferry companies include a pickup and drop off at your hotel with the ticket at some point in Bali (Nusa Dua, Jimbaran, Canggu, Kuta Ngurah Rai Airport, Seminyak, Kerobokan, Sanur, Ubud), specified at the time of reservation. Not only do you not have to worry about getting to the port, you can also use this service to move from one end to another in Bali without any extra cost by visiting the Gili Islands in between.
Once on the boat, my recommendation is to sit on the deck and enjoy the party that has been set up for you. If you have forgotten to bring with you some Bintang, the famous Indonesian beer, don't worry, anyone from the crew will be able to sell them to you.
HOW TO GET AROUND WITHIN GILI TRAWANGAN
GiliT is still tiny even though it's the largest of the Gilis. The ferry will drop you off at the main beach on the east coast where most of the restaurants, hotels, and nightclubs will be. Since there is no dock or the like, you will literally have to wet your feet to get to land.
Once you cross the beach, you will reach the main street. There are no cars and we saw very few bikes. My advice is to rent a bike for no more than 50k IDR (approx. 3.5 €), and you can circle the island within 20 minutes.
Please do not use the horse carriages. I hate this option pretty much anywhere, but horses were seriously mistreated here. The only way to end this cruelty is to stop hiring such services.
WHERE TO STAY IN GILI TRAWANGAN
As I said earlier, Gili Trawangan is the party island and that for couples it is better to go to Gili Air. However, outside of the areas that are packed with young fun seekers from all over the world, there is also an area within GiliT that is more frequented by couples and families.
My recommendation is to stay on the east coast (where the ferry drops you off) if you prefer to be close to everything (ATMs, shops, markets, discos and restaurants) and don't mind the noise.
If, on the other hand, you want to relax in a luxury resort, you should stay on the west coast, further away from the hustle and bustle.
things TO DO IN GILI TRAWANGAN in two days
Two days in Gili Trawangan are enough to do almost everything there is to do: Tour the island to look for the best snorkel beach, watch the sunset from the west coast, and return back to city center for beach parties.
TOURING THE ISLAND BY BICYCLE AND SNORKELING
CIRCLE THE ISLAND BY BIKE
If, like us, you happen to arrive early in the morning, I recommend riding around the coast clockwise so that you can see the whole island.
I know you'll be tempted to stop at any of the beaches you see while on your bike. My advice is to wait until you get to the north coast to eat at one of the beach bars there. Even though you will find beautiful spots to chill out all along the west coast, prices in the north are quite a bit cheaper.
For diving, I recommend going around the island until you reach Coral Beach. Rent a pair of diving goggles there and explore the incredible underwater world of GiliT. This beach has more coral than sand and therefore more abundant marine life compared to the rest of the beaches on the island. According to locals, Coral Beach is where you would have a better chance to swim with turtles. However, we did not get to see any despite spending all afternoon snorkeling there. I guess it's a matter of luck.
As you'll see, there is a lot of dead coral. Please, do not step on or stand on the coral reef. Otherwise, you will be destroying the home of a lot of fishes.
SNORKELing AROUND THE GILI ISLANDS
As we had no luck with turtles at Coral Beach, we decided to try one of the snorkeling tours around the three Gili Islands the next day. This activity costs between 60 and 150k IDR (4.2-10.5 €) and is offered by an infinite number of companies. The excursion usually start at 10 am and last about 4-5h. In addition to a glass bottom boat tour, it includes all the equipment for snorkeling. The boat makes about 3 or 4 stops at different points where you will see significant differences in the type of reef there is and marine life that inhabits it. There is also a food stop at Gili Air, but the food is not included (although we found the price very affordable).
We really enjoyed the tour, as we saw different coloured corals and fishes that we did not see on the shores of Gili T. Unfortunately, we missed another chance to swim with turtles in the water. We assumed it would be easy given that one of our stops was literally called Turtle Point. It wasn't until we got back on the boat that we found a gigantic turtle – a real pity to not be able to see it in the water.
Here I leave a video of our two experiences snorkeling in the Gili Islands, which are truly incredible moments, with or without the turtles.
If you want to do scuba diving more than snorkeling, there are a lot of places that offer courses and fun dives. We did not have any scuba diving certification, so we chose to snorkel since the course was more expensive and you end up spending most of the time learning in the pool instead of being in the ocean.
ENJOYING DREAMY SUNSETS
Once you are done spending time in the ocean, you can try one of the mushroom smoothies which are typical on the island. As there are no police in the Gili Islands, nobody controls what is sold, so you will see them advertised in many of the bars as if it were a fruit smoothie. The price will be around 90k IDR.
With or without a smoothie, I recommend that you head back in the direction that you came from (counterclockwise) and look for a good place on the west coast to see a sunset that you will not forget.
During our morning tour, we were looking at some places where we wanted to see the sunset. The ones that caught our attention were The Exile and Ombak Sunset. We finally opted for the Ombak Sunset's swings.
The photos turned out very good, but only because you couldn't see the lines of people also waiting to take a photo.
If you walk away from there just a bit, you can enjoy the sunset practically alone. That's when you get to live a unique experience, watching the sky burn and millions of lights blinking.
I felt insignificant in the midst of such beauty. Only the simplicity and immensity of universe mattered.
At dusk, the tide goes down very far so you can walk many meters into the sea and be surrounded by the sunset's reflection in the water.
As the sky goes out, you feel a nostalgia knowing that you will probably have to wait a long time (at least 24 hours) before you can return to witness something as mind-blowing as this once again.
DISCOVERING THE NIGHTLIFE
If you have chosen to stay at Gili Trawangan, it is likely because you intent to experience its nightlife. GiliT is reputed to be a destination for tourists in search of narcotics because there are no police and therefore no control on the island. However, aside from young people partying, you can still see families with their children enjoying sound beach parties.
STARTING THE NIGHT IN GILI TRAWANGAN
I remember there was an Australian family with 5 children hula hooping around a bonfire to the rhythm of The Exile's drums. I highly recommend going to the percussion concerts that they perform every night. We headed there as soon as it got dark, commencing our party night.
Another place on the island where they make bonfires on the beach when night falls is in Horizontal on the east coast.
Once the drum performance ended, we resumed our bike ride to the Night Market. In this traditional food market, you can eat exquisite and very cheap local dishes. This market reminded us of the one we visited in GeorgeTown, where there were different stalls to purchase food with a common sit down area in the middle.
PARTY CLUBS IN GILI TRAWANGAN
Then, you will find a party in one place or another based on the day of the week. Although pubs open every day of the week, these are the peaks days for each place:
Monday – Blue Marlin
Tuesday – Trawangan Cabins
Wednesday – Tir Na Nog ("the Irish")
Thursday – Sama Sama (live Reggae music) + Pool party at Gili Hostel + Quiz show at Trawangan Dive (Bar)
Friday – Surf Bar + Rudy's
Saturday – Sama Sama
Sunday – Evolution + Ladies' night in the Irish
However, there is a law that requires clubs to turn off the music at 12 during Ramadan. So, my recommendation is to avoid visiting the Gili Islands during Ramadan if your main goal is to party. Try to match your visit to GiliT with a full moon or new moon if you can. As we were told, the Full Moon and Dark Moon Party are the best parties in GiliT.
In any case, if for whatever reason you are going to visit GiliT during Ramadan, do not worry – we realized that it was Ramadan after our trip had already started and we still had a lot of fun. When the music ended, we bathed on the beach and sang around a bonfire with other young people. Even during Ramadan, there are still hundreds of young people having fun.
You must take certain precautions and not only with drugs. In Gili Trawangan, there have been numerous cases of tourist deaths due to adulterated alcohol intoxication. Some bars, like Rudy's, are said to have used methanol to reduce the base cost of their drinks. As we knew this beforehand, we only drank Bintang beers, which I very much doubt are worth adulterating. Anyway, whenever you go to the Gili Islands it is essential to have the best international travel insurance.

For the two days spent in Gili Trawangan, we followed this routine and it was an unforgettable experience. If I could do differently, I would have spent other two days in Gili Trawangan looking for turtles on Coral Beach, watching the sky on fire from the Ombok Sunset's swing, dancing around the bonfire of The Exile to the beat of drums, and listening to live reggae in Sama Sama.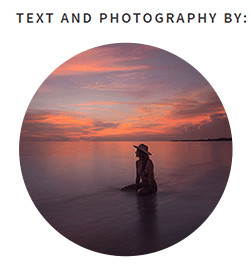 ---
– other posts of the southeast asia collection –
Don't miss out...