In recent years, star trackers have become more accessible to the public, however, deciding which one to buy can be exhausting. There are a lot of different specifications, brands, models, etc., which can make the process of buying the best star tracker harder than it should be.
I'm a professional astrophotographer and I've been using different star trackers for many years. I've created this complete buying guide in which I've put the best star tracker brand and models to the test and compared them to help you decide which one adapts the best to your needs.
In summary, these are the best star trackers in 2023:
Weight

Payload

Max Focal length

Run Time

Price

2lbs (1kg)



11lbs (5kg)

400mm

20hrs

$488

0.9lbs (0.4kg)

6.6lbs (3kg)

50mm

5hrs

$209

3.7lbs (1.7kg)

11lbs (5kg)

400mm

72hrs

$520

1.5lbs (0.68kg)

6.6lbs (3kg)

100mm

20hrs

$329

2lbs (1kg)

15lbs (7kg)

400mm

20hrs

$999

5.7lbs (2.6kg)

11lbs (5kg)

400mm

36hrs

$640

1.4lbs (0.65kg)

6.6lbs (3kg)

100mm

24hrs

$470

1.6lbs (0.73kg)

5.5lbs (2.5kg)

100mm

2hrs

$476

2.6lbs (1.2kg)

13lbs (6kg)

1000mm

N/A

$550

BEST STAR TRACKERS FOR ASTROPHOTOGRAPHY
Doing astrophotography with a star-tracker will set a before and after in your night images by allowing you to capture longer exposures of the night sky and will provide you more flexibility in your settings. If you are looking for a way to shoot better Milky Way photographs or to take the next step in your astrophotography journey, this is the best investment you can make.
Below, you'll see the complete list of the best star trackers as well as a section with key things to consider when buying a star tracker for astrophotography.
In a nutshell, these are the best star-trackers for astrophotography in 2023:
The iOptron SkyGuider Pro is the best overall star tracker in 2023. If you are looking to shoot quality astrophotography images with your DSLR or mirrorless camera, this star tracker won't disappoint you.
Thanks to its 11lbs (5kg) payload capacity, the Skyguider is capable of supporting bigger lenses and even small telescopes, allowing you to capture up to 5-6-minute exposures even on a short telephoto lens without any issues.
This star tracker has a great polar alignment system. The built-in polar scope is illuminated; thus, making it very easy and simple to align the tracker. Additionally, you can get the iPolar version of this tracker, which comes with a little camera that makes the polar alignment process even easier.
When it comes to design, this tracker is compact and robust, and it feels like it will last you a lifetime. However, the equatorial base feels flimsy and not on par with the rest of the design quality, being the main downside of this tracker.
If you get the full package, which I recommend, you'll get a counterweight with the tracker that will help balance the whole set-up if necessary. Battery life isn't an issue, lasting up to 20 hours and being easily charged using a Micro-USB cable.
Here you can see a full review of the iOptron Skyguider Pro.
After using all the most popular star trackers over the last few years, the iOptron SkyGuider Pro is my go-to star tracker in most situations and my first recommendation if you are looking for a reliable and compact mount.
This little star tracker has quickly become one of the favorites of amateur astrophotographers. MSM (Move Shoot Move) has done a great job at delivering impressive results with simple controls and at a reasonable price. All these attributes make the MSM Rotator the best budget star tracker in 2023.
If you mainly shoot with wide-angle and mid-range lenses (up to 50mm), this tracker will cover all your needs, allowing you to capture up to 3-minute exposures with a good polar alignment. Be aware that if you are planning on mounting a heavier set-up, you will find some difficulties due to its relatively low 6.6lbs (3kg) payload limit. It's also the only unit on this 2023 best trackers list that doesn't support any counterweight system.
Polar alignment is very easy with this astrophotography mount. The basic kit comes with a laser, which you just have to point at Polaris or the south celestial pole. If lasers are banned in your country, you can get the kit with the polar scope instead (Basic Kit A). Some other useful accessories are the V and Z mounts and the equatorial base, which will make polar alignment even easier.
The build quality of this star tracker is good considering the price. The body is made of aluminum alloy and feels very durable. The battery lasts around 5 hours, but you can use an external battery to charge it via USB-C. Something you should know is that the quality control on these devices isn't the best, and some units have been reported to cause mounting issues. MSM is very quick to replace with a new unit free of charge if your tracker doesn't work as expected.
Here you can see a full review of the MSM Rotator.
The MSM is my go-to tracker when I do astrophotography treks or trips where there is a lot of hiking involved and every extra pound counts. However, in normal circumstances, I'd only recommend it if you're starting out in astrophotography and want something simple and easy to use.
The Sky-Watcher Star Adventurer Pro 2i is one of the best standard camera star trackers in the market. This tracking mount can effectively capture long exposure images of the night sky up to 5 or 6 minutes without issues even with longer focal lengths.
The equatorial base that ships with this tracker is one of the best I've tested. It's sturdy, precise, and reliable. Most materials in this model are very high-quality, but consider that it's a bulky and heavy tracker, so it's not ideal for long hikes and trips.
However, the biggest downside of this star tracker is the polar scope illuminator, which is an external flimsy piece of plastic easy to break and lose. I hope this gets improved in a future version.
Another downside is the battery system, which runs on four AA batteries. The main problem is that there isn't a traditional on and off button; it uses a wheel that can be accidentally turned while sitting in the backpack. This has happened to me a few times and I've only noticed my battery was drained after arriving at the location.
Regardless of its flaws, the Sky-Watcher Star Adventurer Pro 2i is still one of the best star trackers in the market in 2023 because when it comes down to tracking, it does an outstanding job. There are three kits available: the Pro package, the Astro package, and the Photo package. I'd recommend going for the Pro package because it offers the best value for money.
If you want to learn more about this star tracker, read our full Sky Watcher Star Adventurer 2i review.
This was my first tracker and I captured some of my favorite images with it. However, it's bulky, and I got tired of the external cheap polar scope illuminator and the battery system. If you are undecided between the iOptron Skyguider Pro vs the Skywatcher Star Adventurer 2i, I'd go for the first.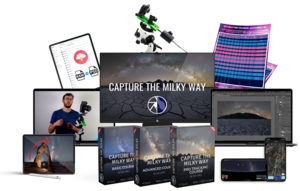 The Ultimate Milky Way Course
The iOptron SkyTracker Pro is the latest addition to iOptron's family of portable astrophotography mounts. This star tracker is small, but its robust design will allow you to track with precision even when using longer focal lengths, such as 100mm. At this focal length, you can get up to 1-minute exposures with no issues.
Similar to its big brother (the SkyGuider Pro), the polar scope in the iOptron SkyTracker Pro is illuminated, and you can choose between different levels of light, which makes polar alignment a delight.
When it comes to weight, the iOptron SkyTracker Pro is a light tracker, weighing only 1.5lbs (0.68kg). It's capable of supporting up to 6.6lbs (3kg) of payload, which can be further extended with additional counterweights.
In the design section, this tracker isn't as compact as the MSM Rotator, but it will still fit easily in your backpack, and it's also lightweight which makes it a great companion for hikes. The battery lasts up to 24 hours and can be charged via Micro-USB to extend the duration, so it'll last you multiple sessions on a single charge.
The general build of the iOptron SkyTracker Pro is plastic, and it can feel cheap to the touch. The default equatorial base isn't great. The screws used to adjust the azimuth are cumbersome and a little hard to get used to, but once you get the hang of it, you'll be able to polar align with precision.
All in all, the iOptron SkyTracker Pro is the best star tracker for beginners. It's easy enough to operate, and still has room to grow with you as you keep learning. The direct competitor of this light star-tracker for travel is the MSM Rotator, which is cheaper, but the tracking capabilities and design are better on this equatorial mount.
The Benro Polaris is the newest member of this best star trackers list, and it's like no other star tracker on the market. It packs a ton of features that will make you wonder why this hasn't been around sooner.
There is one word that sums up the new Benro Polaris: automation. Benro has packed this star tracker with the latest technology. This star tracker can automatically go to any star you choose and use it to polar align, create tracked Milky Way panoramas automatically, and more!
This star tracker does not have a polar scope, but as I mentioned earlier, the polar alignment process is done automatically via the smartphone app. Another great feature of this star tracker is that it uses an internal battery, but it can also be powered by an external power source.
On the hardware side, the Benro Polaris boasts an incredible 15lbs (7kg) payload capacity, making it the highest base payload on this list; unfortunately, it doesn't take counterweights. When it comes to tracking, it can comfortably do 5-6-minute exposures with wide-angle lenses.
The only cons is that there are still a few bugs in some of the advanced functions like tracked panoramas, but Benro is fixing most of them.
Here you can see a full review of the Benro Polaris.
The Benro Polaris is designed for astrophotographers who want to automate certain tasks when it comes to tracking. It's the most expensive star tracker on the list but probably the most complete.
Released on April 15th of this year, the Sky-Watcher Star Adventurer GTi is another new addition to this best star tracker list. It's packing some unique features and great improvements over past Star Adventurer models.
There's one feature that sets this mount apart: the GoTo (GT) capability. With this option, you can select a target on your smartphone – which can be stars, nebulae, or constellations – and the Star Adventurer GTi will find and automatically point your lens or telescope to the subject. This makes deep-sky astrophotography much easier, especially for beginners.
Compared to other Skywatcher entry-level trackers, this unit includes a built-in illuminator in the polar scope. However, this tracker still uses standard batteries; requiring 8AA batteries to run it. You can also power it with an external power source plugged into its 12v DC port.
The 11lbs (5KG) payload capacity on this mount is on par with other high-end portable star trackers. This capacity can be further increased by using counterweights. Tracking time is also similar to the Star Adventurer Pro 2i, standing at 6 minutes depending on the focal length you use.
I would recommend this star tracker to any beginner doing deep-sky photography or seasoned astrophotographer looking for a portable advanced tracker. The GoTo capability makes the Sky-Watcher Star Adventurer GTi the best star tracker for deep-sky photography.
Sky-Watcher designed this camera star tracker to be as lightweight and portable as possible, and they definitely accomplished the mission. The Star Adventurer Mini (S.A.M for short) is a smaller version of the original Sky-Watcher Star Adventurer Pro, which makes it ideal for photographers on the move.
It's got a 6.6lbs (3kg) payload capacity, which makes it ideal for smaller to mid-sized set-ups. You can get an optional counterweight with the Pro package, but don't push this tracker to its weight limits. As for tracking times, you can get perfectly sharp stars with 4 to 5-minute exposures and around 1 minute with longer lenses.
Polar alignment in this tracker is very similar to the bigger Star Adventurer Pro 2i. It ships with a polar scope, which also uses an illuminator that needs improvement.
The battery duration on this tracker is great for its size, lasting up to 24 hours, and putting it on par with the iOptron SkyTracker Pro. However, the S.A.M uses 2 AA batteries instead of a built-in battery. It can also be charged via Mini-USB even when it's in use which will extend the battery life.
This star tracker has built-in Wi-Fi and can only be operated through an app on your smartphone. The SAM Console app is used to set up the different tracking speeds and time-lapse mode. The issue is that the Wi-Fi signal is unstable and it's hard to get the connection right the first time, which can make you lose valuable time.
Learn more about this star tracker by reading our full Sky Watcher Star Adventurer Mini review.
To summarize, the Sky-Watcher Star Adventurer Mini is a great light astrophotography mount; however, I would've preferred to have more buttons on the device instead of having to rely on the app for everything.
The Vixen Optics Polarie was initially designed to be a star tracker for DSLR cameras, and even though times have changed since the launch of the first version, it is still a great astrophotography equatorial mount for newer and lighter cameras such as the mirrorless system.