Seeing wild Orcas has been a dream of mine since I first saw the movie Free Willy. So when we started planning our trip to the Canadian Rockies, I included a whale watching tour in Vancouver, knowing that the detour would increase my budget significantly. Simply put, I could not have left Canada without trying to see some whales.
And yes, I would do it again.
Watching these black giants navigate the cold waters of the northern Pacific, with snowy mountains and Canadian pine forests in the background (formerly inhabited by indigenous tribes) is a priceless experience.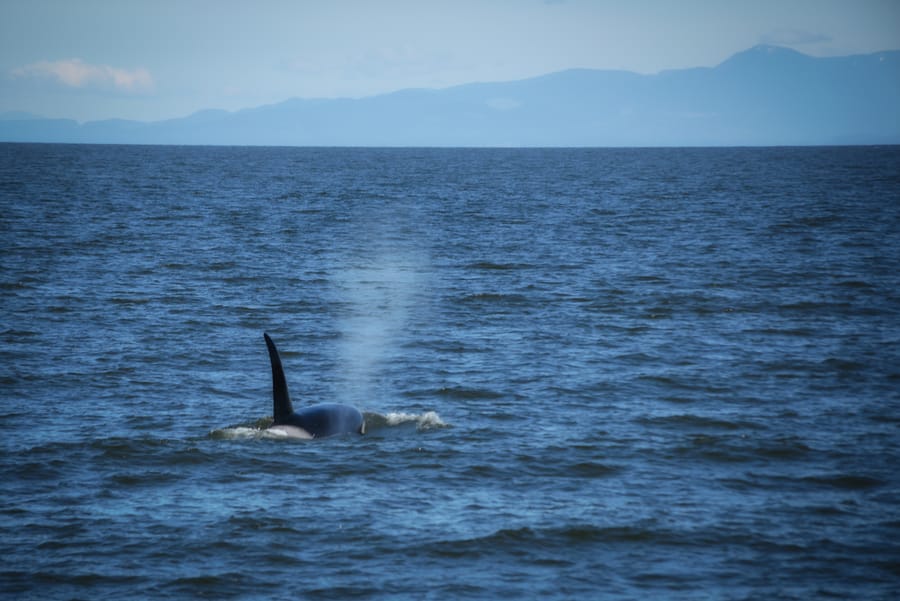 Wild whale watching in Canada was one of the best experiences of our trip – if this is also your dream, keep reading. We will answer all of your questions while telling you about our experience.
Best places for Whale-watching in Canada
Canada is surrounded by the Atlantic Ocean to the east and by the Pacific Ocean to the west. You can see whales of different species on each of the coasts.
In the Quebec province to the east which connects to the Gulf of San Lorenzo, you are almost guaranteed to be able to see white and blue whales, sperm whales, porpoises, and beluga whales.
On the coast of British Columbia to the west, orcas and humpback whales are the most abundant cetaceans species, making it the best place to watch orcas in the wild. Therefore, you will find many companies offer whale watching tours here.
Many of these whales go through Canada as part of their migration route, while some live there permanently.
In the west coast waters near Vancouver Island and the Gulf Islands, a large number of Orcas reside between here and the San Juan Islands (US), making it the perfect and a popular place to whale watch in Canada.
From the capital of Vancouver Island (Victoria), the best whale watching tours of Canada departure.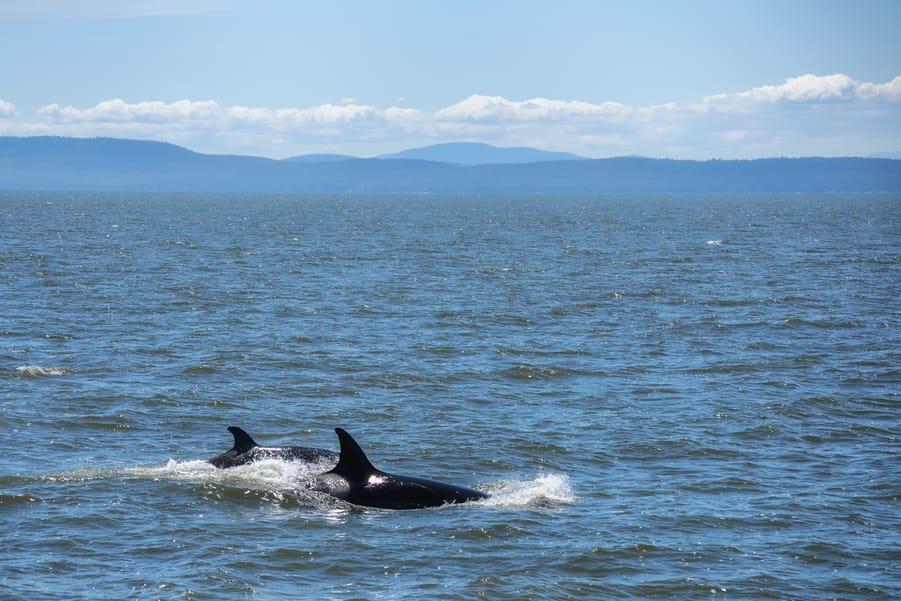 However, if you don't have enough time to go to Vancouver Island, you can also take a killer whale watching tour from Vancouver (city). The chances of seeing these cetaceans are the same amongst the various tour companies since all excursions look for them in the same waters, the Strait of Georgia.
With only two days to see orcas, we decided to do it from Vancouver with this tour. Nonetheless, there are many interesting things to do in Vancouver Island. If you have more time, don't hesitate about spending a few days there.
BEst TIME TO to see  ORCAS IN CANADA
Spring and summer are the best times to whale watch in Canada on both the east and west coast. In addition to the resident whales, thousands of transient whales pass through these waters as part of their migration route.
Watching killer whales in Vancouver is easiest from May to October. Spawning salmons at the rivers during this time attracts whales to this area. While salmon is the main food of resident killer whales, transient killer whales also feed on small mammals such as seals and sea lions. Therefore, we can find both resident and transient orcas in these months. In the fall, the whales migrate towards the south in search of warmer waters to mate.
But don't assume that traveling to Vancouver during peak season will automatically fulfill your killer whale watching dreams. Like any activity involving wild animals, there is no complete assurance of an encounter.
Should there be no success on your first try, most companies that offer orca watching tours in Vancouver will allow you to repeat the tour as many times as necessary until you see whales, at no extra charge.
ORCA WATCHING IN VANCOUVER
Different types of whale watching tours IN VANCOUVER
Being that Vancouver is the best place to whale watch in Canada, you will find a variety of ways to do so. We will explain a few in this section.
Whale-watching BOAT TOUR
The most common whale watching tours are by boat, some in large boats and others in faster small zodiacs, through which you can get closer to the animals.
We thought we had booked a tour with the smaller boats, but we realized there was a misunderstanding with the reservation just as we were about to start the tour. We ended up on the big boat with many people and were initially a bit disappointed. However, after the tour, I found that it is better to opt for the larger boats if you want to photograph the whales well.
In the smaller zodiacs, your photography gear will likely get wet, and you will not be able to stand up, which means that you will not be able to see the whales if they do not come above water for breath right beside your boat.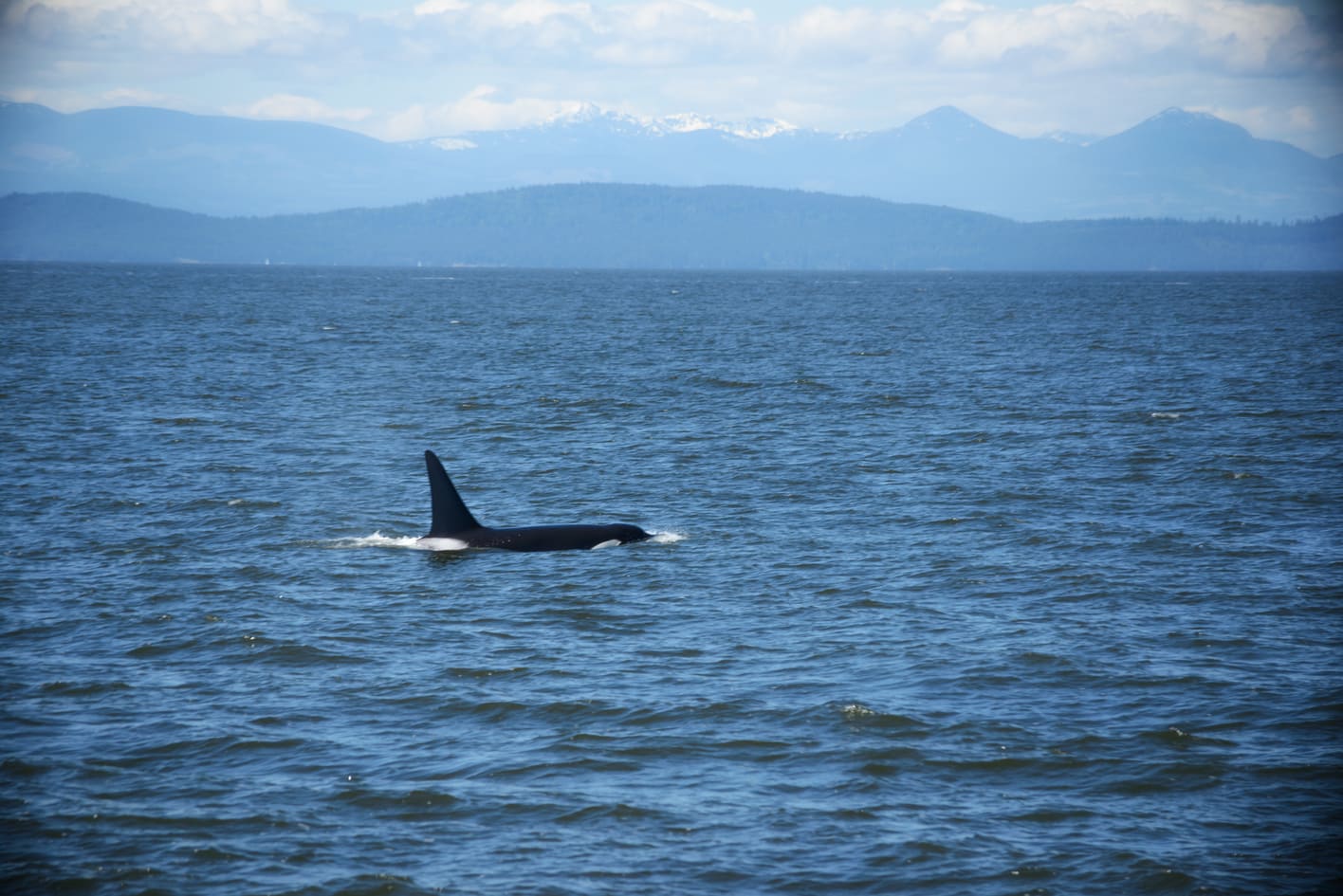 However, if you do not intend to take photos, the zodiac is much more fun and get you closer to the killer whales.
Boat trips to see killer whales in Vancouver usually last from 3 to 5 hours and cost approximately CAD $160 (€ 130) per person. This was the tour we took.
HYDROPLANE
There are airplane tours to whale watch from above. There are also others that combine boat + hydroplane, especially for orcas watching in Vancouver. First, the plane fly to Sofia (main city of Vancouver Island) looking for whales from above, and from there, you get on a boat to get a closer look.
Some of these tours also give you a few hours to explore Vancouver Island before returning to Vancouver on the hydroplane. These trips last longer and are more expensive, but if you can afford it, don't think twice!
This is the tour I would have liked to take.
kayaking with orcas in canada
There are kayaking + orca watch tour packages out there, but the chances of finding orcas are much lower since you can only go so fast and so far on a kayak than on a boat or plane.
Therefore, these kayak tours are usually multi-day camping trips, featuring a daily whale search with other adventures mixed in. Note that like all other tours, there are no whale encounter guarantees, no matter how much time or money you invest.
Nonetheless, it remains a bucket list activity for me. Here is a video for those who are thinking about it.  North Island Kayak is one of the companies that offer this type of tour camp.
OUR EXPERIENCE
OUR BOAT
Our tour departed from Vancouver City at 11 am. It was mid-May, and the day was quite sunny, perfect for our expedition.
As I said earlier, we expected a smaller boat than the one we took. There were at least 50 people on this tour with us. The boat had two decks. At the lower front deck, there was a window to protect you from the cold, while the back one was uncovered.
In the smaller upper floor, there were no more than 10 people. This is the best place to see it all with a 360-degree vision. Dani and I did not move from there during the whole tour. From here, we could photograph the orcas regardless of where they were coming up to breath from the water.
the dike at the port
The first thing we saw right after leaving the port was a dike with a few sea lions.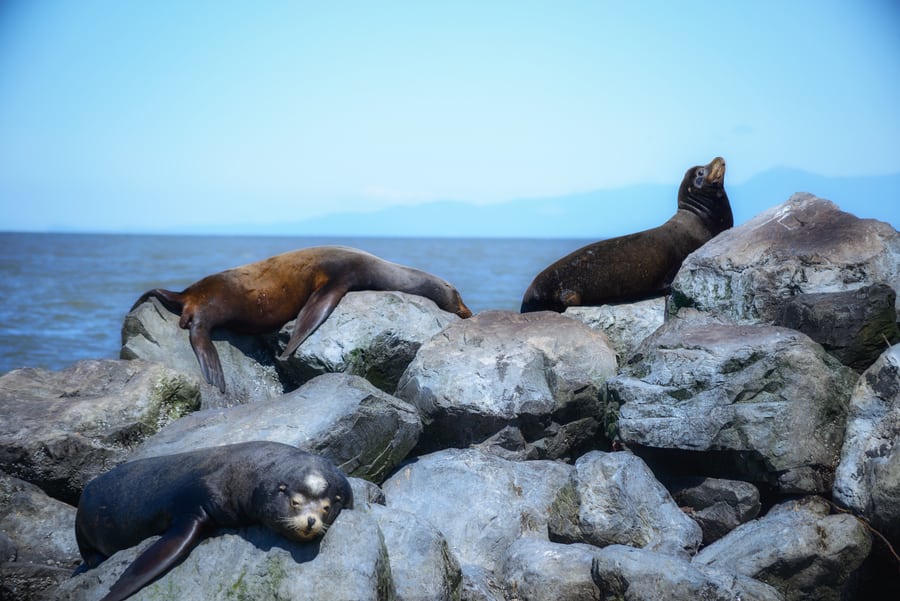 It was the first time we saw seals in the wild, and part of my dream was being fulfilled.
At that time, I decided that even if we don't see orcas in the end, the experience would still have been worthy.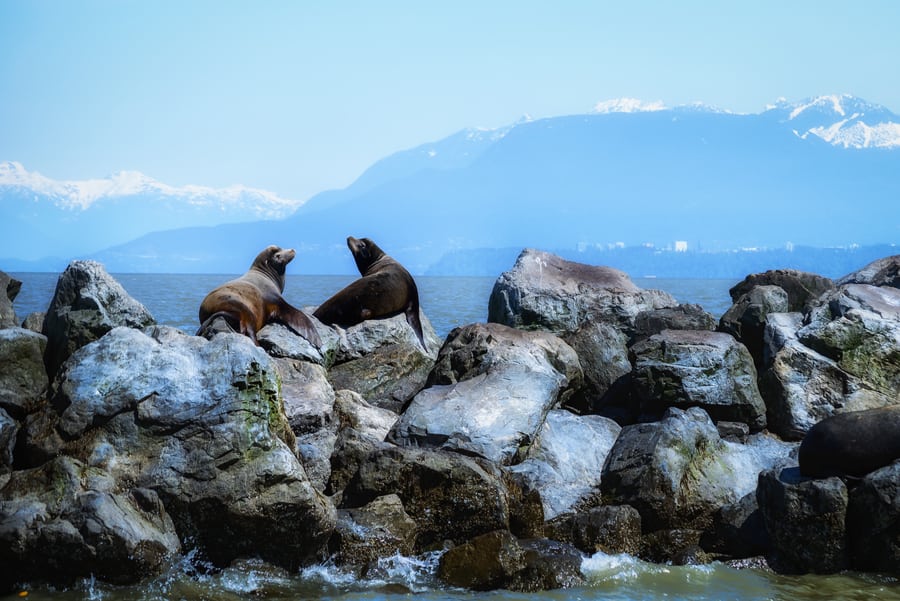 In addition, we saw the symbol of the United States of America, a bald eagle. It was a young one without its adult feathers.
OUR FIRST time watching ORCAs
Once we left the dike, we sailed towards deeper waters and saw our first killer whale shortly after.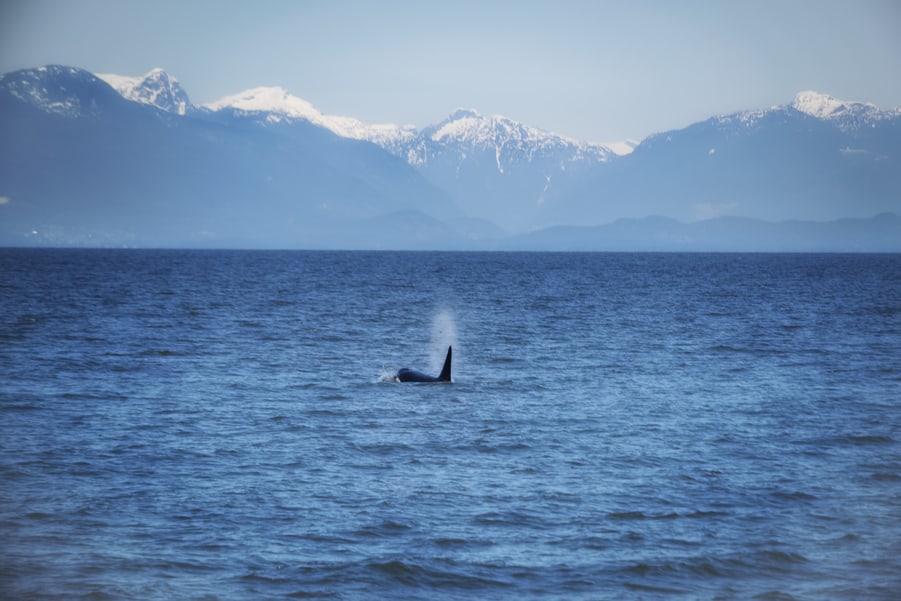 Watching wild orcas swim in the sea was a euphoric experience. The sound of their breaths cutting through the waves amazed everyone that was present. You can't get enough no matter how many times you see them.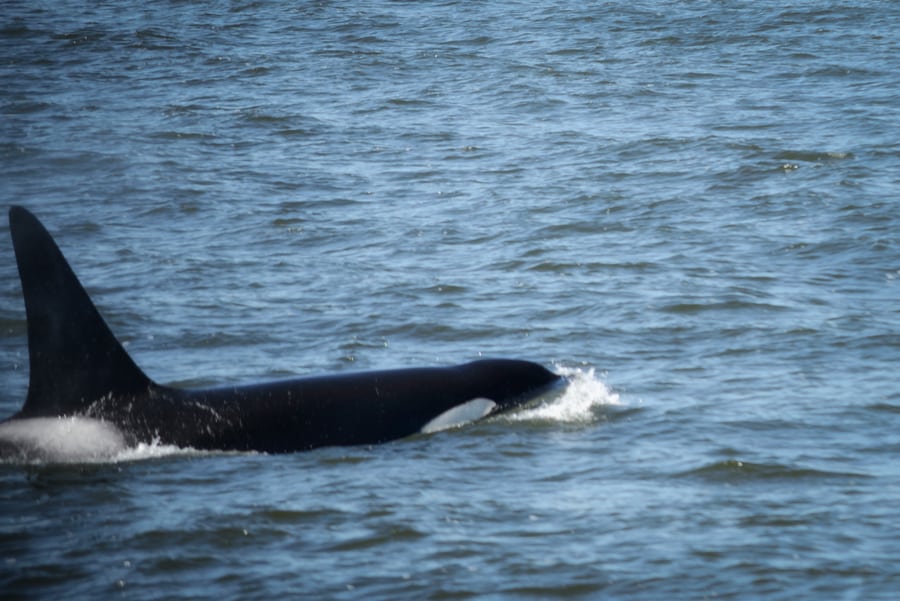 Seeing them in an immense ocean along with icy mountains in the background is a good reminder for all to never visit places where orcas are living in captivity. It is impossible not to feel guilty as human beings in a society where such practice is still legal.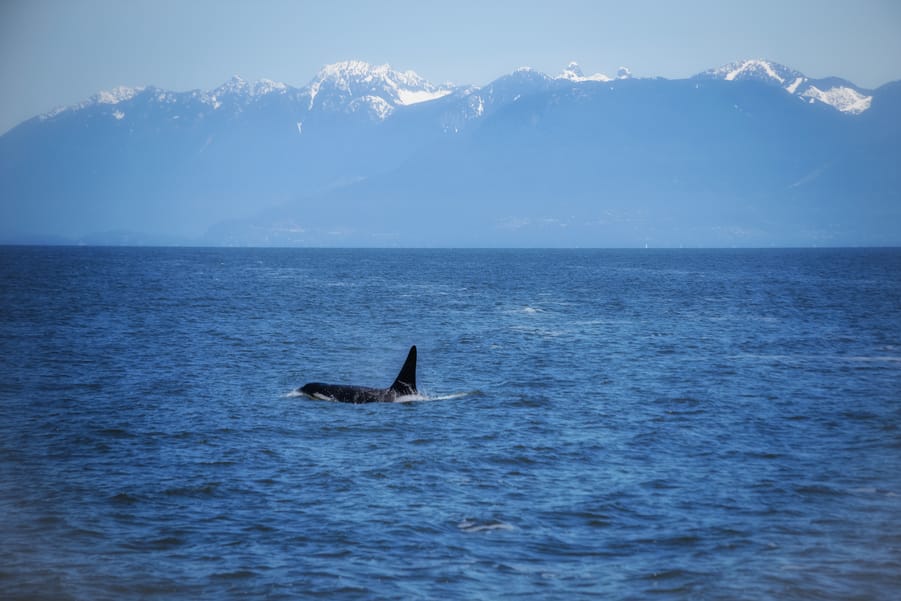 Our boat followed them at legally mandated safe distances to avoid disturbing these cetaceans.
transient ORCAS IN VANCOUVER
Soon after, other whales appeared.
The orcas rose to the surface for a few seconds to breathe and returned to the depths. We boated to the next predicted location, and one of the dorsal fins appeared a few minutes later, accompanied by water vapor jets coming out of its blowhole.
The ones we saw were transient killer whales. It was explained that transient orcas rarely jump or do acrobatics in the water since they are always busy hunting. Residents orcas, on the other hand, feed almost exclusively on salmon so they don't spend as much time hunting, making it easier to enjoy their incredible jumps.
Of all the killer whales we watched, three swam quite close together. They were a male and a mother with her calf.
Seeing the head of the little orca completely out of the water was the most special moment of the day. In the next photo, you can see her swimming right next to her mother.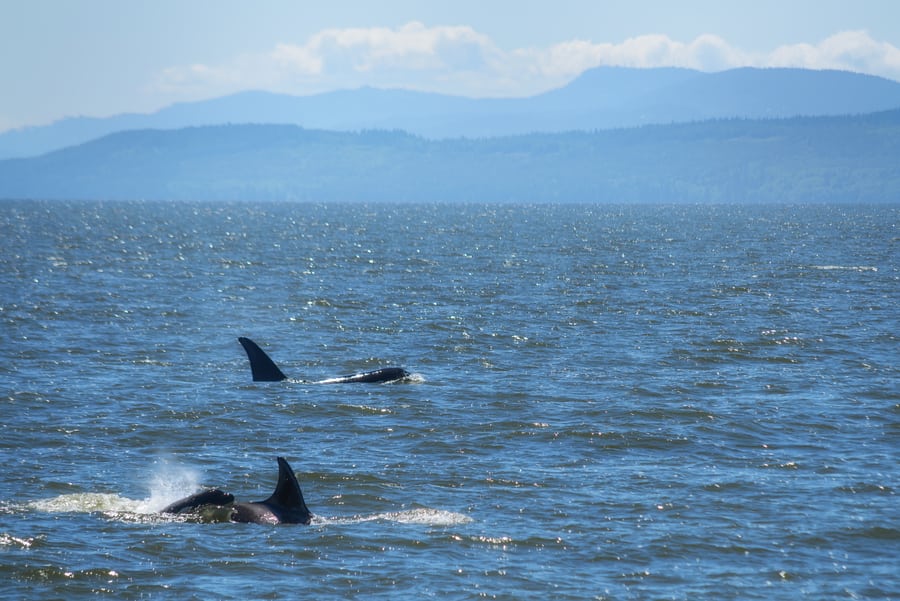 In total, we got to see 7 transient killer whales.
They all swam away from each other;
except for the baby and the two adult orcas that were swimming together.



SOME INTERESTING FACTS ABOUT ORCAS
SEA LIONS
Afterward, we continued our journey toward the Gulf Islands and loved the thick pine forests we saw along the way. When we come back to the Canadian west coast once again, we will be spending a few days on Vancouver Island. Nature is sovereign and it is impossible not to think of the First Nations, the tribes of natives who lived here for hundreds of years.
Near the coast, we saw another bank full of sea lions. There are two species of sea lions found in this area, the California Sea Lions and Steller Sea Lions.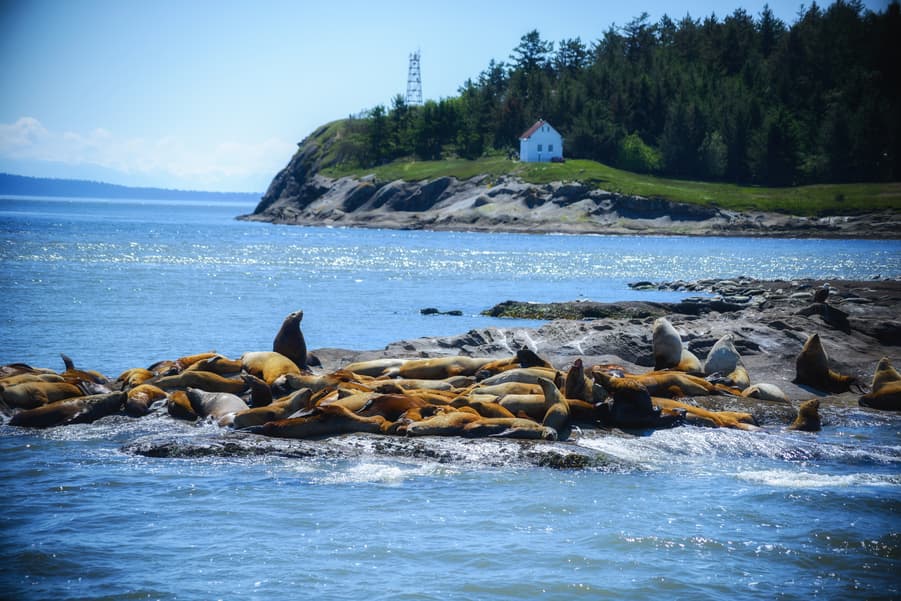 The latter are the largest sea lions in the world, where a male can weigh up to 1 ton and measure up to 3 meters in length.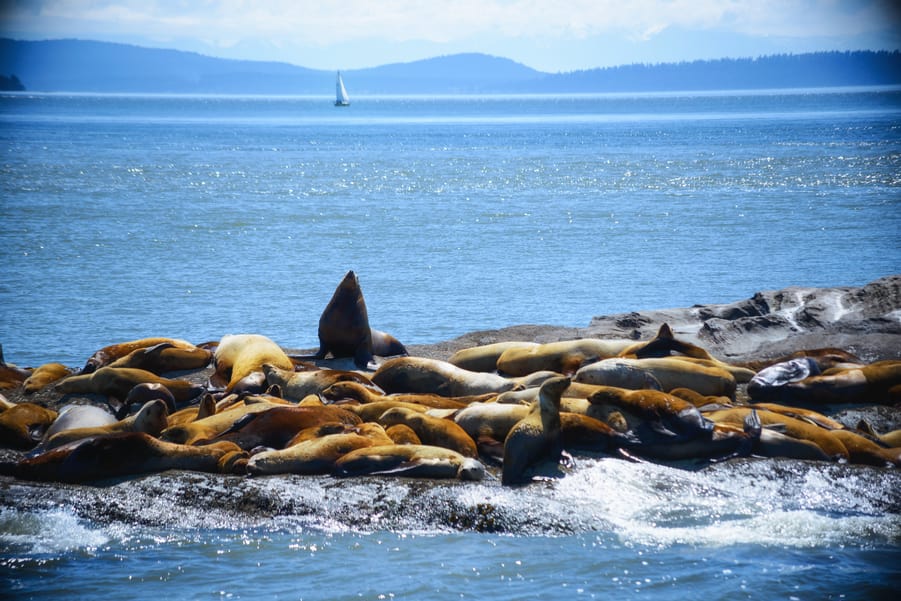 BALD EAGLE
Also, we saw another bald eagle. Since their main source of food is fish, it is easy to spot them in this area of Vancouver.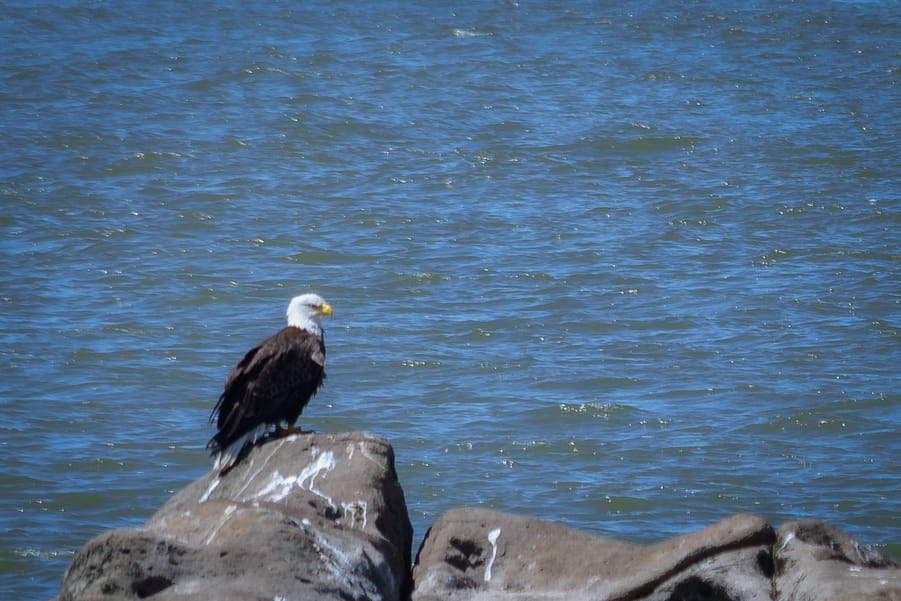 HUMPBACK WHALES
Just when we thought that our Canadian wildlife session was ending, we heard a loud roar from the sea – a humpback whale that came out to breathe.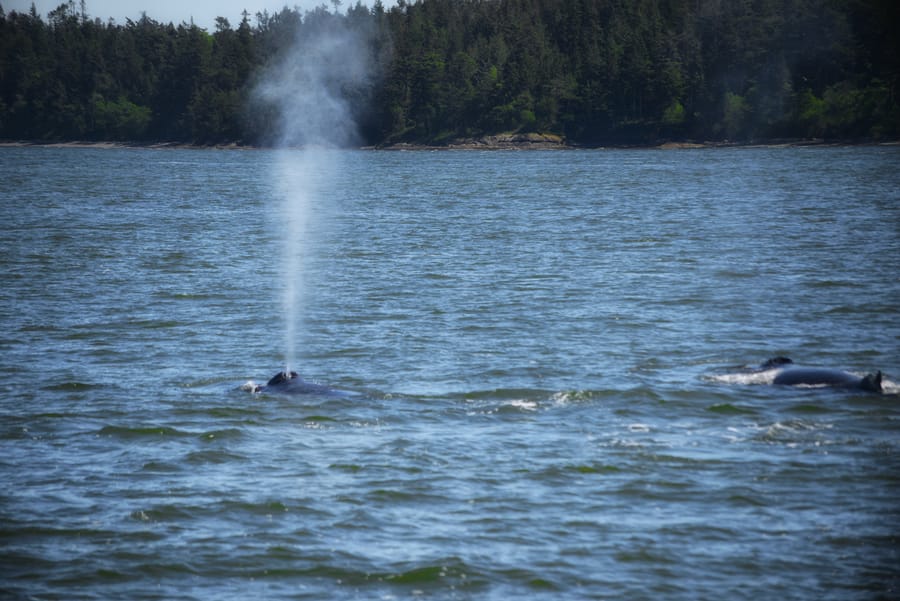 This was a delightful surprise as Humpback whales spend more time underwater than killer whales, making it impossible to predict their location.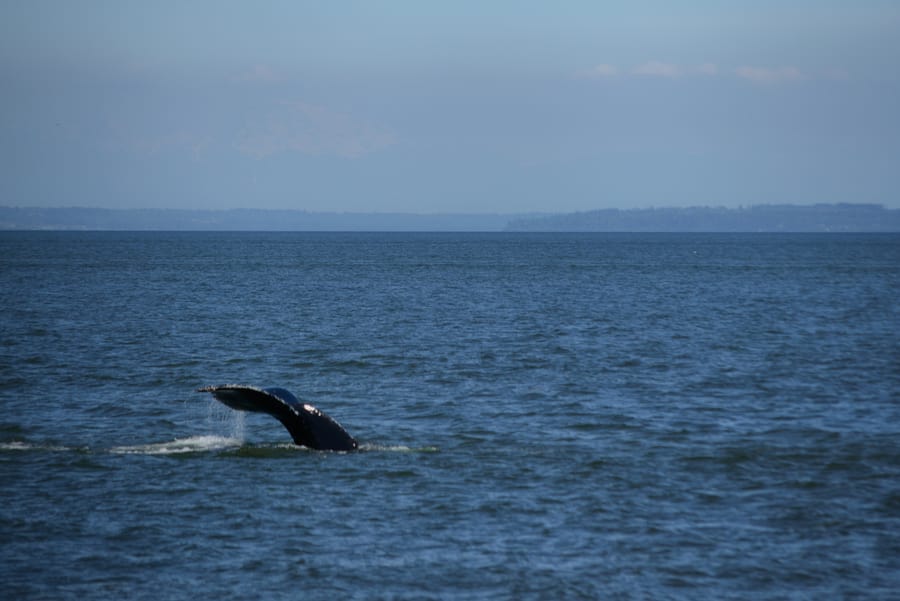 These whales, much larger than the others, greeted us with tail slapping as a form of communication to their peers.


Summary
We took this tour without any expectations and the result far exceeded them. Not only did we see orcas, but also humpback whales, sea lions, and bald eagles. We could not believe it! Whale watching in Canada was one of the best experiences we have ever lived.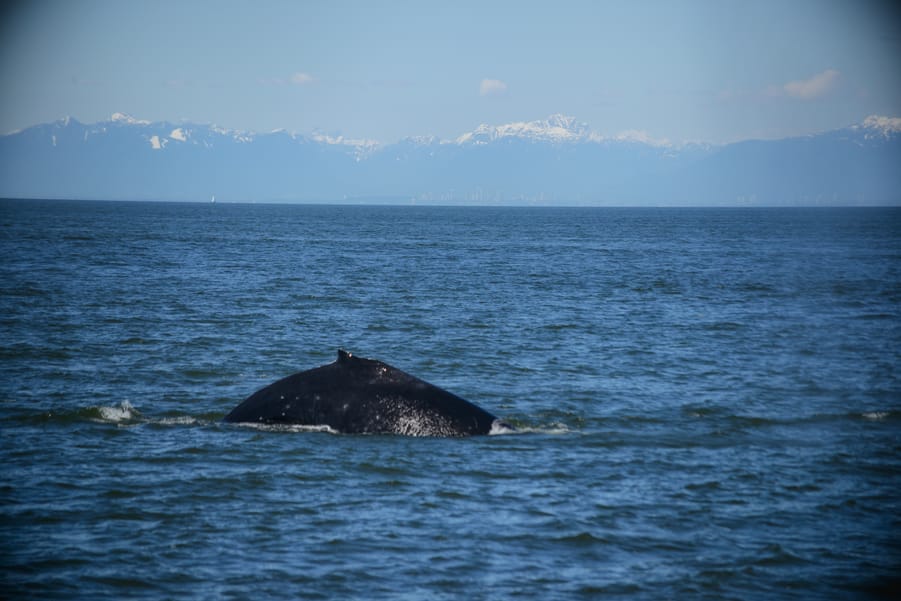 We also had a wonderful guide who showed us a map of our route and marked where we saw the different species.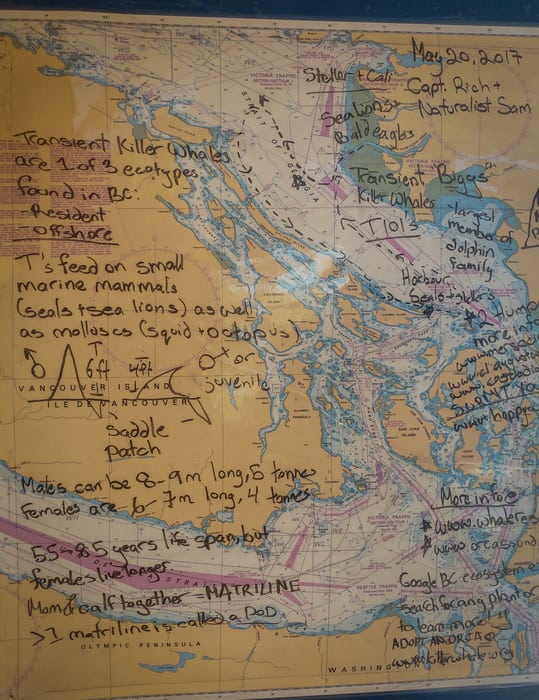 After seeing orcas in Vancouver, I want to return to discover the wondrous life hidden there more than ever. I never imagined that witnessing these creatures in the wild could make me feel so free and happy. It is an experience that I definitely recommend to everyone and I hope to repeat myself very soon.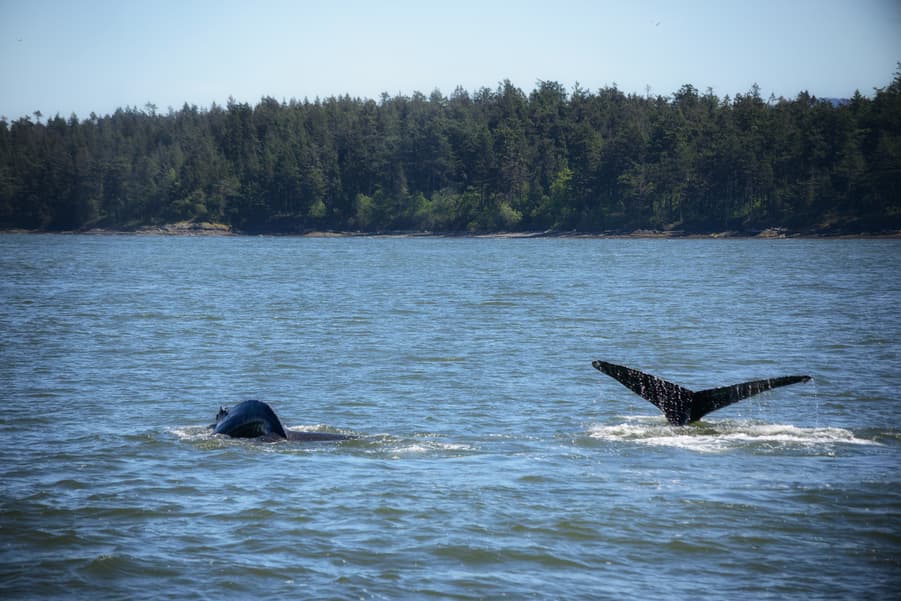 As we were lucky on our first tour, we did not need to try again the following day. Instead, we spent the second day in Vancouver visiting the city. Not as exciting as what we did on the orca tour, but we still recommend it.
ORCAS IN CAPTIVITY
Orcas had awakened the curiosity of humans for long time. We want to see them up close, but there are times when we need to ask if it is worth it. What I am talking about is the cruelty wild animals in captivity for the sake of show, be it an orca or a whale.
Wild orcas over 90 years old have been found swimming in the sea, however, killer whales in captivity live a maximum of 20 years. Nevertheless, what shocked me most is the cruelty they go through away from the wild. In particular, cetaceans are deprived of food for training, punished without companions and forced to perform movements not natural to them.
Used to swimming hundreds of miles, there is no pool big enough for them. The ocean is the only place they belong to. When you go to dolphinariums, aquariums, and zoos, you are paying to chase an orca family, kill the mothers, and kidnap the young. Their stupid performances for the public are not fun, but rather, cruel and humiliating.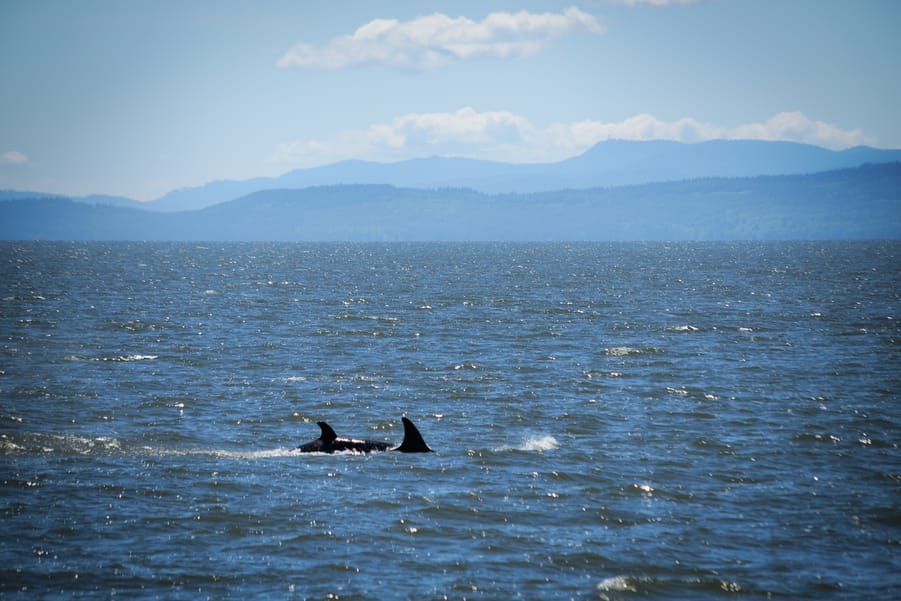 There has not been a single wild orca on human attack on record. Conversely, there has been reported cases of orcas that prevented shark attacks on humans. Killer whales are often stressed to the point of madness while in a crowded pool. As a result, there have been some incidents where the whales ended up killing their trainers.
WHAT YOU CAN DO TO HELP
If you want to help us end this cruelty, do not go to places with animals in captivity. Get all the information you can first before your visit. I recommend watching the Blackfish documentary, which also talks about trainer deaths by orcas in Loro Parque, Tenerife. Another one is The Cove, created by the Flipper dolphin trainer, after his suicide. Ask your friends watch these documentaries.
Luckily, the solution is not to stop whale watching. You can still see killer whales in Vancouver or any other place where they live in the wild, like in Norway, Iceland, Argentina or Spain. I promise you, watching them locked up in an aquarium can never compare.
AND LAST BUT NOT LEAST, HELP SPREAD THIS MESSAGE SHARING THIS POST IN YOUR SOCIAL NETWORKS