Traveling to Lofoten is increasingly popular. Every year the number of tourists who travel to this archipelago in Northern Norway in search of the supernatural Arctic landscapes increases.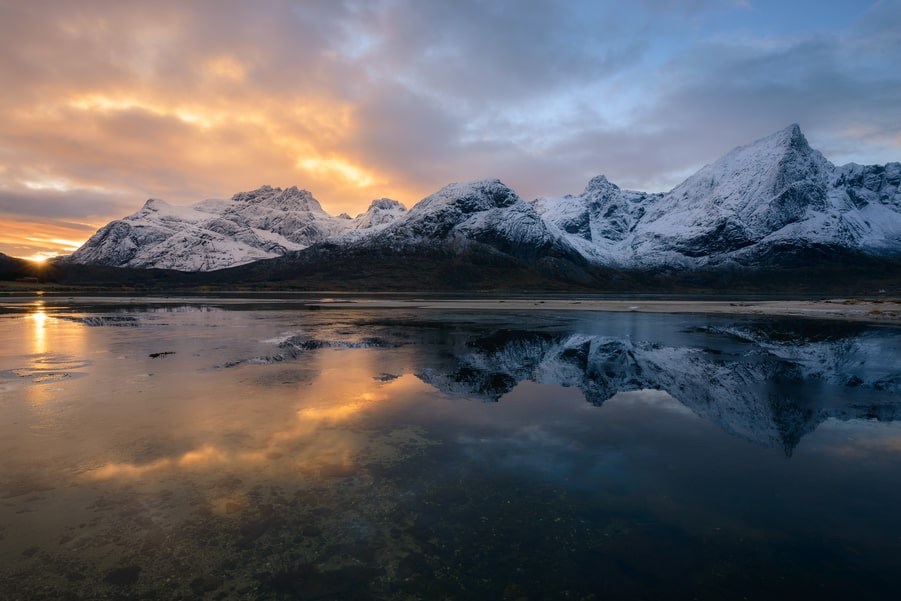 Within the Lofoten Islands, you will find otherworldly vertical fjords, turquoise waters, a great variety of cetaceans species, and a simple lifestyle that will steal your heart.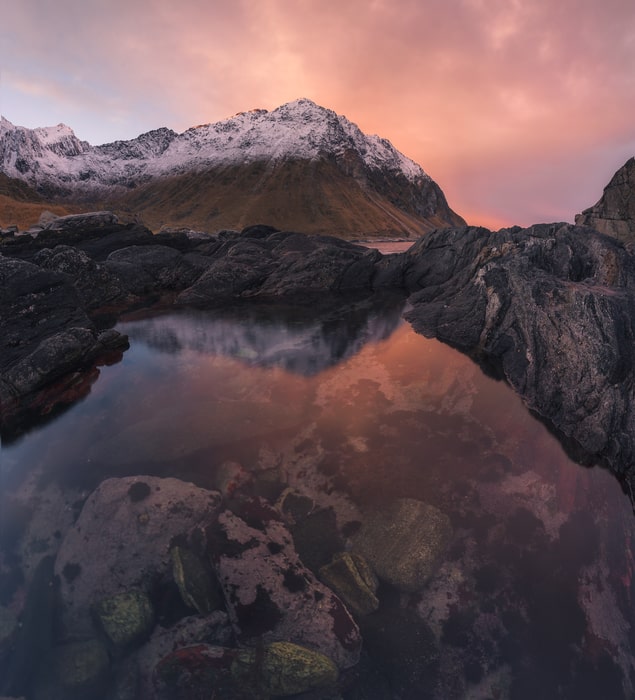 During the summer, the vast majority of tourists travel to Lofoten by Campervan or RV as wild camping is one of the main attractions on the island. However, the usual thing in winter is to plan a trip to see the Northern Lights in Lofoten. Following the high latitude where these islands are located, observing this phenomenon is relatively easy.
In any case, disregarding when you travel or the means of transport you use, taking a road trip to Lofoten is an experience you will never forget and with this Lofoten travel blog we hope you can plan the perfect travel itinerary.
Throughout this article, we will see all the activities in detail. Firstly and, to summarize, these are the main ones:
The 10 best things to do in the Lofoten Islands
Drive across the Lofoten King's Road to enjoy the impressive fjords.
Visit the fishing villages of Hamnøy and Reine.
See the Northern Lights over the incredible landscapes of Lofoten.
Walk along the arctic beaches of Skagsanden, Haukland, and Uttakleiv.
Enjoy the midnight sun in summer from the top of a mountain.
Photograph the picturesque Nordic churches of the islands such as the Red Church of Flakstad.
Go to the Viking Museum of Lofoten to learn more about the first settlers of the islands.
Take a Whale watching tour during the winter.
Go Kayaking among the vertical Norwegian fjords of the Arctic.
Visit Å, the village with the shortest name in the world.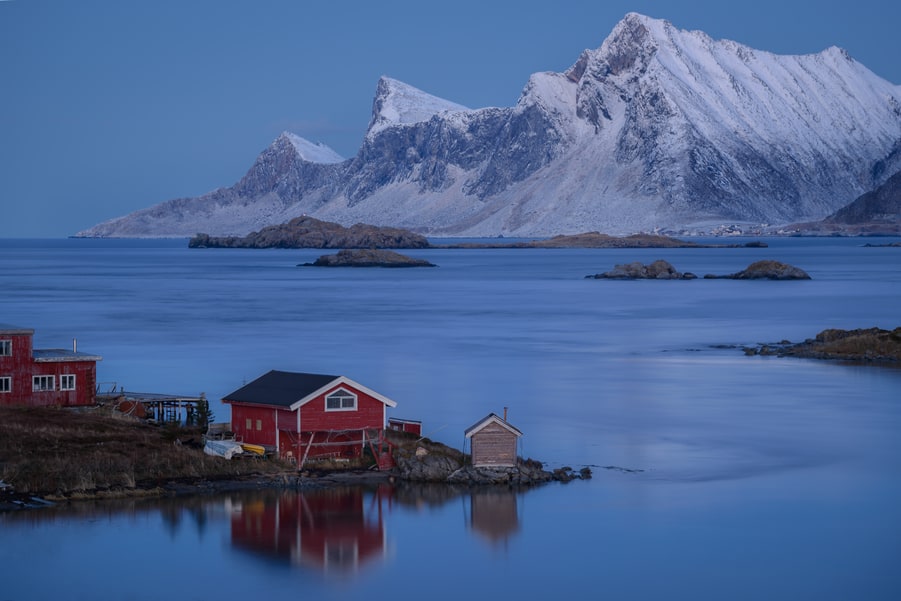 We took a 10-day Lofoten trip by Camper Van in November, to see the Northern Lights and we got to see them seven nights out of the 10 we spent on the islands. If your reason for this trip is to see the Aurora Borealis in Lofoten do not miss our article to see the Northern Lights in Norway.
On the other hand, if you are a photographer or would like to learn how to photograph the Northern Lights and the Lofoten landscapes, I encourage you to join our Lofoten photography tour where we will show you in detail how to shoot the Aurora Borealis.
Travel to Lofoten Islands, Norway
The archipelago of Lofoten is formed by a group of islands located in the region of Nordland, just above the Arctic Circle. The main islands (Austvågøya, Gimsøya, Vestvågøya, Flakstadøya, and Moskenesøya) are connected by the popularly known as King Olav V route, road E10. This 186-mile road links the archipelago with the mainland. However, there are still other smaller islands that are only accessible by ferry.
This road is probably one of the most photogenic places on Earth, with sceneries like picturesque fishermen wood cabins and vertical fjords over impressive turquoise waters.
Therefore, it is not surprising that more and more people decide to go sightseeing in Lofoten.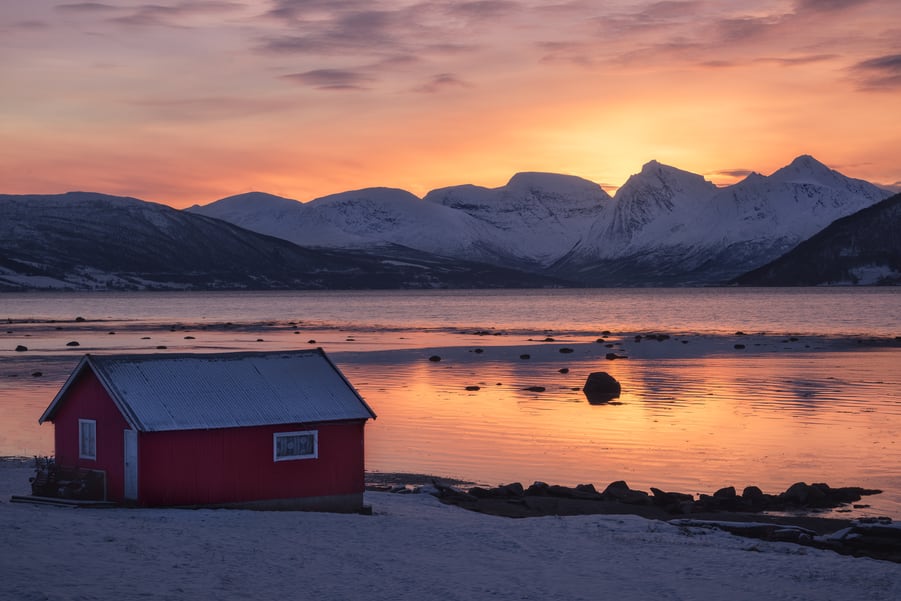 In our travel planner to Lofoten you will find:
We hope you find this Travel Guide to Lofoten of any use and do not hesitate to leave us a comment if you need more information about Lofoten.
What to do in the Lofoten Islands
Depending on the time of year when you travel, the top things to do in Lofoten Islands change drastically.
While winter is the best time to see Northern Lights in Lofoten and to see the picturesque landscapes covered in snow, during the summer we can enjoy the best hikes in Lofoten and the stunning midnight sun.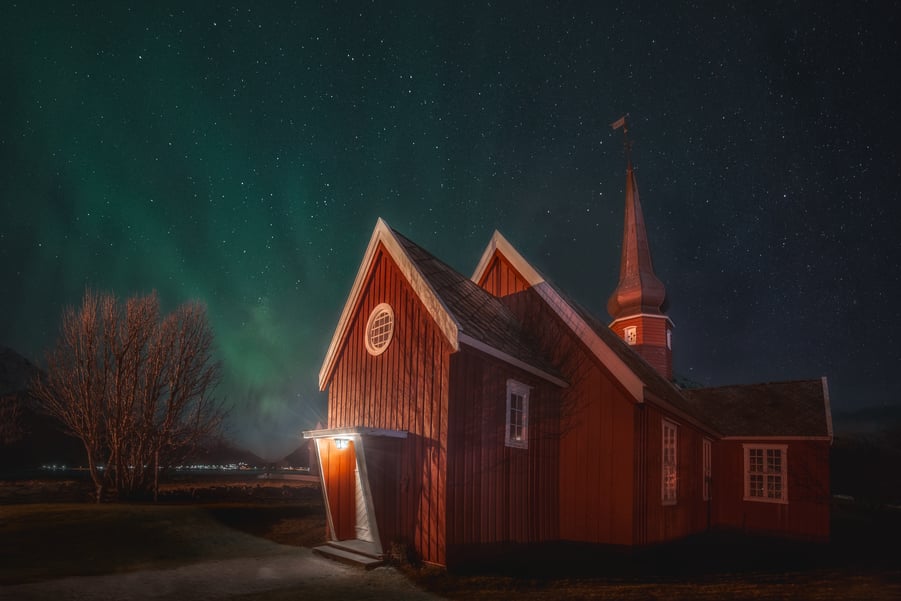 The days are short during the winter, so we will have less time to do some of the activities of Lofoten. Therefore, in this section, we will cover first the things to do if you travel to Lofoten in winter.
Best things to do in Lofoten in Winter
Since you have just a few hours of light during the winter, you should know in advance the best places to visit in Lofoten. Some of the essential islands to visit in Lofoten are Moskenesøya, Flakstadøya, and Vestvågøya, located at the south of the archipelago and where you will find the main attractions. This is why visiting these islands is the first thing you have to do in Lofoten in winter.
Fishing Villages in Lofoten
Although there are many other fishing villages, as the winter days are very short, I will only recommend the two villages that you can not miss in Lofoten.
HAMNØY
The most impressive thing to see in Lofoten is the picturesque fishing village of Hamnøy, located on Moskenesøya island and from where you have probably seen hundreds of photos, with the remarkable Reinefjord in the background.
The most representative image of the place is taken from the bridge that goes from Hamnoy to Toppoya where old fishermen's huts called "Rorbuers" (now converted into touristic accommodation) are based at the base of the rock.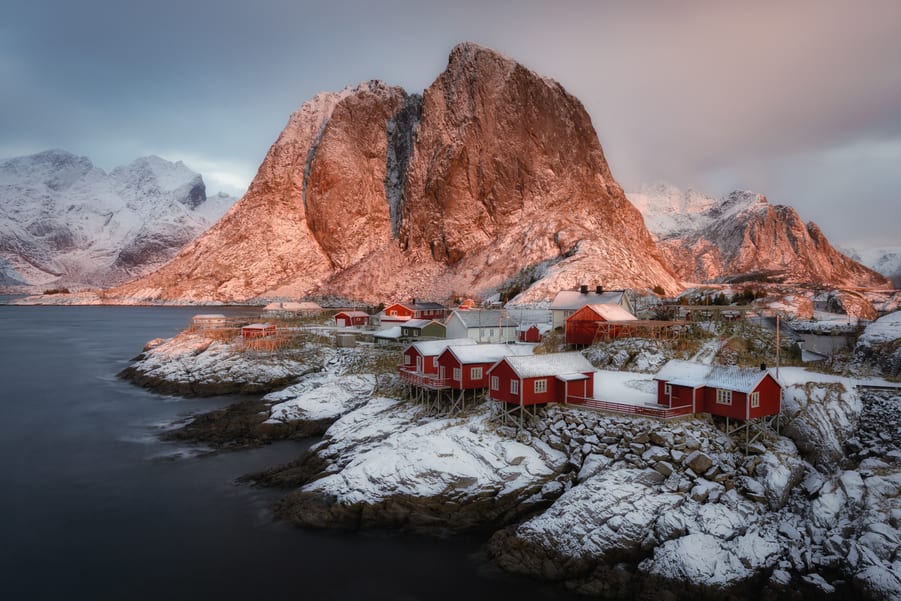 As we will speak in the accommodation section, spending at least one night in one of these cabins is essential in Lofoten.
REINE
Following the King Road 3 more minutes, you will reach Reine, where you can find a gas station, supermarket and some shops.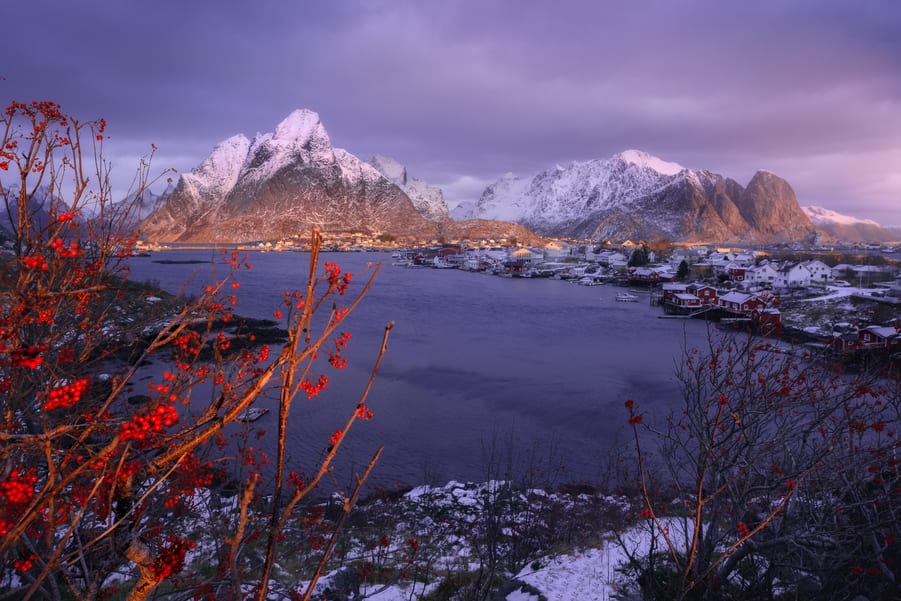 Here, you will find a slightly larger fishing village than the previous one, with strikingly colored Rorbuer located next to flakes – wooden structures that can be found all over which are used for drying cod during the months of January to April.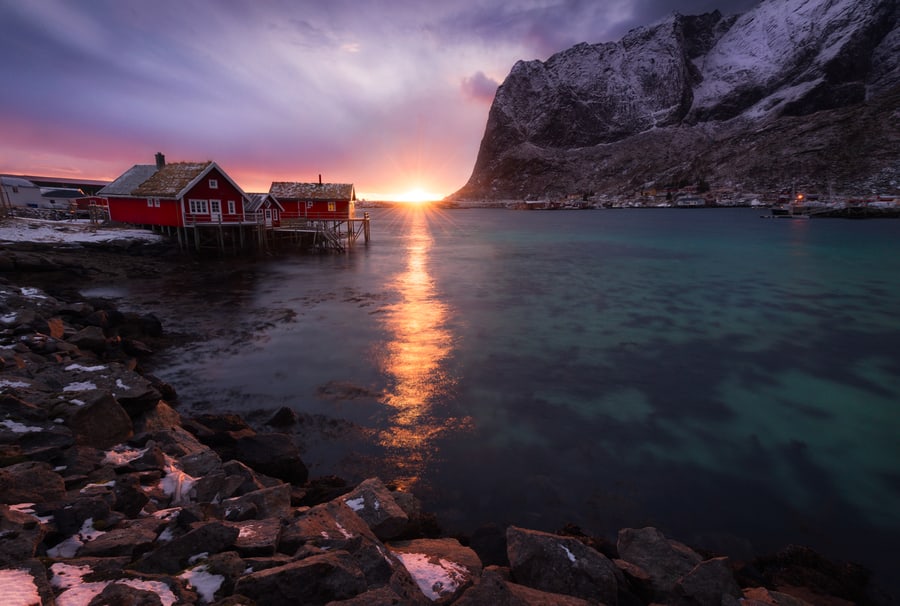 If you follow the King Road for another 15 minutes, you will arrive at the village with the shortest name in the world, Å, where the E10 road ends.
Seeing the Northern Lights in Lofoten Islands
There are countless places to enjoy the Northern Lights. However, it is difficult to find similar conditions as in the Lofoten Islands.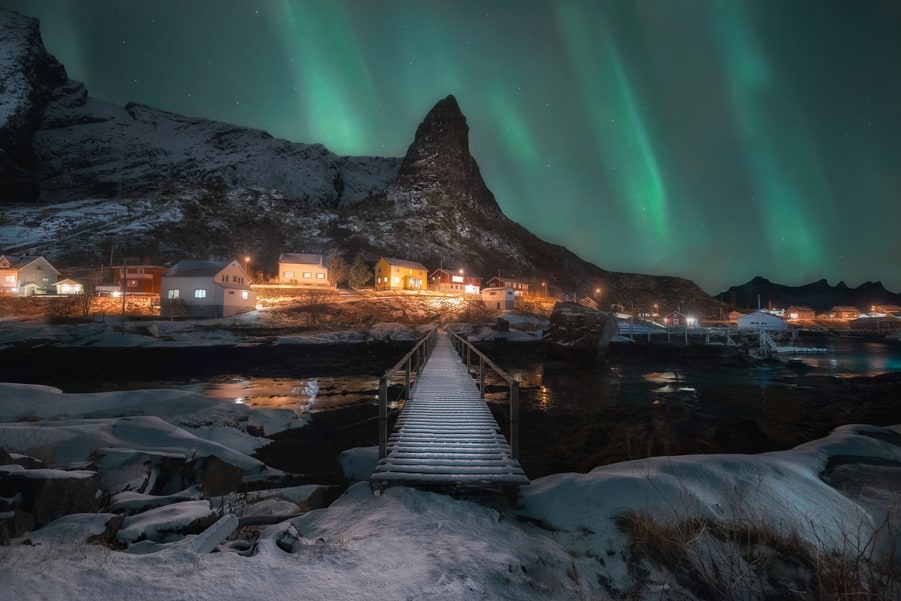 During wintertime, we can get up to 20 hours of utter darkness, which is essential for enjoying the Aurora Borealis. However, what makes Lofoten special is a climate anomaly that is unique in the world. At similar latitudes, temperatures can drop down to -22ºF in some areas during winter, while in Lofoten stay just above 23ºF. This is due to the heat coming from the currents of the Gulf of Mexico to the coast of Lofoten, thus creating a microclimate.
If you are planning to travel to Lofoten in winter (the best time to see Northern Lights), I suggest you to learn how to predict them.
Also it is interesting to know the best places to see the Northern Lights.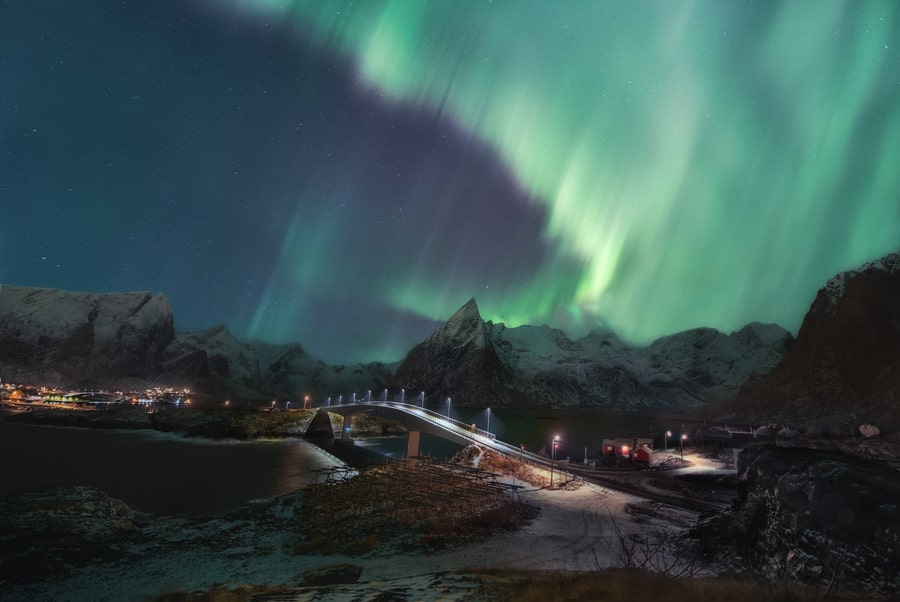 The best place to see Northern Lights in Lofoten are those beaches facing north that we will see below:
SKAGSANDEN BEACH
The first time we saw Northern Lights in Lofoten was at Skagsanden beach, located in the Northwest of the Flakstadøya island, in the village of Flakstad.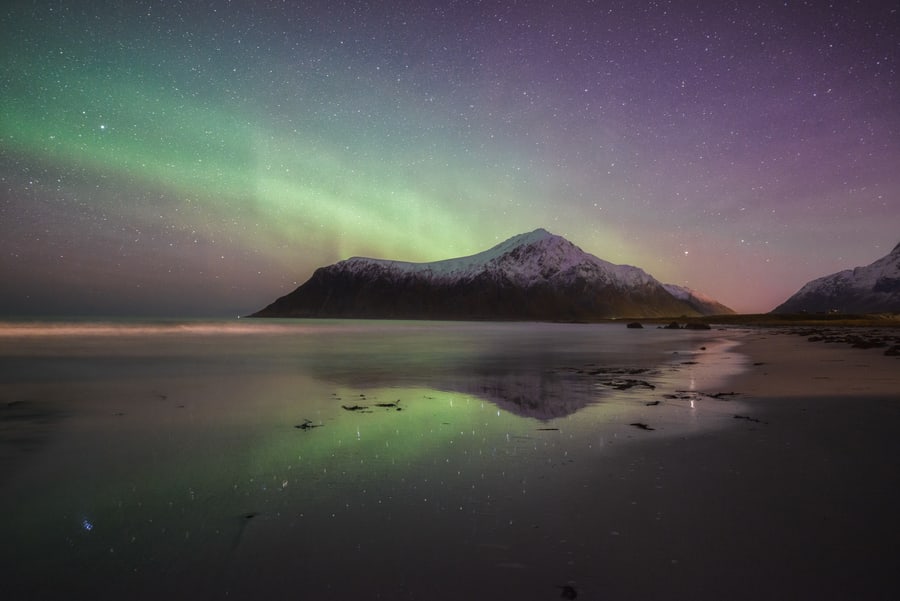 The beach is quite flat, so besides amazing reflections, after a lot of rain, dark sand from the mountains reaches the white sand of the coast forming patterns that show the movement of the gravel towards the sea.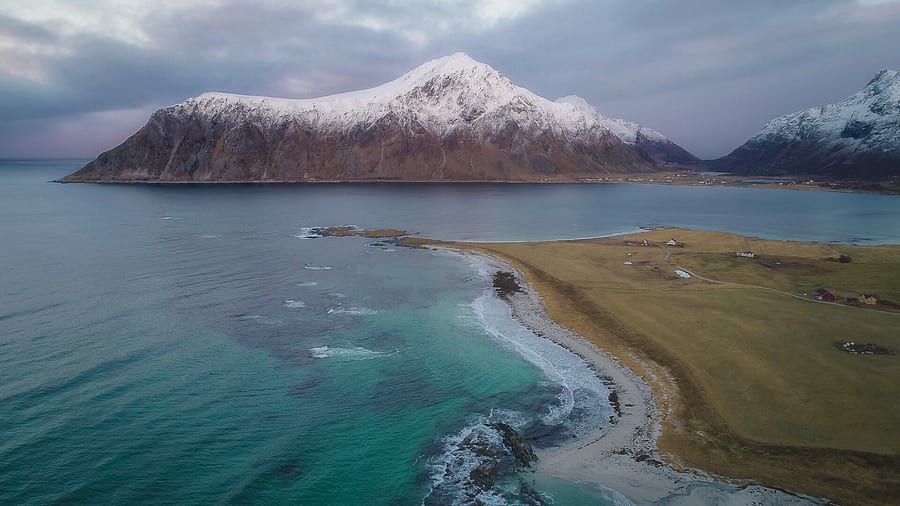 Very close to the beach you will also find the amazing church of Flakstad, the Flakstad Kirke with a vivid red color that looks as if it was taken from a fairy tale.
STORSANDNES BEACH
The next beach for seeing the Northern Lights in Lofoten and, also, one of those things you have to do in the Lofoten Islands is to visit Storsandnes beach, also facing north so you can enjoy the incredible displays of green lights of the Arctic.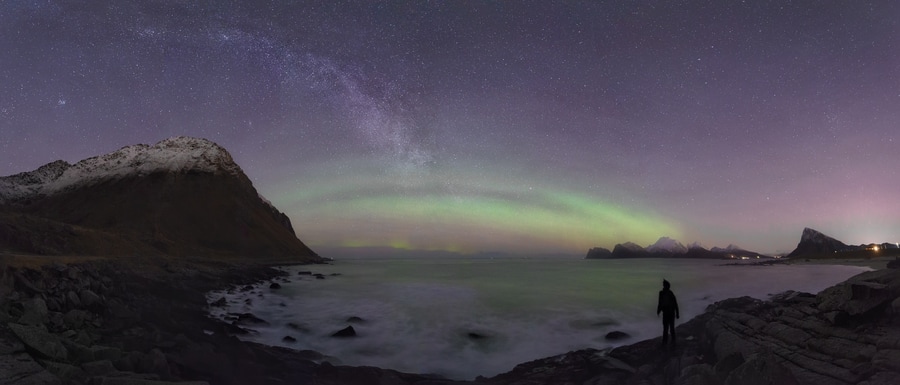 The beach is impressive, not only for seeing and photographing the Northern Lights, but I also recommend visiting it during the day since it is one of the best beaches in Lofoten.

UTTAKLEIV BEACH
Uttakleiv beach, or "the beach of the heart" is our favorite beach to see the Aurora.
It has a very large and wide area of fine sand and another rocky area on the west, which will be your favorite if you like photography.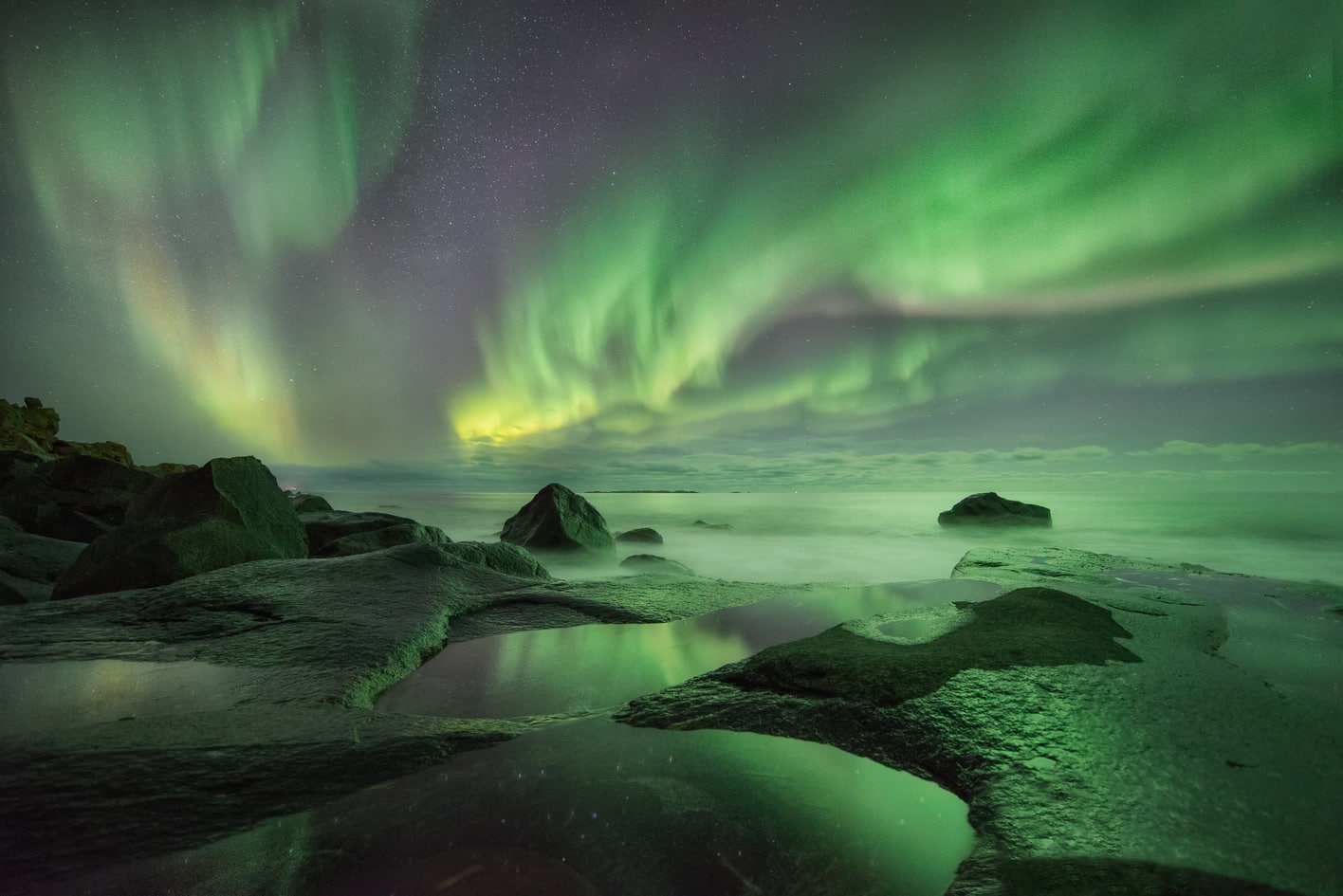 However, visiting it during the day did not meet our expectations, due to the strong wind gusts that sometimes hit this beach. Even so, we found the curious heart-shaped stone that is particular of this beach.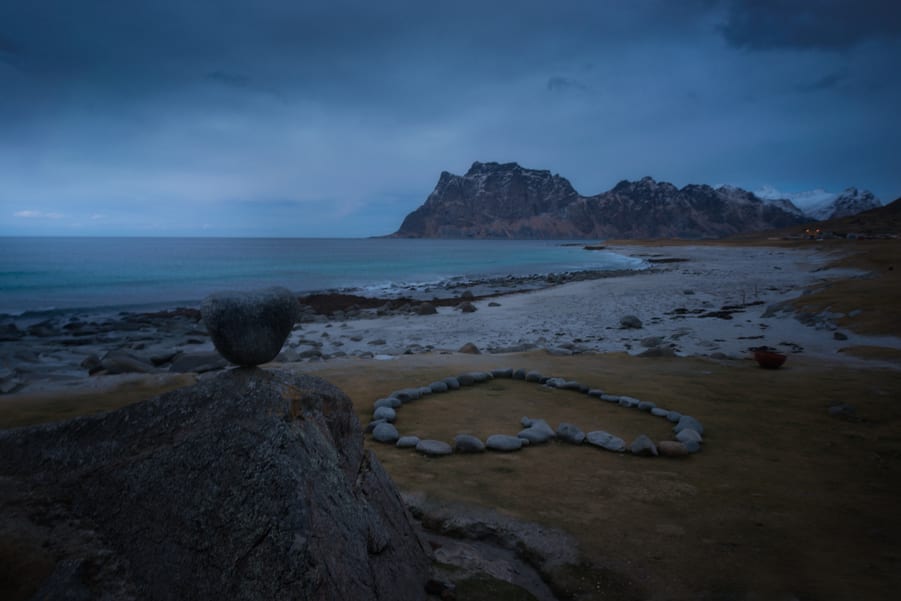 MYRLAND
To get to Myrland beach, you must follow the path that takes you to Storsandnes until the end. It was a shame not having the time to go because it looks like an amazing beach in photos. It is also located with the perfect orientation to see Northern Lights. Of course, it will be one of the beaches we will visit on our next travel route to Lofoten.
Best Beaches in Lofoten Islands
In addition to those mentioned in the previous section, there are other beaches that you have to visit in Lofoten, although they are not the best for seeing Northern Lights.
However, visiting them during the beautiful and ephemeral winter light is worth it, as you can enjoy from them incredible sunrises and sunsets.
HAUKLAND BEACH
A must do in Lofoten is to visit Haukland beach. Its calm, turquoise waters and fine white sand flanked by the sharp mountains will leave you speechless. From this beach, we saw a spectacular sunset with the sun hiding between the vertical rock walls.
We could also see the Northern Lights from here. However, it is not the best location since it is facing west instead of north.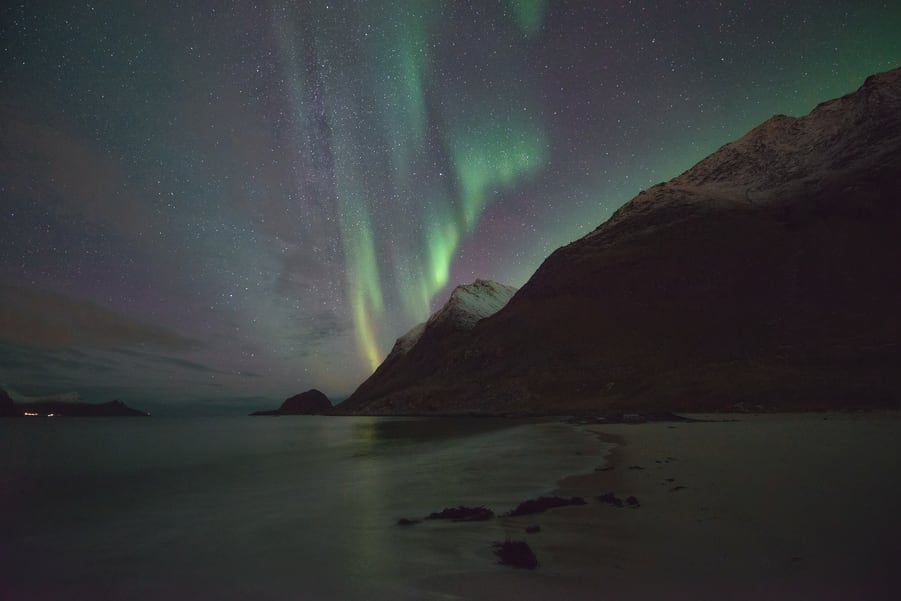 VIK BEACH
As an extension of Haukland, the small cove of Vik is also an amazing place that you need to see in Lofoten. The waters also show a unique color but the extension of the white sand beach is much smaller.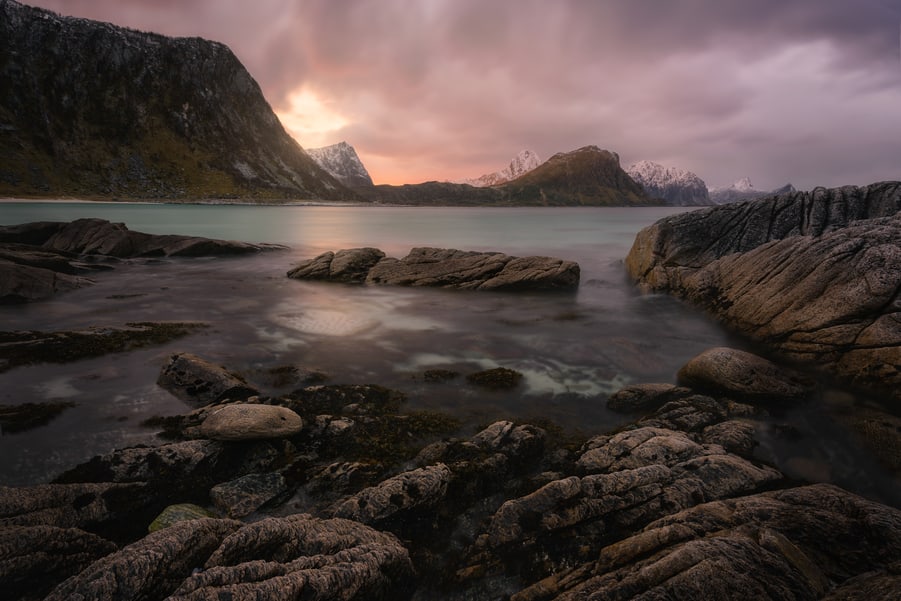 UNSTAD
Another thing you have to do in Lofoten in winter is to visit Unstad beach, with a particular blue color and extensive white sand.
Due to the few hours of daylight we had, it was impossible to visit it but It is in the Lofoten bucket list for our next Arctic adventure. Check how beautiful it is!
whale watching tour in Lofoten islands
One of the most popular activities to do in Lofoten in winter is the Whale Safari in Vesterålen.
From November to March, killer whales, humpback whales, fin whales, and sperm whales are seen off the coast of this archipelago, located above the Lofoten Islands, following the herring migratory routes.
It is undoubtedly the best place to see whales in Norway and even to swim with them, as many companies, in addition to offering boat safaris to see whales in Lofoten, also offer the activity of snorkeling with killer whales. This was a dream that I could not fulfill in November – even though the whales are already there, companies do not start offering services until the beginning of the high season in December.
Some of the companies that organize whale safaris in Lofoten are Sea Safari and Whale Safari. Most of them are based in the area of Andenes, so if you travel during the Whale season, do not hesitate to see orcas in Lofoten booking any of these tours.
What to do in Lofoten in Summer
Summer is the best time to visit Lofoten by Campervan or to enjoy the incredible hiking trails among the fjords.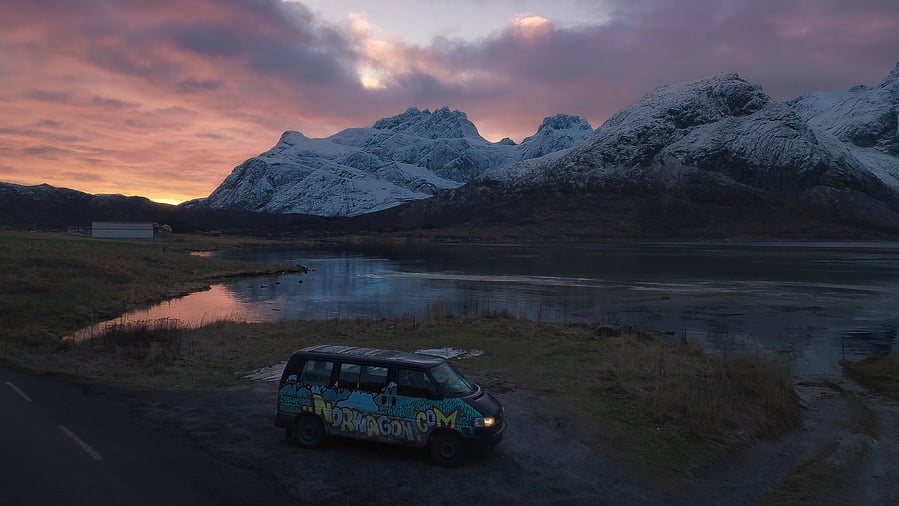 Although there are not enough hours of darkness to view the Aurora Borealis, all places recommended in the previous section are great places to visit all year round and you can use planning your next Lofoten vacation disregarding the season.
In this section, we will tell you about things to do in the Lofoten Islands during the summer that we wouldn't do during a winter trip around Lofoten.
Best hikes in Lofoten
The best thing to do in the Lofoten Islands in summer is to find those views and trails that are impossible to hike during the coldest months.
REINEBRINGEN
Reinebringen is undoubtedly the most beautiful viewpoint within all of the Lofoten Islands. However, to get there is still risky even in the summer. The trail is unstable and any misstep here won't give you a second chance. In fact, there have been deaths in Reinebringen. After seeing this photo, do you think it's worth it?
Fortunately, after an attempt to close the route, they have decided to make it safer for hikers instead. Currently, the trail is under a long construction process.
The next picture was taken with our drone so we could see part of the view without the hiking.

KVALVIKA
Kvalvika beach is quite accessible but not so during the winter. The trek is a 1.2-mile route that takes about 45 minutes. This small beach is well known for the scenic views from one of the mountains that surround it, Ryten, at 1640 feet high. Here you can see a photograph taken from there.
There are also areas where you can camp, which makes it a favorite beach destination to enjoy the midnight sun in Lofoten.
BUNES
Bunes beach is one of the most remote and spectacular beaches, surrounded by cliffs that were carved by ancient glaciers. Getting there requires a ferry trip from Reine to the village of Vindstad, then it's a simple 1.5-mile trek that takes about an hour.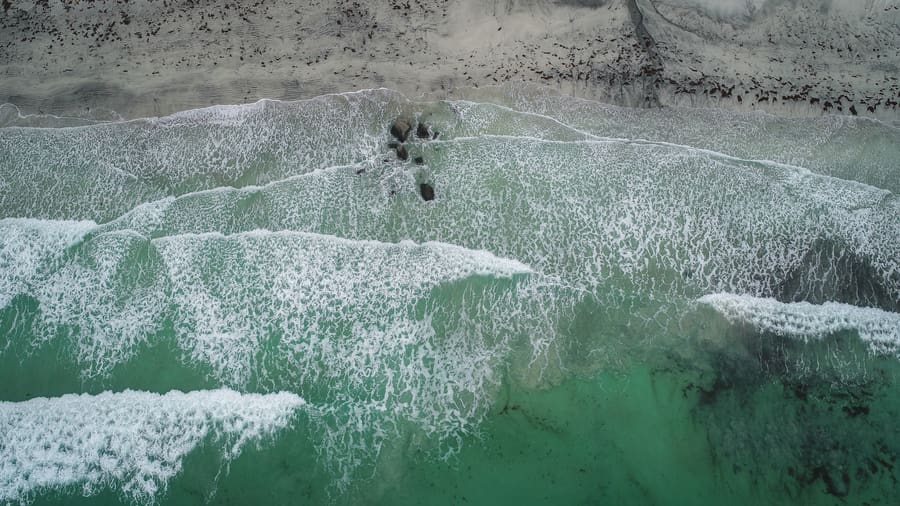 It is one of the most popular places to visit as a day trip in the summer and not many people choose to camp here. After seeing this picture though, we would not mind an overnight stay!
HORSEID
Horseid beach is the least visited of the three beaches mentioned. To reach here you will also need to take a ferry and then a 2.7-mile trek from Kjerkfjørd that takes a little over two hours. It is the perfect excursion to sleep camping on the beach at least one night, and then taking the ferry back to the main islands the next day.
VIKING MUSEUM
Another attraction to include in your Lofoten travel package is the Viking Museum, an excellent place to get to know about the ancient life of Viking societies. The museum itself is within the largest Viking building found to date, at 270 feet high.
We missed our chance to visit the museum during the winter because of the limited daylight hours and long Northern Lights nights, but we have plans for a future trip in the summer to do so! The most fascinating thing about the Viking museum is that it is a living museum, completely decorated in the Viking era. There, you can enjoy dance exhibitions, a market, typical Viking food, and Viking festival activities. You can check the schedule here.
KAYAKING AMONG FJORDS
Another activity that you can do in Lofoten in summer is kayaking among fjords. It is true that this activity can also be done in winter, but considering the daylight hours, we prefer to do this activity in the future, during a summer trip to Lofoten. It is an excellent and original choice for a Lofoten day tour.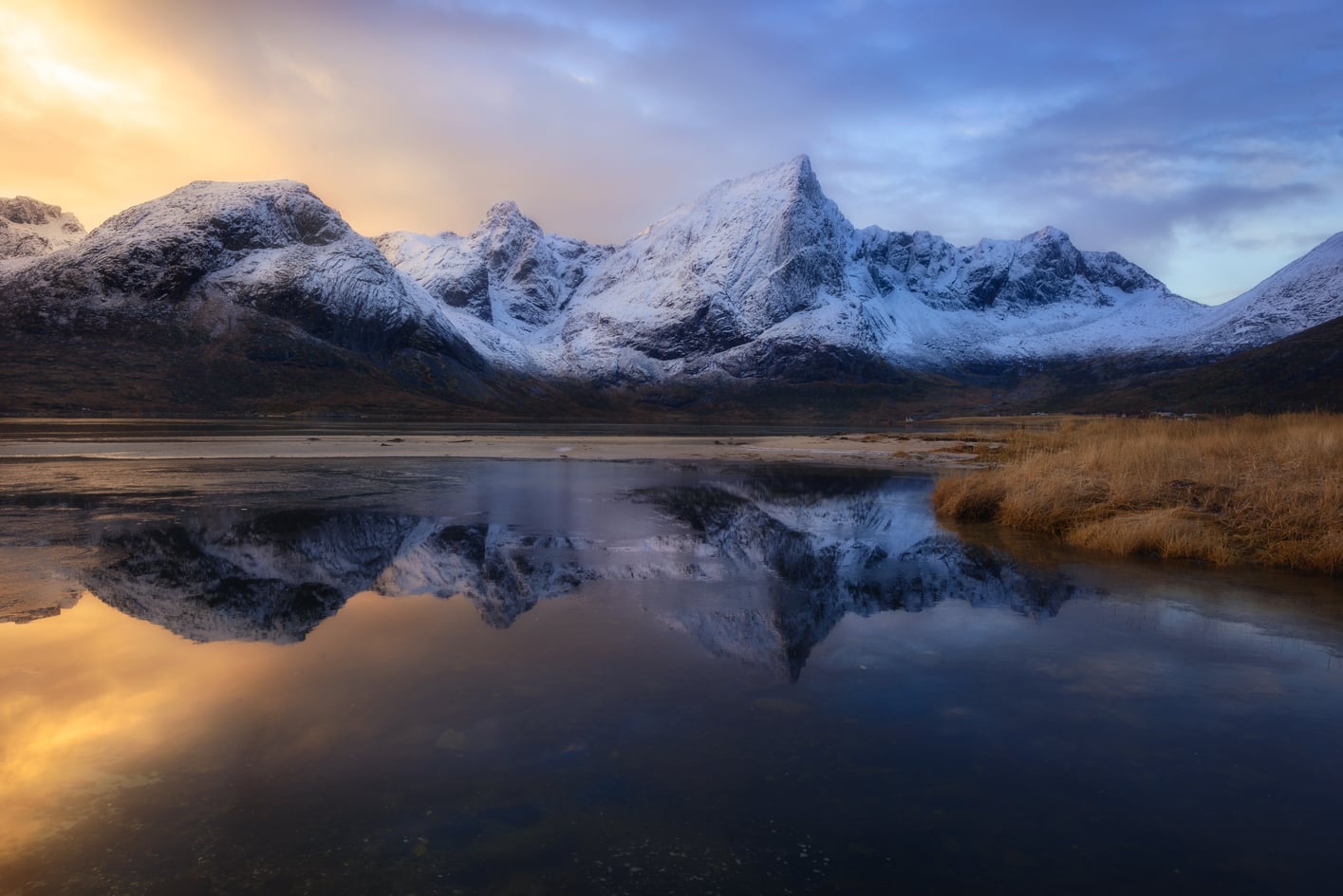 VISIT THE PICTURESQUE FISHING villageS OF LOFOTEN
Although visiting the fishing villages of Lofoten is a year-round activity, it's best during the summer months, when we will have more daylight hours.
The main villages you should visit in the Lofoten Islands are Svolvær (the capital), Sund, where you can enjoy bird watching tours, Nusfjord with its peculiar Storvatnet Lake and Kabelvåg where you will find the second largest wooden church in Norway, the Vågan Kirke.
How to get to Lofoten Islands
There are several ways to get to the Lofoten Islands. However, Most of the trips go through Oslo.
Once on the islands, the best way to get to Lofoten is by flying directly to one of the airports in this archipelago. Besides, it is also possible to fly to nearby airports and drive from there or even get to the Lofoten Islands by ferry.
Airports in the Lofoten Islands
There are different airports in and near Lofoten. These are the main ones:
Getting to Lofoten from Leknes
Leknes is the closest airport to the Lofoten Islands. This airport is located just a few minutes from the most popular beaches and only one hour from one of the main tourist attractions in the Lofoten Islands; the fishing village of Reine.
If you are planning to travel to Lofoten during high season, we recommend you check flights to this airport in the first place, since being more frequent during the summer, the prices are not as expensive as other months during the year.
Getting to Lofoten from Svolvær
Svolvær airport, in the capital of the Lofoten Islands, is another option to fly to Lofoten. Sadly, we could not find any good offer at the time we went to Lofoten.
Getting to Lofoten from Harstad/Narvik-Evenes
Harstad / Narvik-Evenes Airport is one of the easiest ways to get to the Lofoten Islands. Although territorially it is located in the Ofoten region, it is one of the closest airports to the Lofoten Islands, only two or three hours away.
If you want to get cheap flights to Lofoten, it is best to book them at least three months in advance. You can also find here the best tips for finding cheap flights to anywhere.
Travel from Bodo to Lofoten islands
To get to Lofoten from Bodo airport, you must take a ferry. The Ferry Bodo-Lofoten takes about 4 hours and leaves you at Moskenes.
The frequency of flights to Bodo is higher than to Lofoten airports, so prices are usually lower. However, if you want to travel across Lofoten on a Budget, the best option is to fly to Tromso and drive from there. This would be our last option and the one we chose.
How to get from Tromso to Lofoten by car
Tromso is considered the Arctic Capital. Its airport, although small, is the largest airport in the North of Norway and offers the most affordable and frequent flight options.
However, it is the furthest airport from Lofoten, so you will lose practically one day on the way there and another on the way back to get from Tromso to Lofoten by car.
We used this option and the extra time spent on transport didn't matter to us because there are many things to do in Tromso and the landscape was breathtaking, especially on the King's Route in Lofoten. Besides, it helped with our travel budget to Lofoten.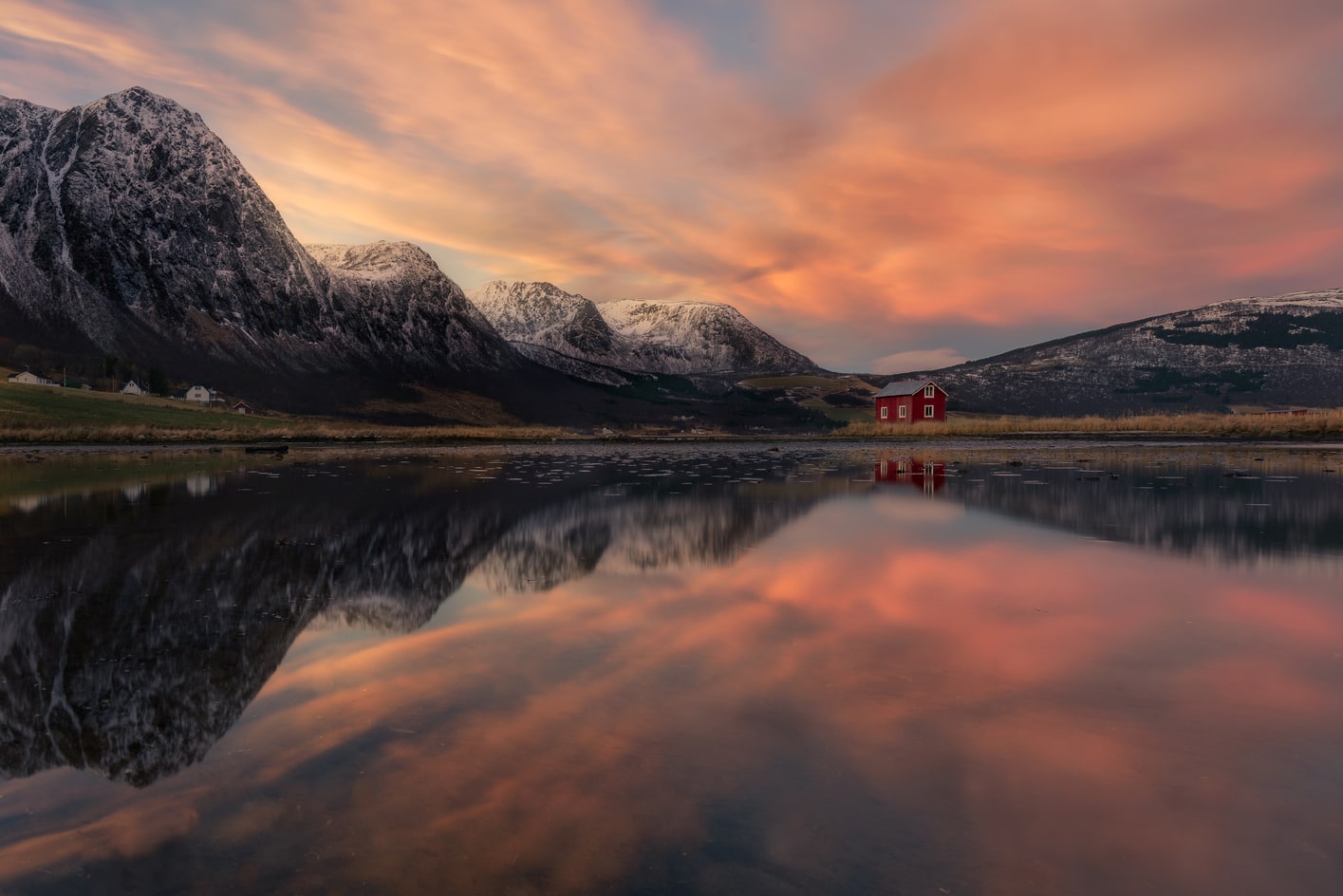 Another advantage of flying to Tromso is the large offer of companies that rent RVs and campervans. This makes the cost much cheaper compared to renting campervans in Lofoten. For us, it was a turning point to find the Norwagon company, which rents campers prepared for the cold winter at a great price.
Although the motorhome rental in Norway is very widespread, if you want to find cheap campers in Lofoten, it is better to check the offer in big cities.
If you are going to visit Lofoten from Tromso, you may be interested to know the best things to do near Tromso:
Tromso Fjord Cruise: Discover the impressive fjords of the Norwegian Arctic with a boat tour along the coast. Depending on the time of year, and with a bit of luck, you can see killer whales and humpback whales.
You can also visit the Tromvik area, marked on the map below, where whales can sometimes be seen from the shore. This is not usual, but from December it is possible, as orcas enter the fjords in search of herring.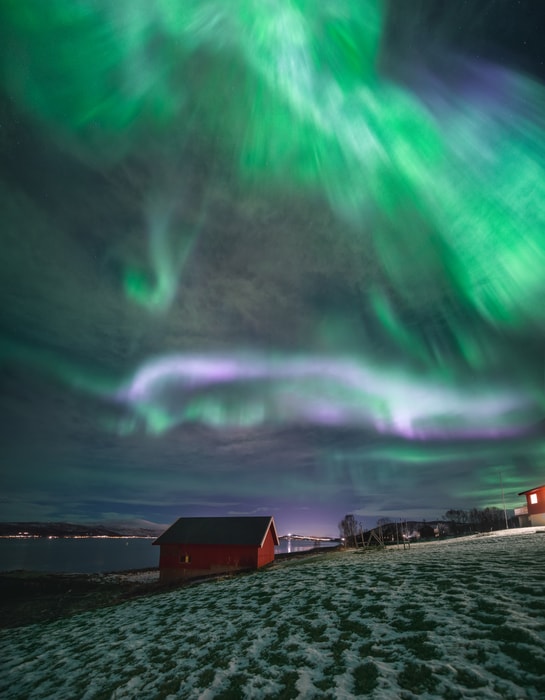 Sled Ride: Husky sled rides and reindeer sled drives are very popular in winter. I do not particularly like this kind of activities. If you decide to take a tour of this type, I would ask you to make sure in advance that the animals are in good conditions.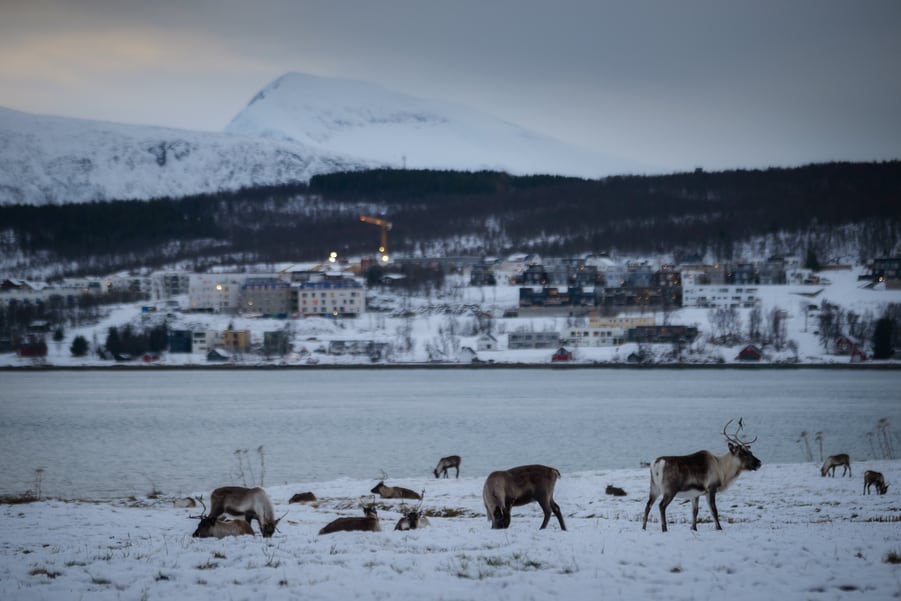 Instead, I suggest you visit a reindeer ranch during a Sami culture tour.
If you are going to visit the Arctic Capital, check here the best places to stay in Tromso.
Lofoten travel itinerary
I recommend visiting the Lofoten Islands in 7 days. However, keep in mind that if you travel from Tromso or Bodo, it is better to add at least two more days, taking a 10-day Lofoten Islands trip.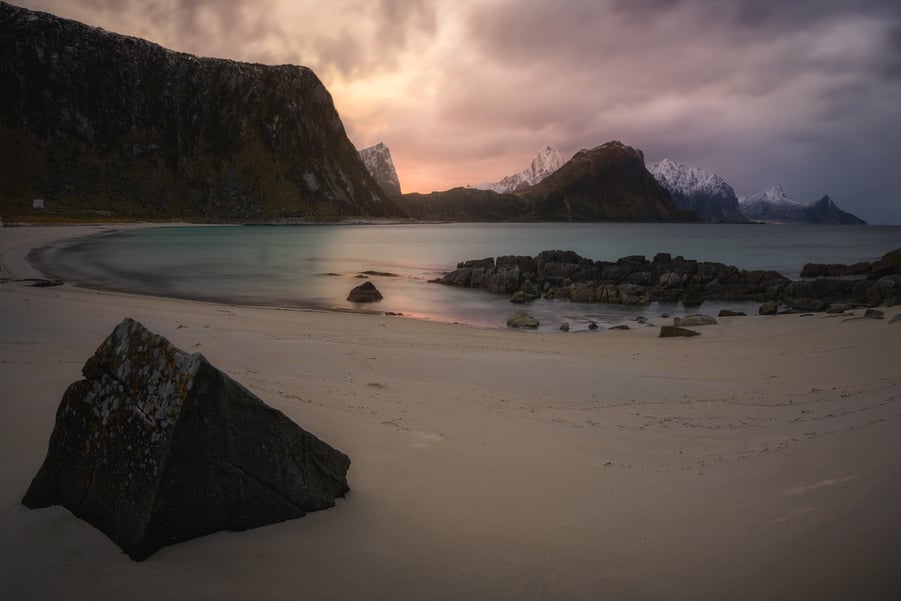 In addition, when planning our road trip to Lofoten, it is essential to consider the time when we are traveling.
If we travel in winter to Lofoten to see the Auroras Borealis, try to have a plan as flexible as possible and try not to choose a fixed travel itinerary to Lofoten. Keep in mind that in winter, snowstorms are frequent, so you should consider that during the trip you may lose one or several days if the weather is terrible. On the other hand, the best way to see Northern Lights in Lofoten is to go where they are, so until the same day it will be difficult to know where to go to see them. I recommend you learn how to see Northern Lights in Norway before your trip.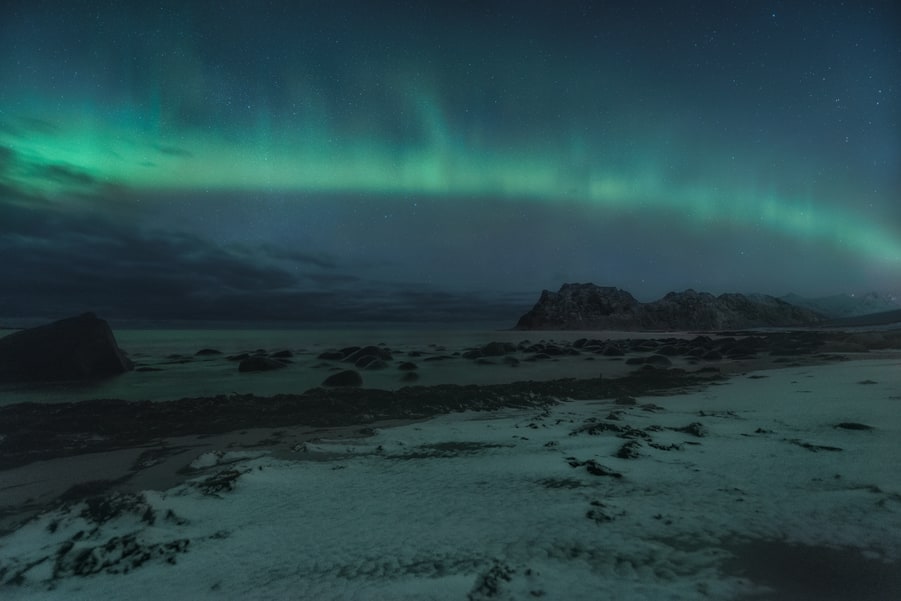 However, if we travel to the Lofoten Islands in summer, the days will be longer and we will be able to hike and enjoy wild camping activities in the most remote islands. It is advisable to have a marked itinerary, since, as it is high season, most accommodation is quickly sold out.
The best travel itinerary to Lofoten in 7 days
Day 1: Arrival to the Lofoten Islands + Hamnoy + Reine + Å
Day 2: Reinebringen + Kvalvika
Day 3: Horseid
Day 4: Skagsanden + Storsandnes + Myrland
Day 5: Vik + Haukland + Uttakleiv
Day 6: Unstad + Viking Museum
Lofoten trip budget
If you are wondering if it is possible to travel across Lofoten on a budget, I recommend you to check our travel budget to Lofoten where you will find a break down of our expenses so you can prepare your own Lofoten tour and don't spend money in expensive Lofoten travel packages.
In the article, we cover how much would a trip to Lofoten cost, the prices for accommodation in Lofoten, meals, etc. so you can be aware in advance of the cost of visiting Lofoten. You can also check our guide on how to travel for cheap.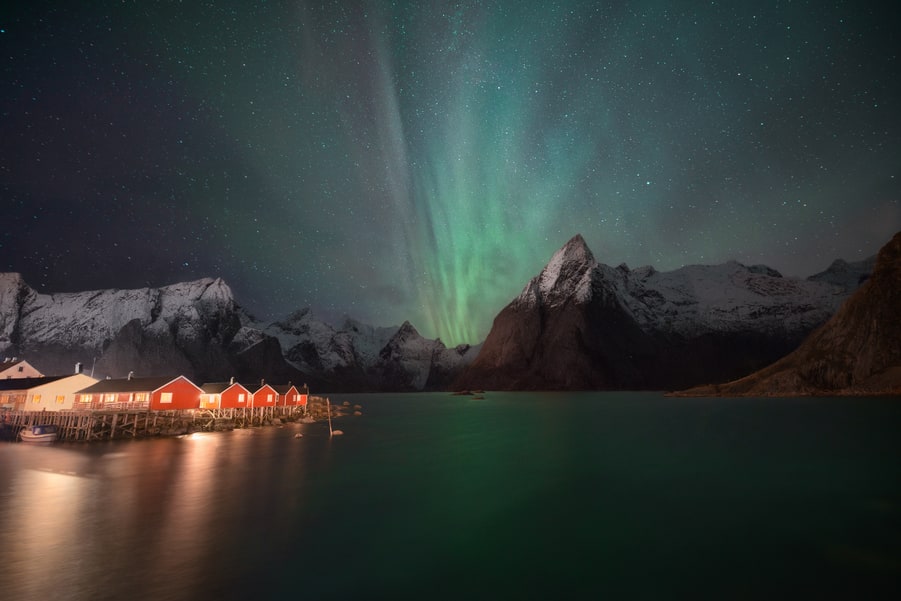 If you are traveling to Lofoten on your own, keep in mind that renting a campervan can be cheaper than sleeping in the few fishermen's cabins on the islands. However, if you decide to take an organized trip to Lofoten, the usual thing is that the agencies get lower prices for groups and you can sleep in hotels and cabins for a similar amount.
If you are a photographer, here you can check the price of the Lofoten photo tour that we organize.
Lofoten islands travel tips
In this section of our Lofoten travel guide, we give you some tips that will help you during the planning of your trip.
Best time to visit Lofoten
If you are wondering when to visit the Lofoten Islands, you should bear in mind that you cannot explore Lofoten entirely in one visit. If you want to enjoy everything that the archipelago has to offer, you will have to visit at least twice – once during the winter and once in the summer.
Visit Lofoten in the winter to enjoy the Northern Lights and the beautiful ephemeral light that this time of year offers at this latitude. Then, visit Lofoten in the summer to enjoy the many hiking trails among the sharp fjords, learn the history of the Sami people, and experience the midnight sun.
BEst TIME TO visit THE LOFOTEN ISLANDS IN WINTER
We consider winter from November to February. In theory, the worst month of the year to visit Lofoten is in November, as during this time statistically the rainfalls are very common, and the skies are usually covered which make it quite difficult to see the Aurora and the delicate light. Furthermore, with just a few daylight hours and icy roads, it is not possible to do the main hikes.
Thankfully, our experience was very different. We were lucky as 2017 was an atypical year, and during our 10-day Lofoten Islands road trip in November, we enjoyed seven nights of Aurora, as well as sunrise and sunset epic lights.
However, taking into account the climate records, the best time to travel to the Lofoten Islands in winter is during the second half of February. Everything is covered in snow, which will be perfect for your winter photos. Precipitations are low, and there are many nights of clear skies making the best time to see the Northern Lights in Lofoten.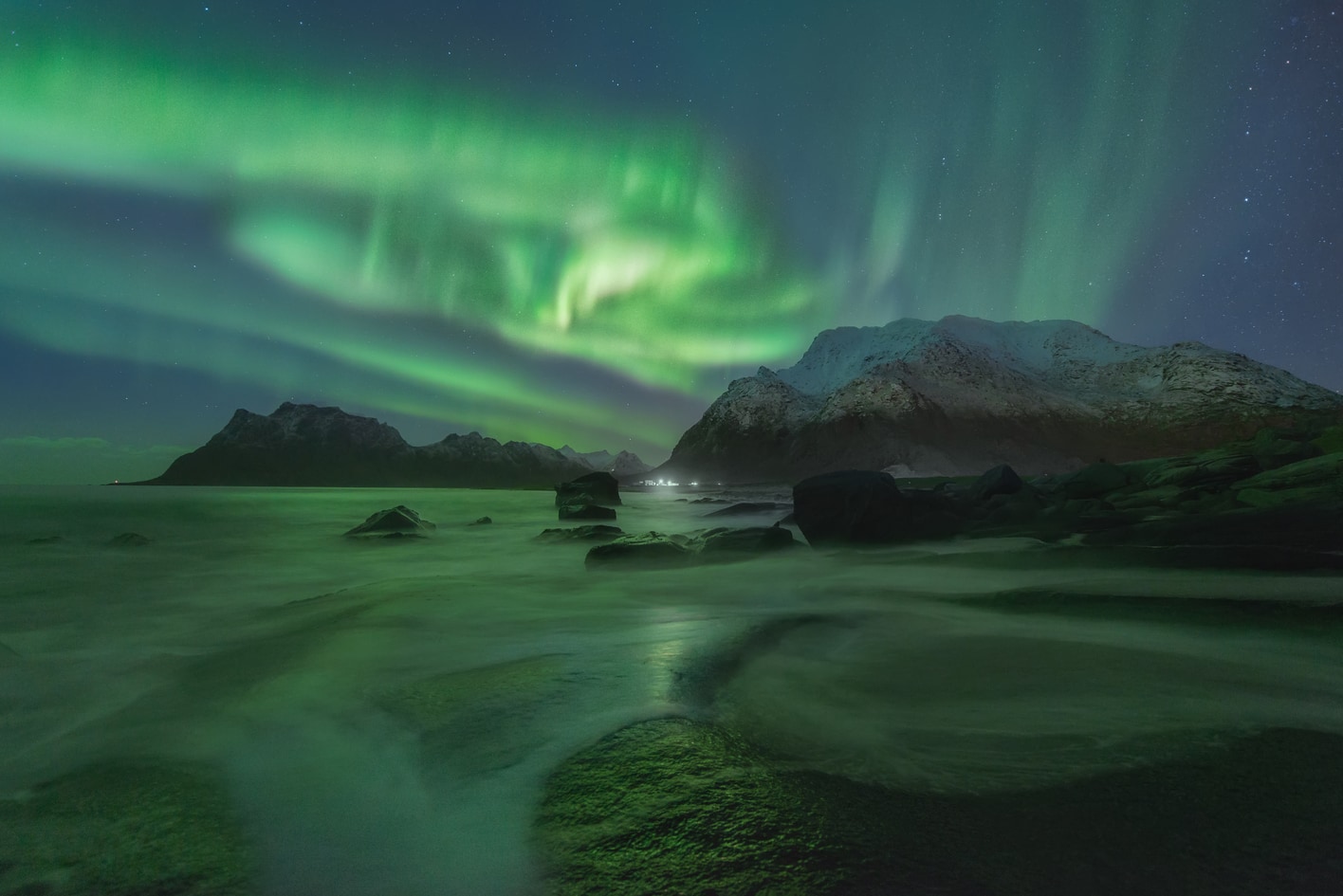 Furthermore, with more daylight hours than December and January, you can enjoy longer hours moving and photographing around the island.
best TIME TO visit LOFOTEN IN SUMMER
May to September is the best time to visit Lofoten in the warm months.
You can enjoy long daylight hours, especially as we approach June, when the summer solstice takes place, and when you can see up to 21 hours of light per day.
The temperatures are pleasant considering that Lofoten is located above the Arctic Circle, with maximum temperatures of 59 ºF. Of course, even in the summer months, it is essential to wear warm clothes as temperatures can be as low as 44 ºF with frequent rainfall and wind.
Lofoten essentials
As you can see, both in winter and in summer it is essential to know what clothes to wear in Lofoten, since temperatures vary and can go from chilly to very cold in a matter of hours. The windchill factor is also something to consider in Lofoten as strong wind gusts will quickly suck the heat out of your body.
Especially in winter, you should wear clothes prepared for extreme cold. If you want to dive deeper into what to take to Lofoten, I recommend you do not miss the section of our article to learn how to pack a backpack for long trips where we talk about preparing your gear and clothes for cold places.
Book the best travel insurance
It is essential to have good Schengen travel insurance during your visit to the Lofoten Islands. Some activities are dangerous, such as the hike to Reinebringen where some people have died. However, even if your Lofoten travel itinerary doesn't include any risky walk, it is essential to be covered in case an accident happens.
From my experience, Heymondo is one of the best travel insurance companies and the one I recommend for your trip to Lofoten.

5% OFF your travel insurance
Touring Lofoten by motorhome
Traveling the Lofoten Islands by bus or public transport is a real challenge, especially in winter, so the best options for this time of the year would be either by car or by Campervan/RV.
If you have experience traveling by RV or would like to try, there is nothing like traveling around Lofoten in Campervan.
The rental of motorhomes in Norway is very widespread, and there are a lot of facilities for those who decide to visit Lofoten in this way. However, the cost of the campervan rental in Lofoten is quite high, so if you decide to tour the archipelago by RV, it will be better to rent it out of Lofoten (in Tromso or Bodo) and drive to the islands.
We traveled to Lofoten in winter and decided to rent a Norwagon in Tromso, with a price of € 150 per day, quite cheap compared to the rental campervans in Norway.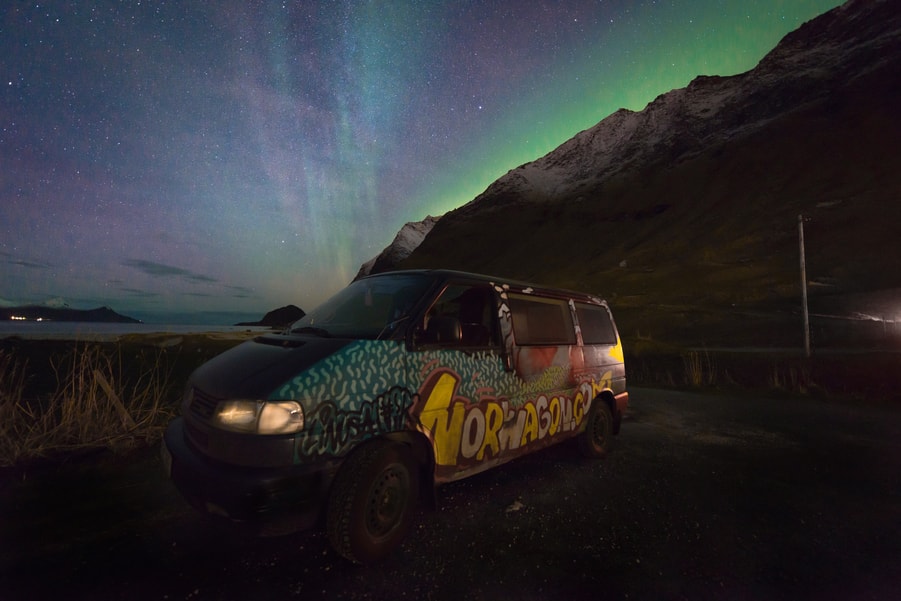 Despite being our first time traveling this way and considering the cold weather during our trip, I have to say that we did not regret it since we could sleep most of the time on the same beaches where the previous night we were photographing the Northern Lights.
The RVs and campervans usually include everything you need: gas cooker, cookware, cutlery, bed, table, trunks to store your belongings, curtains, heating, winter wheels mandatory for these months and insurance. The only thing you have to bring is a winter sleeping bag like the one we told you in this post to pack your backpack. Thanks to our Norwagon we managed to reduce the travel budget to Lofoten considerably, and, also, we could see Northern Lights seven out of the ten days we traveled around Lofoten.
If you travel in summer, do not hesitate and travel around Lofoten by motorhome. If you travel in winter and have a good cold tolerance, we also suggest traveling by Campervan as there are many advantages.
However, if you prefer to travel around Lofoten by car, here you can find a discount of up to 50% on rental cars.
Also, I recommend you to check our cheap rental car hacks.
Best places to stay in Lofoten Islands
Even if you are traveling to Lofoten in Campervan, staying at least one day in a fishermen's cabin is something you have to do during your Lofoten vacation.
Best accommodation in Lofoten Islands
The most popular cabins and the ones where we stayed were the Eliassen Rorbuer, and of course, it was worth leaving our camper for a day. Besides, this is one of the best Northern Lights hotels in Norway.
The price was not bad at 120€ per night, mainly because there were many empty cabins as we were traveling in the low season.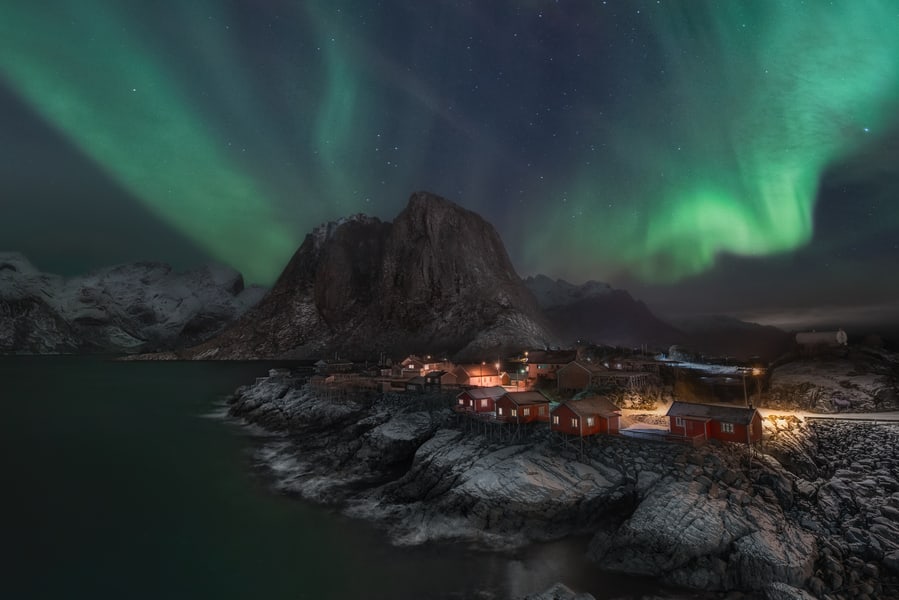 Note, the price does not include linens, towels, or cleaning. You will be charged if you do not leave the cabin as you found it.
Other good cabins to stay in Lofoten:
Sakrisøy Rorbuer: These yellow cabins are also very famous in Lofoten. The views from their windows are simply incredible.
Kafe Friisgarden: I recommend you to stay in this old renovated farm when you visit the beaches of Skagsanden, Storsandnes, and Myrland. If this accommodation is sold out I would stay in Fredvang o Nusfjord.
Unstad Arctic Surf: These modern cabins are the best option when you visit the beaches of Unstad, Uttakleiv, and Vik.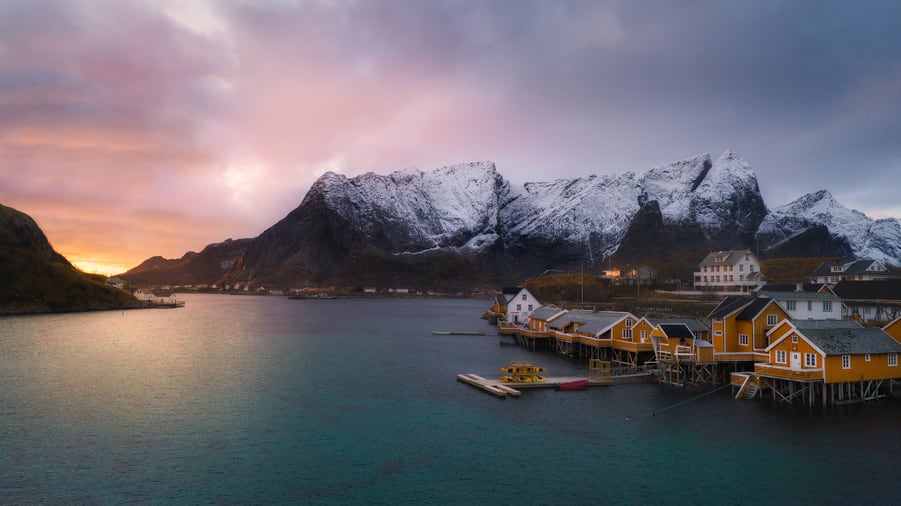 Camping in the Lofoten Islands
Wild camping in Lofoten is allowed, as in all of Norway. This means that you can camp anywhere that is not private property, or that is specified that you can not, as in cemeteries and on certain beaches of the E10. For example on the beaches of Eggum, Unstad, and Utakleiv, you need to pay to camp there. However, you can wild camp on the beach of Bunes or Kvalvika for free.
In addition, some campsites have some services such as kitchen or showers. These are the best camping in Lofoten:
Skagen Camping
Moskenes Camping
Lofoten Camping Storfjord
Ramberg Camping
Rystad Lofoten Camping
Best photo locations in Lofoten
If you are a photographer or you like photography I encourage you to come with us to our next photography tour in Lofoten, where we will show you some unknown places where you can take the best pictures of Lofoten.
Some of the best locations where you can take the most stunning images of the Lofoten Islands are:
Eliassen Rorbuer from the Hamnoy bridge in Reine at sunrise
Northern Lights on Uttakliev beach in the tidal pools.
Rorbuer in Reine at sunset
Bridge in Reine with Northern Lights or blue hour
Rorbuer in Fredvang fjord in the blue hour
In this Lofoten gallery, you can find some of our best photos of the Lofoten Islands. I hope you like them and they encourage you to plan your route to Lofoten.
Lofoten Islands Map
To finish, below you can find a detailed Lofoten map, with the best places to visit in Lofoten.
If you want to use this map of Lofoten Islands on your mobile offline:
Download the Mapswithme app on your cell phone.
Download and save the following KML file in your Dropbox.

Open the file through Dropbox from your cell phone. You will get a dialog box where you have to select open with the Mapswithme application (Maps.me)
Are you ready? You have everything to take a Lofoten road trip on your own. If you need more information about the Lofoten Islands, do not hesitate to leave a comment.
Also, if you are passionate about photography, we will be delighted to have you on our Lofoten Photo tour.
See you soon!