Booking a Tromso rental car is one of the best ways to explore this Norwegian city. Since Tromso is so remote, a car is incredibly useful for getting there and sightseeing in the area.
Moreover, having a rental car in Tromso opens up multiple accommodation and activity opportunities. Most hiking trails in Tromso, as well as many cabins near Tromso, are best accessed by car, so you'll be much more limited in what you can do if you don't have a vehicle.
Best of all, renting a car in Tromso is a relatively stress-free process. There are multiple locations for Tromso car rental pickups, including Tromso Airport and downtown Tromso, and you can find some wonderful deals, particularly on manual cars.
Ready to find out how to rent a car in Tromso? Let's get started!
How to rent a car in Tromso
The easiest way to rent a car in Tromso is by booking one in advance through Rentalcars. We use them to rent cars for all our trips because you can save up to 30% off compared to booking directly with rental car companies (check out our guide on how to get cheap rental cars for more tips).
Not only does the Rentalcars search engine offer incredible prices, but it also allows you to narrow your search results with various filters. For example, you can select individual locations for Tromso car rental, such as the airport or downtown Tromso, or check all of them. You can also filter your results by price, transmission, car size, car rental company, and more.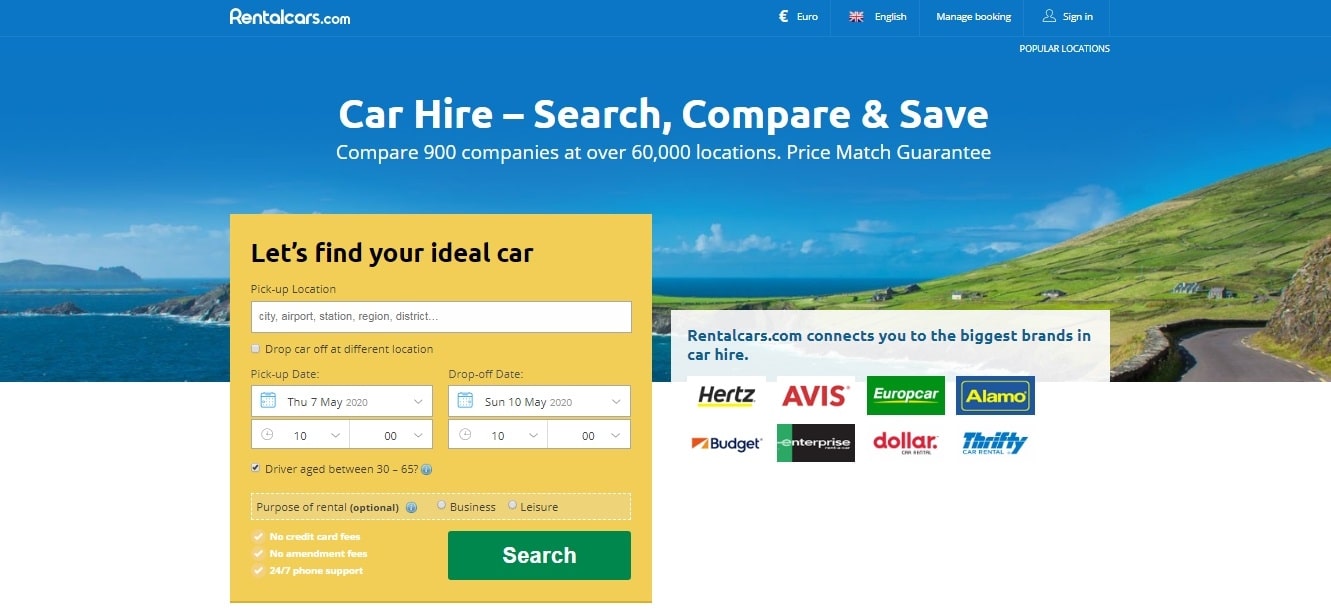 Moreover, using Rentalcars enables you to easily compare the prices of different Tromso rental car companies. Instead of needing multiple tabs, you can simply analyze one set of search results. Ultimately, Rentalcars gives you all the information you require to book the most affordably priced car for your needs.
Of course, you should absolutely conduct your own research and compare the cost of Tromso rental cars on Rentalcars with the price on rental companies' websites. In the end, however, I think you'll find that Rentalcars offers the best bargain.
Tromso Airport car rental
The most convenient option for travelers flying into Tromso Airport is to pick up their rental car at the airport. You can rent a car in Tromso Airport on arrival, but booking in advance through Rentalcars will save you money and ensure you get the exact car you want.
A 10-day Tromso Airport car rental can cost as little as $550 for cars with a manual transmission. On the other hand, the cheapest price for an automatic car rental from Tromso Airport is $595.
As you can see, manual cars are much cheaper to rent than automatics. Nevertheless, if you don't know how to drive a manual or wouldn't feel comfortable doing so, stick with an automatic to be safe.
Car rental Tromso city
If you won't be flying into Tromso Airport, you can always rent a Tromso rental car in downtown Tromso. Budget, Avis, and Hertz all offer Tromso car rental pickups in the city center.
As I've mentioned before, make sure you book your car in advance via Rentalcars so that you can get the best price. A 10-day car rental in downtown Tromso can cost as little as $499 for a manual car. If you're booking an automatic, the cheapest price for a downtown Tromso rental car is $595.
Which type of Tromso rental car should I get?
The type of Tromso rental car you should book will depend on the time of year that you're visiting.
Driving in Tromso in the summer involves relatively few hazards, particularly in terms of weather. There's no snow, and you'll experience up to 24 hours of daylight, so night driving doesn't present much of a problem. As a result, you can book almost any type of rental car in Tromso in the summertime.
On the other hand, driving in Tromso in the winter means encountering much more difficult conditions, including snow and ice, so you'll probably want a sturdier vehicle. Additionally, all cars, regardless of whether they are Tromso rental cars, must have winter tires fitted from October 15th to May 1st, so make sure your rental car company includes these tires on your car.
No matter when you're driving, always check the road conditions before you set out on your journey.
Tips for Tromso car rental
Renting a car in Tromso should be relatively straightforward, but there are a few tips you should keep in mind:
Book your Tromso rental car in advance. That way, you can select the transmission and type of car you want. You'll also be able to ensure that there are cars available for the dates you're visiting.
Use Rentalcars to get a good price on your Tromso rental car, but don't buy insurance from them. Instead, purchase insurance from the car company when you pick up your vehicle (it's cheaper).
By law, your headlights must be turned on at all times, even in the summertime.
As I've mentioned above, winter tires are required from October 15th to May 1st. Studded winter tires can be used outside this period if the road or weather conditions call for them.
EU/EEA driver's licenses are valid for use in Norway. Driver's licenses from most other countries can be used to drive in Norway for up to three months. Additionally, in most cases, you will need to have held your license for at least a year in order to rent a car.
Drive carefully year-round, but especially during the winter, when road conditions can be particularly treacherous due to ice and snow.
If you want to access many of the best things to do in Tromso, you should really book a Tromo rental car. After all, having a car will give you the freedom to explore the Tromso area on your own terms and reach accommodation and activities in out-of-the-way places.
Even better, with a rental car in Tromso, you'll be able to take day trips and see more of what Norway has to offer. For instance, the nearby Lofoten Islands are highly worth visiting. We have a guide to Lofoten if you'd like to visit on your own. Otherwise, you're welcome to join us on our Lofoten Islands photo tour this year if you're into photography!
As you'll have seen, renting a car in Tromso is a relatively uncomplicated and affordable process, particularly if you use Rentalcars. Hopefully, this article has helped you feel confident enough to book a set of wheels for your next Tromso adventure.
Happy driving!