Have you thought about what the "best" camera sensor size is? The importance of camera sensor size plays into choosing your manufacturer, lenses, bodies, and so much else about your photography! Some genres gain significant advantages when using one format over another. The general trend is larger is better but you might find some surprises below!
In this guide to understanding camera sensor size, I'll be going over not only the most popular formats but how to make the best of them. We'll look at everything from the sensor size of smartphones to medium format professional bodies and what each has to offer to your photography. Handy sensor size comparison charts will also give you a clearer picture of what you're working with.
GET OUR FREE EBOOK TO
MASTER THE PHOTOGRAPHY BASICS
20 LESSONS AND 80+ PAGES WITH EXAMPLES, INFOGRAPHICS, TIPS, AND MORE!
What Does Camera Sensor Size Mean?
Digital camera sensor size is a topic only made complex by the varying needs of the photography community. However, understanding what a sensor is, is not. The sensor is the region of a digital camera that's sensitive to light and records an image when active.
Sensors are usually measured in millimeters (and sometimes inches). For example, full-frame sensors are as close to standard 35mm film as possible (35.00 x 24.00mm). Sometimes, you'll see some variation within 1-2mm within a format. APS-C has quite a bit of variation between brands.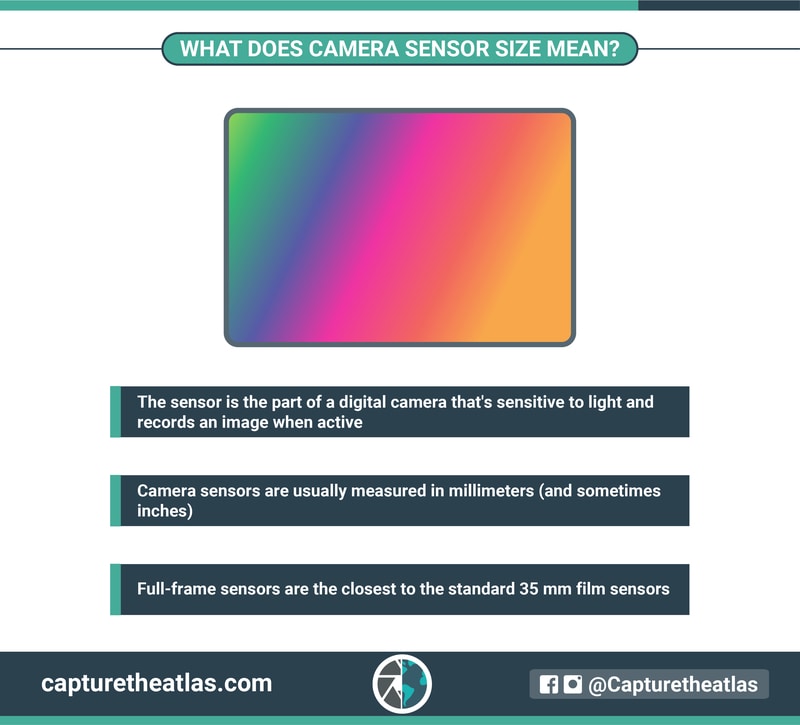 Camera sensor size and image quality are correlated. But bigger doesn't always mean better! Smaller sensors have not only uses but distinct advantages that we'll discuss below.
Camera resolution, also known as the megapixel count is a measure of the number of individual photosites on a sensor. Megapixels and digital camera sensors have other relations we'll get into later. But for now, you can relate megapixels (MP) to detail.
Digital Camera Sensor Size Comparison Chart
While numbers give us a good idea of what the different sizes are, it's sometimes a challenge to truly visualize. This camera sensor size comparison chart displays the relative difference between each of the most common camera sensor formats on the market.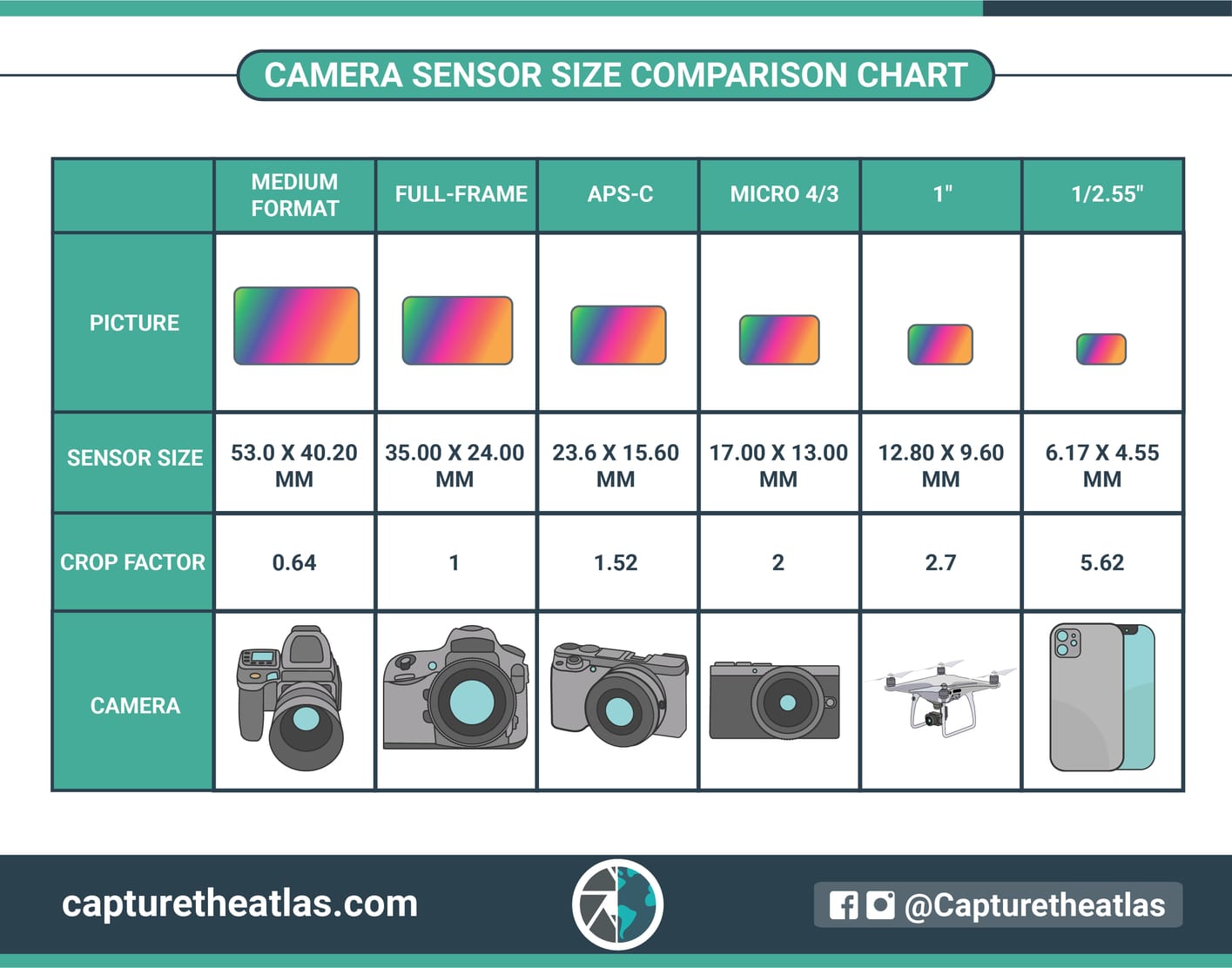 Camera Sensor Size and Types Comparison
The sensor size of mobile camera phones is variable in size but a 1/2.55″ sensor (used by the iPhone 11) is on the larger end of the spectrum.
1-inch camera sensors are the next size up and are used in most compact cameras. At 12.80 x 9.60mm, they are also large enough to capture a decent amount of light. The phantom 4 drone uses a 1″ sensor, as do many bridge (advanced compact) camera sensors.
Micro 4/3rds sensors at 17.00 x 13.00mm is the first step for interchangeable lens cameras. Swappable lenses give you creative flexibility and better image quality compared to the all-in-one zoom lenses on compact cameras. Panasonic and Olympus are the main Micro 4/3rds brands available.
Next comes APS-C camera sensor size, which shares an area of roughly 23.60 x 15.60mm. Many brands add or take away a mm here. Canon, Nikon, Fujifilm, Pentax, and Sony are the major APS-C manufacturers, and most of the cameras using this sensor size are aimed at beginners and intermediate photographers (with a few exceptions).
Getting started with an APS-C camera is one of the most popular tips in our beginner's photography guide.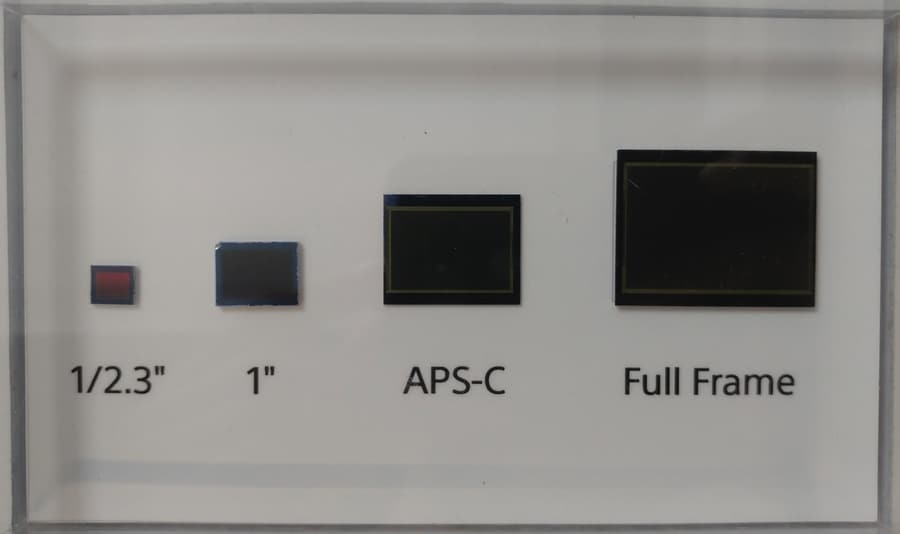 Full-frame sensor size is often used as a baseline for crop factor and other measurements. At 35.00 x 24.00mm, these sensors are the largest you'll find in consumer models. Common full-frame camera brands include Sony, Canon, and Nikon, and most of the models are aimed at advanced and professional photographers.
If you want the biggest camera sensor sizes, you'll need to be looking at medium format, which is a wider range, usually around 43.80 x 32.90mm to 53.0 x 40.20mm. From there large format also exists, but now we're looking at six-figure prices. These camera sensor sizes are aimed at special needs, like for example, photographers that need an immense resolution for printing big images.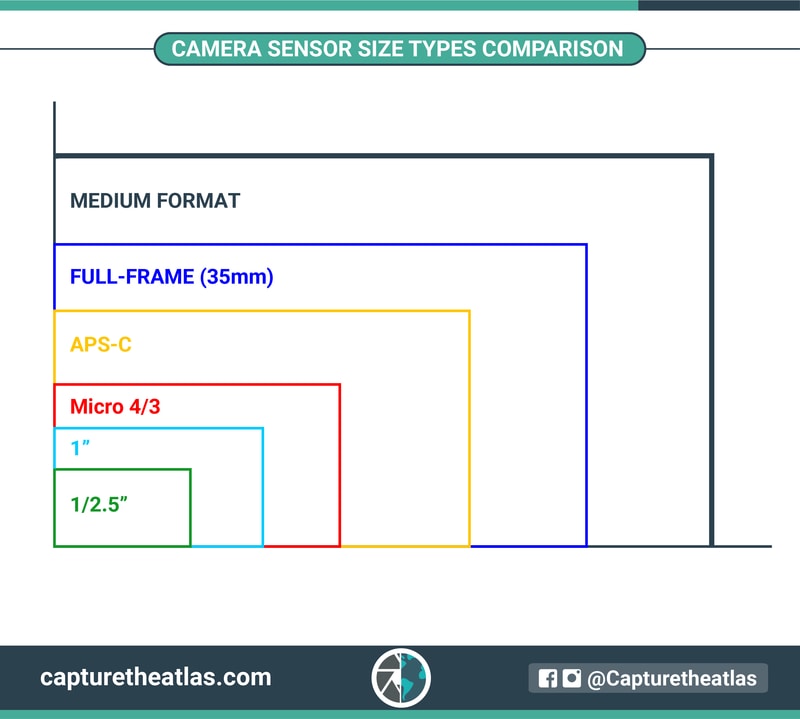 The Importance of Camera Sensor Size
Is the camera sensor size important? Absolutely – but it's not (always) as linear as "bigger is better." Understanding camera sensor size comes down to knowing the advantages each format has to offer. Once you do, you'll be well equipped to choose what sensor size best suits your needs.
Camera Sensor Size and Image Quality
Differences in camera sensor size definitely impact image quality. But it's important to determine what we mean by "image quality." Are we talking about photo quality; how large of a print we can make? Sharpness? Resolution? Dynamic range? Depth of field?
As it turns out, even smartphone sensor sizes are innately good enough to make prints indistinguishable from a pro-level body leaving aside dynamic range and shallow depth of field. Therefore, we need to dive deeper into more details apart from the generic "Image quality" of a determined camera sensor size.
Camera Sensor Size vs Megapixels
Camera sensor size and resolution aren't necessarily related to one another. A 20 MP phone camera and a 20 MP full-frame camera both have 20 million pixels and the same resolution. However, they don't have the same image quality because the camera sensor size and pixel size make a difference.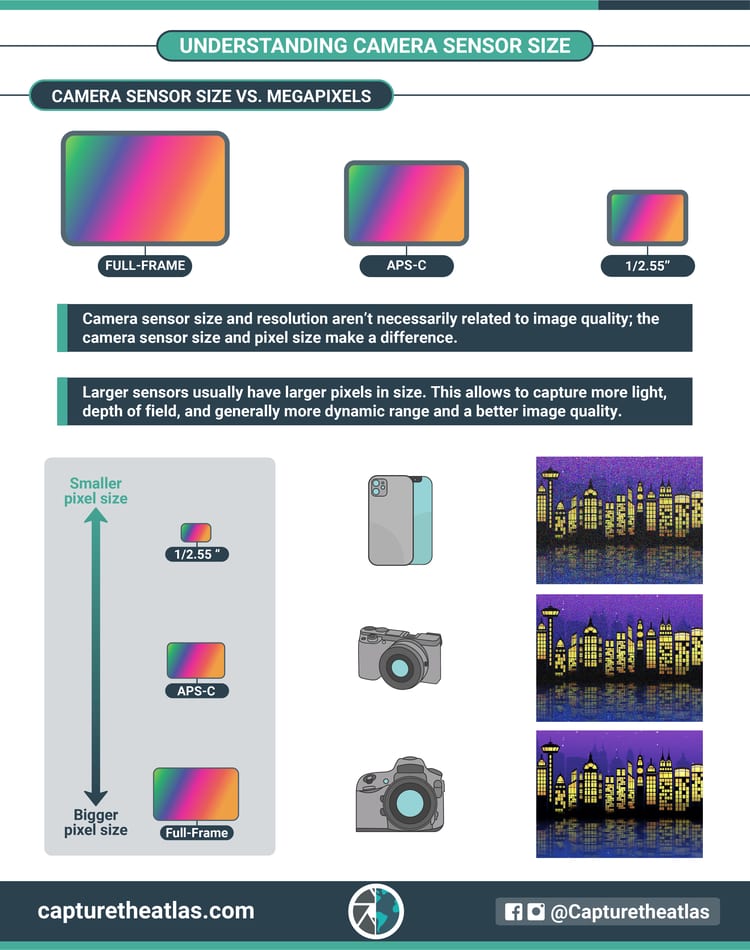 A larger sensor allows you to have larger pixels relative to a smaller sensor with the same resolution. The larger pixels on the full-frame camera are more efficient at gathering light. They are not only more sensitive but have better dynamic range, allowing to get tack-sharp photos.
In good lighting and with modern technology, the gap is marginal. But as soon as the lighting grows even a little challenging, the impact of sensor and pixel size becomes increasingly obvious.
Camera Sensor Size and Focal Length
Sensor size and crop factor is not nearly as complicated as it appears to be.
Multiplying the crop factor of a sensor by the focal length of the lens gives you the equivalent view as if you were using a 35mm camera (a full-frame camera). For example, using a 35mm lens with an APS-C sensor with a 1.5x crop factor, gives you the equivalent of a 50mm view on a full-frame body. The smaller sensor window cuts down on the view provided by the 35mm lens. Easy!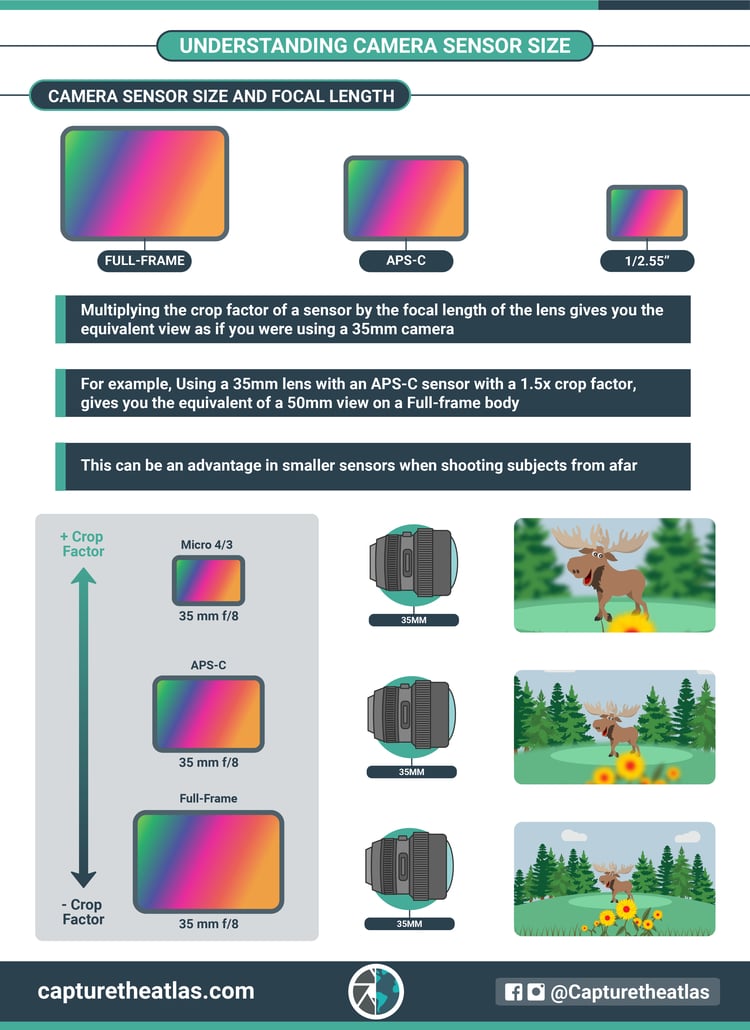 Crop factor offers an easy mathematical conversion back to full-frame. However, if you aren't trained on a full-frame view it's not really important to keep thinking about viewpoints across formats.
Crop factor does give you additional reach as well, giving smaller sensors advantages when shooting subjects from afar. A 200mm lens on a Micro 4/3rds body (2.0x crop factor) has the reach of a 400mm full-frame camera and weighs quite a bit less.
Camera Sensor Size and Depth of Field
Sensor size and aperture settings is important to understand because aperture has a similar effect on depth of field. When we stop down the aperture from f/2 to f/2.8, the amount of our subject in focus increases. Using a smaller sensor with a given lens aperture has a similar effect.
According to this, smaller camera sensor sizes offer a smaller depth of field as compared to bigger camera sensor sizes (when using the same aperture and focal length). Similarly, the smaller the size of your camera's sensor, the further away the hyperfocal distance will be.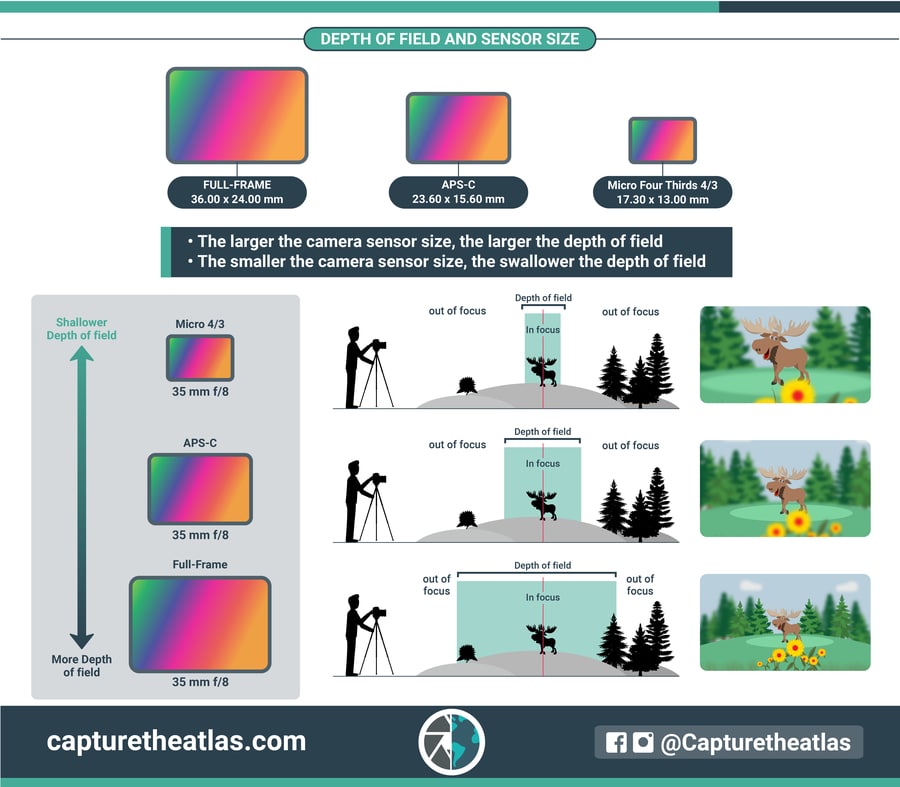 *Please note that we're considering the same focal length in this camera sensor size vs. depth of field comparison. If we consider the same field of view, the depth of field will be narrower in cameras with larger sensors and larger in cameras with cropped sensors.
Sensor size's effect on aperture is roughly a stop of light per step of area. If we use medium format as a baseline, full-frame offers a stop less of depth of field in terms of aperture. For example, f/2 on full-frame is equivalent to f/2.8 on medium format in terms of depth of field.
APS-C is a stop less than full-frame, and 2 stops less than medium format. For the purpose of subject isolation, f/2 on APS-C has the look of f/2.8 in full-frame and f/4 medium format. Micro 4/3rds is another stop below, and so on down the line.
You can learn more about this in our DoF in photography article or in our PDF photography basics guide.
Camera Sensor Size in Low Light Photography
ISO and camera sensor size are also related; ISO 800 on Micro 4/3rds camera sensors won't look nearly as clean as ISO 800 on full-frame sensors. To keep things simple, just be aware that ISO isn't a consistent standard across brands, let alone sensor frame sizes. I cover ISO and noise in photography with a bit more depth here!
If you love night sky photography, including Photographing the Milky Way or shooting Northern Lights, you want both large-aperture lenses and a camera with a large sensor size. Full-frame sensors are a good camera sensor sizes if you enjoy low-light photography because they are currently the best balance between sensor and body size.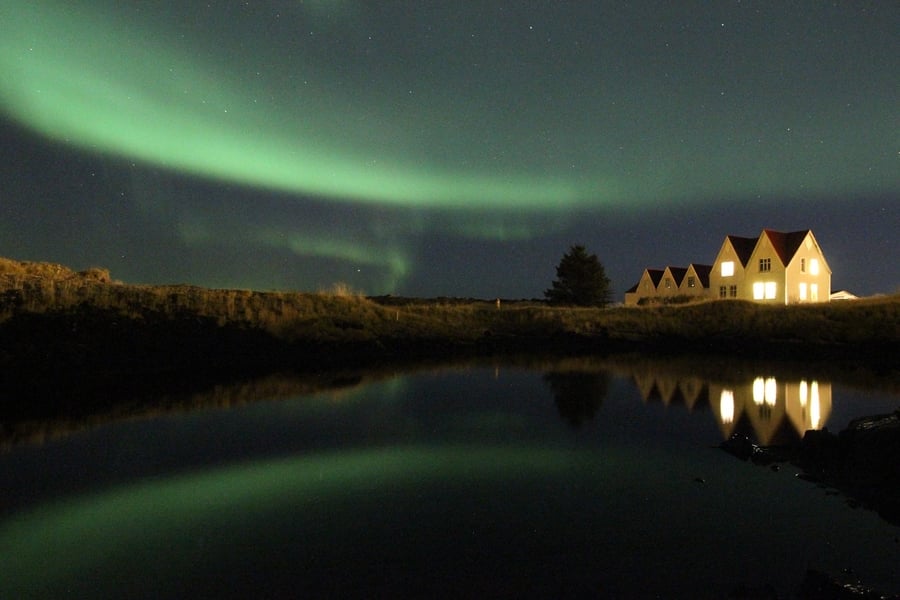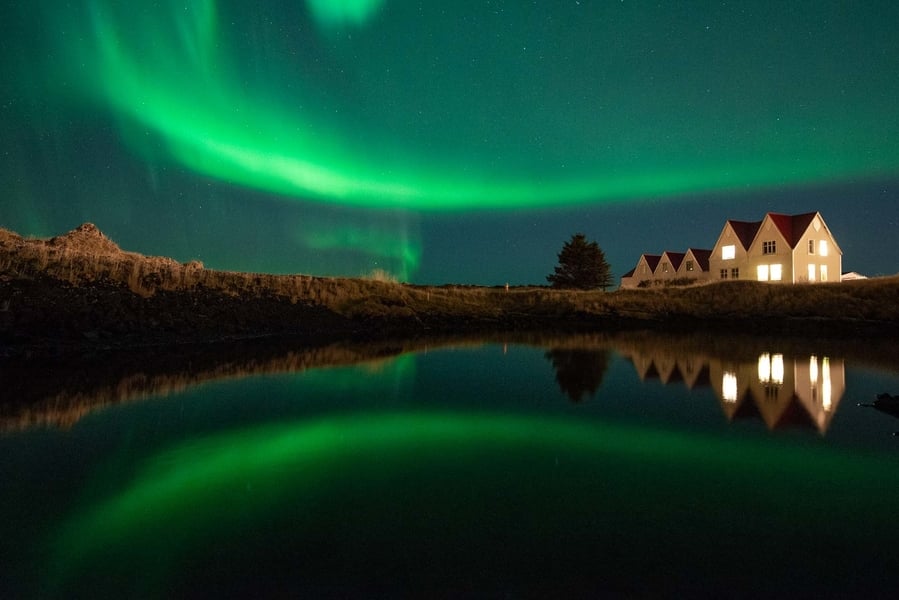 Aurora shot with an entry-level Canon APS-C sensor (left) and with a Nikon Full-Frame sensor
You can learn more about ISO in photography in our guide.
Which is the Best Camera Sensor Size?
Now that you know how camera sensor size affects photo quality we can discuss what is a good sensor size for you? Unfortunately, the answer is another question: what are your needs as a photographer?
If you're a photographer who regularly makes large poster prints and wants the maximum amount of dynamic range and resolution, full-frame and medium format are the best choices for you.
Full-frame is the best balance between body size, depth of field, low-light performance, and resolution you'll find in today's market. Portrait, fashion, astro, and landscape photographers usually find the most benefit from full-frame on up, despite the price and weight tax.
However, APS-C camera sensor sizes are still highly relevant. APS-C compared to full-frame sensors have a smaller depth of field, resolution and pixel size. In exchange, body and lens sizes are reduced. And the range boost offered by the crop factor makes them great choices for generalist photographers who want a bit of everything.
Micro 4/3rds has a significant crop over full-frame while still providing professional-level image quality. Wildlife, street, and documentary photographers may find the extra reach combined with the size of the bodies and lenses perfect for their needs.
When looking at 1″ and 1/2.55″ smartphone and iPhone sensors, since they tend to be fixed lens models, you should give much more thought to what other features the camera is providing.
My personal experience with camera sensor sizes
As a personal experience, I started my photographic journey with an APS-C camera sensor size (Nikon D3200). This sensor fulfilled all my needs when I was starting and doing generic photography, but after a couple of years it fell behind in many aspects as I turned to shoot mostly landscape and night photography.
I decided to make the leap for a full-frame camera sensor (Nikon D800), and it was one of the best decisions I ever made, having a substantial improvement in the results of my landscape images.
My advice is, if you're new to photography, start with a small camera sensor size like APS-C and, once you know your real photographic needs, decide the best camera sensor size according to your needs. As you shoot and improve, you'll see naturally if an upgrade to a full-frame camera sensor size is worth it or not, as bigger camera sensor sizes are not only heavier and pricier but also require a bigger investment in lenses, computer hardware, etc.
Digital Camera Sensor F.A.Q
Below you'll find the answer to some of the most common questions I receive related to digital camera sensor sizes.
Conclusion
Camera sensor sizes is a geek topic that can get into very technical details. My goal, however, was to show camera sensor size explained in a digestible and easy way.
The best camera sensor size doesn't exist, but it depends completely on your needs.
Before choosing which is the best for you, make sure you are familiar with the different camera sensor sizes in the market, what are the pros and cons of each sensor size, and try to make a balance between your budget and your photographic goals.
Camera doesn't make the photographer but the right camera sensor size will help you take the images you're dreaming of!
Please let me know any questions related to digital camera sensor size on the comments!