If you're looking for cheap flights to Tenerife, I'm here to tell you that it's totally possible. There are many low-cost airlines that fly to Tenerife, as well as daily flights that connect Spain and other big cities in all of Europe to this Canary Island.
We've flown to Tenerife several times, and we usually find very cheap flights. So, I wanted to make this guide to help you find the cheapest flight to Tenerife possible.
There are two airports on Tenerife, one in the north and one in the south. With that in mind, you can travel from one end of the island to the other without any problems, especially since the public transportation is excellent. Of course, you can also rent a car or fly cheaply to Tenerife's southern or northern end.
To help you find cheap plane tickets to Tenerife, this guide will cover everything you need to know:
Best search engines to find cheap flights to Tenerife
There are plenty of ways to find cheap flights, although the first step is turning to the right search engines. In fact, if you want to find cheap flights to Tenerife, I recommend avoiding official airline websites and instead, use flight comparison sites. Not only will this help you find the best deals, but you can quickly compare the prices for different airlines.
Our favorite option is Kiwi.com, which lets us find the cheapest flights to Tenerife. Kiwi does all kinds of different search combinations that most other websites don't, so you're sure to find the best rates. Moreover, if you're departing from one of Spain's main airports, you can find direct flights, although Kiwi can also find cheap flights to Tenerife from Spain's smaller hubs.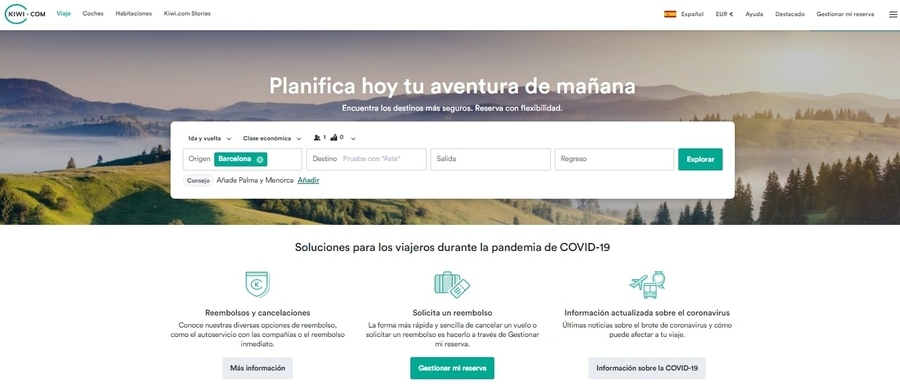 Moreover, you can find flight deals from major European cities outside of Spain. From the UK, year-round direct flights to Tenerife are available from multiple airports including Dublin, Glasgow, Edinburgh, Manchester, Liverpool, and several hubs in London.
From Germany, you can find direct flights to Tenerife from major cities like Berlin, Dusseldorf, Frankfurt, and Munich. If you're departing from France, direct flights to Tenerife are available from large airports like Bordeaux, Lyon, Nice, Paris, and Toulouse. From Italy, you'll find cheap flights to Tenerife from hubs like Milan, Naples, Rome, and Venice.
In addition, several capital cities in Europe offer year-round flights to Tenerife, including Amsterdam, Brussels, Prague, and Warsaw. From December to March, you can fly out of Budapest, Copenhagen, Helsinki, Oslo, Stockholm, and Vienna too.
For U.S. travelers, you can fly cheaply to Tenerife out of NYC during the summer with United Airlines, but only from Newark Liberty International Airport.
Just be aware that, if you fly out of a city that's not in Spain, you'll only be able to arrive at Tenerife South Airport.
Another search engine we've used a lot is Skyscanner, where you can find amazing prices. The best thing about Skyscanner is that it shows you the cheapest days to fly, so if your schedule is flexible, you can find the cheapest Tenerife flights.
While we mostly use Kiwi and Skyscanner, you can also find good deals on cheapoair.com or Kayak.
Best time of year for cheap flights to Tenerife
You can find cheap flights to Tenerife just about any time of year since there are several low-cost airlines that make regular stops to the island from Spain and other big cities in Europe. These airlines usually offer lower ticket prices by placing restrictions on luggage and other things.
However, if you're looking for the best time of year to find very cheap flights to Tenerife, you'll find good deals from September to November and February to May. Of course, I recommend avoiding holidays like Easter since the prices will go up and it'll be hard to find a good rate.
During these months, not only can you fly to Tenerife cheaply, but you'll be able to find lots of cheap hotels on the island.
Where you can cheaply fly to Tenerife north or south
Again, Tenerife has two airports, the Tenerife South Airport (also known as Tenerife South – Reina Sofía Airport), and the Tenerife North Airport (also known as Los Rodeos Airport).
The Tenerife South Airport is the largest of the two, with inter-island, national, and international flights. Over 150 airlines fly into and out of this airport, so you'll have the best chances of finding a cheap flight on Tenerife from this hub. If you want to fly cheaply to Tenerife from the UK, Germany, or another European country, you'll have to fly into this airport.
As for the Tenerife North Airport, it services inter-island and national flights. There is only one terminal here, so not as many airlines fly into this airport. There are also fewer daily flights, so while you can find cheap flights from Tenerife north, it's a bit more difficult.
I recommend checking flights from both airports since traveling from one end of the island to the other is quite easy.
Low-cost airlines to fly cheap to Tenerife
You can find direct flights to Tenerife for cheap through Vueling and Ryanair, two popular low-cost airlines in Europe. If you can find cheap plane tickets to Tenerife with Vueling, I recommend getting them since Ryanair imposes lots of restrictions on luggage and seats.
While Vueling and Ryanair are the best-known budget airlines, there are others that operate between European countries and the Canary Islands. For example, airBaltic, easyJet, Smartwings, Transavia, TUI fly, and Wizz Air are all good options. These airlines might not offer as many cheap Tenerife flights as Vueling and Ryanair, but they're worth checking out since, being smaller companies, they might not show up in some flight search engines.
Lastly, there is also Binter, a budget airline that offers very low-cost flights between the different Canary Islands and from/to some airports in Spain. Binter is a small airline and doesn't show up in most search engines, so be sure to check it before choosing an airline.
Tricks to find the cheapest flights to Tenerife
That's it for all the information about flying to Tenerife for cheap, but I still have some tips to share. These tricks have always worked well for us, so check them out!
Use alerts to find cheap flights to Tenerife
Flight search engines like Kiwi and Skyscanner offer text and email alerts to let you know when ticket prices rise or fall. All you have to do is enable notifications for the flights that interest you, and you'll receive an alert when the price changes.
Once you book your flight, be sure to deactivate the alerts so you don't keep getting notifications!
Book your cheap flight to Tenerife at the right time
If you want to cheaply fly to Tenerife, don't count on a last-minute offer coming through. That said, I don't recommend rushing to purchase a ticket for a trip that's months in advance.
Instead, start looking for cheap flights to Tenerife and activate alerts about six months before your trip. Be sure to check for cheap flights to Tenerife south and north and make the purchase when it fits your budget. Some search engines can even predict whether the price will drop or not, and they can tell you when to buy.
Fly to Tenerife cheap with last-minute offers
In some cases, you can find last-minute offers on cheap flights to Tenerife from Spain. Personally, I think this is risky since there is no guarantee that there will be a last-minute deal. That said, if you've decided to travel to Tenerife at the last minute, it's worth trying.
Decline the extras to keep your flight to Tenerife cheap
Several low-cost companies offer cheap plane tickets to Tenerife from Madrid and other large cities, but this can be tricky. Normally, the ticket price is low and much cheaper than other airlines, but you could end up paying for extras like baggage, seats, and insurance. With all those extras, the final price could end up being the same or even more expensive than other airlines.
I recommend traveling as lightly as you can and that you avoid things like seat selection and other unnecessary extras. Airline insurance can be pricey, and the coverage usually isn't that good, so I suggest bypassing that as well. Instead, it's better to choose a policy with one of the best travel insurance companies on the market.
Be flexible with dates and times to fly cheaply to Tenerife
The more flexible you are with your travel dates, the more likely you are to find cheap flights to Tenerife. Search engines like Skyscanner let you search for different dates and times and compare prices among several airlines.
My advice is to not be too strict with certain dates and times, as leaving the day before at night and returning early in the morning can save a lot of money.
Keep round-trip flights to Tenerife cheap by purchasing them separately
While it sounds strange, buying a return ticket isn't the same as buying two one-way tickets. Try buying your arrival and departure tickets separately to reap the biggest savings. You can even combine flights from different airlines since one may be cheaper for the return and vice versa.
Again, search engines like Kiwi and Skyscanner can help with this, as they often show flight combinations.
Fly cheaply to Tenerife by stopping on another Canary Island
You can also check how much it costs to fly to another Canary Island and, from there, take a ferry or plane to Tenerife.
There are eight airports throughout the Canary Islands, so see how much it would cost to fly to El Hierro, Fuerteventura, Gran Canaria, La Gomera, or La Palma. An advantage of doing this is that you can take the opportunity to visit the other island before traveling to Tenerife.
That's it for this guide to finding cheap flights to Tenerife. I hope this article helps you find a great deal so you can fully enjoy this island and all its attractions.
If you have any questions about how to fly cheaply to Tenerife, or you know any other tricks, please leave me a comment below. Until then, enjoy your stay on Tenerife!